At a glance, they may not seem so different. I mean, they are both pants with a baggy fit. But while they share similarities, some characteristics will help you differentiate them. So, what are the differences between cargo pants and joggers?
Joggers are designed for comfort and are usually thin, lightweight, and taper off at the ankles. Cargo pants are typically made of rugged cotton and have multiple large pockets.
But that's just the start of it. Read on to find out more differences between cargo pants and joggers and how to choose between them.
Cargo Pants Vs Joggers: Main Differences
There are similarities between both of these comfortable, loose-fitting pants but there are also some pretty big ways you can tell them apart.
Here are the main ones.
1. The Material
Perhaps the most obvious difference between them is the materials used for each pair of pants.
And trust me when I tell you that you'll be able to tell the difference right away. Especially when you're the one wearing them.
That's because joggers use thin, soft fabrics that are comfortable and easy to breathe in. This is most commonly nylon, which we use for its stretchy, sweat-wicking quality.
Here's an example of joggers on Amazon as an example.
Polyester is also a suitable fabric for joggers for the most part. Namely because of its durability, ability to block UV rays, and because it won't wrinkle so easily.
The problem with polyester however is that it doesn't absorb or wick moisture well, meaning you may want to stick with other fabrics on hotter days.
Cargo pants are best with synthetic blends like linen and twill. These will give you the best durability and comfortability.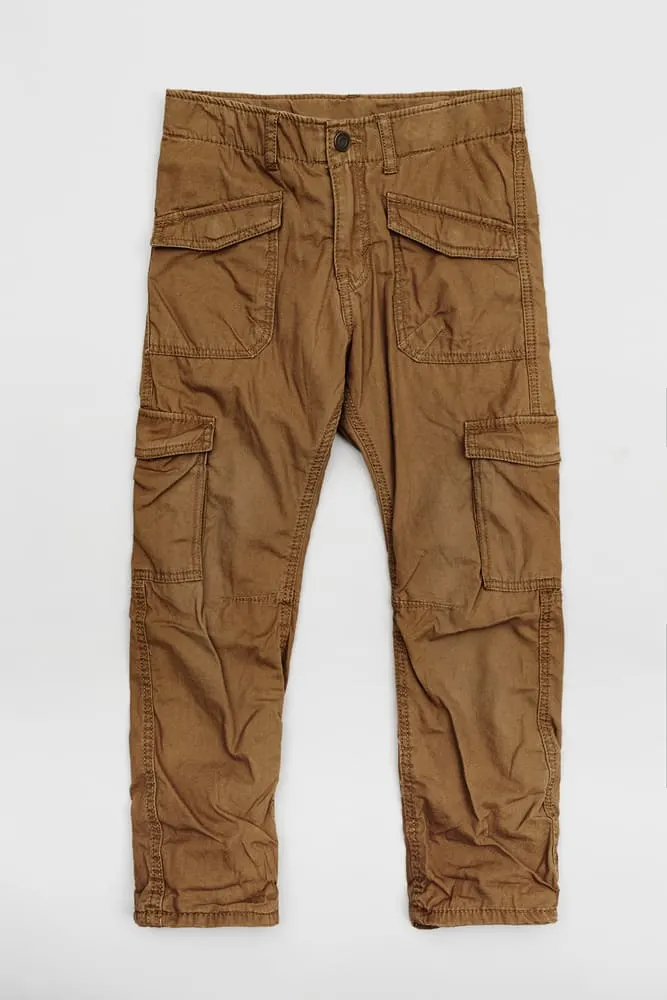 It's not a bad idea to reach out for a cotton-nylon blend either, as long as it feels more durable and sturdy than soft and pliable.
Ultimately, you want to be comfortable in your choice of pants, especially considering that utility is just as important as comfort.
2. The Pockets
Another difference that you'll find striking is the number of pockets.
It's more than acceptable for joggers to have no pockets, especially since they're designed for use around your home or for doing sporty activities.
Typically, they will feature a pocket or two so you can slip your phone in them with ease when you're on the treadmill or doing something with your hands.
On the other hand, cargo pants are infamous for the number of pockets they sport. Not just one or two, but they have a minimum of six pockets.
And that's including the normal hip and back pockets that are normal for other styles of pants. That's a really hard difference to miss.
With that feature being so useful when you're carrying a lot of stuff, you can see why they're dubbed 'utility pants'.
3. The History
Both styles of pants are mainstream today but it's important to note the history that has led up to this.
Jogging bottoms originated in France by designer Emile Camuset in the 1920s. They were designed to keep athletes warm and comfortable while allowing ease of movement.
Subtle changes in the design, such as introducing cotton to the fabric blend, made them even more popular. Just ten years later, they were a casual part of French Sunday attire.
Even with the high standards of dress in the 1950s, many were still adopting the attire in Ivy League universities.
It wasn't until the 1960s and 1970s that they were fully embraced. We can thank the respect that grew for sports stars for that.
Now in the age of social media, it's common to see joggers hailed as a symbol of status, along with the rest of a tracksuit, by Hip-hop culture.
Cargo pants have a different history.
They were first designed in the 1930s for soldiers in the British Armed Forces. The deep pockets were perfect for the storage of ammo, bandages, and other wartime items.
The U.S shortly caught on, and the design was further developed to meet their utility needs. By the 1950s cargo pants were used by all branches of the U.S military.
It wasn't until the 1990s that they were adopted by mainstream culture, turning what was once standard issue work-wear for trade jobs, into a style befitting the runway.
It helps that both pants transcend style, they are now worn by hipsters and sport-junkies alike.
Cargo Pants Vs Joggers: How To Choose
You're now aware of the main differences between two trendy pants: joggers and cargo pants.
You might be thinking, 'how do I choose between them?' Well, this will depend on a couple of factors that we'll explore below.
1. Occasion
While cargo pants aren't exactly appropriate for formal settings, you can get away with wearing them to just about anywhere else.
Except for maybe the beach on hot days. It can be tempting knowing all that pocket space is right there ready for you to use but trust us.
Cargo pants are made to be more rugged and durable which usually limits how breathable they are.
So while I'd go for shorts on the beach, you can style them for casual dates, get-togethers, and shopping trips. On these occasions, a casual black, navy, or cameo will work best.
Dress for the silhouette: slimmer cargo pants go best with a slimming top while baggier fits go best with jumpers or sweaters.
A good rule of thumb would be to treat a good pair of cargo as an alternative to jeans or chinos. Perfect for creative workspaces but not quite a replacement for dress pants.
Joggers on the other hand are best kept strictly for more casual settings.
Your date might not blink an eye if you show up with cargo pants but you might want to think twice about showing up with joggers.
They're most suitable for running errands and traveling.
Traditional colors like grey, black, and navy are the most trendy but feel free to choose outside of these for a more playful look.
Paired with breathable T's, it's really hard to go wrong with a pair of your go-to joggers.
2. Price
The price range of cargo pants vs joggers differs slightly and can affect your decision-making process.
The best quality cargo pants typically start from $60-$80 but you can find some for cheaper.
If your preference lies with utility rather than fashion then it may be best to opt for the more expensive options that will last you much longer.
However, for more casual wear such as errands then it wouldn't be too difficult to find them within the $30 price range.
With joggers, you don't have to be tempted to overspend and can find good quality pairs at the much lower $20-$60 price range.
While buying branded items will raise the price considerably, you can find durable, comfortable jogging pants at a good price range.
Conclusion
So, now that you're aware of the differences between cargo pants and joggers, I can trust you to make an informed decision about what to wear.
If you need another refresher to feel free to consult this page at any point.
Ready Sleek founder. Obsessed with casual style and the minimalist approach to building a highly functional wardrobe. Also a fan of classic, vintage hairstyles.