Wearing denim on denim is commonly done but sometimes hard to pull off, especially when it comes to color coordination. So, can you wear a black denim jacket with blue jeans?

A black denim jacket can easily be worn with blue jeans in casual and smart-casual settings. Wear it with light blue jeans for more contrast or dark blue jeans for slightly dressier events. Layer the black denim jacket over a shirt to add more color and visual interest to the outfit.
That's the short answer, but you'll probably need more. Here are some tips to see you through.
Let's get to it.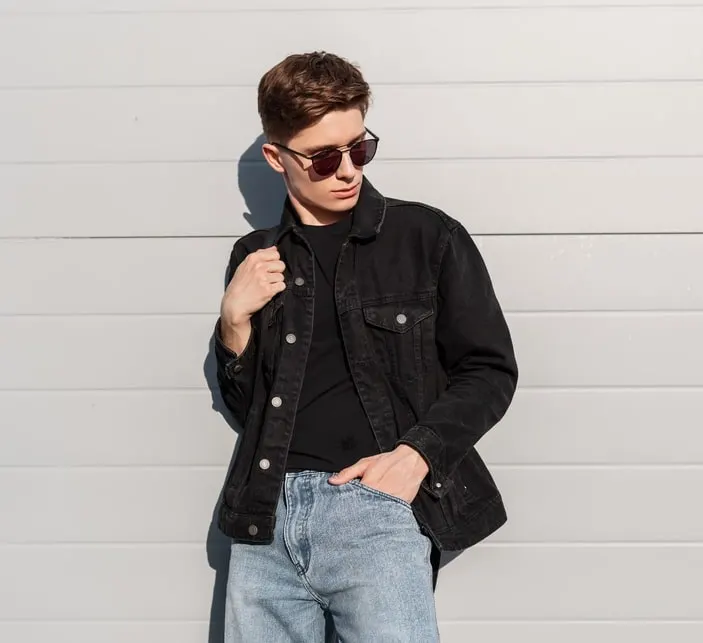 Casual Or Smart-Casual Only
The black denim jacket and blue jeans combo should only be worn to casual and smart-casual dress codes and settings.
It simply isn't formal enough for anything more formal than smart-casual.
It wouldn't be appropriate for business-casual or formal dress codes.
Getting this first step right is important because it reduces the risk of underdressing. You don't want to be the one to turn in denim when everyone else is in chinos and sweaters.
Consider Contrast
Wear a black denim jacket with dark blue jeans if you want to dress up a little. If you really want to go casual, a black denim jacket with light blue jeans would work well.
The lighter the pair of blue jeans you choose to wear, the more contrast you'll get between the jeans and the black denim jacket.
Wearing dark blue jeans with a black denim jacket will lead to less contrast.
The more contrast you've got, the more casual the outfit will look. If you're dressing for a truly casual setting (eg. a friend's place or the movies), wearing a pair of light blue jeans with a black denim jacket would look absolutely fine.
The image above is a good example of this.
But if you were dressing for a slightly dressier setting (eg. going to a mid-level restaurant), you may want to consider going for less contrast instead and wear a darker pair of blue jeans.
Here's an example on Amazon. Notice how there's less contrast between the black denim jacket and the dark blue jeans.
Layer Over A T-Shirt Or Shirt
Denim jackets are perfect for layering, whether that's over a T-shirt, a shirt, or even a light pullover hoodie.
Doing so is actually a great way to add a pop of variety and color to an otherwise pretty straightforward and simple denim-on-denim ensemble.
Layering doesn't just offer a functional benefit when the temperature changes/climate as the day goes on.
It can actually be used as a device to make your outfit more visually interesting.
To do this, layer the black denim jacket over something which contrasts the blue jeans and the denim jacket itself.
The easiest way to do this would be to choose an underlayer (i.e T-shirt/shirt) in a neutral color – white or grey.
The beauty of these colors is that you know they'll color-coordinate effectively and you don't have to put much thought into it.
If you want a brighter or bolder color, however, consider a "warm" colored underlayer such as a T-shirt or shirt in pink, maroon, or light orange.
It isn't just a color you can use to add contrast to your denim-on-denim outfit. You can also use patterns.
For example, you could layer a plain black denim jacket over a striped white T-shirt or a plaid flannel grey shirt.
It's just another way of adding a pop of interest to your outfit.
The More Distressed The More Casual
"Distressed" denim has an intentionally worn-out look. It's manufactured in a way that produces a used and vintage look.
Features of distressed denim jackets and jeans include rips, frays, stone washing, and acid washing.
While it has a nice streetwear aesthetic, it's important to bear in mind that distressing will always make denim look more casual.
That goes for both black denim and blue jeans.
While you can pretty easily pair a distressed black denim jacket with non-distressed blue jeans, consider pairing distressed with distressed for a more balanced outfit.
Wearing a distressed black denim jacket with distressed blue jeans will sync very well, but always bear in mind that it will look very casual.
If you want a slightly dressier denim on denim outfit, avoid distressing altogether.
Consider Sherpa Denim Jackets
Sherpa-lined black denim jackets work well with blue jeans because the "fuzz" that peeks out from under the neck of the jacket adds a touch of contrast to the outfit.
The warm, cozy, inner lining of a sherpa jacket used to be made from sheep's wool but is now often made from cotton or recycled polyester.
It's usually white, off-white, or beige. Having it line the jacket collar strongly contrasts the black denim jacket and often makes a denim-on-denim outfit look more interesting.
It also has the functional benefit of keeping you very warm during the colder months.
For illustrative purposes, here's an example on Amazon:
Cuffing For A Laid-Back Aesthetic
Cuffing works well when you're going for a truly relaxed and casual vibe.
It refers to rolling up the hem of the blue jeans once or twice, exposing the ankles, and increasing the visibility and prominence of the shoes.
It works better during the warmer months – spring/summer.
If you do cuff the blue jeans, consider wearing no-show socks, as having the socks visible under the blue jeans is rarely a good look.
No-show socks aren't just great because they're invisible. They're also more hygienic and comfortable than going sockless altogether.
You can also "cuff" the denim jacket as well. Rolling the sleeves up once or twice also gives off a laid-back, casual vibe.
It works better with lighter denim jackets, once again in the warmer months of summer and spring.
Sneakers Work Best
When wearing a black denim jacket with blue jeans, sneakers usually work best. To keep things simple, stick to black or white sneakers.
Black sneakers would work best if you wanted to sync the shoes with the denim jacket. Doing so would lead to a nice sense of balance.
If, on the other hand, you wanted a little more contrast – consider wearing white sneakers instead.
It's worth bearing in mind that sneakers would be the obvious choice here, it's definitely reasonable to wear "dressier" pairs of shoes if you wanted to.
For example, consider a pair of black or brown leather Derbys or monk straps. Loafers can also work well.
While some may try to avoid wearing a black denim jacket with brown leather shoes, the combination is perfectly acceptable.
Ready Sleek founder. Obsessed with casual style and the minimalist approach to building a highly functional wardrobe. Also a fan of classic, vintage hairstyles.