It's a combination that provides a great blend between casual and formal. You're about to learn exactly how to wear a turtleneck and blazer in the most effective way possible.
While turtleneck sweaters are pretty easy to define, "blazer" can sometimes cause some confusion. In this article I'll be talking about both blazers and sports coats, as the same tips will hold true for both.
Let's get to it.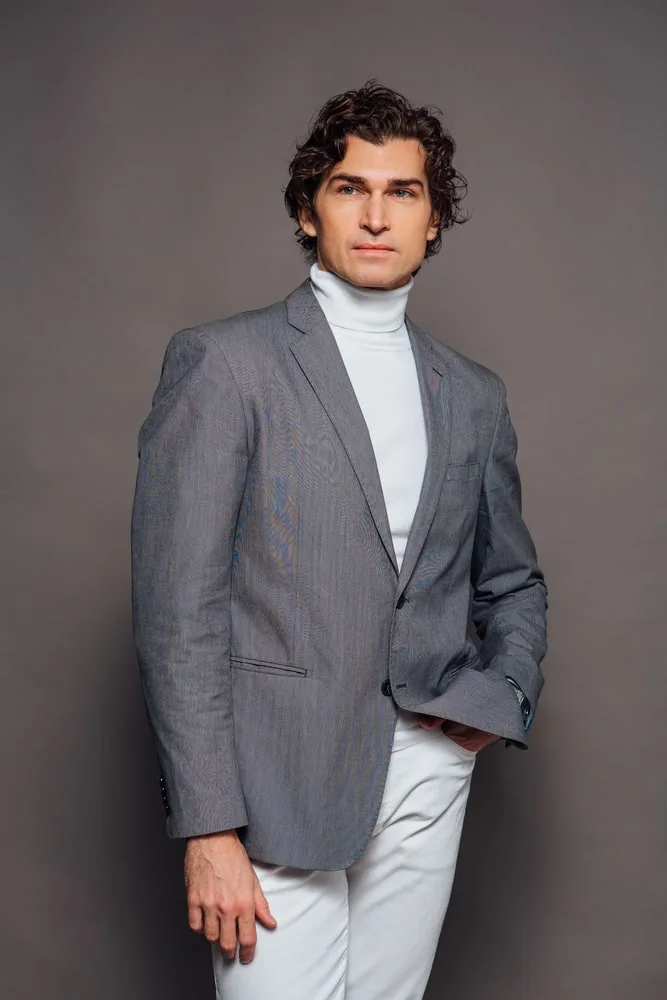 1. Get The Right Turtleneck Fit
When you're planning on wearing a blazer over a turtleneck sweater, choose a turtleneck with a slimmer fit than you might otherwise go for.
While you don't want it to be tight, by any means, it should be snug. It should wrap around your body close enough to not look or feel bulky underneath a blazer or sports coat.
A slim-fitting turtleneck is great when you're looking to layer like we're trying to with a blazer.
As with any sweater, make sure that the shoulder seams line up nicely with the end of your shoulders.
In addition, make sure that the sleeves wrap around the arms close enough that there's not much loose fabric visible when you raise your arm up to the side. At the same time, you don't want it so tight that it rides up into your underarms.
Pinch the sweater just below your ribcage to see how much fabric you can pull up. If you can pinch more than 2 inches of the turtleneck, there's a good chance it's too loose.
The length of the turtleneck isn't that important when you're tucking it in while wearing that blazer, but try not to let it exceed more than 2 inches below your belt buckle if left untucked.
Here's an example of a lightweight, slim-fitting turtleneck on Amazon:
2. Thin Knits Are Best
When you're wearing a blazer over it, turtlenecks with thin knits are a lot more comfortable.
It'll just look less bulky and give the overall outfit a nicer silhouette.
Heavier knit turtlenecks, like cable knit ones, will probably keep you warmer. However, they're really not easy to wear under a blazer or sports coat.
In fact, it would be best to avoid doing so altogether. A thin-knit sweater would look a lot more natural and elegant.
Cotton or merino wool are good choices because you can wash them at home on a gentle cycle.
One thing to note is that thin knit turtlenecks really don't look great when worn on their own.
In other words, don't wear one without a blazer or sports coat over it, especially when the sweater is probably pretty slim-fitting, to begin with (as per tip number 1).
The reason for this is that it'll most likely just look like it's clinging too close to your body. This can look unflattering when you don't happen to be in the best of shape.
It also just makes it look like it doesn't fit.
While you want a slim fit and a thin knit turtleneck when you're wearing a blazer over it, it may not look great without the blazer.
Have a backup turtleneck in your wardrobe to wear on its own when you need to. This would be one with a more relaxed fit and a heavier, thicker knit.
3. Go For Neutral Turtleneck Colors
Sticking to neutral tones with your turtlenecks will make it much easier to pair them with blazers.
More specifically, choosing light and neutral colors will be the way to go.
Examples include off-white, light grey, light tan brown, and olive green.
The reason these work so well is that they very rarely clash with blazers and sports coats. Blazers, in particular, often come in dark colors such as navy blue, dark grey, or black.
These can be difficult to pair with a turtleneck that's of a dominating, non-neutral, or darker color.
A black turtleneck with a navy blue blazer won't blend as well as an off-white or light grey turtleneck would.
Sticking to these muted, neutral, light colors also gives you the additional benefit of being very winter-appropriate.
They're great colors during the colder months and usually combine well with other items you may be wearing in addition to that blazer or sports coat.
You'll want some harmony between your turtleneck color and blazer color if possible.
For example, a light grey turtleneck would look great with a charcoal grey blazer, while a tan brown turtleneck would probably look better with a dark brown tweed sports coat.
But don't fall into the trap of blending the blazer and turtleneck too much. If the two colors are too similar to each other, it gives an awkward monochromatic look that you'll want to avoid.
4. Tuck Into Dress Pants
If you're wearing dress pants in addition to the blazer and turtleneck combo, tuck the turtleneck in.
This isn't a rule – but it just looks so much better.
Dress pants are on the more formal end of the spectrum. They aren't quite as formal as suit pants, as they're usually made from a heavier and less shiny fabric.
They'll often have a center crease down the pant legs and perhaps even jetted pockets and maybe even pleats.
They're more formal than chinos and jeans.
While a turtleneck would probably look just fine left untucked over a pair of dress pants, tucking it in will give you just a touch more sophistication.
This is especially true when you're wearing a blazer to top it all off.
The reason for this is that the blazer and dress pants combo is a relatively formal one. Leaving the turtleneck untucked may just look too casual to sync well with the rest of the outfit.
It may go without saying, but don't forget to wear a belt when you're tucking in that turtleneck.
If you're wearing a blazer, turtleneck, and chinos, you've got more freedom. Chinos are casual enough to look good with an untucked turtleneck, even when you're wearing a blazer as well.
5. Double Breasted Blazers Work Great
Double-breasted blazers can work surprisingly well over a turtleneck sweater. It's a great option if you're looking to dress the outfit up, as double-breasted jackets have a formal edge to them.
When wearing a double-breasted blazer with a turtleneck, the way to make it work is by making sure that the other items you're wearing are suitably formal enough.
In other words, they need to combine well with the formality of the double-breasted blazer.
The turtleneck sweater should really be the most casual item you're wearing.
For your pants, go for dress pants instead of chinos.
In addition, go for Oxford shoes or Derby shoes instead of monk straps or loafers.
Doing so will make it clear that you're using a turtleneck to casualize a formal outfit, instead of simply mish-mashing a bunch of casual and formal items together randomly.
6. Avoid Striped Blazers
Avoid striped blazers when you're hoping to wear one over a turtleneck sweater.
Blazers with vertical stripes, such as pinstripes, have a classically formal appearance to them.
While some may not agree, it's generally best to avoid wearing a turtleneck under a blazer with such a traditionally formal edge to it. They'd look a lot more appropriate when worn over a shirt.
Instead, go for a blazer with a solid color or maybe a more casual-looking pattern such as houndstooth, windowpane, glen check, or herringbone.
You're probably more likely to find a sports coat in those patterns than a blazer, but that's fine too.
Sports coats are different from blazers in that they're usually less structured, with no shoulder padding, less canvassing, and a more relaxed fit. They're also usually made from more textured weaves and fabrics like tweed.
Sports coats look great over turtleneck sweaters too. In addition, you're more likely to find them in a variety of different patterns you can experiment with.
7. Jeans Might Be Too Casual
Jeans often look too casual when wearing a blazer over a turtleneck.
This isn't a hard rule, but it's definitely something to consider.
Blazers are on the more formal end of the spectrum, while turtlenecks could be considered "smart-casual".
Jeans are a staple of casual wear. While it's definitely possible to wear a blazer with a pair of jeans, it just doesn't look as good as a smarter pair of pants would.
Sports coats are more casual than blazers and would look better with a pair of jeans, but again, they usually aren't the best option.
Chinos are a great option. They're incredibly versatile and they look great with a blazer without making the whole outfit look too formal.
I mentioned it earlier already, but dress pants are a fantastic way to make the blazer and turtleneck combo look a tad more formal if you wanted to.
It's a versatile combination, overall, but jeans may be taking it a step too casual.
Use this tip, as well as the others in this list, to pull off this style effectively, each and every time.
Enjoy.
Ready Sleek founder. Obsessed with casual style and the minimalist approach to building a highly functional wardrobe. Also a fan of classic, vintage hairstyles.