Some neutral blazer combinations just ooze a sense of sophistication and effortless elegance. But is this really one of them? More specifically, can you wear a grey blazer with a black shirt?
A grey blazer can be worn with a black shirt in smart-casual settings. The combination works especially well in evening social settings. When you're looking to dress up, a dark grey blazer would usually be a better option than a more casual-looking light grey one.
After going through a few great outfit ideas for this combination, we'll run through some essential tips for getting it right, each and every time.
Let's get to it.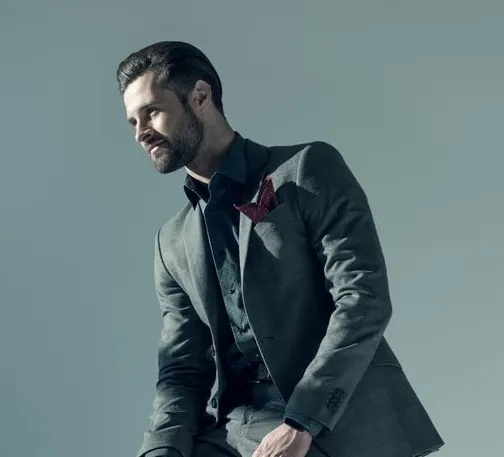 3 Grey Blazer And Black Shirt Outfits
As you can see, the combo can look very different depending on the shade of the grey blazer, as well as what you choose to wear it with.
Remember, a grey blazer and black shirt pairing shouldn't ever be worn in formal or even business-casual settings.
It would only be appropriate for casual or smart-casual events.
Dressy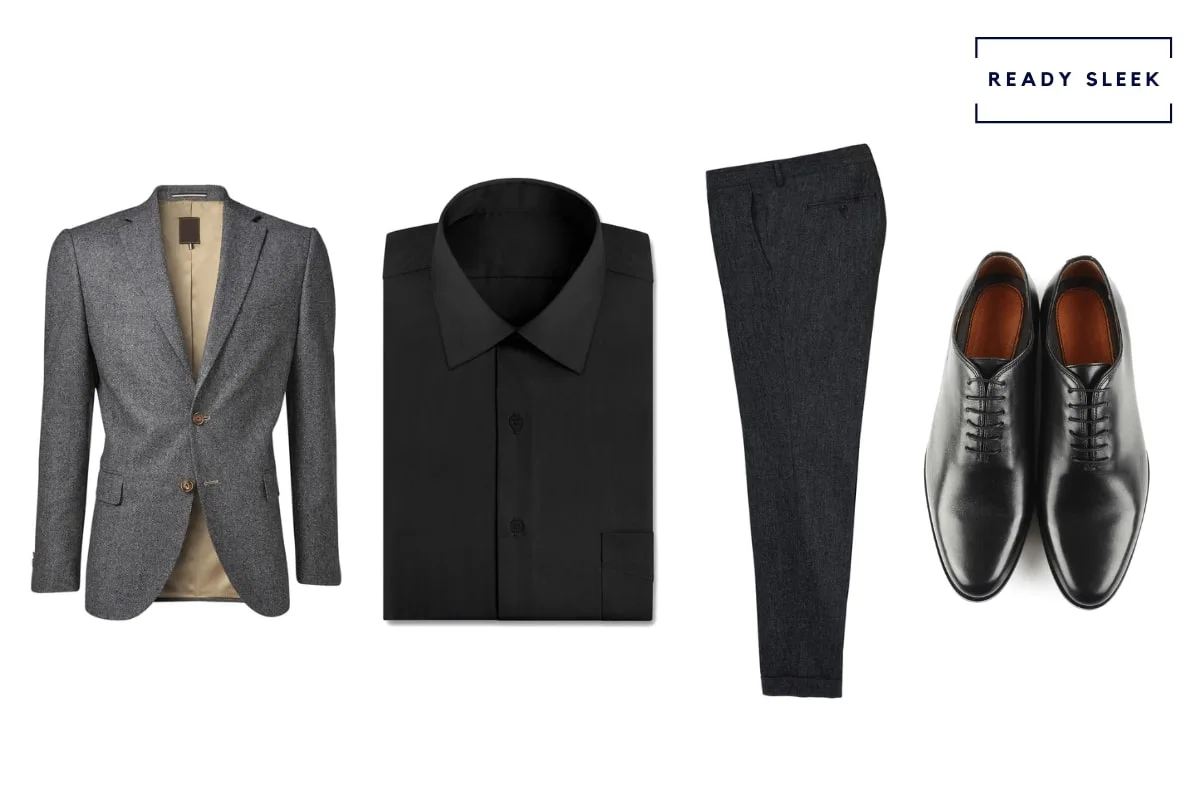 Items – Dark Grey Blazer, Black Dress Shirt, Black Dress Pants, Black Oxfords, White Pocket Square
Even though you can only wear the combo in smart-casual settings, it's hard to deny that some of these settings will be dressier than others.
In short, the dressier the smart-casual event, the more likely it is that a blazer in a dark or medium shade of grey would be more appropriate.
Darker colors will generally look dressier than lighter colors and shades of grey are no exception.
You'll have less contrast between a dark grey blazer and a black shirt than you would with a light grey blazer. Low-contrast combinations often look dressier and more "formal" than high-contrast ones.
A pair of black dress pants and dress shoes would be a great way to round things off.
Black Oxfords would look great, but you could go for a pair of dark brown dress shoes if you wanted a little more contrast.
Add in a simple white pocket square with a simple straight or puff fold for good measure.
More Casual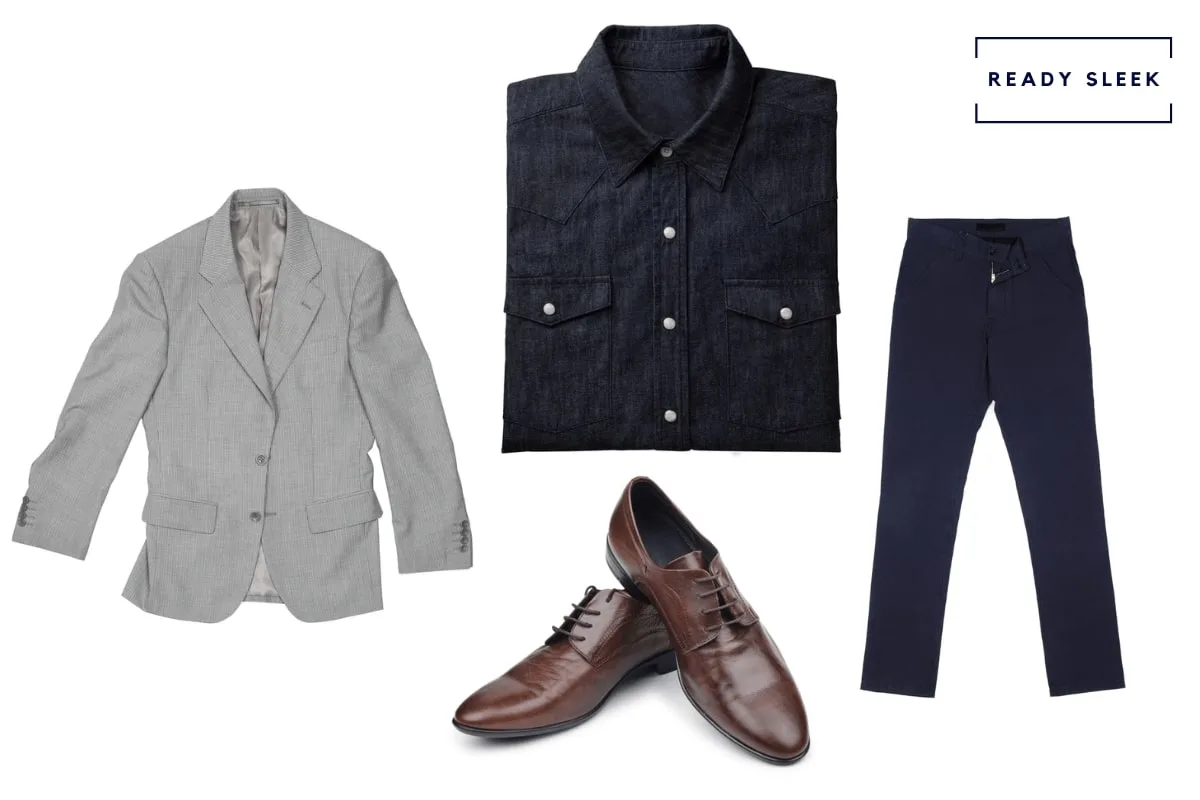 Items – Grey Blazer, Black OCBD Shirt, Black Chinos, Dark Brown Derby Shoes
When dressing down a little more, consider more casual fabrics and shades. Consider more rugged fabrics, as well as lighter colors and shades.
Go for a light or medium grey blazer instead of a dark one.
Consider a pair of black chinos instead of dress pants.
You've got plenty of shirt styles to choose from, but common favorites within the "smart-casual" category include OCBD, linen, and broadcloth shirts.
For the shoes, consider a pair of brown Derby shoes, monk straps, or loafers.
During the colder months, you could go for a pair of Chelsea or chukka boots instead. In fact, you could swap the black shirt for a black turtleneck here.
A black turtleneck sweater would look great worn with a blazer in a light or medium shade of grey.
Most Casual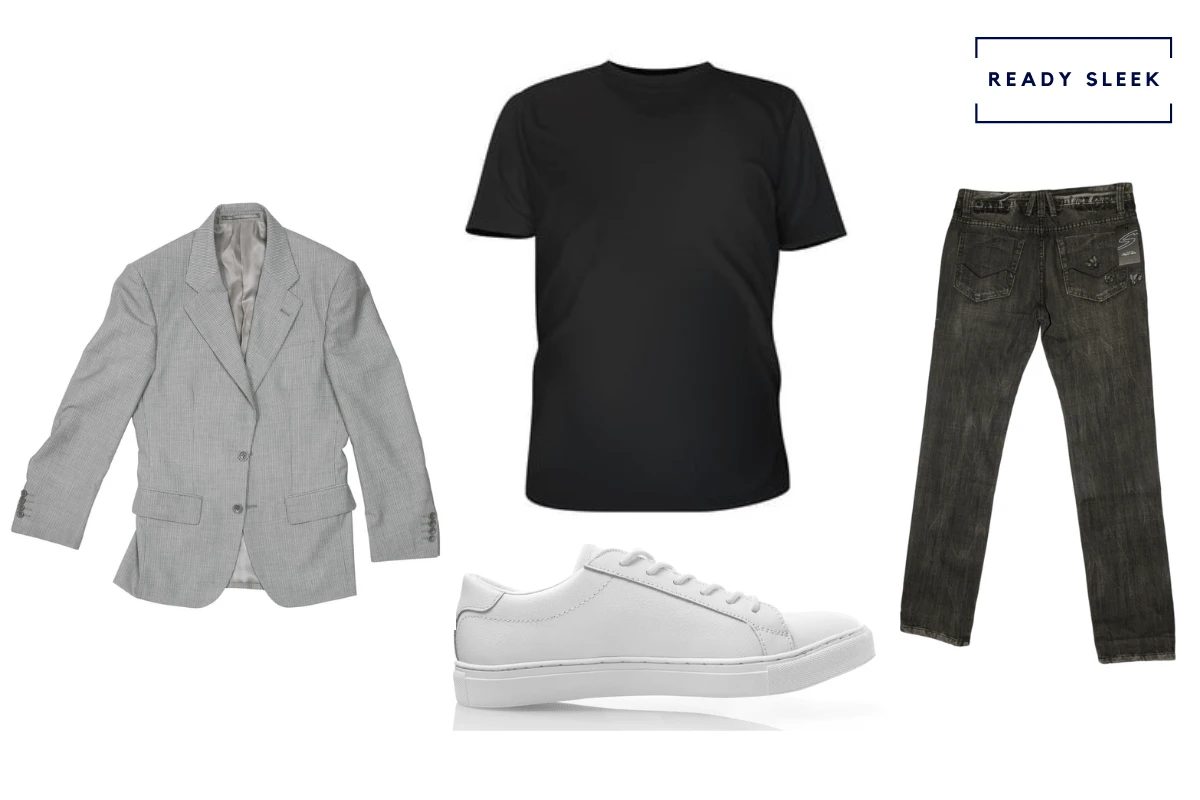 Items – Light Grey Blazer, Black Shirt, Black Or Dark Grey Jeans, White Sneakers
When you're really dressing down a grey blazer and black shirt combination, it's generally best to go for a light grey blazer.
The high-contrast aesthetic produced by wearing a light grey blazer over a black shirt or any style will always come across as striking, laid-back, and casual.
It's a great opportunity to wear a black T-shirt under the blazer. It's a great look that's tough to go wrong with if the setting is casual enough to allow for it.
When it comes to the pants, black or dark grey jeans would work extremely well here.
All-white leather low-top sneakers would be a great option for your footwear. However, the setting does need to be casual enough for it to make sense.
The contrast produced by wearing white sneakers with items that are otherwise grey or black would be attention-grabbing.
5 Tips For Wearing A Grey Blazer With A Black Shirt
Consider all of these tips before putting your ensemble together.
1. It Works Best For Evening Social Events
We've already discussed how wearing a grey blazer with a black shirt would only be suitable for smart-casual settings. Avoid it in formal or business-casual environments.
However, going a step further, the combination often works best in evening social settings.
Let me explain.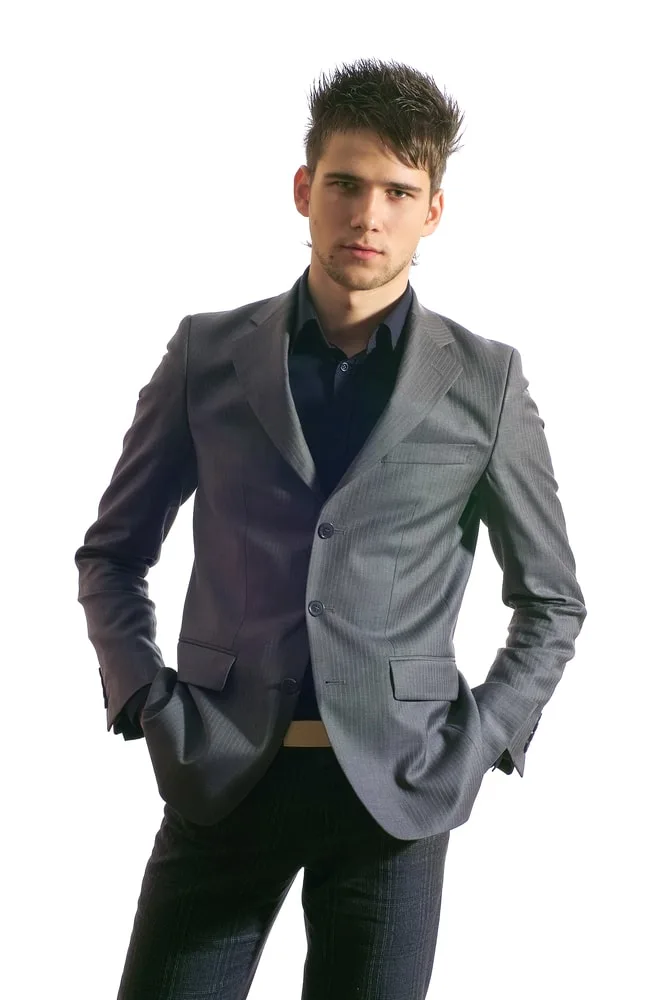 While this isn't a hard-and-fast rule, a black shirt worn under a grey blazer will produce a dark and monochromatic aesthetic.
It's a look that tends to be most effective after sunset, although it would usually look OK when worn in daytime settings as well.
However, it's important not to overthink this. If you feel as though it would look fine in whatever daytime setting you're dressing for – go for it. There's a good chance it'll still look good.
But if you really wanted to nail it, reserve it for evening social events and go for lighter and softer neutrals earlier on in the day instead.
2. Choose The Right Shade Of Grey Blazer
Light grey blazers work well with black shirts in more casual settings, while dark grey blazers would definitely be more appropriate for dressier events.
Once again, the dress code and the context is crucial here.
The high contrast aesthetic produced by wearing a light grey blazer with a black shirt is striking, eye-catching, and more of a statement.
While it would still be perfectly appropriate in most smart-casual settings, if you felt as though there was a risk of underdressing or you just wanted a more subtle aesthetic, go for a dark grey blazer instead.
But it isn't just the shade of grey you should consider.
The blazer fabric will also influence how dressy or casual it looks. A linen, serge, flannel, or tweed blazer will look more casual and rugged than a shiny worsted wool grey blazer, for instance.
The more rough, rugged, and wrinkly the blazer fabric, the more casual it'll look.
These blazer fabrics tend to work better with shirts in other similarly casual fabrics such as Oxford cloth or broadcloth as well.
3. Black Pants Work Extremely Well
Black pants of any variety would work well with a grey blazer and black shirt.
There's something great about the way in which a black shirt blends seamlessly into a pair of black pants, with the grey blazer adding a touch of contrast to an otherwise monochromatic outfit.
The style of pants you choose, however, should be determined by the dress code.
Go for dress pants or smart chinos if you were looking to dress up. In more casual settings, however, black jeans do work exceptionally well.
If you don't want to go for a pair of black pants, do try and go for a similarly dark and neutral color.
Dark grey (eg. charcoal) would also look great, as would navy blue.
4. Select The Right Shoe Color For The Setting
Brown and black dress shoes are very easy to combine with a grey blazer and black shirt no matter what style of pants you may be wearing.
If you'd prefer a low-contrast look where the shoes don't draw much attention, go for a pair of black dress shoes.
If, on the other hand, you wanted a little more contrast, a pair of brown shoes is a great way to break up the otherwise monochromatic grey and black outfit.
The lighter the shade of the brown shoes, the more casual and eye-catching the ensemble will look due to the added contrast.
As mentioned earlier, white sneakers are a great option if you were really dressing down.
5. Accessories Can Add Color And Sophistication
While grey and black are extremely neutral, pairing the two can sometimes seem a little "bland" if you were used to wearing a little more color.
Because of this, consider using other items or accessories to add a little flair, color, and excitement to the combination.
Pocket squares are very effective when it comes to this. For example, consider a burgundy or navy pocket square.
If you'd prefer to add contrast while still keeping the outfit neutral, go for a white pocket square instead.
You could also use accessories to add contrast without using color. Metals can do this.
For example, add in a stainless steel diving watch and couple it with a belt with a prominent silver buckle.
The glare from the items will add a sense of visual interest to the grey blazer and black shirt outfit without coming across as excessive.
Frequently Asked Questions
Here are the answers to a couple of FAQs on this topic to finish up.
Can You Wear A Grey Blazer And Black Shirt With Blue Jeans?
A grey blazer can be worn with a black shirt and blue jeans, but the combination often works best when the jeans are in a relatively dark shade of blue.
The reason for this is that no matter what style or shade of grey blazer you wear, it'll generally look pretty dressy.
As blue jeans are the epitome of casual wear, it's important to choose the right style of blue jeans for the combination to make sense without causing a formality mismatch.
So, go for a pair of dark blue jeans in a tapered fit with minimal distressing. Choosing a relatively dressy pair of blue jeans is the most effective way to make it work.
Can You Wear A Grey Blazer And A Black Shirt To A Wedding?
Avoid wearing a grey blazer and black shirt to a wedding. The combination is likely to be too casual for even the more laid-back and casual of wedding dress codes.
In addition, black shirts are generally avoided at weddings. You're likely to stand out from the crowd which is never a good thing at weddings.
You could wear a grey blazer if you were confident a full grey 2-piece suit wasn't necessary.
However, pair it with a white dress shirt and leave the black shirt at home.
Conclusion
The variety of settings you could potentially wear a grey blazer and black shirt to is wide, but it generally works best for evening social events.
Take the dress code into account and consider the shade of the grey blazer, as well as the style of the black shirt you're wearing it with.
Enjoy.

Ready Sleek founder. Obsessed with casual style and the minimalist approach to building a highly functional wardrobe. Also a fan of classic, vintage hairstyles.