Men's fashion is full of choices. "Right" or "wrong" answers are rare, with plenty of grey areas to struggle through. So, chinos vs slacks – what's the difference and when should you wear them?
Chinos are generally considered more casual than slacks, although they're perfectly suited to most business casual settings. While slacks are usually made of wool or a synthetic blend, chinos are made from 100% cotton twill or a cotton-synthetic blend.
Which one you wear depends on how formal the occasion is, the other clothes you're hoping to wear, and whether you'd be willing to regularly dry clean slacks.
That's the answer in a nutshell. But as you'd expect, there's more nuance to it than that.
Before we move on, I'll be using the terms "slacks" and "dress pants" interchangeably. They're the same thing, with "slacks" being the slightly more traditional term.
I wanted to delve deeper into the key differences.
Then I'll be talking you through exactly how to decide when you should wear chinos and when you should wear slacks.
If you're ever agonizing over this decision again, the factors I'll be talking through in this article will effortlessly guide you through it.
Are Chinos The Same As Dress Pants (Slacks)?
Chinos are different to dress pants in many ways. The main ways are that they appear more "casual" and are also made from cotton as opposed to wool.
Let's break those broad differences down to really help you see the differences.
Here are the differences between chinos and dress pants:
1. The Features
Chinos will always look more casual than dress pants. Although chinos are incredibly versatile and work perfectly well in semi-casual or business casual settings, for truly formal events you'll want some dress pants.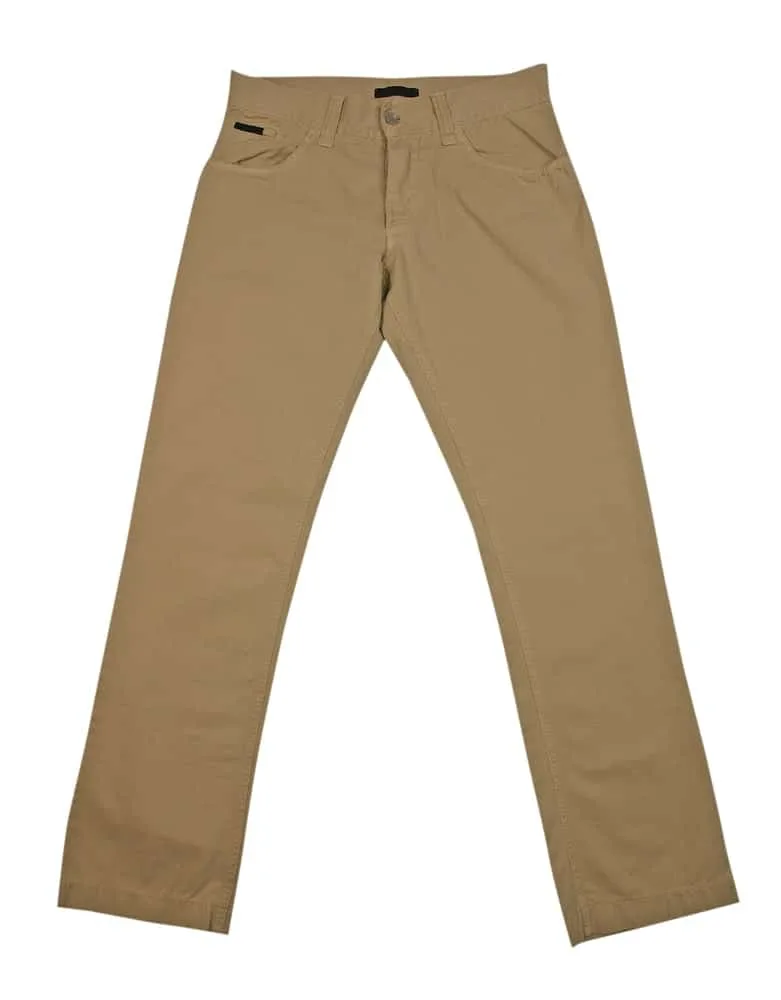 Here are some key features of dress pants that immediately makes them appear more formal than most chinos.
I say most chinos because there are "formal chinos" that do have these features as well. However, a pair of dress pants will almost always have these features.
Centre Crease – Dress pants usually have a sharp centre crease down each leg.
Smoother And Shinier Texture – The wool of a dress pant has a shinier and smoother finish than chinos.
No Jean-Like Qualities – You won't find dress pants with features like patch pockets, bar tack over stress points, or decorative stitching. These features are quite common in the more "casual" chino pants.
Seam Details – With dress pants, the appearance of the seam on the inner legs is minimized, making it look cleaner and smoother.
Pleats – They're definitely more commonly seen in dress pants than chinos.
Chinos are more versatile than dress pants, simply because they can be worn in a wider variety of settings – casual, smart-casual, and business-casual. Dress pants, on the other hand, wouldn't be appropriate to wear in truly casual settings.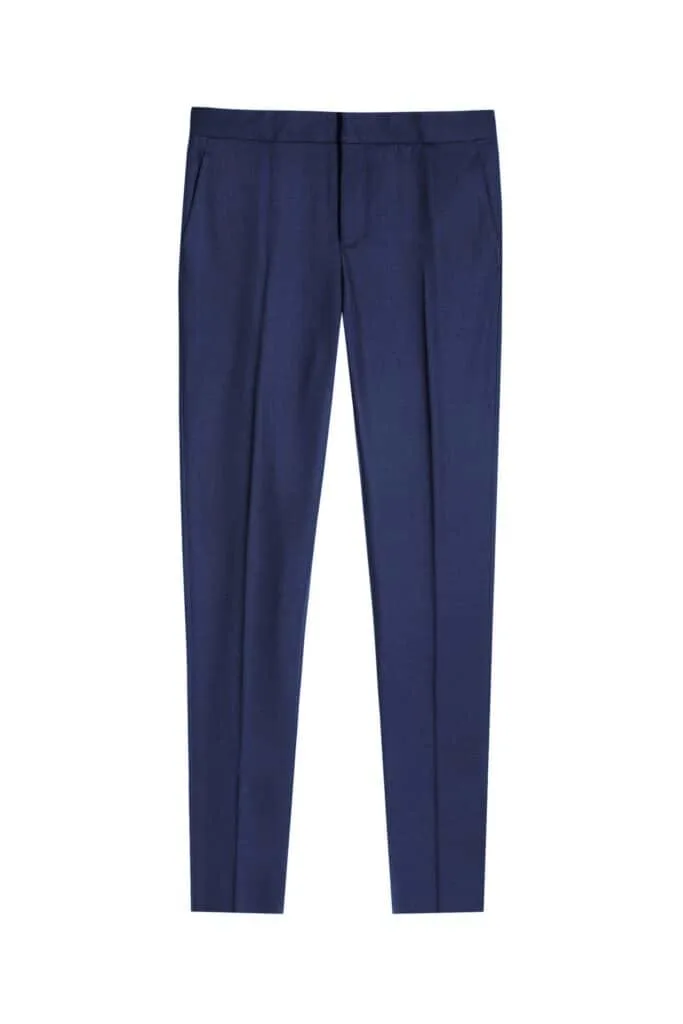 I've written more about how to wear chinos casually in a separate article.
2. The Material
The wool fabric of slacks is finer, softer, and smoother than the cotton twill of chinos.
The original "chino cloth" used for the pants worn by the US Army during the Spanish-American War was derived from 100% cotton.
Nowadays, however, chinos made from cotton-synthetic blends can commonly be found.
In much the same way, slacks made from wool-synthetic blends can also be commonly found.
The quality of the finish and the feel of synthetic fibers is more obvious to some men than others. Synthetic blends are cheaper, and so your budget may play a role here.
3. The Maintenance
Dress pants (slacks) need dry cleaning. Although wool is generally pretty odor and stain-resistant, cleaning wool slacks are a little more complicated than cleaning chinos.
The main reason for this is that wool slacks are more likely to shrink when you machine wash them.
When you machine wash those dress pants, the wool fibers cling together and make it appear as though they've significantly shrunk.
Modern detergents are also capable of actually breaking down the wool molecules.
Chinos are easier to clean as the cotton twill is suitable for a machine wash. Do try and wash them with similar fabric and color, however.
Conveniently, chinos are able to tolerate high temperatures and withstand a tumble dry. However, hanging it to dry will always reduce the risk of shrinkage.
Chinos Vs Dress Pants (Slacks): 3 Questions To Help You Choose
Although there are no hard-and-fast rules, there will be instances where chinos would be more appropriate than slacks and vice versa.
Here are three questions you should ask yourself when choosing between the two.
1. How Formal Is The Occasion Or Setting?
Hands-down, this is the most important question.
For the reasons I explained earlier, dress pants generally look more formal than chinos. Because of this, there are certain times when dress pants would be more appropriate than chinos.
If a dress code specifically mentions the word "formal", it would be safer to avoid chinos and pop on some dress pants.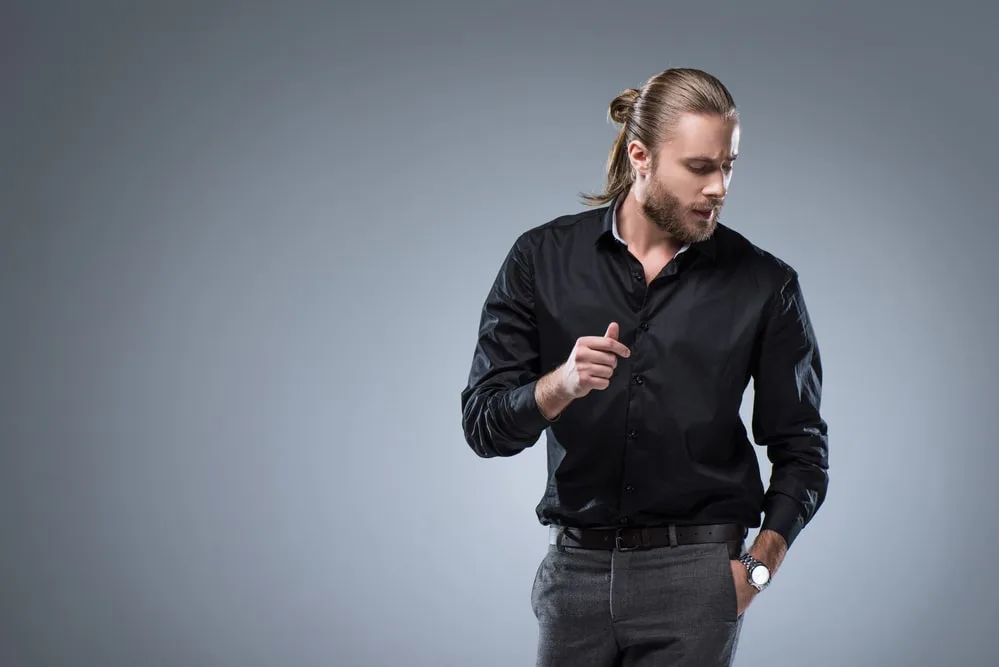 Although there are chinos which are considered "dressier", with welted pockets, a distinct centre crease, and minimal seam details, dress pants are just less of a risk for formal occasions.
Ultimately, the shinier finish and texture of dress pants will always give off a more formal vibe.
Rocking a pair of chinos to a wedding, for instance, would be a pretty big risk indeed. A job interview is also one to be careful with.
Having said that, truly formal settings are really the only ones where chinos would be considered inappropriate.
They're extremely versatile and would be absolutely fine to wear for most casual, semi casual, and business casual occasions and settings.
Note – semi-casual is a notch more formal than "casual" and a notch less formal than "business casual".
In contrast, dress pants would be inappropriate in casual settings and paired with more casual items of clothing. They're just too formal.
However, they'd be fine for business casual settings that lean more towards the formal end of the spectrum.
To sum that up:
Formal = Dress Pants
Casual Or Semi-Casual = Chinos
Business Casual = Chinos Or Dress Pants
FYI – "trousers" is a term that's simply used to refer to long pants that cover the entire leg. Jeans, chinos, and slacks are all simply types of trousers. For more information on this, check out this article I wrote.
2. What Are You Planning On Wearing With It?
You'll probably have an idea of what you'll be wearing with the pants, whether they'll be chinos or dress pants.
The other clothes you're planning on combining with it will also play a role in deciding which one you should go for.
Let's talk through some specific items:
The Jacket
Both chinos and dress pants go great with blazers and sports coats. These jackets are casual enough to pair with chinos and formal enough to pair with dress pants.
Of course, a suit jacket should only be worn with its matching trousers.
It gets a bit more complicated if you want to go jacketless.
You can easily wear chinos without a jacket – this is very common. T-shirts, sweaters, polos, OCBDs (Oxford Cloth Button Down Shirts); chinos look absolutely fine without a jacket.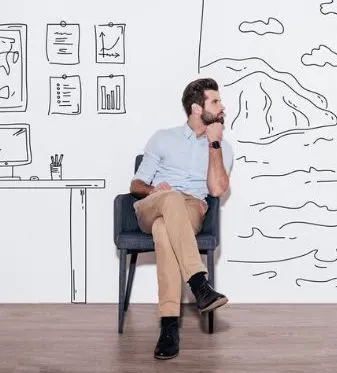 But wearing dress pants without a jacket can at times look a little awkward. The problem is that it can sometimes look like an incomplete suit. Almost like you came in a suit and left the jacket somewhere.
So, if you're hoping to go jacketless, it's best to go for chinos.
The Shoes
In a similar way, there are loads of shoes that work great with chinos. These range from casual (sneakers, boat shoes, even flip flops) to formal (Oxfords, Brogues, and more).
But as you'd expect, slacks should really be worn with more formal shoes such as Oxfords, Brogues, Derbys, etc.
The pants you choose might be partly determined by what shoes you're hoping to wear.
For more information on shoes you can wear with dress pants, it's all covered in a separate article.
The Shirt
If you're looking to go business casual and have the option of wearing either chinos or dress pants, the shirt you're looking to wear might become important.
The two big hitters here would be the regular dress shirt and the OCBD (Oxford Button Down Dress Shirt).
A "dress shirt" is a pretty vague term that refers to a collared shirt with a stiff collar and long sleeves.
An OCBD can be thought of as a type of dress shirt. However, it's different because of its button-down collar and the "Oxford cloth" it's made from.
This gives OCBDs a more casual vibe than a regular dress shirt.
You might be able to see where I'm going with this as it's following the general trend of casual vs formal.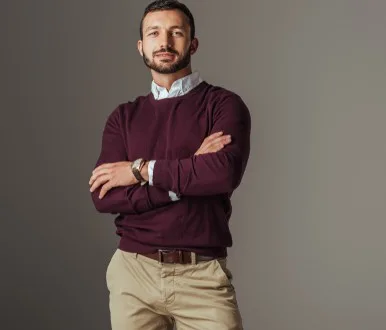 If you're looking to wear an OCBD shirt, chinos may be more appropriate than dress pants. The semi-casual look of a button-down collar works better with semi-casual pants such as chinos.
Although OCBDs can work with dress pants, once again there may be a bit of a mismatch. This is especially the case if you're wearing an OCBD as part of a suit with a matching jacket.
It would just look too casual.
One last thing with the shirt – if you're looking to leave it untucked, wear chinos and not dress pants.
3. Are You Willing To Maintain Those Dress Pants (Slacks)?
This is a question to ask yourself if you regularly have to wear either chinos or dress pants.
If you work in a "business casual" setting, this may well be a dilemma you face.
Both chinos and slacks may be acceptable for your workplace and you may well be torn between the two.
This isn't a special occasion – you'll be wearing these pants time and time again during your normal working day.
Because of this, you may well want to take the maintenance requirements of dress pants into account.
As I mentioned, you could quite comfortably machine wash your "work chinos" without much trouble.
But dress pants need dry cleaning and you should be willing to do this regularly.
Chinos Or Dress Pants For Business Casual?
Both chinos and dress pants can be worn for business casual dress codes, with dress pants usually reserved for the more formal business casual settings.
Chinos do often seem like the perfect option for business casual.
I've touched upon this already but it's worth going a bit deeper for one reason alone; business casual is a frustrating dress code to get right.
Let's break it down.
"Business casual" shouldn't be seen as a specific outfit or dress code. It's best to think of it as a spectrum.
It can mean different things depending on the occasion, the workplace, the industry, and so on.
A lot of modern workplaces have adopted a "business casual" dress code. However, this definitely doesn't mean that all of these workplaces encourage the same outfits.
A "business casual" corporate office is likely still going to expect more formal clothing than a "business casual" tech startup, for instance.
Even within these workplaces, the business casual dress code may be more "casual" at times and more "formal" at others. For example, the same man's board meetings would be more formal than his everyday desk job.
This should help you decide whether to wear chinos or dress pants for work.
Put simply, if you need a more "formal" business casual outfit, go for dress pants. If you don't need to be so formal, chinos will usually work perfectly.

Here's an article on business casual pants you can check out if you're interested.

Chinos Vs Slacks Vs Khakis

Khakis are a simply chinos that come in the color "khaki" – a pale, sandy shade of brown. Slacks, on the other hand, are completely different, with a more tailored and fitted cut. Khakis are made from chino cloth, while slacks are often made from 100% cotton, wool, or synthetic blends.

The main point here is that khakis are a type of chinos, while slacks are essentially just another term for dress pants.

As explained earlier in the article, chinos will always have a more casual appearance than slacks and dress pants and should be worn accordingly.

Frequently Asked Questions

Let's finish up with a couple of FAQs on the topic.

Chinos Or Dress Pants For Business Casual?

Both chinos and dress pants would be appropriate to wear in a business-casual setting, although chinos would be the more commonly worn option. If the business-casual setting was on the dressier end of the spectrum, dress pants in a dark, neutral color such as navy or charcoal may be a better option.

Remember, suits are generally not recommended in business-casual settings. They're just too formal.

A blazer/sport coat + chinos/dress pants pairing would be a lot more appropriate.

I've written about wearing blazers with chinos in this article.

Round things up with an OCBD shirt in white or light blue, as well as a pair of brown Derby or monk straps, and you'll be all set.

For more information on wearing chinos to business-casual settings, dive into that article when you get some time.

Are Chinos More Comfortable Than Dress Pants?

Chinos won't necessarily be more comfortable than dress pants, as chino cloth doesn't have much stretch or give. Dress pants, on the other hand, can be made from a variety of different materials. A pair of warm, wool flannel dress pants would be exceptionally comfortable during the winter, while linen slacks would feel great during the summer.

That isn't to say that chinos are uncomfortable. In fact, chinos these days are often constructed with a small amount of elastane to give them a little more stretch.

In addition, chinos come in a variety of different weights, with some feeling a lot lighter than others.
In general, however, the average pair of dress pants – regardless of the fabric – will generally feel a notch more comfortable than the average pair of chinos.
Conclusion
Understanding the differences between different types of pants can be frustrating. This is made worse by the fact that there isn't much consistency when it comes to terminology.
Different terms are used to describe the same pants – sometimes correctly and sometimes incorrectly.
If you were going to have a deep understanding of the differences between any two types of pants, it should be chinos and dress pants.
Although the differences between them can be subtle, wearing them inappropriately can be incredibly obvious. Yes, even to people who aren't especially fashion-conscious.
Hopefully, this article has equipped you with enough knowledge to know what makes them different. Also, to understand when one of them may be more appropriate than the other.
Ready Sleek founder. Obsessed with casual style and the minimalist approach to building a highly functional wardrobe. Also a fan of classic, vintage hairstyles.