Chinos are one of the most popular items of clothing in existence today. Their versatility has played a large role in establishing its popularity. But the question is, are chinos business casual?
Chinos are very commonly worn as business casual attire. Plain or neutral-colored chinos with a tucked-in OCBD shirt and a blazer or sports coat often makes for an ideal business casual outfit.
Although that's the gist, I wanted to dig deeper.
Underdressing for an occasion or for a workplace is never a nice feeling.
Unfortunately, the ambiguity of the term "business casual" has led to far too many men shamefully cowering in the corner of their office Christmas parties.
I'm about to give you some crucial tips on how to make sure those chinos are business casual no matter what the occasion is.
But first, let's dive a bit deeper into the question.
What Exactly Is "Business Casual"?
It's important to have a clearer understanding of what "business casual" actually is in order to make sure those chinos are always appropriate.
With most modern workplaces chilling out on their dress codes, it's unsurprising that more and more men are wondering what this confusing term "business casual" actually means.
It's best to think of it as a spectrum.
"Business casual" depends mainly on the type of workplace we're talking about. It would most likely mean different things to an office manager, a Geography teacher, and a Silicon Valley tech engineer, for example.
But each of these men may have to vary their business casual dress code from day-to-day or from event-to-event.
Let's take the office manager as an example.
Regional meetings may require dressier wool slacks with a blazer or sports coat and not chinos. But for his everyday desk job, chinos with a simple OCBD shirt and sweater might be fine.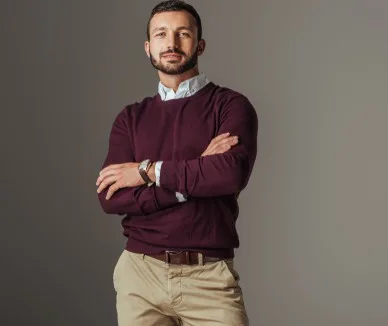 The tips in the next section are going to give you the specifics on making sure those chinos work, so I don't want to overcomplicate things here.
Here are the main points to remember:
One man's business casual is not the same as another's.
A man's "business casual" dress code can vary from day-to-day, even within the same workplace.
Although chinos almost always work, there are some instances where a dressier pair of pants such as wool slacks would be more appropriate.
Usually, it's the clothes you combine with the chinos that make the whole outfit inappropriate. The chinos themselves are rarely the problem.
8 Tips To Make Sure Your Chinos Are Business Casual
These tips should steer you in the right direction when deciding whether or not your chinos would be appropriate for a specific occasion or workplace.
1. "Formal" Vs "Casual" Chinos
As a general principle, think of chinos as chinos. They're simple and their simplicity is fantastic.
Any pair of well-fitting chinos could be made to suit the vast majority of business casual occasions if the other tips in this list are followed.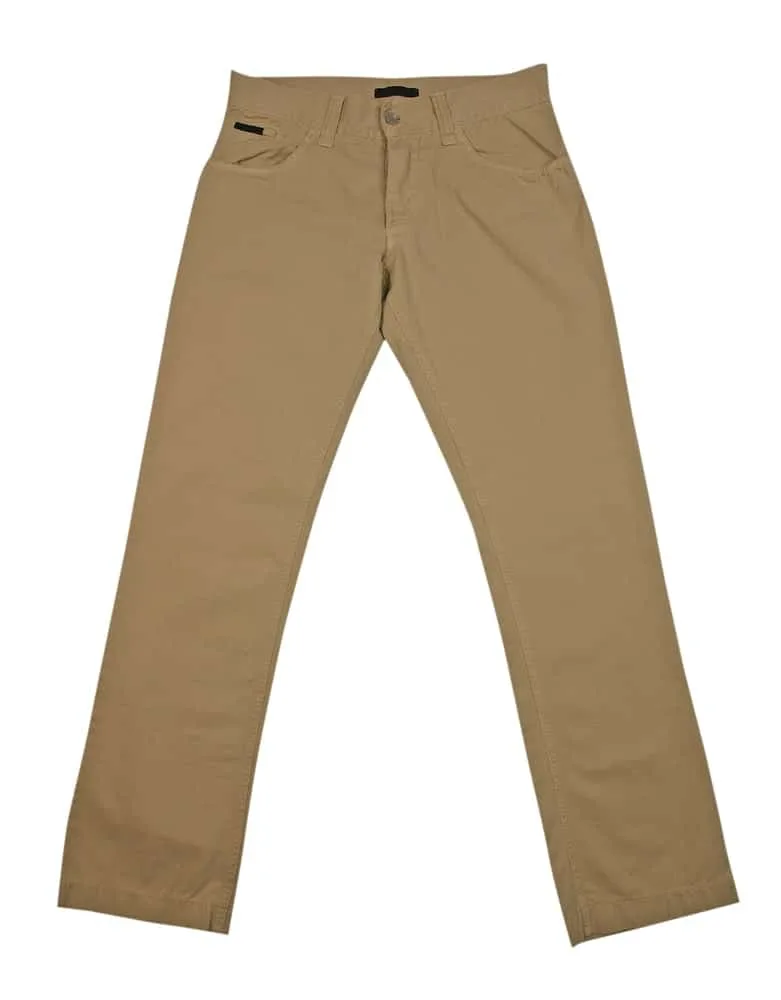 But there are certain features you can look out for that would make a pair of chinos more "formal". These may be better suited to those business casual dress codes you'd rather not risk underdressing for.
Alternatively, you may want to choose a more "casual" pair for a business casual occasion you'd rather not risk overdressing for.
You'll get a sense of how formal a pair is just by looking at it and getting a vibe. Casual chinos have features that more closely resemble jeans.
But here are some specific features that would help you differentiate between a more formal pair of chinos and a more casual one:
The Pockets: A more formal pair may have welted back pockets and not patch pockets.
The Crease: A center crease is less common with chinos and almost always present in dress pants. But a pair of chinos with a center crease is bound to look more formal. If it doesn't come with one, don't try to iron one in as this doesn't look natural.
The Seam: Casual chinos are more likely to have flat-felled seams. That sounds quite technical – just remember, if the seams remind you of jeans, it's more casual.
2. Choose Chino Color Wisely
The color of your chinos will play a huge role when determining whether they'd suit a business casual workplace or event.
It's usually best practice to play it safe.
Stick to plain or neutral-colored chinos. The classic khaki chinos are great for business casual. They're neutral, highly versatile, and a very safe bet.
Charcoal gray, stone, navy blue, and even olive chinos are also good options for business casual that should help you mix and match with a wide range of your other clothing items.
They'll also make sure your outfit isn't too loud or showy for any business casual event.
3. A Tie Is Usually Too Much
This isn't a hard-and-fast rule, but it's quite hard to make a tie look casual in any sense of the word.
It sort of takes too much away from the casual component of business casual and can make a pair of chinos look a bit mismatched.
This is a common mistake men make when trying to figure out this tricky dress code. It's a quick and easy way to be seen as overdressing for the workplace or occasion.
Although this isn't the end of the world, it can be a little bit odd and awkward. A tie can be easily removed if you feel out of place, but it's the first impression which is tainted.
4. Always Tuck The Shirt In
When dressing for business casual, always tuck the shirt into the chinos.
An untucked shirt with chinos just screams casual and isn't formal enough for this purpose.
In terms of the type of shirt you choose, a dress shirt or OCBD (Oxford Cloth Button Down) shirt are your two main options.
Once again, look at the spectrum of business casual and figure out how formal you'll need to go.
For most business casual settings, an OCBD shirt would be absolutely fine. In fact, a dress shirt would usually be too formal.
Both would go great with a sports coat, however. So if you wanted to up the formality, the addition of a sports coat to an OCBD would do the trick.
White or baby blue are two very safe color choices for your shirt and would go well with the neutral colors I suggested for your chinos in Tip No. 2.
But whatever you do, tuck the shirt in.
5. A Jacket May Or May Not Be Necessary With Those Chinos
Here's where our business casual spectrum comes into play again.
There are certain "business casual" situations where a jacket may be completely appropriate and in fact encouraged.
Rocking a solid jacket in these circumstances could make all the difference.
Remember that manager attending a regional meeting? Chances are a jacket would look great with those chinos for that business casual occasion.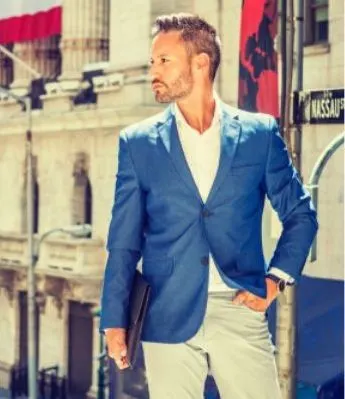 But going about his day-to-day job in his business casual workplace shouldn't really require a jacket.
If you are going to wear a jacket with those chinos, stick to what works. Blazers and sports coats go great with chinos.
Blazers are a little more formal than sports coats, so again, use your judgment as to what might be more suitable.
6. Accessorize Accordingly
You may be spotting a pattern here. Whether or not a pair of chinos is considered business casual does depend a huge amount on what it's worn with.
Accessories are the icing on the cake. You don't necessarily need them and they won't make or break the ensemble you've been carefully putting together.
There are certain accessories that are just too casual for a business casual outfit. For example, backpacks.
But the right belt can really make those chinos pop. Lean towards formal and choose a narrow leather belt (1 – 1 ¼ inch) that matches the color of your shoes.
Watches are also a great way to stand out as well. It's hard to go too far wrong, but make sure it's analog. A leather strap dress watch will always impress.
7. Overdo It If You Aren't Sure
If you're torn between wearing a sports coat and not wearing a sports coat, for instance, it's (usually) to just pop that badboy on.
Overdressing is just a little less taboo than underdressing.
Besides, a sports coat can always be taken off if you really do feel out of place.
The same goes for the chinos. If you're choosing a pair of chinos for a business casual setting, overdo it if you aren't sure.
Just choose a more formal looking pair (see Tip No. 1).
8. Don't Be Afraid To Ask
"So what are you going to wear?"
Let's be honest, men aren't the type to ask that personal yet incredibly useful question of their peers. This is especially true when it comes to their colleagues.
But if you trust anyone enough to ask it, it's usually worth doing and can really ease some of the stress.
If it's an event you're attending, it's usually less embarrassing to just phone up the organizers and clarify what they mean by "business casual".
The reason for this is that the concept of "business casual" is vague enough for there to be a good chance that the people setting that dress code have no idea what it means.
You may call them up to clarify, only to find out that chinos definitely aren't allowed. Sure, they probably have no idea what "business casual" actually means which is frustrating.
But at least you've saved yourself a faux pas.
At the end of the day, don't overthink it. If it's for your workplace, just dress differently the next day. If it's for an event, so what? You may have misjudged this one.
But life goes on.
What Shoes Should You Wear With Chinos For Business Casual?
The best dress shoes that go with a pair of chinos for business casual settings are usually a nice pair of Derbys or loafers. Oxfords could work well too.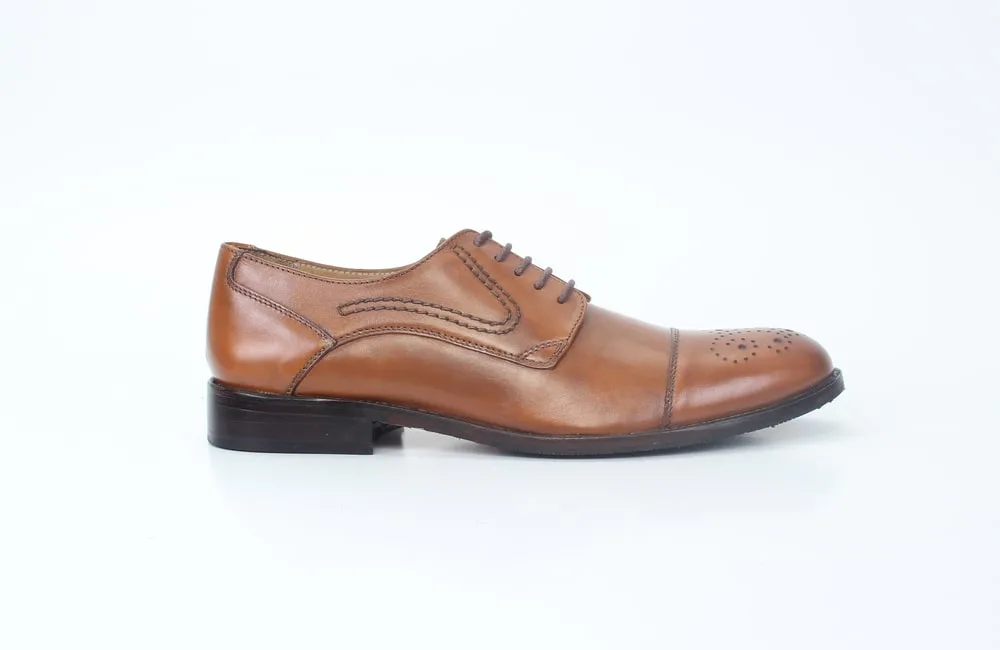 Basically, keep it simple but lean towards formal to make sure those chinos suit the occasion.
You could've done everything perfectly up until this point. A solid sports coat, a nice neutral OCBD shirt (white or baby blue), a beautiful pair of chinos, and no tie in sight.
But slipping on a pair of shoes that shouldn't be anywhere near a business casual setting can completely ruin your hard work.
It's a more common mistake to underdress with your shoes when it comes to business casual.
So, avoid boat shoes, moccasins, sneakers, and sandals. Oh, and flip flops too (believe me, people do it).
It's not that these shoes can't ever work with chinos. That's definitely not the case – chinos are incredibly versatile. It's just that they're more suited to casual settings.
Can Chinos With A Polo Shirt Be Business Casual?
A pair of chinos with a polo shirt will usually not be formal enough for business casual.
Although there may be a few instances where it might be just about acceptable, it usually isn't worth the risk.
"Casual Fridays" at work is a rare example of a common "business casual" occasion where a polo shirt with chinos may be acceptable.
If you do choose to go this route, be sure to tuck that polo shirt in.
Can Chinos Be Worn To An Interview?
Chinos can be worn to an interview if there are no specific instructions requesting otherwise and the industry you are applying to doesn't typically require "dressing up".
This may sound obvious, but if you've received instructions asking you to "dress down" for the interview, you should do just that.
No, not cargo shorts and flip flops.
Chinos and a sports coat would work great here. In other words, go business casual.
But if it specifically asks you to suit up, wearing chinos would be a grave mistake indeed.
Let's talk about the industry. Typically (although not always) creative industries such as marketing, design, and fashion wouldn't require dressing up.
The tech industry is pretty similar.
But most corporate jobs would require a suit and tie. If you're applying to work somewhere like this, you should be wearing a suit and tie to that interview.
Essentially, if the job you're applying to will require you to regularly wear a suit and tie to work, wearing chinos to the interview would be a very bad move.
Slim Fit Vs Skinny Fit Chinos For Business Casual
Slim fit chinos are usually more appropriate than skinny fit chinos for business casual.
Skinny fit chinos may look out of place in a business casual setting and is another one of those where it's not really worth the risk.
Slacks Or Chinos For Business Casual: The Verdict
Slacks should be worn instead of chinos for business casual occasions or workplaces if the setting is formal enough to warrant it.
Always remember the spectrum of business casual and don't see everything as black or white.
Within the same "business casual" workplace you may have instances, events, and meetings where slacks are more appropriate than chinos.
Just wanted to drill that point home.
Conclusion
There you have it. Hopefully, you've gained a better understanding of both chinos and the frustratingly vague concept of business casual.
Follow these tips and you shouldn't steer too far wrong.
This is one instance where it's important to experiment, but not too much. Keep it simple, stick to basic principles, and have fun with it.
Ready Sleek founder. Obsessed with casual style and the minimalist approach to building a highly functional wardrobe. Also a fan of classic, vintage hairstyles.