Black jeans give you the benefit of choice when it comes to color coordination. But having a select number of shirt colors you know will work well with them is definitely worthwhile.
So, here are some shirt colors that always look great with black jeans:
White
Black
Blue
Green
Grey
Pink
Red
Navy
That's the short answer.
If that was all you needed, it's OK. But if you want a couple of important color coordination tips, as well as some pics of the combinations themselves, read on.
Let's get to it.
How To Color Coordinate Shirts With Black Jeans
Consider these tips before putting together your black jeans outfit.
It's definitely worth mentioning that the color combinations you'll be seeing would work regardless of the style of shirt you're going for.
So, whether it's a T-shirt, polo, Henley, OCBD, or dress shirt, it doesn't matter. These tips and color combos will work for any of them.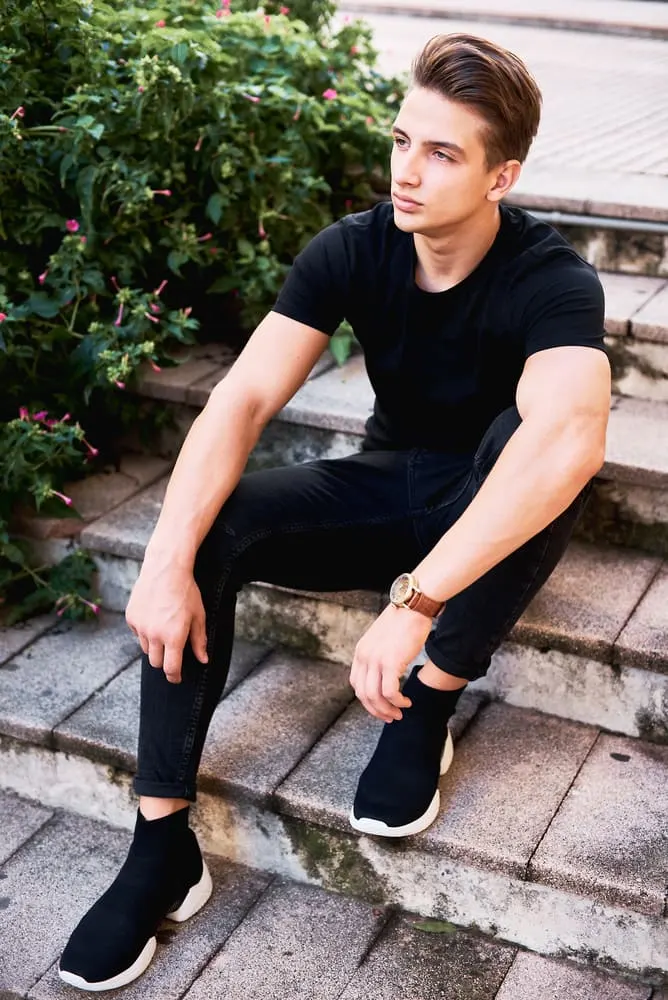 1. Neutrals Vs Non-Neutrals
When choosing a shirt to wear with black jeans, you've got the option of choosing a similarly neutral color or a non-neutral color.
The neutral color options are black, white, and grey. They don't appear anywhere on the color wheel and they combine effortlessly with other colors.
Black jeans are, in themselves, neutral. They'll pair well with any color you can think of.
Combining black jeans with a shirt in another neutral color (i.e black, white, or grey) is simple, subtle, and easy.
It'll also usually give off a dressier appearance than going for a more vibrant and non-neutral color.
Black jeans worn with a white or grey shirt, for example, will tend to look dressier/smarter than black jeans worn with a red or blue shirt.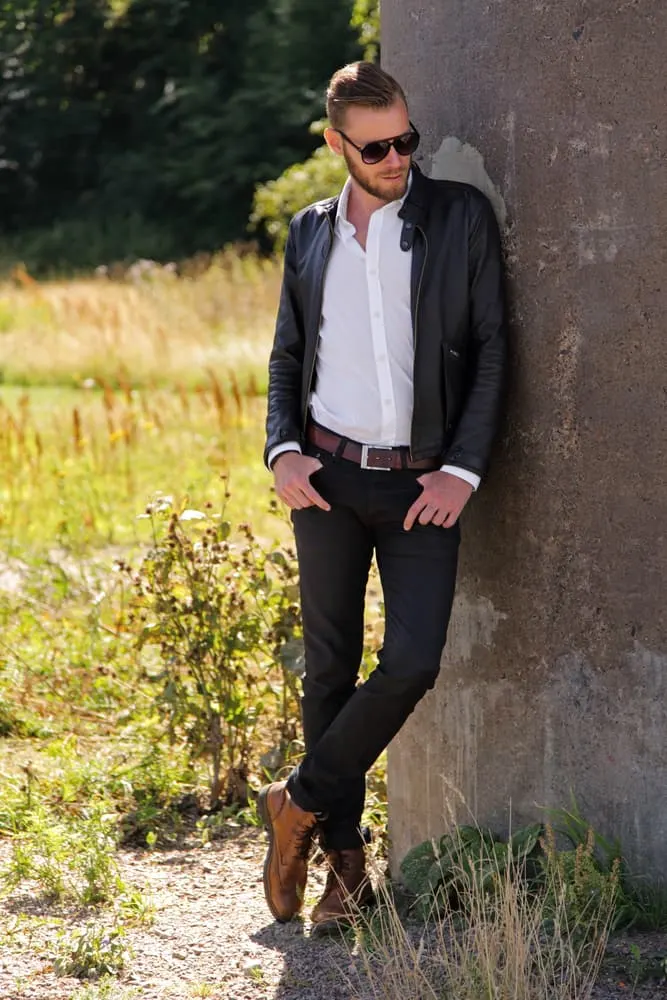 The main point here is that you can wear any shirt color with black jeans. But your choice between going for another neutral color or a non-neutral color instead should be partly determined by whether you want to dress up or dress down.
While black jeans wouldn't ever be considered "formal", the shirt you choose could make the difference between the outfit looking "casual" or "smart-casual".
Of course, the style of shirt you choose will play a role here as well. Polos and OCBDs will look dressier than a T-shirt, regardless of the color.
2. High Contrast Vs Low Contrast
Black jeans are dark – very dark.
If you want a high-contrast combination, pair the black jeans with a light-colored shirt. If you want a low-contrast combination, combine the black jeans with a similarly dark-colored shirt.
Contrast is eye-catching and attention-grabbing.
As an example, a high contrast combination such as a white or light blue shirt paired with black jeans is going to be more attention-grabbing than a low contrast dark grey shirt and black jeans combo.
It's not that one option is better or more "correct" than the other. Both high-contrast and low-contrast combinations can look fantastic.
It comes down to your personal preference.
How much contrast do you want between the shirt and the black jeans?
Would you prefer that the two items blended more "seamlessly" into each other, or do you want the difference in color to stand out due to one being light and the other being dark?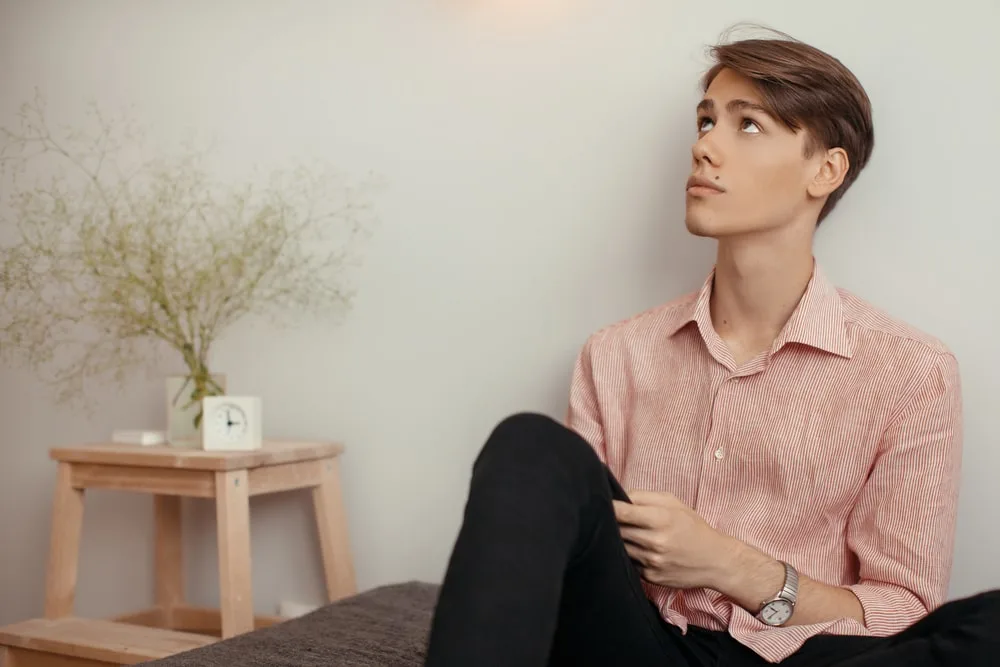 One thing to note is that a dark shirt and black jeans combination tends to look better for evening events. Such a dark overall aesthetic can sometimes look a little jarring in daylight.
This isn't a hard-and-fast rule. It can definitely work. It just looks better in the evenings.
Black Jeans And Shirt Combinations To Try
Now that you've learned a couple of color-matching principles to consider, it's time to see what the color combinations actually look like.
Here, you'll see the difference between combining black jeans with neutral shirts and non-neutral shirts.
You'll also see some low-contrast combinations, as well as high-contrast combinations.
Black Jeans With A White Shirt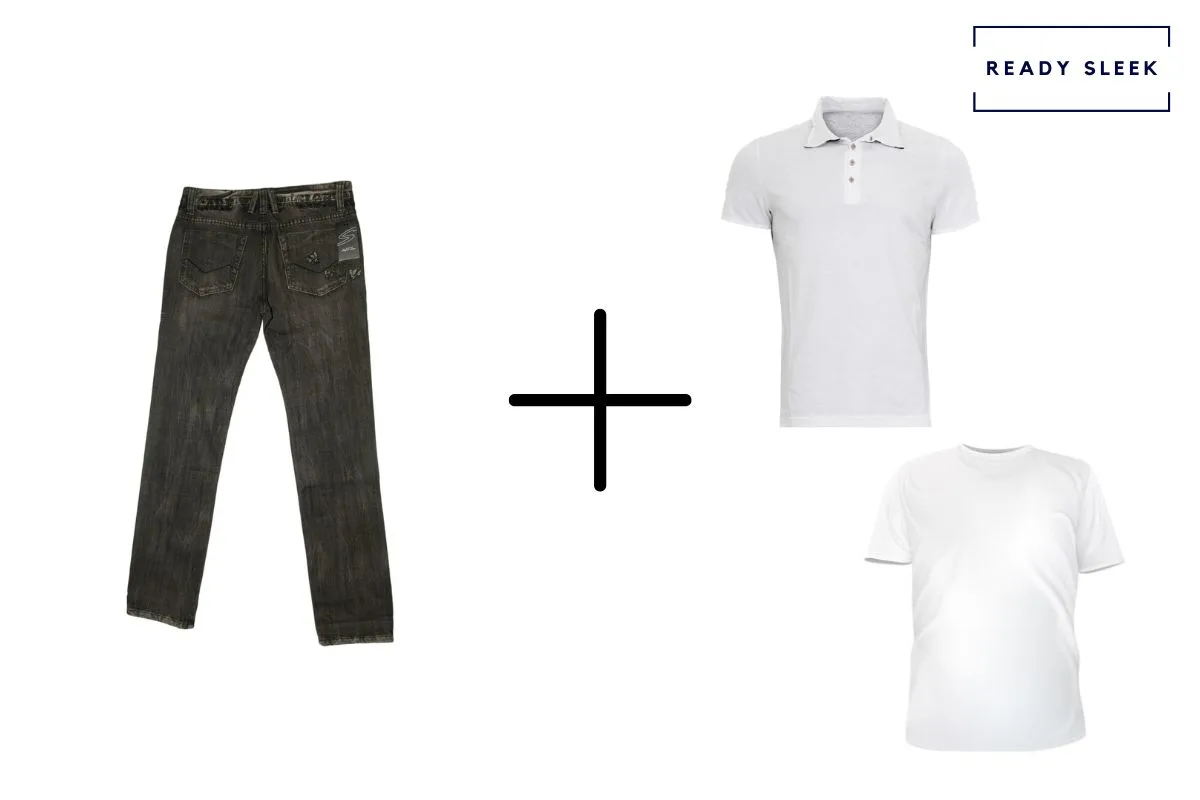 Black jeans can be worn with a white shirt for an eye-catching, high-contrast combination. Given how neutral the outfit is, it's perfect when you want to dress the black jeans up a little.
Choosing a neutral combination such as this also makes it incredibly easy to add bolder and more vibrant colors into your outfit.
For example, a dark red pair of high-top sneakers, a burgundy sport coat, etc.
As mentioned earlier, choosing the right color combination is only one aspect of dressing up a pair of black jeans.
A white T-shirt worn with black jeans will look a whole lot more casual than a white OCBD shirt would.
But the black and white combo is very hard to go wrong with overall.
Black Jeans With A Grey Or Black Shirt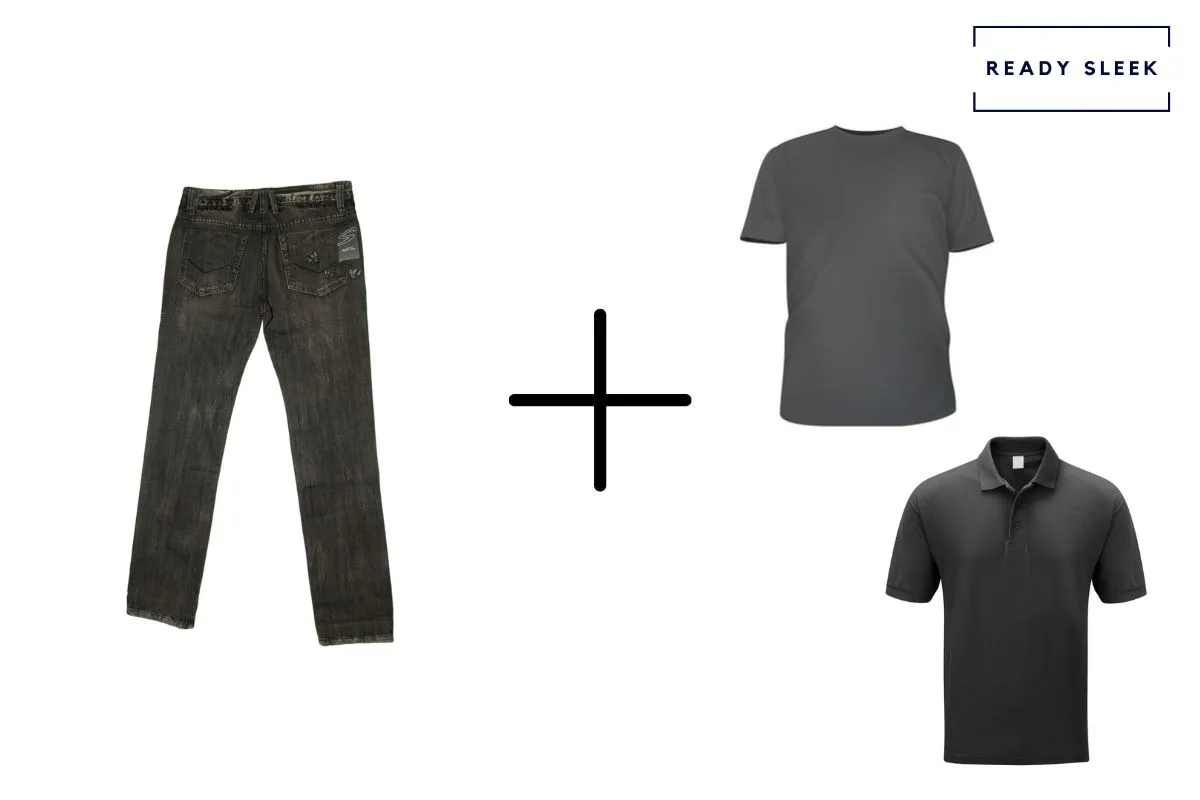 A grey or black shirt can easily be worn with black jeans for a monochromatic aesthetic. The darker the shirt color, the more monochromatic it'll come across.
Much like white shirts, grey and black shirts are neutral and effortless to combine with other items.
Choosing a dark grey or black shirt to wear with the black jeans will produce a very dark aesthetic. Because of this, it's usually best to reserve it for evening events.
It's also worth considering whether you want to add a contrasting item into the mix. For example, a pair of all-white minimalist sneakers or a light grey blazer if you're dressing up a little.
Black Jeans With A Blue Shirt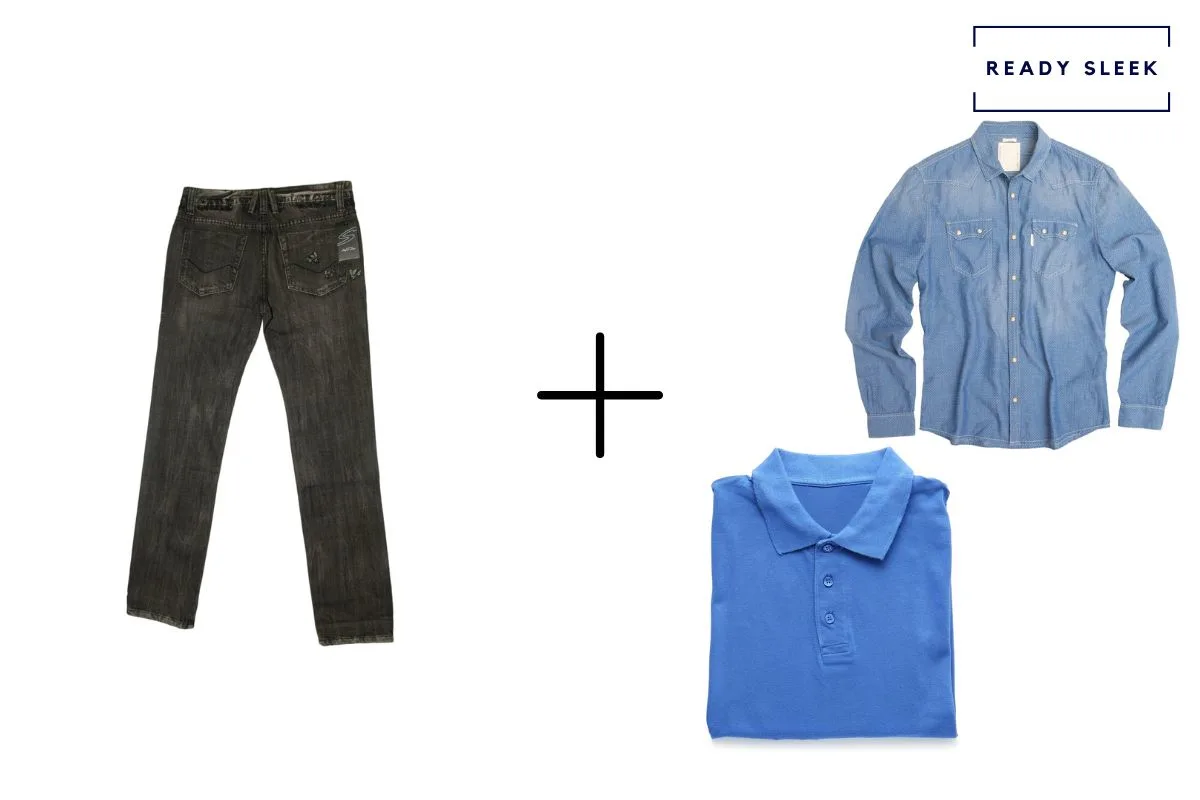 Black jeans work well with blue shirts in both casual and smart-casual settings.
The denim shirt and black jeans combination usually takes this form, with blue denim being a traditional favorite.
But the combination also refers to blue T-shirts, linen shirts, polos, and so on.
It all works. Blue and black tend to sync together seamlessly, whether we're talking about light or dark shades of blue.
When choosing a pair of shoes, technically, anything goes.
You've got plenty of options, but try to keep things subtle.
Black or white sneakers often look great with black jeans and a blue shirt when you're going more casual. If you wanted to dress up a little, consider a pair of brown Derby shoes – whether that's in a shiny grain of leather, or suede.
Black Jeans With A Navy Shirt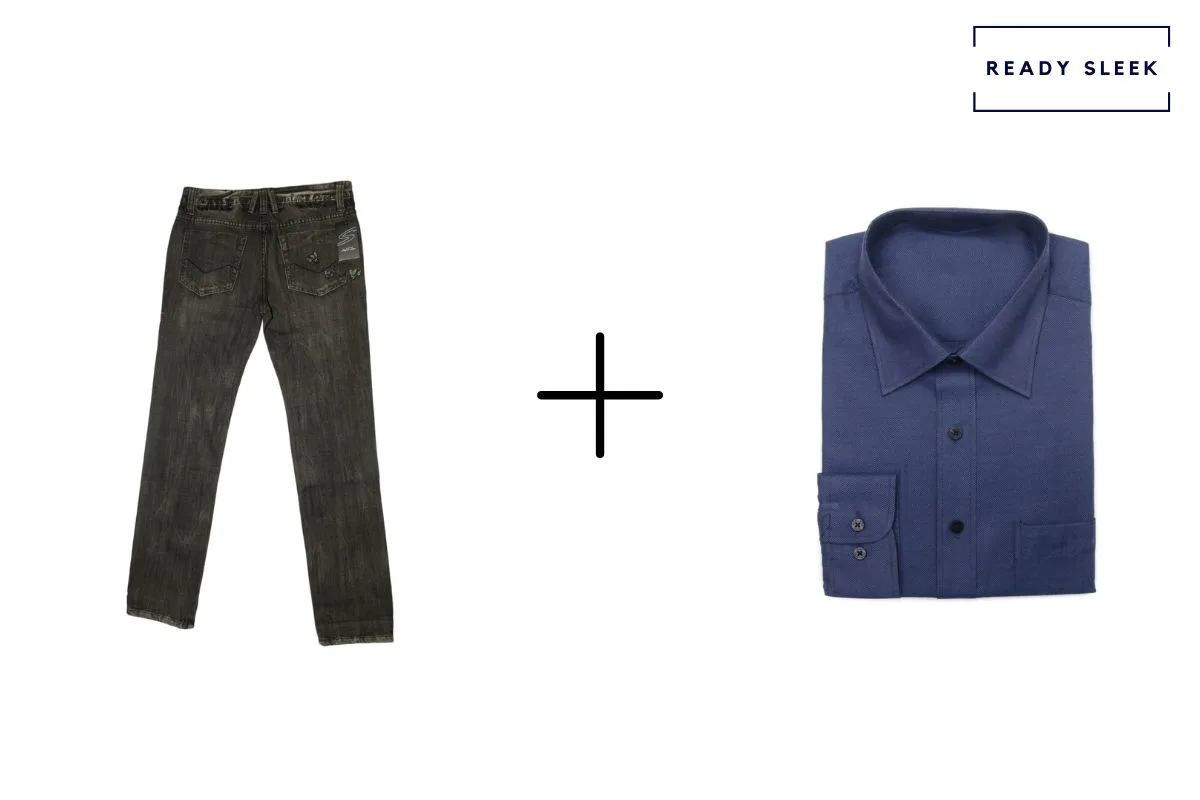 A black jeans and navy shirt combination works well in many different settings. The dark combination has an effortlessly dressy and elegant feel to it.
Navy blue is so muted that it's often considered neutral in men's style. However, given the fact that it's clearly a shade of blue, the "cool" undertones are always obvious.
So, if you're looking to dress up a pair of black jeans but want something just a little more vibrant than a simple white, grey, or black shirt, consider a navy one instead.
You've got the benefit of dressiness without having to go for a truly neutral shirt.
However, much like black and dark grey shirts, navy shirts worn with black jeans tend to look better in the evening. It's still a very dark aesthetic as a whole.
Black Jeans With A Green Shirt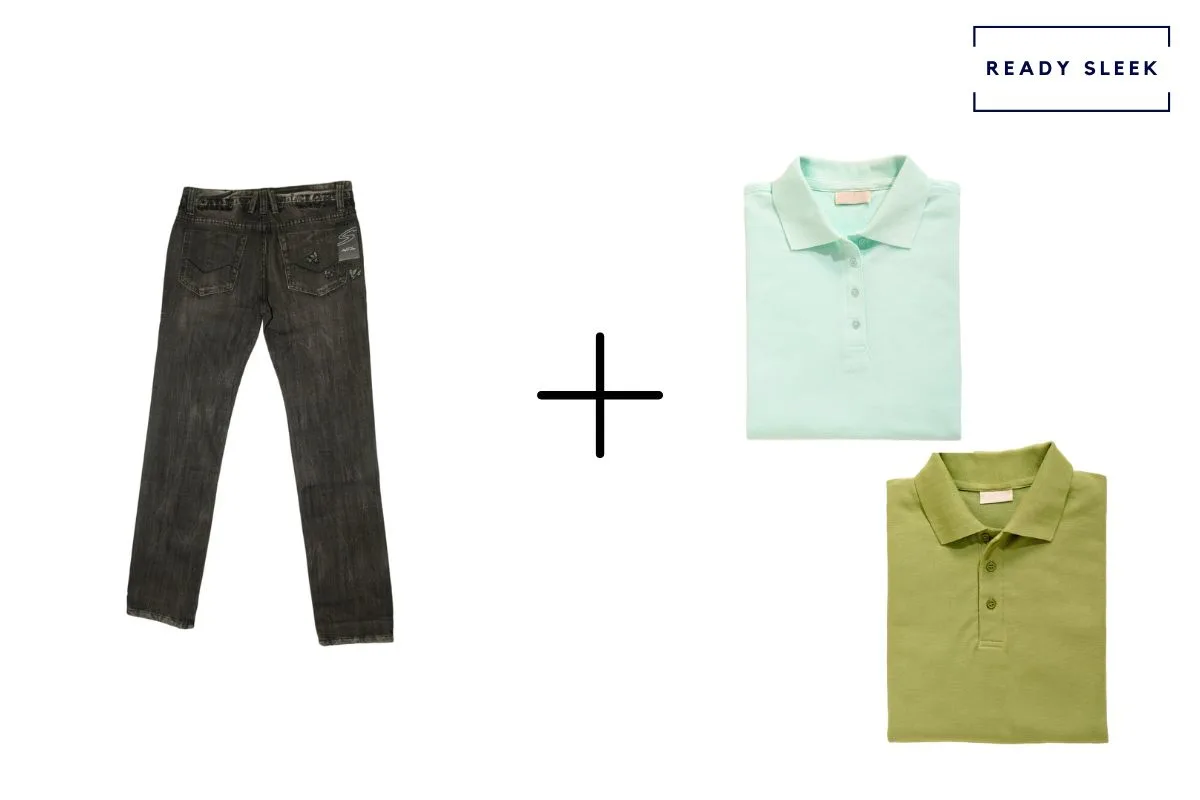 Black jeans can easily be worn with both light and dark green shirts. The earthy tone to the outfit often looks great during the winter and fall months, but can quite comfortably be worn year-round with good effect.
Just like with blue shirts, the "cool" undertones of green are immediately obvious.
Unlike the more vibrant and bold "warm" colors (eg. reds, yellows, and greens), "cool" colors tend to produce a more laid-back and relaxed feel.
Brown Derby shoes look great with a green shirt and black jeans combination if you're looking to dress up a little. If you're dressing down, once again, sneakers work best.
While a green shirt combo wouldn't look as "dressy" as a white, black, or grey shirt would, it's still reasonable to wear in smart-casual settings.
It's just important to choose the right shirt style.
If you're looking to dress up, go for a long-sleeve green shirt (eg. an OCBD) instead of a tee.
Black Jeans With A Pink Or Red Shirt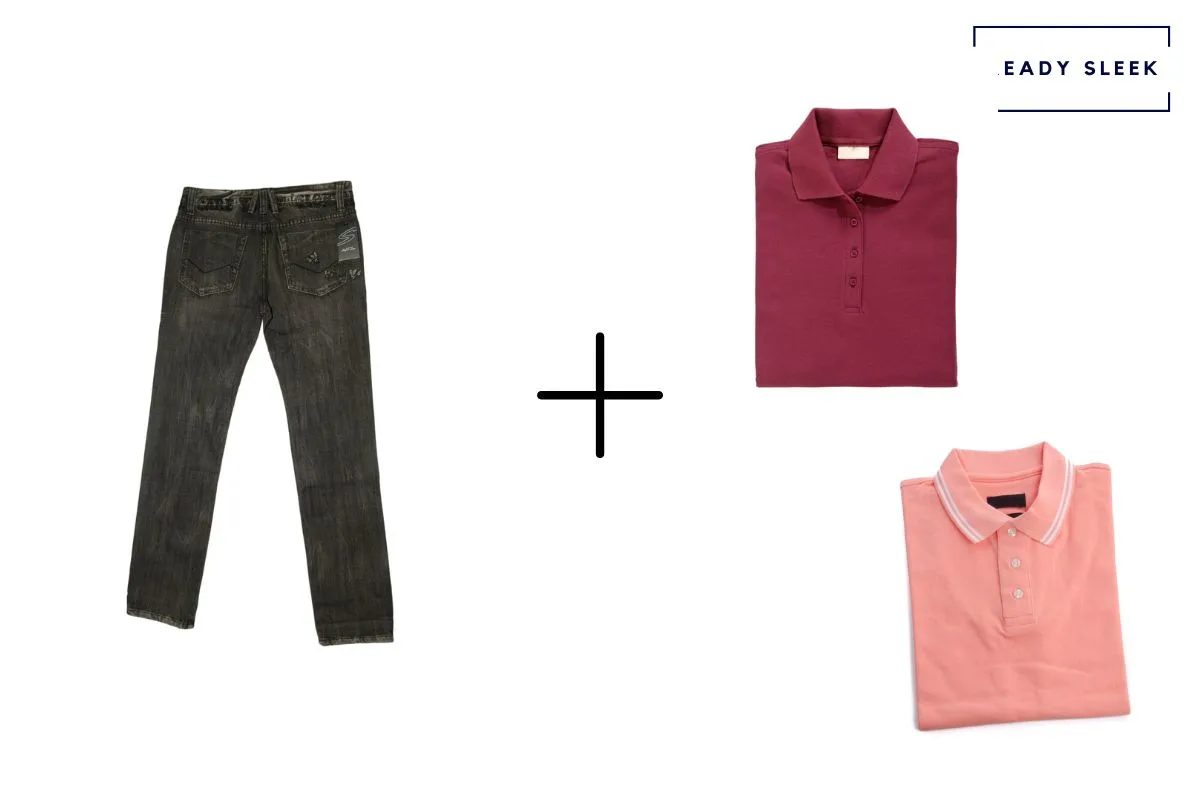 A pink or red shirt can be worn with a pair of black jeans to add a bold and vibrant edge to an otherwise neutral outfit.
Pink and red, much like oranges and yellows, are "warm" colors.
Black jeans are just as easy to pair with items in warm colors and it's easy to see how different they make the overall aesthetic.
Compare the image above with that of the neutral shirt combinations (i.e white, grey, black).
The warm undertones of the pink and red shirt are immediately eye-catching.
If you were looking for a more attention-grabbing black jeans combination, choosing a "warm" shirt color would be an easy way to do it.
Conclusion
Black jeans are easy to color-coordinate, but it's quite likely that one or two shirt colors will best suit your needs.
Consider how dressy you want your black jeans outfit to be, as well as how much contrast you want between the shirt and the jeans.
Once you've done this, you're several steps closer to choosing the right shirt color for your specific circumstances.
Enjoy.
Ready Sleek founder. Obsessed with casual style and the minimalist approach to building a highly functional wardrobe. Also a fan of classic, vintage hairstyles.