Wedding dress codes aren't simple. People often make the mistake of "winging it" and hoping for the best, only to be the victim of a fashion faux pas as soon as they walk in. The question is, can you wear a polo shirt to a wedding?
Polo shirts can be worn to casual summer weddings where the heat would make it acceptable to wear one, although a long-sleeved shirt made from a breathable fabric would always be preferable. Before wearing a polo to a wedding, clarify the dress code with the wedding couple.
Although that's the short answer, as you'd expect, there's a whole lot more to it.
You need to know whether you can really wear a polo shirt to the specific wedding you're going to. If you think you can, you also need to know how to do it in a way that doesn't look awkward.
So, let's get to it.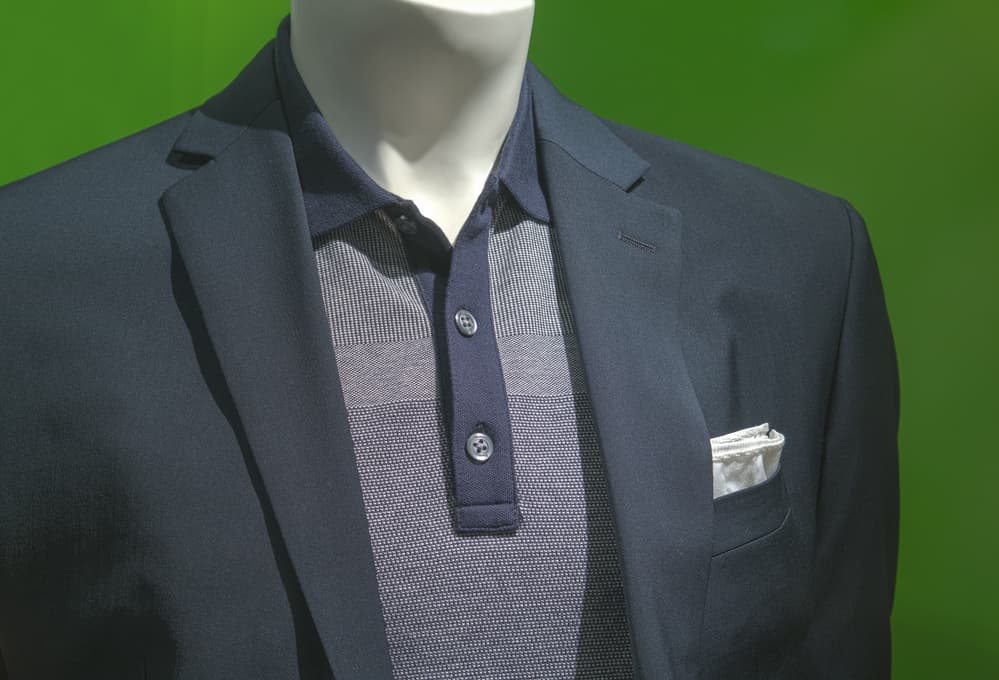 When Can You Wear A Polo Shirt To A Wedding?
A polo shirt can usually be worn to casual summer weddings where the heat would make long-sleeved collared shirts too uncomfortable.
It's a pretty specific set of conditions that needs to met:
Casual wedding
Heat
Long-sleeved shirt would be too uncomfortable
As you can see, a polo shirt wouldn't usually be appropriate for a wedding. A long-sleeved shirt would almost always be the preferable option.
But in certain circumstances, a polo shirt can be worn without looking too underdressed.
The main trouble comes with the first condition – "casual wedding".
"Casual" can mean lots of different things, depending on who you ask. You and the wedding couple may have a completely different understanding of what it means.
You might think "polo shirt and khakis", while the wedding couple may think "Oxford shirt and slacks".
That's why it's always a good idea to check with the wedding couple before turning up in a polo shirt.
Being underdressed at a wedding is never a nice feeling. You won't just look out of place at the wedding itself – you'll also be "that guy" in the wedding photos.
If the wedding truly is casual and it's going to be very hot, there's a good chance the wedding couple will say a polo shirt is completely fine.
They'd want their guests to feel comfortable at their wedding and not struggle with the intense heat.
OK, so once you've determined that a polo shirt would probably be acceptable for the wedding, it's important to wear it the right way.
Read on to find out exactly how to do that.
How To Wear A Polo Shirt To A Wedding (5 Tips)
Use these 5 tips to wear the polo shirt to the wedding in the most effective and "formal" way possible.
1. No Branding
Polo shirts are a staple of smart-casual clothing. Something that's become closely linked with them is large logos and in-your-face branding.
The Ralph Lauren logo is a classic example. While it may be iconic and instantly recognizable, it would also make a polo look way too casual for a wedding.
The bottom line here is to make sure that the polo shirt has minimal branding – no logos, no writing – nothing.
It should be a solid, single color and nothing else.
2. Neutral Colors
Choose a neutral color for your polo shirt when attending a wedding.
It's common to find polos in bright and bold colors – pink, orange, green, etc. They're great for casual summer wear, but they'll definitely look too casual for a wedding.
Instead, go for a more subtle and neutral color – off-white, navy blue, olive green, or beige would be good examples.
These colors look more formal, sure.
But they'll also be a lot easier to color match with other items you're going to be wearing.
3. Wear Dress Slacks
The key is to make the polo shirt the most casual item you're wearing. Everything else you wear should definitely lean more toward the more formal end of the spectrum.
This definitely includes your pants.
Definitely avoid jeans at all costs. A polo shirt and jeans should never be worn to a wedding as they'll look too casual even for the most casual of weddings.
While this may not be a popular opinion, chinos would probably not be a good idea if you were wearing a polo shirt.
Although chinos and an OCBD would probably be fine, chinos and a polo would usually look too casual to be worn to a wedding.
Instead, use your pants as an opportunity to compensate for how casual your polo shirt looks.
Go for slacks in a breathable and comfortable material instead.
4. Wear A Blazer Or Sports Coat
A blazer or sports coat would definitely be worth wearing on top of your polo shirt to make it look a little dressier and more appropriate for a wedding.
The main problem here would be the heat.
But the beauty of a blazer/sports coat would be that you could take it on and off again depending on how you feel.
Simply carrying one with you would still make you come across as though you've made some effort to dress up.
When you're wearing a polo shirt, that's important to consider.
5. Leather Loafers At A Minimum
Your choice of shoes becomes more important when wearing a polo shirt. Choose dress shoes that demonstrate that you've made an effort.
Loafers would probably be the least formal you could potentially go.
They'd be a good choice because their ankle-exposing uppers would be comfortable in the heat, while still looking formal enough to work well at a "casual" wedding.
While you'd probably get away with suede loafers, a shinier grain of leather such as calfskin or cowhide would be a safer option.
They'll make it clear that you're dressing for a special occasion and not just a random party.
You could, of course, go for a more formal pair of dress shoes. It's just important not to go so formal that it looks out of sync with the traditionally casual polo shirt.
A pair of black cap-toe Oxfords would usually look a little strange when you're wearing a polo shirt.
Derby shoes or monk straps would be better options as they're more versatile. They're formal enough to show that you've definitely made an effort, but also casual enough to work well with a polo shirt.
Once again, while leather would look sharper, you could probably get away with suede in a dark color.
Casual Alternatives To A Polo Shirt At A Wedding
While it may seem as though a polo shirt is the only option at a hot, casual, summer wedding, there are long-sleeved alternatives.
They're breathable, but also more formal-looking than a regular polo shirt.
Consider these fabrics before you make your decision.
1. Linen Shirt
Linen is about as casual and summery as a long-sleeved shirt can get.
Yes, it's classically wrinkly – but many say that's part of its charm.
It'll look casual, but not as casual as a short-sleeved shirt such as a polo.
It may be ideal for a truly casual summer wedding. It's breathable and comfortable to wear in the heat thanks to its open weave and gauze-like structure.
2. Cotton Poplin Shirt
Cotton poplin is a very lightweight fabric that people often don't consider.
It has a smooth, plain weave, and has the benefit of not wrinkling very easily.
Cotton is often seen as a good option for the summer, but people often forget or don't realize that there are many different types of "cotton".
Some of these will be heavier and more uncomfortable in the heat than others.
Cotton poplin is one of the good ones.
3. Cotton Chambray Shirt
Cotton chambray has quite a textured finish. It looks similar to denim, but not quite as rugged.
It's also much more lightweight with denim, making it more breathable and comfortable to wear in the heat.
While it isn't as silky smooth as a regular dress shirt would usually be, a long-sleeved cotton chambray shirt would still look more formal and wedding-appropriate than a polo shirt.
4. Polyester Blend
There are many different types of polyester blend long-sleeved shirts out there.
The number of different components they can have is huge, but some common ones include nylon, Lycra, and spandex.
Ultimately, these synthetic shirts usually have the benefit of being moisture-wicking, breathable, and stretchy.
Conclusion
While polo shirts aren't the ideal option for a wedding, they can be appropriate for casual summer weddings. However, it's important to recognize that a long-sleeved alternative in a breathable fabric would always be preferable.
Enjoy.
Ready Sleek founder. Obsessed with casual style and the minimalist approach to building a highly functional wardrobe. Also a fan of classic, vintage hairstyles.