It's funny. Some combinations may initially seem like they might not work, simply because you're mixing casual wear with formal attire.
But can you wear a polo shirt with dress pants?
A polo shirt can be worn with dress pants in smart-casual settings. Choosing a more "casual" pair of dress pants and a polo with minimal branding is often a good idea. Tuck the polo into the dress pants and consider blazers and loafers to dress up the outfit.
That's the short answer, but there's a whole lot more to it. At the end of the day, there will always be better ways to do it than others.
Here are some crucial tips for ensuring you wear polos and dress pants in the most effective way possible, each and every time.
1. Make Sure It's Appropriate
Polo shirts and dress pants should really only be worn in smart-casual settings. The polo shirt would be too casual to wear in business-casual or formal settings.
This might sound restrictive, but you'd be surprised by just how many settings in which you could wear this combination.
Here's an image from Amazon as an example of it.
"Smart-casual" is a dress code where jeans, T-shirts, and sneakers are too casual, but a suit would be too formal.
It isn't quite as formal as business-casual, as you can get away with more "casual" items such as polos and Henleys which wouldn't be appropriate for business-casual dress codes.
Smart-casual settings may include dates, nights out, garden parties, sports events, dinners at mid-level restaurants, and more.
Polos and dress pants could be perfect to wear in these instances.
But if you're expected to dress for a business-casual, cocktail, or formal dress code, avoid the polo and dress pants combination. It won't be formal enough.
2. Choose "Casual" Dress Pants
The main issue that could arise when wearing a polo shirt with dress pants is that the polo simply looks too casual to be worn with the dress pants. Because of this, try to find a pair of dress pants that looks more "casual".
At the end of the day, dress pants should always be considered formal. They'll often have formal features such as center creases, jetted pockets, and even pleats.
Technically, you could say that "casual" dress pants don't really exist.
But it's hard to deny that some dress pants just look more casual than others.
Dress pants can be made from practically any fabric you can think of, but they will usually be quite heavy and have a more rugged/less shiny texture than suit pants.
That's what makes dress pants look more casual than suit pants.
While wool and wool synthetic blends are common, you can also get dress pants in polyester blends, microfiber, crepe, and more.
The bottom line – when you're trying to dress down those dress pants, choose a pair made from a heavier and less shiny fabric.
Another tip would be to consider a pair of dress pants with a clear and obvious pattern, as this would also make them look more casual.
Finally, avoid wearing suit pants with polo shirts. Suit pants should only be worn as part of a complete suit and not with random items of clothing like a polo shirt.
It's actually pretty easy to tell when someone is wearing a polo shirt with suit pants, given that they have a shinier texture and lighter feel to them. It'll look awkward.
3. Minimally Branded Polos
When wearing dress pants, try to go for a polo shirt with minimal branding.
Logos are common with polo shirts and sometimes they can be really oversized. In fact, they can draw attention away from the polo shirt and the overall outfit.
While the Ralph Lauren one is a classic, oversized logos and in-your-face branding can often look too casual when you're wearing a pair of dress pants.
That sort of branding would look fine when wearing a pair of jeans or chinos. But when wearing dress pants, it may look out of place.
Because of this, go for a simple polo shirt without much branding at all.
It'll make the polo shirt look "dressier" and more in sync with the dress pants.
4. Go For Color Contrast
Ultimately, you want to have fun with it. The polo and slacks (i.e dress pants) combo isn't meant to be formal – it's smart-casual. You can afford to experiment with color to make the entire outfit stand out visually.
So, go for some contrast between the two items.
For example, a blue polo with an off-white or light gray pair of dress pants. Or, a purple polo with beige dress pants.
The options are endless. It's fine to experiment with bolder colors, especially in the summer. You don't need to go too wild with it to make it an outfit that stands out.
Here's another example of the combination on Amazon:
Another way to add some contrast is to mix patterns with solids.
In other words, if one of the items is patterned, go for a solid color with the other one. For example, check-patterned dress pants with a solid-colored polo shirt.
Contrast is king.
5. Tuck It In
When wearing a polo shirt with a pair of dress pants, always tuck it in.
While this may seem over the top to some, dress pants always look awkward with an untucked shirt. Polo shirts are no exception.
The reason for this, once again, comes down to the fact that dress pants should always be considered a formal item.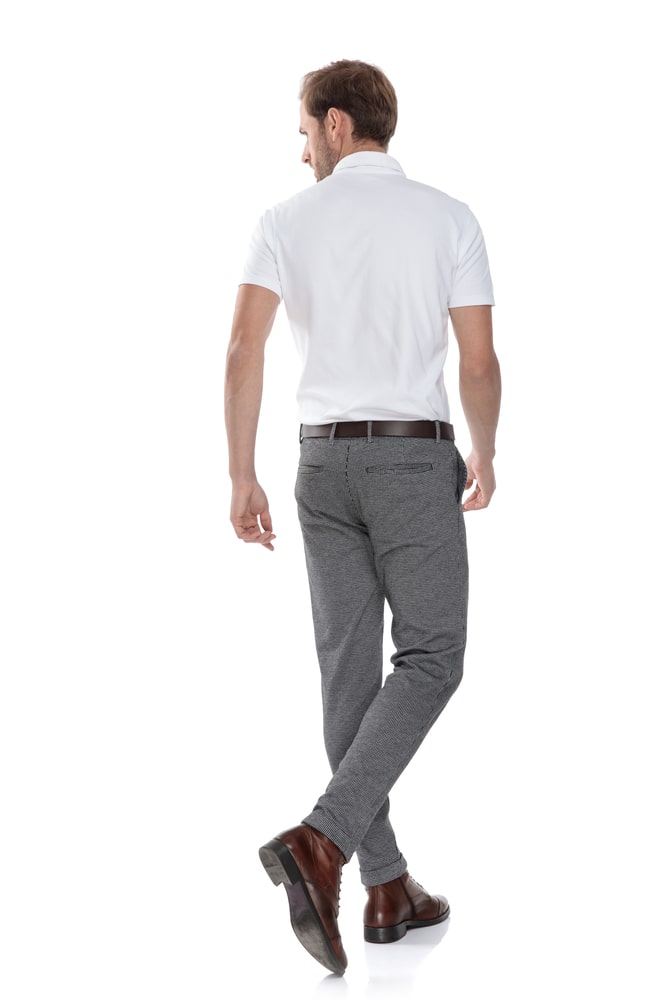 They may not look as formal as suit pants, but they're still pretty formal at the end of the day.
Keeping your shirt untucked is a casual feature. It may be fine when wearing chinos or jeans, but it isn't fine when wearing dress pants.
Tucking your polo shirt into your dress pants is also just a great look. It often works really well.
It'll prevent the polo shirt from looking oversized or baggy. It'll also allow the polo shirt to wrap around your body shape, while still giving it a natural silhouette.
But remember that tucking in your polo shirt will make it even more important that you wear a belt.
It'll be immediately obvious if you haven't worn one when your polo shirt is tucked in.
6. Loafers Work Great
Loafers are an excellent choice of footwear when wearing a polo shirt with dress pants. They blend so well with the smart-casual aesthetic.
In addition, they're often very climate-appropriate as well.
It's pretty likely that you'll be wearing the polo shirt and dress pants combo in one of the warmer months.
Loafers make for the ideal smart-casual summer shoe, thanks to its ankle-exposing, slip-on construction.
There are several different styles of loafer, with the main ones being horsebit (Gucci) loafers, tassel loafers, and penny loafers.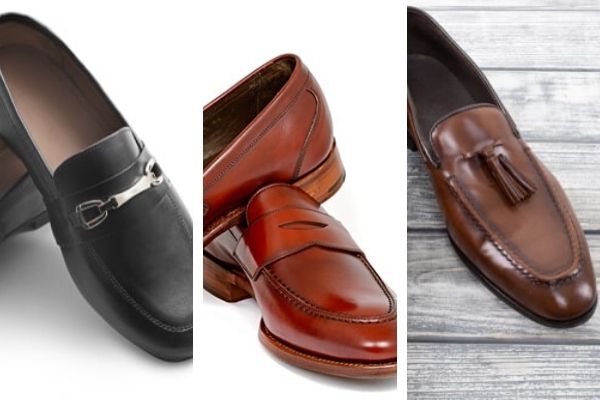 Any of them could work with a polo shirt and dress pants. Horsebit loafers tend to look a little "dressier" because of the metal attachment on the vamp, while penny loafers and tassel loafers look a little more casual.
Both suede or leather could look great with the combination too. Go for suede if you're looking to dress the outfit down, or leather if you want to dress it up just a bit.
When wearing loafers, it's usually best not to wear socks. Go for no-show socks for the sake of hygiene – they're great because they aren't visible.
It isn't often that you get to wear dress pants without socks. But when you're wearing a pair of loafers (a classic shoe to go sockless with) and a polo shirt, it's more than acceptable.
It's encouraged.
7. Blazers And Sports Coats
Blazers and sports coats work great with polos and dress pants. They're an excellent way to dress the combination up.
The beauty of dress pants is this – unlike suit pants, you don't need a matching jacket.
You've got a lot more freedom when it comes to choosing your jacket (i.e blazer or sports coat). It could potentially be a completely different color or pattern to your dress pants.
Use some caution, however.
In general, it's a better option to choose dress pants and a jacket that are of a similar color or shade, while adding some real contrast with a polo shirt.
Don't get me wrong – the dress pants and jacket don't have to match. But keeping them on the same spectrum often works well.
That way, the polo shirt is what sticks out and adds that "visual pop", breaking up the outfit in between the jacket and the dress pants.
For example, a navy blue blazer and gray dress pants (not too much contrast), with a pink or orange polo shirt (plenty of contrast).
This will make the entire outfit look more put together and blended. It'll look more intentional and well thought out.
At the end of the day, that's exactly what you want.
8. Avoid Sneakers
Sneakers should be avoided when wearing a polo shirt with dress pants.
The reason for this is that sneakers will almost always look too casual to wear with dress pants.
Polo shirts are fine to wear with sneakers, as they both fall firmly within the casual spectrum.
But when you're wearing dress pants, you'll need to be more careful. Remember, the main problem that could occur is that the polo shirt just looks too casual to be worn with dress pants.
Sticking to the tips above should help you achieve that, but wearing sneakers may undo your efforts.
Bottom line – don't wear sneakers with this combination. Go for a pair of smart-casual shoes like loafers or even Derby shoes instead.
While not all of the tips in this list may appeal to you, it's perfectly fine to pick and choose the ones that do.
At the end of the day, a lot of it will come down to personal preference. Consider this a guide to help you achieve the look you really want.
Enjoy.
Ready Sleek founder. Obsessed with casual style and the minimalist approach to building a highly functional wardrobe. Also a fan of classic, vintage hairstyles.