Both items are extremely versatile and can be worn all year round. But can they be worn together? More specifically, can you wear a polo shirt with khaki pants?
It's perfectly acceptable to wear a polo shirt with khakis. It's important to think about the color and style of the polo, as well as the type of khaki pants you're wearing. Light, summer-friendly, and neutral polo colors often work best with khakis.
That's the short answer, but there's more to it.
Read on as we explore in detail the top tips on wearing a polo shirt with khaki pants. We'll then take a look at some frequently asked questions on the subject too.
5 Tips For Wearing Polo Shirts With Khakis
Consider all of these tips before putting your outfit together.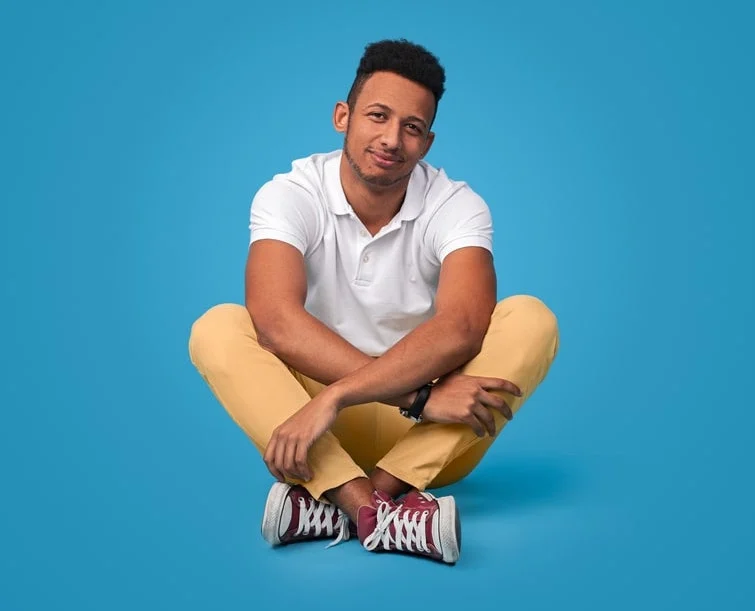 1. Consider The Color Of The Polo
If you're thinking about pairing a polo shirt with khaki trousers, one of the most important things to think about is the color of the polo shirt itself.
This is because true khaki trousers traditionally only come in one color – khaki. If you're unfamiliar with what color khaki is, it's a light tan color.
Khakis are versatile and color-matched effectively with many different shirt styles and colors.
Light and summer-friendly colors such as beige, light pink, light blue, and mint green work best with khaki pants.
Neutral colors such as white, grey, and black would also work well.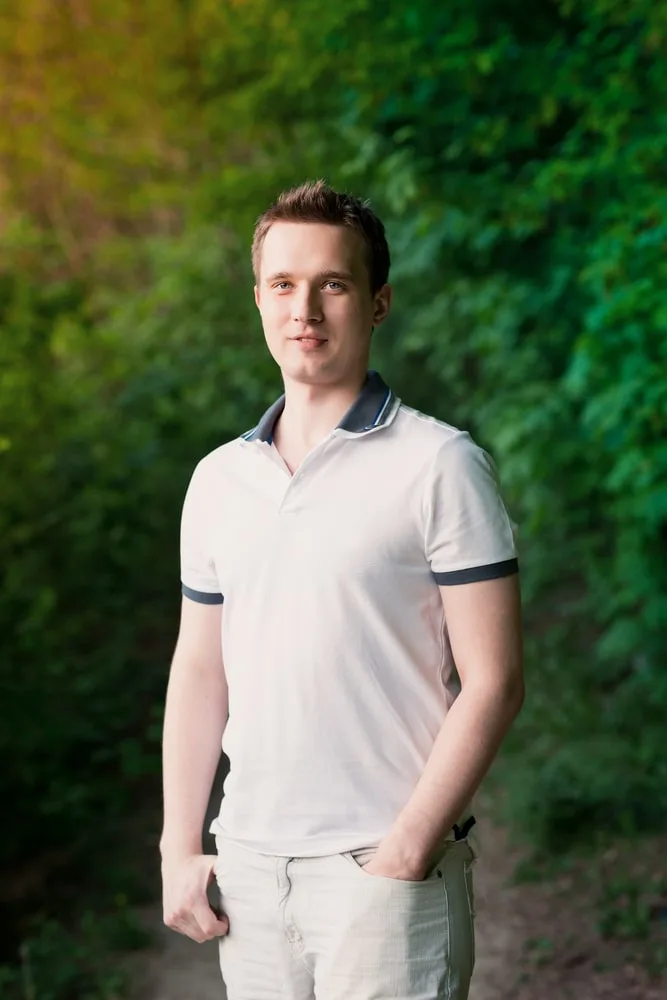 Darker colors would generally give the combination a more formal edge, whereas the lighter-colored polo shirt offers more of a relaxed aesthetic.
But khaki is a neutral color (traditionally a light shade of brown), giving you the benefit of versatility when it comes to color-matching. You've got plenty of options.
It really just depends on how neutral or bright/bold you really want to go.
2. Think About The Style Of The Polo
Polo shirts are one of the few wardrobe items that quite literally never go out of style.
They can be paired with a range of different trousers, go perfectly well with any type of shorts and can be worn throughout the year too.
When pairing a polo shirt with khakis, it's worth considering the style of the polo shirt as well.
The Short-Sleeve Polo
This is the most common style.
The short-sleeve polo can come in a variety of different fabrics and materials such as cotton, linen, and even silk, making it a great choice for a range of different occasions and temperatures.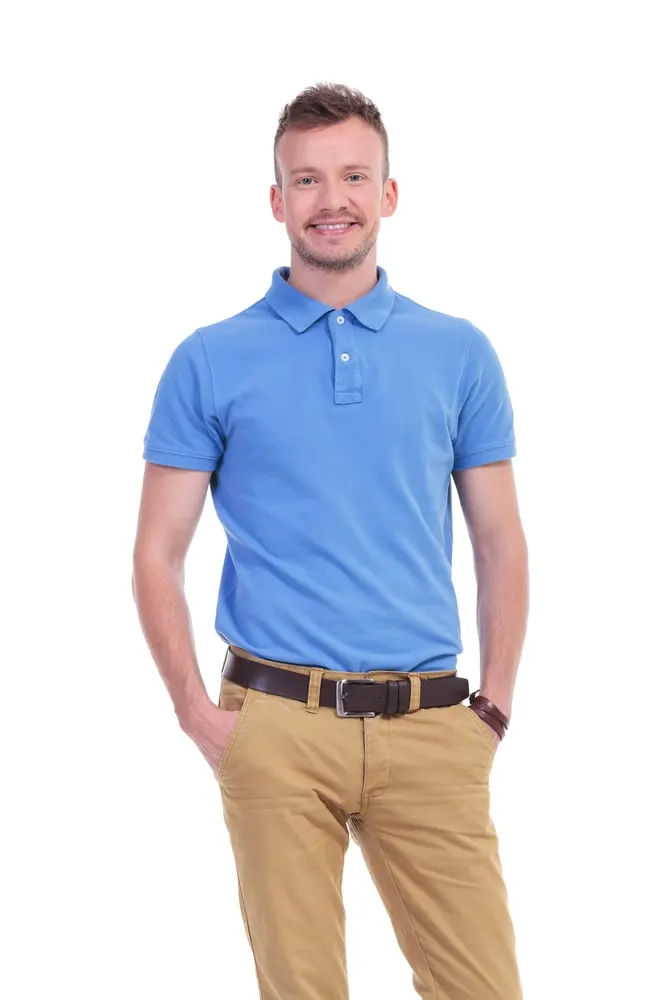 Short-sleeve polos are one of the more casual styles so it's important to keep that in mind when deciding.
The Long-Sleeve Polo
The long-sleeve polo isn't quite as common. It's a long-sleeve top with a typical polo collar; two or three buttons and a placket neckline.
The long sleeves make it look a touch more formal than the short-sleeve polo. It's an underrated garment often overlooked in favor of a long-sleeve button-up shirt.
Just like the short-sleeve polo, it's comfortable and will suit a variety of different climates.
The Pique Polo
The third type of polo you might want to consider is the pique polo shirt.
This style is suitable for more formal occasions and events owing to the thicker feel and appearance.
This extra layer of thickness comes from the 'waffle' or 'honeycomb' design.
3. Choose The Right Type Of Khakis
Khakis were often seen as the go-to choice for dress-down days in offices across the world.
It made a name for itself in the world of business-casual.
Nowadays, however, they can be seen as cool, smart-casual pants you can wear with practically any style of top you can think of.
Our next tip for you to consider is the type or style of khakis you want to wear. This is particularly important if you already have a polo shirt in mind.
You can get pretty formal-looking khakis. They'll be made from the same chino cloth, but they'll usually be tapered, with minimal seam details and potentially even center creases.
You can also get more casual look khakis – they'll have a looser fit, patch pockets, and visible seam details.
If you were trying to dress up your polo shirt, consider wearing a more "formal" looking pair of khakis to really take things up a notch.
4. Think About Your Shoes
If it's a more formal outfit for a dinner or bar outing, then you don't want to be turning up in a pair of sneakers as this, combined with the polo shirt, will look too casual.
Depending on the color of your polo shirt itself, a pair of dark tan or brown chukka boots would be a good choice to keep things smart, but not over the top.
Another good choice would be a pair of suede dress shoes (eg. Derbys or monk straps). They're stylish, but not too formal.
5. Think About Tucking It In
Tucking in the polo shirt looks great, but only in the right setting and if it goes well with the rest of the outfit.
It may also be a good idea if you're wearing a belt you wouldn't mind showing off.
The contrast between a light polo shirt, light brown khakis, and a dark brown belt often looks great.
In addition, a tucked-in polo hugs the torso and creates a nice, tapered silhouette.
Frequently Asked Questions
Here are the answers to some frequently asked questions to really round things up.
Can You Wear A Polo Shirt And Khakis To An Interview?
Don't wear a polo shirt and khakis to an interview as it would look too casual even in business-casual workplaces. It would definitely be inappropriate to wear to interviews in corporate or office-based workplaces where a suit would be required.
It would be best to attend the interview in the dress code that would be required if you were to get the job. In fact, you'll usually want to dress a touch more formally than what would be expected of you if you were to get the job.
If you feel as though a polo shirt and khakis would meet this criterion, then it may be acceptable. But if not, don't take the risk.
Can You Wear An Untucked Polo Shirt With Khakis?
Yes, you can wear a polo shirt untucked with khakis. It makes for a great casual outfit suitable for a variety of different settings.
If you're attending more of a "smart-casual" setting, however, consider tucking the polo in as it leads to a more refined silhouette.
An untucked polo shirt with khakis is a laid-back outfit. If you feel as though this would be appropriate for the event you're attending, go for it.
Conclusion
The polo and khakis combo is versatile, comfortable, and looks good on almost anyone.
Always consider the style and color of the polo when making your decision.
Enjoy.
Ready Sleek founder. Obsessed with casual style and the minimalist approach to building a highly functional wardrobe. Also a fan of classic, vintage hairstyles.