Polos have the benefit of versatility – you can wear them with so many different styles of pants. But can you wear a polo shirt with jeans?
A polo shirt can easily be worn with jeans. Consider neutral-colored polos for a more minimalist aesthetic or brighter-colored polos for more contrast. Tucking the polo into the jeans often works especially well as a smart-casual combination.
Although that's the short answer, there's more to it. Here are some essential tips for wearing a polo shirt with jeans in the most effective way possible, each and every time.
Let's get to it.
1. Consider The Polo Color
You've got a wide range of polo colors to choose from when wearing a polo shirt with jeans, simply due to how casual jeans are.
If you wanted to play it safe, you could go for a neutral-colored polo such as black, white, or grey. I'd put blue into this category as well.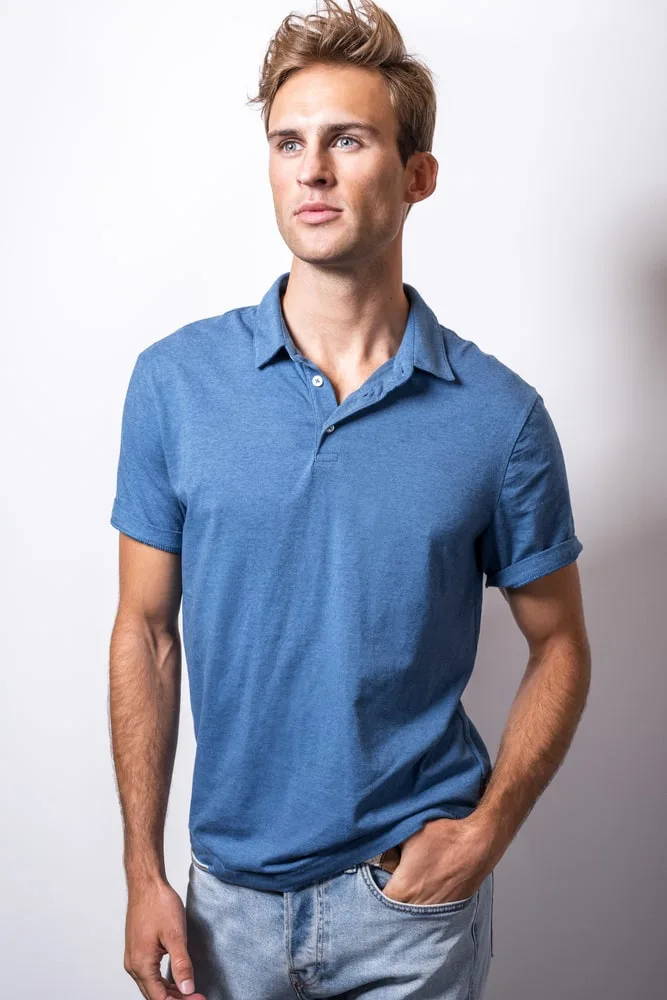 It's very hard to go wrong with these polo colors when wearing jeans and they'll generally look "smarter" than brighter and bolder-colored polos.
However, if you want a more striking and attention-grabbing appearance to your polo and jeans combo, these brighter and bolder colors can be a great way to go.
They have a very summer-casual vibe to them.
Consider orange, pink, and green polos to really create contrast with the blue jeans.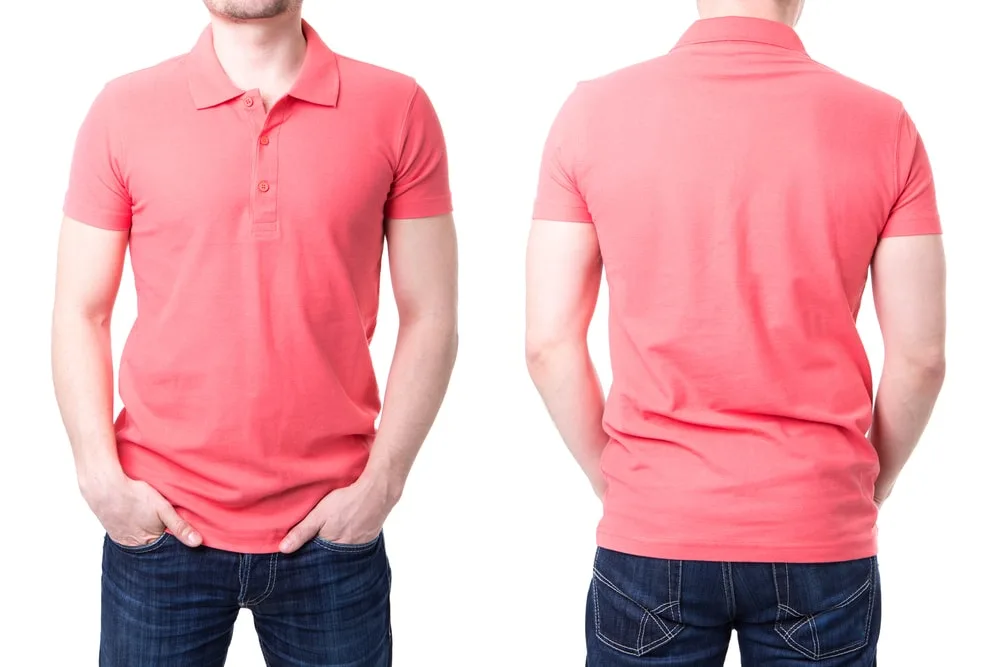 Overall, blue jeans are neutral enough to pair with practically any polo color you can think of. It just depends on how understated or attention-grabbing you want the combination to look.
The more contrast you've got between the two items, the more casual the combination will look overall.
2. Choose The Right Polo Length
A polo shirt should feel snug at the chest while feeling relatively loose and comfortable at the torso.
The sleeves should end approximately in the middle of the upper arm. They should feel snug but not wrapped tight around the arms.
In terms of the polo shirt length, it should end approximately at the upper/mid crotch. This is short enough that it won't look too awkward if you were to leave it untucked.
However, it's also long enough that you'd be able to tuck the polo into your jeans if you wanted to.
As we'll go through shortly, tucking polos into jeans often works incredibly well. However, you'll need a polo long enough to allow you to do this.
3. Avoid Ripped Jeans
When wearing a polo shirt, it's best to avoid ripped jeans. While it wouldn't be the worst combination, a smart-casual polo would usually look better with a "smarter" pair of jeans with minimal distressing.
Polos give you the benefit of versatility. They aren't exactly formal, but they're heaps smarter than a simple T-shirt.
You can wear a polo to a wide range of smart-casual and even business-casual settings.
Because of this, they often work better with smart-casual pairs of pants like chinos and even slacks.
While it's perfectly fine to wear polos with jeans (it often looks great), it's important to choose a pair of jeans that doesn't look too casual.
Features of very casual pairs of jeans include:
Baggy fit
Rips, frays
Stone washing
Acid washing
Features of "smarter" pairs of jeans include:
Tapered fit
Dark wash
Minimal distressing (no rips/stone washing)
So, if you really want a polo and jeans combo to shine, choose a pair of jeans that's relatively smart-looking.
4. Tucking Works Well
Polos traditionally have the back around an inch longer than the front. This usually makes it pretty easy to tuck them into jeans or any other pant style.
In addition, it actually makes it look better tucked in compared to leaving it untucked.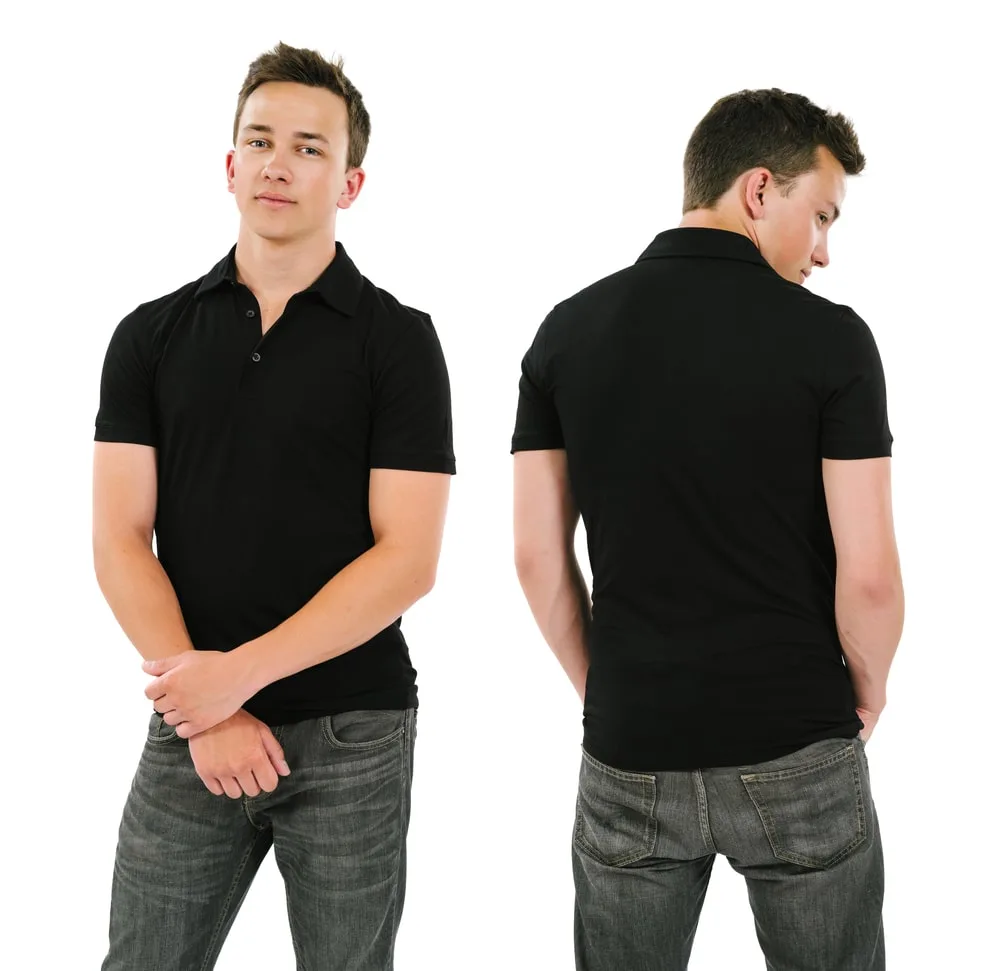 In fact, leaving it untucked can sometimes look a little awkward, especially if the back is especially long compared to the front.
A tucked-in polo is a great way to dress up a pair of jeans. It can quickly transform a pair of jeans from casual to smart-casual.
That's the beauty of it.
Tucking the polo into the jeans is also a great way to produce a more tapered silhouette at the torso, as the polo hugs the shape of your body as opposed to simply hanging loose.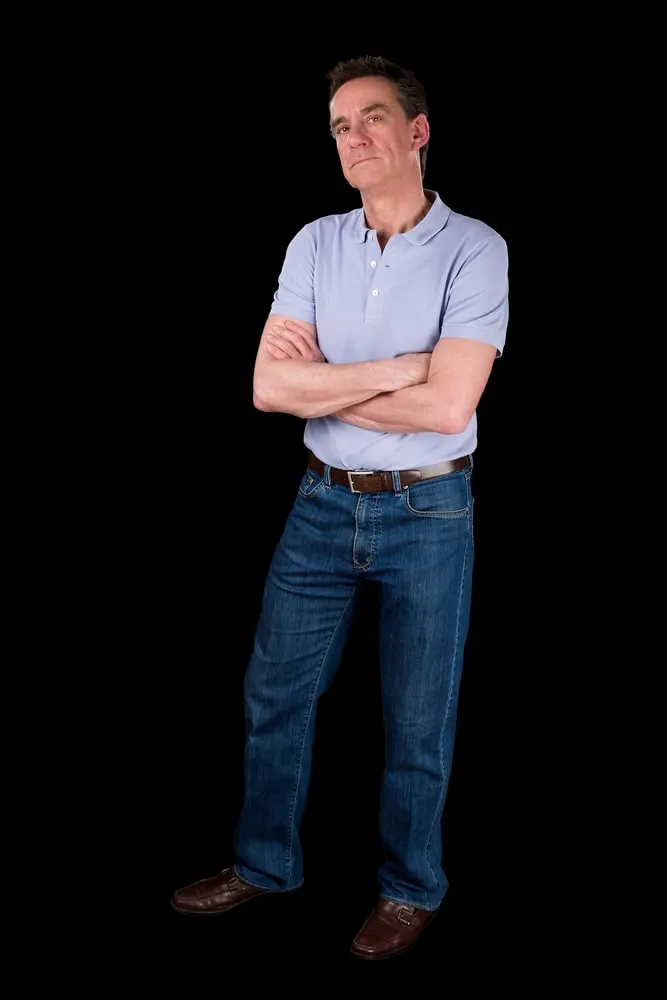 Leaving a polo untucked is still perfectly reasonable, but no matter how casual or smart-casual you're dressing, tucking it in will almost always look better.
5. Go For A Belt
While it's never essential to wear a belt with jeans, when wearing a polo, it's a great way to break up your outfit.
Of course, this is especially important when tucking the polo into the jeans. At the end of the day, when the polo is tucked in your belt loops are going to be on full show.
When you're leaving the polo untucked, it doesn't really matter much because the belt won't be visible in any case.
Wherever possible, try to choose a belt color that matches or at least complements your shoe color.
6. Blazers Work Surprisingly Well
Consider wearing a blazer over your polo shirt when wearing jeans to really dress the combination up further.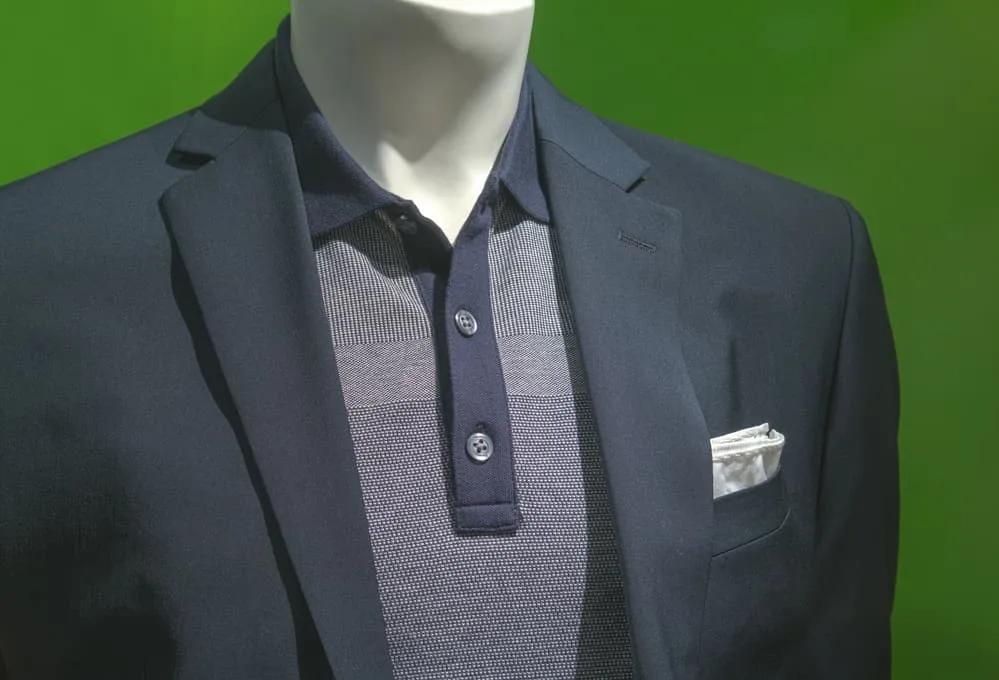 Wearing a blazer makes it even more important that you choose a pair of jeans "smart" enough to make it work.
Go for a dark wash, tapered fit, and minimal distressing.
A baggy, ripped, and frayed pair of jeans rarely looks good when worn with a relatively formal item like a blazer.
But when you've got the right pair of jeans, a polo and blazer combo can really hit the spot.
It's important to note that some may not feel as though a polo should be worn with a blazer at all. This is usually due to the fact that the flimsy collar of a polo shirt can bunch up when worn under a blazer.
While it comes down to personal opinion, this bunching up of the collar can actually look pretty great.
It produces a casual and laid-back feel, preventing the blazer from coming across as too formal when you don't want it to.
It works especially well in the summer when an Oxford shirt or dress shirt might feel warm/restrictive when worn under a blazer.
A polo would make for a very reasonable alternative.
7. Sneakers And Loafers
Sneakers, loafers, and boat shoes work especially well with a polo shirt and jeans combination.
Which one you choose partly depends on how formal you're looking to dress.
If you're wearing a polo shirt and jeans combo to a truly casual setting, a pair of sneakers would be perfect.
If you were looking to dress a little more formal or "smart-casual", a pair of loafers would be ideal.
Loafers are incredibly versatile and can easily be worn in smart-casual settings. The laceless and low-cut aesthetic always looks elegant.
If you wanted to go a step more casual/functional but didn't want to go as casual as sneakers, consider boat shoes.
Whichever option you choose, consider cuffing the jeans and wearing no-show socks.
A polo with cuffed jeans has a great laid-back feel, but visible socks can sometimes ruin the aesthetic.
No-show socks give you the benefits of comfort, hygiene, and style.
Ready Sleek founder. Obsessed with casual style and the minimalist approach to building a highly functional wardrobe. Also a fan of classic, vintage hairstyles.