In men's style, some things sound simple enough but can be tough to pull off when you're aiming for perfection. The question is, can you wear a pocket square and a boutonniere together.
Pocket squares and boutonnieres can easily be worn together, as long as they're simple and neutral enough in color to avoid overcrowding the left side of the suit jacket. The boutonniere should always be positioned higher up than the pocket square.
Although that's the short answer, there's more to it.
Here are some essential tips for wearing a pocket square and a boutonniere together in the most effective way possible, each and every time.
Let's get to it.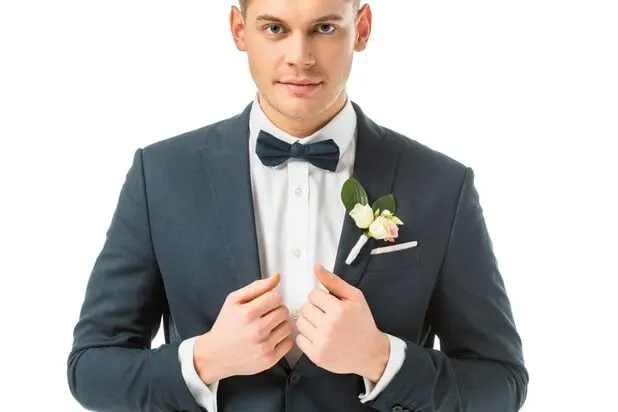 1. Make Sure It's Appropriate
While a simple pocket square with a straight fold is unlikely to be considered inappropriate in most settings, there's a chance a boutonniere may actually be too much in the first place.
That would be the case regardless of whether you were wearing a pocket square with it.
Pocket squares can be worn in many different settings ranging from celebratory (i.e weddings) to somber (i.e funerals) and even professional (i.e work or interviews).
Boutonnieres, on the other hand, should be reserved for celebratory occasions such as weddings and formal dinners.
Wearing a boutonniere to a funeral would usually be considered inappropriate or excessive.
The bottom line here is that if you do plan on wearing a pocket square and a boutonniere, make sure the setting is appropriate for the boutonniere.
If it isn't, just stick to a pocket square alone.
2. Keep Them On The Left
While it can be tempting to wear the boutonniere and the pocket square on opposite sides of the jacket to try and achieve a sort of symmetry, avoid it.
Both the boutonniere and the pocket square should be kept on the left. It's tradition.
The pocket square positioning is simple enough – it goes in the breast pocket of your suit or tuxedo jacket which will almost always be on the left.
The boutonniere should go in the buttonhole of the left jacket lapel. It should then be secured using the silk latch or thread that's on the rear of the lapel.
If your jacket doesn't have a buttonhole like this, there's a good chance it hasn't been designed to be worn with a boutonniere.
If you still wish to wear one with that specific suit jacket, consider getting a buttonhole tailored in.
Try to avoid pinning a boutonniere to your jacket at all costs. It's generally considered a faux pas and will most likely look unusual to the more style-conscious people you come across at the event.
"Boutonniere" literally means "buttonhole" in French. It tells you where it's supposed to go as well as, more importantly, where it's not meant to go.
Keeping both the pocket square and the boutonniere on the same side is traditional, but it can cause some problems.
For one, it can make the left side look pretty crowded in general.
Stick to the following tips to prevent this from happening.
3. Small Boutonniere
When wearing a boutonniere and a pocket square together, try to keep the boutonniere nice and small.
It doesn't have to be a little bud, but you should try to prevent the boutonniere from occupying too much real estate on the left upper side of your jacket.
A small boutonniere will keep things subtle and will allow both the pocket square and the boutonniere to co-exist without overbearing each other.
This is even more important when attending a wedding as a guest.
Here, you want to avoid wearing excessively dressy items as there's a real risk of overshadowing the groom. This is considered distasteful.
Keep the boutonniere small, simple, and out of the way of the pocket square.
4. Stick To A Simple Pocket Square Fold
When wearing a boutonniere, simple pocket square folds often work better.
For instance, a fancy "four peak fold" would look great when wearing a pocket square on its own. But when wearing a boutonniere with it, the risk is that it comes across as "too much".
Stick to the simplest pocket square folds – you really can't go wrong with a straight Presidential fold.
However, assuming the colors of both boutonniere and the pocket square are pretty muted (which we'll talk about later on), a couple of the other simple folds would be fine too.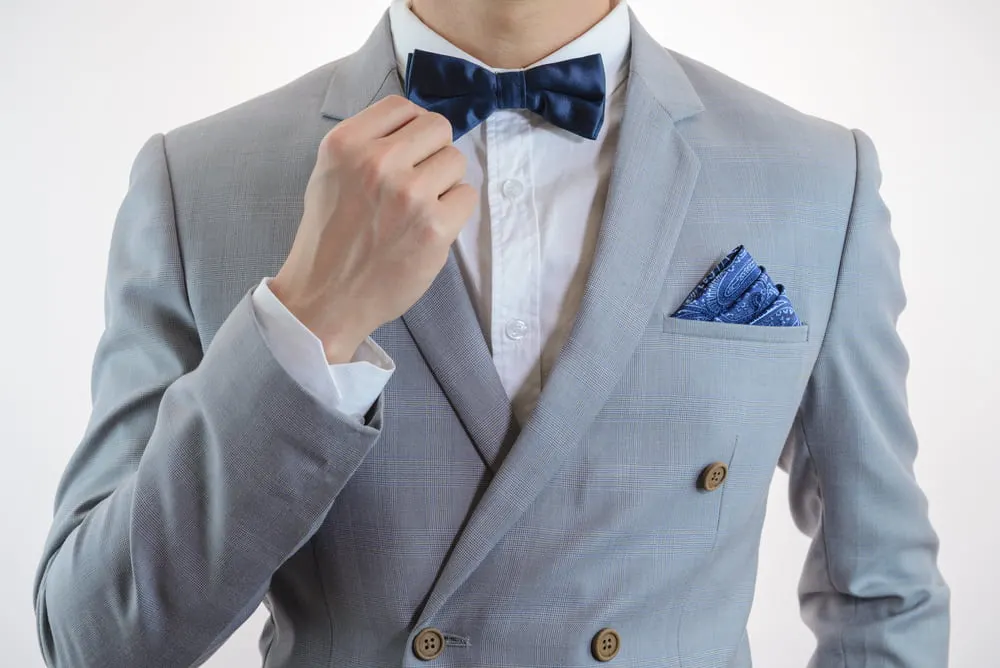 The "puff" fold and the "one peak" fold, for example, would almost always be simple enough to coexist comfortably with a small boutonniere.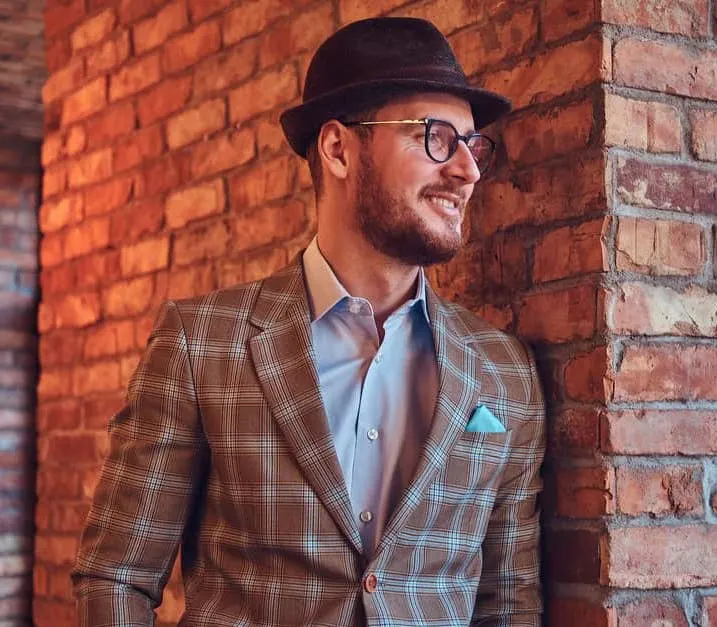 5. Keep The Boutonniere Higher
The boutonniere should always be higher than the pocket square. The reason for this isn't just because it's tradition.
It's also so that the pocket square and boutonniere don't contact or conflict with each other.
Ensuring that you place the boutonniere in the buttonhole of your jacket should ensure that this happens automatically.
If you find that your pocket square seems to sit higher than your boutonniere, there's a good chance that something's gone wrong somewhere.
If you haven't used the buttonhole, use it.
If you haven't got a buttonhole in your jacket and you've been forced to pin the boutonniere to your jacket, strongly consider not wearing a boutonniere at all.
However, if you're intent on pinning a boutonniere to your suit jacket lapel, pin it to your lapel at the same level where a buttonhole would typically be.
This should, at the very least, keep the boutonniere higher than the pocket square and more in keeping with tradition.
6. Keep The Colors Muted
As I mentioned earlier, the risk of wearing a pocket square and a boutonniere together would be that it just looks too crowded and loud.
Keeping things small and simple is one way to try and tackle this problem.
But another would be to keep the colors as muted and neutral as possible.
Overall, it's really tough to go wrong with a white pocket square and white boutonniere.
While it may seem boring, it's a tried-and-tested combination that'll pair well with practically any suit and shirt color you can think of.
If you don't want to go that muted, consider other neutral colors like beige, off-white, grey, light blue, and olive green instead.
While pocket squares can come in practically any pattern and color you can think of, sticking to solid, unpatterned pocket squares should also reduce the risk of things looking too in-your-face when wearing one with a boutonniere.
7. Complement But Don't Match The Tie
It's important to note that the pocket square, the boutonniere, and the tie don't need to match perfectly.
In fact, perfectly matching them is considered the wrong thing to do.
That's why it's usually best to avoid those matching pocket square and tie sets you often find in stores.
Instead, focus on choosing the three items in colors that complement each other, instead of trying to match them.
Trying to match colors in terms of their hues and where they fall on color charts can get pretty technical. In general, it's not worth bothering with.
An easy way to achieve the effect would be to choose different shades of the same color. For example, a pocket square, boutonniere, and tie that are all in different shades of blue.
Doing so will make it clear that you've made an effort to coordinate the items, but you also understand the generally accepted principle of not choosing perfectly matching items.

Ready Sleek founder. Obsessed with casual style and the minimalist approach to building a highly functional wardrobe. Also a fan of classic, vintage hairstyles.