Certain pants and shoe combinations are so neutral that you've got plenty of options when it comes to shirt colors. This is one of them.
So, here are some great shirt colors you should definitely consider when wearing black pants and brown shoes:
White
Black
Grey
Light blue
Red
Navy blue
Green
Below you'll see pictures of each of these shirt colors and you'll get a great idea of how they'd look when worn with black pants and brown shoes.
Let's get to it.
7 Shirt Colors For Black Pants And Brown Shoes
There's a good chance that one or two of these will stand out more than the others for you. It really depends on your personal preferences, as well as the setting you're attending.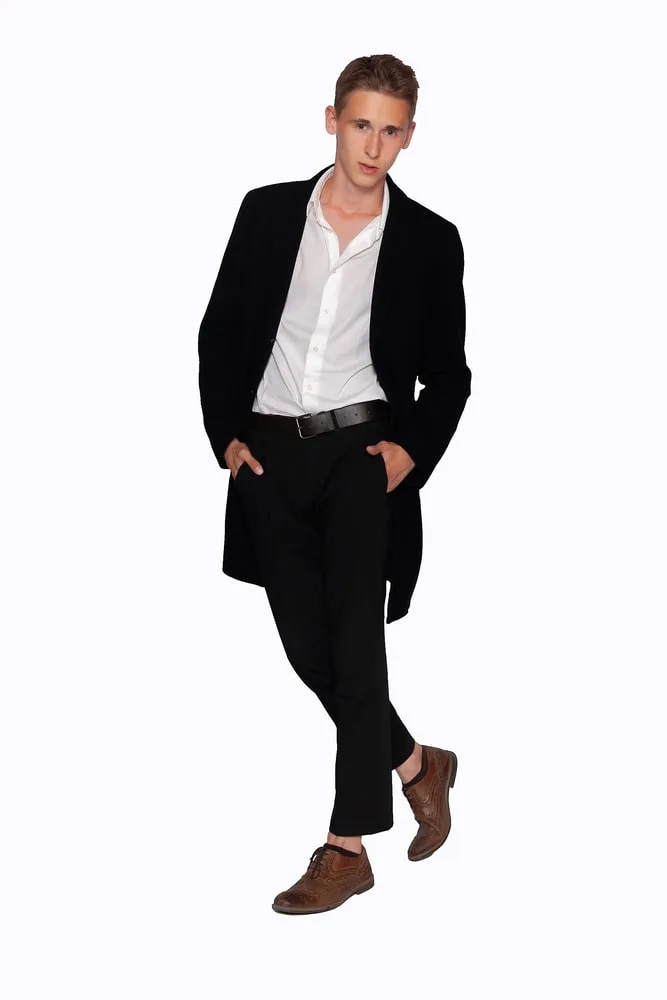 Some shirt colors will always look dressier than others when wearing black pants and brown shoes.
Neutral shirt colors are always a better option when you're dressing formally. Bolder and more vibrant colors are definitely worth considering when you're dressing down a little.
White Shirt
A white shirt can be worn with black pants and brown shoes in formal, business-professional, business-casual, and smart-casual settings. The neutral combination provides a lot of versatility.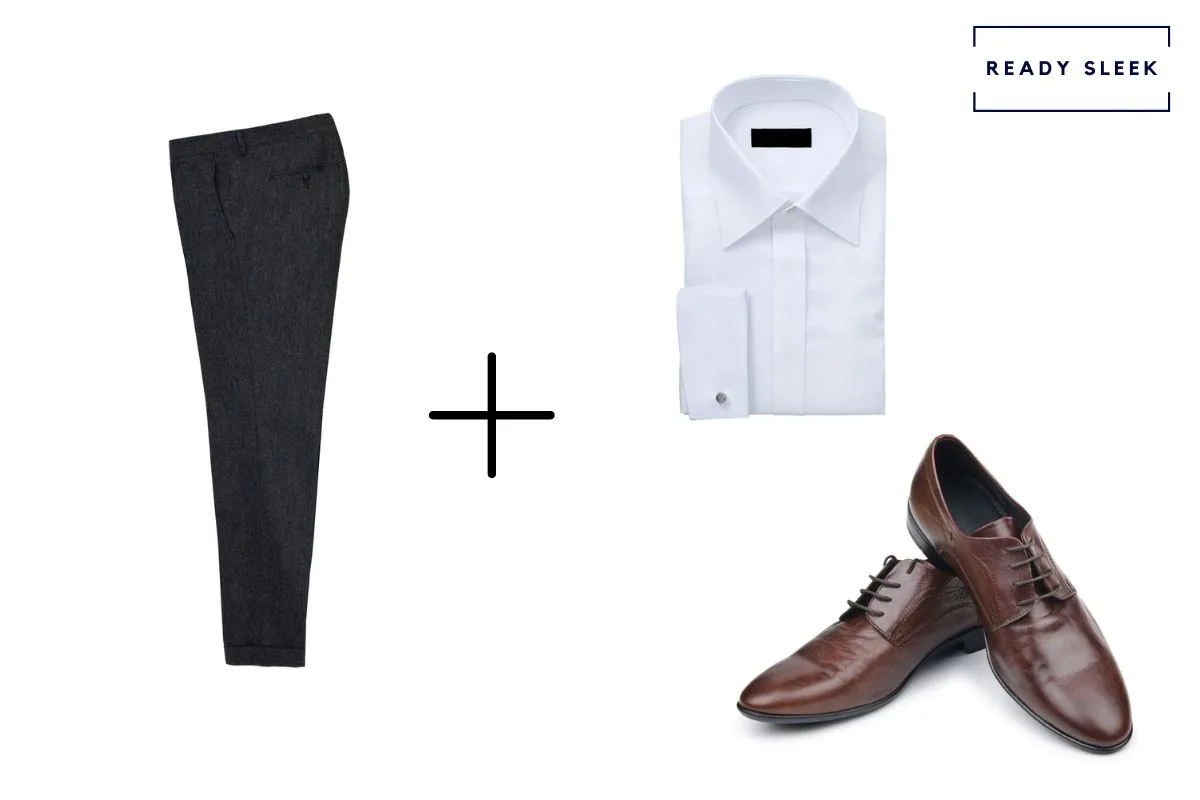 White, black, and brown is a palette that provides a great foundation over which you can add more vibrant colors without the risk of a color conflict.
That's the beauty of working with neutral colors.
For example, you could go for a crimson red tie or an olive green blazer without having to worry about color coordination.
Black, white, and brown is a color combination that'll go with anything.
Wearing a white shirt really reduces the risk of underdressing. It's just not something you'll have to worry about.
A white shirt is subtle, understated, and effortlessly dressy.
Of course, you'll need to think about the style of the white shirt as well.
If you're dressing for a formal or business-professional setting, you'll want to consider a white dress shirt – for example, one made from 100% cotton.
If you were dressing for a smart-casual setting, you could consider a white OCBD, linen, or polo shirt.
Black Shirt
A black shirt can be worn with black pants and brown shoes to produce an effortlessly sophisticated monochromatic aesthetic. The outfit works especially well for dressy evening social events.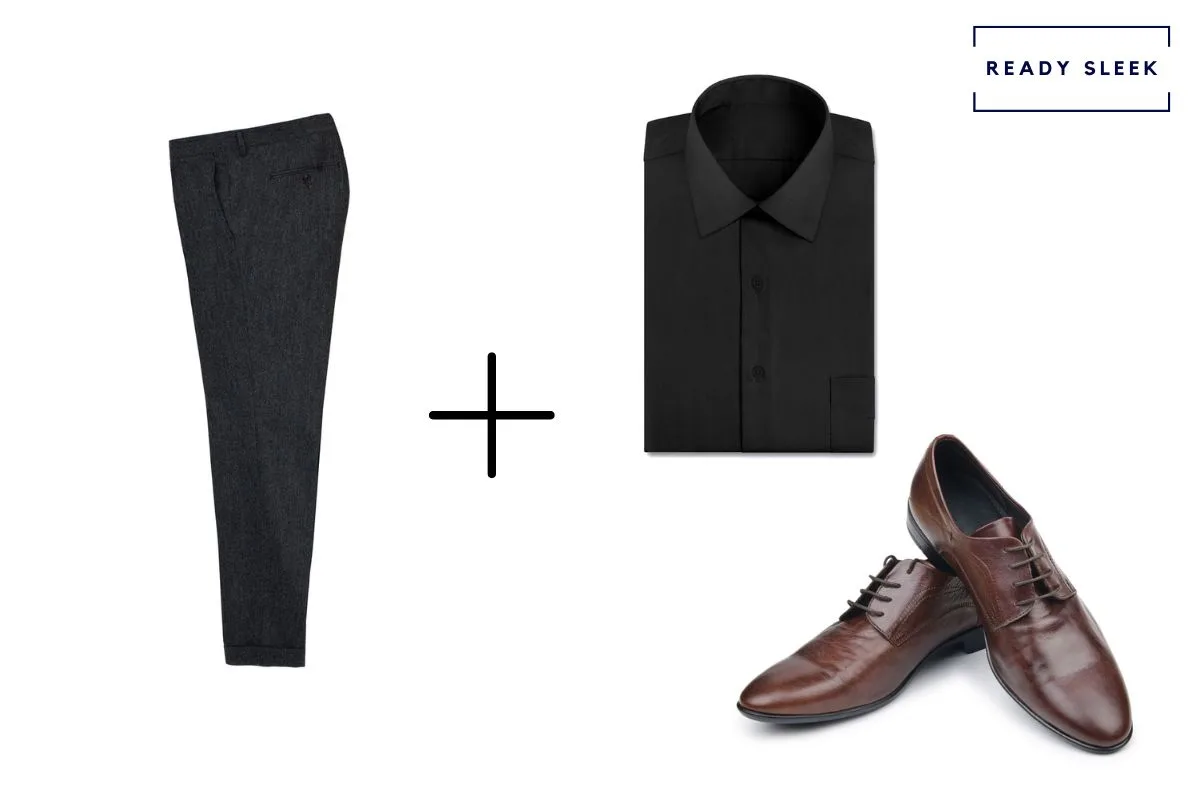 Going for an all-black combination like this can look good during the day, but the dark tone of the outfit tends to be more appropriate at night.
What's great about rounding things off with a brown pair of shoes instead of a black pair is that you get a hint of contrast.
You aren't wearing all-black from head to toe. The brown shoes break up the outfit a little and make things a little more interesting.
It's important to always match your shoes to your belt. So, when wearing a pair of brown shoes, wear a brown belt.
It's another great way of breaking up the all-black outfit, as well as making it clear that it's well-coordinated and thought out.
Much like the other shirt colors on this list, the shirt style you choose depends on the dress code and the style of pants and shoes you've gone for.
If you're dressing up for a fancy evening event, you'll want to wear black dress pants (or smart chinos at the very least. You'll also probably be wearing dark brown dress shoes – either Oxfords or Derby shoes.
The black shirt you wear should be suitably formal, so a dress shirt would be your best option.
If you were dressing more casually, you could wear a black OCBD or polo with black jeans/chinos and a pair of brown suede Derbys or monk straps. Loafers would be great too.
Grey Shirt
Grey shirts work exceptionally well when wearing black pants and brown shoes. It's a neutral color that will coordinate effortlessly and would be appropriate for a wide range of dress codes.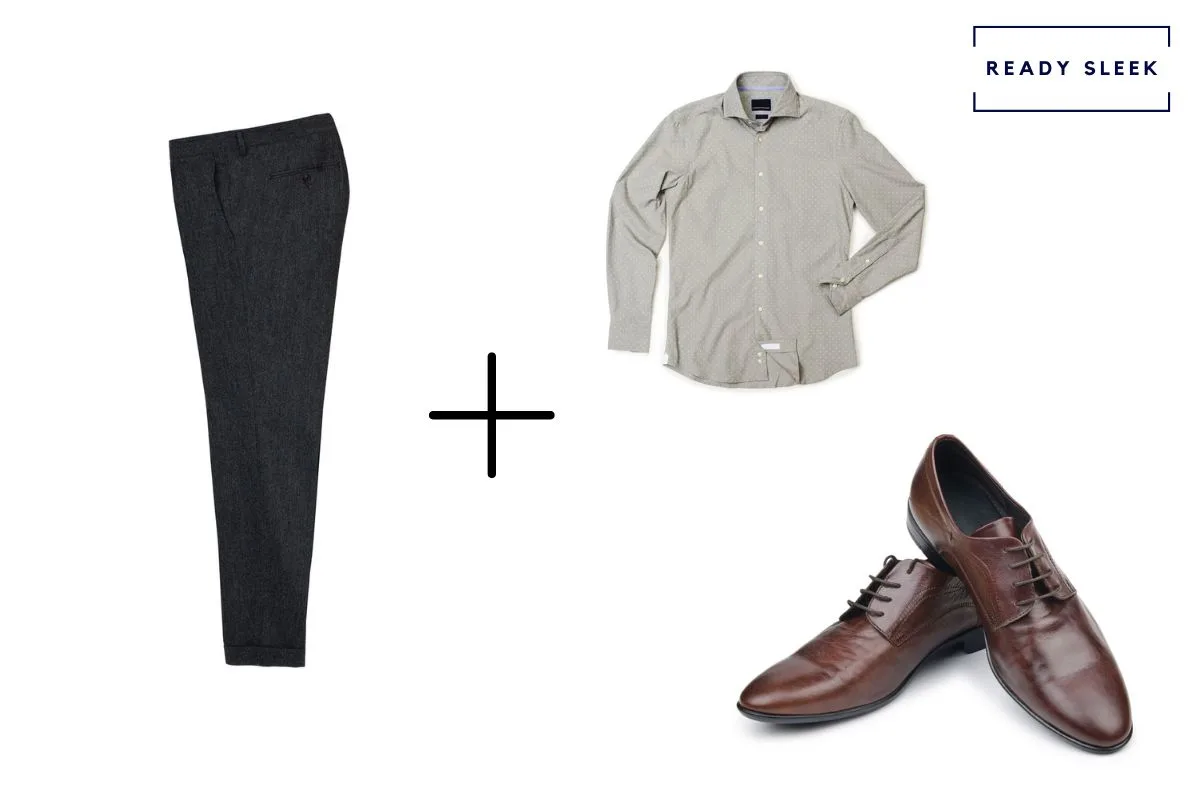 Grey, much like white and black, is extremely neutral.
It'll color-match with anything else you choose to wear.
However, it's important to note that a grey shirt worn with black pants and brown shoes may not look quite as "professional" as a white shirt.
If you were dressing for work – for example, a corporate workplace – go for a white or light blue dress shirt instead.
However, if you were dressing for a formal, business-casual, or smart-casual setting, both light grey and dark grey shirts would work very well when wearing our pants and shoe combo.
A grey blazer would be a great option here. Going a step further, try to achieve some contrast between the shades of the grey blazer and the grey shirt.
For example, you could wear a light grey shirt, black pants, brown shoes, and a dark grey blazer.
Alternatively, you could wear a dark grey shirt, black pants, brown shoes, and a light grey blazer.
Light Blue Shirt
A light blue shirt is a perfect accompaniment for a pair of black pants and brown shoes, especially in business-professional settings.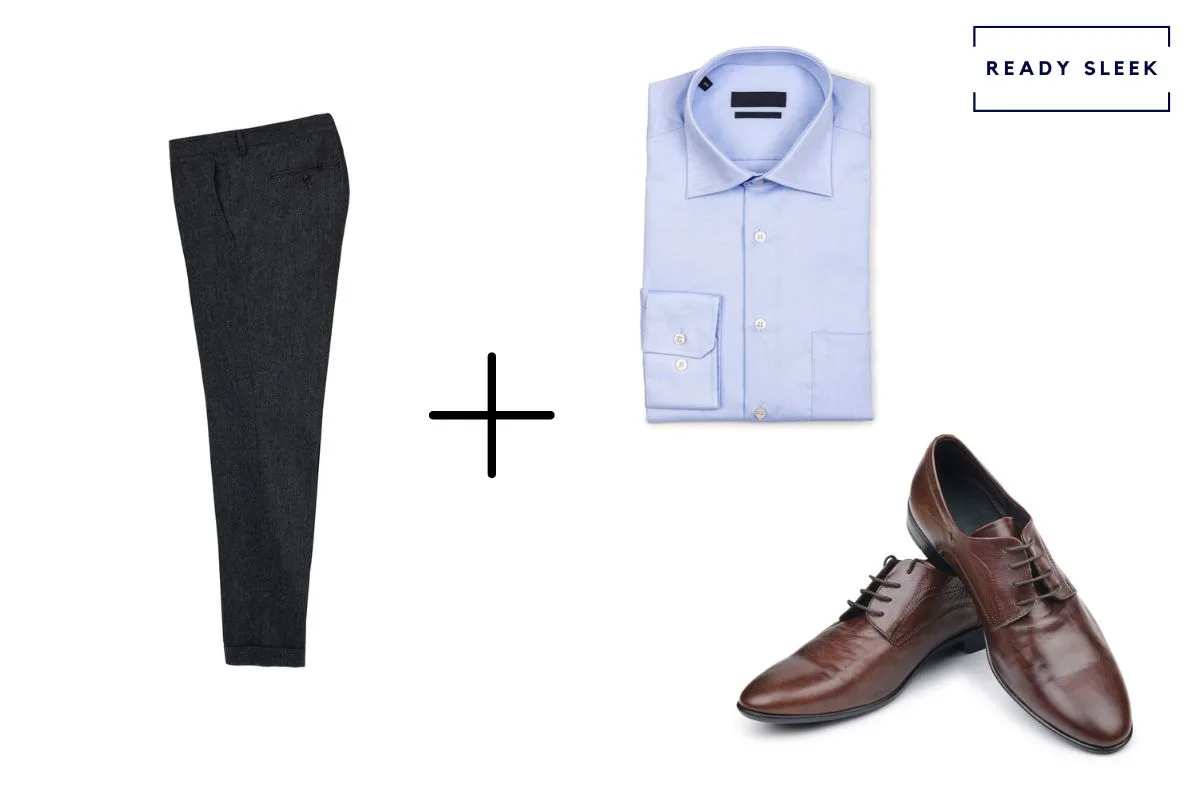 Having said that, a light blue shirt is versatile enough to be worn in any dress code you can think of ranging from formal to smart-casual.
But there's just something about the light blue shirt that just oozes professionalism.
In fact, it's one of the few shirt colors you could comfortably wear in business-professional settings without the risk of underdressing.
It wouldn't be quite as traditional as a white dress shirt, but it definitely wouldn't draw any disapproving stares.
It's also ideal in business-casual settings that lead more toward "business" than "casual".
A light blue shirt is basically just a safe bet.
If you were looking for a shirt color to wear with black pants and brown shoes in even a vaguely professional setting, light blue would be a strong option.
Interviews are a great example. If you wanted something a little more interesting than a white dress shirt, light blue would be a reasonable alternative.
Red Shirt
Red shirts can be worn with black pants and brown shoes, with darker and more muted shades of red such as burgundy and maroon being the best options.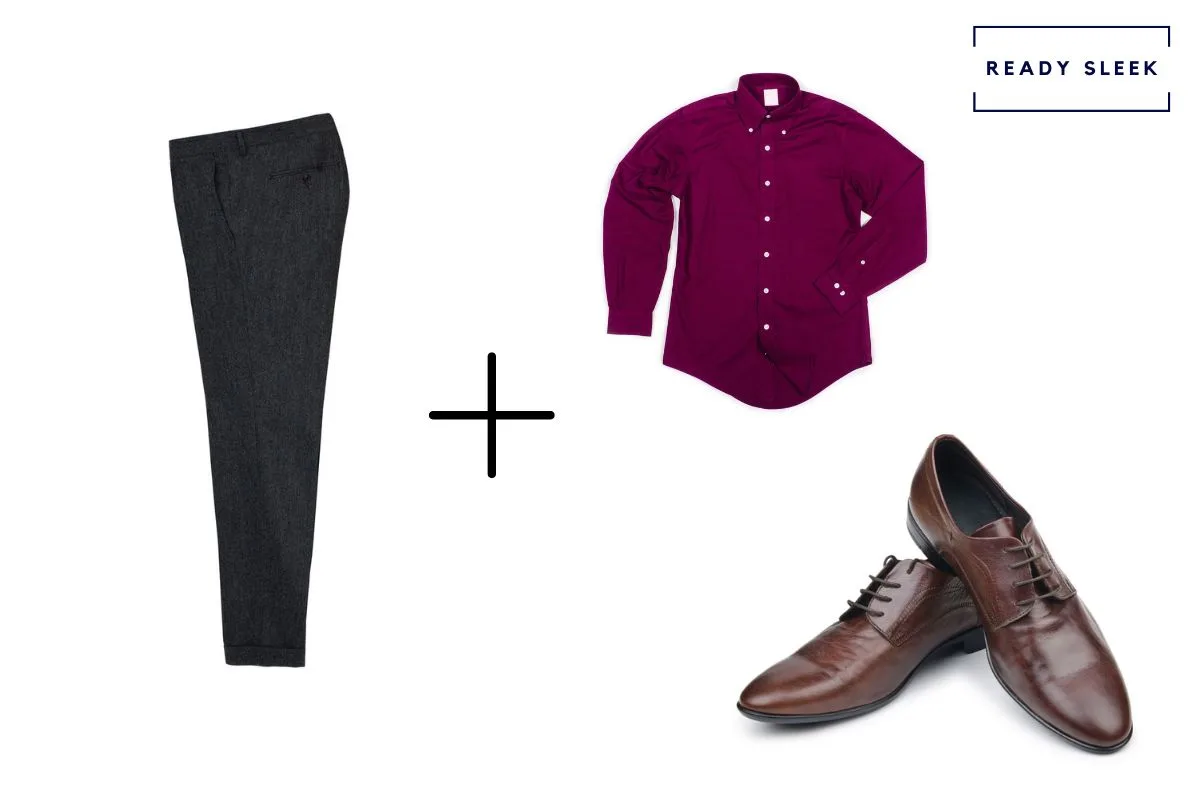 Right from the outset, it's worth mentioning that this combination would really only be suitable in smart-casual settings.
Never wear a red shirt, black pants, and brown shoe combination in formal or even business-casual settings.
It'll simply come across as too casual.
It's a great option when you're looking to dress down your pants and shoe combo.
Going a step further, it'll work especially well during the warmer months such as spring and summer.
The "warm" tones of red will always come across as bold, vibrant, and summer-friendly.
Darker shades of red are usually best because they'll sync well with the dark tones of the black pants.
While you could wear shirts in lighter and brighter shades of red (eg. scarlet), this will usually come across as pretty attention-grabbing.
It'll work, but in many ways, dark, muted, and subtle shades often look better.
Navy Blue Shirt
A navy blue shirt looks great when paired with black pants and brown shoes, but should generally only be worn in smart-casual settings.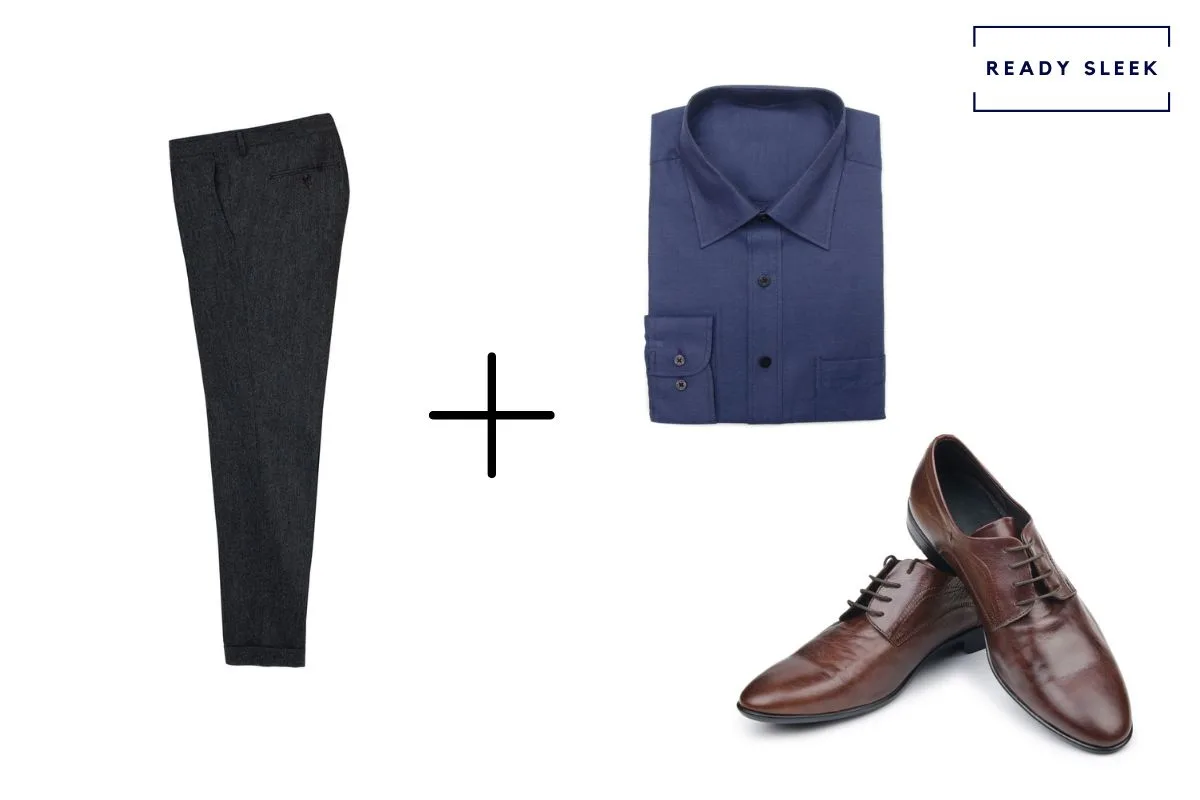 More specifically, the dark aesthetic often works best in smart-casual evening settings, although could quite reasonably be worn during daylight hours as well.
That part comes down to personal preference.
Some people do prefer to reserve their all-dark outfits for evening settings.
The main point here is that while light blue shirts have a professional and formal edge to them, navy blue shirts will always look more casual.
It does have the benefit of being quite a neutral combination, however.
While navy blue isn't technically a neutral color, it's often considered one in the world of men's style given how easy it is to coordinate with other colors.
Green Shirt
A green shirt often looks great when worn with black pants and brown shoes in smart-casual settings. This is especially true during the winter and fall months.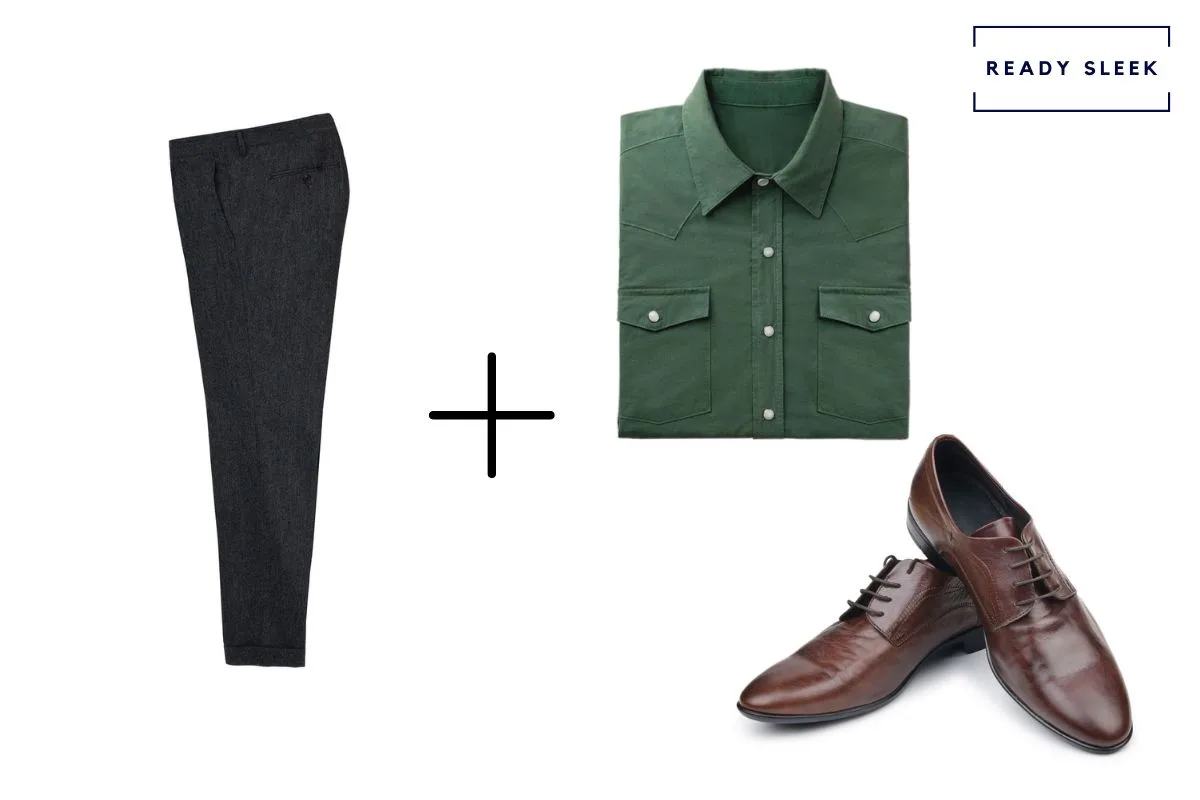 The "cool" undertones of green tend to work better during the colder months, although this isn't a hard-and-fast rule.
You could go for a bright and bold shade of green if you wanted, but in general, muted shades tend to work better.
Sage green and olive green are very popular for this reason. Shirts in these shades of green will always look great when wearing a black pants and brown shoe combination.
If you did want a darker shade of green, hunter green and forest green would also look great.
The dark tones of hunter and forest green would sync well with the black pants in much the same way as burgundy and maroon would.
Conclusion
As you can see, you really aren't short of options. Neutral pants colors give you plenty of options when choosing a shirt color. Black pants definitely fall within this category.
Base your decision on the dress code, as well as your personal preferences.
Enjoy.
Ready Sleek founder. Obsessed with casual style and the minimalist approach to building a highly functional wardrobe. Also a fan of classic, vintage hairstyles.