Color-matching pants can often be made more complicated than it needs to be. This is especially true when it comes to pant styles such as these. So, what color shirt can you actually wear with khaki pants?
Khaki pants can be worn with neutral-colored shirts in white, grey, or black for a simple and muted aesthetic. Alternatively, wear khakis with warm-colored shirts (eg. pinks, reds) or cool-colored shirts (eg. blues, greens) depending on the season and how vibrant or calm you want the outfit to look.
Although that's the short answer, there's more to it.
Sticking to a few basic guidelines should help you get it right every time. After going through those, I'll run through 5 great combinations you can try out for yourself.
Let's get to it.
Matching Khaki Pants With Shirts: Main Guidelines
Consider all three of these guidelines before putting your combo together.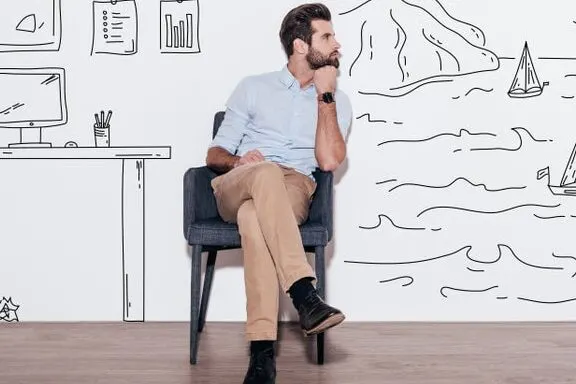 1. Go For Contrast
Contrast is the key to creating a nice sense of harmony between your shirt and your pants.
The easiest way to achieve it is to mix light with dark.
In other words, combine light-colored pants with a dark-colored shirt or vice versa.
While "khaki" is considered a light shade of brown, it can often be used to refer to other shades of the same color – some of which are considerably darker.
So, consider how dark the shade of "khaki" really is on your pants and use that information to add some contrast between your shirt and your pants.
2. Consider Skin Tone
In general, it's best to avoid a shirt color that's too similar in color to your skin tone.
This goes for both light and dark tones.
The main reason for this is that the shirt tends to blend in too much, making the wearer look pretty washed out.
3. Consider The Color Wheel
We talk about the color wheel quite a lot here. Some people aren't fans, but it's hard to deny that it has a lot of value when it comes to color-matching clothes.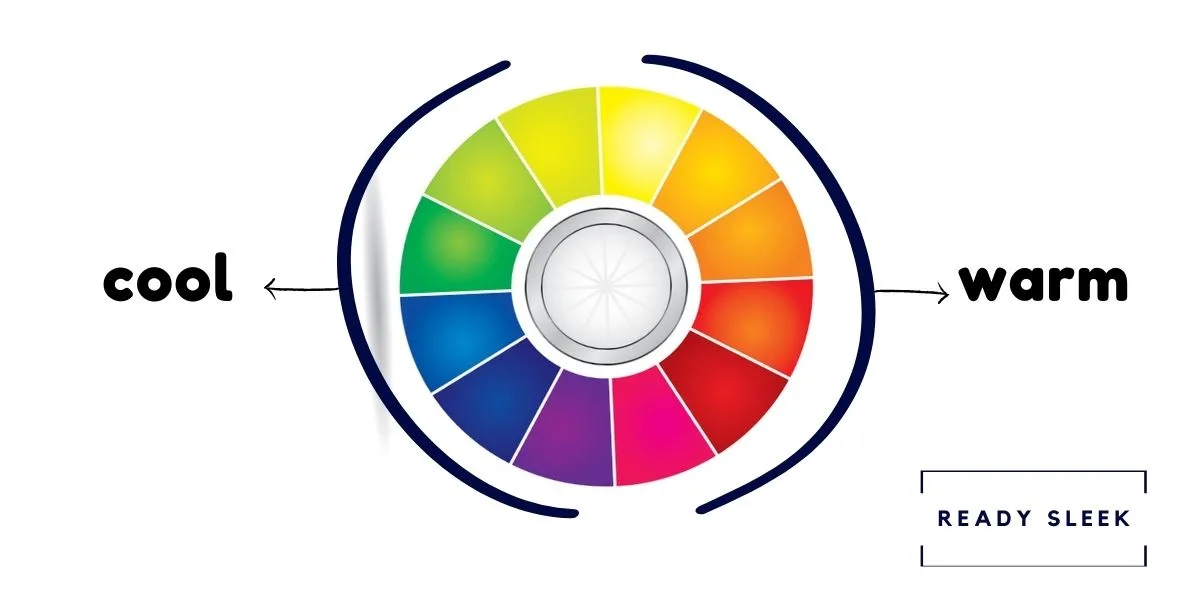 It groups together colors of similar hues, showing the relationships between colors.
It can be split into two halves – "warm" and "cool" colors.

Warm colors (eg. reds, oranges, yellows) are vibrant
Cool colors (eg. blues, purples, greens) are soothing
The color wheel and the color "temperatures" (i.e warm and cool) will come in useful when going through the combination examples below.
Khaki could be considered a warm color, but in many ways, it's neutral and muted enough to be separate from the color wheel altogether.
That's what makes it so easy to pair with other colors.
In men's style, khaki is generally considered a "neutral" color.
5 Khaki Pants And Shirt Combinations
Here are some great examples you can try out for yourself. Notice how the white/neutral combinations generally look more formal than the ones with splashes of color.
So, consider the formality of the setting you're attending before making your decision.
Khaki Pants With White Shirt
This is a failsafe combo you can always rely upon whenever you want to ensure you look formal enough for the setting.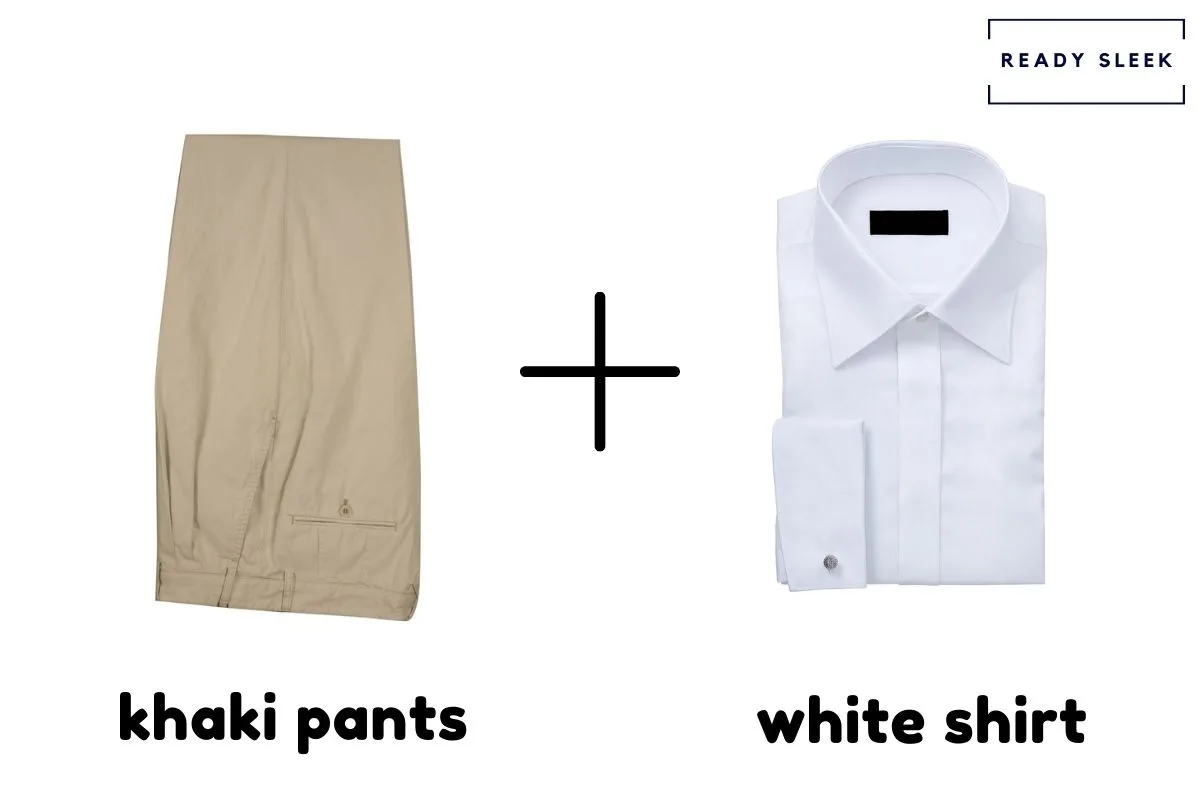 White is a "neutral" or a "non-color" that can be paired with any other color you can think of.
While khakis won't ever be suitable for truly formal or business-professional settings, a white shirt with khakis combination can easily be worn in business-casual settings.
Going back to the "guidelines" we went through earlier on, try to aim for contrast between the shirt and pants.
A white shirt would work better with a dark shade of khaki than it would with a lighter shade of khaki.
Khaki Pants With Darker Neutral Shirt
Example: Khaki Pants + Grey/Black Shirt
A darker neutral shirt would be better than a white shirt when wearing a lighter shade of khaki pants. Once again, this is to try and achieve some contrast between the shirt and pants.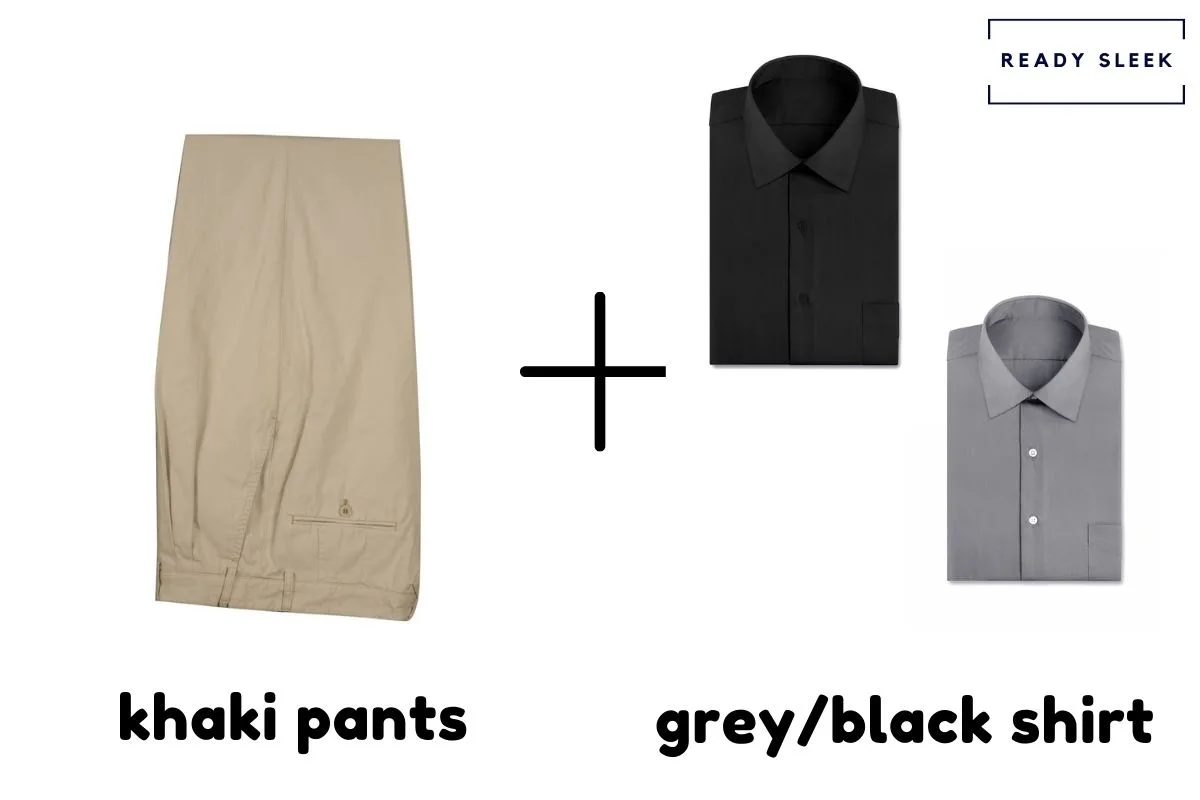 The true neutrals are greys, whites, and blacks. We've gone through white in the previous section.
Greys and blacks are a great option when you've got a lighter shade of khaki pants as the contrast will produce a nice sense of balance.
The great thing about a grey, black, or white shirt paired with khaki pants is that it forms a nice, neutral background over which you can add a splash of color if you wanted to.
For example, you could combine it with a blazer in a brighter/bolder color without there being a risk of a color conflict.
That's the beauty of sticking with neutral colors as a foundation.
Khaki Pants With Warm Colored Shirt
Example: Khaki Pants + Pink Shirt
Here's where we start to use the color wheel to pick colors based on temperature (i.e warm vs cool).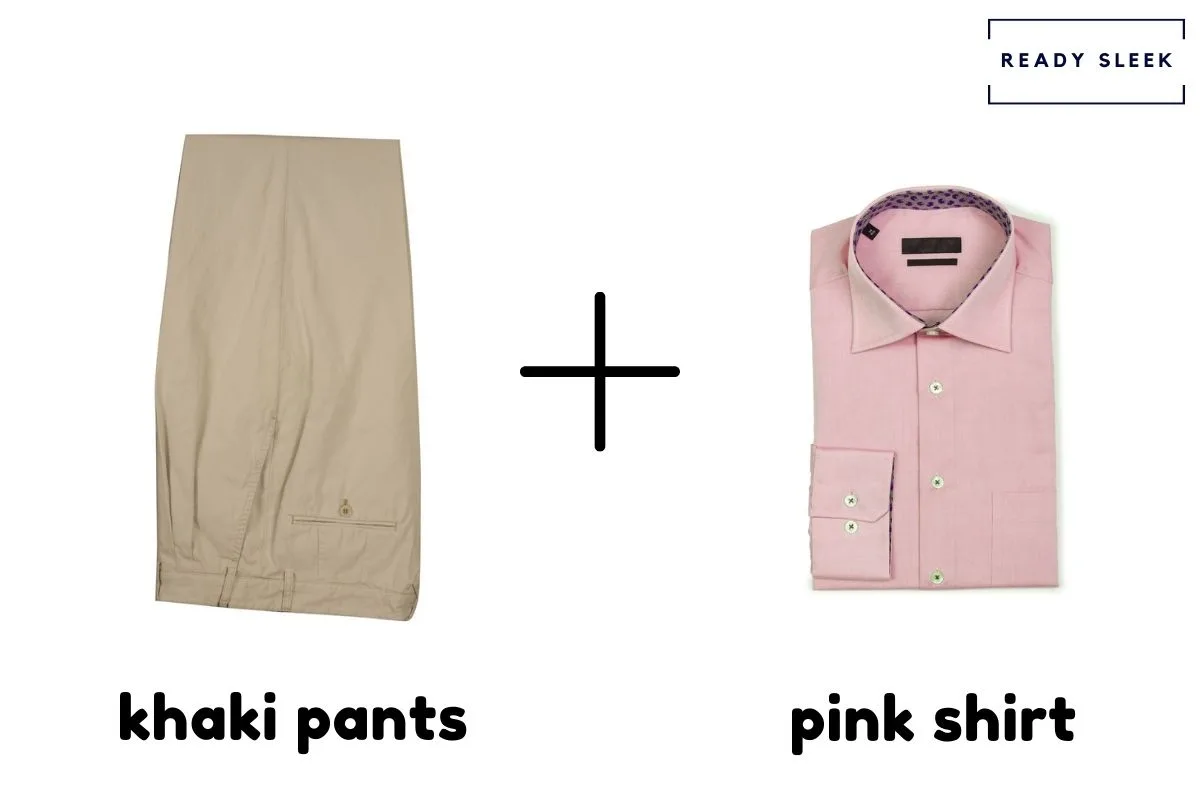 Given how muted and neutral khaki is as a color, you could pair it with both warm and cool colors without having to think about it too much.
Instead, consider choosing a warm or cool color based on how vibrant/soothing you want it to be, as well as the season.
Warm-colored shirts work great with khakis in summer and spring. They're also a good option when you want a color that's more vibrant and bold.
Looking at the color wheel you can see that the "warm" colors are reds, oranges, and yellows.
In the example above you've got a pair of khaki pants with a pink shirt. Pink is clearly a warm color and pairing it with khakis could make for a great summer business-casual ensemble.
Khaki Pants With Cool Colored Shirt
Example: Khaki Pants + Blue/Green Shirt
Consider a "cool" colored shirt (blues, greens, purples) with khaki pants when you want a calmer and more relaxed feel to your outfit.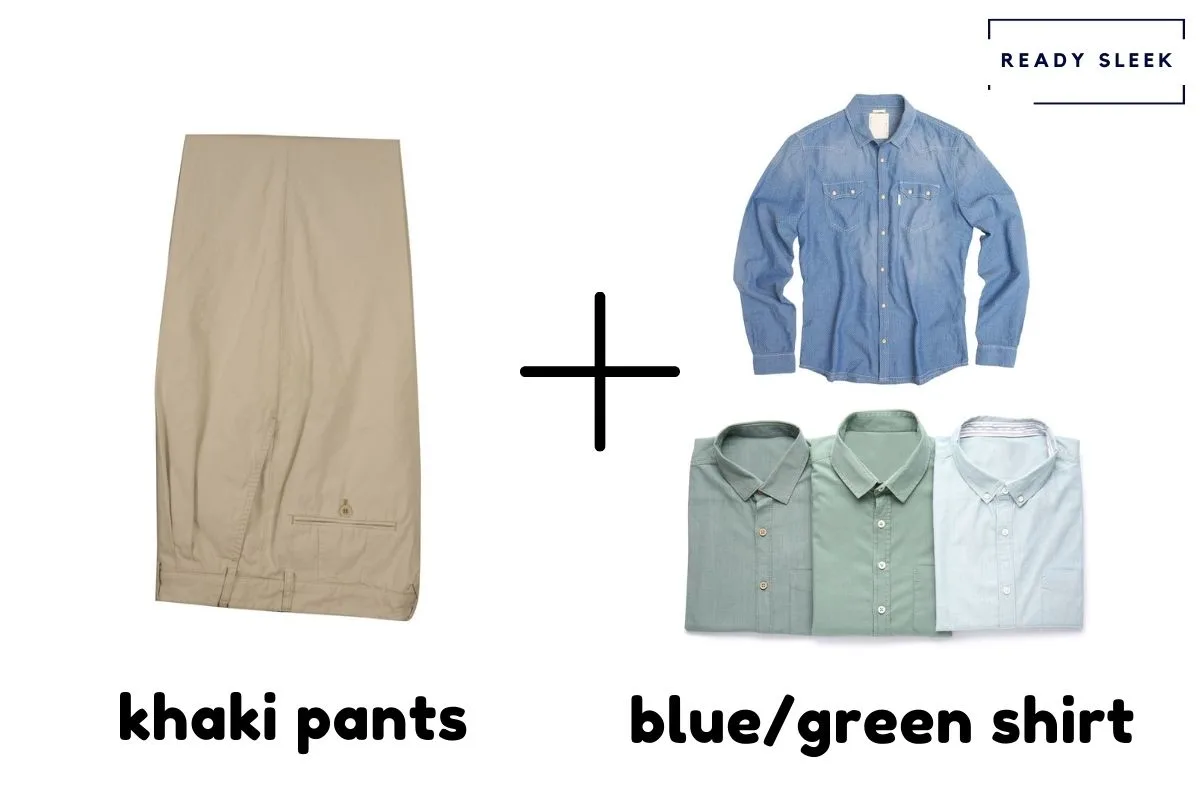 Cool colors are also more appropriate in the winter and fall, although that isn't to say they can't be worn in the warmer months.
In the example above you've actually got a blue denim shirt paired with khakis. Aside from the fact that denim fabric happens to work very well with chino cloth, the blue gives the outfit a calmer and more laid-back vibe to it.
But you can also see how a collection of green shirts (in varying shades) also looks great coupled with the khaki pants.
This is all to demonstrate how cool colors can work just as well as warm colors with khaki pants.
Khaki Pants With Multi-Color Shirt
Example: Khaki Pants + Flannel Shirt
Multi-colored shirts will always have a more casual look and feel to them. The great thing about khaki pants is that they're versatile enough to be paired with both casual and formal shirt styles.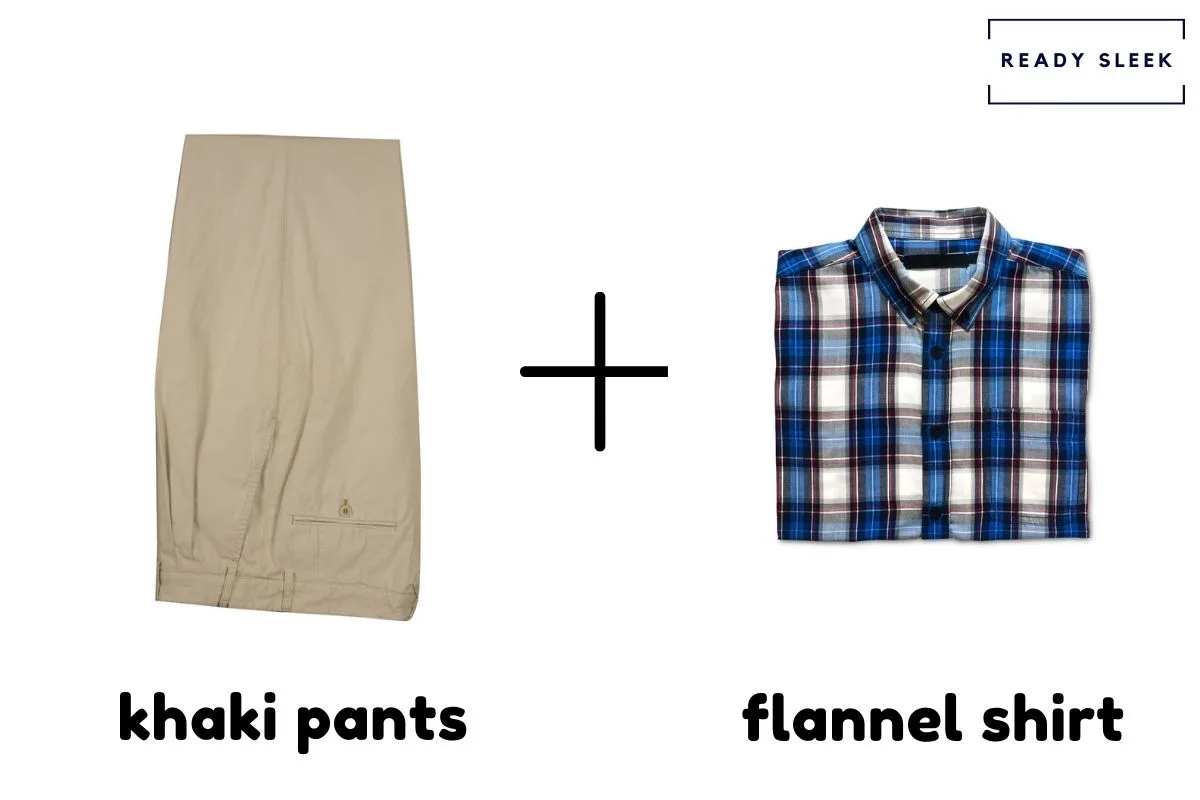 In the picture above you've got a pair of khakis and a blue, red, and white flannel shirt.
Given how neutral khaki is as a color, a multi-colored shirt such as this can easily be worn without there being a risk of a color conflict.
As a side note, when wearing a multi-color shirt such as this with khaki pants, consider going more casual. Leave the shirt untucked and even unbuttoned with a hoodie or T-shirt layered underneath it.
Frequently Asked Questions
Here are the answers to a couple of frequently asked questions to really round things up.
What Color Shirt Should You Wear With Dark Khaki Pants?
Dark khaki pants work well with light-colored shirts as it adds a sense of balance. Consider a light neutral shirt in off-white or light grey. Alternatively, consider a sky blue or baby pink shirt to add some color to the khaki outfit.
Going for contrast is the key – the easiest way to do it is to pair light shades with dark ones.
While neutral-colored shirts would be the easiest way to go, both warm and cool-colored shirts work well with dark khaki pants.
What Color Shirt Should You Wear With Light Khaki Pants?
Light khaki pants work well with dark-colored shirts as it produces a sense of balance and contrast. Consider a neutral shirt in charcoal grey or black. Shirts in navy blue, burgundy red, and even deep shades of purple would also work with light khakis.
It goes to show just how neutral and muted light khakis are. They can be paired with practically any color of shirt you can think of.
This definitely includes light-colored shirts as well. However, given the fact that contrast between the shirt and pants will always work better, try to go for a darker-colored shirt whenever possible.
This could be a darker neutral color (eg. grey/black), or a dark warm/cool color instead.
Conclusion
Hopefully, that's everything you could ever need to know about pairing khaki pants and shirts.
Sticking to basic principles and guidelines should help you make the right decision, each and every time.
Consider the season, the formality, and how vibrant/calm you want the combination to look.
Enjoy.
Ready Sleek founder. Obsessed with casual style and the minimalist approach to building a highly functional wardrobe. Also a fan of classic, vintage hairstyles.