Black-tie dress codes seem simple enough at first. After all, there isn't much room for experimentation with a tuxedo. But footwear is where things can go horribly wrong. So, can you wear loafers with a tuxedo?
Patent leather Venetian loafers can be worn with tuxedos in most circumstances. Bit loafers, penny loafers, and tassel loafers are generally considered too casual to be worn with tuxedos and should therefore be avoided.
Although that's the gist, let's dig deeper.
Here are some tips for wearing loafers with tuxedos in the most effective ways possible, followed by a couple of answers to frequently asked questions to round things off.
7 Tips For Wearing Loafers With Tuxedos
All of these should serve you well no matter what tuxedo you choose to wear.
1. Go For Venetian Loafers
Venetian loafers can quite comfortably be identified as loafers. They've got the classic low-lying slip-on aesthetic.
Here's a pair of patent leather Venetians on Amazon – just as an example.
How they differ from other types of loafers such as penny, bit, and tassel loafers is the fact that they have no ornamentation on the upper.
Venetian loafers have no tassels, buckles, brogue patterns, medallions, or anything of the sort. Nothing.
Because of this, they have a very minimalist appearance and this makes them very well suited to formal occasions.
Venetian loafers have the benefit of being one of the few "acceptable" shoe choices when it comes to tuxedos, along with patent leather Oxford shoes, opera pumps, and (sometimes) velvet slippers.
A major reason for this is just how minimalist the lack of decorative features looks. You don't want anything to distract from the tuxedo itself.
That simplicity is where Venetian loafers shine.
Now, Venetian loafers themselves come in different colors, materials, and constructions. Not all of them would be suitable to wear with tuxedos.
While Venetian loafers should always be rule #1 when it comes to wearing loafers with tuxedos, let's go through some other tips on the type of Venetians you should go for.
2. Avoid Moccasin-Style Construction
This may sound confusing – after all, loafers do have a moccasin-style construction by definition.
There's nothing more "moccasin-like" than the stitching on the upper that most loafers will have.
But what sets "loafers" apart from "moccasins" is the fact that loafers have a separate heel while moccasins do not.
Venetian loafers are quite rare in that they can sometimes be with no separate heel (and sometimes no outsole either).
The main point here is to avoid these truly moccasin-like Venetian loafers when wearing a tuxedo as they'll simply look too casual.
Make sure that your Venetian loafers have a separate heel and a separate outsole and you should be fine.
Side note – many patent leather Venetian loafers actually have no moccasin-style stitching on the upper either – it gives it a more formal appearance. This is normal.
3. Patent Leather Is Essential
The problem with wearing regular calfskin leather shoes with tuxedos is that they often don't look formal enough, even when they're well polished.
It's possible, but not ideal.
Patent leather is a classic choice for tuxedos because of their immediately eye-catching glossiness. It's very shiny and smooth thanks to several coatings of acrylic creating a mirror-like reflection.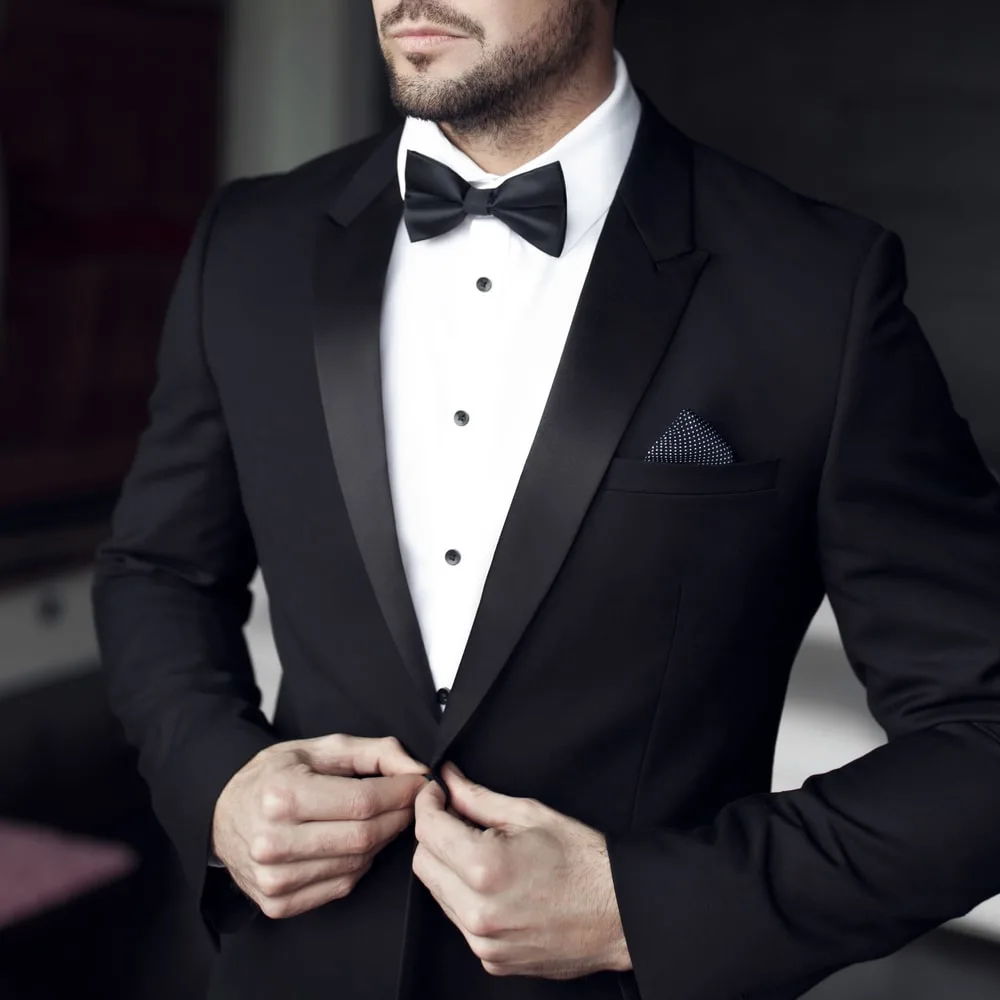 Patent leather Venetians should really be your only choice when it comes to wearing loafers with a tuxedo.
Any other material will likely come across too casual due to the naturally informal feel of the slip-on loafer.
The main trouble with patent leather is just how easy it can get damaged. Scratches and scuff marks are common, so be careful when wearing them outdoors.
Cleaning patent leather is best done with a soft, damp, microfiber cloth. But it's important to be gentle when doing so.
4. Black Leather Is Best
Here we're working on the assumption that it's a truly black-tie event. A standard black tux is all that would be acceptable – nothing bold, bright, comedic, etc.
When you're wearing a straightforward black tuxedo, keep things simple and go for black Venetian loafers.
While there are those who may be tempted by a slightly more eye-catching color, this sort of experimentation is best avoided.
You really do want to keep things minimalist and avoid drawing attention away from the tuxedo itself.
Going for any color other than black for your shoes when wearing a black tuxedo will easily make the shoes the focus of the entire outfit.
They'll stand out, but not in a good way. This is especially true when the shoes are patent leather and already have an attention-grabbing shine to them.
To sum that up, wear black loafers and only black.
5. Consider The Season
The low-cut, slip-on, ankle-exposing construction of the loafer is often best suited to the warmer months.
It's not that they can't be worn during the cooler months, but there's more of a risk it'll look out of place.
When wearing tuxedos during the winter, a pair of patent leather Oxfords would be a better choice than a pair of Venetian loafers.
It'll look more in sync with the climate and it'll also be more comfortable to wear as well.
For this reason, if you're a frequent attendee of black-tie events, it's usually best to own a pair of Venetian loafers as well as a pair of patent leather Oxfords to serve you well throughout the year.
Essentially, this tip is to help you determine whether or not loafers would be the best choice for your tuxedo in the first place.
If there's any doubt, seasonality is one of the factors you should definitely consider.
6. The No-Sock Look Is Best
When wearing loafers with a tuxedo, it's best to not wear socks or to wear "no-show" socks. Visible socks paired with loafers can look awkward at the best of times, but even more so when worn to a black-tie event.
This can feel strange at first – the idea of not wearing visible socks with a tuxedo.
But it's definitely something to get used to. Loafers are generally not meant to be worn with socks because they can really disrupt the low-cut, laid-back, slip-on aesthetic.
While a tuxedo is by no means "laid back", the mere pairing of a pair of Venetian loafers with socks can make the entire outfit appear awkward and out of place.
No-show socks are a great option when wearing any type of loafers, including Venetian loafers.
Essentially, they're socks that don't show as they don't extend much beyond the heel.
One of their main benefits is comfort. It can feel pretty uncomfortable wearing leather shoes without any socks whatsoever. No-show socks give the sole of your foot some cushioning.
Another benefit is hygiene. Wearing loafers with no socks on whatsoever isn't a very hygienic option. No-show socks are a solution to this too.
If the no-sock look leaves your foot feeling too cold, there's a good chance that Venetian loafers probably aren't the best choice of shoe here in the first place.
It may not be warm enough to wear what is classically seen as a warm-weather item of footwear. In this case, consider a pair of patent leather Oxford shoes instead.
If, on the other hand, the tuxedo and loafers paired with no-show socks feel comfortable to you, there's a good chance it looks in sync and will work well.
7. Careful With The Fit
Loafers usually run big and Venetian loafers are no exception. Because of this, it's often best to size down by 1/2 to 1 size when buying a pair.
The reason they run big is that they're meant to fit closer than other styles of dress shoes like Oxfords and Derbys. You need this close fit with loafers because you don't have the benefit of laces to adjust the tightness of the shoe.
Essentially, if you don't have a close fit, you run the risk of this slip-on shoe slipping off without having much you can do about it.
Another reason why you'll want a pretty snug fit when your tuxedo-appropriate Venetian loafers is that loafers (much like any other leather shoes) will stretch with time.
While this isn't a problem for Oxfords and Derbys thanks to the laces, the laceless construction of loafers may lead to it starting to slip off over time.
This problem is inconvenient at the best of times. But when wearing a tuxedo, your shoes won't be the only thing you'll have to worry about.
Although the outfit itself is pretty simple, the embellishments and nuances can be frustrating to get right.
Having your loafers slipping off from time to time in the middle of a black-tie event can be endlessly annoying.
It's important to anticipate the potential issues when trying on your Venetian loafers.
Sticking to this tip, as well as the others in this list, should ensure that you always wear the right pair of loafers in the right way when wearing a tuxedo.
Enjoy.
Ready Sleek founder. Obsessed with casual style and the minimalist approach to building a highly functional wardrobe. Also a fan of classic, vintage hairstyles.