Denim jackets have been popular for decades now and their trendy appearance is perfect for streetwear. However, can you wear a denim jacket to an interview?
Denim jackets should not be worn to interviews. They're too informal, too closely associated with casual streetwear, and difficult to pair well with formal shirts. Even for the more casual workplaces, it would not be a good idea.
At the end of the day, you'll have to dress pretty conventionally for your interview to avoid any unnecessary risks.
Let's get into this in a little more detail.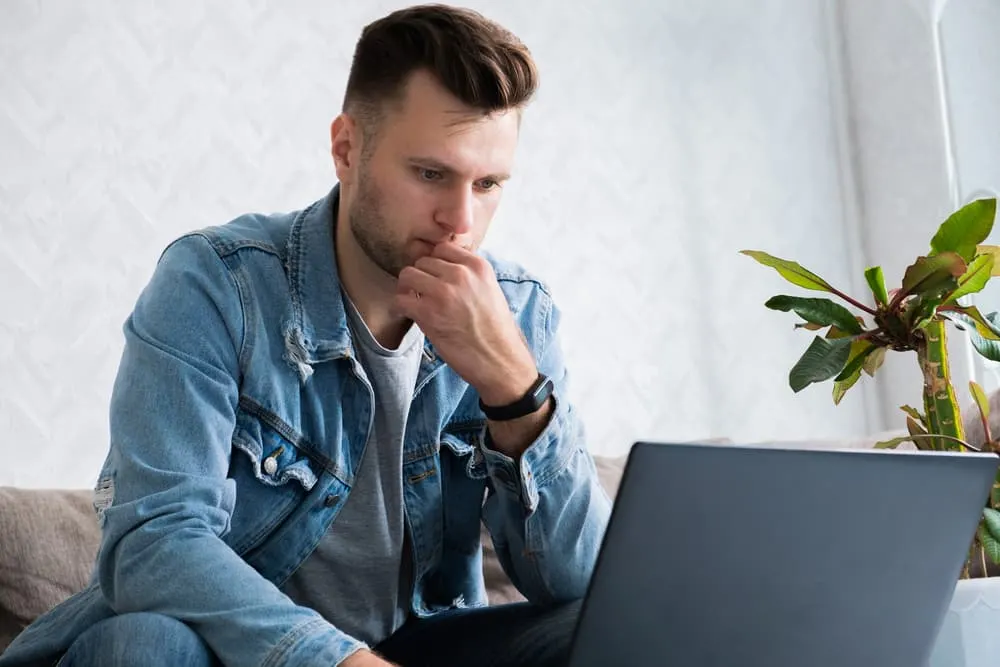 Why Denim Jackets Usually Aren't OK For Interviews
The main issue with denim jackets is that they're far too casual for most industries.
Employers could misread your laid-back outfit as an indication you don't take the role seriously and haven't deemed it important enough to dress smartly for.
This could seriously harm your chances of progressing to the next round of interviews and being considered a potential candidate.
People say that it takes just seven seconds to form a first impression. When time is tight, your outfit can play an important role in determining how prospective employers view you.
Therefore, it's vital you dress for the occasion, and perhaps it's best you leave the denim jacket behind.
They also say that measuring up a person's trustworthiness and competence can take just one-tenth of a second.
Denim jackets are great for informal events but their laid-back appearance can hinder your prospects no matter how good your answers are during the interview or how much previous experience you have. Remember, clothes make the man.
Can You Ever Wear a Denim Jacket to An Interview?
If you're determined to wear a denim jacket to a job interview then consider these factors before donning it:
1. The Nature of the Industry
Not all industries share the same etiquette and dress code expectations.
For example, we tend to associate formal suits with lawyers, business executives, and high flying salesmen whereas more laid-back outfits are associated with creative fields such as marketers, writers, and website developers.
Before you decide on an outfit to wear to your interview, consider what the usual dress code is and aim to dress slightly more conservatively for your employers. It's better to be overdressed than to be underdressed.
The nature of the industry is the biggest factor in determining what you wear to your interview.
2. The Company Culture
Certain companies pride themselves on being unconventional and having radically different policies from others.
If you're preparing for an interview at a quirky marketing company with different rules on appearance, then you may be able to pull off wearing a denim jacket. However, it's crucial to do your homework on the company to avoid embarrassing yourself.
Take a look at what people are wearing in the workplace and make your decision based on this.
How to Wear a Denim Jacket to an Interview (If You Can)
If you've completed your research and have decided that it is in fact ok to wear a denim jacket to an interview, here's how to pull it off in style.
Make Sure It's Free From Patches
Showing up to an interview with band patches or political slogans sewn on your denim jacket is a serious no-go.
It's hard enough to look professional in a denim jacket, let alone if it's covered in patches. You'll risk obliterating any chances you have of getting the job.
Take off any designs on your jacket to help temper your appearance.
Avoid Acid/Stone Washed Denim
Stone or acid-washed denim is more suitable for a rock concert than a job interview.
You'll have a hard time convincing people that you're the right man for the job wearing such a jacket and you shouldn't be surprised if you don't get a callback.
Stick to Muted Colors
A black or dark blue denim jacket will help you look a lot more presentable and inconspicuous.
You want to aim to take the focus away from your denim jacket and onto other areas of your outfit like your shirt and trousers.
Choosing a bold, bright-colored denim jacket will make it near-impossible for the rest of your outfit to stand out. As a result, most of the attention will be drawn to your unusual choice of jacket.
Colors like navy blue, black, and dark gray are your friends. They'll tone down the appearance of your denim jacket and it'll look a lot more professional than a bright, acid-washed blue one.
Alternatives To Denim Jackets You Can Wear To An Interview
If you're unsure about wearing a denim jacket to an interview, then there are plenty of better alternatives you can consider wearing.
If you weren't keen on a more traditional and formal coat such as a pea coat or even a duffle coat, you've still got some semi-casual options that would beat a denim jacket.
A Harrington jacket, for example, is a perfect equilibrium between smart and casual. It looks great with a smart shirt (unlike a denim jacket) and still manages to emanate a more laid-back persona.
You can also consider a sports coat. They're less formal than blazers and will help you look a lot more competent and professional.
A sports coat is also a lot more versatile when it comes to trousers. You can pair them with a clean, well-tailored pair of chinos to complete your business-casual look.
Conclusion
To sum up, denim jackets are inappropriate for most job interview environments as they are too casual and do not give off a professional vibe.
There are, however, ways to make a denim jacket look a touch more presentable such as buying a dark-colored denim jacket free from patches or gaudy logos. Keep this in mind if you decide to wear one.
However, it's best to stick to convention and opt for a more formal style of jacket if you hope to ace the interview.
Ready Sleek founder. Obsessed with casual style and the minimalist approach to building a highly functional wardrobe. Also a fan of classic, vintage hairstyles.