Maroon pants are pretty versatile given how dark and muted they are. However, when it comes to choosing a shirt color, it's still important to color coordinate with care.
So, here are some great shirt colors you can easily wear with maroon pants:
Light Blue
Black
Grey
Navy
White
Pink
As always, there's more to it.
There's a good chance that one or two of those shirt colors would be the best option for the specific setting you're dressing for.
First, we'll go through a few tips for choosing the right one. Then we'll run through those combinations in more detail with some pictures of them to boot.
Let's get to it.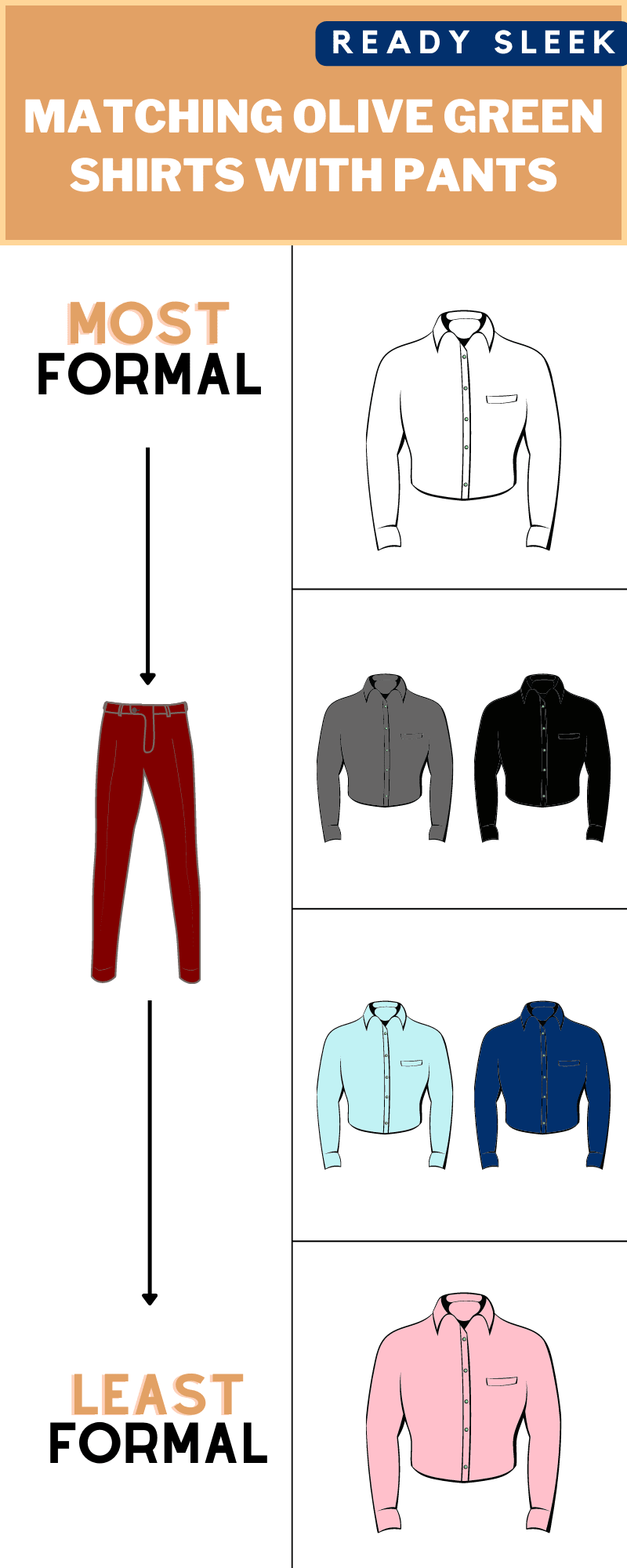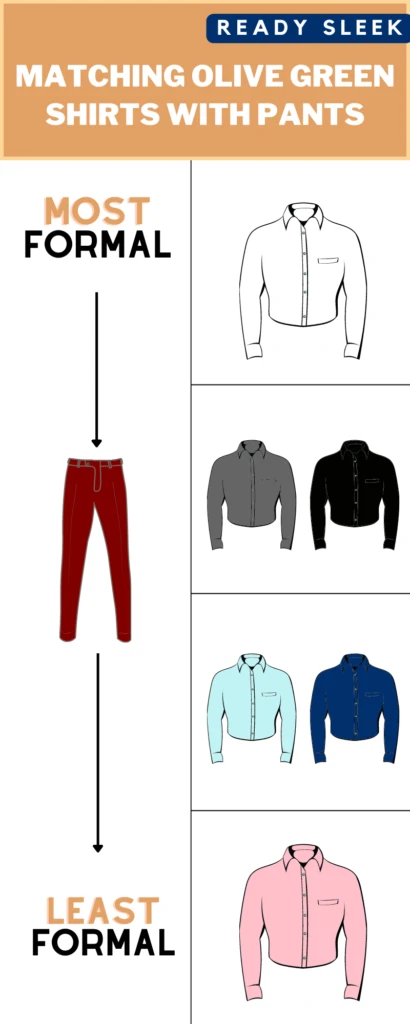 How To Color-Match Maroon Pants With Shirts
These tips should guide you in the right direction. Consider all of them before choosing a shirt color for your maroon pants.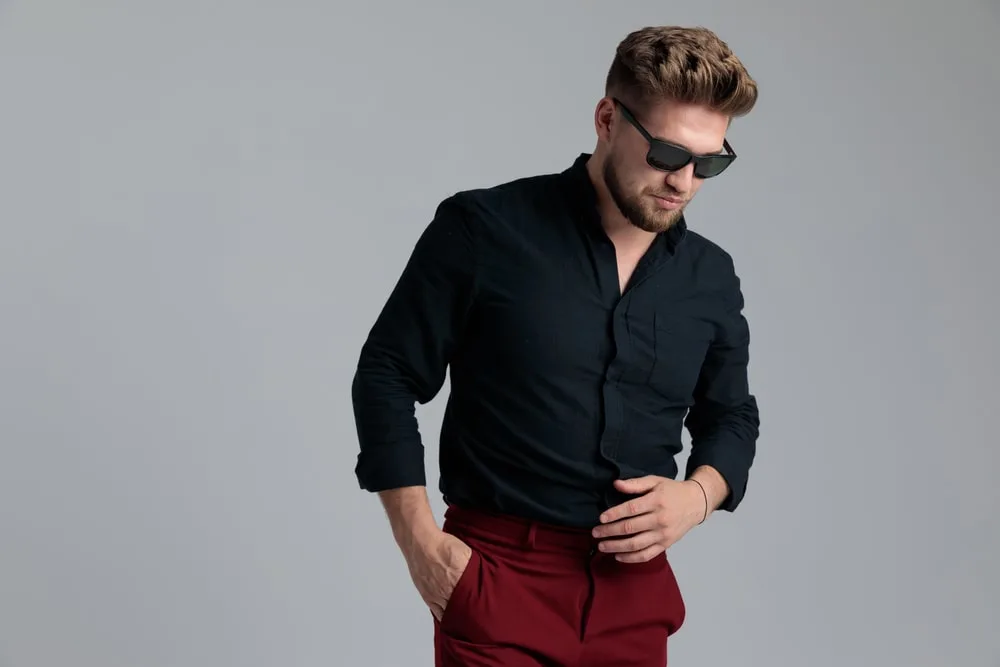 1. Think About The Dress Code
Ultimately, maroon pants should really only be worn in casual settings. Never wear them in formal, business-professional, or business-casual settings.
But even "casual" can mean a bunch of different things.
You've got truly casual settings where you could literally wear anything (to an extent).
But you've also got "smart-casual" settings where maroon pants would be absolutely fine but you'll want to keep things more subtle and understated with your other items.
In smart-casual settings, a neutral shirt color would be the best option (eg. white, black, or grey).
In more casual settings, you can experiment with more vibrant shirt colors, but it's still best to choose a muted shade of one of those colors to keep the outfit understated as a whole.
2. Consider The Time Of Day
While the dress code should be prioritized when it comes to choosing a shirt color, consider the time of the day as well.
Darker shirt colors such as black, charcoal, and navy are generally better suited to evening events when wearing maroon pants.
Given how maroon is quite dark in itself, a similarly dark (or darker) shirt color would produce a pretty – well, dark aesthetic overall.
Dark aesthetics tend to look better after sunset, although this isn't a hard-and-fast rule.
Lighter and brighter shirt colors (eg. white or light blue) look great throughout the day when wearing maroon pants.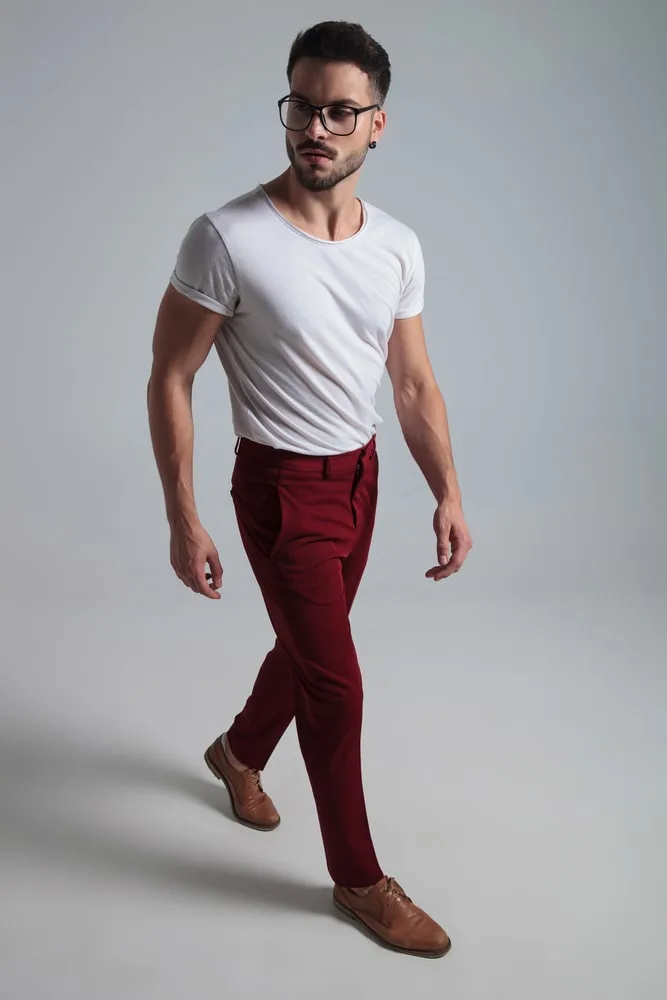 Not something to overthink – just something to consider.
3. Know The Color Wheel
The color wheel is an image that displays how non-neutral colors associate and relate to each other.
As you can see, you can split it into two halves – "warm" and "cool" colors.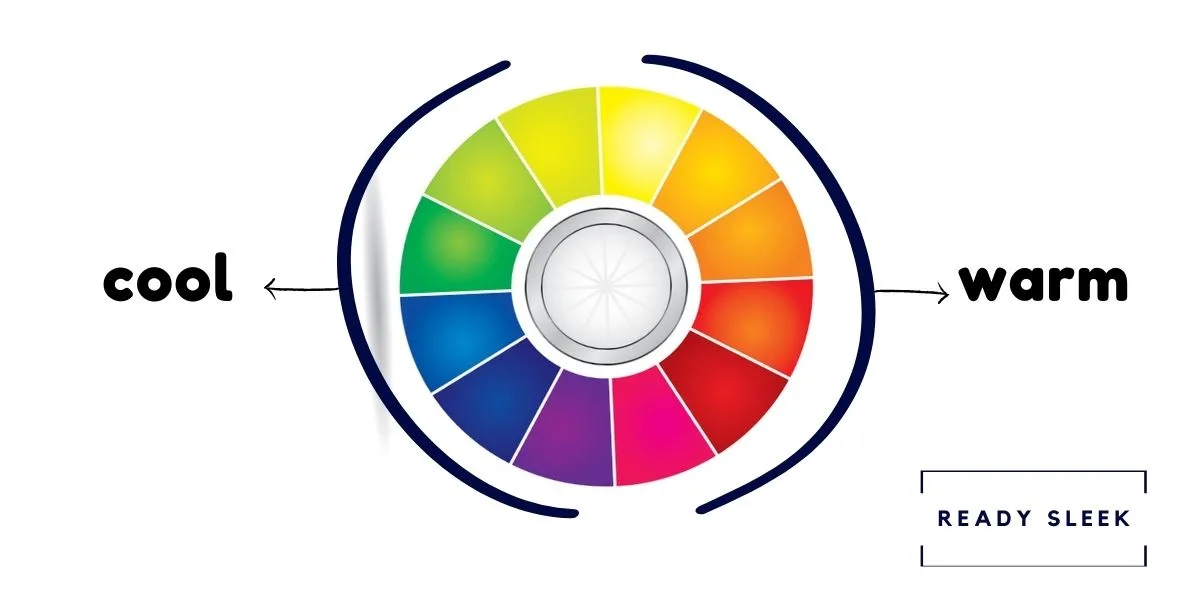 Maroon is a dark shade of red (much like crimson and burgundy) and would fall firmly within the category of "warm" colors.
Most of the shirt colors we recommend are neutral – black, white, and grey – and won't appear anywhere on the color wheel.
If you were to choose a non-neutral shirt color, consider the color wheel before making your decision.
Overall, "cool" shirt colors tend to look better when wearing "warm" maroon pants, simply because it adds a touch of balance.
It's one of the main reasons why light blue shirts look so great when wearing maroon pants.
While you could go for a similarly warm-colored shirt, it will often produce a result that's quite in-your-face and perhaps a little too bold.
Mixing warm colors with other warm colors is always tricky and needs to be done cautiously.
6 Maroon Pants And Shirt Combinations To Try
Here are those maroon pants and shirt combinations listed and described in more detail. Use the images to help guide your decision.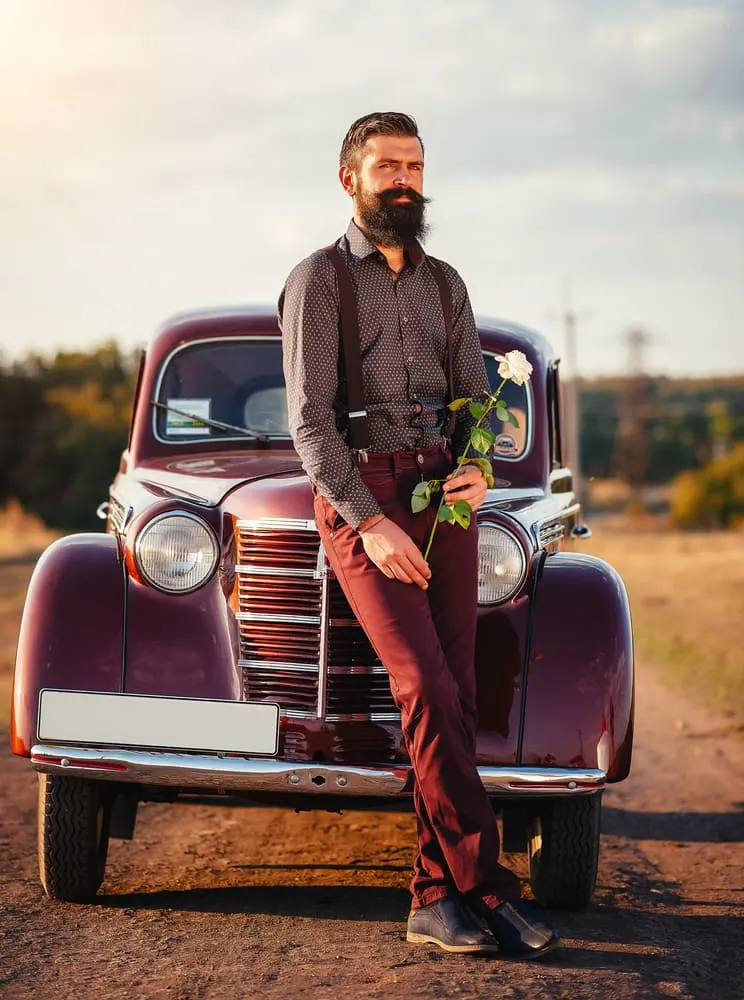 You'll notice how some combinations just look dressier than others, especially those with neutral shirt color options.
Maroon Pants With A Black Shirt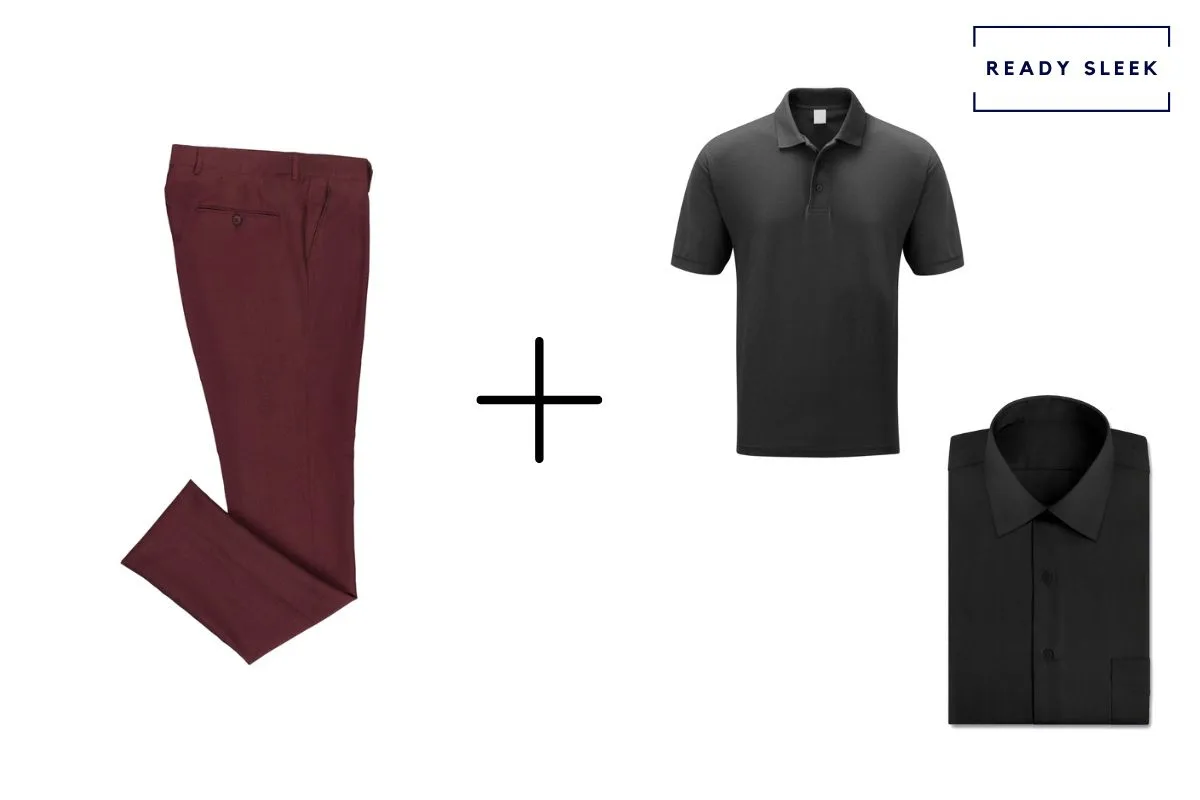 Maroon pants can easily be worn with a black shirt, with the combination working especially well in dressy evening social settings.
You'll notice how dark the combination is right from the outset.
It'll look good no matter what time of day it is, but there's just something about it that looks fantastic in the evening.
It's effortlessly sophisticated.
Of course, the style of shirt and pants you choose is also important.
When dressing up, a dress pants and dress shirt combo would be best.
But when dressing down, a pair of maroon chinos or cargo pants with a black Henley or OCBD would be perfectly reasonable.
No matter what style you go for, the black and maroon color combination will always look great.
Round it off with a pair of black shoes, whether it's dress shoes or sneakers. If you're wearing a belt, make sure it matches the shoes and nothing else.
A black leather belt would be what you need.
Maroon Pants With A Grey Shirt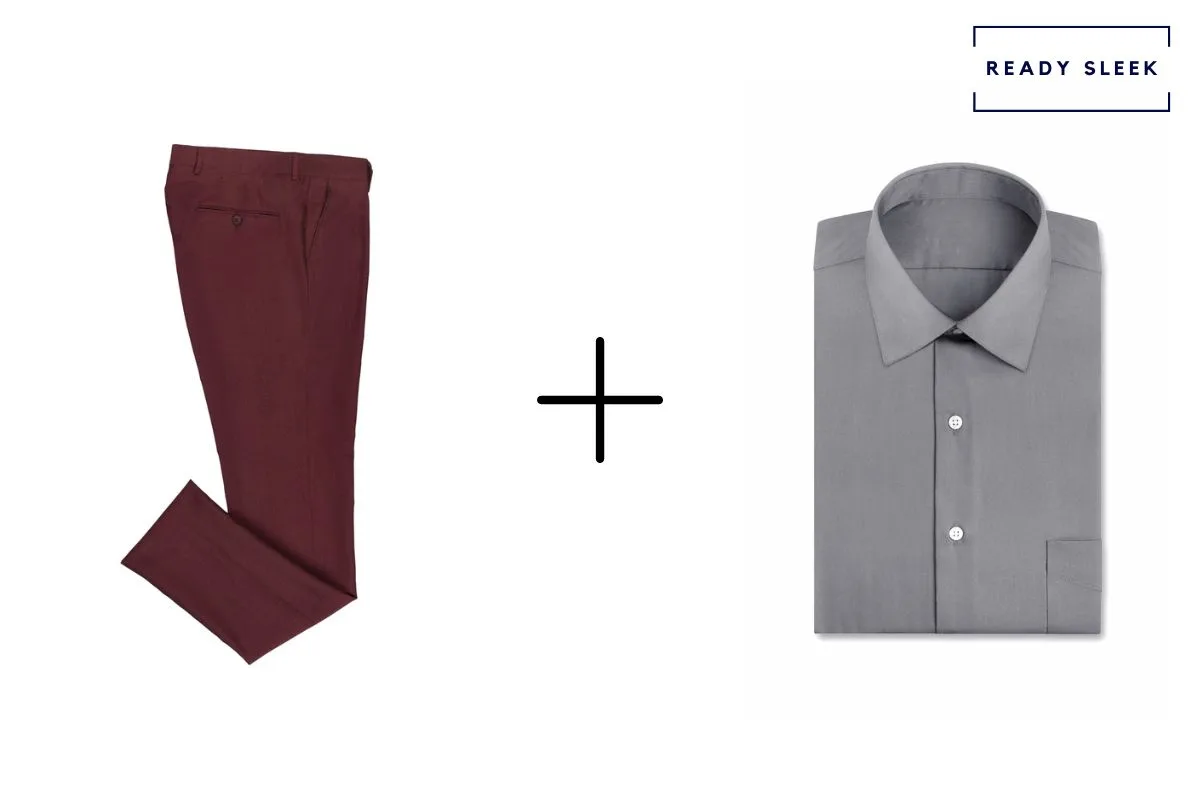 A grey shirt would be a great option when wearing maroon pants. It's subtle, neutral, and easy to combine.
Of course, "grey" is a spectrum consisting of a variety of different shades.
A light grey shirt worn with maroon pants would look very different from a dark grey shirt (eg. charcoal).
But you can rest assured that the color combination will work given how neutral grey is as a color.
If you ever felt as though a black shirt produced too dark and harsh of an aesthetic when wearing maroon pants, a grey shirt would be a very good alternative.
The lighter the grey shirt, the more contrast you'd achieve between the shirt and the dark red tone of the maroon pants.
In general, contrast is attention-grabbing. The more contrast you've got, the more the shirt and pants outfit will stand out.
That's worth considering when choosing the shade of the grey shirt.
Finally, consider a blazer. More specifically, consider a grey blazer in a shade of grey that's noticeably different from that of the grey shirt.
It doesn't even need to be a grey dress shirt you wear it over. Blazers/sport coats look great over casual shirt styles as well. The blazer over T-shirt look is incredibly popular.
Maroon Pants With A Navy Shirt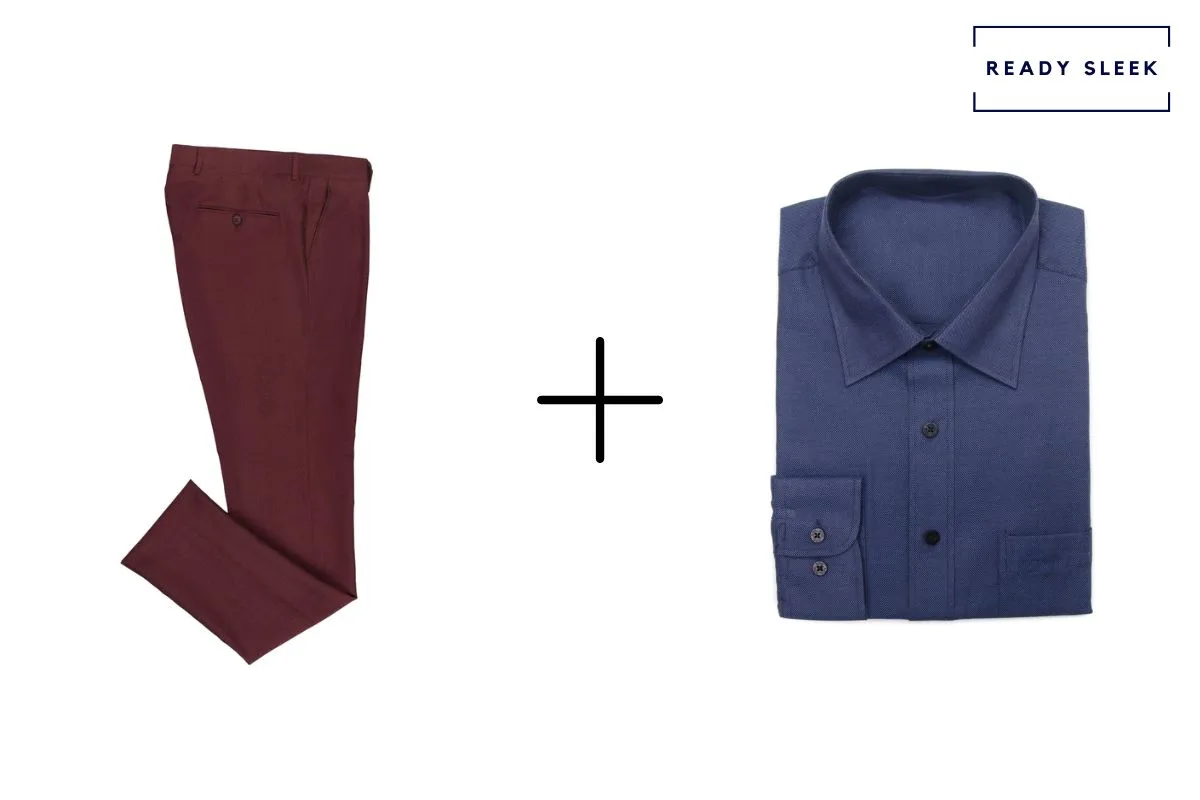 Maroon pants look fantastic when worn with navy shirts. The dark overall aesthetic works especially when for dressy smart-casual evening events.
Navy, much like black, is very dark and almost as neutral.
However, it still has a more laid-back and casual look and feel to it than a black shirt.
In addition, the "cool" undertones of the blue will add a sense of balance to the "warm" undertones of the maroon pants.
Navy blue just oozes sophistication.
What's great about this combination is that you're combining the dark and muted shades of two vibrant colors (blue and red).
Maroon Pants With A Light Blue Shirt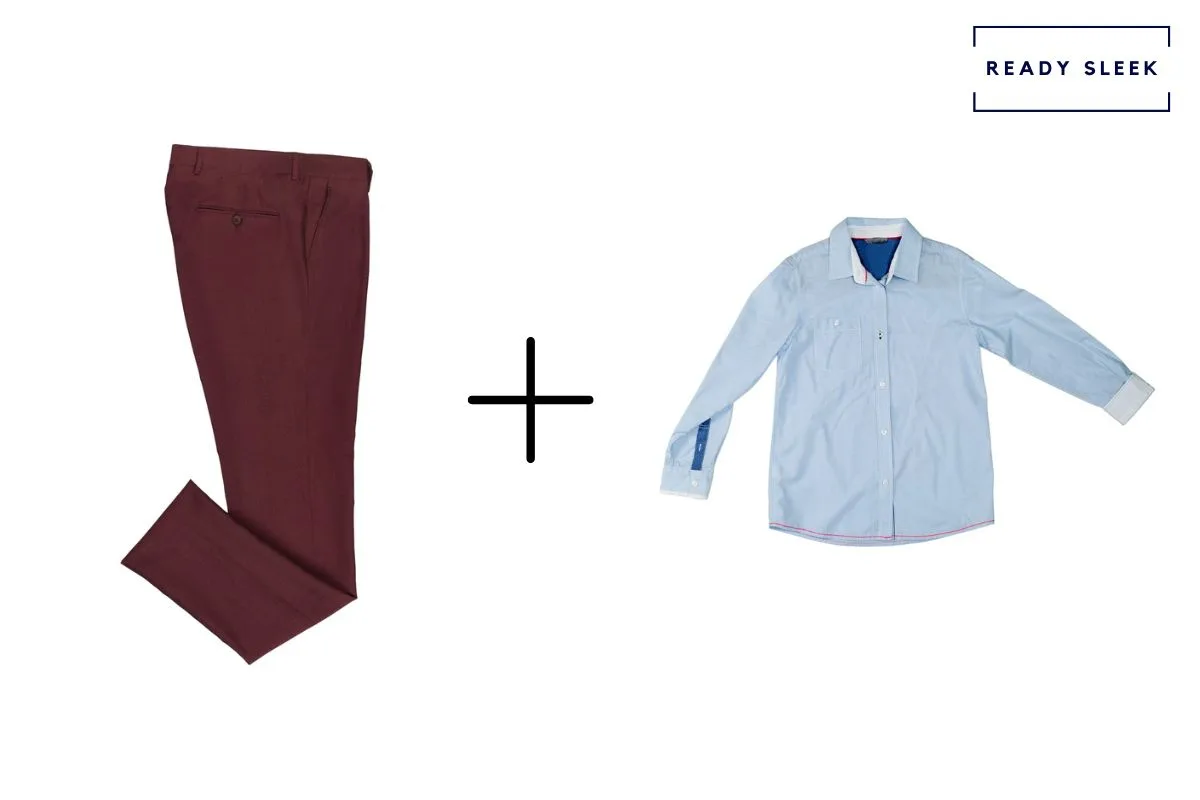 A light blue shirt can be worn with maroon pants in more casual settings. It's an eye-catching combination due to the contrast between the light-colored shirt and the dark-colored pants.
While a light blue shirt won't ever look as dressy as a white or black shirt, it still has a subtle and "professional" look and feel to it.
It's also easy to combine with a variety of different colors, including vibrant shades of dark red such as maroon.
The "cool" undertones of light blue are more noticeable and obvious than those of navy blue.
Because of this, the balance achieved between the cool undertones of a light blue shirt and the warm undertones of maroon pants is even more significant.
No matter what shirt and pants style you choose, a light blue shirt will always look great when wearing a pair of maroon pants.
Maroon Pants With A White Shirt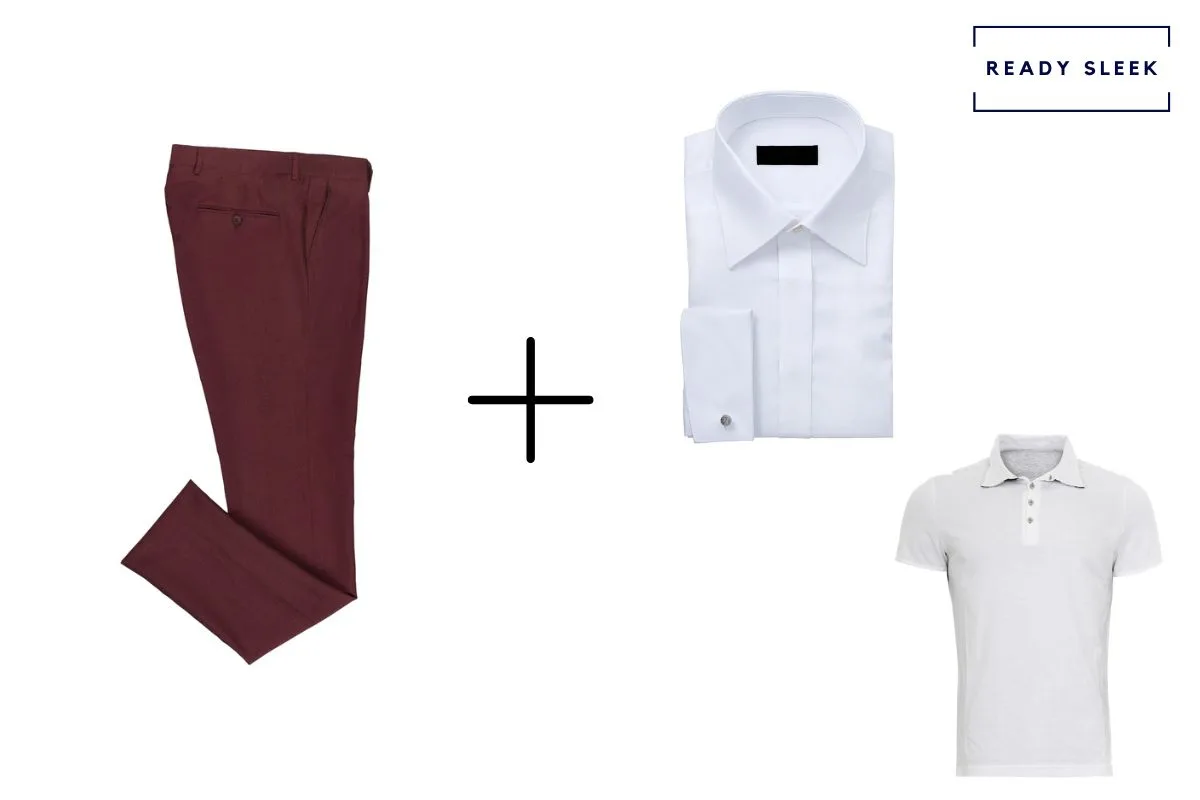 In many ways, wearing a pair of maroon pants with a white shirt would be the easiest and most versatile option.
White is the most formal and professional shirt color you can choose.
What's great about it is that it blends seamlessly into the background of whatever maroon pants outfit you choose to wear.
It also produces a great sense of contrast between light and dark.
The dark pair of maroon pants worn with the ultra-light white shirt is a high-contrast combination that'll always draw some (wanted) attention.
Maroon Pants With A Pink Shirt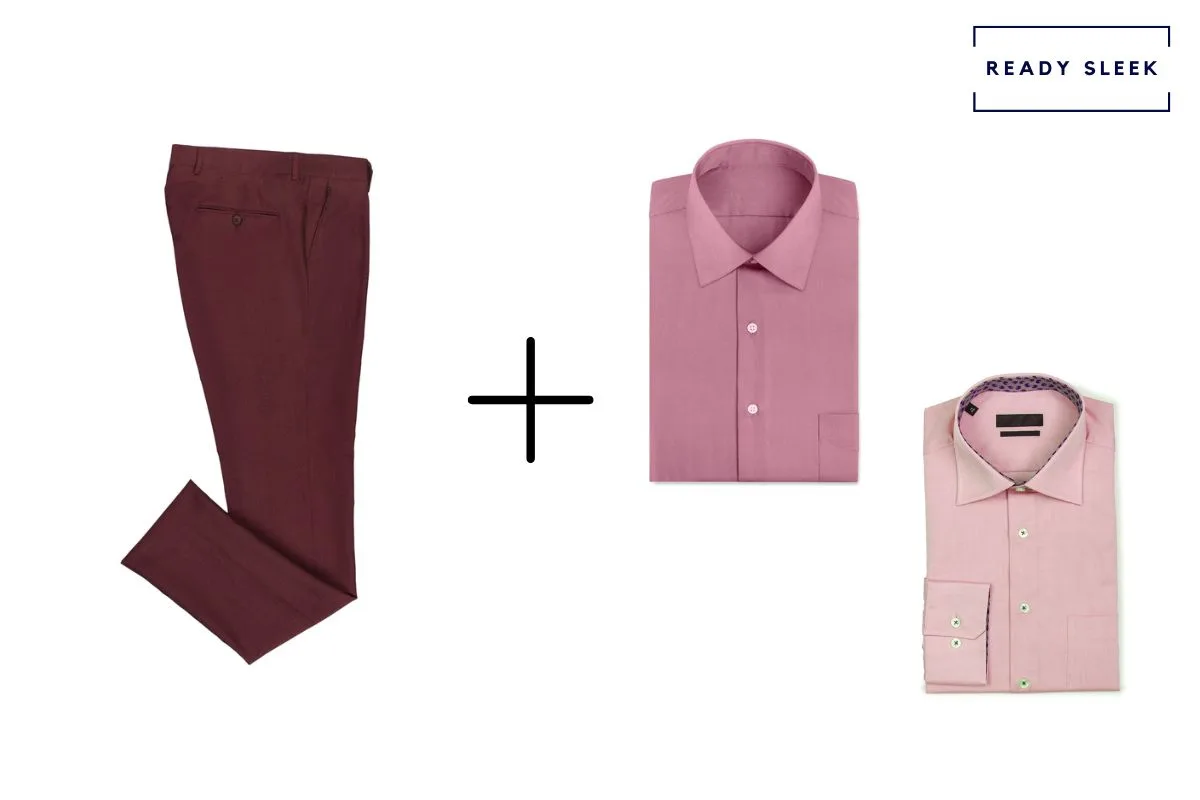 Maroon pants can be worn with a pink shirt in casual settings. Given how both colors lie within the spectrum of "red", the combination could be called monochromatic.
A common misconception is that a "monochromatic" combination is one where you're working with exactly the same shades of the same color.
This isn't true.
Pink and maroon are different shades of the same color and that's why they work so well together.
This is an example of pairing two warm colors together in a way that works well.
Although combining warm colors can sometimes come across as too bold or vibrant, this combination works effortlessly because it's monochromatic.
Conclusion
Maroon pants can look fantastic in the right setting, but knowing what shirt color to choose is probably the most important step.
Consider your preferences, the dress code, and the season when making your decision.
Enjoy.
Ready Sleek founder. Obsessed with casual style and the minimalist approach to building a highly functional wardrobe. Also a fan of classic, vintage hairstyles.