Mustard yellow pants are a simple and subtle way to stand out from a crowd, but can be difficult to color-match with shirts.
So, here are some great shirt colors you can wear with mustard pants.
White
Black
Grey
Light Blue
Navy
Maroon
As you can see, that's a pretty wide range of shirts ranging from neutral and dressy, to not-so-neutral and not-so-dressy.
After going through a few tips for choosing the right shirt color, we'll run through these combinations in more detail (with pics).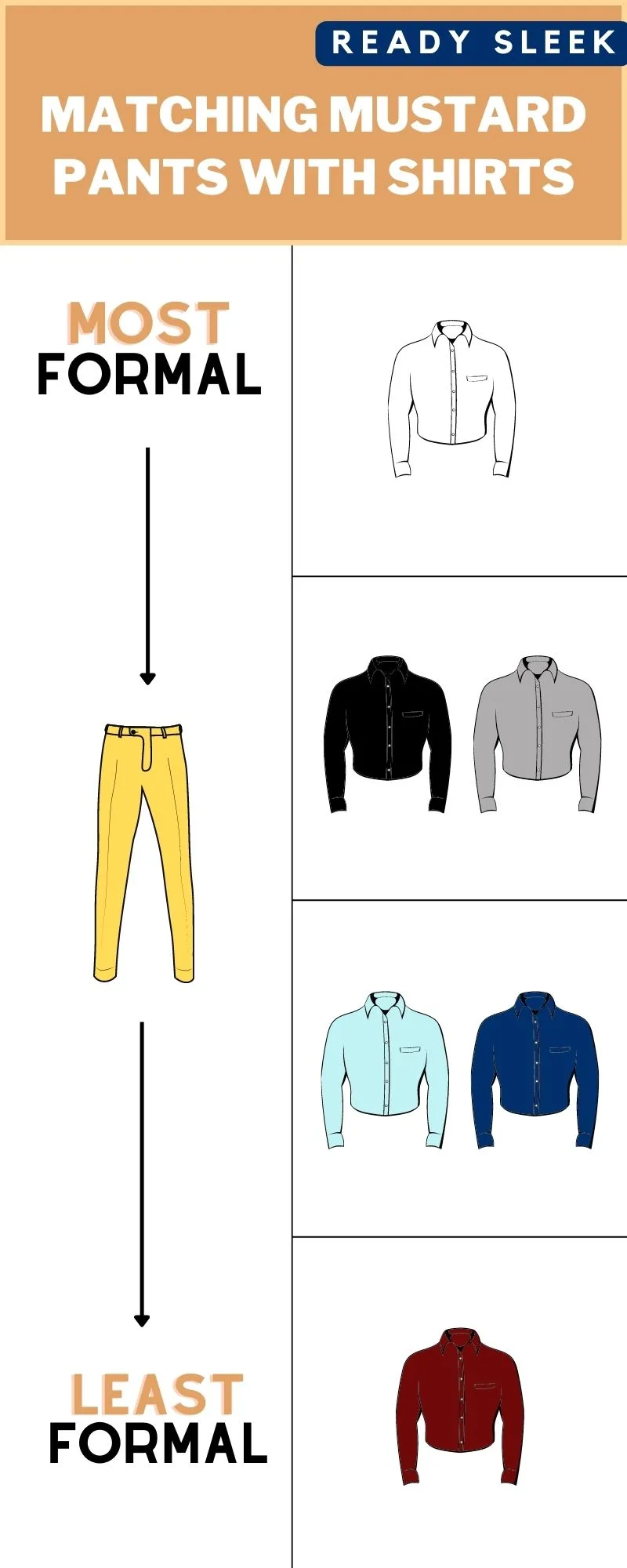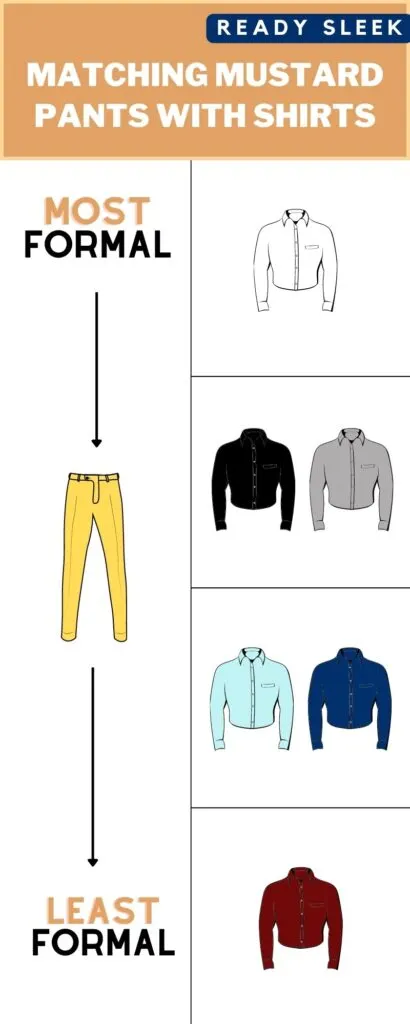 How To Color Coordinate Mustard Pants With Shirts
Consider all of these tips before you put any mustard pants outfit together.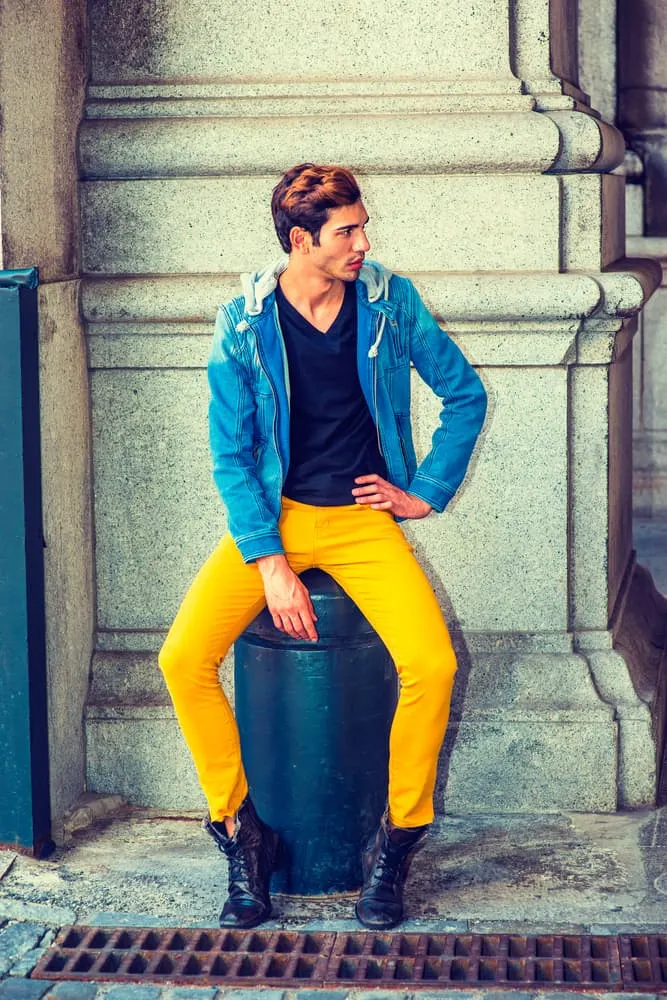 1. Consider The Dress Code
No matter what shirt color you choose, mustard yellow pants should only ever be worn in casual and smart-casual settings.
They should never be worn in formal, business-professional, or even business-casual settings.
Mustard is a dark and muted shade of yellow. However, it's still pretty bold and in-your-face.
It won't ever be as dressy as a pair of black, grey, or navy pants, for example.
It has strong warm undertones that are hard to ignore.
When dressing for a "smart-casual" setting, consider how smart the setting really is when choosing a shirt color.
The dressier the event, the more likely it is that a white, black, or grey shirt would be best. In other words, keep it neutral.
In more casual settings, you could go for a more vibrant light blue or maroon shirt instead if you wanted to.
2. Neutrals Are The Easiest
Given how vibrant mustard yellow is as a color, there's always a risk of a color clash when choosing a shirt color.
You don't want a combination that's so colorful and out there that it becomes a distraction.
That's why going for a neutral shirt color (white, black, or grey) would be the easiest option.
Navy blue is one of those neutral-adjacent colors that are not technically neutral but often labeled as such because of how muted and easy it is to pair with other colors.
Mustard is no exception.
However, if you did want to go for a vibrant and non-neutral shirt color, try to choose a muted shade of that color to avoid a color conflict.
So, instead of going for lime green, go for sage or forest green.
Instead of going for scarlet red, go for burgundy or maroon instead.
3. Consider The Season
It's important to not overthink seasonality, but it's no secret that certain colors are better suited to the warmer months, while others work well during the colder months.
Mustard is a "warm" color and often works better during the warmer months of summer and spring.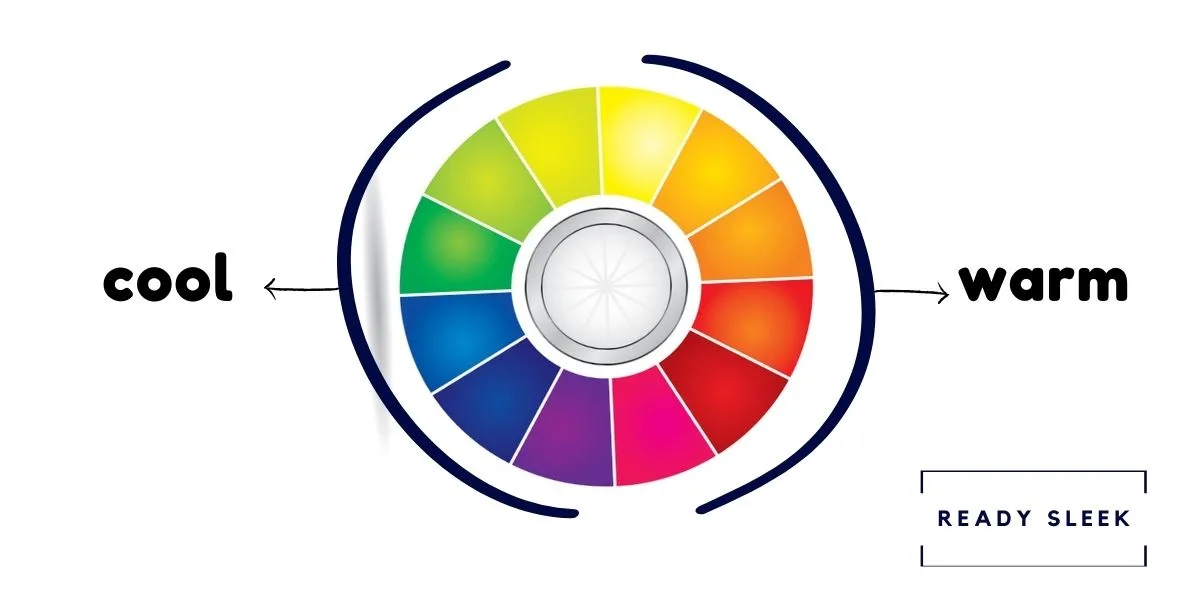 So, it would make sense to reserve the mustard yellow pants for these months if you really wanted to take seasonality into account.
If you did choose to wear mustard pants during the cooler months of the year, consider going for a noticeably "cool" shirt color to add some harmony.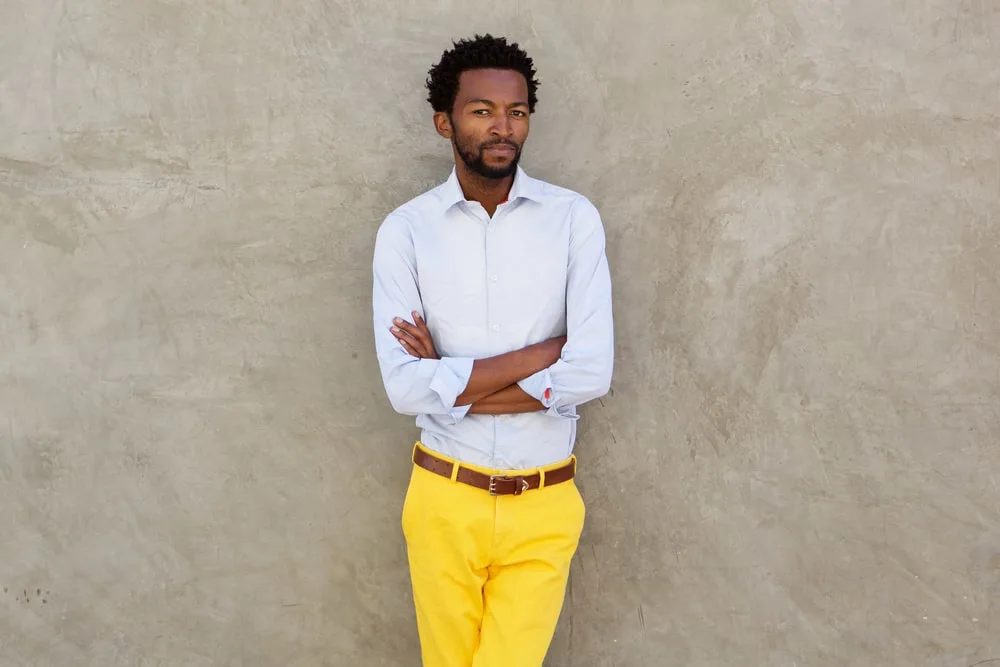 For example, a mustard pair of pants with a light blue or navy shirt.
Of course, the dress code would take priority over seasonality when it comes to choosing a shirt color.
But it's just an additional factor you could consider.
6 Shirt Colors You Can Wear With Mustard Pants
Here are those mustard pants + shirt combinations described in a little more detail.
Mustard Pants With A White Shirt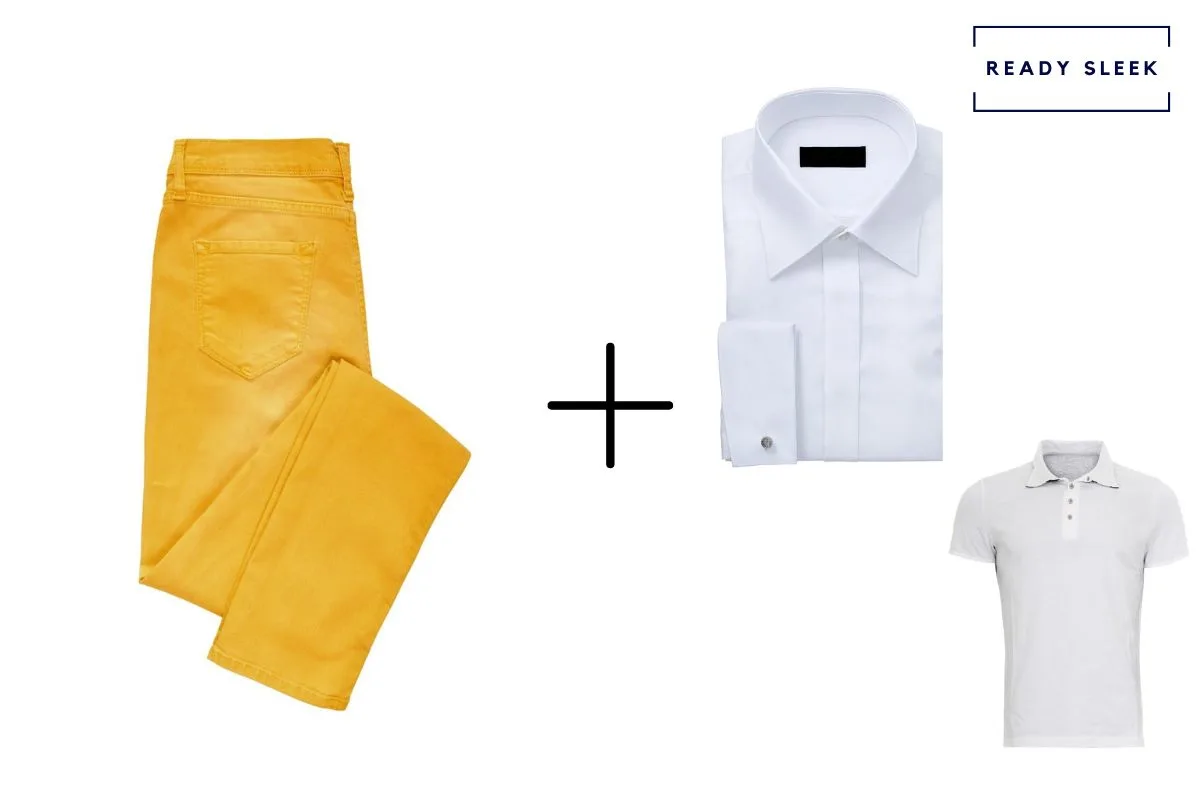 Mustard pants can easily be worn with a white shirt in casual and smart-casual settings.
Going for a white shirt gives you a lot of versatility given how neutral and effortless it is to coordinate.
It's a great way to add balance and neutrality to the bright and bold pants color.
If you were looking to dress up a pair of mustard pants, wearing a white shirt would be the way to do it.
We haven't talked about the style of the shirt and pants you could go for yet, but the dress code is crucial here too.
Smart-Casual: White dress shirt or OCBD with mustard yellow dress pants or smart chinos.
Casual: White Henley or polo with mustard yellow chinos, jeans, or cargo pants.
Mustard Pants With A Grey Shirt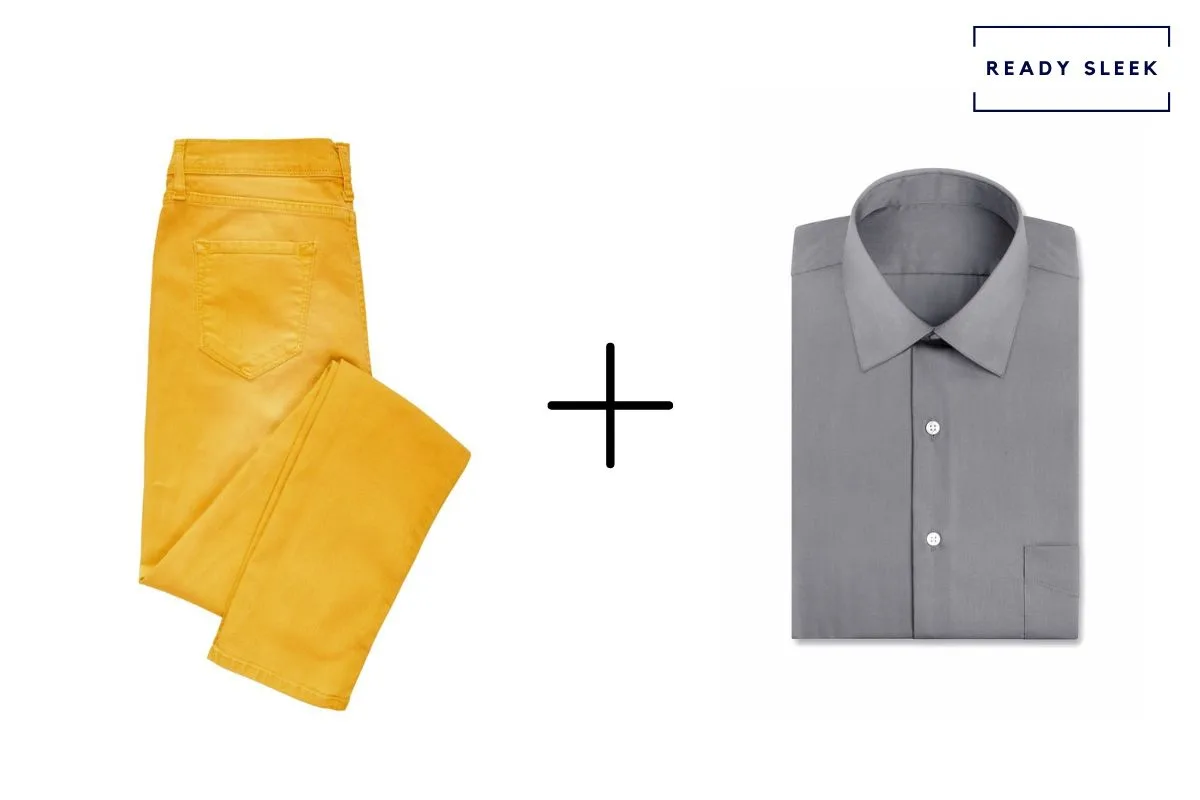 Mustard pants can be worn with a grey shirt given how understated and neutral the color grey really is. The color combination would work no matter what style of shirt and pants you ultimately choose.
A grey shirt wouldn't look quite as dressy as a white shirt would when wearing mustard pants, but can easily be worn without the risk of a color clash.
Consider how much contrast you want when choosing the shade of the grey shirt.
Mustard is a medium-dark and muted shade of yellow.
Wearing a light grey shirt with mustard yellow pants would lead to quite a high-contrast combination. This level of contrast would be quite attention-grabbing and eye-catching.
A medium grey or dark grey shirt would lead to a little less contrast with the mustard pants and would usually lead to a more subtle aesthetic overall.
Mustard Pants With A Black Shirt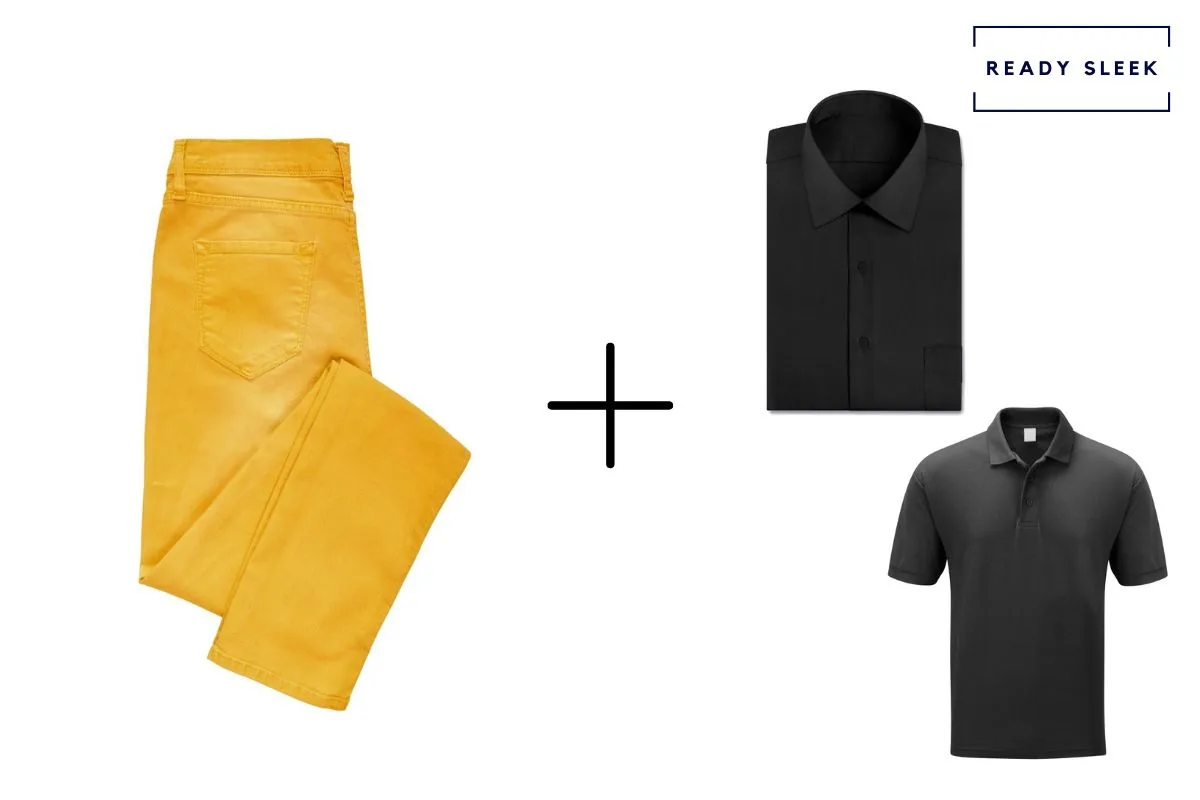 Mustard pants can be worn with black shirts in smart-casual settings, with the combination working especially well for dressy evening social settings.
While black and mustard yellow may not seem like an obvious pairing, black is neutral enough that it'll always work.
The color combination would work whenever and wherever, but black dress shirts worn with mustard yellow pants often look better at the "smarter" of smart-casual evening events.
This isn't a hard-and-fast rule by any means, but the overall dark aesthetic of the color combination generally looks better after sunset.
Mustard Pants With A Light Blue Shirt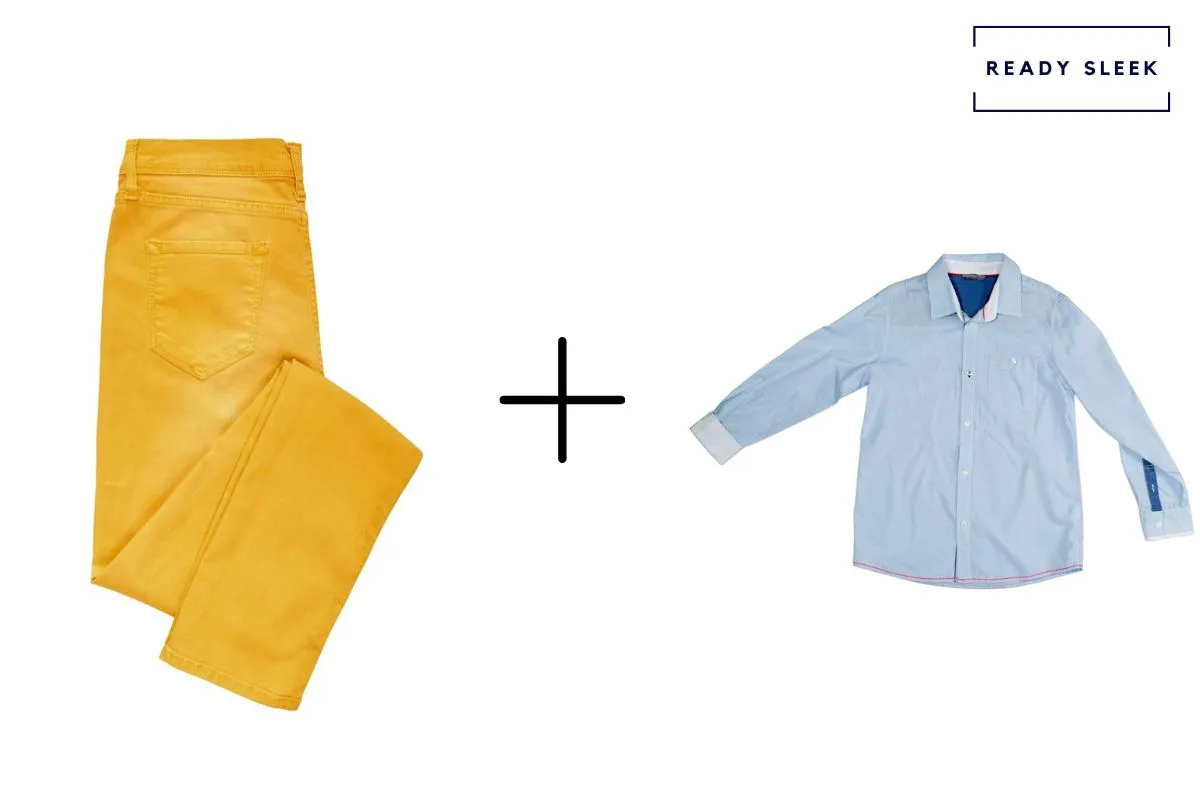 Light blue shirts can confidently be worn with mustard yellow pants in more casual settings. In fact, blue denim shirts are a common choice when wearing mustard pants.
But the color combination would work regardless of the shirt style.
Light blue may have obvious "cool" undertones, but it's light and subtle enough to combine with a variety of different colors. This would include bolder colors such as mustard.
In fact, the cool undertones of the light blue shirt would add a nice sense of balance, counteracting the strong warm undertones of the mustard pants.
When it comes to footwear, keep things simple.
You're wearing a pretty colorful top, as well as a very colorful pair of pants. Go for a more minimalist and neutral option for your footwear.
If you're dressing up, a pair of tan brown dress shoes would work nicely.
If you were dressing down (eg. a blue denim shirt with mustard yellow chinos), consider a pair of all-white minimalist leather sneakers.
Mustard Pants With A Navy Shirt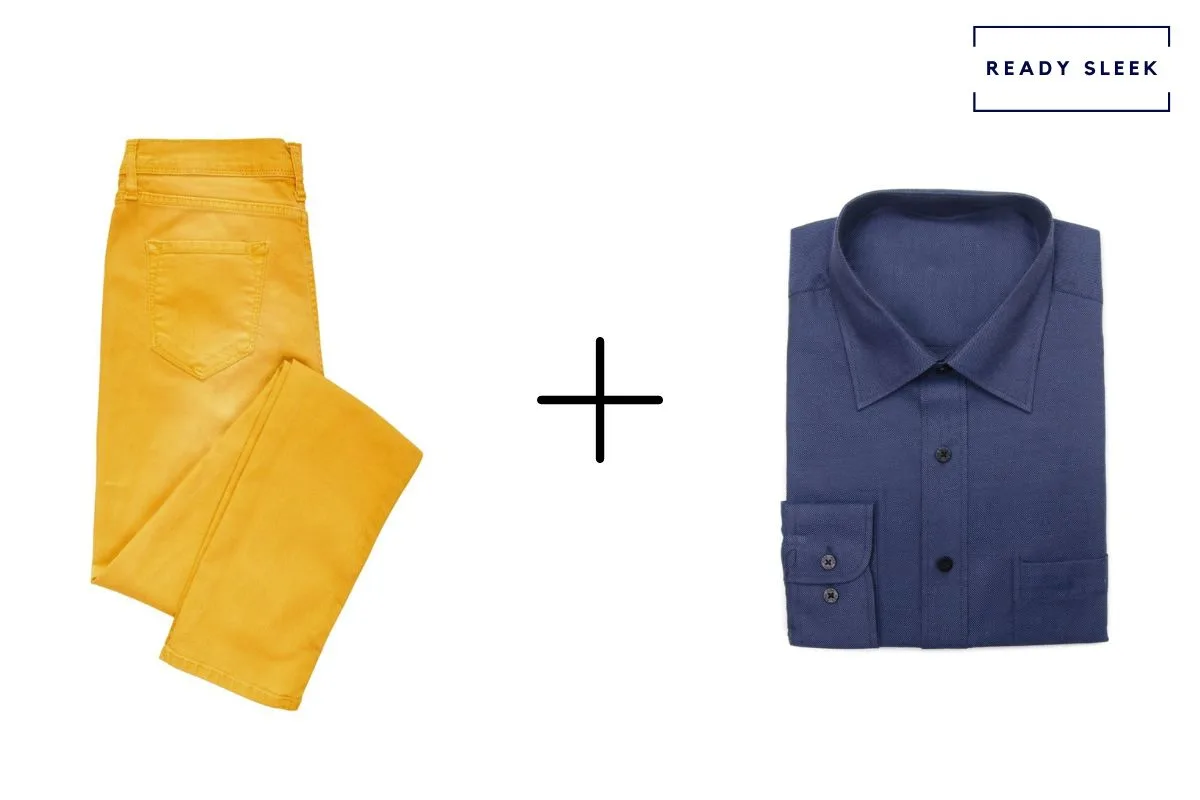 A navy shirt would be a great option when wearing mustard pants. Much like black shirts, navy blue shirts often look great worn with mustard yellow pants in dressy evening social settings.
While navy blue, much like light blue and any other shade of blue, is a "cool" color with noticeably cool undertones, it's so dark and muted that it's often considered neutral.
As a result, it can easily be combined with mustard yellow without the risk of a color clash.
It's an effortlessly sleek option, especially when it comes to navy blue dress shirts.
Mustard Pants With A Maroon Shirt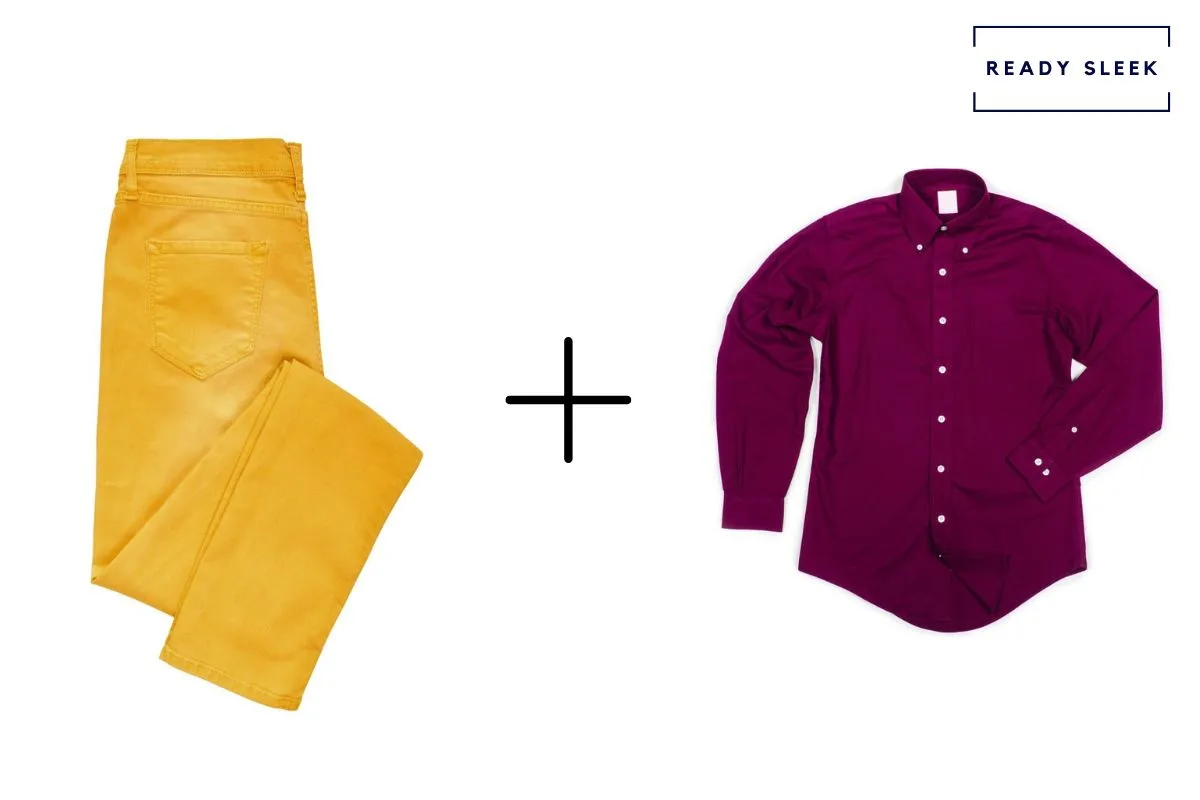 A maroon shirt would work well when worn with mustard pants, although the combination should be reserved for more casual settings.
Here, you're combining two "warm" colors and that often produces a pretty in-your-face result.
That's why we go for a dark and muted shade of a warm color to make it work.
Maroon is great because it'll stand out from a crowd but in a relatively subtle way. It's very dark, very muted, and easy to combine with other items.
Even items in colors with similarly warm undertones such as mustard yellow.
Conclusion
Mustard yellow pants may not be the easiest items to color-match, but it can definitely be done and done in style.
Consider this list of shirt colors as your top choices, but don't feel restricted by them. Experiment with other shirt colors using the principles you've learned here.
Consider the dress code, as well as the season when making your decision.
Enjoy.
Ready Sleek founder. Obsessed with casual style and the minimalist approach to building a highly functional wardrobe. Also a fan of classic, vintage hairstyles.