Wearing black is a simple way to add a touch of elegance and sophistication to any outfit. It also makes color coordination pretty effortless.
So, here are some great pants colors you can wear with a black shirt and brown shoes:
Grey
Black
Blue
Khaki
White
Navy
Cream
Green
As you can see, you really aren't short of options.
However, it's important to consider which one of those would be the best option for your specific circumstances.
So, let's go through each of them in a little more detail, with descriptions and pictures to help you choose.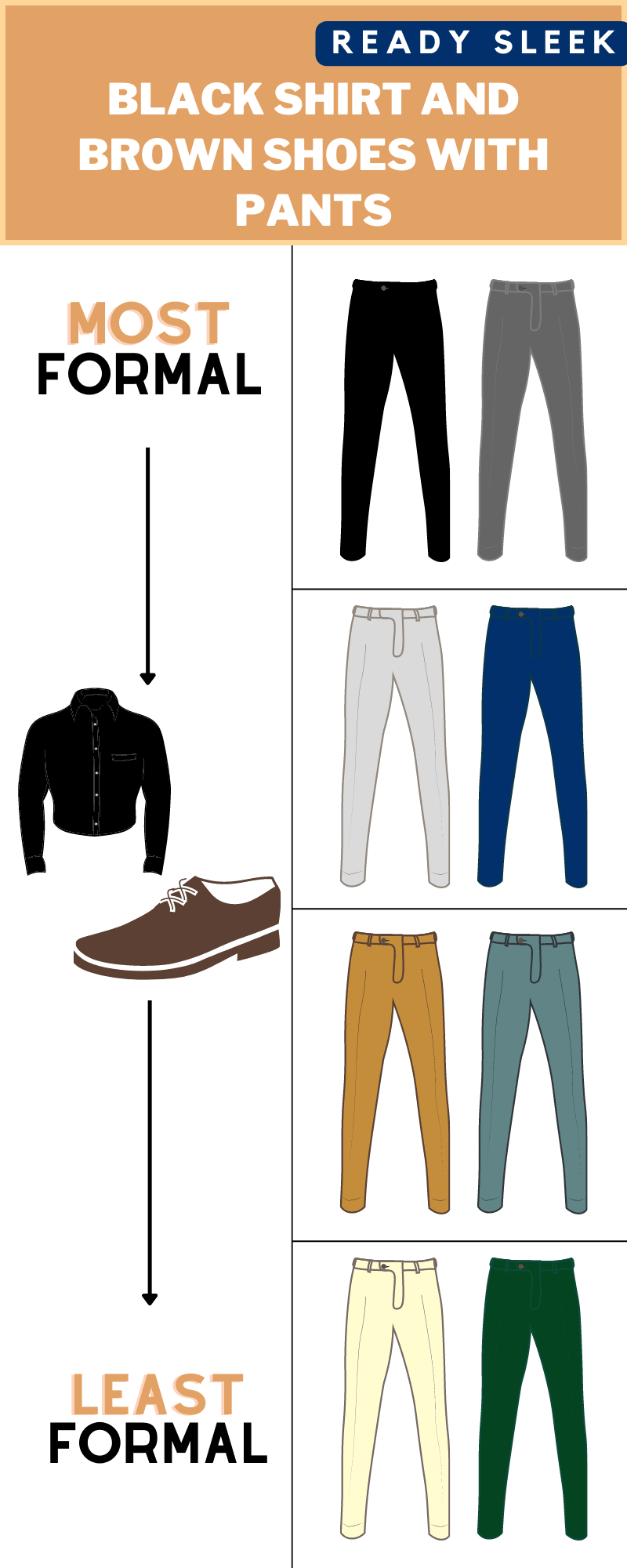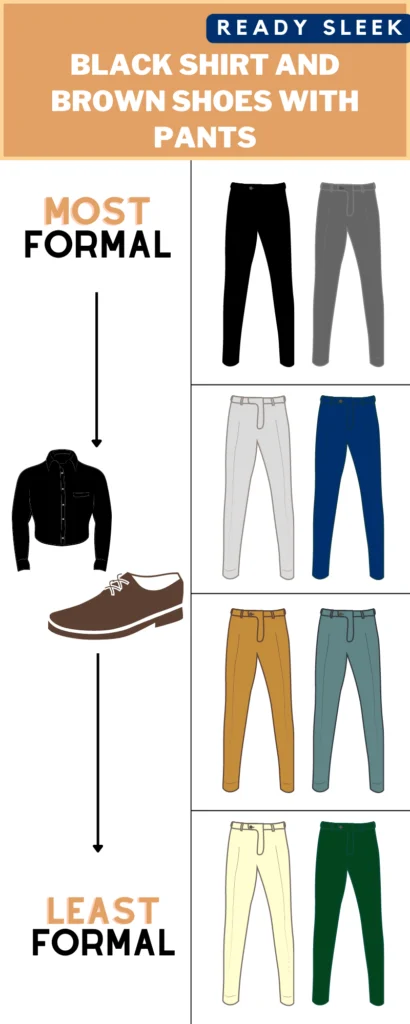 7 Pants Colors To Wear With A Black Shirt And Brown Shoes
Ultimately, a black shirt should really only be worn in social settings, most of which would be labeled casual or "smart-casual".
You wouldn't wear a black shirt in truly formal or even business-professional settings where a white dress shirt would be more appropriate.
However, you'll notice from the following examples how some pants colors just look dressier than others.
So, consider the setting you're dressing for when making your decision.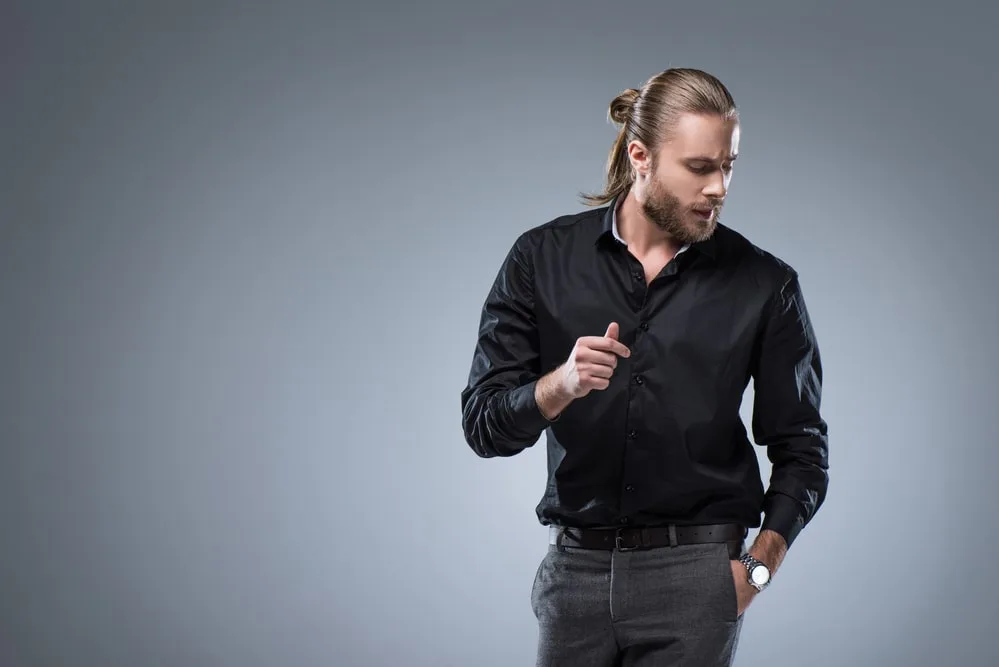 Grey Pants
Grey pants can be worn with a black shirt and brown shoes, with the combination working especially well in dressier smart-casual settings.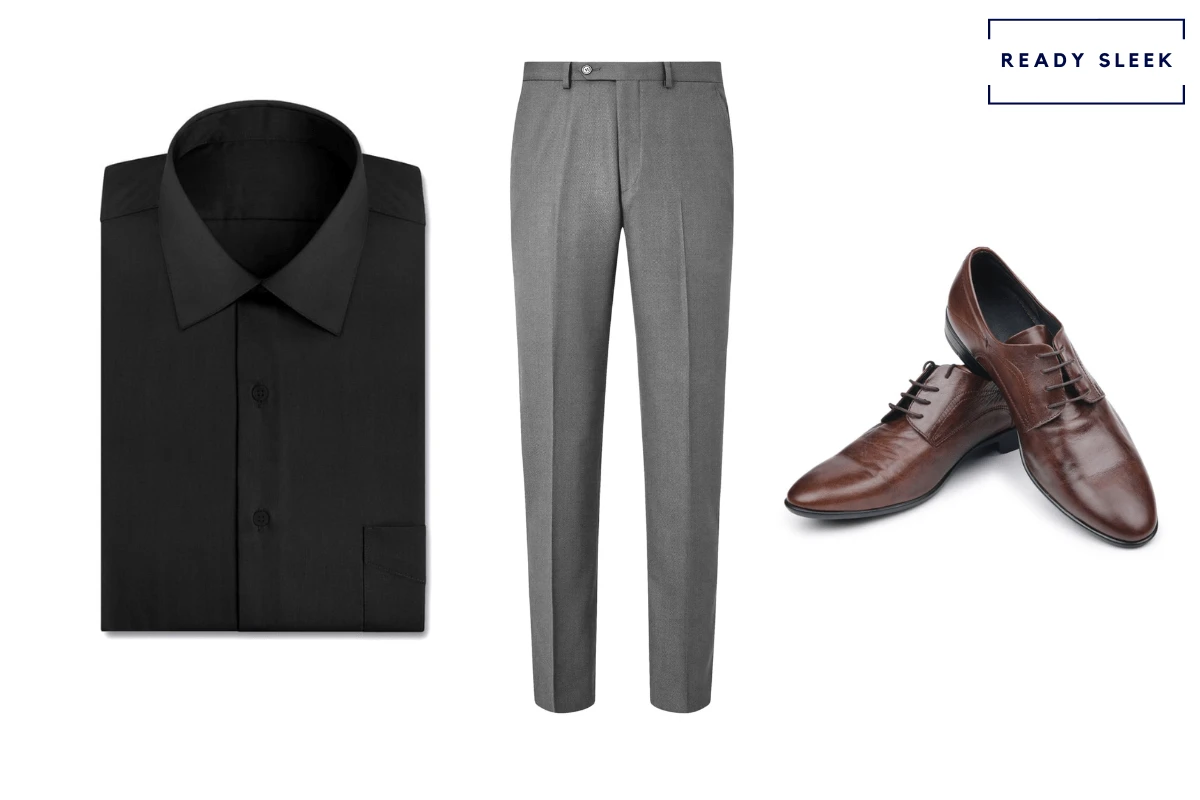 If in doubt, a black shirt and grey pants combination will always serve you well.
It's relatively formal and also monochromatic, making color coordination effortless.
However, it's important to consider how much contrast you want between the pants and the shirt. The more contrast you have, the more striking and casual it's likely to look.
If you'd prefer this, consider a high-contrast black shirt and light grey pants combination.
Alternatively, if you'd prefer a dressier aesthetic, consider a low-contrast black shirt and dark grey (eg. charcoal) pants combo.
The same goes for the brown shoes. If you want some eye-catching contrast, consider shoes in a lighter shade of brown (eg. tan).
A dark brown pair of shoes would be a better option if you wanted to keep the overall aesthetic dark, which would usually be a better option when you're looking to dress up.
Black Pants
Black pants look great when wearing a black shirt and brown shoes. The shoes add a touch of contrast to the monochromatic shirt and pants combination. The combination is dressy but usually looks best in evening social settings.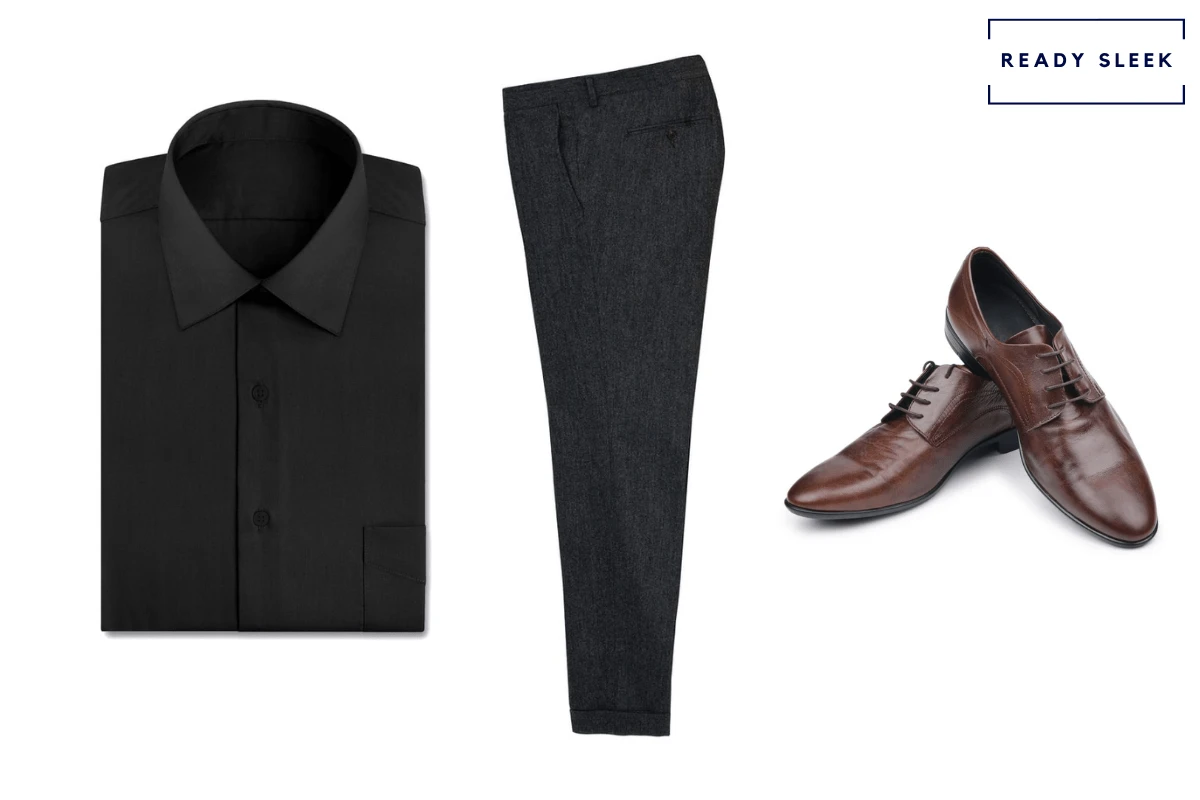 It's hard to go wrong with a black shirt and black pants pairing – it's hard to not look elegant in it.
However, an all-black outfit is striking and eye-catching. Sometimes, it can look a little jarring in broad daylight.
Overall, it tends to be more appropriate after sunset, similar to a tuxedo.
In the right setting, it can look phenomenal.
While you could go for a truly all-black ensemble by adding a pair of black dress shoes, wearing brown shoes is often a better alternative.
The contrast you'd get from brown shoes should be seen as a benefit because it makes it a little more visually interesting.
Blue Pants
Blue pants can be worn with a black shirt and brown shoes in smart-casual settings. The contrast between the shirt and pants will be striking and relatively casual-looking.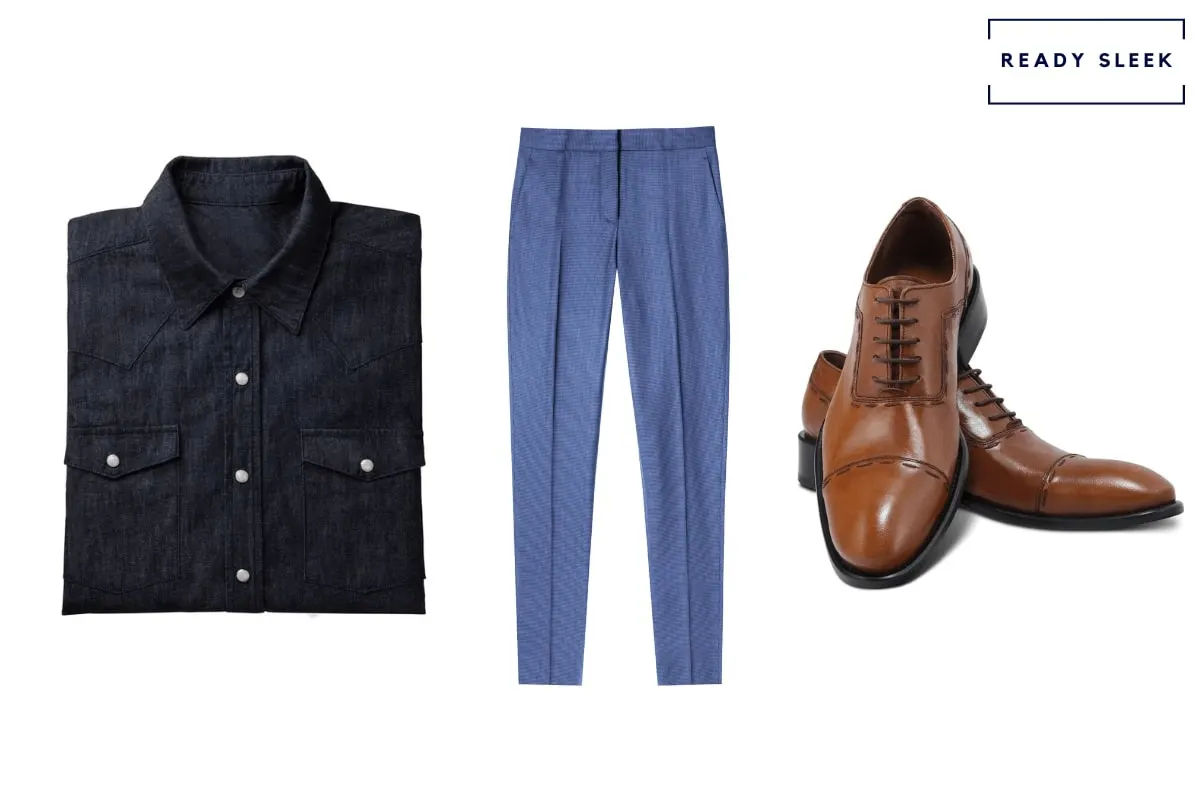 Here, we're talking about pants in light and medium shades of blue such as steel blue, admiral, teal, or even sky blue.
These shades look very different from dark and muted shades such as navy or midnight blue – we'll be going through that later on.
Wearing a black shirt with pants in a light or medium shade of blue will lead to a high-contrast combination that's bound to turn heads.
Blue and black look great together, however. While the combination won't look quite as dressy as the previous two examples, it'll still look sharp and sophisticated.
Consider the style of the black shirt and blue pants you're wearing.
If you're looking to dress up, go for a black dress shirt or even a poplin shirt. Pair it with blue dress pants with center creases, a tapered silhouette, and minimal seam details.
When dressing down, consider a black linen, chambray, or OCBD shirt and couple it with a pair of blue chinos or even jeans.
Khaki Pants
Khakis look great when wearing a black shirt and brown shoes in smart-casual settings. Black and khaki produce an eye-catching contrast when combined.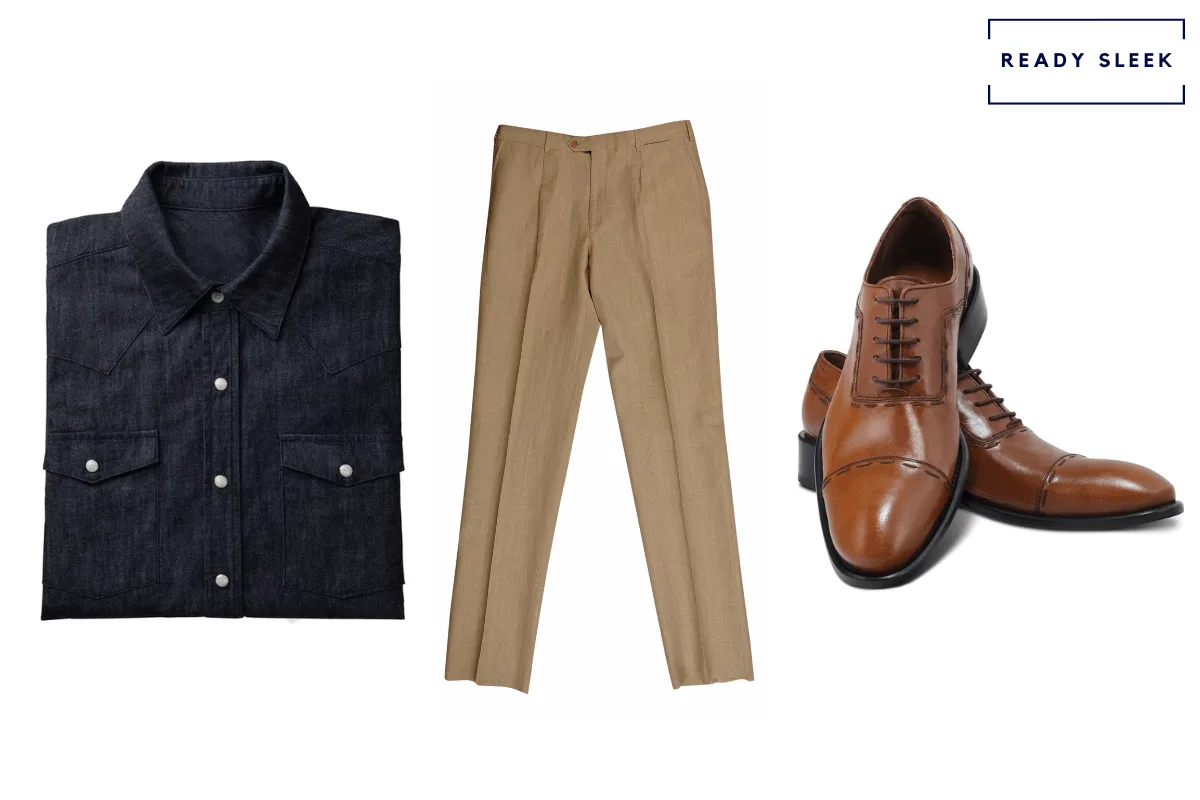 The great thing about wearing a black shirt with khakis is that it's uncommon.
It's way more common to find khakis worn with white, light blue, or light pink shirts because they're so closely associated with the business-casual dress code.
While a black shirt shouldn't ever be worn in business-casual settings, it can still be worn with khaki pants in smart-casual settings where there's less of a risk of underdressing.
Given that khaki is a light and pale shade of brown, the contrast achieved between the black shirt and the khaki pants will definitely be striking.
But it works.
Shoes in any shade of brown will sync effortlessly with the khaki (i.e pale brown) pants.
However, shoes in medium shades of brown such as tan, caramel, or light walnut tend to work best.
N.B – Ignore any opinions that suggest you can't wear black with brown. It's either outdated or was never true in the first place. It looks great.
White Pants
White pants are a bold choice when wearing a black shirt and brown shoes, simply because the contrast between the shirt and pants is so high.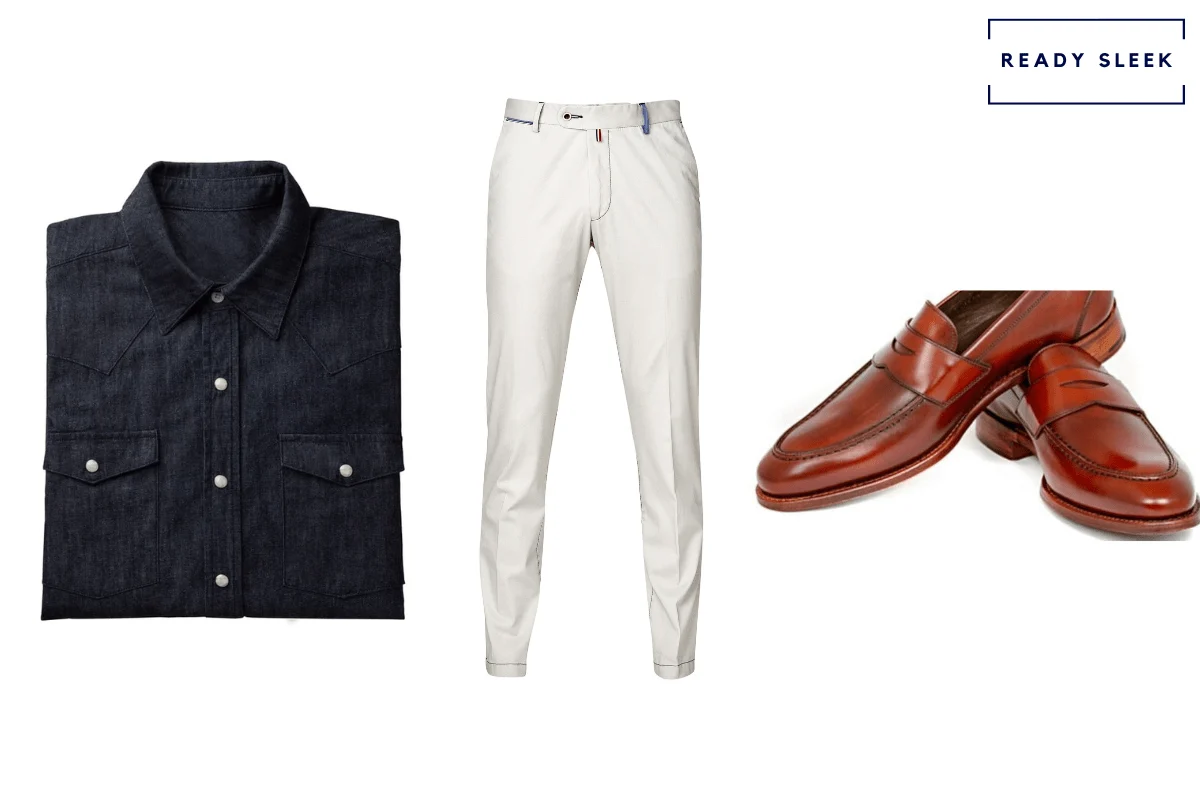 In fact, the contrast is about as high as it gets. But given the fact that you're simply combining two neutral colors, it'll coordinate seamlessly.
It requires very little thought.
But the level of contrast does only make the combo suitable in casual or smart-casual settings.
While a pair of black shoes or boots would be a great way to tie things up and add balance, brown shoes are a better alternative.
They just make the outfit a little more interesting.
While you could wear shoes in any shade of brown, dark brown tends to work best here.
Navy Pants
Navy pants look phenomenal when wearing a black shirt and brown shoes, especially in dressy evening social settings.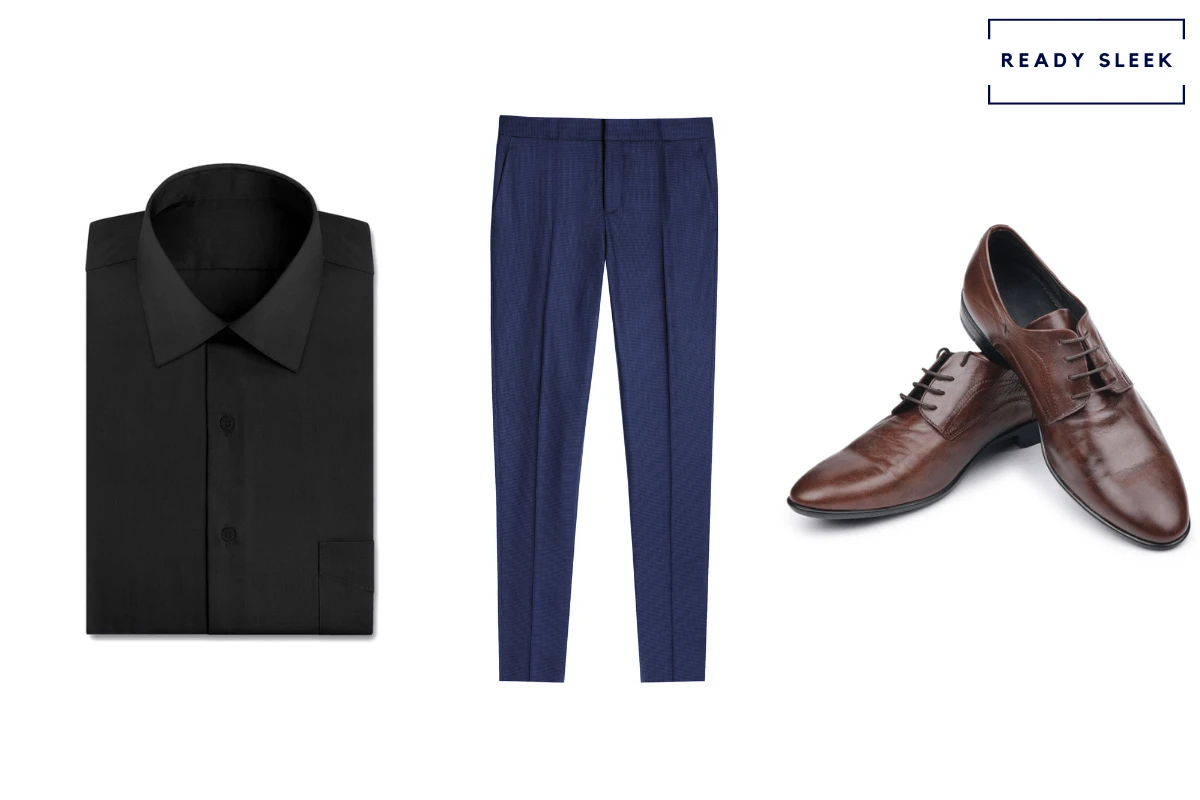 Think of a pair of navy pants as a slightly more exciting alternative to black or dark grey pants.
Sure, navy is a dark shade of blue and technically isn't neutral, but it's often considered neutral in men's style given how muted it is.
Black and navy look great when worn together, but the dark overall aesthetic tends to look better in the evenings.
Dark brown shoes tend to work better here. Light brown shoes may look a little jarring given how dark the other items in the outfit are.
A quick word on socks:
The socks should match the pants, no matter what color they may be. They don't have to match exactly, but try to coordinate them as closely as possible.
So, here, you'll want to try and wear a pair of dark blue/navy socks to go with the navy pants.
Cream Pants
Cream-colored pants look bold and visually interesting when wearing a black shirt and brown shoes, simply due to the amount of contrast you'd achieve.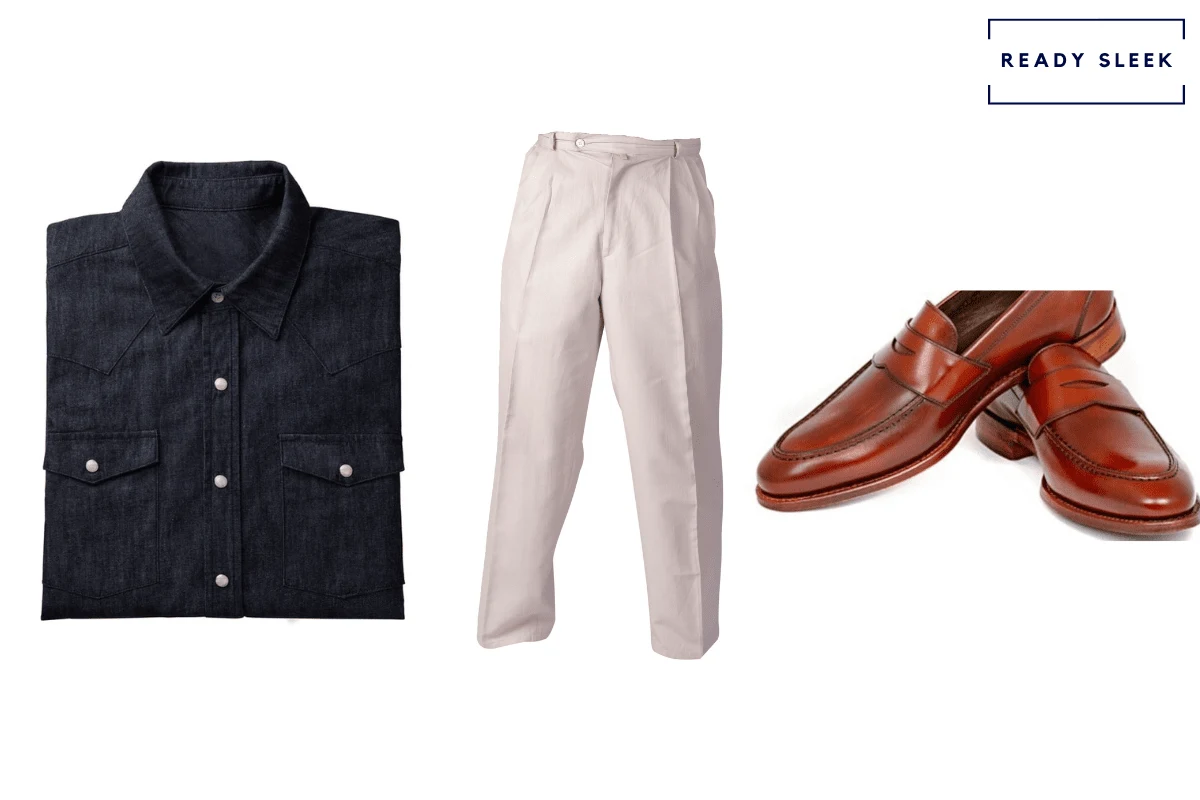 In many ways, the benefits and downsides of this combination are very similar to what you'd get if you wore white pants.
This is simply because cream is considered a "shade of white" with a yellow hue.
As you can imagine, the contrast you'd get with a pair of cream pants and a black shirt is very high.
It's eye-catching, bold, and in-your-face. That definitely has its appeal.
If you feel as though a pair of white pants would lead to too much contrast, but also feel that khakis would be too dark, consider an in-between shade such as cream or beige.
Green Pants
A pair of green pants would look good when wearing a black shirt and brown shoes in casual or smart-casual settings. Pants in dark shades of green such as hunter, forest, or olive green look especially good.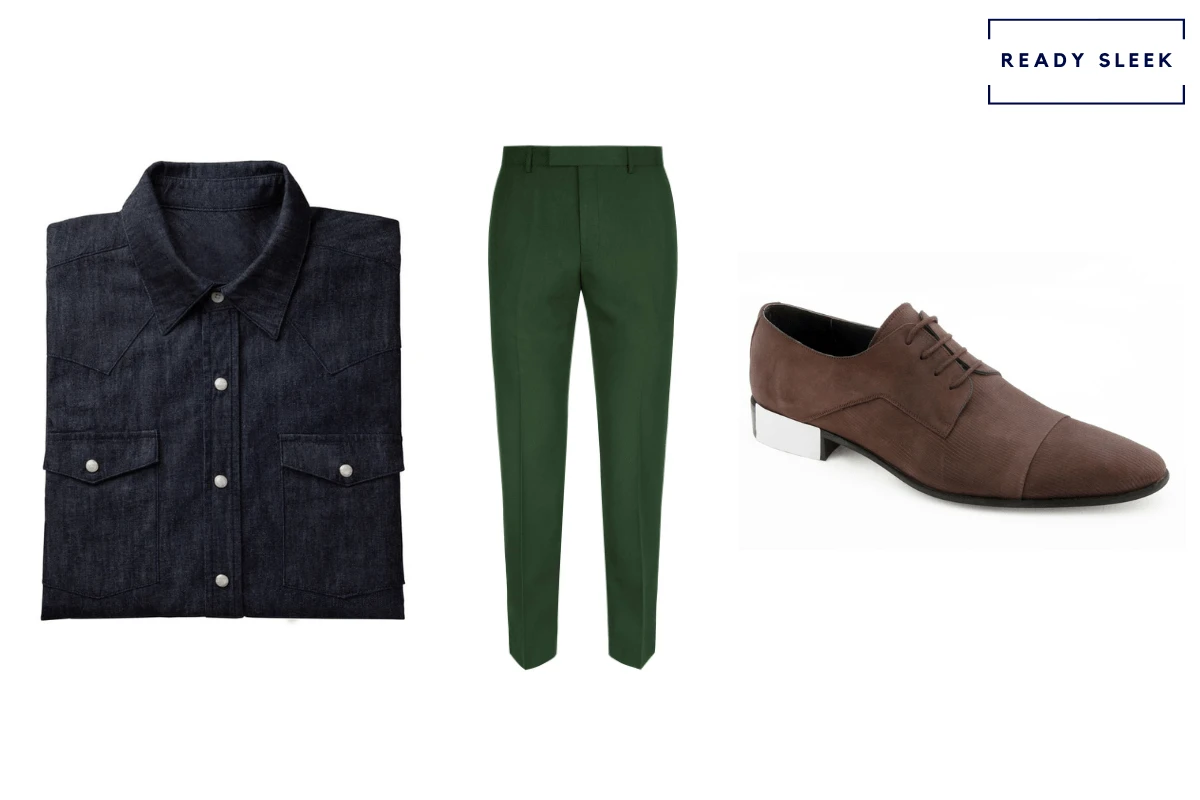 The reason these darker shades tend to work better is that they sync well with the darkness of the shirt.
You could go for a lighter shade of green such as sage or mint, but these can sometimes be a little too vivid for the color of pants, especially when you're looking to dress up a little.
The cool undertones of green pants look especially good during the winter and fall months.
In addition, the combination of green pants and brown shoes produces a great earthy and natural tone.
Conclusion
Wearing a black shirt and brown shoes gives you a whole heap of options when it comes to the color of your pants.
Consider the dress code when making your decision, however. In dressier settings, consider a dark and neutral color such as black or dark grey.
In more casual settings, feel free to go for lighter or more vivid colors to make the combination more eye-catching as a whole.
Enjoy.
Ready Sleek founder. Obsessed with casual style and the minimalist approach to building a highly functional wardrobe. Also a fan of classic, vintage hairstyles.