Jeans and boots are a combination that fit together very well and look great on most occasions. But the question is, should you tuck jeans into boots or not?
On most occasions, dress etiquette dictates that you should wear your jeans over your boots; however, sometimes, it would be more appropriate to wear jeans that sit just above your boots. Generally, you can tuck in your jeans at informal events.
But that's just the short of it, as there's more nuance that comes into whether or not you tuck your jeans into your boots.
If you're here, it's clear that making the right fashion choices is important to you, so here is an in-depth guide on where and when to tuck jeans into boots.
How To Know Whether To Tuck Jeans Into Boots
There are a number of different occasions and instances that will affect your decision to tuck your jeans into your boots. Here are some factors to consider.
The Formality of The Occasion
Typically, in more formal settings, you'll wear appropriate trousers such as dress pants or a two-piece suit, whereas, in relaxed situations, you'll generally wear cargo pants or jeans.
In formal situations, such as work settings, weddings, and interviews, you should wear your jeans over your boots rather than tucking them in.
While this applies to most work settings, there are others, such as manual labor and some artistic professions, where tucking them in is appropriate.
When you want to show off your boots, it may be beneficial to wear jeans that sit just above your boots.
This is to avoid the unflattering scrunching that can appear when you tuck your jeans into your boots.
Worth mentioning is that not all jeans will fit comfortably underneath your boots, especially if you're wearing thicker ones; it can feel constricting and be difficult to move.
However, in more relaxed settings, you will be able to show off your boots however you wish to, either by tucking them in or wearing shorter jeans.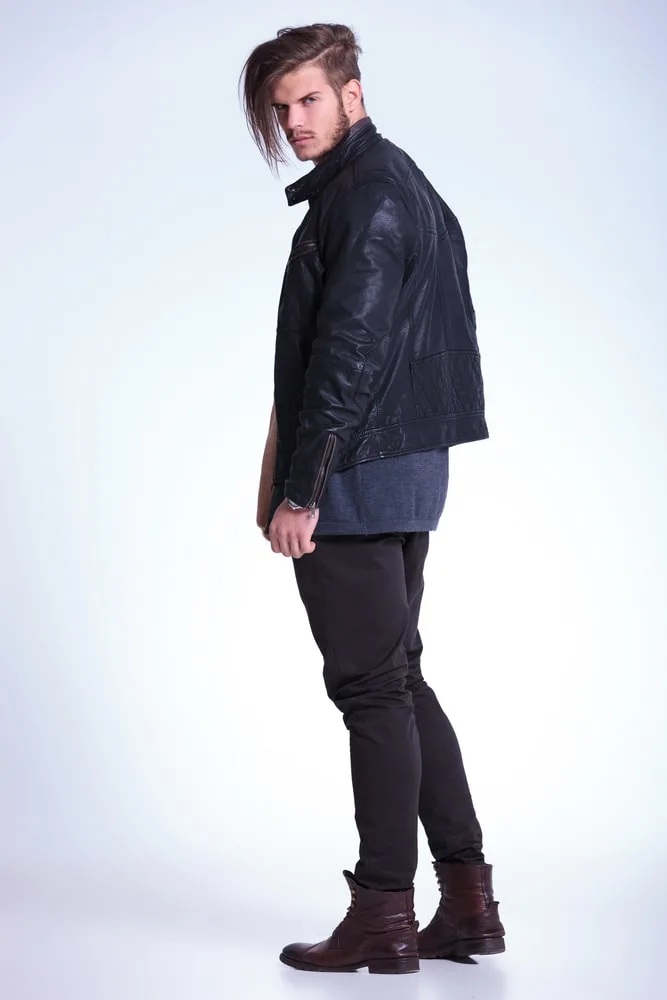 Type Of Activity
Different activities will also impact whether you tuck in your jeans or leave them untucked.
It's worth noting that if you leave your jeans untucked, they shouldn't be long enough to cause you any harm – they should be well above the heel of your boot.
If you're participating in outdoor activities such as horse riding, you should tuck in your jeans and allow your boots to protect them from debris, bunching, or snagging.
You should ensure that when tucking your jeans into your boots, it doesn't restrict any motion or become too tight.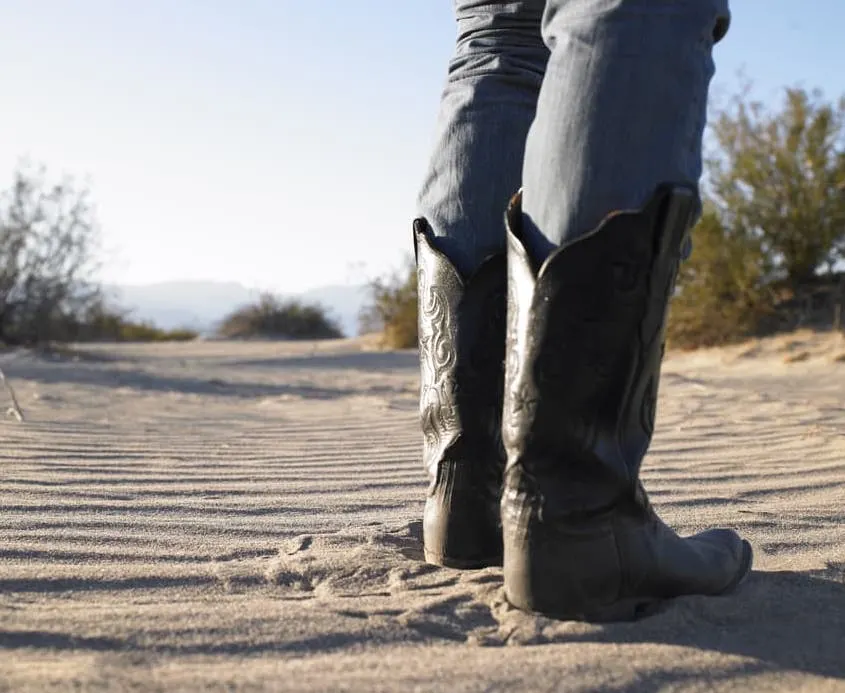 It might be best in these situations to wear jeans or trousers that aren't as thick or are slightly shorter to minimize the amount of bunching you get.
A great way to ensure that it's not too uncomfortable is to buy both the boots and jeans in-store and try them out together to see how they pair.
Some other occasions where wearing your jeans tucked into your boots is acceptable are festivals and concerts. This is because of the possibility of ruining your jeans if you leave them untucked.
At an outdoor festival, there's the potential of getting the bottom of your jeans wet and uncomfortable. Tucking in your jeans allows your boots to protect them.
If you're doing an activity where your jeans wouldn't require protection – you can leave your jeans untucked.
Type of Boots
You may decide to base your decision on whether you want to tuck your jeans in on the type of boots you wear.
If you choose to tuck your jeans into your boots, ropers boots will be your best choice to accommodate them.
These boots have a taller shaft that will enable you to tuck your jeans in and protect them in case of dirt, mud, debris, and the chance of snagging.
The shorter the shaft of your boots, the less we would recommend tucking jeans into your boots. Chukkas and ankle boots are good examples.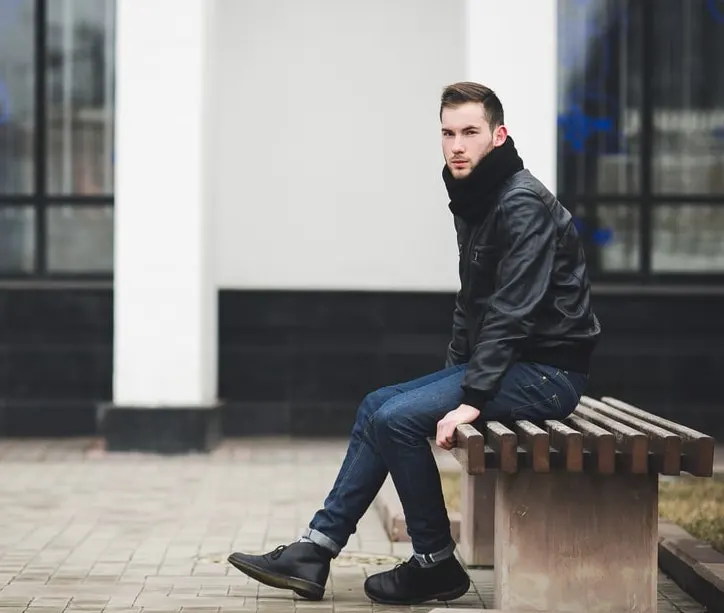 But even boots with longer shafts such as Chelseas and Jodhpurs can be too narrow to properly tuck jeans into them.
So, the best options for tucking jeans in are those wide and long enough to accommodate them such as ropers boots and workwear boots.
Type of Jeans
The style of jeans is important in knowing if you can tuck them into boots or if they would be more suited untucked.
The thicker your jeans, the less likely it is that you'll be able to tuck them into boots comfortably. Similarly, the wider the flare, the more suitable they would be to wear over your boots.
If you want to tuck your jeans into your boots, we would recommend wearing skinny or slim fit jeans rather than straight-legged or boot cut jeans so that they're more likely to fit.
Alternatively, you can opt for narrow-cut western jeans as these are likely to fit into your boots.
If you'd like to wear your jeans untucked, you'll have to make sure that they are flared enough at the bottom to fit over the shaft.
The most accommodating boots for this are bootcut jeans, as they are designed to allow for room at the bottom.
It's also important that the jeans you wear are thick enough to partially cover the lapel of the boots as you don't want these to be too visible.
Additionally, you should avoid allowing them to bunch around the lapel, so make sure you try them on together when purchasing.
Other types of jeans that you can go for when wearing them untucked are straight-leg jeans – as long as they aren't too baggy.
Frequently Asked Questions
Here are some frequently asked questions regarding whether or not you should tuck your jeans into your boots.
Should You Tuck Jeans Into Chelsea Boots?
While Chelsea boots are great for relaxed and informal occasions, you should avoid tucking jeans into them. Instead, keep your jeans untucked to avoid the inevitable, unflattering bunching that will occur in the short Chelsea boots.
If you'd like to show off your Chelsea boots, consider cuffing the jeans instead.
Should You Tuck Jeans Into Motorcycle Boots?
It is more practical to wear your jeans over your motorcycle boots due to comfort and the ability to air them out during summer. Additionally, the long shaft of motorcycle boots means that the jeans will fit comfortably in your boots.
Motorcycle boots look best with jeans tucked into them. This is because their long shaft and generally patterned appearance accommodate them well.
Additionally, motorcycle boots are – as the name suggests – generally used for motorcycles. Leaving your jeans untucked would cause them to flap in the wind as you ride your motorcycle.
Should You Tuck Jeans Into Duck Boots?
You should avoid tucking your jeans into duck boots; however, it's recommended you go for shorter jeans. Duck boots aren't equipped to have jeans tucked into them and look best when your jeans are left untucked.
When your jeans are tucked into duck boots, they can feel uncomfortable and potentially press or rub against your skin.
Also, practically, duck boots are mainly used for outdoor wear. This means that any feeling of discomfort should be avoided.
Conclusion
To conclude, there are many factors to consider when deciding whether or not to tuck your jeans into your boots. These elements range from formality to activity type and are each as important as one another.
Ready Sleek founder. Obsessed with casual style and the minimalist approach to building a highly functional wardrobe. Also a fan of classic, vintage hairstyles.