Taking risks is encouraged in men's style, but there are definitely those that believe certain boundaries shouldn't be crossed. The question is, can you really wear sneakers with dress pants?
Sneakers can be worn with dress pants in smart-casual settings. All-white leather low-top sneakers tend to work best with dress pants as they're usually dressy enough to pair well with them. Consider cuffing the dress pants for a more laid-back aesthetic.
That's the short answer, but you're about to get a whole lot more.
Here are some essential tips for making this combination work well, each and every time.
Let's get to it.
1. Make Sure It's Appropriate
A sneakers and dress pants combo won't be appropriate in every setting. It should really only be worn in casual or smart-casual dress codes.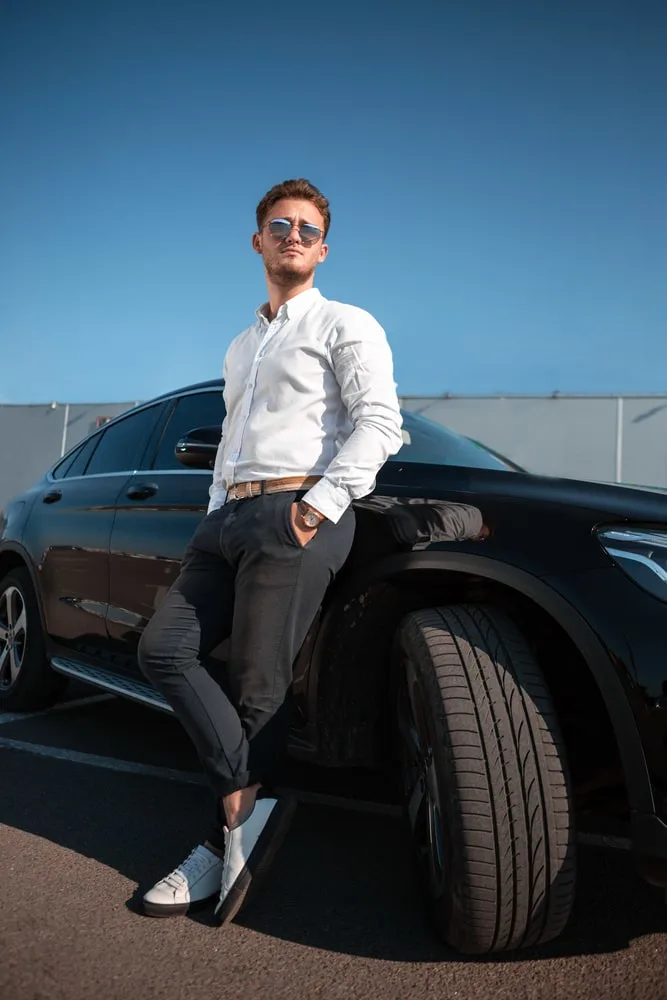 It wouldn't be appropriate to wear in business-casual settings as the sneakers really wouldn't be formal enough. Go for a pair of suede/leather dress shoes instead.
Although it probably goes without saying, the combo definitely wouldn't be appropriate in "formal" settings where a 2-piece suit and dress shoes would be required at the very least.
So, reserve the sneakers and dress pants ensemble for either casual or smart-casual events where the sneakers wouldn't look out of place.
Remember, no matter how "dressy" a pair of dress pants is, sneakers are an iconic staple of casual attire and wouldn't ever be considered anything more.
Examples of smart-casual settings where the two items could be worn together may include garden parties, attending sporting events, dinners at mid-level restaurants, first dates, and so on.
Once you're confident it would be appropriate, the next step would be making it work.
2. All-White Leather Sneakers Work Best
When wearing dress pants, it's hard to beat a pair of all-white leather sneakers. It's about as dressy as you can get with sneakers.
The more colors, branding, and distressing a pair of sneakers has, the more casual it looks and the less appropriate they look when worn with dress pants.
In addition, leather sneakers will always look dressier than canvas uppers.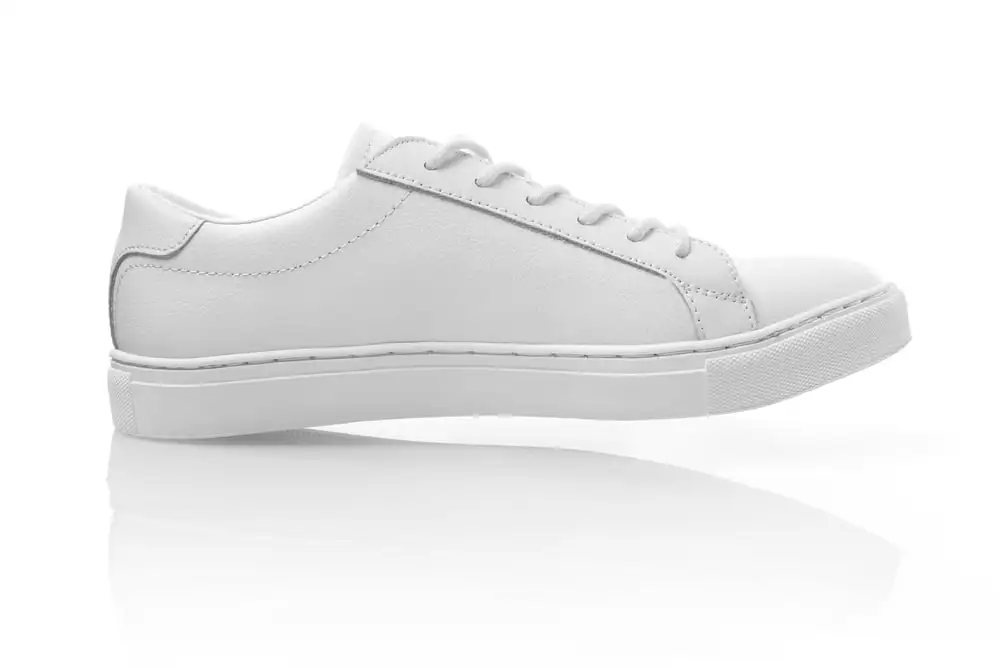 But why does all of this matter?
Well, the main risk is a formality mismatch.
In other words, the risk of the sneakers just looking too casual to be worn with dress pants.
To reduce the risk of this happening, pick the dressiest style of sneakers you can find. More often than not, this will be a pair of all-white leather sneakers.
Everyone should own a pair, simply because of how versatile they really are.
You can wear them with a pair of wide-leg distressed jeans for more of a streetwear aesthetic.
But you'd also be able to wear them with a pair of dress pants if you feel as though it would be appropriate for the setting.
Maintenance is important when it comes to all-white leather, however. You don't want to get it scuffed or stained.
Reserve the pair for those events where you know you won't be getting them dirty. You won't want to go running or trekking in your "dressy" sneakers.
3. Stick To Low-Tops
While you could wear a pair of high-top sneakers with dress pants, they tend to be too athletic and casual-looking to really work. Low-top sneakers generally look much better when wearing dress pants.
Mid-tops would be a reasonable choice too.
It may sound restrictive, but high-top sneakers would be more likely to lead to a formality mismatch with the dress pants.
The dress pants would just look too formal to pull off with high-tops, even the more "casual" styles of dress pants we'll discuss later on.
Low-tops tend to have a more elegant, subtle, and dressy appearance to them.
Take things a step further and stick to low-top, all-white leather sneakers as we discussed in the previous tip.
While it wouldn't ever be considered "formal", it's tough to think of a more formal pair of sneakers out there.
4. Avoid Black Sneakers
Black sneakers don't work well with dress pants. While they can look just as sleek as a pair of white sneakers when wearing casual clothing, they just don't look as good when wearing dress pants.
The main reason for this is that black sneakers, even all-black leather low-tops, have a casual and athletic look and feel to them.
While wearing a smart-ish pair like this wouldn't look terrible when wearing dress pants, it can often look a little immature.
It can look awkward and out of place. It often appears as though someone couldn't find their Derby shoes and grabbed the first pair of sneakers they could find instead.
It leads to a formality mismatch.
But it isn't just black sneakers you'd have trouble with. Brighter and bolder colors – whether it's red, blue, yellow, or anything else – would also lead to this unwanted effect.
It's difficult to know exactly why the right pair of white sneakers don't tend to cause this problem.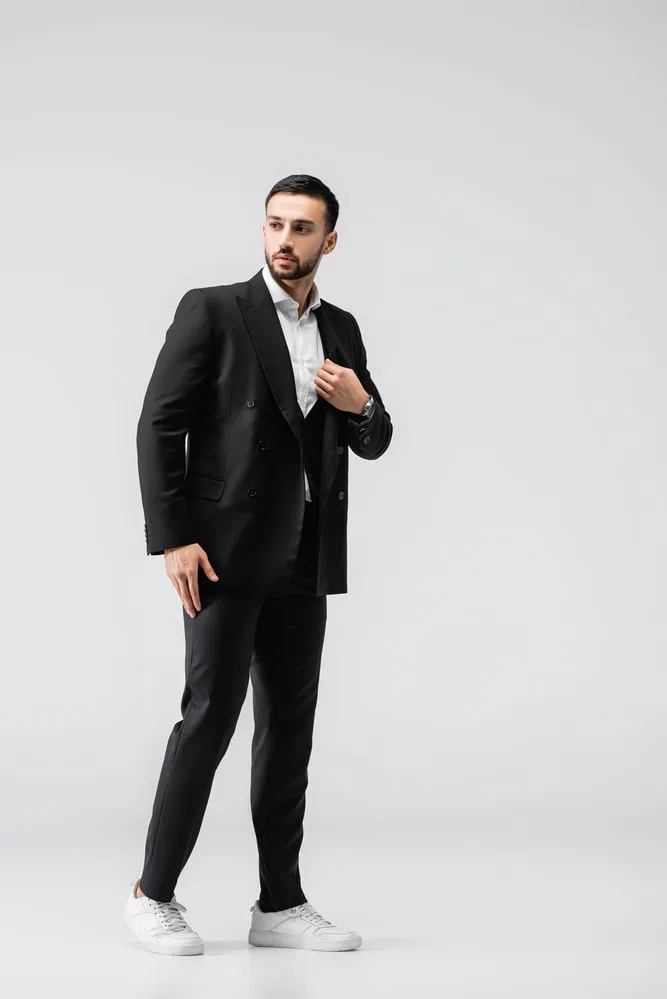 Part of the reason may be that it looks more intentional.
Wearing a pair of all-white leather low-tops with dress pants looks like more of an intentional style decision and not a mistake.
5. Go For More "Casual" Dress Pants
Sneakers look better when worn with more casual-looking dress pants. These tend to be heavy, rugged, wrinkly, and textured.
While dress pants could never be considered truly "casual", there are certain styles that look more casual than others.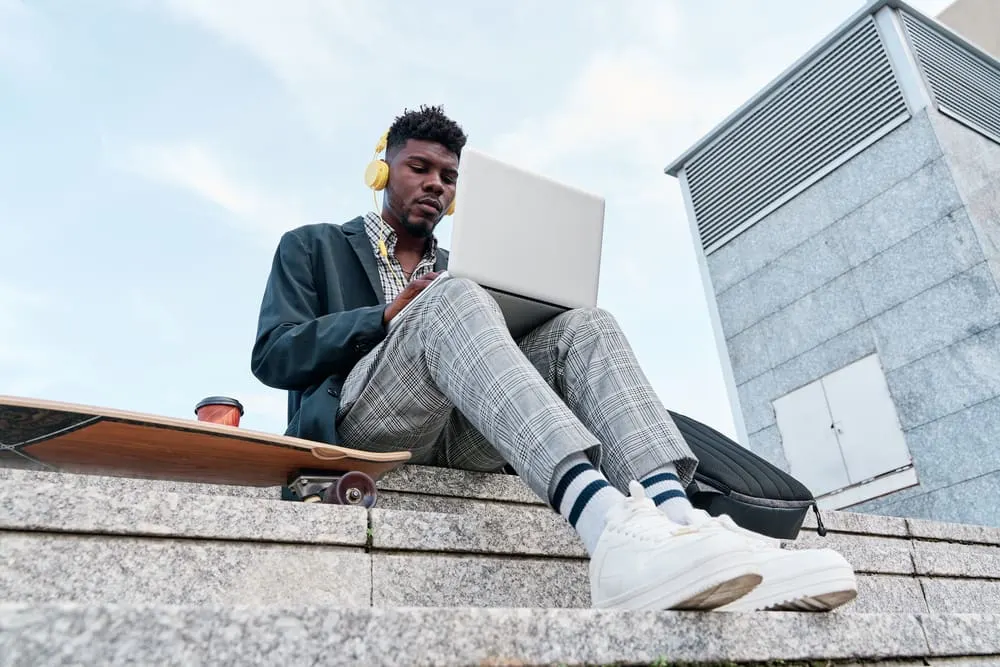 Just like it's important to choose a "dressy" pair of sneakers, it's important to try to find a more "casual" pair of dress pants.
What this does is reduce the risk of a formality mismatch, making the two items blend well together.
But what makes a pair of dress pants look more or less casual?
First, it's important to define what dress pants are in the first place. It's tougher than you might think.
It's generally not a good idea to define dress pants in terms of fabrics because you can find them in a wide range of fabrics including wool, cotton, linen, polyester blends, and more.
It's more useful to think of dress pants as pants that have "formal" features such as:
Jetted pockets
Front creases
Pleats
Tapered fit
While they're unlikely to have all of these features, they'll probably have at least a couple.
When looking for a pair of dress pants to wear with sneakers, go for those with more casual features – heavy, rugged, textured, and wrinkly.
Dress pants with patterns will also look more casual than those in solid colors.
These dress pants tend to look more casual and are more likely to work well with sneakers.
They could technically be made from anything – wool, cotton, etc. Focus less on what it's made from and more on how it looks and feels.
Materials you may not have thought of that do tend to have a more casual look and feel to them include linen, jersey, and corduroy.
6. Consider Cuffing
Cuffing refers to the process of rolling the hem of the pants up once or twice so that they end just above the ankle.
It's a great way to show off a pair of sneakers, especially when wearing jeans as part of a casual streetwear outfit.
However, cuffing a pair of dress pants could also instantly make them appear more casual and laid-back.
It could make a pair of dress pants look casual enough to work with a pair of sneakers that wouldn't otherwise.
Now, it's important to make sure the dress pants you're wearing are capable of cuffing in the first place.
Trying to cuff a pair of shiny, sleek, formal-looking worsted wool dress pants is likely to look awkward at best and comical at worst.
The more casual-looking dress pants (described in the previous tip) will be easier to cuff given that they're heavier and more textured.
One thing to note here is the socks.
If you do choose to cuff your dress pants, be sure to wear invisible or "no-show" socks. As the name suggests, these aren't visible because they don't extend above the top of the sneakers.
This looks more stylish and intentional than having visible half-crew or crew socks when wearing cuffed dress pants.
7. Tees And Blazers Work Well
Blazers tend to work great when wearing dress pants and sneakers, especially when worn over a fitting T-shirt.
The reason it works well is that blazers are dressy, but not so dressy that you can't wear them with sneakers.
This is especially true when wearing dress pants.
Blazers are less structured and looser-fitting than suit jackets, for example. In addition, you can wear them with non-matching pants, unlike suit jackets.
You can find blazers in a variety of different fabrics, but the more casual blazers tend to be heavier, more rugged, and more wrinkly.
Yes, just like the "casual" looking dress pants.
These types of blazers tend to work better when wearing sneakers – they just lead to less of a formality mismatch.
Wearing a blazer over a T-shirt is a tried-and-tested outfit that works just as well with dress pants and sneakers.
It leads to a nice balance between formal items and casual items.
You've got the casual sneakers and T-shirt counterbalanced by the formal dress pants and blazer.
Overall, it's the look is a great option if you really wanted to nail the smart-casual look.
Ready Sleek founder. Obsessed with casual style and the minimalist approach to building a highly functional wardrobe. Also a fan of classic, vintage hairstyles.