Stressing over an outfit is a common cause of stress before an interview. It can sometimes be difficult to know what's appropriate and what's not. The question is, can you wear sandals to an interview?
Sandals should usually never be worn to an interview as they come across as too casual for even the most relaxed workplaces. As they'd be an unusual choice, they can be distracting to an interviewer and can also come across as eccentric.
Although that's the short answer, there's more to it.
After going through the main reasons why it just isn't a good idea, I'll list a few comfortable alternatives that would be better options for an interview.
Let's get to it.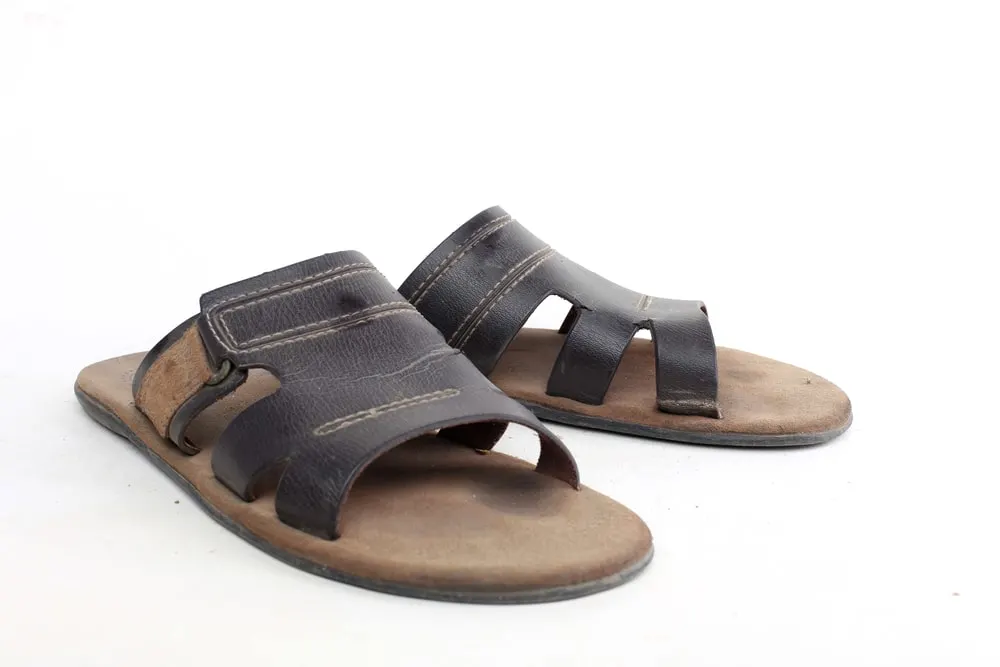 3 Reasons Why You Shouldn't Wear Sandals To An Interview
After reading these, you'll almost definitely decide against it.
1. It's Way Too Casual
Sandals are a staple of casual summer footwear and it's difficult to think of them as anything else.
While you probably already realize this, it's important to note that an interviewer is very likely to know it as well.
Even when dressing for an interview in a pretty relaxed and casual setting, you'll still want to make it clear to the interview that you've made an effort.
Wearing the same pair of sandals you wear on your average day out is just not a good look.
Now, it's worth mentioning that not all sandals look equally as casual. Some sandals look a little "dressier" than others.
You've got ultra-casual sandals like hiking sandals, Fisherman sandals, Teva sandals, and Birkenstocks.
Then you've got slightly fancier sandals like leather dress sandals and even Huarache sandals.
But the bottom line here is that even the dressiest, darkest pair of sandals in the finest leather would usually come across as too casual for an interview. It simply wouldn't be worth the risk.
Some people try to dress their sandals up by pairing them with formal items like blazers, dress pants, and even suits.
The trouble is that sandals usually don't pair well with items like these as it causes a clear formality mismatch.
They just don't work well together.
2. It's Distracting
Sandals are so rarely worn to an interview that they'll immediately draw attention when they are.
When applying for a job you really want, the last thing you need is attention for the wrong reasons.
Under most circumstances, drawing some attention to what you wear isn't such a bad thing.
But in settings such as interviews, the focus should be on your qualifications, experience, and what you say, as opposed to what you wear.
When the first thing an interviewer notices is a pair of sandals, it can be tough to focus on what really matters.
You don't want your choice of footwear to influence the outcome of an interview, even if it's subconsciously or due to distraction.
Interviewers are regular people, at the end of the day.
3. It Can Come Across As Eccentric
Wearing sandals to an interview would be such an unusual choice that it may come across as eccentric.
While standing out with what you wear is often encouraged in social settings, in the workplace, it can be seen as a problem.
You don't want to come across as someone that wants to be the focus of attention.
You also don't want to seem as though you care more about fashion and standing out with your outfit than you do about work.
There are plenty of alternative types of footwear you can wear to an interview. Let's go through a few of them now.
3 Better Alternatives To Sandals For An Interview
Right from the outset, it's worth mentioning that dark leather dress shoes would always be the best choice, even with interviews in "relaxed" workplaces.
Even if you were wearing a business casual OCBD and chinos combination, a pair of dark leather dress shoes would be the best and safest option.
However, as you're considering wearing sandals, it's likely that you're looking for a more casual alternative.
Here are three shoe styles that aren't formal by any means, but are still more appropriate than sandals when attending an interview.
They would only be appropriate for interviews in truly casual workplaces where the dress code is relaxed.
If you need to wear a suit to the interview, for instance, you should really wear a pair of dark leather dress shoes instead (Oxfords, Derbys, or monk straps).
Penny Loafers
Brown leather penny loafers could become the most versatile pair of shoes you own.
They work so well in such a wide variety of outfits because they can easily be dressed up or dressed down.
The laceless, slip-on construction gives them a slipper-esque aesthetic, while the separate heel makes them just about formal enough to blend into more formal outfits.
I've specified penny loafers here because everyone loves them, but a pair of bit loafers or tassel loafers would be reasonable options too.
Loafers could be considered the most casual style of dress shoe and could potentially make for a great alternative to sandals for you.
Suede Dress Shoes
If you feel as though a pair of shiny calfskin or cowhide leather Oxfords, Derbys, or monk straps would come across as too formal for the interview, consider those same styles in suede instead.
The napped, rugged texture of suede will always look more casual than the shinier grains of leather.
Because of that, they wouldn't be as appropriate when wearing a more formal 2-piece suit to an interview.
But if you're wearing more of a business-casual outfit, it could work well.
Dark Boat Shoes
You've got to be careful with this one. It's really important to make sure the interview is in a pretty casual setting before you choose them.
But a pair of dark boat shoes would still be better than wearing sandals when attending an interview.
Sure, they're low-cut and slip-on, but they aren't as revealing as a pair of sandals would be.
While they're worth considering if you were confident that they'd be appropriate, they'd be far from the best choice.
A pair of loafers would beat a pair of boat shoes when attending a smart-casual or business-casual interview, each and every time.
Any Exceptions Where Sandals May Be OK For Interviews?
There are hardly any exceptions – sandals would be inappropriate for interviews in the vast majority of cases.
Here's an exception where a pair of sandals still wouldn't be encouraged, but may not be quite as bad.
If the interview is for a job where you can literally wear anything and it wouldn't matter at all, a pair of sandals wouldn't be as offensive as it would be in stricter settings.
An example might be a tech startup where there are plenty of people turning up to work in graphic T-shirts and shorts.
Wearing a pair of sandals to an interview wouldn't turn too many heads, but would still be considered risky.
It wouldn't be a good idea, but you could potentially get away with it if your qualifications and experience really spoke for themselves.
Another rare exception would be if you were applying for a senior role and you were experienced and recognized within your industry to the point where the interview is just more of a formality.
In these instances, it's almost as though you've "earned the right" to be more eccentric with your style choices.
A pair of sandals may be OK, assuming the workplace is pretty relaxed when it comes to the dress code in the first place.
But at the end of the day, even if you were applying for a senior role in a corporate law office, a pair of sandals still probably wouldn't go down too well.
Conclusion
There you have it. Hopefully, that's everything you could ever want to know about this pretty niche topic.
In general, it's always best to leave the sandals at home when attending an interview. You've got much better alternatives that are way less likely to offend an interviewer.
Ready Sleek founder. Obsessed with casual style and the minimalist approach to building a highly functional wardrobe. Also a fan of classic, vintage hairstyles.