Khaki shorts fit seamlessly into so many different outfits. It's impossible to think up a capsule wardrobe without a pair given how easy they are to color coordinate.
So, here are some great shirt colors you can wear with khaki shorts:
Black
Grey
White
Blue
Pink
Green
Red
But there's more to it than a simple list.
As you can see, there's a wide range to choose from and the perfect choice for you does depend on a few different factors.
After going through the key factors to consider, we'll run through those shirt and khaki shorts combinations in a little more detail (with pics to boot).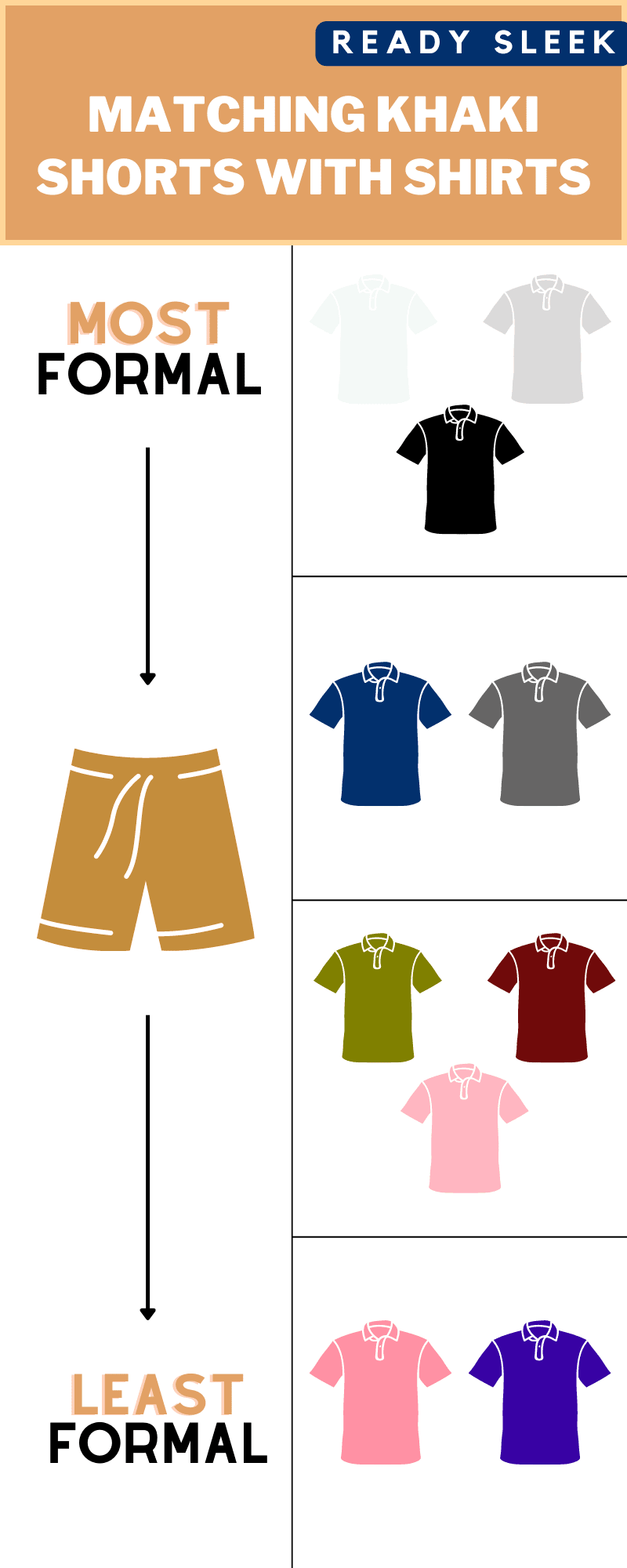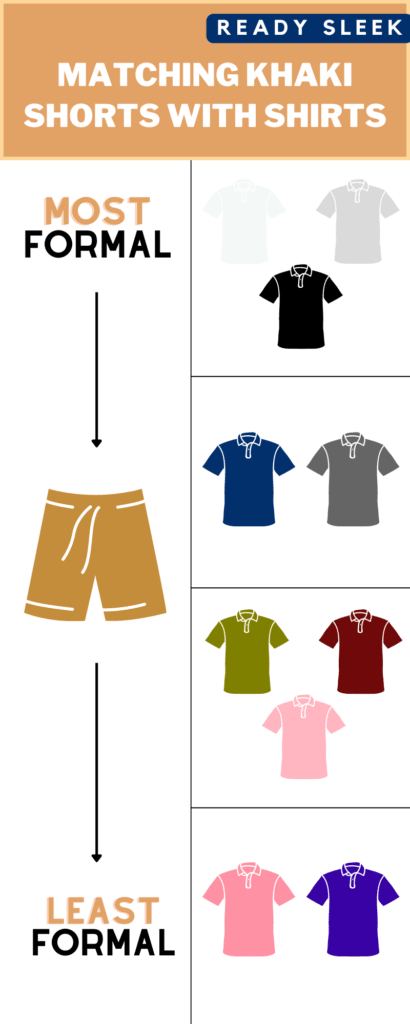 How To Color-Match Shirts With Khaki Shorts
Ultimately, khaki shorts are so muted and near-enough neutral that they can be combined with practically any shirt color you can think of.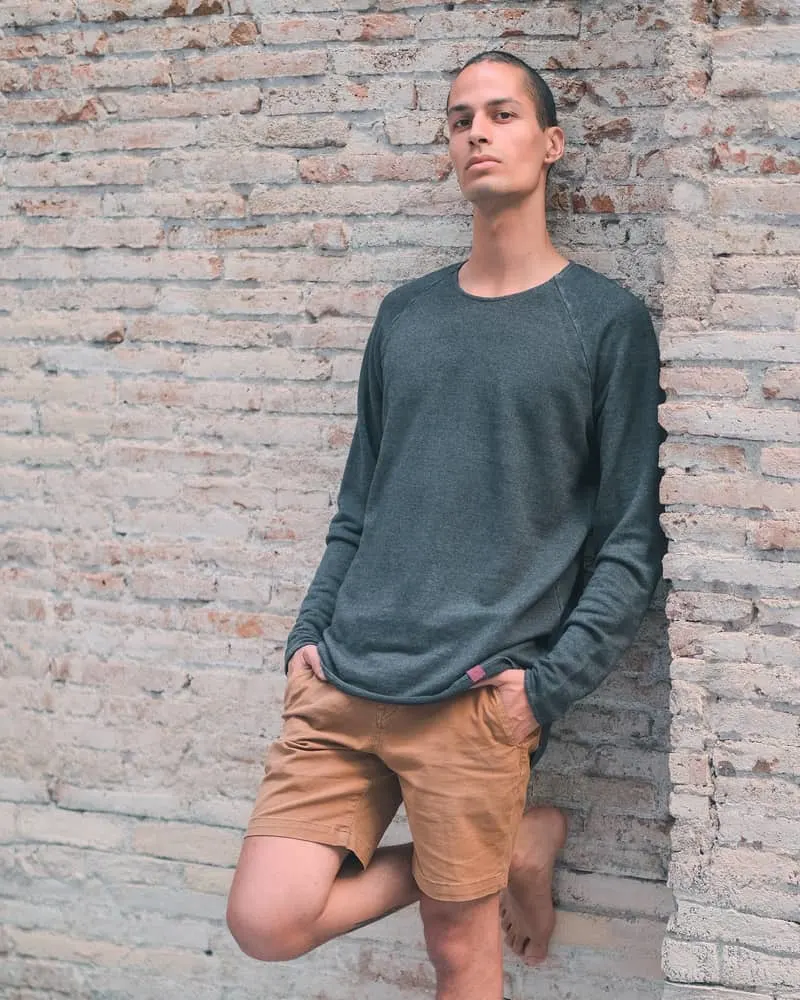 Your choice should be guided by factors other than the khaki shorts such as the dress code and what other colors you happen to be wearing.
Remember, these factors would be important no matter what shirt style you're wearing – whether it's a T-shirt, polo, Henley, OCBD, or anything else.
1. Neutrals Are Dressier
When wearing khaki shorts, neutral shirt colors would be a better option if you're looking to dress up.
Ultimately, khaki shorts should only be worn in casual or smart-casual settings.
But if there's a slight risk of underdressing for a smart-casual event, you'd be better off going for a neutral shirt color such as:
Black
White
Grey
Navy
Olive green
Note that navy and olive green technically aren't neutral, but are so muted that they're often considered neutrals in the world of men's style.
They're similar to khaki in that way.
All of the colors in that list are subtle, understated, and unlikely to draw unwanted attention at a smart-casual event.
On the other hand, bolder and more vibrant shirt colors would be more appropriate to wear with khaki shorts in more casual settings.
Pink, burgundy, mint green, burnt orange – it doesn't matter.
Any of them would coordinate with khaki shorts. But these colorful options would be better options when dressing down.
2. Consider The Contrast
Khaki is a very light and pale shade of brown. Consider how much contrast you want between the light-colored shorts and the shirt.
High-contrast combinations would combine a dark shirt with khaki shorts, while low-contrast combinations involve light-colored shirts instead.
Low Contrast – Khaki shorts with beige, white, blush pink, light blue, mint green, or light grey shirts.
High Contrast – Khaki shorts with black, navy, charcoal, forest green, or burgundy shirts.
So, this factor takes the contrast between light and dark into consideration.
The more contrast you've got in your outfit, the more attention-grabbing it'll come across.
If you'd prefer a more subtle outfit, consider a low-contrast combination instead.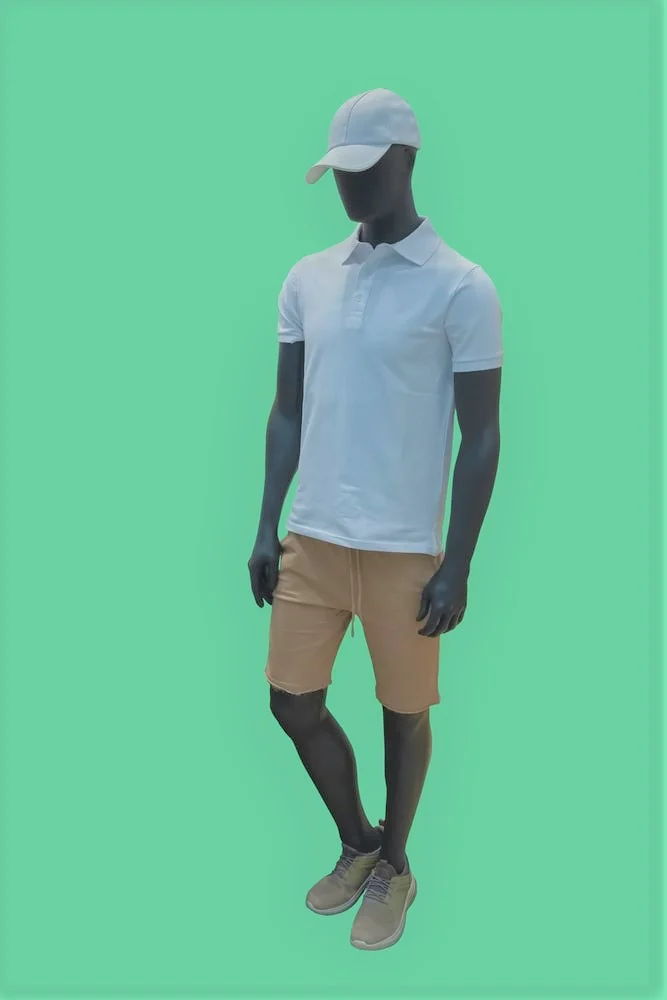 3. Consider The Color Wheel
The color wheel shows how various non-neutral colors relate to each other.
It's often useful when it comes to color coordination.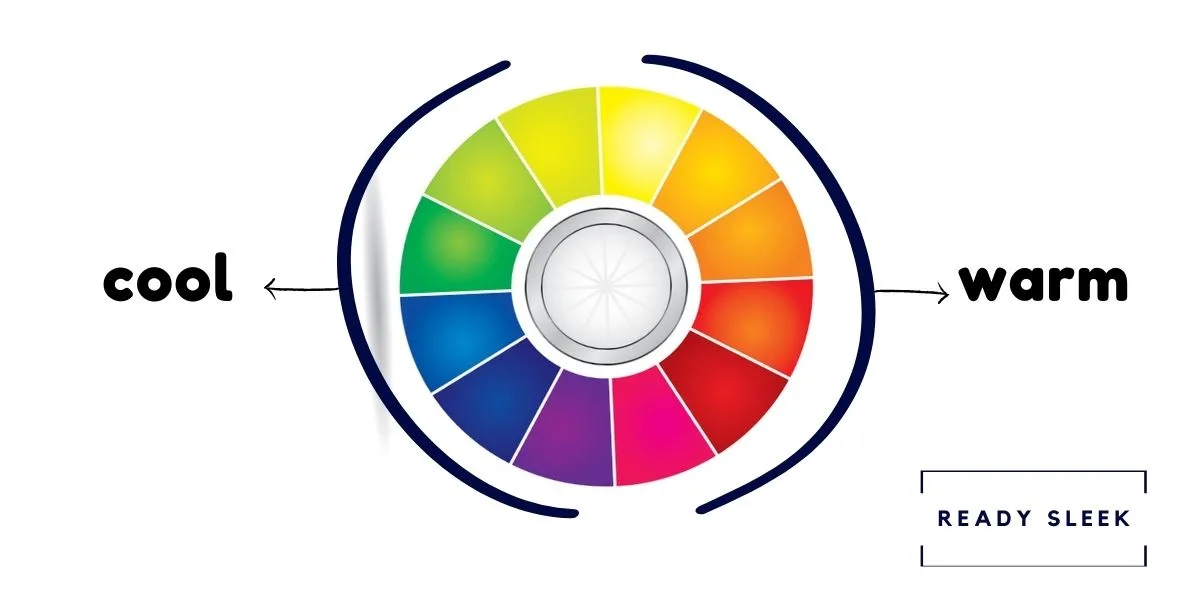 However, given how neutral khaki is, it isn't as useful for coordination given how any of the colors in the wheel would blend seamlessly with it.
It's more useful when it comes to deciding what vibe you want to go for with your shirt.
You'll see that it's split into "warm" colors (reds, oranges, yellows, pink) and "cool" colors (blues, green, purple).
Note that neutrals don't appear anywhere on the color wheel.
When wearing khaki shorts, consider a warm-colored shirt for a more eye-catching and vibrant aesthetic.
Alternatively, consider a cool-colored shirt for a more relaxed aesthetic.
6 Khaki Shorts And Shirt Combinations
Here are some khaki shorts and shirt combinations you can try out for yourself.
Khaki Shorts With A Black Shirt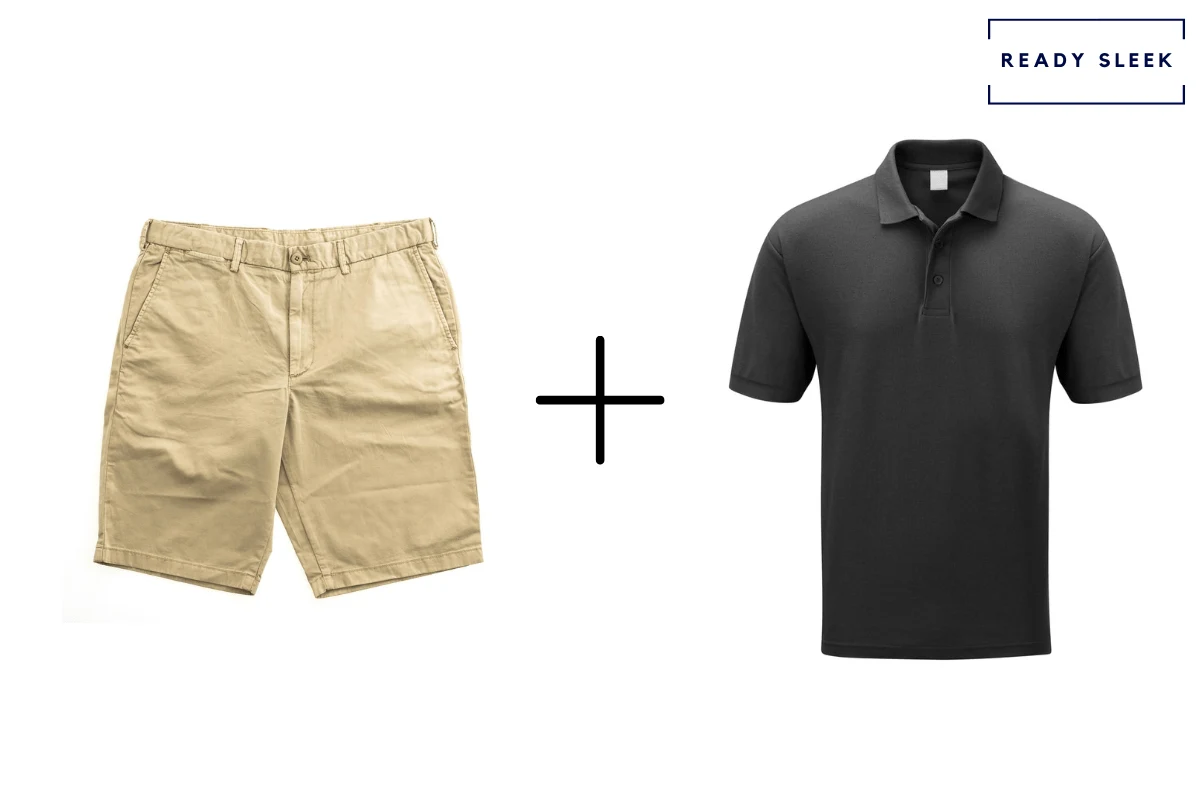 Khaki shorts can be worn with a black shirt to produce a dressy and eye-catching high-contrast combination.
Black shirts are neutral enough to be worn with anything, as are khaki shorts.
It's always going to work.
But it's important to note that it's very high contrast given how you're mixing a black shirt with shorts in a pale shade of brown.
It'll be bold and eye-catching, despite using neutral colors.
If this is appealing, it may be the combination for you.
It works well when you're attending a summer smart-casual event such as a garden party.
As high-contrast as the combination may be, the colors are neutral enough for them to work in smart-casual settings.
Khaki Shorts With A Grey Shirt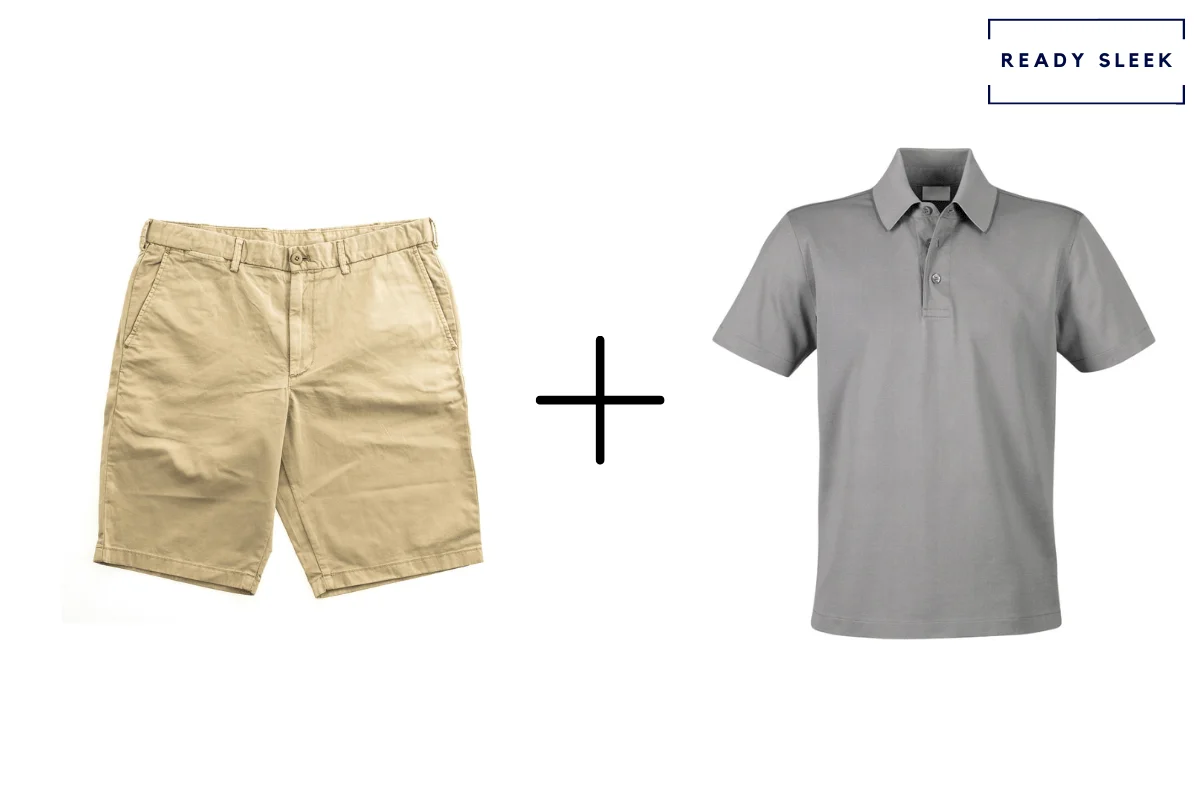 Khaki shorts can easily be worn with grey shirts in both casual and smart-casual settings.
This is true of both light grey and dark grey shirts.
If you'd prefer a low-contrast combo, go for a light grey. On the other hand, if you're looking for a high-contrast look, go for dark grey.
Grey and khaki work extremely well together. They're both incredibly muted.
When you're looking to dress up a little, consider a grey polo or OCBD.
In addition, consider a "dressier" pair of khaki shorts. Again, khaki shorts can't ever be considered formal.
But dressier pairs are often easier to spot. They're generally more tapered, draping closer to the legs with a more uniform weave.
Khaki Shorts With A White Shirt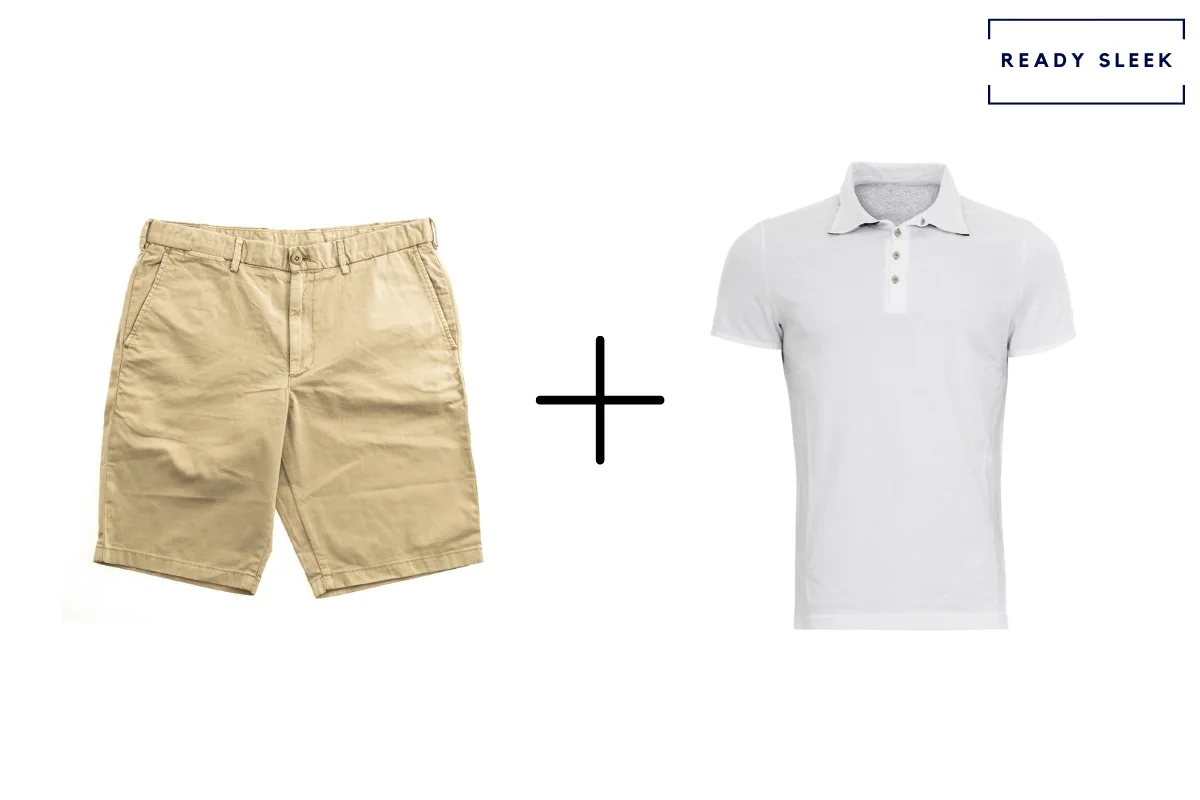 A khaki shorts and white shirt combination is effortless to pull off. It can easily be worn in even the dressier of smart-casual settings.
Consider adding pops of color to your outfit in other places.
For example, you could consider a burgundy blazer.
Alternatively, just embrace the low-contrast glory of the two items and keep everything neutral and muted.
When it comes to footwear, it's hard to go wrong with a pair of brown suede loafers if you're looking to dress up a little.
A pair of espadrilles or even boat shoes would be ideal casual summer footwear options.
Sneakers are perfectly reasonable. However, it's usually best to go for a pair of all-white minimalist leather low-top sneakers to keep things elegant.
Khaki Shorts With A Blue Shirt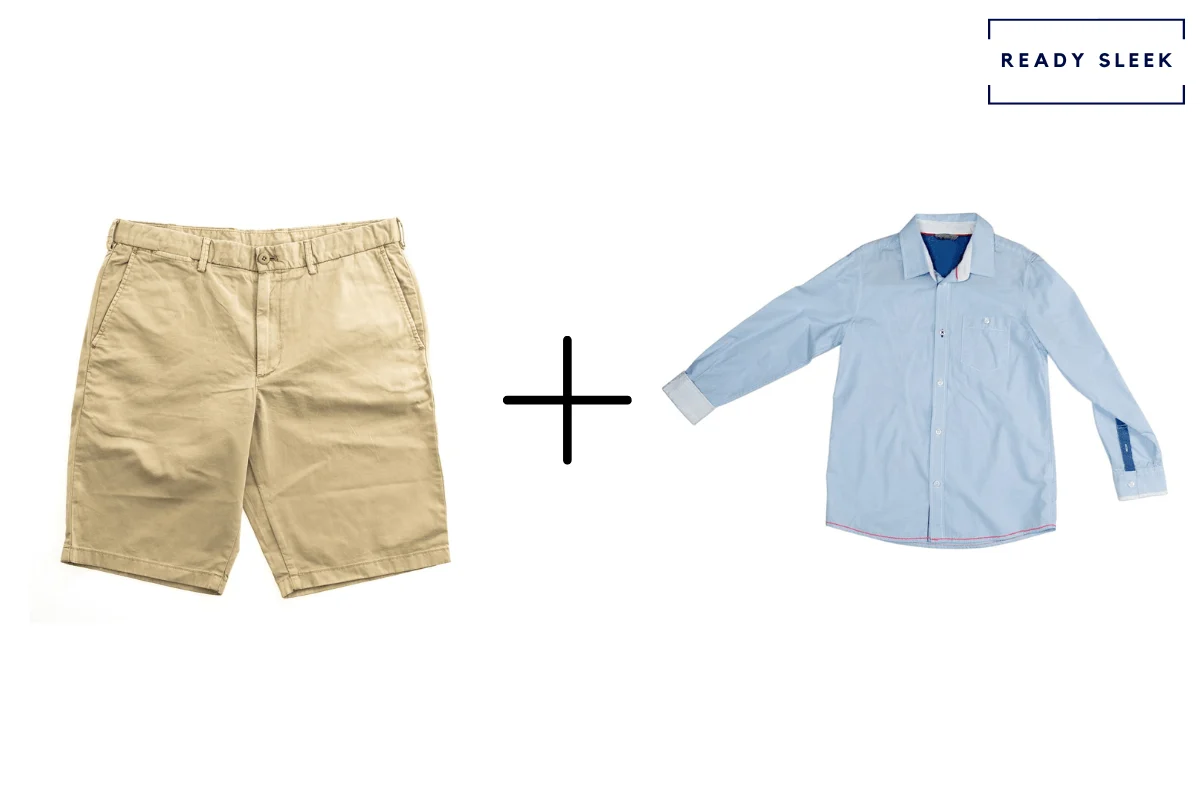 Blue shirts can be worn with khaki shorts to a variety of different events. The cool undertones of blue create a nice sense of balance with the subtle warm undertones of khaki.
While it's true that khaki is nearly neutral and doesn't really appear on the color wheel, it does still have a noticeable yellowish hue to it.
It's hard to deny that there's something quite warm about khaki.
These subtle yet noticeable warm undertones counterbalance the cool undertones of blue (especially light blue).
It works well.
Navy blue shirts are also a great option when wearing khaki shorts, especially when you're looking for a dressy high-contrast option.
They're similar to black shirts in that respect.
Khaki Shorts With A Pink Shirt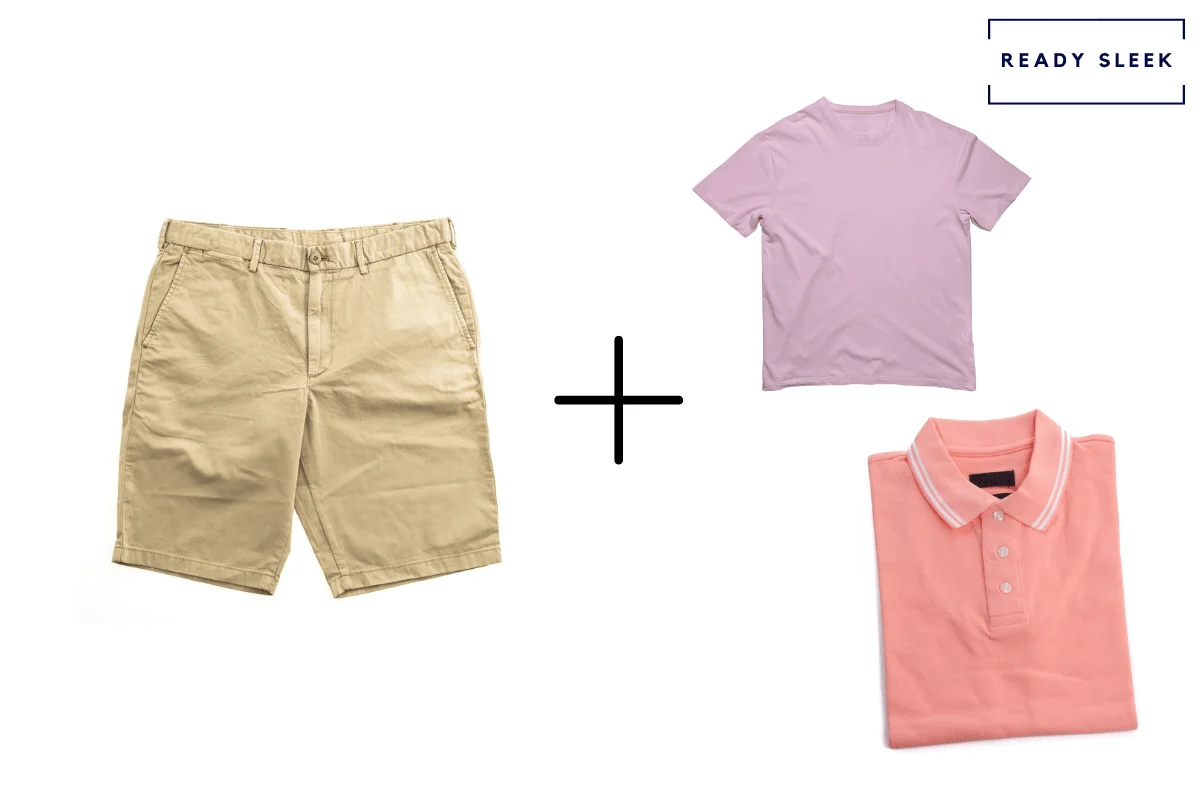 Pink shirts work very well with khaki shorts, especially when you're looking for a bold, vibrant, and in-your-face combination.
Pink looks great with khaki.
It's tough to say exactly why, but it's probably because pink and khaki are both warm colors that sync seamlessly with each other.
Yes, pink is much warmer than khaki.
But they're both warm enough for this harmony to make sense.
Light and muted shades of pink will always look a little dressier than darker shades of pink such as salmon.
Just something to bear in mind.
Khaki Shorts With A Green Shirt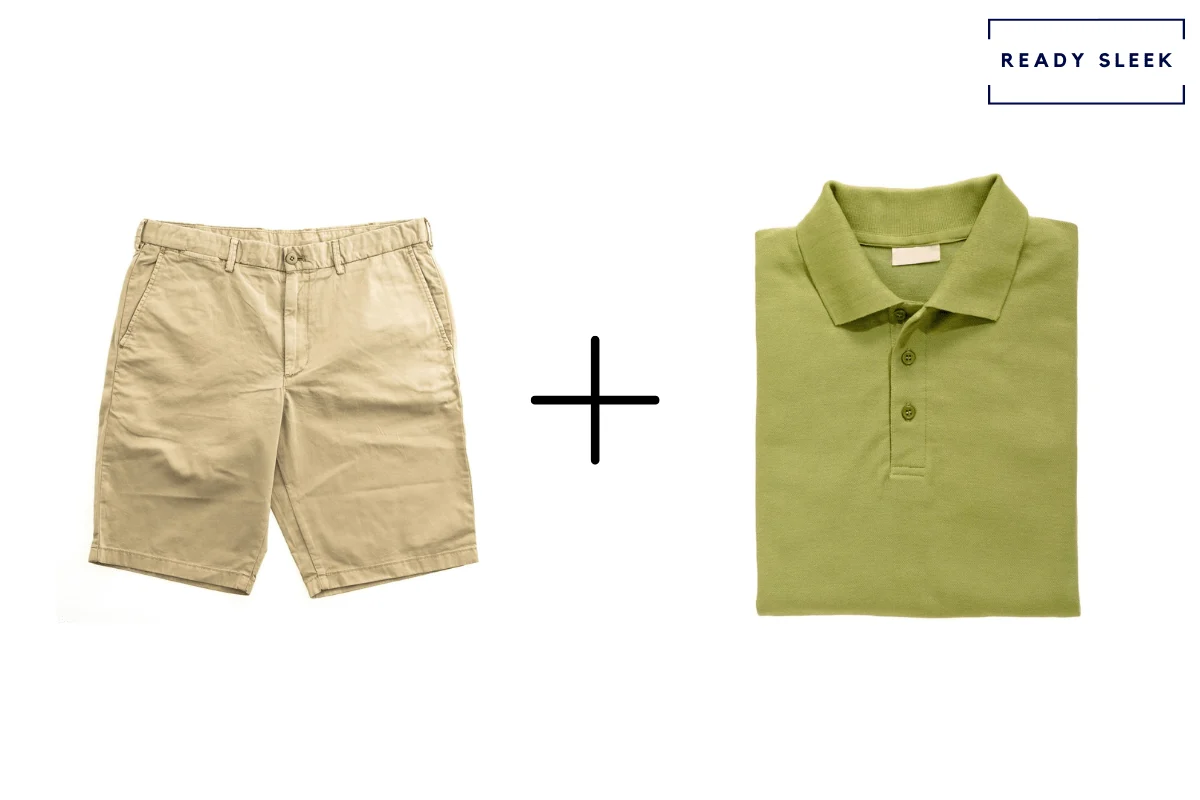 A green shirt and khaki shorts pairing often looks great, with darker and more muted shades of green such as olive and sage working especially well.
These shades of green look great with khaki because the combination produces a nice and earthy aesthetic.
Shades of green and brown tend to do that and this scenario is no exception.
Having said that, you could easily wear a light and bright green shirt if you wanted to. It'll always work with khaki.
Conclusion
You're spoiled for choice.
But that doesn't mean that anything goes.
While khaki shorts give you the benefit of choice, you need to consider what you're actually dressing for whenever you make a decision about shirt color.
Enjoy.
Ready Sleek founder. Obsessed with casual style and the minimalist approach to building a highly functional wardrobe. Also a fan of classic, vintage hairstyles.