In general, the more bold and vibrant a color is, the harder it becomes to color coordinate. But this doesn't mean you should shy away from them. The question is, what color pants should you wear with an orange shirt?
An orange shirt can be worn with black, grey, or navy pants in dressier settings. For a more casual ensemble, consider wearing an orange shirt with a pair of pants in a muted shade of medium blue or green.
After going through a few essential tips for color-matching orange shirts with pants in the most effective way possible, we'll go through some great combos to try out as well.
Orange shirts should really only be worn in "smart-casual" dress codes, but as you'll soon find out, some combinations definitely look dressier than others.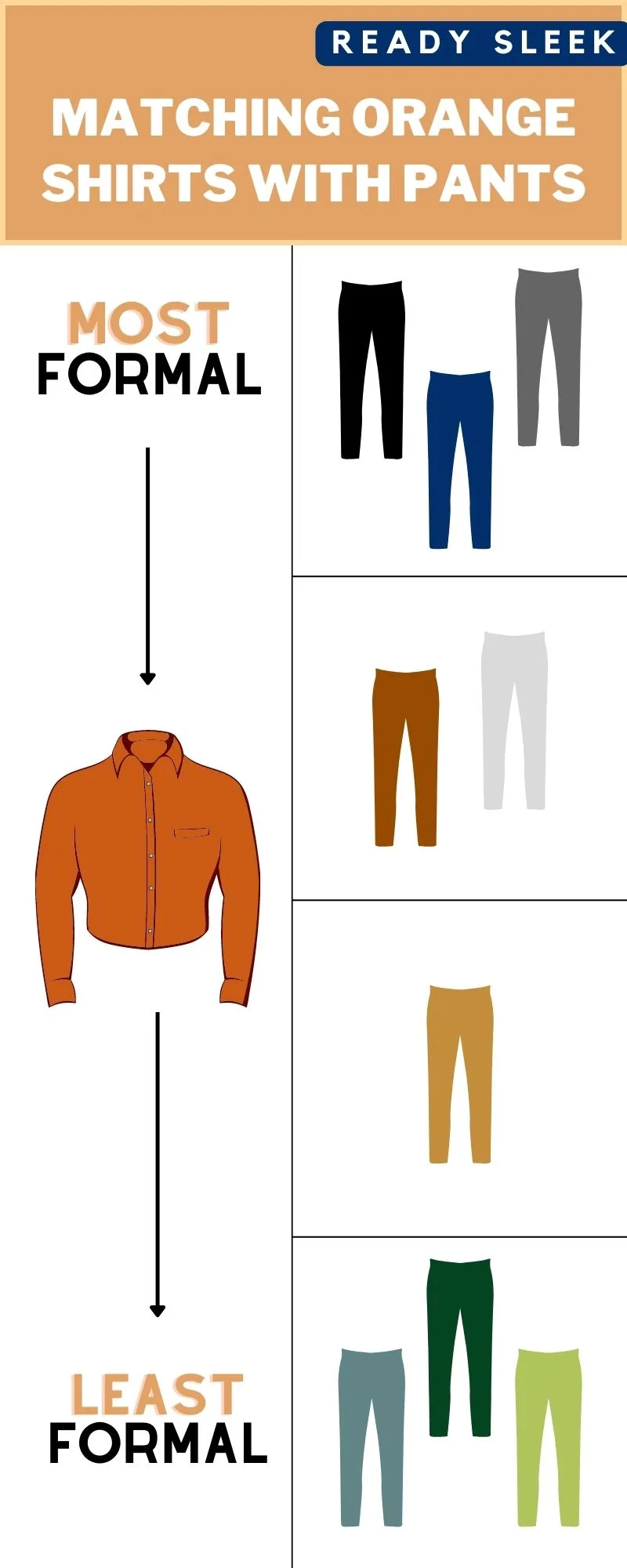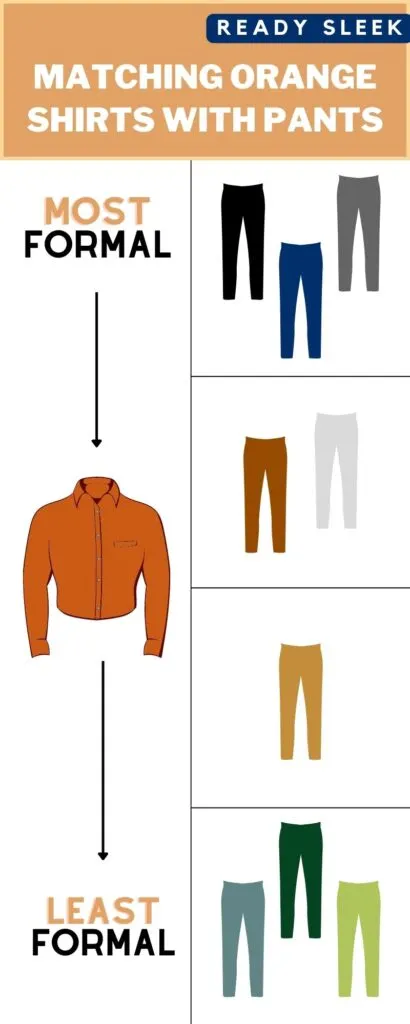 Color Matching Orange Shirts With Pants: Key Tips
Given how tricky it can be coordinating orange items, consider all of these tips before you put your outfit together.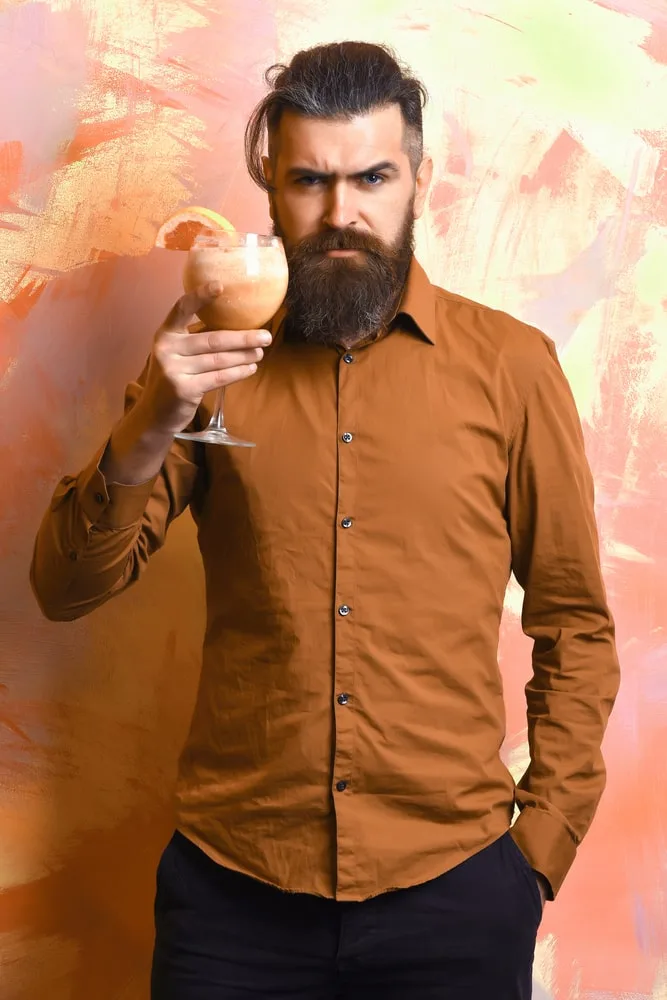 1. Consider The Dress Code
No matter what pants color you choose for your orange shirt, it's likely that the combination would only be suitable in smart-casual settings. Avoid it in business-casual, business-professional, or formal settings.
The first thing to mention is that there are plenty of settings where an orange shirt probably wouldn't be the best option.
It's pretty loud and can be in-your-face, especially when you've gone for light and bright shades of orange instead of dark and muted shades.
Orange shirts tend to have a distinctly casual feel to them. However, it can look great in the right place and at the right time.
Once you've determined that an orange shirt could work for the event you're attending, consider how much you want to dress it up or dress it down.
If you want to dress it up, consider wearing a neutral pair of pants. Dark neutrals include black or navy blue. Light neutrals include white or light grey.
In more casual settings, you may want to consider bolder colors. These could include "warm" colors such as khaki or brown. Alternatively, consider "cool" colors such as blue or green.
2. Go For Muted Shades Of Orange
It's much easier to color-coordinate orange shirts when you've gone for a muted shade of orange.
"Burnt orange" is a favorite because it's dark, muted, and easy to combine with pants.
The lighter and brighter the orange shirt is, the more overbearing it can become and the harder it generally is to color-coordinate.
If the setting you're attending is very casual, this may not be an issue. But if you want to keep things subtle and relatively dressy, consider a dark, muted shade of orange like burnt orange.
Here's a table summarizing some pants color options depending on the type of orange shirt you're working with.
| Shade Of Orange Shirt | Pants Colors |
| --- | --- |
| Light Orange Shirt | Light grey, white, or khaki pants |
| Dark Orange Shirt | Black, navy, or charcoal grey pants |
| Burnt Orange Shirt | Black, brown, or forest green pants |
3. The Color Wheel Can Really Help
The color wheel isn't everyone's favorite tool but can be more helpful than you might initially think.
This is especially true when working with trickier colors like orange.
Essentially, it shows how different colors relate to each other.
As you can see from the image, the wheel can be split into "warm" colors and "cool" colors.
Warm colors include oranges, reds, and yellows.
Cool colors include blues, greens, and purples.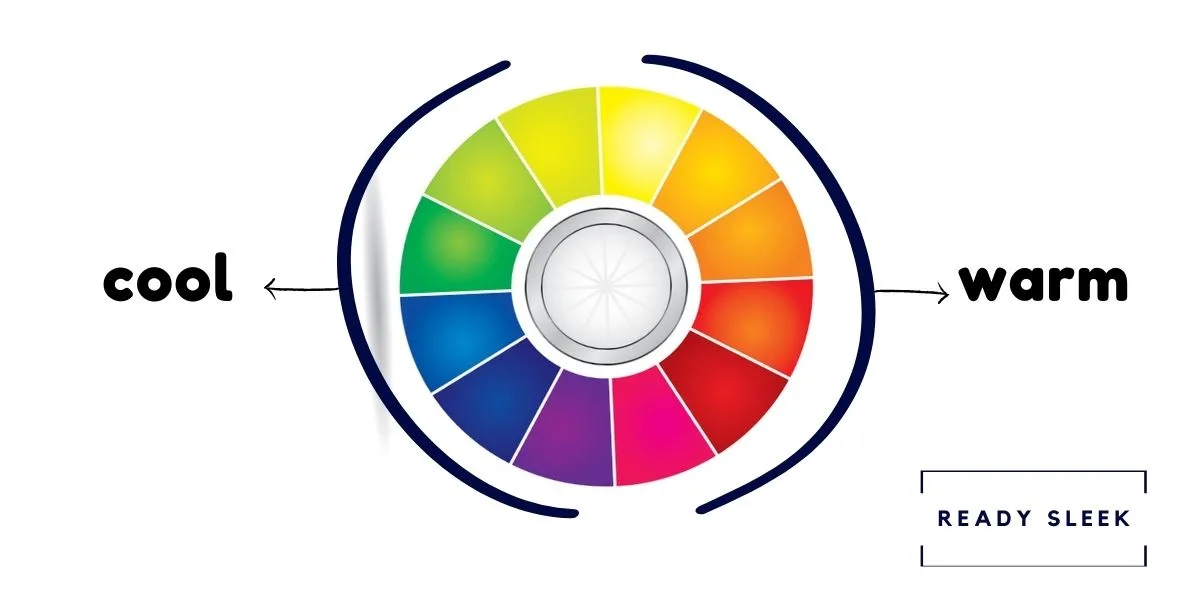 Knowing that orange is a "warm" color can be helpful.
You've got the option of pairing orange with "cool" colored pants such as blue and green. This can work well and produces a nice and balanced outfit, although it's high in contrast.
Alternatively, you could pair orange with "warm-colored" pants in red or yellow, for instance. Be more careful with this combination.
Mixing warm colors with other warm colors can work, but can often be a little too loud for most people. It's also very casual and summery – just bear this in mind.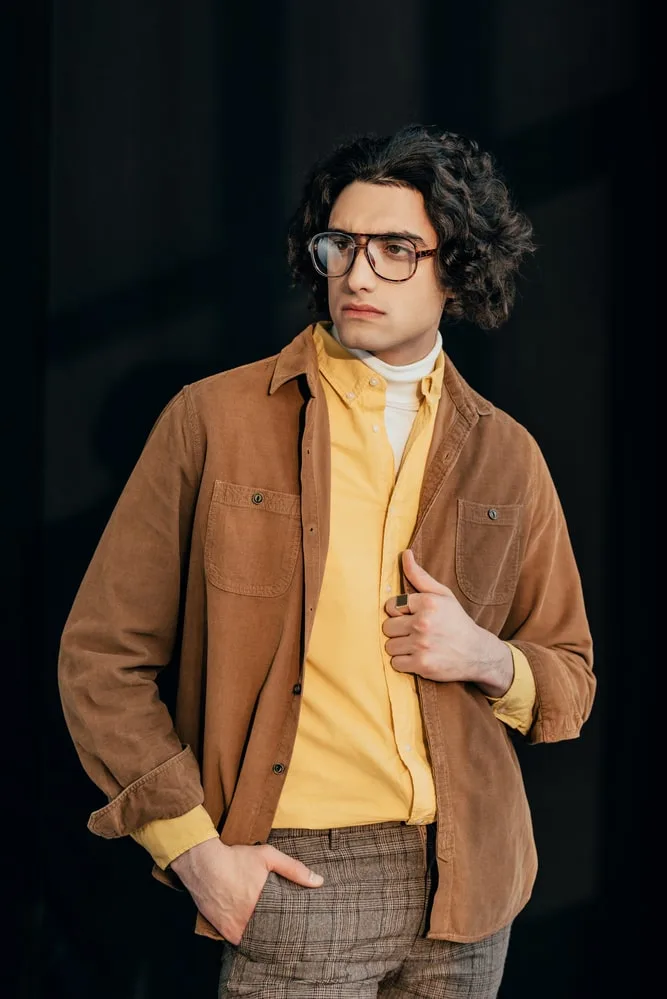 You'll notice that neutral colors (white, grey, black, and some may argue navy) don't appear on the color wheel. Any of them would pair with an orange shirt easily. The result would often be dressier than the warm and cool-colored pants.
Orange Shirt And Pants Combinations
Here are some combinations you can try out for yourself. There's a good chance that one or two of them would be more appropriate for you and the setting you're dressing for.
Orange Shirt With Black Or Navy Pants
Color Scheme: Dark Neutrals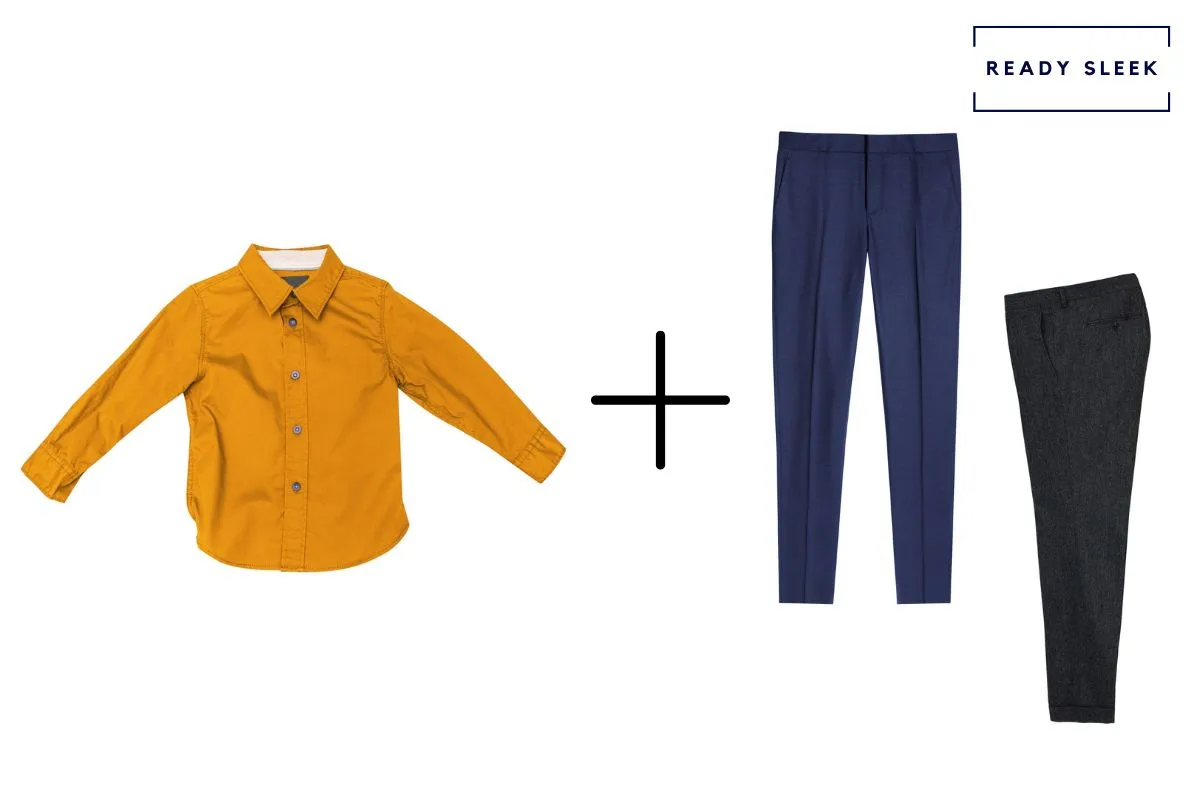 An orange shirt can be worn with black or navy blue pants in smart-casual settings. The dark tones of the pants would usually be better suited to shirts in dark and muted shades of orange such as burnt orange or rust orange.
If you're looking for a way to dress your orange shirt up and make it appropriate for the dressier smart-casual events, go for a dark and neutral-colored pair of pants.
Black and navy blue are great options, as well as pants in dark shades of grey such as charcoal grey.
When there's a risk of underdressing, you want to minimize the number of bright and bold colors in your outfit.
Sure, an orange shirt may be appropriate. But leave it at that.
Stick to neutrals for the rest of your outfit.
That goes for blazers, pants, shoes, and anything else.
Orange Shirt With Grey Pants
Color Scheme: Neutral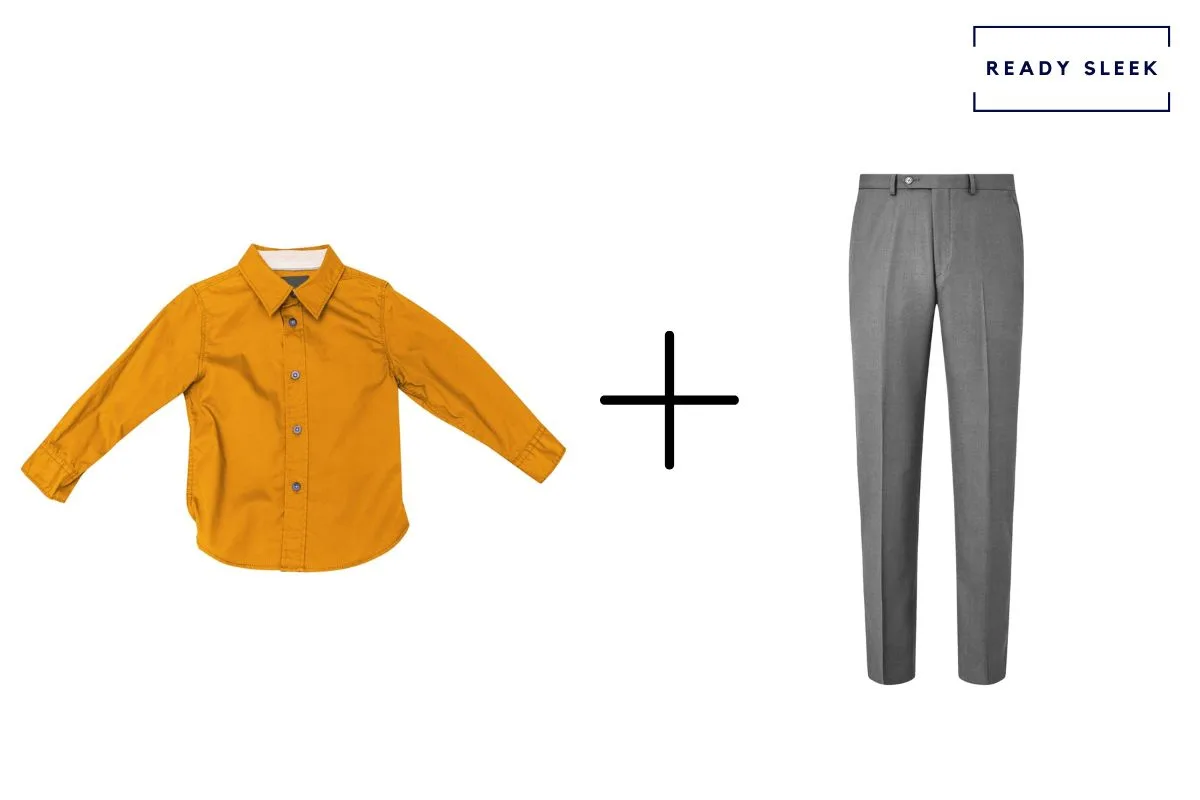 An orange shirt can easily be worn with grey pants. Light orange shirts tend to work better with light grey pants, while dark orange shirts often look great with dark grey pants.
So, bear the shade of orange in mind when making your decision. It isn't a hard-and-fast rule, but something worth considering if you're aiming for a sense of balance.
Darker shades of grey (and orange) tend to work better in dressier situations, although still wouldn't be suitable for any dress code more formal than smart-casual.
Overall, however, grey is a great neutral color you could color-match with orange quite easily.
You'll find that sticking to neutrals makes color coordination much easier. It requires much less thought.
Orange Shirt With White Pants
Color Scheme: Neutral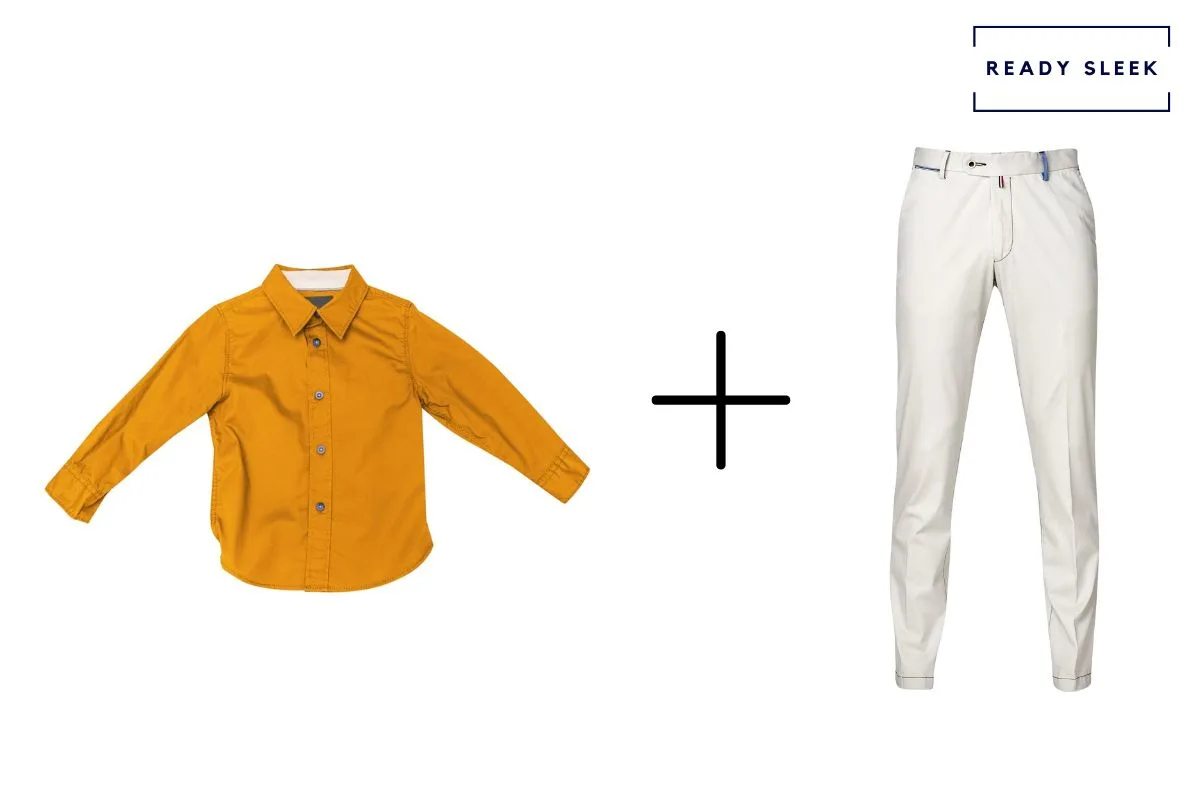 Any orange shirt would work well with white pants given how neutral white is. The combination would look very casual, however, given how high the contrast between the two items would be.
So, while the coordination is effortless, it's important to consider whether you'd be better off going for a dark and neutral color for your pants instead.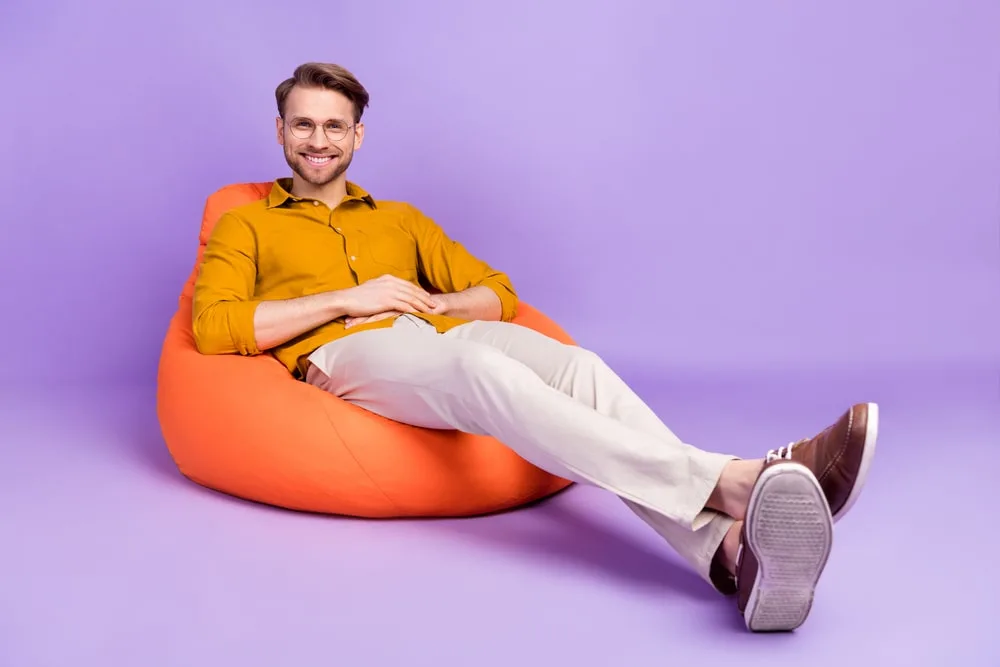 If you don't mind the attention-grabbing nature of the high-contrast look, however, it can be a great way to stand out from the crowd.
Once again, going for muted shades of orange tends to work better. It keeps the outfit looking more subtle than it otherwise would.
Bright and fluorescent orange shirts can work, but can often come across as a little too loud.
Orange Shirt With Khaki Or Brown Pants
Color Scheme: Warm
Orange shirts can be worn with "warm" colored pants such as khaki or brown pants.
While these colors have distinctly warm undertones, the result is often more subtle and understated than more in-your-face warm colors such as red or yellow.
Remember, pairing warm colors with other warm colors isn't always easy. While the result is low in contrast, the result is often pretty loud and vibrant.
This isn't necessarily a bad thing, but at the end of the day, you may want a more low-key combination.
This is especially worth considering given how orange shirts can be pretty loud in themselves.
So, a reasonable happy medium would be to go for a neutral-ish color with warm undertones. Khaki and brown pants immediately come to mind.
As you can see from the image above, the combination is clearly "warm" and vibrant but isn't too in-your-face.
That's what's so great about it.
Sure, the result won't look quite as dressy as going for an orange shirt with a pair of black, dark grey, or navy blue pants.
But maybe you want something a little more fun, casual, and summer-friendly. Khaki or brown pants may be ideal.
Orange Shirt With Blue Or Green Pants
Color Scheme: Cool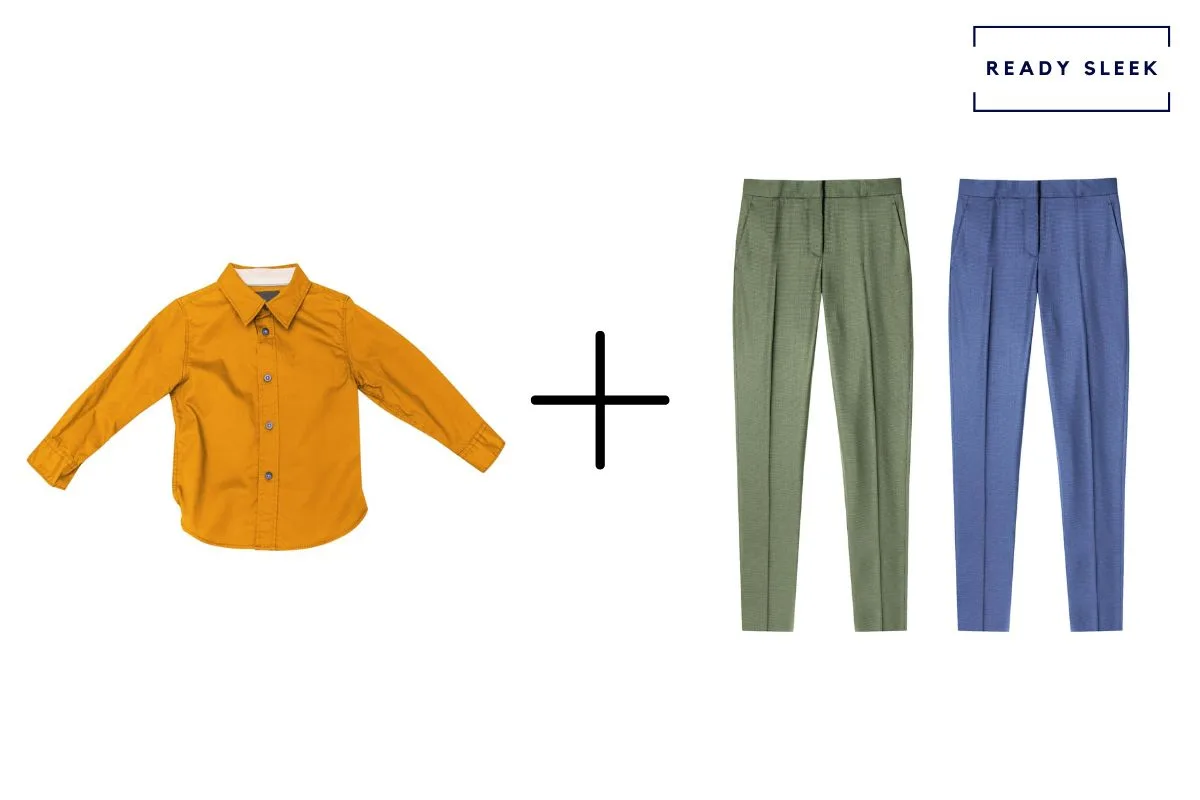 An orange shirt can comfortably be worn with blue or green pants. Pairing a warm-colored shirt with cool-colored pants like this often produces a nice sense of harmony in an outfit.
In much the same way as the previous example, however, the outfit will still look more casual and attention-grabbing than simply going for a neutral-colored pair of pants instead.
But if you were looking for a more eye-catching and vibrant combination, blue or green pants could work well.
Once again, sticking to muted shades of these colors works well.
For example, a burnt orange shirt with an olive green or forest green pair of pants.
Conclusion
While it isn't always, color coordinating an orange shirt shouldn't be made more complicated than it needs to be.
As you can see, sticking to basic principles often makes things a whole lot easier.
If you're looking to dress your orange shirt up, go for a neutral pair of pants.
Whatever combination you choose, however, reserve the orange shirt for smart-casual settings and nothing more formal than that.
Enjoy.

Ready Sleek founder. Obsessed with casual style and the minimalist approach to building a highly functional wardrobe. Also a fan of classic, vintage hairstyles.