Dressing for an interview can be made more stressful than it needs to be. This is especially true when wearing less traditional items. The question is, can you wear a turtleneck to an interview?
A turtleneck can usually be worn to interviews in business-casual workplaces and even more casual settings. Stick to neutral colors, wear a blazer over the turtleneck, and combine it with dress pants or dark chinos to avoid underdressing.
Although that's the short answer, there's more to it. Here are some essential tips to ensure you pull it off, each and every time.
Let's get to it.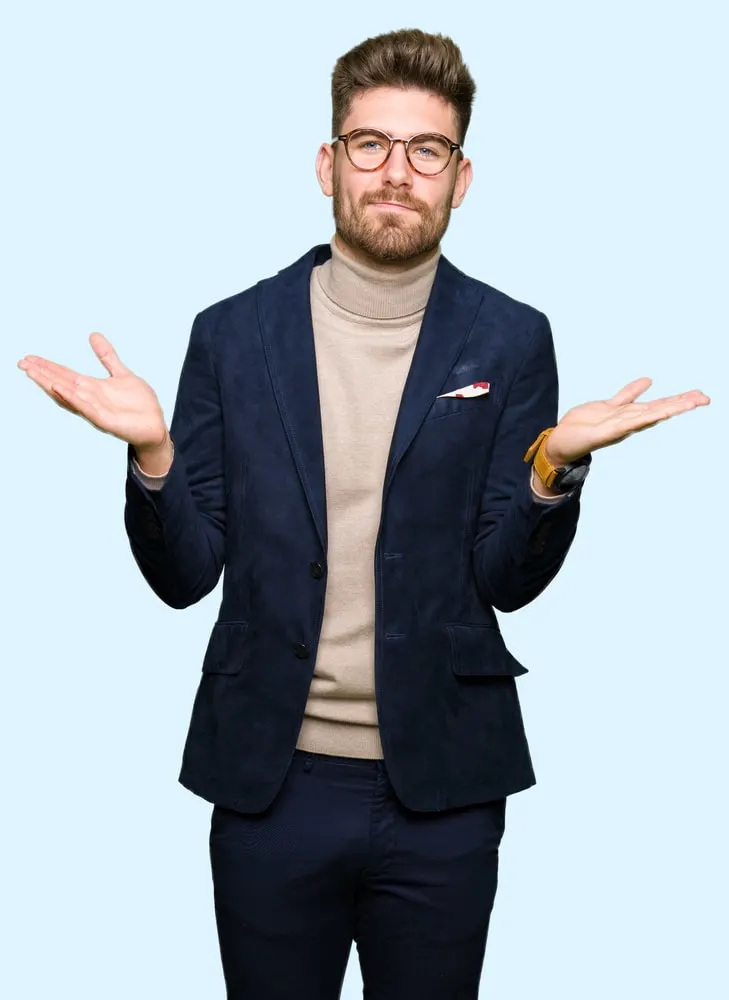 1. Make Sure It's Appropriate
Make sure a turtleneck sweater is appropriate for the interview you're attending before you decide on wearing one.
When dressing for an interview, you'll want to dress at least as formally as what would be expected when dressing for work if you were to get the job.
In business-professional settings such as corporate law offices and investment banks, a 2-piece suit would usually be required.
When dressing for an interview at a workplace such as this, a suit would be essential and a turtleneck simply wouldn't cut it.
"Business-casual" workplaces, on the other hand, would most likely be fine with a turtleneck sweater. They pride themselves on a more laid-back dress code with sweaters, khakis, and Oxford shirts generally being OK.
When dressing for an interview at a business-casual workplace, a turtleneck sweater would probably be OK, as long as you stick to the other tips in this list.
If the workplace is more casual than business-casual, there's a very good chance that you'd be able to wear a turtleneck for the interview without there being any problem.
2. Neutral Colors Only
Try to stick to neutral colors with your entire outfit, including the turtleneck.
It's important to recognize that a turtleneck sweater is still on the more casual end of the spectrum.
Because of this, there's a risk of underdressing even for interviews in workplaces that aren't necessarily formal.
You'll want to take steps to ensure that the turtleneck you wear, as well as the other items you wear it with, are formal enough for the occasion.
At the end of the day, even if the workplace is more relaxed with its dress code, you still want to make it clear that you've made an effort for the occasion.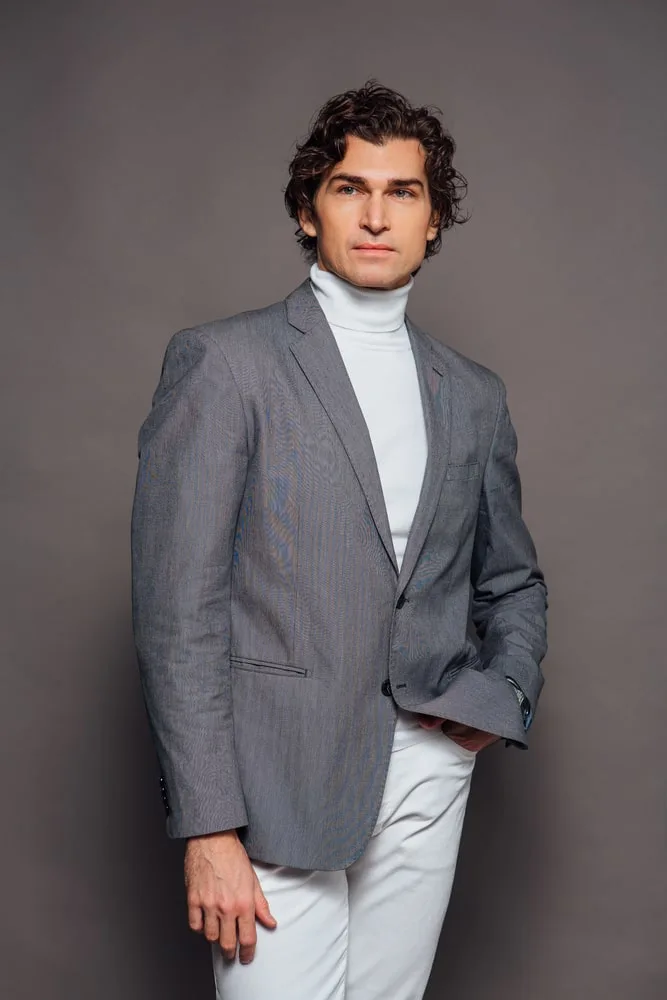 One way of making an otherwise casual or smart-casual outfit look more formal is by sticking with neutral colors throughout.
While the true neutrals are whites, greys, and blacks, it's often extended to include navy blue, khaki brown, and olive green.
3. Slim-Fit And Thin Knit Turtleneck
The turtleneck you wear to the interview shouldn't be tight, but it should be snug.
What you don't want is for the sweater to look bulky under a blazer or sports coat (as per the next tip on this list).
Make sure the shoulder seams line up with the shoulders and that the sleeves wrap the arms close enough that there's not much loose fabric visible when raising your arm up to the side.
In addition, try to choose a turtleneck with a thin knit – they're more comfortable when worn under a blazer and also look less bulky.
Cotton or merino wool are good options because they can be easily washed at home on a gentle cycle.
However, choosing a slim-fit and thin knit turtleneck sweater commits you to wear something over it (such as a blazer or sports coat) because they don't look great worn alone.
This is fine because in all honesty, wearing a turtleneck to an interview without some form of a jacket over it is a risky move as it'll usually come across as too casual.
That brings me nicely onto the next tip.
4. Always Wear A Blazer Over It
Always wear a blazer or sports coat over your turtleneck when attending an interview. It's a simple way to make an otherwise casual item look a touch more formal.
It'll also make it clear to the interview that you've made an effort for the occasion and that you aren't just wearing the same outfit you'd wear to the local bar.
Once again, stick to a neutral color scheme. However, try to achieve some sort of contrast between the turtleneck and the blazer you wear over it.
The easiest way to do this would be to choose a light neutral turtleneck and a dark neutral blazer or vice versa.
Double-breasted blazers can actually work surprisingly well when worn over a turtleneck. It adds another layer of formality and sophistication to the outfit.
5. Dress Pants Or Dark Chinos
Here we go back to the principle of dressing up the turtleneck by making sure the other items you wear it with are formal enough.
When wearing a turtleneck to an interview, in general, it's best to avoid pants that are any less formal than dark chinos.
Dress pants would be ideal and would look great when paired with a blazer/turtleneck combo. However, a lot of people aren't fans or simply don't own a pair.
Remember, they're different from suit pants as they can be worn without a matching jacket.
If you feel as though dress pants would be too much, consider a dark pair of chinos.
They'd be great because they're versatile enough to be worn in many different settings, including business-casual workplaces.
But avoid jeans at all costs. Turtlenecks in themselves do have a risk of coming across too casual at an interview, especially when they aren't styled properly.
Wearing jeans would just increase the likelihood of underdressing even further.
6. Brown Or Black Dress Shoes
Going with brown or black dress shoes to round off the outfit should also reduce the risk of underdressing.
While black would be the most formal option, brown would definitely be reasonable for a business-casual workplace. However, the darker the shade of brown, the more formal they'll generally look.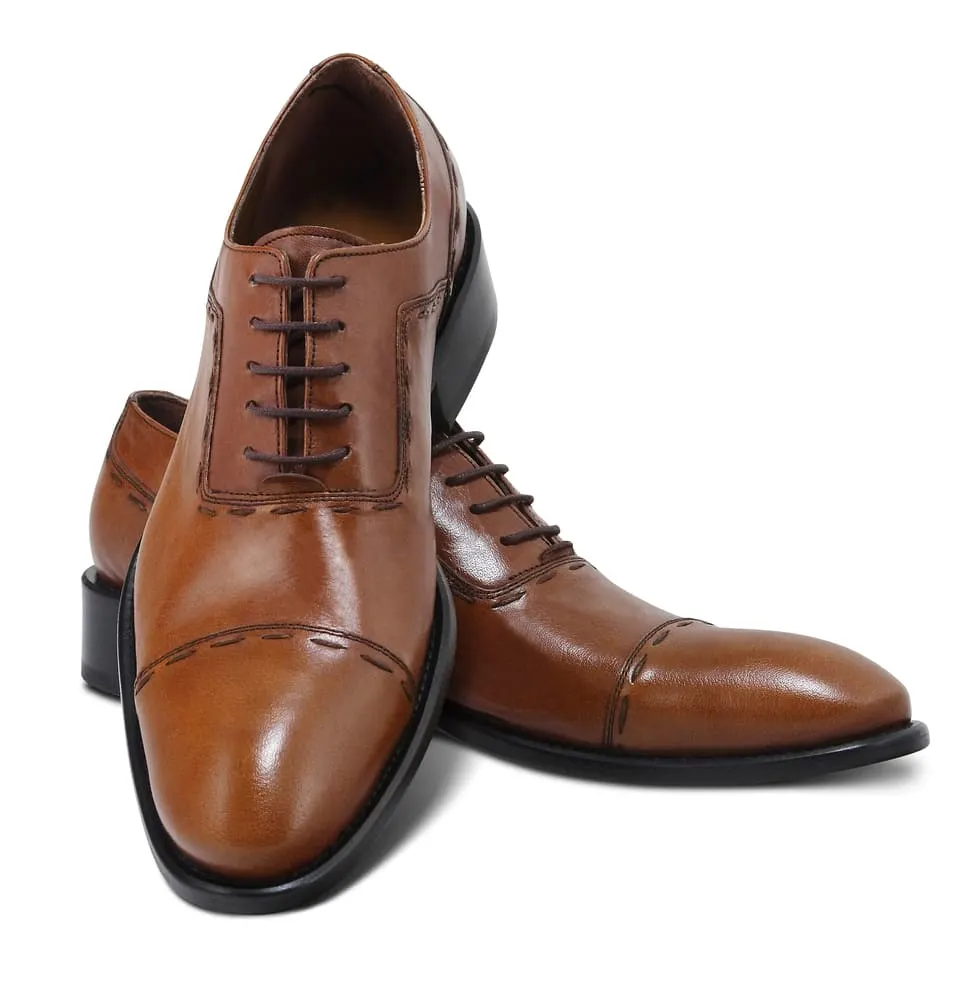 While you could go for suede, going for a shinier grain of leather like calfskin or cowhide would also come across as more formal.
It really depends on how casual/formal you feel you could go.
Overall, a pair of brown or black calfskin/cowhide dress shoes would be tough to go wrong with.
The style of dress shoes doesn't really matter. In order of reducing formality, consider Oxfords, Derbys, monk straps, or loafers.
7. Consider A Pocket Square
This isn't essential by any means, but adding a pocket square to your blazer or sports can definitely be a nice touch.
It'll make your turtleneck outfit look a little more elegant and sophisticated without ever being considered "too much".
However, it's important to be subtle with it. You don't want to come across as though you're trying too hard or that you've confused the interview for an evening social setting.
Go for a plain white pocket square to keep things as simple as possible. In addition, go for a straightforward Presidential fold with nothing fancy.
You want to make it clear that you're here for work and not play.
This tip isn't as important as the others on this list, but it's definitely one to consider if you're looking to go the extra mile.
Overall, all of this should be considered a guide to achieving the best outcome possible when wearing a turtleneck to an interview.
Ready Sleek founder. Obsessed with casual style and the minimalist approach to building a highly functional wardrobe. Also a fan of classic, vintage hairstyles.