Oxford shirts can be tricky to style because they toe the line between formal and casual. A particularly common query is, can you wear an oxford shirt with a suit?
Oxford shirts are more casual than the standard dress shirt but can be worn together with casual suits for smart-casual occasions. The combination usually works best for daytime occasions and in the warmer seasons.
So, you can wear an Oxford shirt with a suit. In this article, I'll give you some tips on exactly how to do this.
But first, we should explain what an Oxford shirt actually is.
What Exactly Is An Oxford Shirt?
The classic Oxford shirt is made of Oxford cloth, which is a cotton fabric woven in a basket-weave pattern.
The basket-weave gives the fabric a heavier and thicker feel compared with a regular dress shirt and also makes it feel softer.
Here's an example of one on Amazon:
It also gives the oxford cloth a typical criss-cross appearance, which is rougher and has less sheen than a standard dress shirt.
Oxford shirts will usually have a button-down collar, in which case they are referred to as OCBD shirts, or Oxford Cloth Button Down shirts.
However, in some situations they may carry a point collar instead.
Technically speaking, an Oxford shirt is a type of dress shirt. However, the rougher, thicker fabric and button-down collar mean that it often isn't suitable for dressier occasions.
As a result, some care should be taken when pairing an Oxford shirt with a suit.
Keep reading to find out exactly how to wear an Oxford shirt with a suit.
6 Tips On How To Wear An Oxford Shirt With A Suit
Because Oxford shirts are generally viewed as more casual than regular dress shirts, people often worry that they can't wear an Oxford shirt together with a suit.
However, you can wear an Oxford shirt with a suit, you just need to keep a few things in mind when doing so.
Let's go through these here.
1. Choose A Casual Suit
Because Oxford shirts are a notch less formal than regular dress shirts, when wearing them with a suit it is best to choose a more casual suit.
Suits that have a textured material with less sheen are suitable. Avoid suits that come in a sleek and shiny fabric, as the texture of the Oxford shirt will most likely clash with these.
It's also best to choose suits that are less structured, for example, suits that have less padding or lining and are not too fitted around the chest.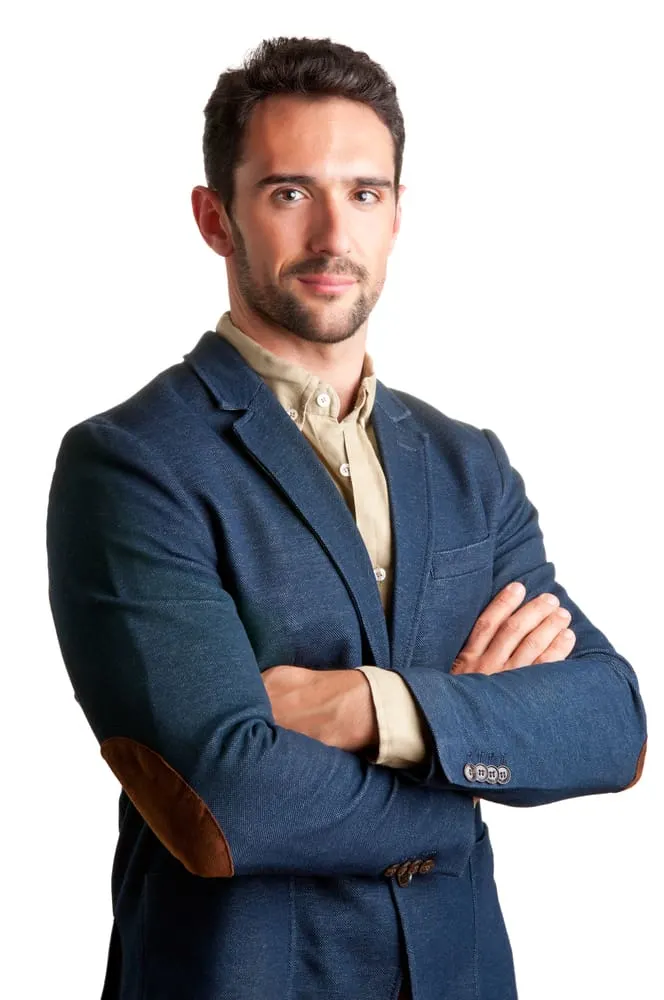 In terms of color, choose a suit that isn't solid black or navy, and opt for lighter hues such as browns, beiges, and lighter blues.
If you do feel you have to go for a black or navy suit, consider getting one that is patterned e.g. a windowpane checked suit.
This will bring down the level of formality that the suit carries, and will make it look more suitable to be worn with an Oxford shirt.
Another tip is to go for a suit that has notch lapels instead of peak lapels, and patch pockets instead of flap pockets, as these options are more casual.
If you follow these general tips to choosing a suit to wear your Oxford shirt with, you can achieve a smart-yet-casual, preppy look, and avoid an outfit that looks as if it is confused about whether it is casual or formal.
2. Wear It In The Summer
We all know that casual suits are a great option for summertime, whether it be a smart-casual summer wedding or golf club event.
Oxford shirts are a great choice for summer wear too, and because they can look great with a casual suit, this becomes a great option during the warmer months.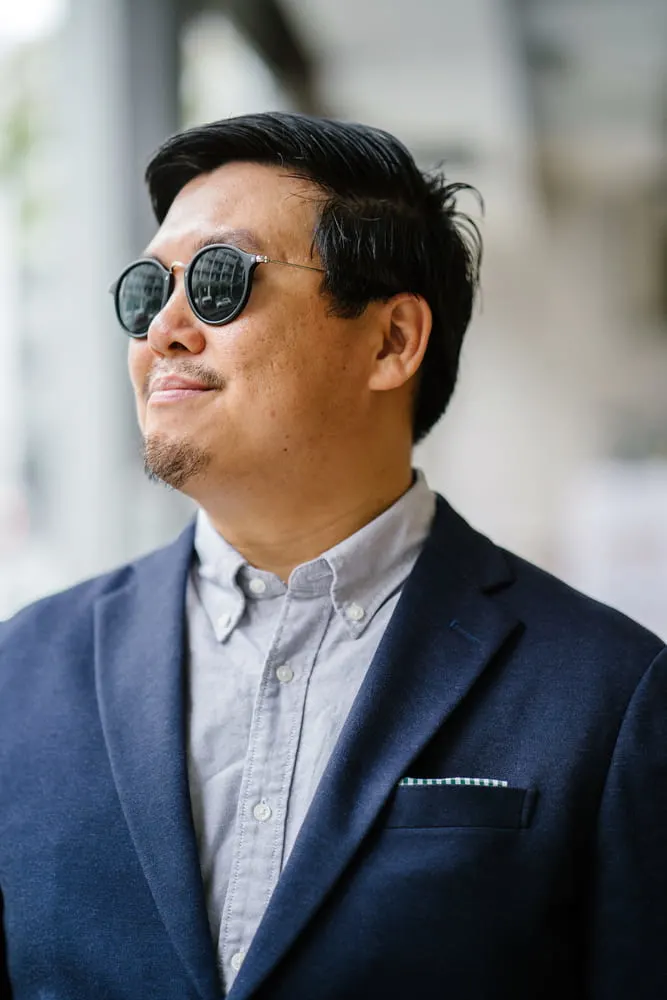 As I mentioned before, the Oxford cloth button-down shirt gives off a preppy/Ivy league style, which often has a bit of a vogue during the summer season.
You'll find many men sporting the OCBD shirt during this time of year, and dressing it up slightly with a casual suit means you'll look the part whilst maintaining a relaxed vibe.
If you want to wear your Oxford shirt together with a suit, then, summertime is the time to do it.
3. Wear It During The Day
As well as paying attention to the time of year that you will wear this Oxford shirt and suit combination, the time of day is also important.
Because Oxford shirts are more casual, they are generally more suitable for daytime events than evening events.
Evening events are often seen as more formal and you may be expected to dress up more smartly (obviously you should always check the dress code).
For smart evening events, you will likely be better served by a dark-colored suit and a regular white dress shirt.
An Oxford shirt with a casual suit will work well for daytime events, or early evening events, however.
This combination is also a good option for any occasion during the day where you want to look like you've made an effort but keep the smart-casual vibe.
An important thing to remember here is to take your cues from the organizers of any event you're attending and gauge the level of formality required.
However, overall, you can apply the general rule that the Oxford shirt and suit combination should be reserved for daytime hours.
4. Combine It With A Knit Or Cotton Tie
When deciding to wear an Oxford shirt with a suit, the accessories can make or break your outfit.
The tie is often the focal point of a suit, and wearing the wrong kind of tie can, unfortunately, stand out like a sore thumb.
When wearing an Oxford shirt with a suit, it is best to opt for a knit or cotton tie.
This is the natural teammate for a casual suit and Oxford shirt because knit or cotton ties are more casual than silk ones.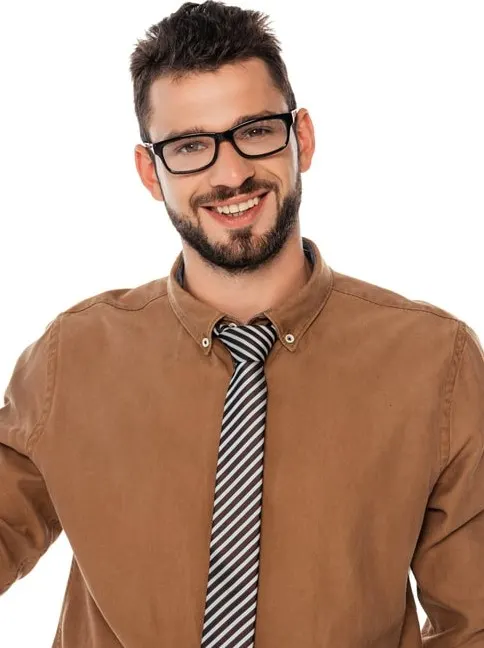 Knit and cotton ties have less of a sheen and have a more textured surface in comparison with the smooth sheen of a silk tie, hence fitting in more with the casual Oxford shirt.
Another option, if you feel the occasion doesn't call for a tie, is to go tieless and undo the top two buttons of your Oxford.
Again, this is in keeping with the more casual vibe an Oxford shirt carries and would be suitable for a daytime event where smart casual attire is appropriate.
5. Wear A Light Colored Oxford Shirt
When combining an Oxford shirt with a suit, it is best to choose an Oxford shirt in a similar color you'd wear in a dress shirt.
Examples include white, light blue, greys and pinks.
These colors serve well as a neutral base upon which you can be a little more liberal with your tie color and pattern.
There's also something about the Oxford cloth fabric that risks looking like denim if worn in a darker blue or black, which would certainly appear a little too casual to be worn with a suit.
Darker colored Oxfords are therefore best avoided if you are pairing them with a suit.
As a general rule, wearing a light-colored Oxford together with a darker-hued tie looks best, as opposed to the other way around.
By paying attention to the colors of these closely-sited items of clothing, you're giving yourself the best chance of wearing an outfit that looks well thought out.
6. Wear Less Formal Shoes
When choosing to wear an Oxford shirt with a suit, it's not enough to simply think about the suit, shirt, and tie combination.
The shoes you choose to wear with this outfit are an important part of the equation too.
When wearing an Oxford shirt with a suit, it's best to respect the overall casual nature of the outfit and choose shoes that are not too formal.
However, you still want shoes that look smart, as you are wearing a suit after all, so sneakers are best avoided unless you really want to make a fashion statement.
Derbys, although they are a pretty formal type of dress shoe, can be worn with an oxford shirt and casual suit if you choose the right type.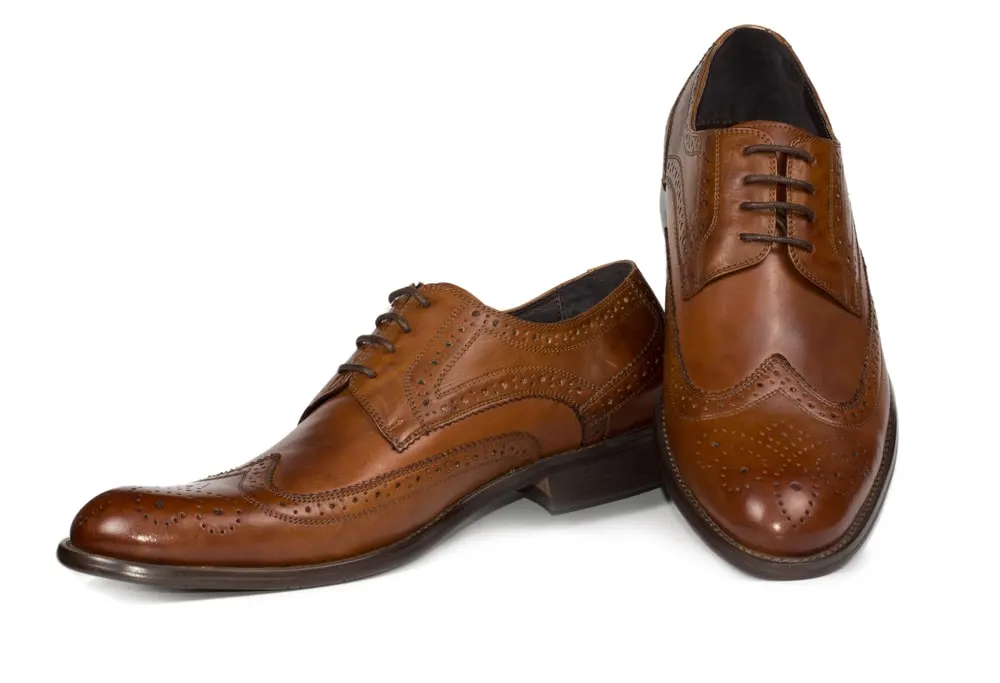 Go for a derby shoe that isn't black in color. You could choose brown, tan, or oxblood Derbys, so long as they aren't black, as black Derbys simply look too formal.
Choosing Derbys with some brogueing also helps them have a more casual appearance.
You could also go for a pair of monkstraps, which are less formal than Derbys and can sometimes be worn with more casual suits.
However, you need to be careful with monkstraps, as many people will say that they should be reserved for wearing with chinos and sports jackets.
This may not be an issue if you are wearing them to a relaxed event, but it's important to check how strict the dress code is beforehand.
Avoid wearing Oxford shoes of any kind, as this is the most formal dress shoe type that is more at home when worn with a formal suit or tuxedo, not a casual suit and an Oxford shirt.
Conclusion
Hopefully, after reading this article I've given you some insight into how to wear the classic Oxford shirt with a suit.
If done properly, this can be a great style combination that you will depend upon for years to come.
Ready Sleek founder. Obsessed with casual style and the minimalist approach to building a highly functional wardrobe. Also a fan of classic, vintage hairstyles.