These shirts are fantastic casual layering garments, but can you really wear a flannel with shorts?
A flannel shirt with shorts is a great casual look. Consider the buttoning or unbuttoning of your flannel, wearing a white underlayer, and going for block-colored shorts. In general, lighter shorts colors work best.
6 Tips For Wearing A Flannel With Shorts
Here are some essential tips for wearing a flannel with shorts. Use these tips to ensure you pull it off every time.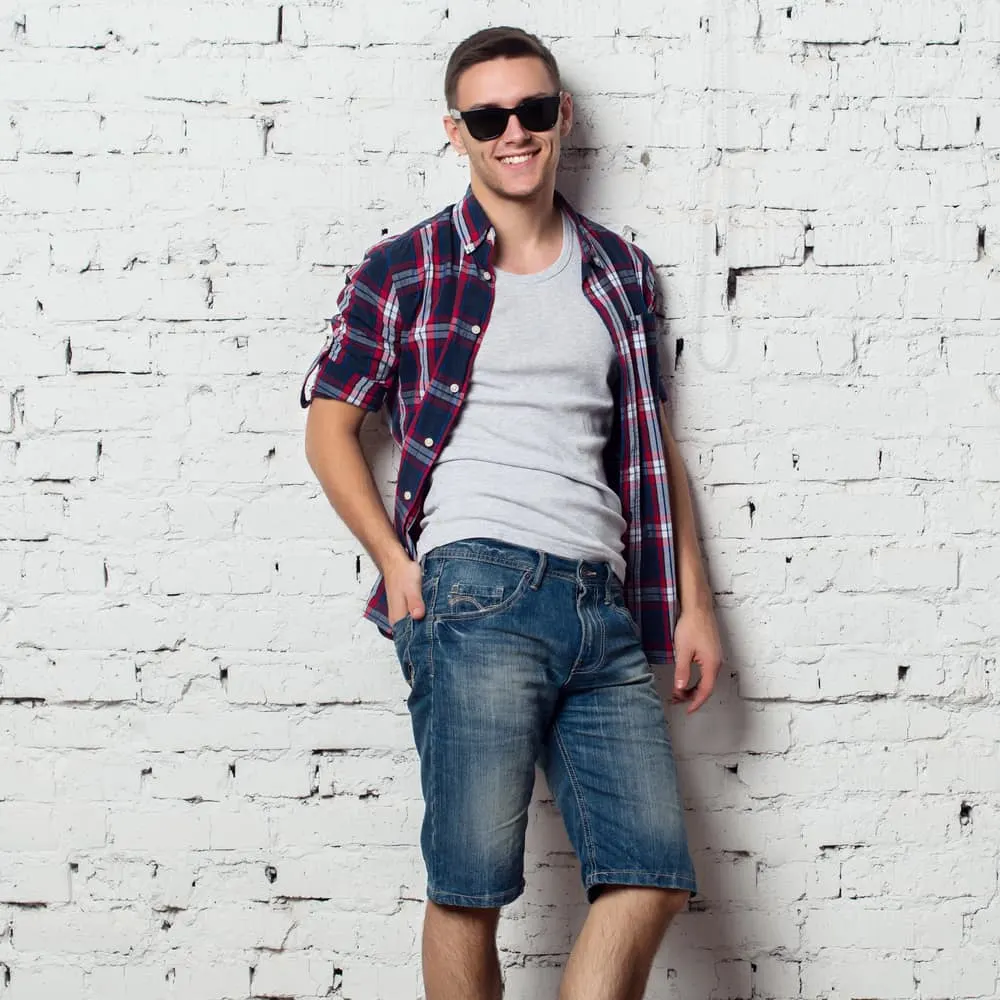 1. Consider The Buttoning Of Your Flannel
Flannels are very versatile in that they can be worn fully buttoned or unbuttoned for a more layered look.
That being said, it also means there are more factors to consider when wearing a flannel with shorts.
With this outfit, you can wear your flannel unbuttoned or buttoned – depending on personal preference – as both look great.
However, there are some elements worth thinking about when deciding whether you wear it buttoned or unbuttoned.
For example, when wearing a flannel unbuttoned, having an appropriate underlayer is absolutely critical.
Ensuring your underlayer is block-colored is the best way to go – white underlayers are optimal.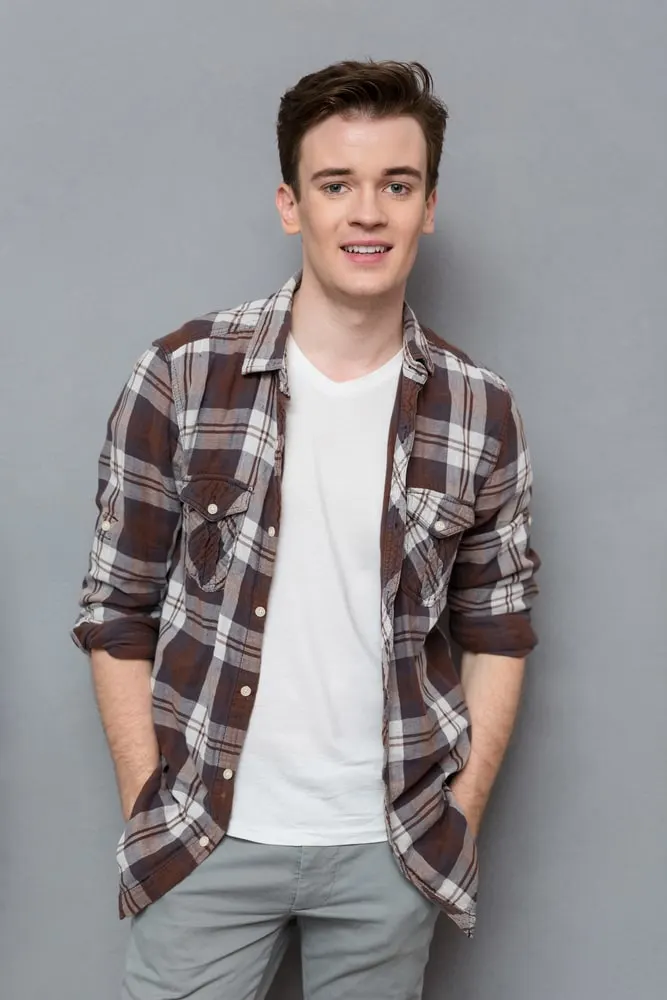 Consider that two layers of clothing may be too hot in warm, shorts-appropriate weather.
In this case, you should go for a buttoned flannel with a light, airy underlayer – or no underlayer at all.
Conversely, you should opt for an unbuttoned flannel if your flannel is too big – even if it's only slightly too large.
The casual, layered appearance of an oversized, unbuttoned flannel with an underlayer looks and feels much better than wearing it buttoned.
It's more comfortable and gives the outfit a sense of intention – as opposed to just looking like an oversized garment.
Worth noting is that you should always leave one or two of the top buttons undone when wearing a buttoned-up flannel.
This contributes to the casual nature of the outfit and creates a more relaxed vibe.
2. Go For Block-Colored Shorts
Shorts come in many different colors and patterns. This means that knowing the best ones to pick to accompany your top half can be confusing.
Similarly, flannels come in a variety of colors; however, they are usually found in only one pattern: checkered.
This checkered pattern is often bold and, therefore, acts as the outfit's centerpiece to a certain extent.
The ideal shorts to wear alongside such a stand-out garment are block-colored ones.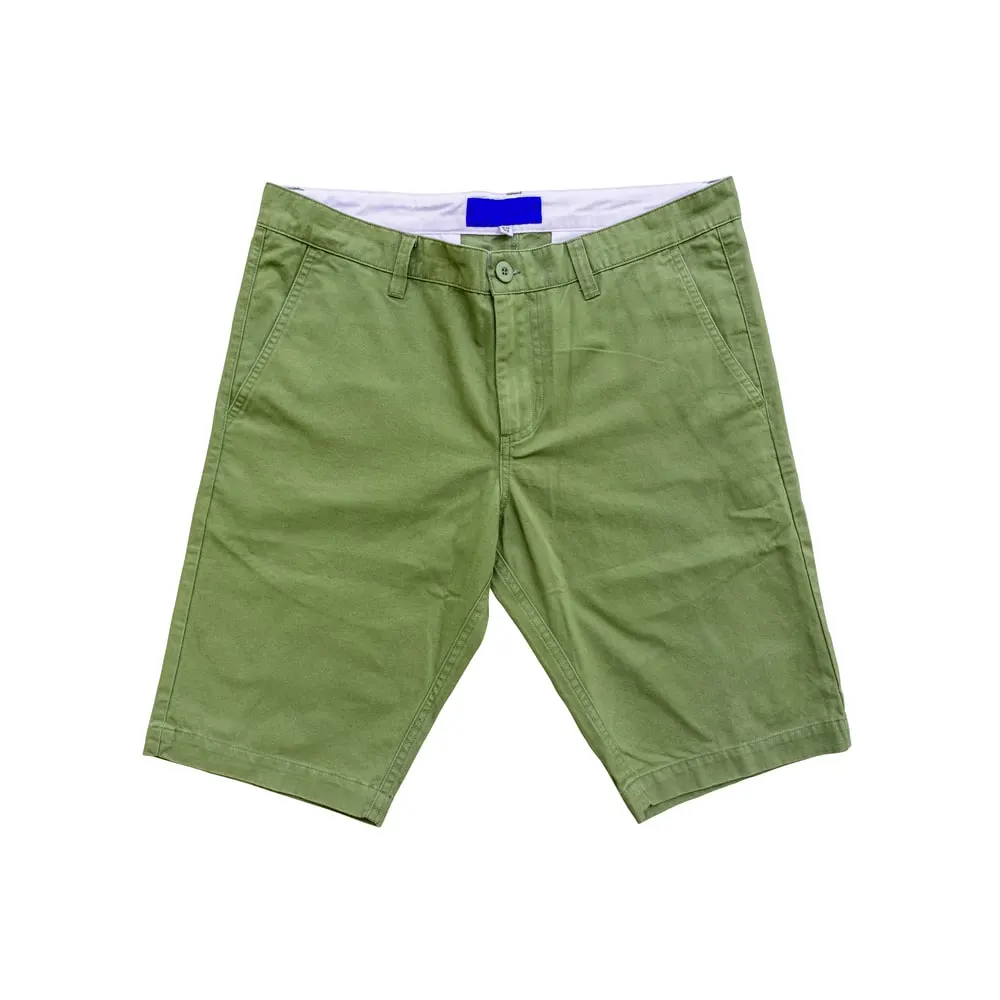 While patterned shorts look great with some upper halves, a flannel is not one of these.
Combining patterned shorts with a boldly-patterned flannel looks overly flamboyant and can make the outfit seem immature.
Furthermore, if you decide to wear your flannel as a layering piece (unbuttoned with an underlayer), the two patterns alongside the layering can be overwhelming to look at.
Unless you're making a fashion statement, it's best to stick to block-colored shorts with this outfit.
3. Think About Shorts Style
Shorts are inherently casual garments. This, however, doesn't mean there's only one shorts style.
There are many shorts styles on the market, each for different purposes and formality levels.
Some are solely practical, while others aim to look good while keeping you cool.
It's important to know the best ones to choose to wear with a flannel.
Firstly, you should avoid board shorts or sports shorts in any scenario other than what they're designed for (water and sports, respectively).
There are two shorts styles that work best with flannels that ensure the outfit is casual without delving into the depths of sportswear: denim and chino shorts.
Both are pretty self-explanatory; chino shorts are made of chino fabric, and denim shorts, denim fabric.
Denim is a staple of casualwear and is renowned for its ability to pair with flannels – regardless of whether it's denim shorts or jeans.
If you go for denim shorts, lighter washes give the outfit a more streetwise, casual look.
On the other hand, chino shorts are a little dressier but still maintain the casual aesthetic of the outfit.
Both denim and chino shorts work with buttoned and layered, unbuttoned flannels, allowing for a lot of color experimentation.
Cargo shorts, while more casual, can also work well.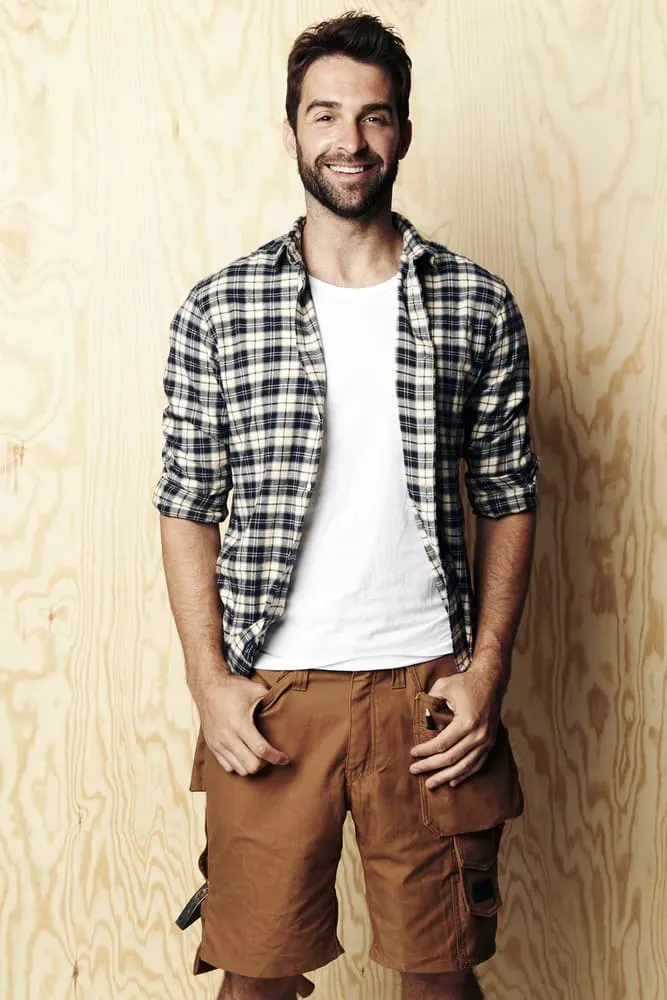 4. Checkered Flannels Vs. Plain Flannels
Flannels usually come in one of two varieties: checkered or plain.
While they can come in other patterns, the vast majority of them are checkered.
Knowing whether you should go for a plain or checkered flannel can be difficult.
It's important to understand that both checkered and plain flannels work with shorts and that, ultimately, it's down to preference.
However, generally, if you want to stand out and show your style, checkered flannels work best.
This is particularly true if you wear block-colored shorts – as is recommended.
Though that's not to say plain flannels can't look good. Plain flannels are fantastic with shorts and create a more discreet, understated look.
Accompany them with block-colored, minimalistic sneakers to enhance the ensemble.
It's worth mentioning that you can wear both patterned and block-colored flannels unbuttoned or buttoned.
5. Lighter Shorts Colors Work Best
Light colors thrive in warm weather. They reflect the overall ambiance of a hot summer's day.
They are practical, too, as light colors reflect heat, allowing you to keep cool throughout the summer months.
When wearing a flannel with shorts, it's best to stick to lighter-colored shorts.
Doing so will uphold the summery vibe of the outfit, as well as keep you cool.
Furthermore, wearing light shorts will create a contrast between the garments if you have a black or partially black flannel.
Or, if – as mentioned earlier – you go for a white underlayer with an unbuttoned flannel, going with lighter shorts adds some consistency and fluidity to the outfit.
Colors like light grey, off-white, and khaki look especially good for chino shorts, whereas light blue is best for denim shorts.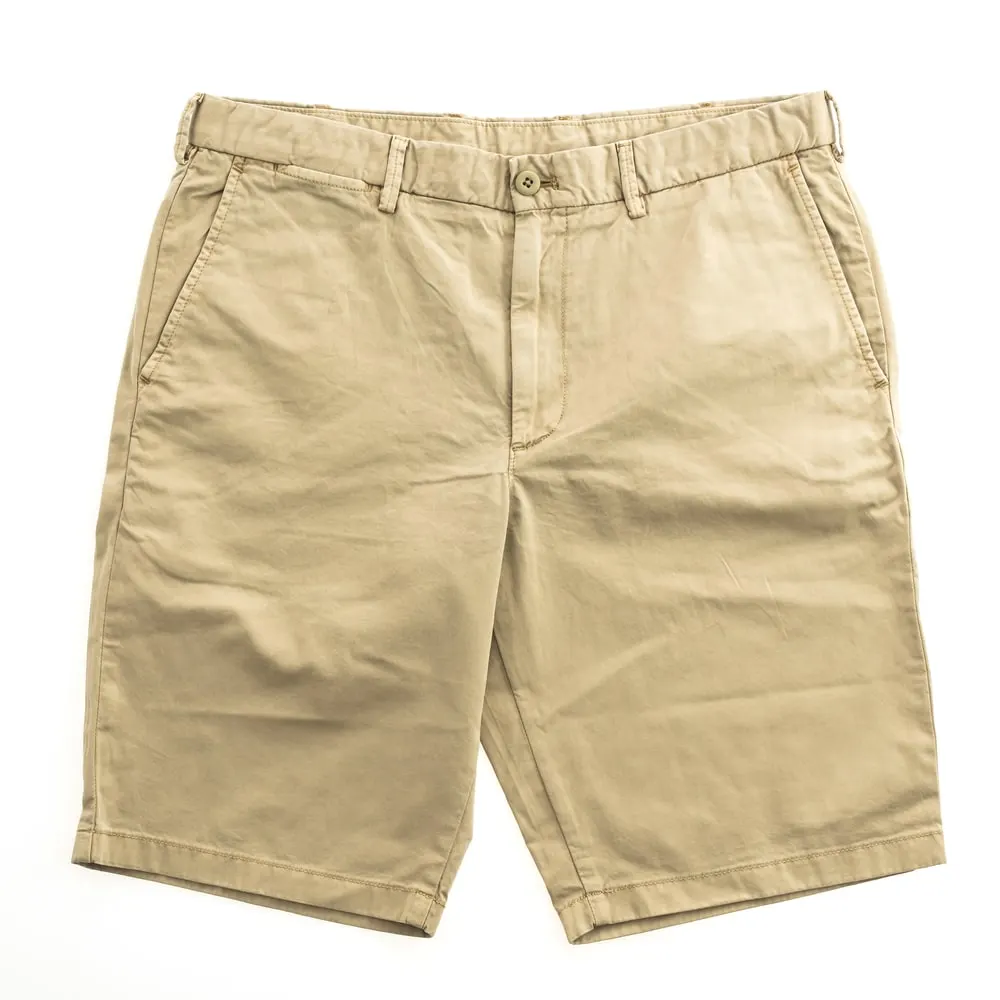 6. Ensure It's Appropriate
Dressing to suit the situation is crucial to looking good and prevents you from appearing awkward or stylistically clumsy.
The flannel-with-shorts outfit is overall a very casual one. Shorts are inherently casual garments, as are flannels.
Therefore, the outfit is – as a whole – best kept for casual situations.
The fact that flannels are a style of button-up shirt can be deceiving, as button-ups are often associated with formalwear.
However, this outfit isn't at all appropriate for anything of even slight formality.
This includes semi-formal, smart-casual, and business-casual settings.
Flannels and shorts are simply too casual to be worn here and should be treated as such.
Frequently Asked Questions
Here are some frequently asked questions to finalize the topic and help you really get a grasp of how to wear a flannel with shorts.
Can You Wear A Red Flannel With Shorts?
Red flannels are fantastic flannels to wear with shorts. Plain red flannels or red and black checkered flannels are both excellent choices. Go with lighter shorts and – if you wear the flannel unbuttoned – a white underlayer.
The red and black checkered pattern is one of the most popular flannel styles; however, block-colored red flannels look great, too.
Style them with light shorts – khaki shorts look particularly good.
Can You Wear An Open Flannel With Shorts?
Wearing an open flannel (also known as an unbuttoned flannel) is a great way to get a layered look – one that can be difficult to do with shorts. Ensure you wear a block-colored underlayer, keeping in mind that white almost always looks best.
Flannels are classic layering garments and look fantastic with shorts – despite shorts typically being more difficult to layer with.
Always go for a block-colored underlayer, as patterns or graphics can detract from the layered look and draw attention to the underlayer rather than the outfit as a whole.
White underlayers pretty much always look best due to white's ability to match with most garments – light or dark.
Can You Wear An Oversized Flannel With Shorts?
Oversized flannels with shorts can look good. However, make sure your flannel is only slightly oversized, as a significantly oversized flannel can cover your shorts. Also, if wearing an oversized flannel, always make sure you wear it unbuttoned.
A flannel that's far too big can look clumsy, even when everything else looks good.
That being said, flannels that are slightly too large create a fantastic layered look when left open.
Conclusion
Now you know how to wear a flannel with shorts. Stick to these guidelines, and you'll pull it off every time.