Khakis are renowned for being incredibly versatile and pairing with pretty much anything. So, can you wear cowboy boots with khaki pants?
Wearing cowboy boots with khaki pants is great for casual or manual labor-oriented workplace situations. Match your belt color to that of your boots and consider the style of shirt you wear. For the optimal look, avoid slim-fit khakis and leave your khaki pants untucked.
Although that's the short answer, there's much more to it.
Read on to discover 6 no-nonsense tips for wearing cowboy boots with khaki pants.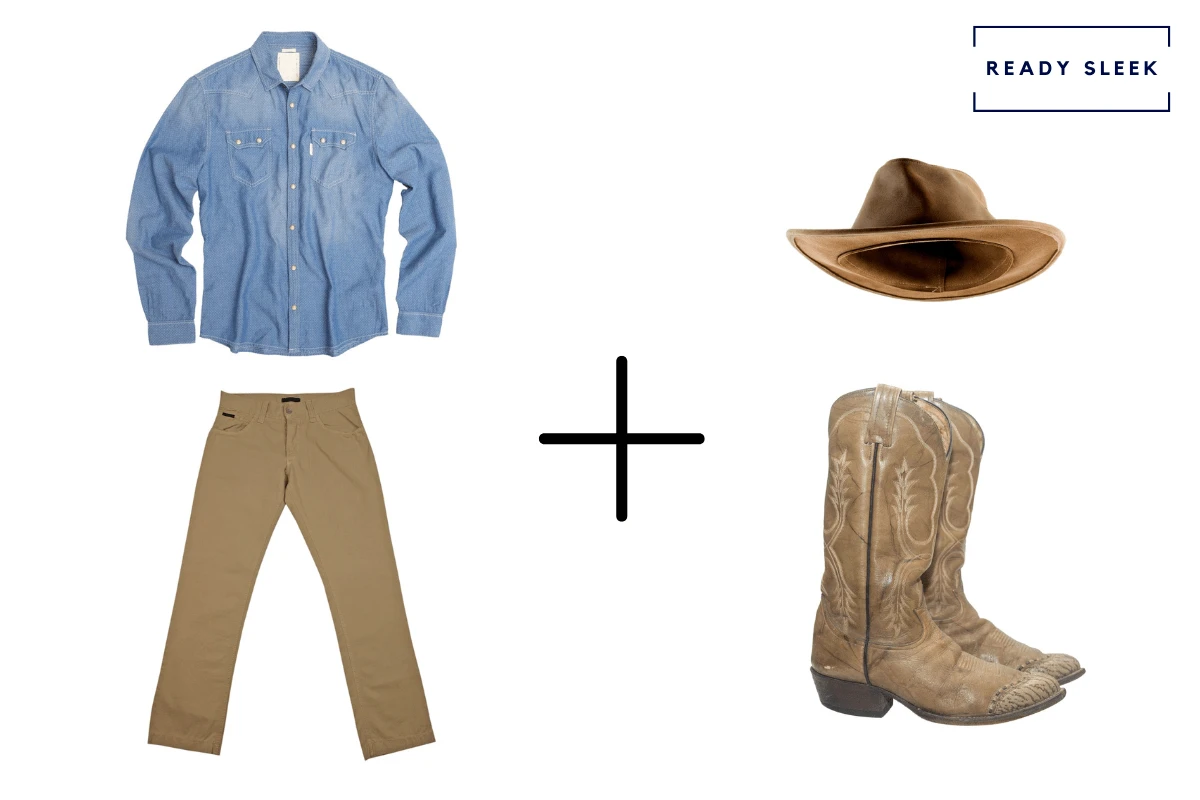 1. Leave Your Khaki Pants Untucked
When wearing khaki pants with cowboy boots, leaving your khakis untucked is essential.
While it may be tempting to tuck in your khakis to your cowboy boots, it's best to avoid it.
One reason to steer clear of tucking in your khakis is that it's simply uncomfortable.
Comfort is an important factor in looking good; feeling comfortable in your clothes allows you to feel comfortable in yourself.
If you're wearing clothes that you find uncomfortable, you'll be distracted by the discomfort. This is particularly true with footwear.
Another reason is that it's impractical and creates unnecessary problems.
For example, if you tuck your khakis into your boots, you'll be incredibly conscious about them becoming untucked.
2. Avoid Slim-Fit Khaki Pants
While slim-fit khaki pants are fantastic – even preferred – independently, when wearing khakis with cowboy boots, it's best to avoid slim-fit ones altogether.
This includes variations of slim-fit khakis, such as skinny and tailored-fit.
The main reason to avoid these is that when leaving your khaki pants untucked (as is recommended), cowboy boots can stretch and distort your khakis.
Moreover, slim-fit or similar khaki pants will have a bulge as far up as the boots go. This is sub-optimal and looks incredibly awkward.
Instead, there are two fit options that work well with cowboy boots: regular fit and boot-cut.
Regular-fit khakis are – as the name suggests – the standard khakis fit. They aren't too slim, nor are they too baggy.
This means that wearing your cowboy boots underneath your regular-fit khakis won't pose an issue.
The other fit option that works alongside cowboy boots is boot-cut.
Boot-cut pants are designed specifically to be worn with boots, making them perfect for this outfit.
Here's an example of khaki-colored pants on Amazon that would be relatively easy to wear over cowboy boots:
Boot-cut khakis successfully accommodate boots by having a slight flare at the bottom of them, providing space for the boots to sit comfortably.
The remainder of the pants is regular-fit, meaning the flared bottom doesn't appear out of proportion.
3. Match Your Belt To Your Boots
Wearing a belt isn't a necessity; however, it's highly recommended. Belts are incredibly practical accessories and look great when worn correctly.
One benefit of wearing a belt with khakis and cowboy boots is that, by preventing your khaki pants from slipping down, they won't drag on the floor or against the heel of your boots.
If deciding to wear a belt with cowboy boots, it's important to make sure the two items of clothing match.
For example, if you're wearing tan-colored cowboy boots, ensure you wear a tan-colored leather belt too.
Conversely, if going for the more unusual black cowboy boots, a black leather belt is the best option.
Color-matching your leather is important – particularly when the most common two colors are black and brown.
Black and brown mismatch infamously and should, therefore, be avoided together in most situations.
Having said that, it's becoming more acceptable to wear the two together in casual situations. The rule strictly remains, however, on formal occasions.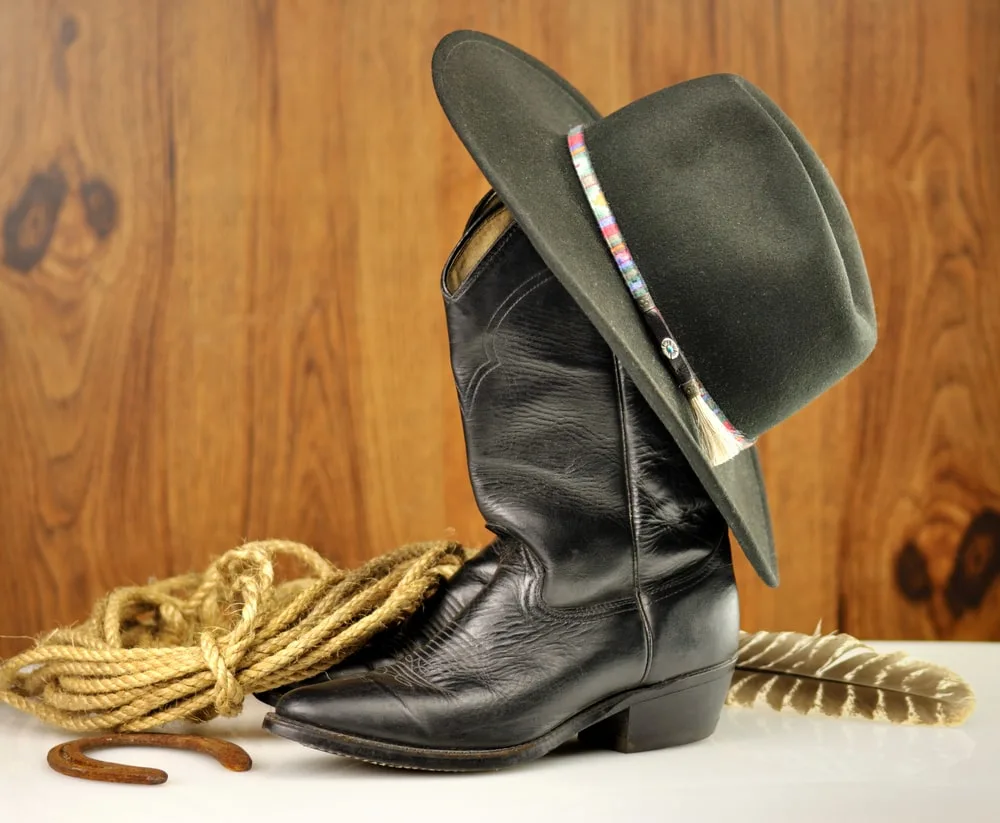 The impact of your belt's size on your outfit is criminally underappreciated.
Slim belts (1 to 1.5 inches wide) are significantly more formal than wider belts.
Wearing a slim belt with a casual outfit – or vice versa – creates a very noticeable, poorly put-together formality mismatch.
With this outfit, it's best to go for belts leaning more towards casual. This means wearing a belt that's 1 to 1.75 inches in width.
4. Steer Clear Of Formal Occasions
Wearing the wrong clothes for the wrong occasions can be detrimental and seen by some as disrespectful.
Therefore, it's best to ensure that you know the best clothes to wear for each formality level.
Cowboy boots can be appropriate for more formal situations – particularly those with a country theme, such as a country-themed wedding.
Having said that, they can just as easily be worn casually, and many people prefer to wear them as such.
Khakis, on the other hand, are pretty much only appropriate for events of a semi-formal formality level or less.
The versatility of cowboy boots means that there's little formality mismatch between the two garments.
However, it also means that this outfit, overall, is best for casual situations. And that it's best to steer clear of formal situations.
Semi-formal dress codes, on the other hand, can be a great time to wear cowboy boots with khaki pants.
But, if you do decide to wear it semi-formally, it's essential to pick the right shirt.
Furthermore, polishing your boots is pretty much crucial for wearing cowboy boots semi-formally, as scuffed, beat-up boots simply won't cut it.
5. Consider Shirt Style
Shirt style is an important element of wearing cowboy boots with khaki pants.
There are so many different shirt styles on the market that it can be difficult to know which one is best for your outfit.
In all honesty, the versatility of cowboy boots with khakis means that they can be worn with most types of shirts.
However, some are best kept for casual occasions, whereas others are fine in most scenarios.
For example, a plain T-shirt or a denim shirt are both ideal for casual wear – particularly with denim being such a staple for casual apparel.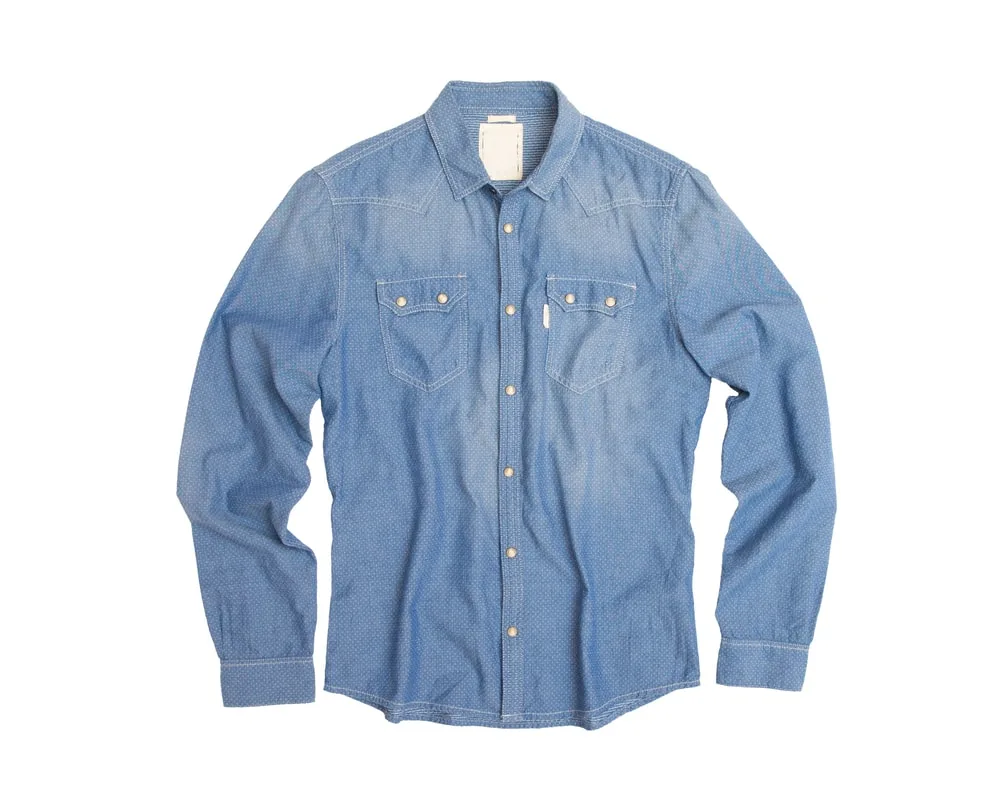 It may even be preferable to layer your denim shirt or flannel with a white T-shirt underlayer for a more casual outfit.
Button-up shirts are where most of the confusion stems from, as many consider them formal.
The truth is, there are many different types of button-up shirts, too; however, these can generally be split into casual shirts and dress shirts.
Casual shirts are typically shorter than dress shirts and can be found in bolder, brighter colors and patterns.
Sometimes, casual shirts can also be found with short sleeves or front pockets. These are particularly casual.
Dress shirts are found in subtler colors and patterns and rarely have any other decorative features.
Furthermore, dress shirts are longer. This allows them to be tucked in easily, without any discomfort or risk of them becoming untucked.
For casual situations, casual shirts are – unsurprisingly – the best choice, although dress shirts can work too if worn correctly.
Conversely, in semi-formal situations, dress shirts are the only viable option.
Remember that tucking in your dress shirt is essential, as is wearing a belt with your tucked-in shirt.
6. Think About The Color Of Your Shirt
The color of your shirt is just as important as your shirt style.
Choosing the wrong color can ruin your outfit and make you appear clumsy – regardless of how well you pull off the rest of the outfit.
Khaki is a neutral color. This means that it doesn't appear on the color wheel and pairs nicely with most other colors; it's versatile.
This doesn't mean, however, that you should disregard the color of your shirt because it's still important to get it right.
The best colors to wear with cowboy boots and khaki pants are red, shades of maroon, and blue. The neutral colors white and grey also work very well.
For semi-formal situations, light blue and white are the only colors that should be considered.
This is because they are traditionally more formal than the other mentioned colors and, therefore, dress up the outfit nicely.
Furthermore, they compensate for the somewhat casual nature of khakis.