Black sneakers and jeans are very common casualwear garments, and both are incredibly versatile. The question is, can you wear black sneakers with jeans?
When wearing black sneakers with jeans, it's important to consider the color of your jeans: blue or black jeans work best. Think about your jeans' fit and the formality of the situation. Black sneakers with jeans are incredibly casual.
While that's the gist, there's a lot more to it.
With this in mind, let's dig deeper.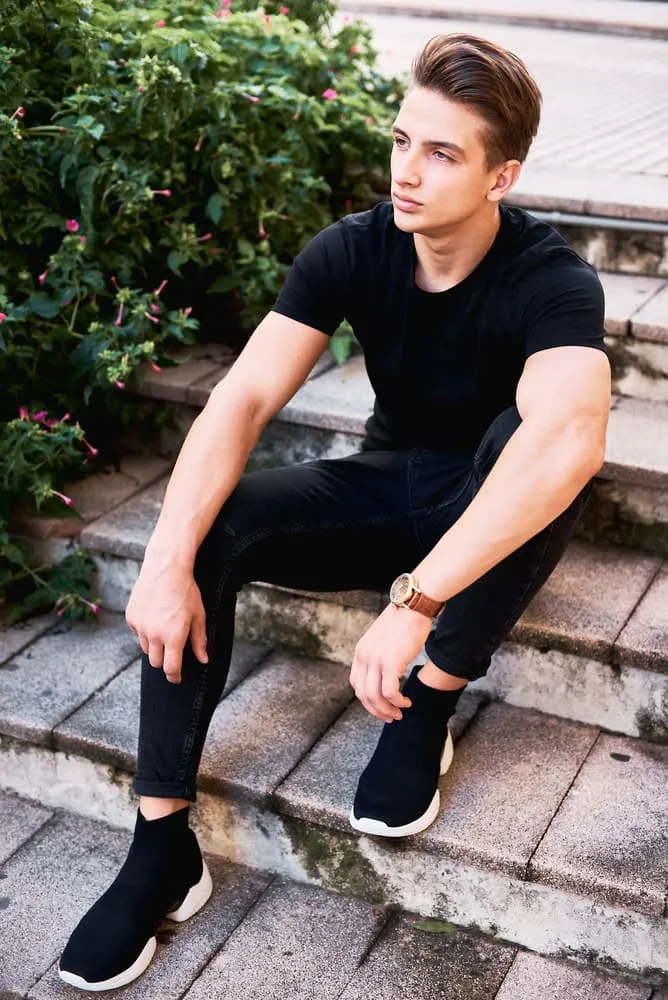 1. Blue Or Black Jeans Work Best
When wearing black sneakers with jeans, it's crucial to think about the color of your jeans.
While black is neutral enough to pair with potentially any jeans color, keeping things traditional and simple is often the best way to go.
Blue jeans may be the classic option, but black jeans are also incredibly common and pair perfectly well with black sneakers for a monochromatic combo.
Black sneakers and jeans are both individually such staples of men's casualwear that knowing how to wear them well together could be considered essential knowledge.
Traditional blue jeans look brilliant with black sneakers. They help create an outfit that is effortlessly casual, but often sharp and smart enough to wear in smart-casual settings.
For a more sophisticated, monochromatic look, black jeans look great with a pair of black sneakers.
If wearing visible socks with black jeans and black sneakers, it's best to stick to darker socks – avoiding light colors altogether.
Having said all this, gray jeans can also work very well with black sneakers. The neutral grey tones sync perfectly well with practically any pair of black sneakers you can think of.
The two pieces of clothing are very casual, so when combined, they create an incredibly casual outfit.
2. Fit Matters Too
The fit of your jeans is an important factor to consider when wearing black sneakers with jeans.
Jeans of the wrong fit can appear awkward or clumsy, whereas well-fitted jeans look sleek and elegant.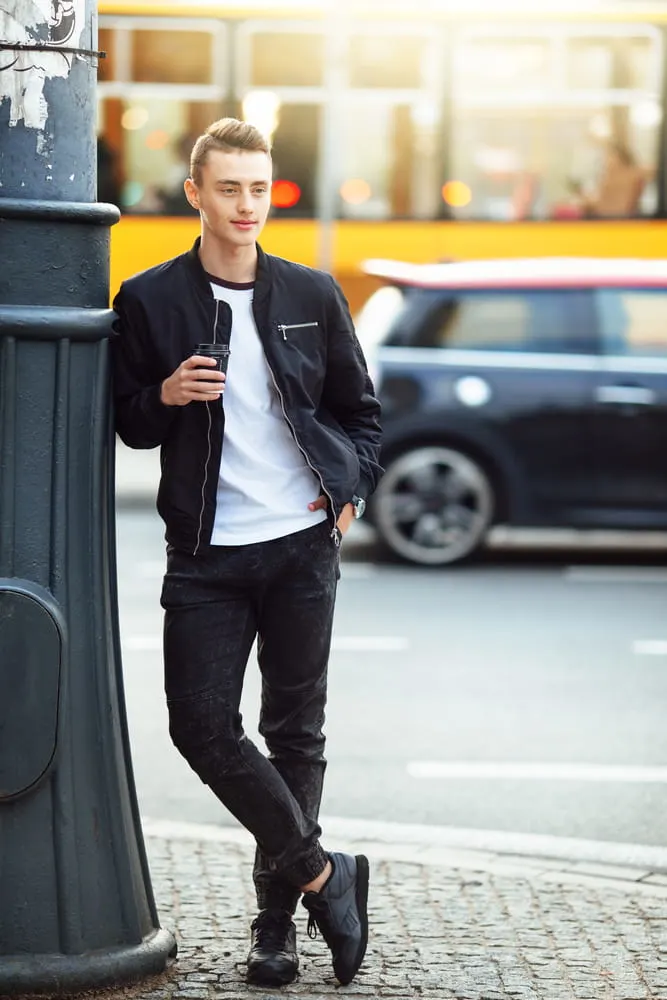 Despite there being recommended jeans fits, the fit that you use is entirely down to personal preference.
There are two ideal jeans fits to wear with black sneakers: slim fit and straight leg.
This is particularly true for black or dark gray jeans, as these colors are renowned for making you appear slimmer and taller.
Baggier jeans of this color counteract these benefits, throwing off the look.
While you can be a bit more lenient with the fit of blue jeans, slim fit and straight leg jeans are still optimal; they create a nice transition from your jeans to your black sneakers.
3. Decorative Stitching And Laces Work Well
When wearing jeans, black sneakers with white laces or white seam details can work exceptionally well. Converse sneakers are pretty well known for this black and white aesthetic.
If you wanted more color, consider laces in brighter or bolder colors such as red or yellow instead.
It'll add a pop of color to an otherwise neutral black sneaker and jeans combo.
Due to the incredibly casual nature of this outfit, it's possible to experiment with its different components.
To keep things more subtle, however, white details superimposed on the black sneakers do work best.
It creates an elegant contrast between the colors.
This kind of contrast is ideal for sprucing up a casual outfit.
It's essential to ensure you don't go overboard with these features. Doing so can detract from the subtlety of the outfit.
4. Consider Dressing It Up
While wearing black sneakers with jeans is a primarily casual outfit, there are things you can do to dress it up.
Dressing up this outfit can make it appropriate for situations in which it may not be otherwise acceptable.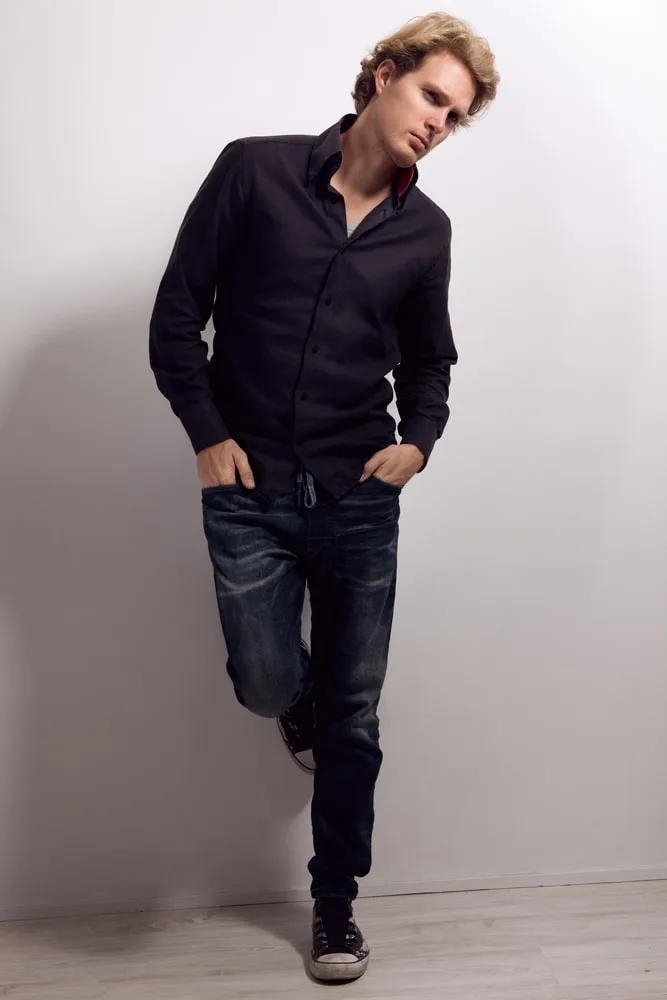 Or, it can be a great way of adding some formal personality to your casual outfit.
There are a few ways you can dress up this outfit. A common and straightforward way to do this is by wearing a blazer over your T-shirt.
It may seem odd, but jeans (particularly dark blue or black jeans) can be worn semi-formally if done correctly.
This means that, when coupled with a blazer, they create an elegant balance between formalwear and casualwear.
Furthermore, black is often associated with formal attire. Therefore, black sneakers subtly contribute to this more formal look.
Another way you can dress up this ensemble is by wearing a button-up shirt.
Button-up shirts can be worn casually, but many consider them more formal than the standard T-shirt.
This means that a button-up shirt is a perfect accompaniment to black sneakers with jeans.
Tucking in your shirt (whether you're wearing a T-shirt or button-up) is also a great way to dress up your outfit.
The full tuck is much more formal than its French tuck counterpart. However, both tucks look great with this outfit.
Tucking in your shirt using the full tuck is much simpler to do than the French tuck.
To pull it off, tuck in your shirt all the way around the waistline of your pants.
Tuck it in far enough that there's no bunching but little enough that it's still comfortable and not restrictive of movement.
The French tuck, while being slightly more difficult, is still incredibly straightforward.
Simply tuck in the front half of your shirt. Then, slightly off-center the shirt in one direction (whether it's left or right is up to you).
If using the full tuck, it's important to remember to wear a belt. Black belts with a silver buckle work best alongside this outfit.
5. Think About Your Socks
Socks are a pretty controversial matter in men's fashion. Some people rave about no-show socks, while others are fully committed to traditional crew socks.
There are also some socks that are somewhere in-between, such as ankle socks.
While it's entirely up to you which socks you choose, there are some guidelines that will help you wear them – regardless of the type of socks you wear.
No-show socks are becoming increasingly popular in men's fashion and work well with black sneakers and jeans.
If wearing no-show socks, the best tip to follow is to ensure they are truly "no-show." That is to say; they shouldn't be visible at all.
Visible no-show socks can appear like ankle socks, which should be avoided.
This is because ankle socks should generally be avoided on any occasion other than when participating in sporting activities.
When wearing crew socks, it's best to blend the color between your sneakers and jeans.
For example, when wearing black sneakers and standard blue jeans, dark blue half crew or crew socks work best.
Similarly, when wearing black sneakers and black jeans, black or charcoal half crew or crew socks are your best bet.
6. Ensure It's Appropriate
Black sneakers and jeans are both incredibly versatile garments. While typically associated with casualwear, they can be worn in smart-casual or semi-formal settings too.
Although, due to its common association with casualwear, it's important to understand when it's appropriate to wear this outfit and when it isn't.
Wearing it when not appropriate can make you appear underdressed and, in some cases, disrespectful.
Avoiding this is crucial, and, therefore, it's essential to know when this outfit is suitable.
Without dressing it up, you can wear this outfit to any casual event. Jeans and sneakers are a casual staple, so they will near enough always be acceptable in such situations.
However, you should avoid this outfit at events of formality level as little as semi-formal, as it's simply too casual.
Having said this, when dressed up – with a blazer or button-down, for example – this outfit can be acceptable for semi-formal occasions.
Ensure your jeans are dark blue and that your black sneakers have no extra details, such as white laces or decorative stitching, if wearing this outfit semi-formally.
You should always avoid this in settings that are any more formal than semi-formal.
Avoid it in business-casual, business-professional, and formal settings.
This is because, while the jeans may be acceptable, the sneakers dress down the outfit too much for it to work.