Khakis epitomize the business-casual aesthetic, but their versatility is often underestimated. There are plenty of shirt styles you could wear them with. The question is, can you really wear a black polo with khakis?
A black polo can easily be worn with khaki pants, with cotton pique polos working especially well. Tucking the polo into the khakis works well to produce a nice and tapered silhouette, ideal for smart-casual settings.
If you wanted a quick answer, that should do it. But there's a good chance you'll need a whole lot more.
Read on to see different ways in which you could wear this combination, as well as some essential tips for getting it right.
Let's get to it.
3 Black Polo And Khakis Outfits
We're going from the dressiest way to wear it, to the most casual.
Enjoy.
Dressy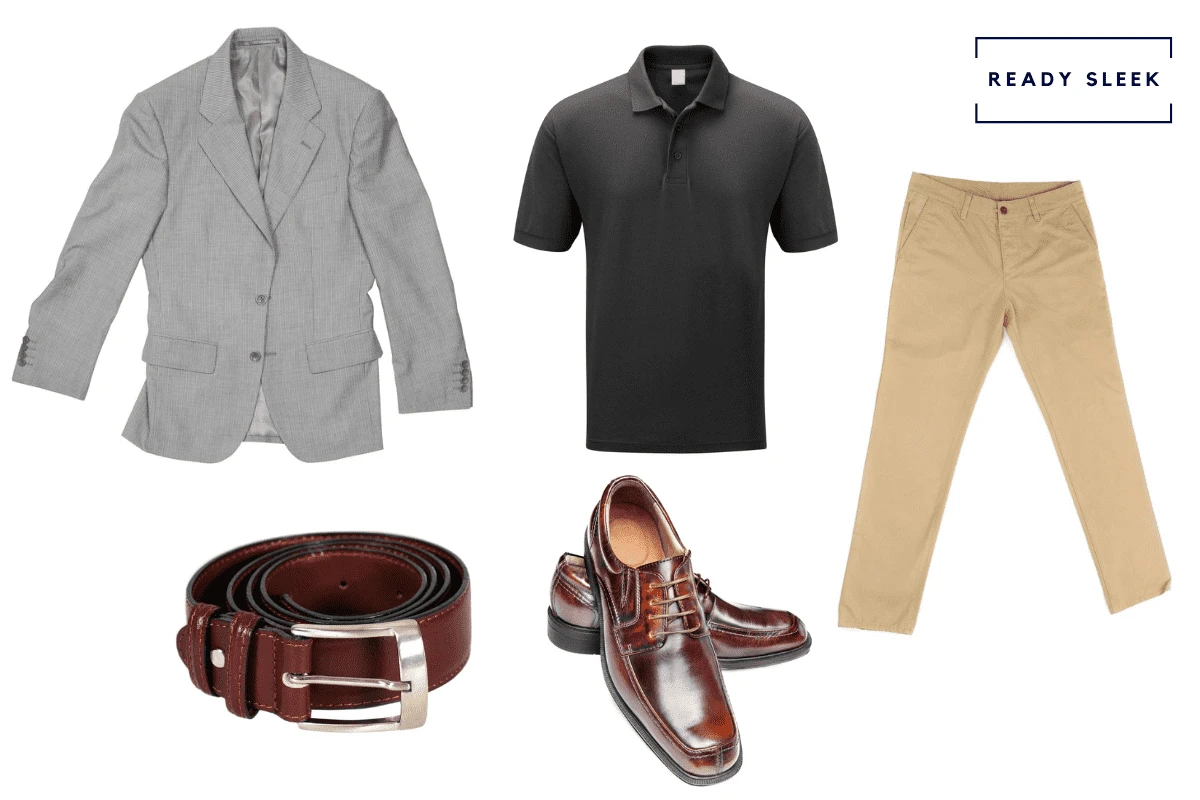 Items: Black Polo, Khakis, Grey Blazer, White Pocket Square, Oxblood Belt, Oxblood Dress Shoes
Wearing a blazer with a polo shirt isn't as easy as you may think. The typically stubborn placket and collar of a polo often conflict with the lapels of a blazer.
But it can definitely work well. The trick is to choose a relatively casual-looking blazer made from a rough/rugged fabric or weave like linen, tweed, serge, or flannel.
The rugged texture of the blazer fabric will sync well with that of the (likely cotton pique) polo.
Ultimately, a blazer is a great way to dress up a black polo and khakis combo. Grey is perfect because it's neutral and will effortlessly combine with both black and khaki.
Tie things up with a pair of dress shoes – here we've gone for an oxblood pair of bluchers and a matching belt.
More Casual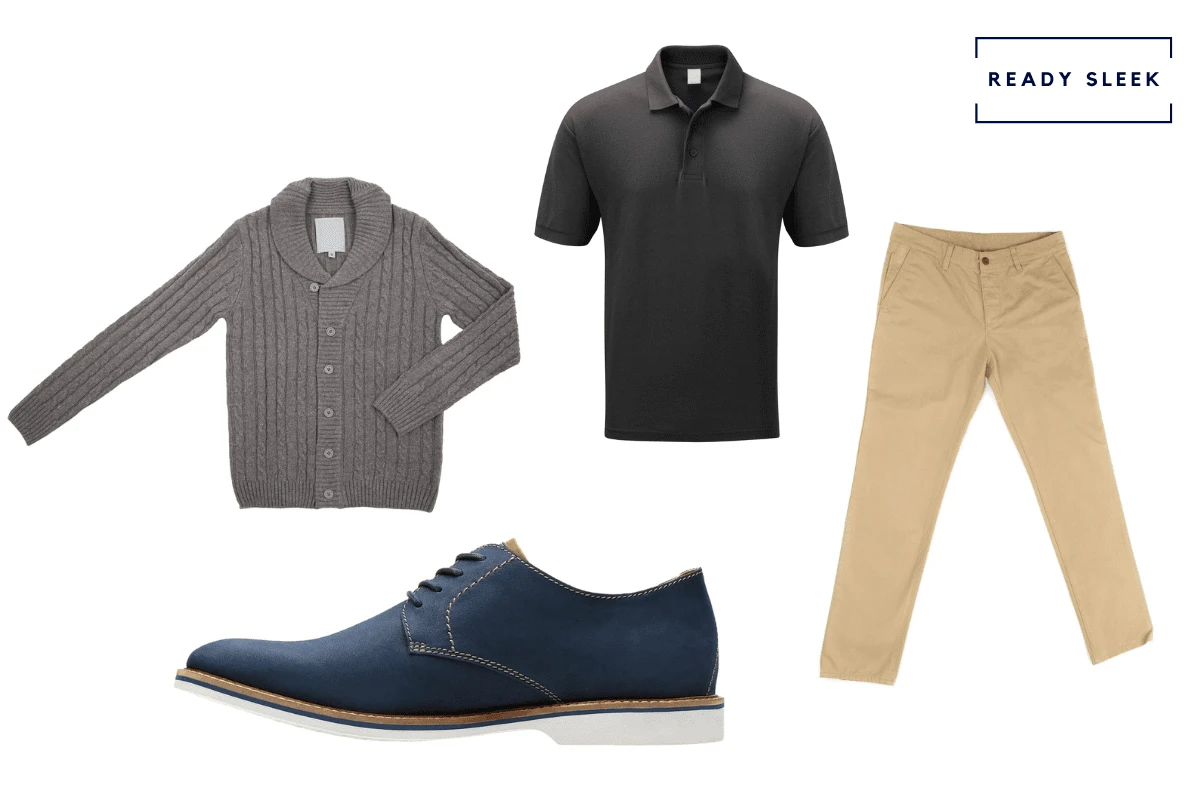 Items: Black Polo, Khakis, Cardigan, Blue Suede Shoes
Here, we're dressing down a little.
Instead of a blazer, we've layered a light cardigan over the polo. The great thing about a cardigan is that it'll rarely ever conflict with the polo collar.
It'll layer effortlessly over it, producing a stylish smart casual ensemble.
As we're dressing down, feel free to go for a more vivid cardigan color if you'd prefer.
However, sticking to a dark and muted color here works especially well because it'll coordinate effectively with the dark tone of the black polo.
Finally, consider a pair of suede dress shoes to finish up.
Notice how the napped texture of the suede navy shoes looks a lot more laid-back than the dressier appearance of the oxblood bluchers in the previous example.
Suede shoes work great with khakis because the texture of chino cloth is (kind of) similar to suede.
Most Casual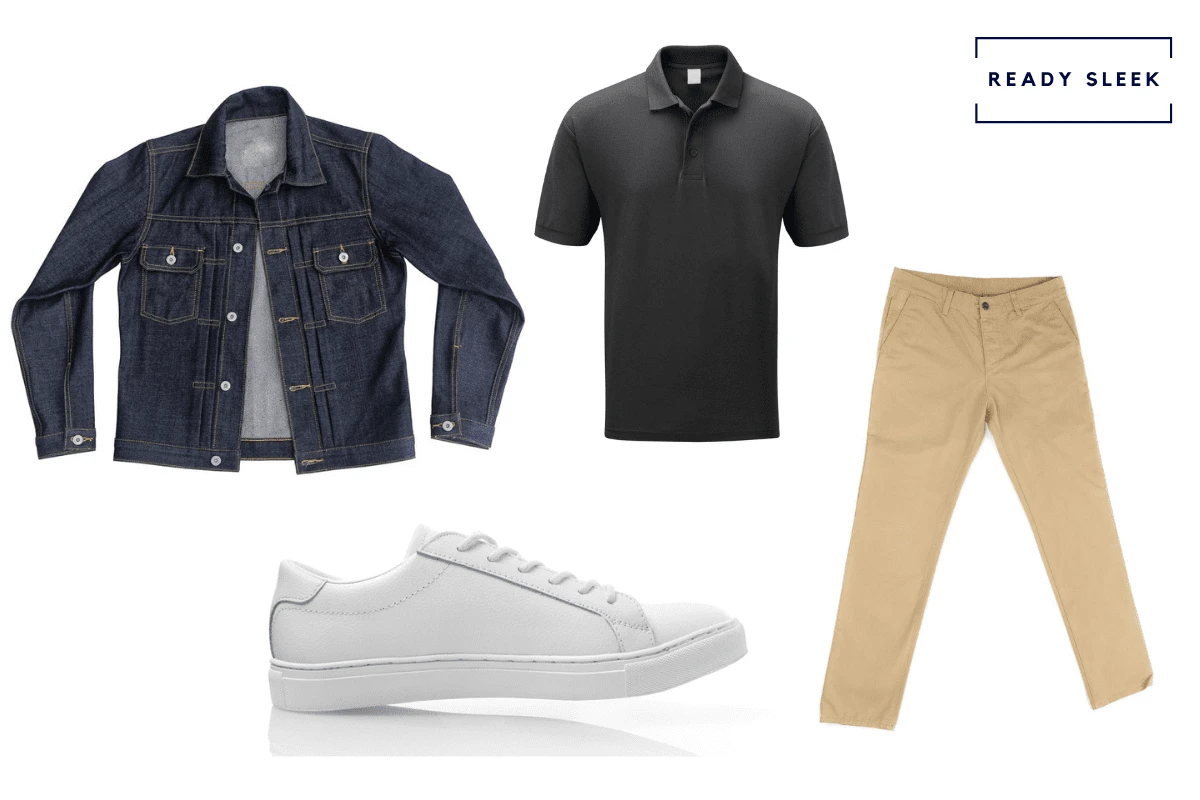 Items: Black Polo, Khakis, All-White Leather Sneakers, Blue Denim Jacket
This incredibly simple yet effective combination is a great way to dress down a black polo and khakis outfit.
A pair of all-white leather sneakers will work well because they'll contrast the black polo while keeping things nice and neutral.
To add a pop of color, consider a blue denim jacket or overshirt to layer over the black polo.
Much like with a blazer, you can sometimes get an issue where the polo collar stubbornly refuses to stay put under the collar of the jacket, but it usually isn't as much of an issue.
Overall, a denim jacket or overshirt is a great way to embrace a casual aesthetic.
5 Tips For Wearing A Black Polo With Khakis
Here are some great tips for wearing this combination the right way, no matter what you may be dressing for.
Consider The Black Polo Fabric
Polo shirts can be made from a variety of different fabrics. Certain polo fabrics tend to suit the texture of the khakis better than others.
Here are the most common polo fabrics you're likely to common across:
Cotton Pique – Soft double weave. Breathable, absorbent, and durable.
Polyester – Moisture-wicking, light, and smoother to the touch.
Jersey – A cotton fabric. Sustainable, but very light and airy.
Silk – Less common. Durable, light, and shiny.
Most would argue that cotton pique polo shirts tend to look best with khakis, simply because the textures sync well with each other.
Pique is a knit fabric with a very intricate and textured pattern resembling a cellular structure. It almost looks quilted.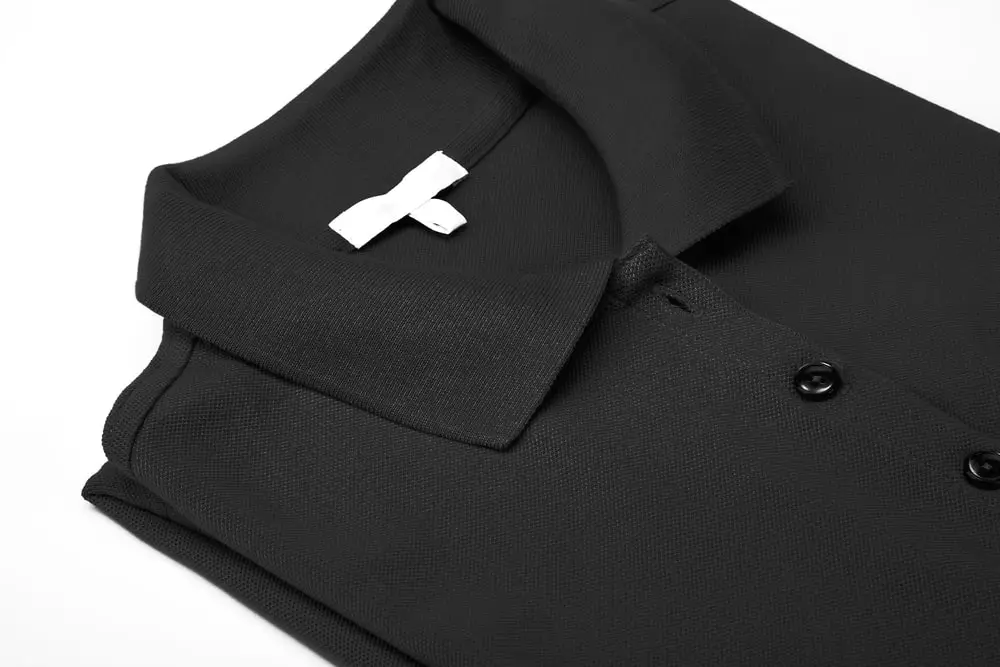 It feels great to the touch.
While you could confidently wear a polo made from any of the other fabrics/weaves, there's something about cotton pique that just works so well when wearing khakis.
Having said that, if you were wearing khakis on the golf course, it's quite likely you'd be better off wearing a golf polo.
These are typically made from polyester. The moisture-wicking fabric is ideal when playing on a golf course.
So, it isn't just the aesthetics to consider. You'll also need to think about function.
Tuck The Black Polo Into The Khakis
Polos generally look great when tucked into khakis and black polos are no exception.
While this isn't a hard-and-fast rule, it's hard to deny that you can add a notch of sophistication to any polo outfit simply by tucking it in.
As you tuck it in, the polo will wrap closer to your body creating a more tapered silhouette up top.
We'll talk more about silhouettes in the next part.
But strongly consider tucking the polo in if you'd prefer more of a "smart-casual" look.
Consider The Silhouette
The "silhouette" is the shape an outfit takes as it hangs off of your body. It doesn't take into account the color, the details, or anything else.
It simply looks at the shape. As you can imagine, the fit of your items will play a large role here.
A black polo and khakis outfit can take the form of a variety of different silhouettes.
If you'd prefer a more relaxed silhouette, consider going for more of an oversized polo with a wide-leg pair of khakis.
In contrast, if you'd prefer a more tapered silhouette, consider a slim-fit polo shirt and a slim or straight-leg pair of khakis.
In addition, tuck the polo into the khakis to taper the silhouette even further at the waist.
Overall, neither option is "correct".
Relaxed silhouettes tend to look more casual than tapered silhouettes, as you can imagine.
But personal preferences should be taken into account, as well as the dress code or the setting you're attending.
Try Breaking Up The Outfit With A Belt
A belt could be a great way to break up the black polo and khakis outfit and add a touch of contrast (if you wanted to do this).
It's more important when tucking your polo in, simply because the belt will actually be visible.
You could technically go for any belt color you wanted – ultimately, the black polo and khakis are neutral enough to coordinate with anything.
But keeping things simple and subtle is the easiest way to remain stylish and avoid tackiness.
Consider a black belt if you'd prefer to keep things uniform with the polo.
If you'd prefer to break the outfit up a little, consider a belt in a shade of brown that's noticeably different from that of the khakis.
Choose The Right Shoe Color
Black and brown shoes look great when wearing a black polo with khakis to smart-casual and business-casual settings.
Remember, when wearing leather dress shoes, you'll need to make sure you're coordinating them with the belt.
If you've gone for a black belt, wear black shoes.
If you've gone for a brown belt, wear brown shoes.
Brown shoes are a great option because they'll coordinate seamlessly with khaki (which is ultimately just a very pale shade of brown).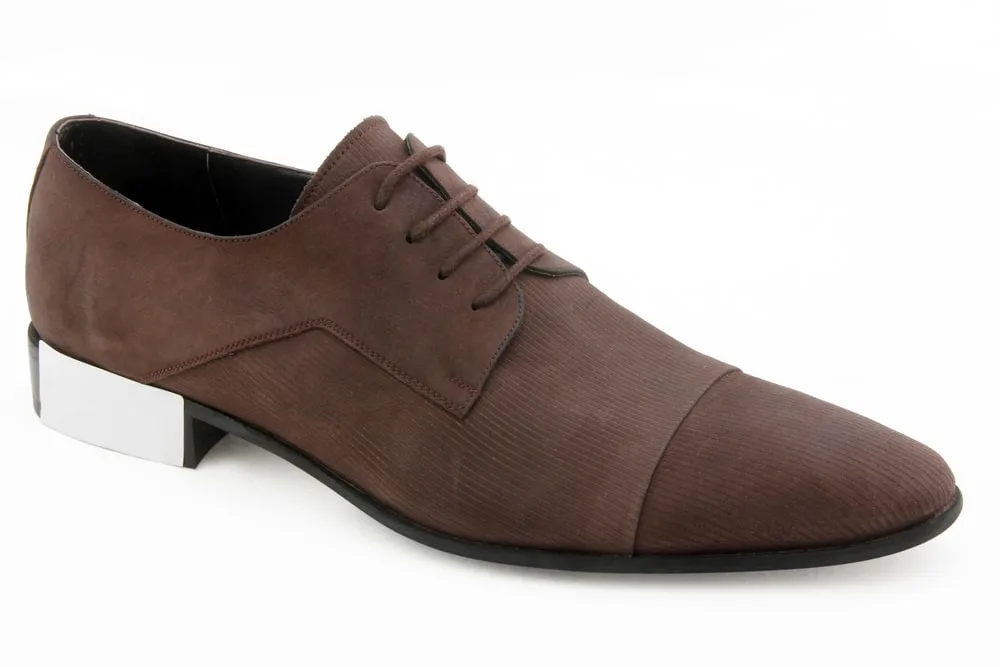 They'll also add more contrast to the outfit than a pair of black shoes would.
The style of shoes you wear with your black polo and khakis should mainly be determined by the dress code.
Bear in mind that Oxford shoes will usually look too formal to wear with a polo combination. Consider a more "casual" style of dress shoe instead.
Options include Derby shoes, monk straps, and loafers.
To dress down further, consider suede instead of a shinier grain of leather. As mentioned earlier, suede dress shoes look great with khakis due to the textures syncing well.
Conclusion
While it's hard to get wrong, there are definitely things you can do to make sure you get it right.
Hopefully, you're now several steps closer to wearing it perfectly no matter what setting you may be dressing for.
Consider the fit and fabric of the polo, the silhouette you want to create, as well as the other items you choose to wear.
Enjoy.

Ready Sleek founder. Obsessed with casual style and the minimalist approach to building a highly functional wardrobe. Also a fan of classic, vintage hairstyles.