It can be difficult to know what to wear with tweed due to its rugged texture and often unstructured appearance. So, can you wear a tweed jacket with jeans?
Wearing a tweed jacket with jeans makes for a great smart-casual outfit. Consider a button-up shirt underneath your tweed blazer or even a turtleneck during the colder months. Consider the color of your jeans; lighter jeans are typically more casual.
While that's the gist, there's much more to it.
That being said, let's dig deeper.
6 Tips For Wearing Tweed Jackets With Jeans
Here is a list of the best tips and tricks to successfully wearing a tweed jacket with jeans. Stick to these, and you'll nail it every time.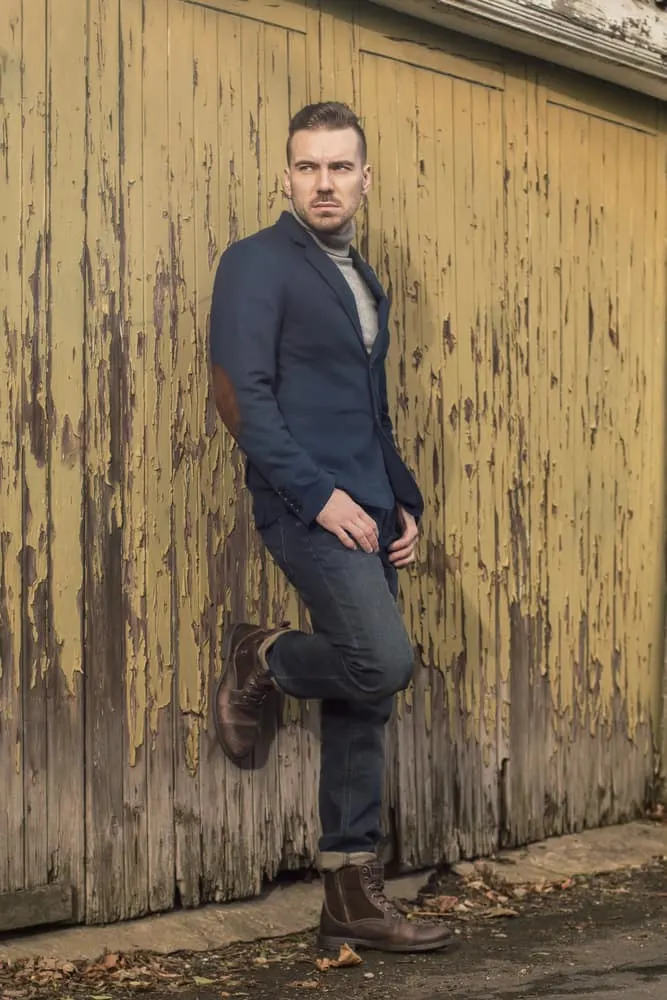 1. Consider A Button-Up Shirt
Knowing the best garment to wear underneath your jacket can be difficult. After all, there are so many different shirt styles on the market.
When wearing a tweed jacket with jeans, a button-up shirt is an optimal underlayer for your jacket.
Whether you go for a casual or dress button-up is down to personal preference; however, remember to consider if you'll be tucking in your shirt.
If you wear just a T-shirt underneath your tweed jacket, there'll sometimes be a formality mismatch.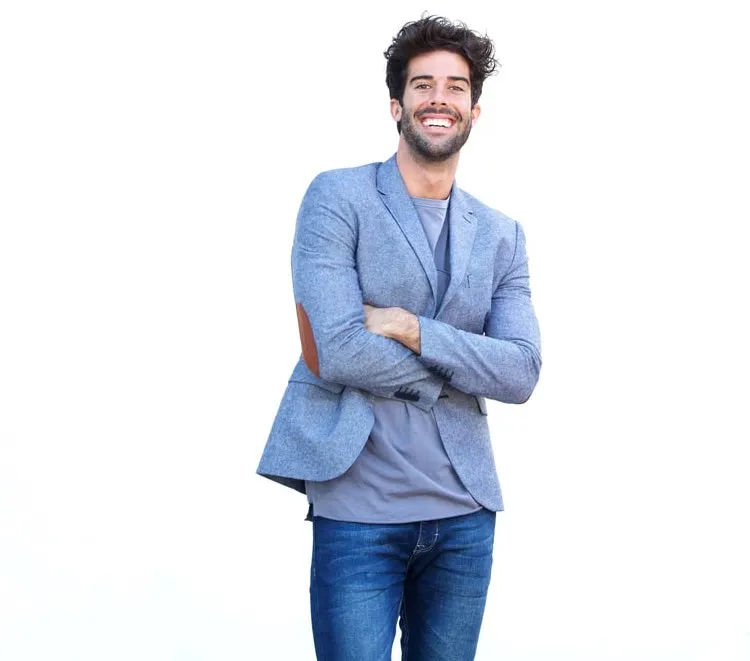 Wearing jeans and a T-shirt is very casual, and simply throwing a tweed blazer over the top often differentiates it too much in formality.
It can work, but is a little riskier.
Therefore, the best option to wear under your tweed blazer is a button-up shirt of some variety.
Ensure your shirt's collar sits underneath your jacket to avoid looking awkward.
Lighter shirt colors are ideal with this outfit, with colors such as white, cream, off-white, and sky blue being optimal.
If you wish for a more layered look, consider wearing a sweater under the tweed jacket.
Turtlenecks look sophisticated and stylish under tweed jackets but would only be appropriate during the colder months of the year.
2. Avoid Bow Ties and Neckties
Often, when the recommendation is wearing a button-up shirt – notably a dress shirt – you'll also be advised to consider wearing a bow tie or necktie.
This is not the case when wearing a tweed jacket and jeans.
Tweed jackets are typically more casual than your standard blazers, and it goes without saying that jeans are a staple of casual wear.
Ties and bow ties, on the other hand, are heavily associated with formal attire.
This means that, by wearing a bow tie or necktie with this outfit, you'd be inappropriately dressing up the outfit.
That is to say, there'd be a formality clash between the jeans, the blazer, and the tie.
Furthermore, when worn incorrectly, tweed can come across as quite extravagant.
Wearing a neckpiece with tweed can exert unnecessary flamboyance.
Because of the lack of a necktie or bow tie, it's critical that you leave one or two of your top shirt buttons undone.
Doing so will not only be more comfortable but also subtly add a relaxed, more casual vibe to the ensemble.
3. Boots Look Great
When wearing jeans with a tweed jacket, an important factor to consider is the style of shoes you wear.
It's essential to get the balance between casual and formal, and rugged and elegant, just right.
Leather boots look fantastic with a tweed blazer and jeans – particularly those with a discreet formal edge to them, such as Chelsea and chukka boots.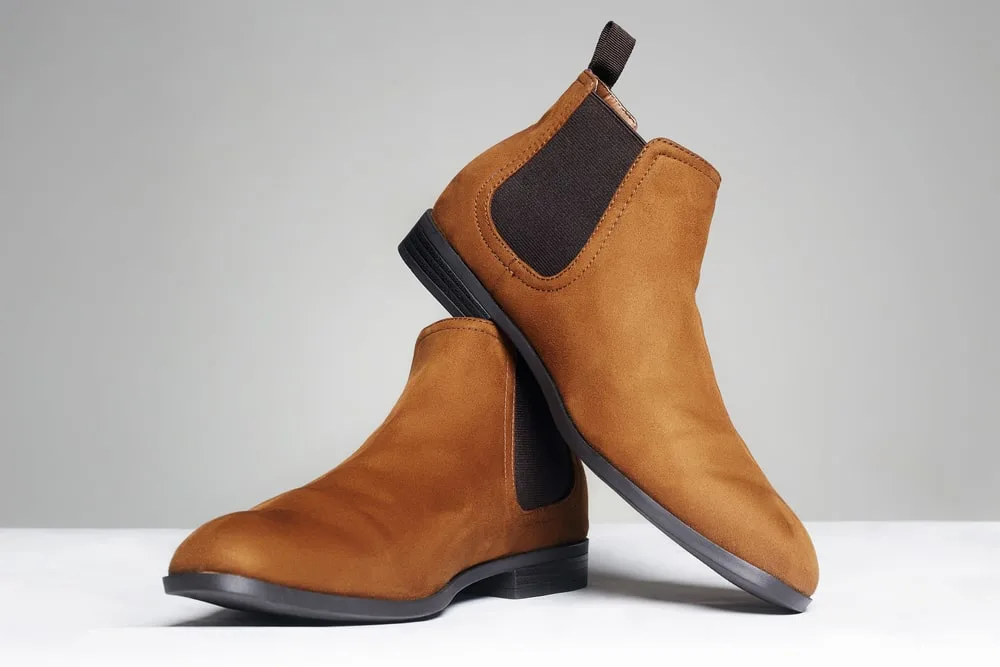 Not only do they bridge the gap between formal and casual attire, but they also match the ruggedness of a tweed jacket, making them an ideal match for this outfit.
Brown suede works especially well.
Remember that, as a general rule, the darker the shade of brown, the more formal the boot.
When wearing black jeans, a pair of black Chelsea or chukka boots would make for a phenomenal monochromatic pairing.
It's both elegant and sophisticated while maintaining a sense of robustness matching that of the tweed jacket.
4. Consider Jeans Color
Another factor to think about is the color of your jeans.
Jeans come in a variety of colors, washes, and distressing, each with its own formality level.
It is, therefore, important to understand the optimal jeans to wear with your tweed jacket.
When wearing a tweed blazer with jeans, it's best to stick to black and shades of blue and avoid any distressing.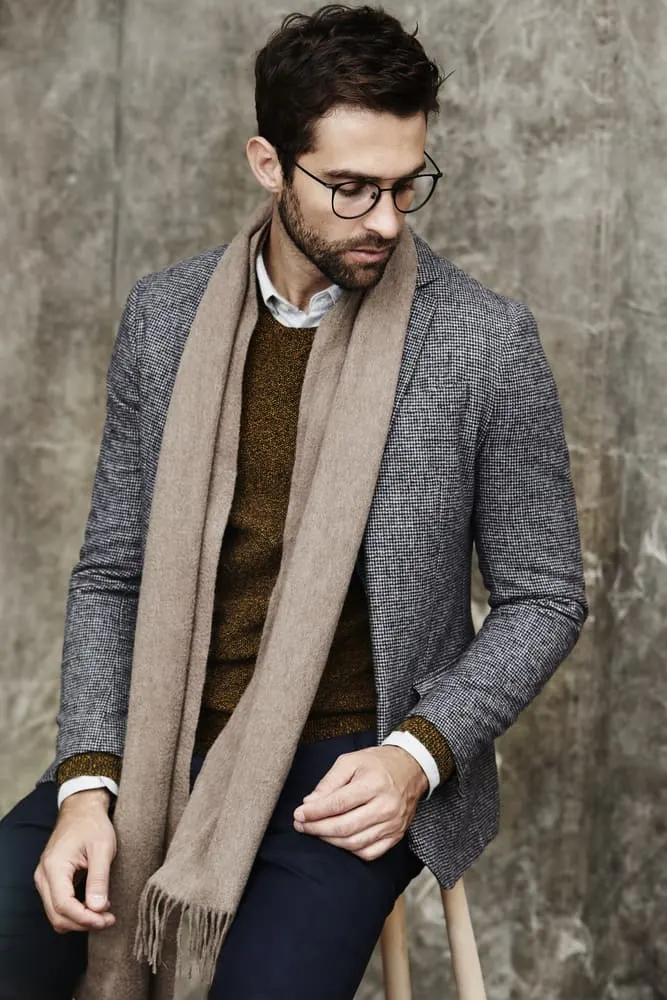 Distressing usually looks too informal for this outfit, and you should always steer clear of it.
It just risks a formality mismatch between the jeans and the blazer.
Similarly, denim of anything other than black, grey, or blue would be too casual.
Black jeans are very versatile and go with many different garments.
While they aren't formal per se, they can be dressed up or down more easily than many other jeans colors.
Blue is the standard color for denim and is also a fantastic option to wear alongside a tweed jacket.
Remember that, generally, the darker the shade of blue denim, the more acceptable it is for smart-casual attire.
In short, lighter blue jeans are more casual, while darker blue jeans are more formal.
So, the optimal shade of blue for your jeans depends primarily on the formality of the situation.
5. Tuck In Your Shirt
While it may seem a minimal factor, tucking in your shirt (or not) can have a significant impact on your overall look.
It can be difficult to know when is best to tuck in your shirt, as well as which tuck to use.
When wearing a tweed jacket with jeans, it is – as mentioned – best to wear a button-up too.
This means that the outfit leans more towards smart-casual than casual. Therefore, it's best to tuck in your shirt with this outfit.
While you could wear a dress shirt, casual button-up shirts in linen, Oxford cloth, or poplin are similarly appropriate and work well with the rugged texture of tweed.
Generally speaking, there are two tuck styles: the full tuck and the French tuck.
The full tuck is the best one to use with a tweed jacket and jeans, as the French tuck is too informal.
Simply tuck your shirt in around the entirety of your waistline.
Remember that when wearing a full tuck, it's important to also wear a belt.
6. Ensure It's Appropriate
Finally, it's essential to make sure the outfit is appropriate for the given situation.
Every occasion has its own dress code and expected attire, and it's important to get it right. Or else, you risk appearing disrespectful or stylistically clumsy.
This outfit is best suited to smart-casual or semi-formal occasions, assuming you're using the previous tips.
While it is possible to dress down this outfit, it really shines in smart-casual situations due to the formal nature of a blazer.
That being said, tweed isn't the most formal textile, so it's best to avoid strictly formal situations.
Similarly, while they can be dressed up, jeans are casual garments, which is another reason it's best to avoid occasions with a formality level of anything more than smart-casual.
Frequently Asked Questions
Here are some frequently asked questions to really round off this topic.
Can You Wear A Tweed Jacket With A Waistcoat And Jeans?
It's possible to wear a tweed jacket with a waistcoat and jeans. Try to ensure that the waistcoat matches your blazer perfectly, or else the outfit will look clumsy.
Also, go for black or dark blue jeans with no distressing to maximize the formality of the look.
Wearing a waistcoat alongside a blazer really elevates the formality of the outfit.
It is, therefore, best to ensure that – alongside your tweed jacket and waistcoat – your jeans, shoes, and shirt are similarly dressy.
Can You Wear A Tweed Sport Coat With Jeans?
You can wear a tweed sport coat with jeans. Go for a button-up shirt underneath, and consider wearing a sweater too. Wear light or dark blue jeans – depending on the formality – and remember that brown leather boots work great with this outfit.
Tweed sport coats pair effortlessly with jeans for a smart-casual look.
Conclusion
Wearing a tweed jacket with jeans is a fantastic smart-casual or semi-formal look that you now know how to pull off with style.
Enjoy.