The problem with men's style is that many of the rules are either unspoken or widely debated. When it comes to tucking shirts in, this is definitely true. So, should you tuck or untuck your shirt when wearing a blazer?
Dress shirts should always be tucked when wearing a blazer as the long hem will look awkward untucked, especially when it's longer than the blazer itself. T-shirts, polo shirts, and Henley shirts can be left either tucked or untucked under a blazer.
You'll probably have guessed by now that there's a whole lot more to it. Whether or not you should or shouldn't do it depends on certain factors.
Let's go through those factors now. At the end, I'll also give you some tips for leaving your shirt untucked under your blazer if you feel you can do it.
How To Know Whether To Tuck Your Shirt In With A Blazer
Consider these factors before deciding whether or not to do it. It'll depend on all of them, but there's a good chance that one or two of them may be more important to you.
1. Style Of Shirt
As a general rule, the more formal the shirt is, the more important it becomes to tuck it in.
Dress shirts should always be tucked in under a blazer for that very reason.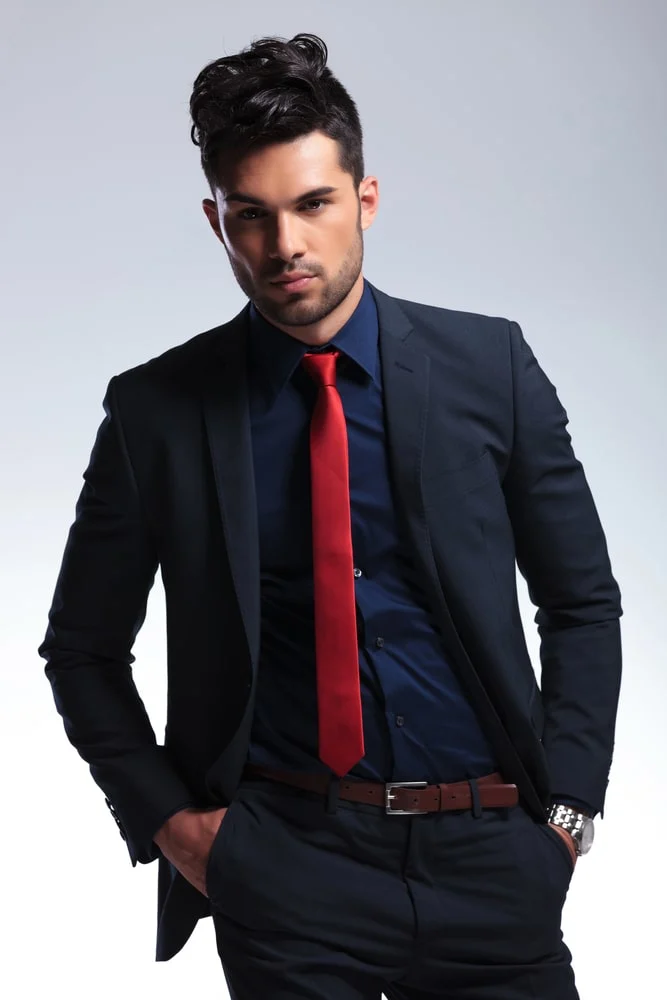 But it's hard to deny that shirts, no matter how casual they may be, often look great when tucked in under a blazer.
Blazers may not necessarily be "formal", but they'll usually fall more toward the more formal end of the spectrum.
Because of this, even casual shirt styles like T-shirts, polo shirts, and Henley shirts look better when tucked in.
However, it isn't essential to tuck in a casual shirt style like this under a blazer or sports coat. You've got the option of doing either here.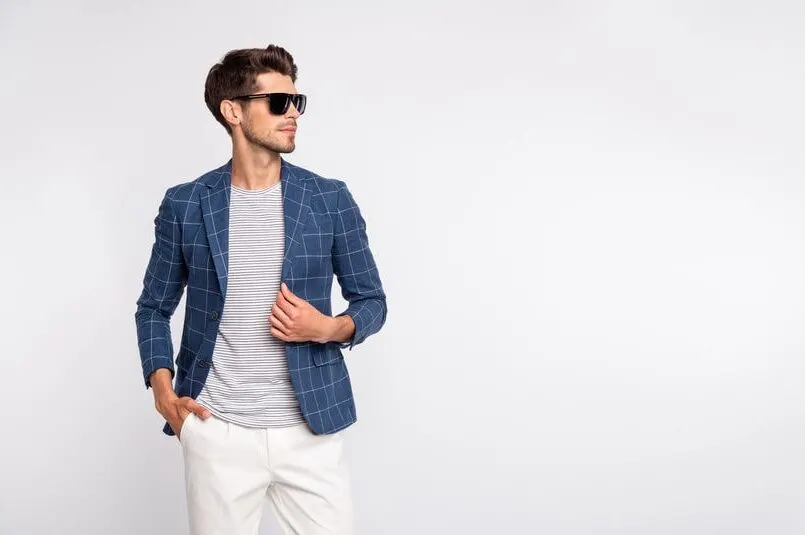 But the more formal your shirt style, the more important it becomes that you do tuck it in when wearing a blazer.
Dress shirts are the obvious style this refers to here. They usually have a long and contoured hem that looks odd when left untucked. They're actually designed that way to make them easier to stay tucked.
So, if your shirt is clearly a dress shirt, always tuck it in regardless of whether or not you're wearing a blazer.
Oxford shirts (OCBDs) fall into a bit of a grey area here. They're a notch more casual than dress shirts thanks to the rugged texture of Oxford cloth.
You could, in theory, leave an Oxford shirt untucked under a blazer without it looking too strange. Overall, however, it'll usually look better tucked in.
2. Length Of Shirt
Tuck the shirt in if it's longer than your blazer or sport coat – it's an easy rule to remember that'll always serve you well.
That goes for any style of shirt ranging from casual ones to formal ones.
An untucked shirt that reaches below the jacket's hem is never a good look.
But it isn't just the length of the shirt that you should take into account.
The more formal shirt styles such as dress shirts and even some OCBDs may have a long and contoured hem at the back to make it easier to tuck in.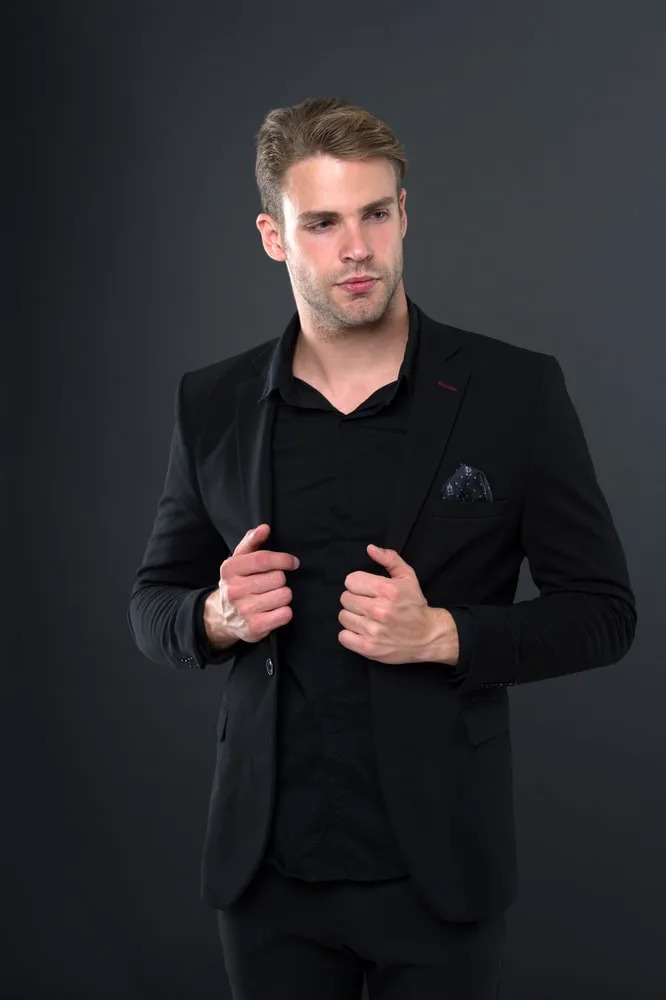 These should always be tucked in, even if they don't actually reach below the blazer's hem.
The sweet spot for an untucked shirt would be reaching below the waist but not as far as the hem of the blazer.
3. Dress Code
Finally, consider the dress code of the setting you're going to when making your decision.
The more "formal" the setting, the more likely it is that you should probably tuck your shirt in when wearing a blazer or sport coat.
Ultimately, you probably won't be dressing for a truly "formal" setting because a 2-piece suit would be necessary at a minimum and a blazer and pants combo won't be appropriate.
But blazers work great in smart-casual and business-casual settings. The specific dress code may actually influence whether or not you choose to tuck your shirt in.
If you're dressing for "smart-casual", there's a good chance you could leave your shirt untucked – assuming that it's a style of shirt that isn't designed to be tucked in (i.e a dress shirt).
A blazer with an untucked T-shirt, polo shirt, or Henley shirt would probably be fine.
Would it look better with those shirts tucked in? Most likely, yes. But it isn't essential. You could easily get away with it and it would probably look good.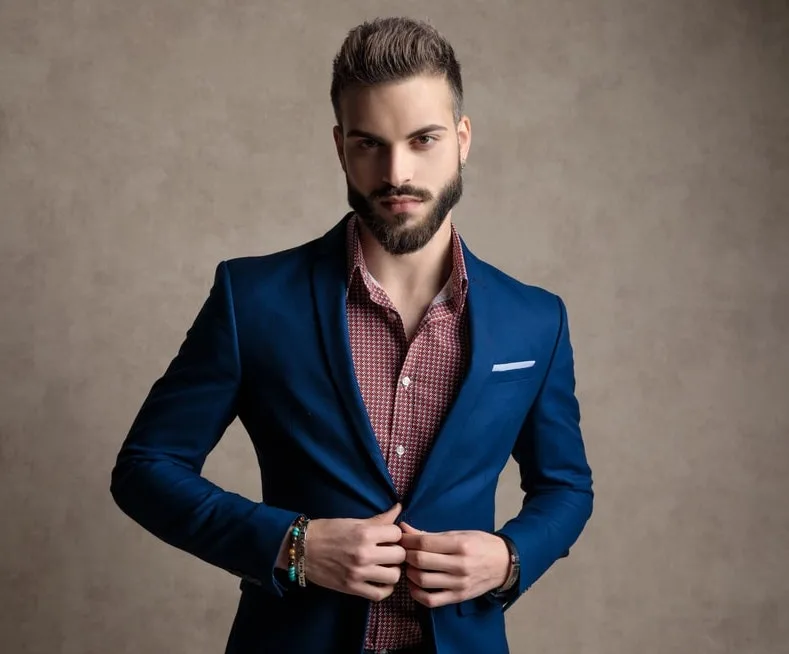 But if you're wearing a shirt and blazer for "business-casual", you'll want to be more careful here.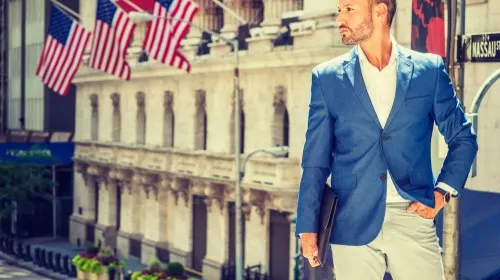 It's usually best to always tuck your shirt in when dressing for business-casual no matter what it may be. It could be a dress shirt, Oxford shirt, or even a polo shirt.
But the dress code is formal enough to make tucking your shirt important.
How To Wear Untucked Shirts With Blazers (If You Can)
If you've gone through the factors listed above and decided that it's fine to wear your shirt untucked with your blazer, stick to the following tips to make it work.
1. Get The Shirt: Blazer Ratio Right
As I mentioned earlier, make sure your jacket is longer than your shirt. If it's longer than the jacket it'll throw the whole outfit off balance.
It's never a good look.
Untuckit (not sponsored) is a great company that's turned this niche principle into a science. They've crafted shirts of the perfect length and with the perfect hem to be left untucked.
2. Add Color Contrast
With the untucked shirt and blazer combo being a pretty casual aesthetic, try to embrace it by adding some contrast between your shirt and blazer colors.
You could contrast them by choosing a light-colored item and a dark-colored item. Or, you contrast them by choosing a muted/neutral item and a pastel item.
For example, a classic navy blue blazer with an untucked off-white OCBD shirt.
Or, a pale pink blazer with an untucked white polo or T-shirt.
You've got plenty of options. But take the opportunity to add a degree of contrast to make the outfit look more interesting as a whole.
3. Chinos And Jeans Work Well
When wearing a blazer and an untucked shirt, choose a more casual pant style like chinos or jeans.
Chinos are ideal for business-casual and smart-casual settings. They're a notch less formal than dress pants but can still perfectly hold their own.
The cotton twill chino cloth is still rugged enough to not look too formal and will pair well with many styles of casual untucked shirts.
Jeans are a notch less formal than chinos and would work well in smart-casual settings.
It's best to go for jeans in a dark wash with a tapered fit and minimal distressing to make sure they don't look too casual for the blazer.
Conclusion
There you have it. Hopefully, everything you need to know to make a decision that many people find difficult.
To sum it all up, always tuck in a dress shirt when wearing a blazer. With more casual shirt styles, whether or not you should will mainly depend on the length of the shirt, as well as the dress code.
Ready Sleek founder. Obsessed with casual style and the minimalist approach to building a highly functional wardrobe. Also a fan of classic, vintage hairstyles.