While it may seem like the perfect combination, getting it wrong can look more than a little awkward. The question is, can you wear loafers with jeans?
Loafers can be worn with jeans and the combination often works well. It's important to ensure that the casual nature of jeans doesn't conflict with the more formal loafers. Stick to suede penny or tassel loafers and avoid overly distressed jeans to make sure they blend well together.
Although that's the gist, I wanted to dig deeper with more specific advice.
Here are some tips to see you through whenever you feel like pairing loafers with jeans.
Let's get to it.
Make Sure It's Appropriate
There are plenty of occasions where wearing loafers with jeans would be completely inappropriate.
It's important to recognize this right from the start to avoid any embarrassment.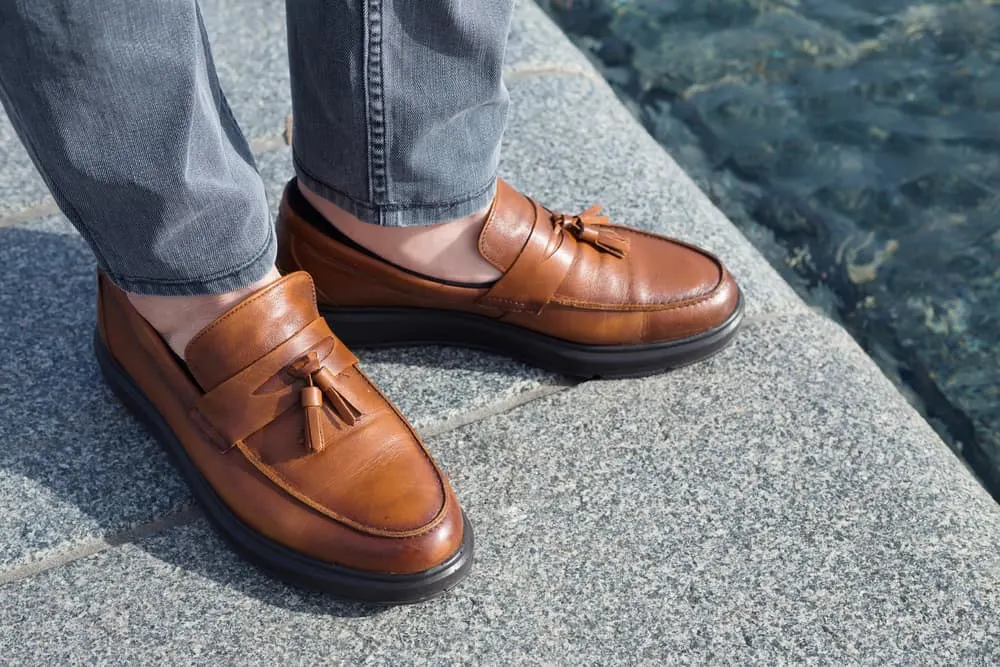 Here are the main "dress codes" where jeans and loafers would be fine:
Casual – Although the combination isn't exactly athletic wear, it would still be considered casual. Jeans are a staple of casualwear.
Smart Casual – A notch up from "casual", we're referring to occasions such as nights out, mid-range restaurants, first dates, and so on.
When going for smart-casual, it's important to pair the right jeans with the right loafers. We'll talk about that more later on.
Here are some dress codes where jeans and loafers would not be appropriate:
Business Casual – It's a pretty common mistake. Jeans and loafers would be too casual for this dress code. Chinos, loafers, and an OCBD shirt would be a more appropriate ensemble.
Business Professional – A formal dress code would usually need a full suit at the very least.
Cocktail Attire – A little more relaxed than business attire, with some splashes of color and flair. But a suit would still be necessary.
To sum that up, whenever you're wearing jeans – think casual or smart-casual. It's the "jeans" part of the jeans and loafers combo that makes it casual.
While loafers would usually be fine for "business casual", the jeans would make it too casual.
Loafers can be worn to work and worn with suits (if done properly), jeans simply don't fit the formal and business-professional profile.
Choose The Right Loafer Material
Suede loafers work better with jeans than leather loafers do.
When wearing loafers with jeans, it's important to make sure the loafers look casual enough to blend with the casual nature of jeans.
Loafers come in different styles, colors, and materials. In general, they're a very versatile type of shoe.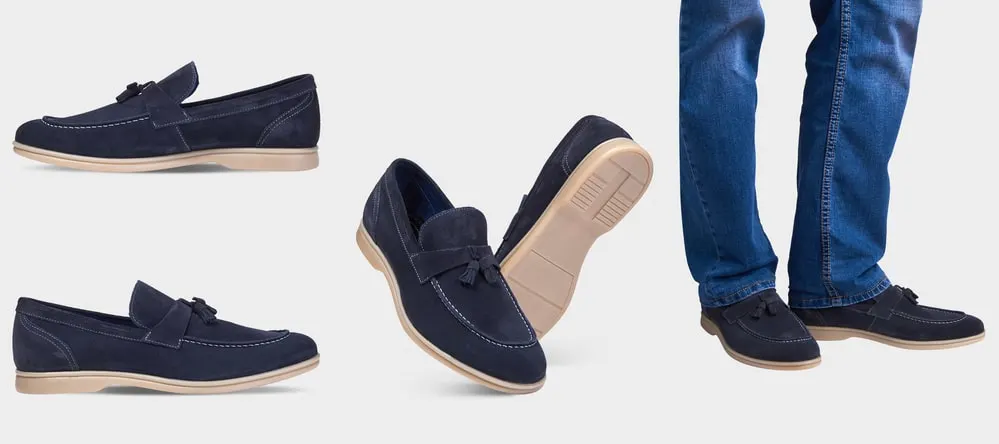 But there are definitely certain loafers that look more casual than others.
Jeans will always look casual given the rugged texture of jeans. It's important that the loafers look casual enough to combine with the jeans in a way that doesn't seem awkward or out of place.
The loafer material you choose is important here.
In general, suede or nubuck loafers will look better with jeans than leather loafers will, given the rugged texture and lack of shine.
While leather loafers can work too, they can sometimes look too formal when combined with the classic casual appearance of jeans.
Choose The Right Loafer Style
Penny loafers and tassel loafers work better with jeans than horsebit "Gucci" loafers do. They simply come across more casual than the glossier Gucci loafers.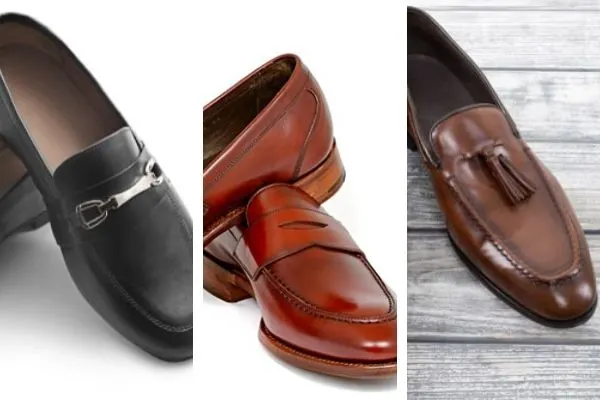 Once again, it comes down to making the loafers look casual enough to work with jeans.
Horsebit loafers – also known as "Gucci" loafers are thought to be the most "formal" type of loafer. They're named as such because of the shiny metal piece or "horse's bit" on the vamp.
Don't get me wrong, they still wouldn't be considered as formal as Oxfords, Derbys, or even monkstraps.
But they're still more formal than penny loafers and tassel loafers.
In general, avoid wearing horsebit loafers with jeans if possible. Even the suede ones have a pretty glossy look to them due to the metal bit. It often looks a little out of place with jeans.
Instead, go for suede penny loafers or tassel loafers – both of which are versatile and work well with both casual, smart-casual, and even business-casual dress codes.
Penny loafers are arguably one of the most versatile pairs of shoes a man could own. Tassel loafers look more decorative and often more casual than penny loafers.
But both of them would be perfectly fine to wear with jeans. Once again, although leather could work with each of them, suede or nubuck will work better.
Choose The Right Jeans
Suede loafers can work well with many types of jeans including skinny, straight leg, bootcut, and slim fit jeans. Avoid wearing ripped jeans or overly distressed jeans as they often look too casual to wear with loafers.
Choosing the right pair of jeans is just as important as choosing the right pair of loafers.
While all jeans should be considered casual wear, there are definitely certain types of jeans that look more casual than others.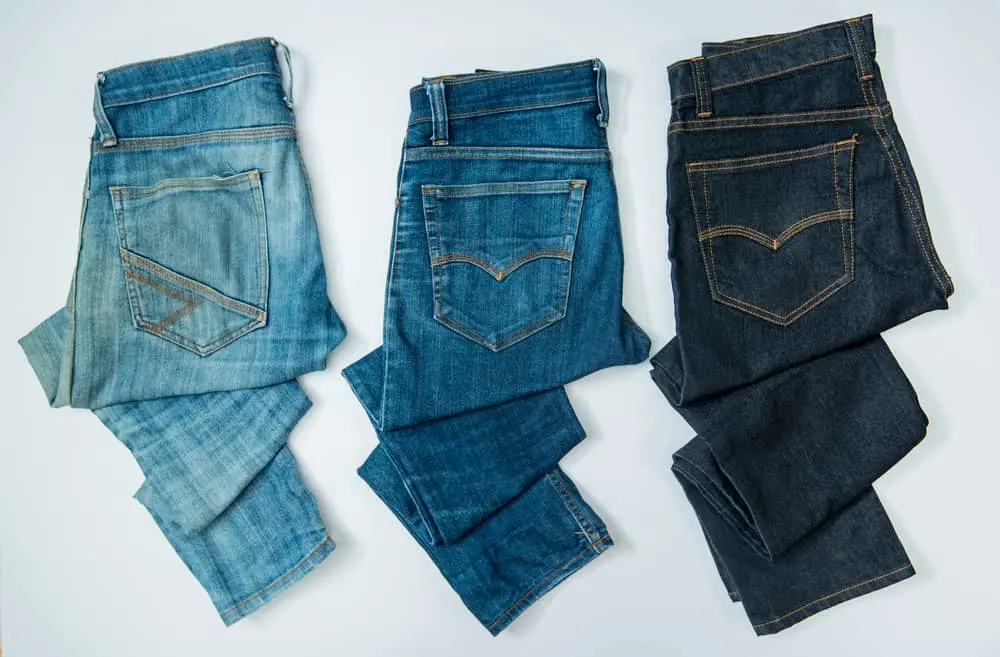 Overall, the fit of the jeans doesn't make much of a difference. Most of them work fine with loafers.
Bootcuts flare from the calf down to the ankle and often work well draped over a pair of loafers.
Both skinny and slim fit jeans pair well with loafers.
But the problems start when there is simply too much distressing of the denim itself. This can sometimes lead to them looking too casual to wear with loafers.
"Distressing" refers to manufacturing a "worn-out" look to the jeans to give them a vintage aesthetic.
While it can work great for casual dress codes, overly distressed, ripped, or stonewashed jeans often look too casual to wear with loafers.
To sum that up, if you want to play it safe when wearing loafers, minimize distressing.
Go For Minimalist Colors
Sticking to neutral and minimalist colors should help to ensure that the jeans look formal enough to pair well with the loafers. Dark blue, black, and white jeans can work well with loafers.
Sticking to minimalist colors is usually a good option here to ensure the loafers and jeans color match well.
Minimalist or "neutral" colors include:
Charcoal, navy, white, olive, brown, grey, sage, and black.
Sticking to these colors should ensure that you don't have any noticeable clashes – you want the jeans and loafers to blend as seamlessly as possible.
Too much of a contrast may lead to the jeans appearing too casual for the loafers or vice versa.
In general, sticking to a shade of brown for your loafers is a good way to go. It's the most versatile option, giving you a little more scope for experimentation with your jeans.
Having said that, try to stick within the "neutral" color scheme for your jeans to make sure there it all blends.
Bolder and brighter colors will stand out more than neutral colors will – in some instances, this may be exactly what you want.
But it will always be more of a risk – the main risk being a mismatch in formality between the loafers and the jeans.
Choose The Right Shirt
T-shirts, polos, and Henley shirts work well with jeans and loafers because they don't come across as too formal. Dress shirts should never be worn with loafers and jeans and Oxford shirts generally look better with chinos.
Although there aren't any "rules" when it comes to wearing shirts, loafers, and jeans, you do want to be careful when it comes to formality.
Remember – jeans and loafers work best for casual and smart-casual settings.
Always bear this in mind when putting together the rest of the outfit. Even after pairing the right loafers with the right jeans, it's still possible to mess things up with the rest.
T-shirts, polos, and Henleys strike the right balance here. If you're dressing "casual", a T-shirt would be more appropriate, while polos and Henleys would work better for "smart-casual".
Overall, all of them do work well with loafers and jeans because they're casual enough to pair well with the jeans.
Oxford shirts (a.k.a OCBD shirts) are fantastic for smart-casual and business-casual settings. While they can be worn with a more "formal" looking pair of jeans, the combination often looks a little awkward.
They work better with chinos or slacks.
Dress shirts are simply too formal to be worn with loafers and jeans – the shiny woolen texture just conflicts too heavily with the rugged denim.
Consider Cuffing The Jeans
Cuffing the jeans can work very well when wearing loafers. It's a great way to give more exposure and prominence to the low-cut shoes.
It's completely down to personal preference.
Cuffing will always look more casual than not cuffing. Just bear that in mind. If the occasion you're dressing for is a little more on the smarter end of the smart-casual spectrum, it's probably best to leave them uncuffed.
But cuffed jeans and loafers can look great, particularly for summer-y, outdoors events such as casual garden parties.
Here's an article I wrote that'll teach you how to cuff or pinroll the right way. Although it's specifically about chinos, the technique is exactly the same when it comes to jeans.
Wear Socks Or No-Show Socks
When wearing loafers with jeans, always wear socks for hygiene reasons. Short crew or crew socks should be worn if the jeans are left uncuffed, while no-show socks should be worn if the jeans are going to be cuffed.
Ultimately, the point here is that socks should always be worn. What varies is whether you should wear "normal" socks or no-show socks.
It all comes down to sock height. In other words, how high up your calves the socks actually reach.
The reason this is important when it comes to loafers is that they leave quite a lot of the foot and ankle exposed.
Because of this, the socks you choose are even more important.
Wearing loafers with uncuffed jeans and no-show socks can look a little strange when you sit down and those jeans start to ride up and expose the ankles.
Because of this, if you're leaving the jeans uncuffed, go for short crew or crew socks.
Short crew socks reach just above the ankle, usually hitting the lower calf. Crew socks end at approximately the level of the mid-calf.
But if you're cuffing the jeans, you're intentionally exposing the ankle in any case. In these instances, wearing visible socks (such as short crew socks or crew socks) can often ruin the aesthetic you're going for.
A better option would be to wear no-show socks. As the name suggests, these are socks which don't show. They're designed to be invisible but are still there.
It'll expose the top of the foot and ankles when the jeans are cuffed, but it comes across as intentional and stylish.
Sticking to this tip, as well as the others in this list should help to ensure that the jeans and loafers you wear work well together.
Enjoy.
Ready Sleek founder. Obsessed with casual style and the minimalist approach to building a highly functional wardrobe. Also a fan of classic, vintage hairstyles.