Choosing to ditch the tie from your formal or professional attire can be a bold but stylish way to dress down. But is it possible to continue wearing your pocket square without the tie?
Pocket squares can be worn without a tie. When doing so it's important to pay closer attention to color, fold, and fabric, and use them to complement other accessories.
To better elaborate, the pocket square is traditionally worn to complement and accent the colors of a tie. So, without a tie, the pocket square tends to become the central accessory.
That means you'll need to pay closer attention to the way they complement or clash with your suit, jacket, blazer, and other accessories.
We've put together 7 tips to help you rock the pocket square without a tie.
Let's take a look.
7 Tips For Wearing A Pocket Square Without A Tie
Although there may be things to consider a little more closely when wearing a pocket square without a tie, it's also important to know that the tieless nature of your suit allows you to be more creative with your pocket square as well.
1. Consider A Louder Fold
In the absence of a tie, you have the opportunity to let your pocket square do the talking and stand out as a powerful stylish element.
While it might feel safer to stick with a low profile straight fold, we'd recommend something a little bolder. Of course, you'll still want to loosely base it around how formal the event or location might be.
If you've chosen the tieless suit, try the simple one tip up fold. This is a classy but simple look that will maintain a sense of formality and authority.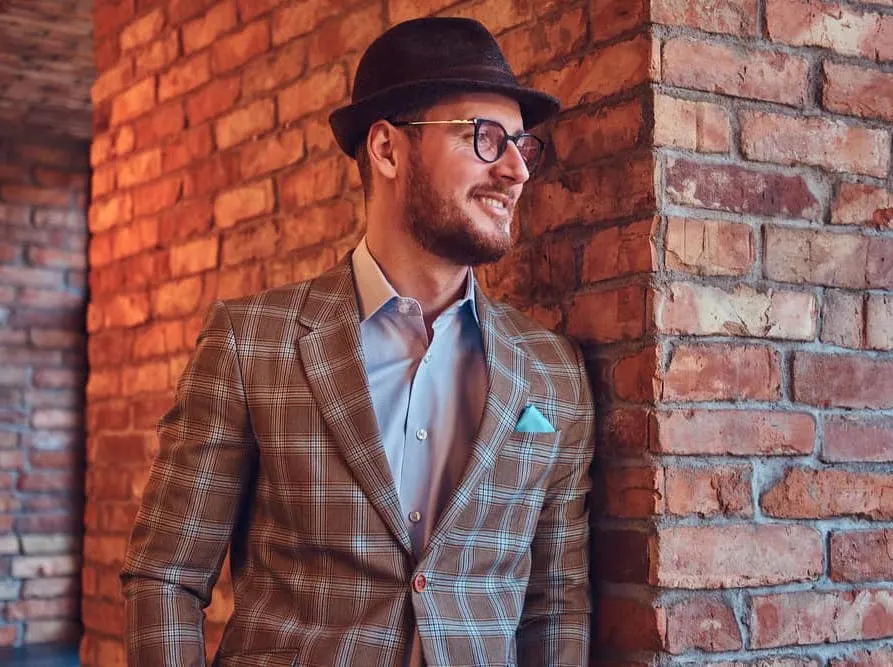 On the other hand, if you want your tieless suit to be a little more casual, give the puff fold a try. This is great for less formal dinners and parties and will grab the attention of those nearby.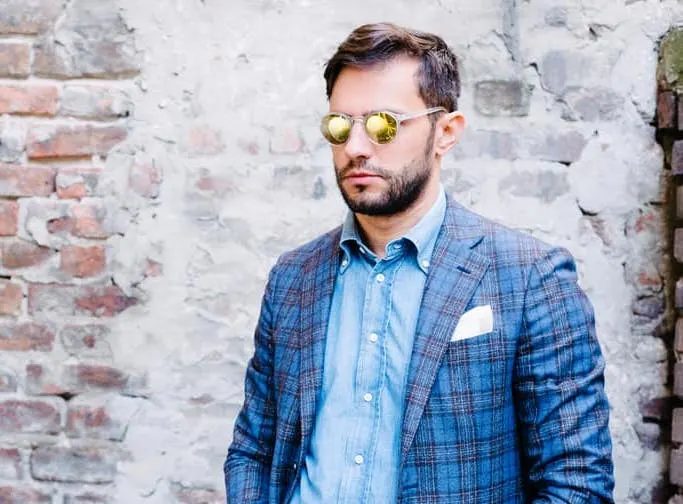 For those times where you're wearing a sports coat or blazer, consider trying the crown fold, otherwise known as the Aficionado's Fold. It's a great formal fold that looks just as amazing on its own as it does alongside a tie.
The "stairs" is another eye-catching option: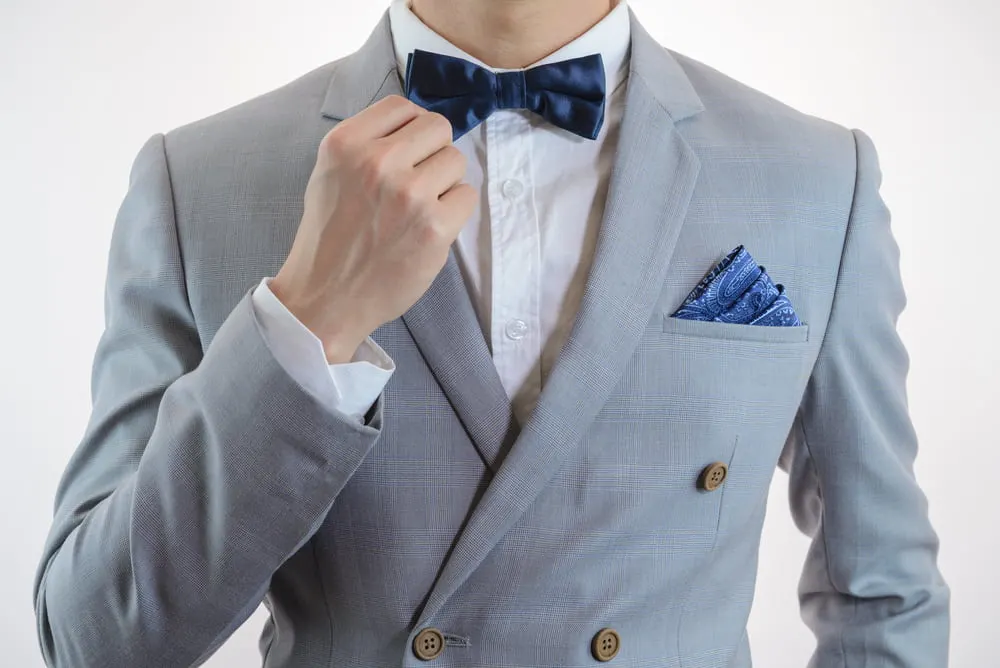 2. Complement Or Pair With Another Accessory
Just because you're not wearing a tie, it doesn't mean that your pocket square can't compliment something else.
Will you be wearing a watch, a scarf or maybe a lapel pin or flower?
In the same way as you would with a tie, use one of these to determine what color, pattern or style your pocket square is.
Here are a few specific examples to help you out:
Attending an outdoor event? Consider pairing your pocket square with your sunglasses.
Will you be wearing a bracelet? If it's beaded, wooden or colored woven fabric then it can act as the perfect pairing for a pocket square.
While most traditional watches might be a bit hard to work with, there is a bit more leeway with smart watches due to the abundance of available bands. Perhaps you can pair your pocket square with the color of your watch band.
3. Pair Them With a Vest Or Waistcoat
Both vests and waistcoats have long been a staple in any gentleman's wardrobe. They add a whole new level of sophistication and class to any outfit.
While you'd almost always expect to see these paired with a tie, at least a waistcoat anyway, they also pair brilliantly with pocket squares when worn under a jacket.
This is a particularly relevant tip if you won't be wearing any accessories other than your pocket square.
You don't want your pocket square to exactly match your vest or waistcoat, but it should mimic one of their secondary colors such as the lining or buttons.
4. Use Your Pocket Square To Add Personality
The lack of a tie actually allows you to get a little creative with your pocket square.
Particularly in a less formal setting, without a tie, you no longer have something that your pocket square has to play second best to.
In other words, why not get creative with patterns, colors, and the material of your pocket square. Use it to add personality and a splash of color to your outfit.
In terms of color, why not skip the regular white, navy, or black and give the pinks, greens, and reds a go.
And take a look at some busier patterns such as florals rather than a flat color. This will draw attention and give your outfit a unique personality that matches your own.
5. Match It With Your Shirt
This almost goes against all of the traditional rules of wearing a pocket square, but you certainly could choose to match your pocket square with your shirt.
This is great for when you're trying to go for a more conservative look and want to emit a clean, slick and professional image.
You can choose to match just the color or go as far as matching the material as well. Matching the material is particularly effective when you're wearing an oxford shirt with a natural woven pattern.
In most cases when matching a pocket square with a shirt, a simple presidential fold is the most suitable option.
6. Don't Let It Blend In With Your Suit
While this is an important guideline even while wearing a tie, it's even more relevant when you're not.
The entire objective of wearing a pocket square is to add a touch of flair and visual contrast to your overall outfit. Therefore, it's important that your pocket square does not get lost and blend in too much with your suit, jacket, sports coat, or blazer.
Without a tie, and unless your pocket square is quite extravagant, it's more likely to get lost and go unnoticed if its color is quite similar to that of the rest of your outfit.
We'd recommend light pastel colors such as white or pink when wearing dark colors. And if you're wearing something lighter, a nice charcoal or navy always looks brilliant.
And to expand on this even further, pay close attention to the material of your pocket square and outfit.
For example, if you're wearing a merino wool or tweed sports coat, it may be a better option to go for a simple silk or velvet pocket square to create more contrast.
Or conversely, if you've chosen to wear a polyester jacket then a nice thick cotton pocket square could be an ideal choice.
7. Coordinate Your Pocket Square With Your Socks
We've touched on how you could pair your pocket square with your vest, waistcoat, or shirt, but what about your socks?
This is a styling technique that's easy and works well in both formal and casual settings.
Unlike when wearing a tie, you'll want to match your pocket square with the primary color of your socks, rather than just matching one of the accent colors.
This is because the pocket square and socks are not right next to each other, so there's less of a need to worry about them exactly matching.
The same goes for the pattern if you happen to have a matching pair of socks and a pocket square.
Conclusion
There are many ways to wear a pocket square without a tie and it can be a great way to dress down for casual events and settings.
To make the most of this look it's important to familiarize yourself with the various pocket square folds and also try to expand your collection of available squares.
Ready Sleek founder. Obsessed with casual style and the minimalist approach to building a highly functional wardrobe. Also a fan of classic, vintage hairstyles.