As far as dress codes go, it doesn't get any more frustrating than this one. The unspoken rules around shirts in particular are pretty confusing. The question is, should the shirt be tucked or untucked for business casual?
The shirt should always be tucked in for a business casual dress code. Leaving it untucked would risk underdressing and would also make it hard to pair with other items of business attire such as dress pants.
Although that's the short answer, there's more to it.
After going through the main reasons why a shirt should always be tucked for business casual, I'll run through some tips on how to do it in style.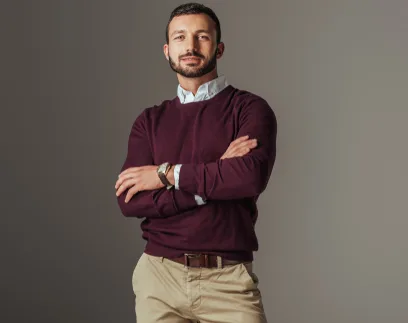 3 Reasons Why A Shirt Should Be Tucked For Business Casual
These reasons should be enough to convince you to do it. Consider all of them before making your decision.
1. Business Casual Is More "Business" Than "Casual"
A key reason why the shirt should always be tucked for business casual is that you should dress more "business" than "casual" for this dress code.
Business-casual can be tough to define. It's considered to be a "blend" between business attire and casual attire.
The trouble is, that really doesn't narrow it down.
However, it's pretty easy to list what wouldn't be appropriate to wear.
No jeans and no suits.
While there's a lot that's potentially in a bit of a grey area, this basically sums up the dress code quite nicely.
It's a dress code where a pair of jeans would be too casual but a suit would be too much.
But at the end of the day, what you wear should still be considered appropriate in an office or work environment.
Because of this, it's always best to lean more toward "business" than "casual" whenever you're in doubt about whether a particular item would be appropriate or not.
So, instead of wearing a hoodie – wear a cardigan or a V-neck sweater.
Instead of jeans, wear dress pants or chinos.
Instead of a Henley shirt, wear an OCBD.
Most importantly here, instead of leaving your shirt untucked, tuck it in. At the end of the day, you'd definitely be tucking your shirt if you were wearing regular business attire.
There's no reason why people shouldn't do it for business-casual as well.
2. It's Easier To Pair With Other Business Casual Items
Let's face it – an untucked shirt just doesn't pair well with the more formal items of business attire.
It's tough to make it work.
For example, trying to wear a crew neck sweater or cardigan with the hem of an untucked shirt peeking out from the bottom is never a good look.
The same goes for trying to wear dress pants, dress shoes, and other more "formal" items of business-casual attire with an untucked shirt.
You get a formality mismatch and it just won't look right.
3. Most Dress Shirts Should Always Be Tucked
Finally, there's a good chance that the shirt you're thinking of wearing was actually designed to be tucked in.
Most dress shirts, for example, have a long and curved hem (i.e the bottom of the shirt) for the sole purpose of making it easier to tuck in.
In fact, leaving it untucked would usually look strange. The long hem will reach way too low, making it obvious that a shirt that was meant to be tucked in is being left untucked.
This won't be true of all business casual shirts, however.
For example, OCBD shirts usually don't have a long hem and can often be left either tucked or untucked.
But it's always a good idea to check how long the hem of your shirt is before leaving it untucked. This is important regardless of the dress code you're dressing for.
The main point here, however, is that it may be another reason why the shirt you're thinking of wearing should be tucked in for the business-casual setting you're dressing for.
3 Shirts You Could Wear Tucked For Business Casual
Here are a few examples of shirts you could wear tucked in for business casual dress codes.
Dress Shirt
Dress shirts are the safest option here – they give you the least risk of underdressing.
Ultimately, "business casual" can mean different things to different people. If a dress code says "business casual", there's a chance the person writing the invitation isn't quite sure what they're asking for.
They may actually be requesting something a little more formal.
Wearing a dress shirt would account for that risk.
Dress shirts should always be tucked in. As mentioned earlier, the hem is usually long enough to look awkward when it isn't tucked in.
OCBD Shirt
The Oxford Cloth Button Down (OCBD) shirt is about as versatile as it gets. It can be worn in both casual and business-casual settings.
The rugged texture of Oxford cloth has a pretty casual feel to it. But it still looks formal enough to blend well into smart-casual and business-casual outfits.
When wearing one to a business-casual setting, it's important to keep it tucked in.
The difficulty you may have here is that the hem may not be long enough to tuck it in without it coming loose every 10 minutes.
Choosing an OCBD shirt with a long enough hem would be the simplest solution here. If you're struggling, a shirt stay could also be helpful – I'll talk more about that later on.
Polo
Polo shirts are the most casual style of shirt you should consider wearing to a business-casual setting.
It's also important to note that they won't be appropriate for all business-casual dress codes.
Business-casual should be considered a spectrum. Some events will lean a little more casual, and a polo could be a great choice here.
But at the end of the day, it probably won't be suitable for a work conference that brands itself as "business-casual".
If you do wear a polo in a business-casual setting, be sure to tuck it in. Polos look great when tucked in, regardless of the dress code.
3 Shirt Tucking Tips For Business Casual Outfits
Consider these tips when tucking in your shirt for this dress code.
1. Make Sure The Hem Is Long Enough
This is probably the most important one, mainly because it's something to consider before you buy the shirt.
When picking a shirt to wear for business casual, choose one with a hem that's long enough to stay tucked in throughout the event.
Most dress shirts would give you this benefit in any case – the hem will almost always be long enough.
But with OCBD and polo shirts, you need to make sure of it in advance.
There's nothing worse than tucking your shirt in and having it come loose all the time because it isn't long enough. It's a nuisance and can be distracting.
2. Always Wear A Belt
When you tuck in your shirt, the belt loops of your dress pants or chinos will usually become visible.
Even if you were planning on wearing a sweater, there's a good chance that people will catch glimpses of them from time to time.
Wear a belt to avoid this.
Doing so will also make it more likely that the shirt stays tucked in throughout the business casual event.
3. Shirt Stays
Shirt stays are a secret tool that many people simply don't take advantage of.
They're devices that wrap around your legs or feet and use elastic straps to keep your shirt tucked in all day long.
They're more comfortable than they look and they give you the benefit of simply not having to worry about your shirt becoming untucked as the day goes on.
It's especially useful if the hem of your shirt is a little shorter. These shirts are more likely to become untucked and cause problems.
Shirt stays are a pretty cheap solution to a pretty frustrating problem.
Conclusion
So, keep your shirt tucked in whenever you dress for a business casual setting. It'll look sharper and reduce the risk of underdressing.
Enjoy.
Ready Sleek founder. Obsessed with casual style and the minimalist approach to building a highly functional wardrobe. Also a fan of classic, vintage hairstyles.