A formality mismatch is the main risk when combining dress pants with other items. Get it wrong and look awkward or out of place. So, can you really wear a sweater with dress pants?
Yes, a sweater and dress pants combination can work very well in smart-casual and even business-casual settings. V-neck and crew-neck sweaters tend to look best. In addition, remember that neutral dress pants colors are often the easiest to combine.
While that's the start, there's a whole lot more to it.
This post will walk you through the best tips for pulling off this combo, as well as the answers to some frequently asked (yet rarely discussed) questions at the end.
Let's get to it.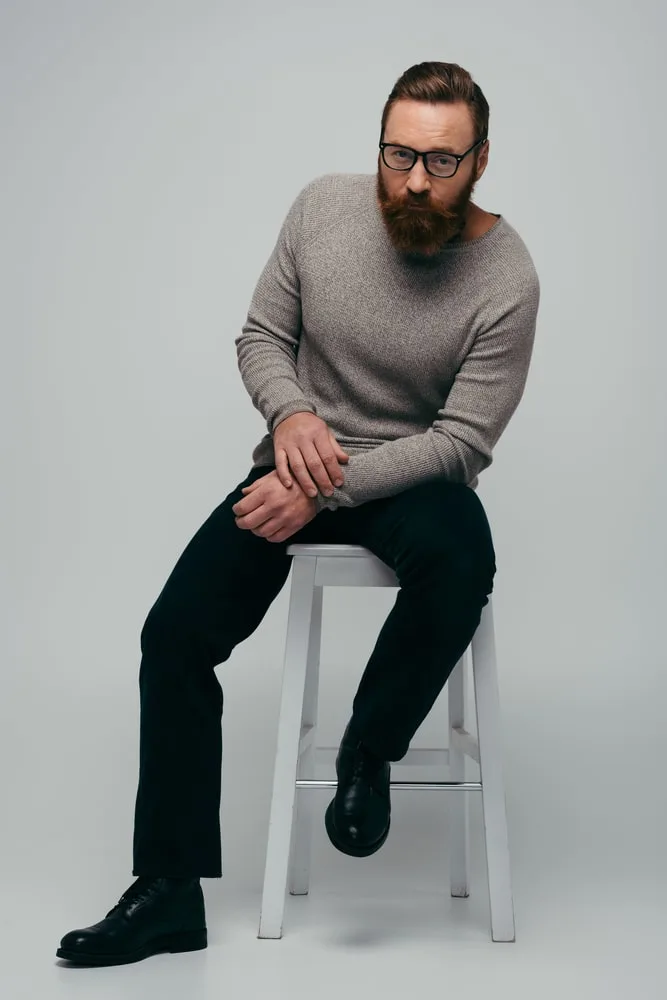 5 Tips For Wearing A Sweater With Dress Pants
We've compiled the best tips for wearing a sweater with dress pants so that you're not left in the dark about this classic smart-casual look.
1. Think About Sweater Style
There are many sweater styles available and choosing the right one for the job is important.
Each sweater has its own formality level and unique style. While some can be worn interchangeably, others cannot.
We've broken down sweaters into four distinct sweater style categories.
These will help you know which ones work best with dress pants and how to wear them.
In short, if you're dressing for a business-casual setting or a particularly dressy smart-casual setting, go for a crew neck or V-neck sweater with your dress pants.
In more relaxed smart-casual settings, you could even go for a turtleneck or mock neck sweater instead.
Crew Neck Sweater
Crew neck sweaters are likely what you first think of when you hear the term "sweater."
They feature a round neckline and don't have a collar. Also, crew neck sweaters come in different fabrics and knits.
These sweaters are a solid choice to wear with dress pants, as they're versatile and can be worn casually or formally.
V-Neck Sweater
Slightly more formal than the crew neck sweater is the V-neck sweater.
V-neck sweaters are defined by their low cut, V-shaped neckline, and preppy style.
There are different V-neck neckline depths, from a slight dimple to extending halfway down your sweater.
The V-shaped neckline means that considering your base layer shirt is more important than with other sweaters because it's more visible.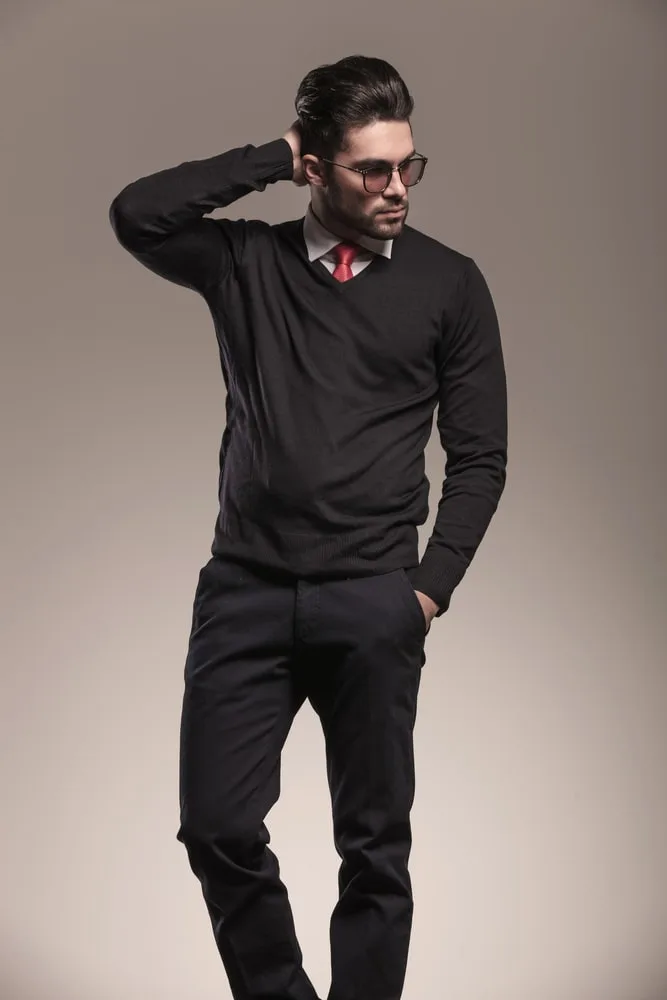 However, this is arguably more a good thing than a bad thing, as it gives a lot of opportunity to layer your garments in more formal situations.
V-necks are one of the best sweater styles to wear with dress pants.
Turtleneck Sweater
Turtleneck sweaters are unusual in that they have a considerably higher neckline than the previously mentioned sweaters.
They have a tubular neckline that extends up your neck and folds back on itself. This neckline sits close to your neck.
These sweaters can look good with dress pants for a smart-casual look.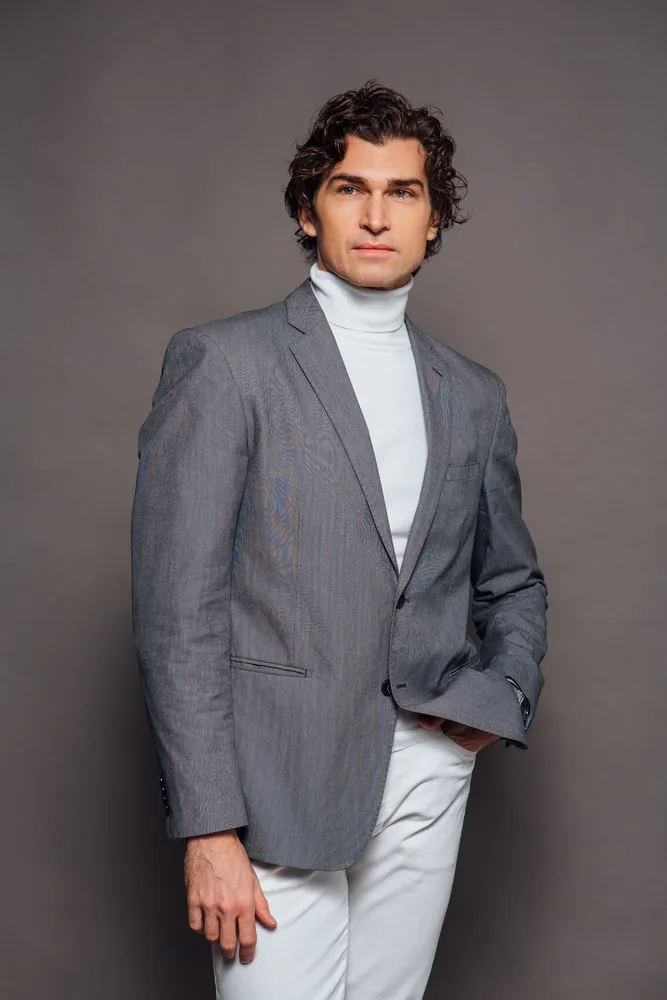 Mock Neck Sweater
Finally, mock neck sweaters also have a high-rising neckline; however, it doesn't fold over like that of a turtleneck.
Like turtlenecks, they can be worn with dress pants in more laid-back and relaxed settings.
That being said, this look is usually more casual than dress pants worn with a V-neck or crew-neck sweater.
2. Neutral Dress Pants Colors Are Easiest
When wearing a sweater with dress pants, "what color dress pants should I wear?" is a common question.
After all, there are so many different dress pants colors on the market that it can be difficult to know the best ones to choose.
To put it simply, the ideal dress pants colors are neutral ones.
Neutral colors are shades that initially may seem to lack color. But they have underlying tones and hues.
Typically, neutral colors don't appear on the color wheel. This means that they go well with most other colors, including other neutral colors.
Some examples of neutral colors that look great as dress pants are black, grey, navy, brown, khaki, and tan.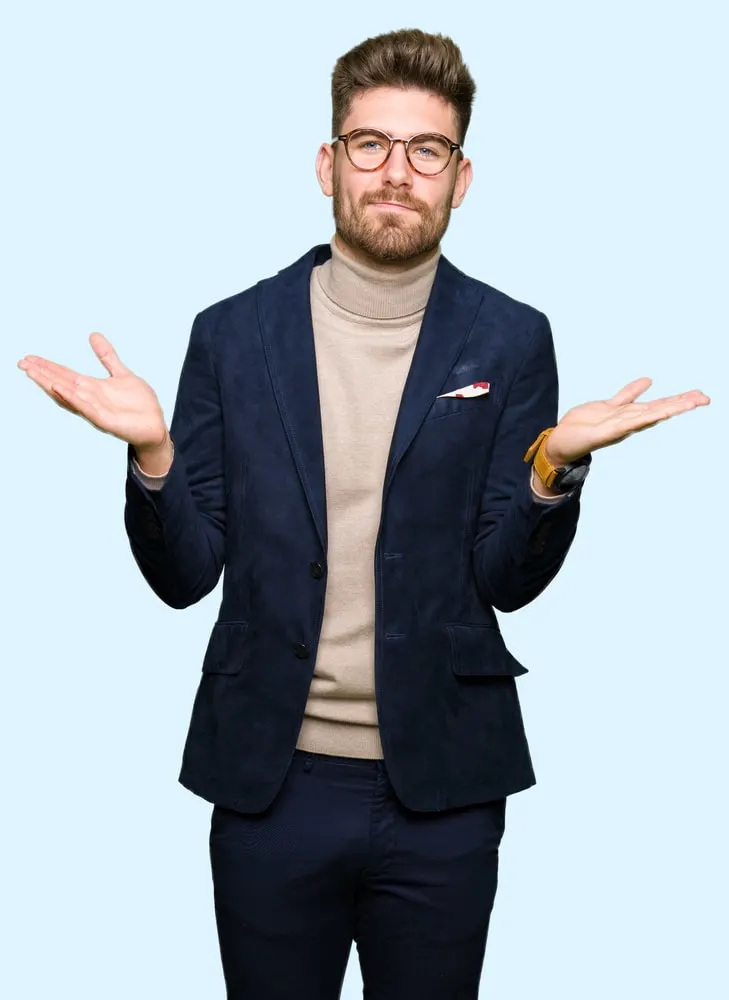 While white is also a versatile neutral color, when it comes to dress pants, it's generally better to go for those with a little more depth.
The primary reason it's better to go with neutral colors is their versatility.
This factor allows you to wear pretty much any sweater style or color and have it work seamlessly alongside your dress pants.
However, there are still some sweater-dress pants combinations that work better than others, which will be discussed in the next tip.
3. Consider The Sweater Color
Getting the sweater color right when wearing a sweater with dress pants is absolutely crucial.
The wrong color combination can be detrimental to the look, particularly in smart-casual settings, where maintaining a sense of formality is important.
Because you'll be wearing neutral-colored dress pants, you have a lot of leeway regarding the sweater color you choose.
However, there are still some combinations that work better than others.
Here is a table showing the optimal dress pants colors to go with different colored sweaters.
| Sweater Color | Possible Dress Pants Color |
| --- | --- |
| Black Sweater | Charcoal Grey Dress Pants |
| Brown Sweater | Light Grey Dress Pants |
| Green Sweater | Dark Brown Dress Pants |
| Gray Sweater | Tan Dress Pants |
| Red Sweater | Black Dress Pants |
The most formal sweater and dress pants outfits are those that combine two neutral colors.
For example, wearing a black sweater with charcoal grey dress pants is considerably more formal than a red sweater with black dress pants.
This is because neutral colors are generally more understated and, therefore, often dressier.
4. Wearing A Dress Shirt Underneath Looks Great
Layering is a fundamental component of formalwear. And while it's not a complete necessity, it really helps complete the look.
With dress pants and a sweater, the simplest yet most effective way to layer your clothes is by wearing a collared dress shirt underneath.
While the majority of your dress shirt won't be visible, arguably the most formal aspect of the dress shirt will be: the collar.
Having the tips of your collar underneath your sweater but not so much that it's not visible is the best way to go.
Plain white shirts work best; however, you can go for patterns or light colors if you wish to add a bit of personality to your outfit.
This layering effect is particularly effective with V-neck sweaters, as more of your dress shirt will be visible.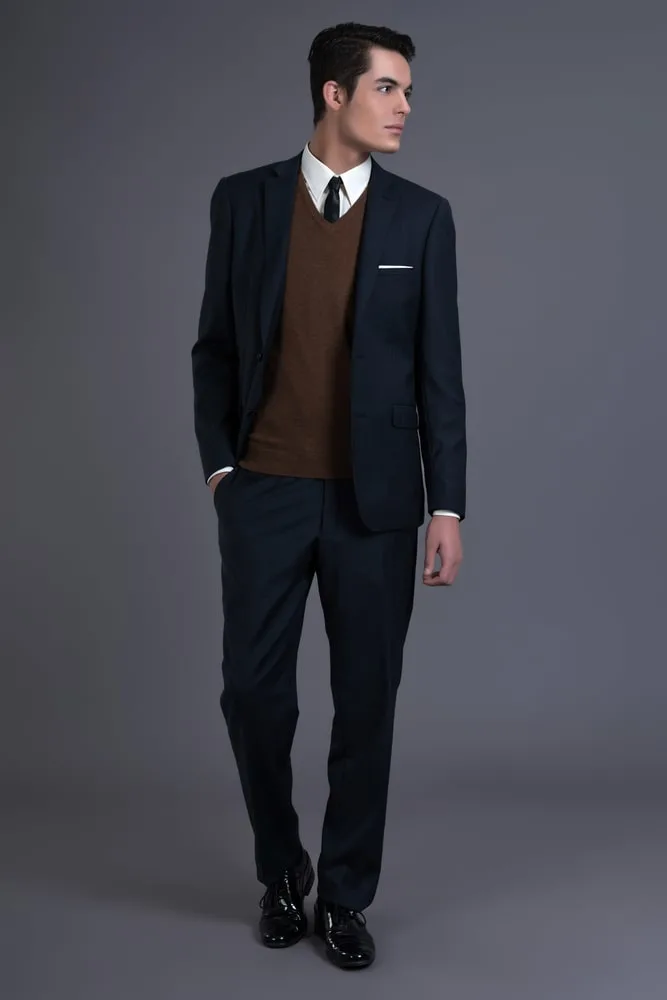 5. It's Best To Tuck Your Shirt In
Tucking in your shirt – whether it's a button-up shirt or a T-shirt – is the best thing to do with your shirt regarding this outfit.
Leaving your shirt untucked will make it visible at the bottom of your sweater. This will interfere with the transition between your top and bottom halves.
Additionally, its appearance is simply unsightly and scruffy. Scruffy is never appropriate on occasions of any level of formality.
And, because this outfit is smart-casual, tucking in your shirt helps contribute toward this formality level.
Generally speaking, there are two tuck styles: the French tuck and the full tuck.
The only one you should be using with this outfit is the full tuck, which entails tucking in your shirt fully around your waistband.
Frequently Asked Questions
Here are a couple of frequently asked questions to really round off the topic.
Can You Wear A Sweater And Dress Pants As Business Casual?
A sweater and dress pants is entirely appropriate for a business casual dress code. Make sure you wear a dress shirt underneath your sweater for a formal, layered look, and stick primarily to neutral colors. Also, remember to tuck in the dress shirt.
Business-casual is just a step or two up from smart-casual. So, if you wear this outfit the right way, it fits right in with business-casual.
Pair it with a pair of black or brown dress shoes, such as Oxfords or Derbys, to complete the look.
Can You Wear A Sweater And Dress Pants To An Interview?
A sweater and dress pants combination would usually be appropriate for interviews at workplaces with a business-casual dress code. However, if the work attire is "formal", a 2-piece suit should definitely be worn instead.
A simple sweater and dress pants pairing wouldn't cut it in formal workplaces.
A better alternative would be to wear a full 2-piece suit in a dark and neutral color (eg. navy, black, charcoal) and to wear a V-neck or crew neck sweater under the suit jacket.