When you think of a long sleeve shirt, it's more than likely you'll imagine a pair of suit trousers to go with it. Although they look smart, they're often not always the most suitable. The question is, can you wear a long sleeve shirt with jeans?
It's perfectly acceptable to wear a long sleeve shirt with jeans, although dress shirts are generally considered inappropriate. Stick to more casual styles of long-sleeve shirts such as Oxfords and flannels as they're more likely to pair well with the casual texture of denim.
That's the short version. Read on as we explore some essential tips to help you style a long sleeve shirt with jeans.
Let's jump straight in.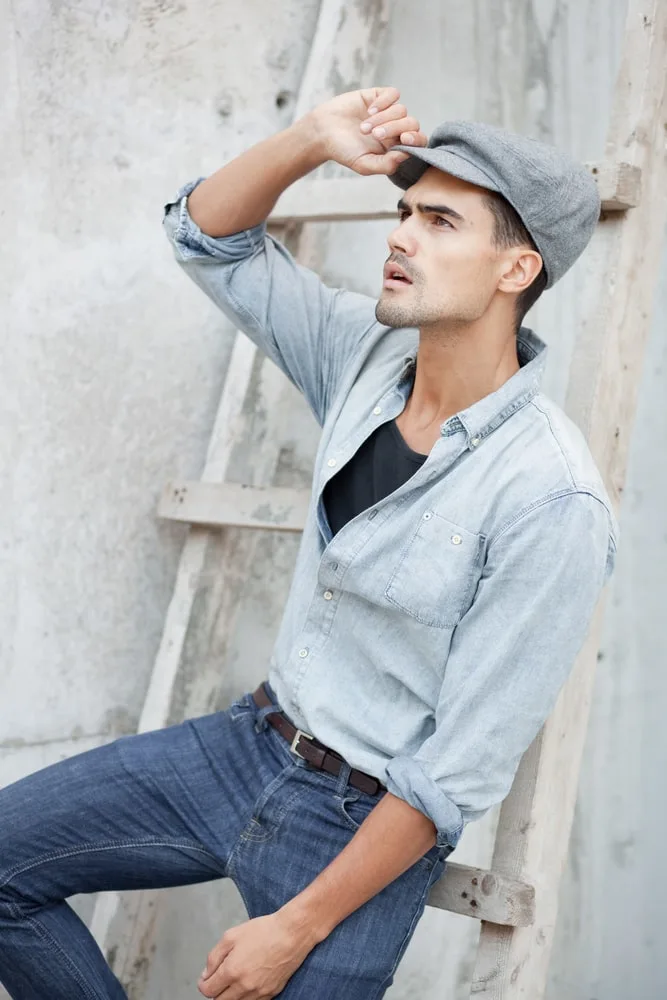 3 Tips For Wearing Long Sleeve Shirts With Jeans
Consider all of these tips before putting together your outfit.
1. Think About The Occasion
As we've just mentioned, if you've decided to wear a long sleeve shirt it's more than likely you will be going to an event which is probably a little bit more formal than usual.
This could be anything from a party with your friends, lunches, and dinners at restaurants, drinks at a bar, or even a date night.
Unless it's an extremely relaxed setting or environment, t-shirts are likely off the cards.
A long sleeve shirt with jeans is an effective choice as it keeps you looking sharp yet still casual enough without going too overboard.
Besides, if you're heading out to a nice restaurant or bar, you'll feel great knowing that you've put in the effort and it'll serve as a confidence boost – perfect for your date night.
2. Think About Your Choice Of Shirt
This is an important one.
With such a huge variety of shirts and their types out there, it can be hard to decide which one to go for and which is suitable for the outfit you are wanting to wear.
As we're discussing wearing long sleeve shirts with jeans specifically, let's talk about some varieties you might, and might not be able to wear.
Dress Shirt
It wouldn't be wise to choose a dress shirt. Only in exceptional circumstances would it be advised.
Not only are these types of shirts reserved for formal occasions, but they are also usually paired with smart trousers and a jacket.
The formal nature of the dress shirt means that the collar and the cuffs are all cut very sharply to stand out from being worn underneath a suit jacket.
Therefore, when paired with jeans on its own, the collar protrudes outwards considerably as there is no suit lapel to keep it together without having the top button done up.
This could possibly create quite a messy look, especially around the collar area.
It's worth mentioning, however, that there might be occasions where a dress shirt can be worn with jeans.
Dinner at an extremely high-end restaurant might be one, but on the whole, it's generally accepted that it's a challenging look to pull off.
Flannel Shirt
At the complete other end of the spectrum, a flannel shirt with jeans is a good choice.
This type of shirt is an ultra-casual style, suitable for occasions where a dress shirt or an Oxford shirt might just be a little too chic.
One of the best things about flannel shirts is that they've never gone out of style, especially when paired with jeans.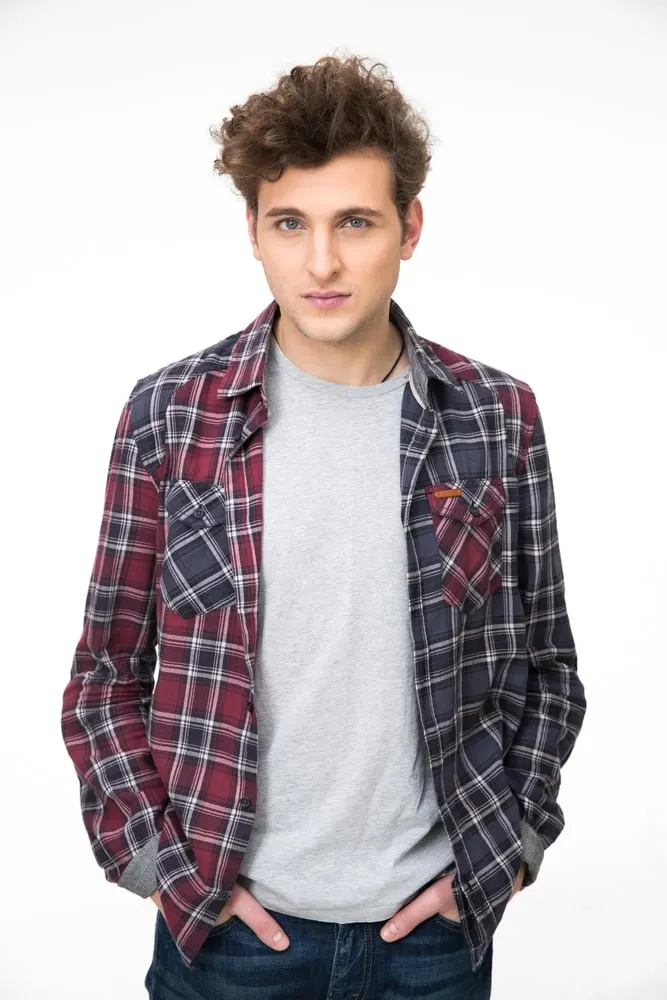 A flannel shirts casual nature allows you to choose from a variety of jeans, something which the dress shirt doesn't. This gives you greater flexibility when deciding on your long sleeve shirt and jeans combination.
Oxford Shirt
Arguably the best long sleeve shirt choice when wearing jeans is the Oxford shirt.
The reasoning behind this is that the Oxford shirt is incredibly versatile. You can wear an Oxford shirt at any time of day, for any type of event, and always look great.
If you're heading to a more formal gathering or event, a darker color for your Oxford shirt would suit better than a lighter, more casual color. The same goes for the jeans as well, which we'll talk a bit more about in the next section.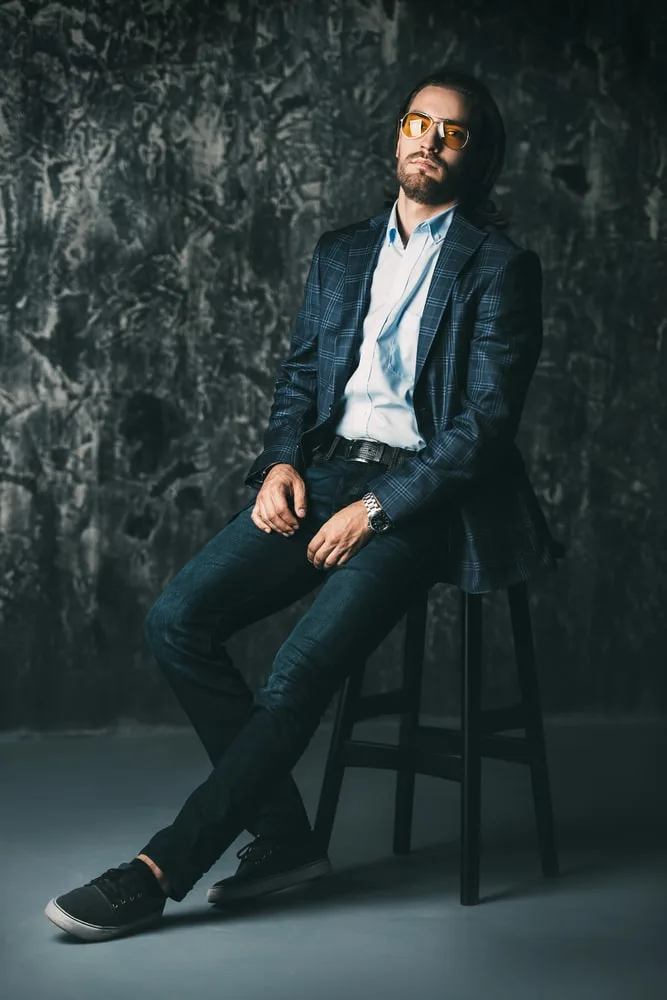 That's not to say, however, that you're limited to darker shirt colors. Oxford shirts look good with jeans in the vast majority of colors you can find them in.
Everything from your classic white and light blues, all the way through to the brighter and bolder choices such as mustard yellow and forest green.
The perfectly paired Oxford shirt and jeans combination gives you many possibilities to work with which is what sets this shirt apart from the rest.
3. Think About The Type Of Jeans
Every man should have at least a couple of pairs of jeans in their arsenal. After all, they're probably the most essential part of the wardrobe.
Apart from formal occasions, jeans work in almost every capacity – including when paired with a long sleeve shirt.
However, it's not as simple as just throwing on any old pair of jeans together with your favorite button-down and expecting to look the part.
Just as we've done with the shirt, you will have to consider the type of jeans you will be wearing too.
When attempting to pair a long sleeve shirt with jeans it's important to remember that well-fitted, slim jeans are going to be the best option.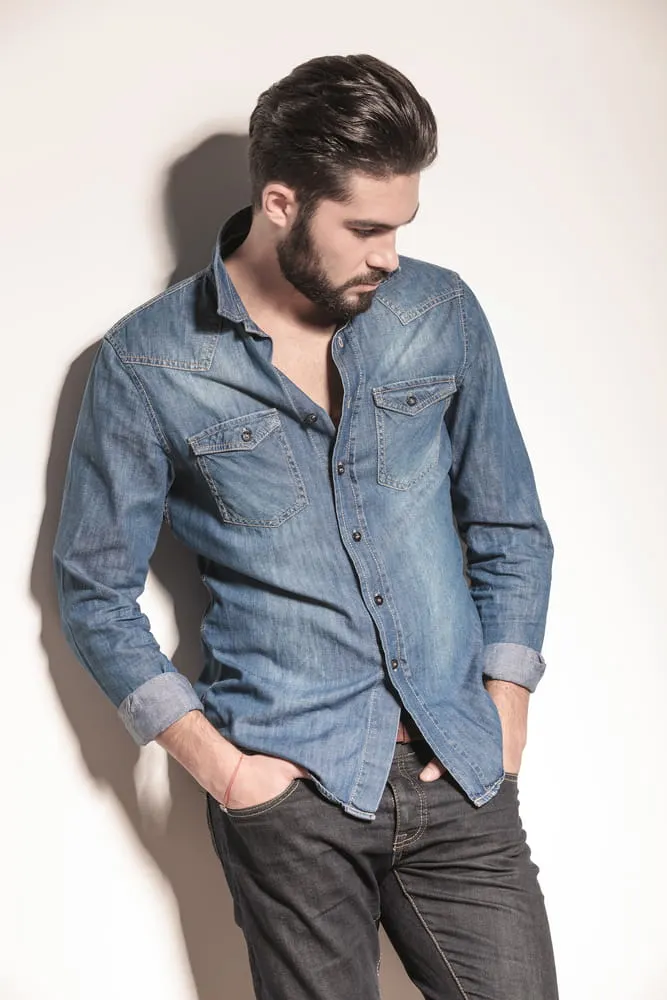 Loose-fitting or baggy jeans are too casual to be worn with a long sleeve shirt. It would undermine what you're trying to achieve with the combination, which is to look smart, yet casual.
The color of the jeans also plays a large part too. A dark wash is going to be the better choice for a more formal outfit as this style of jeans is easier to dress up when paired with a shirt.
Darker wash jeans are also less likely to come ripped or distressed which you will be wanting to avoid if it's for an occasion where a long sleeve shirt is required.
For a more laid-back and relaxed outfit, lighter-colored jeans are also great paired with a long sleeve shirt. Depending on the time of year too, you could roll the sleeves up slightly for an informal, chilled look perfect for the hot summer months.
Frequently Asked Questions
Hopefully, you are now in a much better position on deciding how to wear a long sleeve shirt with jeans.
But in case you still have any more questions, I'll answer some popular ones you may still have on the subject below.
Can You Wear A Long Sleeve Dress Shirt With Jeans?
It's possible to wear a long sleeve dress shirt with jeans although it's one of the hardest combinations to pull off. This is due to the formal nature of the dress shirt in comparison to the casual denim jeans.
Not only is it a formality mismatch between the dress shirt and the more casual look of the jeans, but the collar will also hang loose unless buttoned up which would look strange without a tie.
If you want to wear a long sleeve dress shirt with jeans, try to pick a dress shirt where the collar won't protrude too much, and always pair the shirt with dark wash jeans.
Can You Wear A Black Long Sleeve Shirt With Jeans?
A black long sleeve shirt is more than acceptable to be worn with jeans. Ideally, the jeans will be dark blue or black and will be slim-fit and not baggy.
This keeps the outfit looking modern, smart, and trendy whilst also keeping it casual.
You can wear the black long sleeve shirt and jeans with a pair of black leather Chelsea boots for a more formal look.
Alternatively, you can wear a pair of fresh white sneakers for a casual, laid-back outfit.
Can You Wear A White Long Sleeve Shirt With Black Jeans?
The white long sleeve shirt and black jeans combination is timeless and has spanned through decades, managing to still look cool with minimal effort.
For a modern take on the pairing, consider a white Oxford button-down collar shirt. It's very comfortable and durable due to the material used.
Can You Wear A White Long Sleeve Shirt With Blue Jeans?
It's often recommended that the best shirt and jeans combination is a white shirt and blue jeans. When paired with a brown belt and shoes or boots to match, the end result is a modern, trendy outfit that blends the smart with the casual.
This enables you to wear this classic fit to a range of different occasions whether that be to a business lunch, a gathering with family, or even just as simple as heading down to the bar with your friends.
Conclusion
As we've found out over the course of this article, the long sleeve shirt and jeans is an extremely versatile outfit and one you can find a style for virtually any event or occasion. When putting your outfit together, think darker for smarter and lighter for a more casual fit.
Ready Sleek founder. Obsessed with casual style and the minimalist approach to building a highly functional wardrobe. Also a fan of classic, vintage hairstyles.