The socks vs no socks debate rages on. The argument is global, furious, and shows no signs of slowing. But as every style of shoe is different, shouldn't each of them have their own debate? If so, it begs the question, can loafers be worn without socks?
Loafers were designed to be worn with socks. Walking in loafers without socks for long periods of time can be uncomfortable as the construction doesn't usually provide enough cushioning. Plus, sweat and hygiene will be an issue, particularly in warmer climates. In order to achieve the "sockless" appearance with loafers, no-show or "invisible" socks are ideal.
This article is going to dive a little deeper.
It's important to know when to wear no-show socks with loafers and when you wear regular ones such as ankle socks, short crew socks, crew socks, or over-the-calf.
Sure, wearing loafers without socks is generally never a good idea. But sometimes, even a sockless appearance with no-show socks would look inappropriate.
You'll need to take your outfit, the formality of the occasion, as well as the climate into consideration.
You're about to learn exactly how to do this. Let's get to it.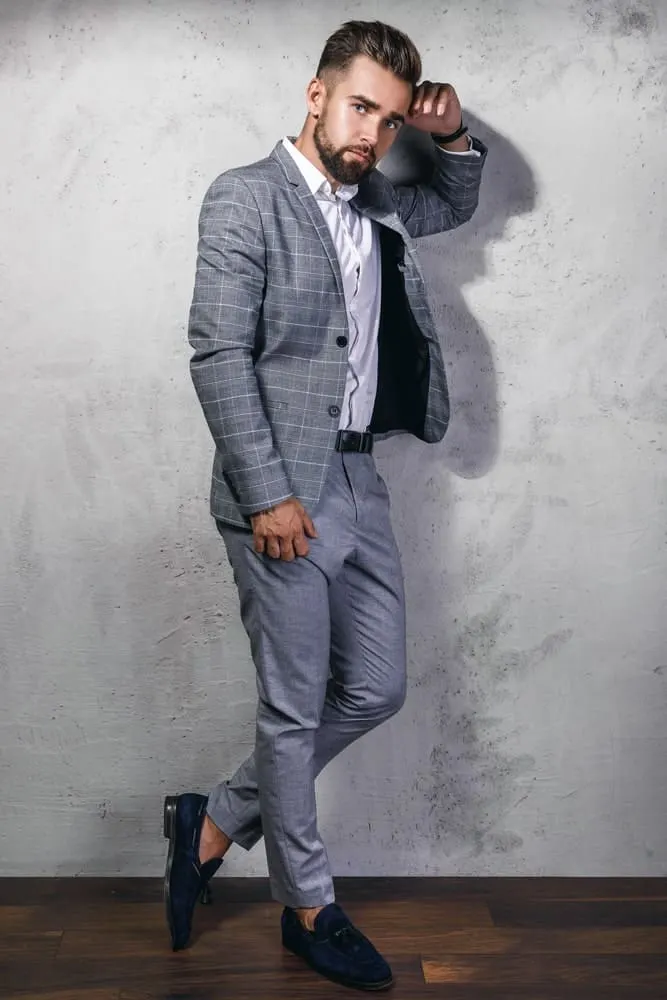 Why You Should At Least Wear No-Show Socks With Loafers
Whether we're talking about suede or leather loafers, Gucci, penny, or tassel loafers, they should never be worn without socks.
There are two main reasons why you should at least wear no-show socks if you're looking to rock a sockless vibe with loafers.
I've mentioned them already, but it's worth going into a bit more detail.
1. Loafers Can Get Uncomfortable After A While
Don't get me wrong – they're great as your average everyday getting-things-done shoes. Plus, they're ideal for casual and smart-casual events and occasions.
But wearing them without socks removes a significant layer of cushioning you'd really rather have.
After walking in them without socks for a while you'll start to notice that it doesn't feel quite right. The soles of your feet will start to ache as the day goes on.
Boat shoes, on the other hand, are fine to wear without socks. They were designed with this in mind, often having cushioned footbeds, cushioned tongues, and thicker outsoles.
Loafers don't usually have this, so supplementary cushioning in the form of no-show socks is encouraged. You'll have the benefit of a sockless illusion, while still having a layer of cushioning at the same time.
Here's a pair of no-show socks you can find on Amazon.
Certain loafers will be a little more comfortable than others and the shoe lining plays a role here.
Unlined loafers will be less comfortable than lined ones.
Premium leather linings are more breathable and comfortable than textile linings. They also gradually mold to the shape of your foot over time.
That's just something to bear in mind. But overall, no-show socks are worth wearing with loafers for comfort alone.
2. Sweat And Hygiene
Although this isn't exactly specific to loafers, going sockless can lead to some obvious hygiene issues.
The socks vs no socks debate really heats up (pun intended) in the spring and summer. The sun starts to emerge and feet start to wonder why they're being wrapped up.
Going sockless becomes more and more tempting.
But as things heat up and socks start to come off, sweat starts to accumulate and has nowhere to go other than the insole of your loafers.
Odor becomes a problem.
Wearing no-show socks is a good way to prevent moisture from accumulating in your loafers, as that can take a while to dry itself out.
Once again, leather linings don't absorb moisture as quickly as textile linings and so are less likely to have this problem.
In an attempt to prevent moisture from accumulating, there are also men who apply talcum powder to their loafers' insoles as an alternative to wearing socks.
Although this is sometimes effective, it usually just leaves a mess and stains your shoes.
In general, wearing no-show socks will always be a less messy and more hygienic option. It's a simpler, relatively inexpensive solution you should strongly consider.
When To Wear No-Show Socks With Loafers
We've established that no-show socks are the minimum you should go for. But it's also important to know when this sockless appearance would look appropriate and when it wouldn't.
Loafers often look great when worn with no-show, "invisible" socks. In fact, another term used for a "no-show sock" is a "loafer sock".
But sometimes, you'll really want to go for a regular pair of socks instead.
Here are three criteria you'll usually want to meet when deciding to wear loafers and no-show socks.
1. A Warm Climate
This is crucial.
As I mentioned, this debate really only becomes an issue in the spring and summer.
Loafers should definitely never be worn without socks in the winter and most men wouldn't even think to do so.
But what about no-show socks?
Technically that's a type of sock and does provide a bit of warmth. Would they be OK to wear with loafers in the winter?
No. Avoid wearing no-show socks with loafers in the winter.
For one, it'll just be too cold. Loafers have an exposed ankle and in cold weather your ankles and calf will get pretty frosty. You'll need short crew socks at the very least.
It'll also just look awkward. The sockless look is very summery and it's very hard to pull it off in cold weather. It'll look inappropriate and mismatched.
But loafers with no-show socks in warm climates is a great look. It's simple, stylish, and effective.
Be sure to size them correctly to prevent them from creeping up and becoming visible. It can be tricky to get the right fit sometimes. You may need to try a few to figure out what's comfortable for you while still ensuring they're invisible.
No-show socks are also breathable and also prevent moisture from accumulating directly onto your loafers.
It's comfortable and hygienic; what more could a guy want?
2. With A Casual Outfit
Loafers are meant to be worn with casual outfits. They're typically defined as a "casual dress shoe" – more casual than Oxfords, Derbys, and Monkstraps.
But "casual" is a spectrum and includes casual, semi-casual, and smart-casual (i.e business-casual) settings.
Loafers are ideal for any of these.
If the climate is warm enough, rocking a sockless aesthetic with no-show socks would also be fine in most of these settings.
The only exception would be the more "formal" side of smart-casual and business-casual.
The workplace is a crucial example here. Wearing no-show socks may come across as unprofessional in most work settings.
You'll have to use your intuition to figure out if this applies to you.
But no-show socks and loafers are perfect for other settings within the casual spectrum (if the climate is warm enough for it to make sense).
Examples include wearing them with jeans and a polo on a casual date. Or with a sports coat and chinos to a summer garden party.
It would even work with a casual linen or seersucker suit to a summer wedding, for instance.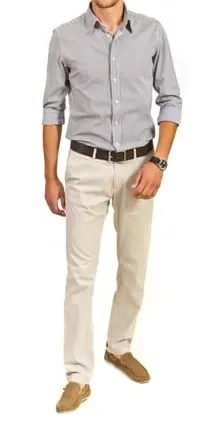 But no-show socks aren't appropriate to wear with formal wear. In other words, business suits or tuxedos. Go for crew socks or ideally over-the-calf socks.
Loafers in themselves aren't the ideal dress shoe for formal wear. Oxfords and Derbys are more appropriate.
Black leather bit loafers are just about formal enough for business suits, but you'll still want to go for actual socks as opposed to no-show socks.
3. With Cropped Or Cuffed Pants
This isn't as essential as the earlier two criteria. It's just something you may want to consider.
In general, the loafers and no-show socks or "sockless illusion" is better suited when the pants you wear are cropped or cuffed.
In other words, with a shorter hem. This could be stitched in, or simply rolled (cuffed or pin rolled).
It usually ends somewhere below the knee but above the ankle. The lower calf and ankle will be exposed.
This is a great, casual look in the summer and is definitely suited to loafers.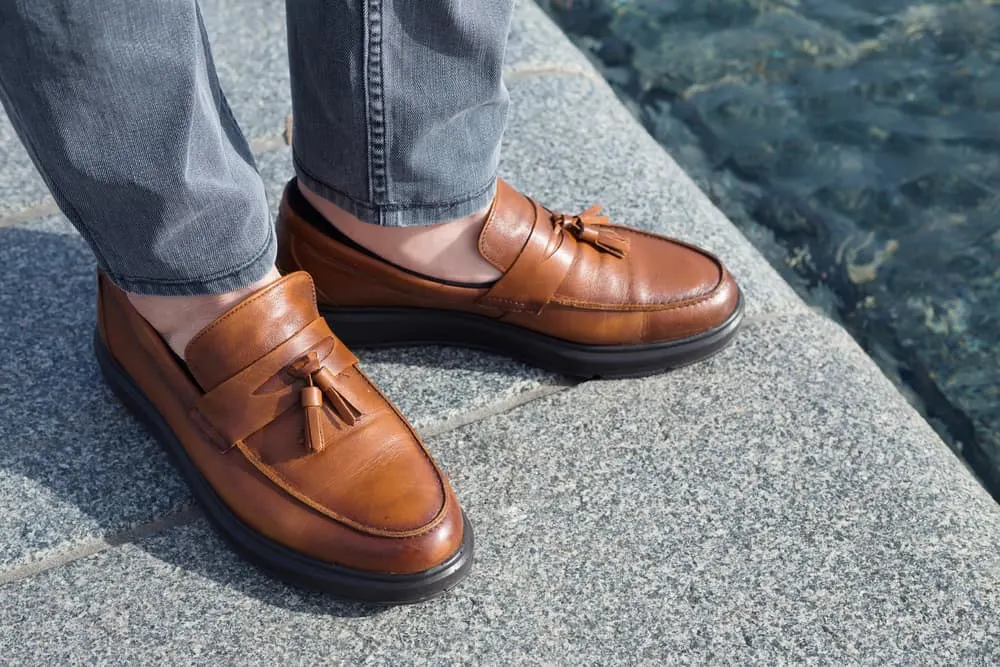 Plus, it looks very intentional. It's obvious that the sockless vibe is part of a style you're going for and that in itself means something.
But wearing no-show socks with pants that aren't cropped or cuffed would also be fine. It just might be more of a surprise to people when you sit down and your ankles are suddenly exposed.
No big deal – it still works great as long as the other two criteria are met. As long as the climate is warm enough to justify it and your outfit is casual enough, you're good.
Tips On Wearing Regular Socks With Loafers
I get it. Wearing regular socks with loafers can sometimes just look awkward.
No-show socks are fine because, well, they don't show.
But if you want to wear your loafers in the winter, for example, you'll need to wear some longer socks.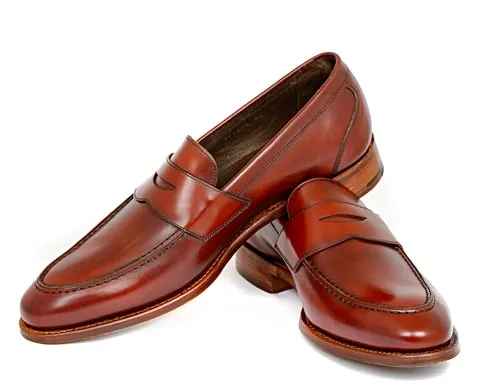 This could be short crew socks, crew socks, or the more formal and dressy over-the-calf socks.
Here are some tips on how to look good when wearing loafers with socks:
Go for over-the-calf socks if you're wearing loafers with a formal suit (although this generally isn't a good idea).
Go for short crew or crew socks with casual outfits in cooler climates.
Keep the socks subtle while also using them as an opportunity to infuse some personality.
Subtle patterns such as stripes and polka dots can work well with casual outfits.
Try contrasting the color and hue of your socks to that of your pants.
Sock Fabrics And Loafers
When choosing what sock fabric to wear with loafers, once again you'll want to consider the outfit you're wearing them with, as well as the climate.
In warmer climates, cotton-spandex, polyester-spandex or micro-modal are great for no-show socks.
In cooler climates, 100% cotton will keep you warm while remaining comfortable. It's also suitable for both casual and formal wear. Cotton-synthetic blends work well because they add some durability and performance.
When wearing a formal suit, go for over-the-calf socks in fine cotton or wool. Wool would be the dressier option.
100% polyester isn't as comfortable as the other options, which is significant when it comes to loafers as they typically don't have much cushioning. One advantage of polyester, however, is that it dries quicker. This may be important to you.
Frequently Asked Questions
Here are some commonly asked but rarely answered questions on wearing loafers with no socks.
Does Wearing Loafers Without Socks Give You Blisters?
Yes, wearing loafers without socks can cause blisters as the insole rubs directly onto your foot with no cushioning.
This friction can cause irritation and blisters.
Loafers aren't great for walking long distances in any case, because they don't usually have much ankle or arch support.
But if you were to do it, blisters would be an additional problem. It's yet another reason to wear no-show socks at the very least as opposed to going completely sockless.
Can You Ever Wear Loafers And A Suit Without Socks?
When wearing loafers and a suit, you should always wear socks. The socks you wear could range from no-show socks to over-the-calf socks.
The type of socks you choose really depends on the type of suit you're wearing.
As I mentioned earlier, formal, woolen suits require over-the-calf socks.
But no-show socks can actually work well with casual suits when worn to garden parties and casual summer weddings, for instance.
Conclusion
Loafers ooze a casual, summer aesthetic. They fit so perfectly in these settings that it's sometimes easy to confuse them for a pair of slippers.
In other words, trick ourselves into thinking we can wear them however we want to.
But it's important to always bear in mind that loafers are dress shoes and need to be treated as such.

They need to be styled and coordinated appropriately after taking the climate and context into account. Wearing socks properly and effectively is an important component of this.
Not doing so often leads to awkward style faux pas that could have been avoided.
Hopefully, this article has taught you everything you need to know about a very specific yet hotly debated topic in loafer styling.
Experiment, have fun with it, but stick to basic principles.
Ready Sleek founder. Obsessed with casual style and the minimalist approach to building a highly functional wardrobe. Also a fan of classic, vintage hairstyles.