The two colors are neutral enough to coordinate effortlessly, but can you really wear a grey shirt with khaki pants?
Yes, grey shirts can definitely be worn with khaki pants in casual, smart-casual, and business-casual settings. Light grey dress shirts are more appropriate in dressier settings, while dark grey shirts look great with khakis in more casual environments.
That's the short answer, but you'll need more.
After going through a few great outfit examples you can try out for yourself, we'll run through some essential tips for making it work.
Let's get to it.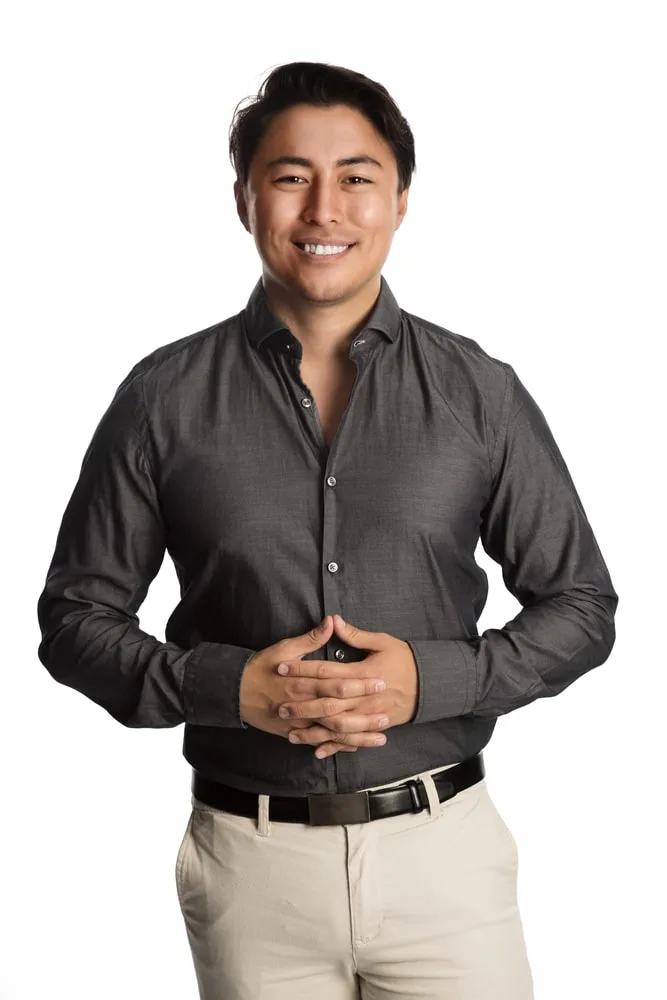 3 Grey Shirt And Khaki Pants Outfits
Here, you'll see how a "grey shirt and khakis" combination can look very different depending on the shades and styles you choose.
The other items you choose to wear with them also make a massive difference.
We'll go from the dressiest way to wear it, right down to the most casual way.
Dressy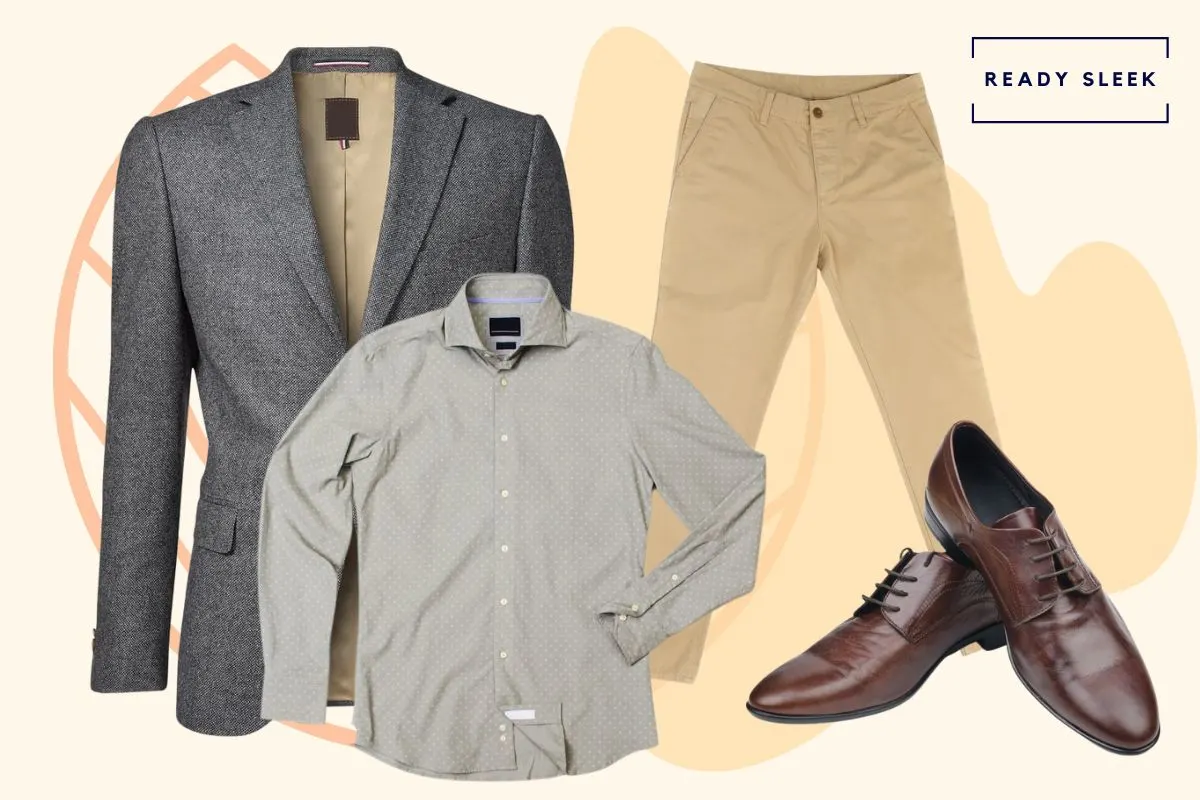 Items: Dark Grey Blazer, Light Grey Dress Shirt, Khakis, Dark Brown Derby Shoes
This combination would be ideal for a business-casual setting or simply a smart-casual setting that's on the dressier end of that spectrum.
The simple act of popping on a dark, neutral blazer makes a whole lot of difference here.
We've gone for a charcoal grey blazer here and paired it with a light grey blazer. A gloriously neutral, monochromatic combination.
In addition, we've gone for a grey dress shirt instead of a more casual button-up style.
The khaki pants will pair well with the dressy blazer and shirt combo up top without causing a formality mismatch.
The beauty of khakis is that they're versatile enough to be worn with a variety of different items ranging from formal to casual.
Finally, finish up with a pair of dress shoes in a dark and traditional color such as black or dark brown.
Dark brown Derby shoes have been used in the image above.
More Casual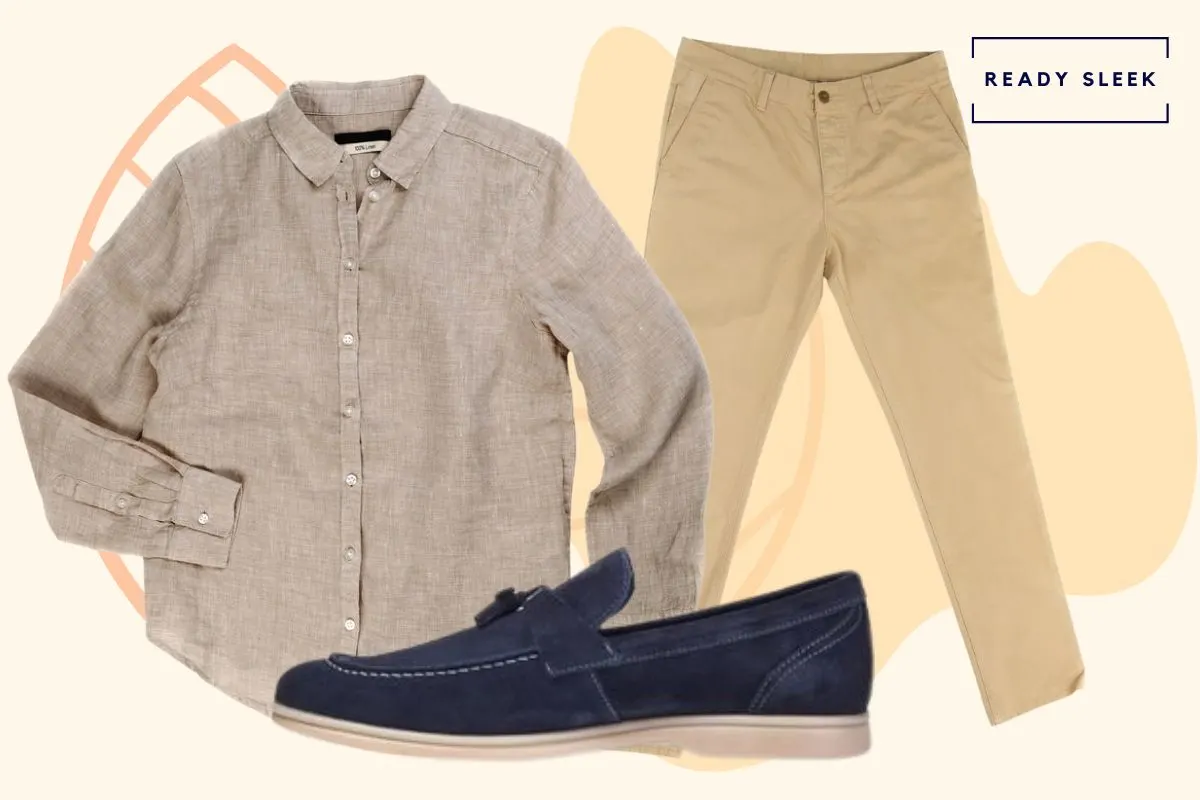 Items: Grey Linen Shirt, Khaki Pants, Navy Suede Tassel Loafers
Simply swapping the dress shirt for a button-up made from a more casual fabric or weave will make the combination look more casual overall.
Here, we've gone for a grey linen shirt – ideal for the warmer months of summer or spring given how breathable it is.
But you could easily swap that out for a similarly casual button-up fabric or weave such as Oxford cloth (OCBD) or chambray.
The rough and rugged textures of these fabrics will make the outfit look more casual overall.
During the colder months of the year, consider layering a cardigan over it.
The khakis are the same ones used for the dressier combination in the previous example.
As you can see, they're versatile enough to work with more casual items as well.
Navy suede tassel loafers are a great option here, especially during the warmer months. Suede loafers are ideal in smart-casual settings where you want to dress down but not too much.
While you could go for a more traditional and subtle color, the navy just adds a pop of color to the outfit overall.
Most Casual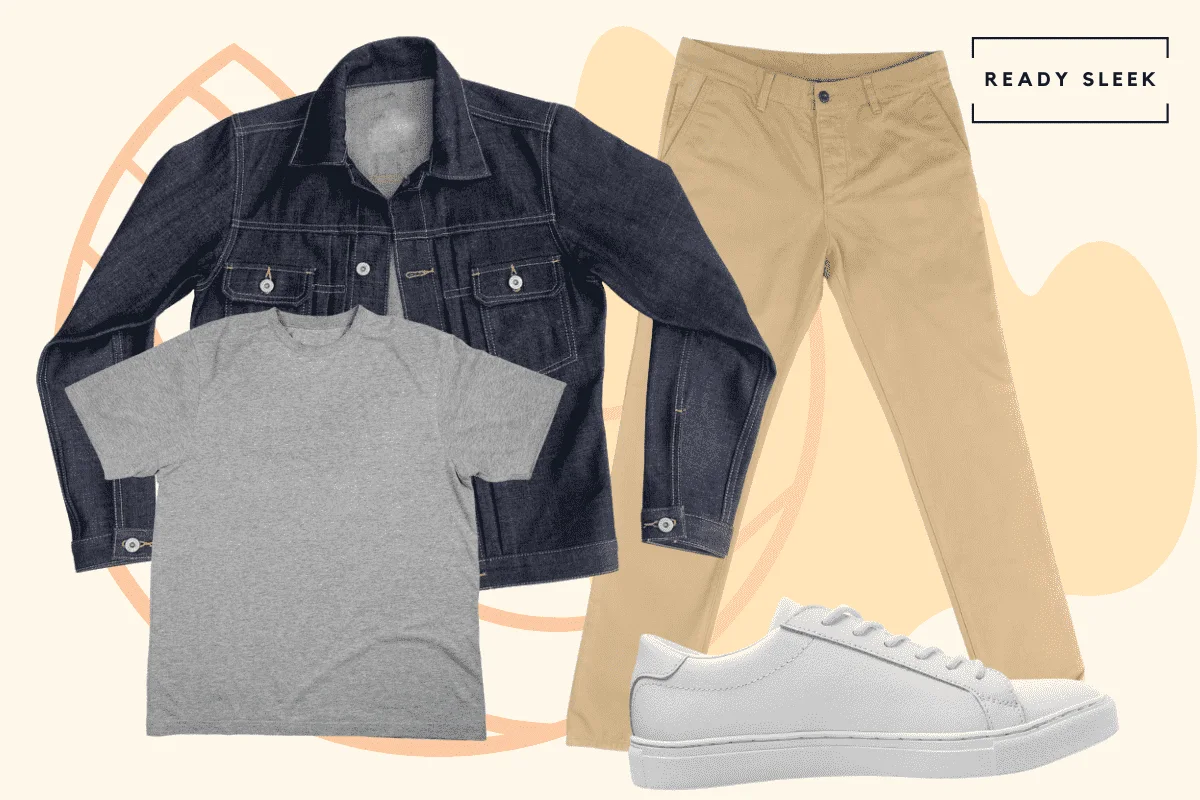 Items: Grey T-Shirt, Dark Blue Denim Jacket, Khakis, White Low-Top Sneakers
You'll immediately notice how much more casual this outfit looks, despite still being able to call it a "grey shirt and khakis" combination.
The grey T-shirt looks infinitely more casual than the button-ups in the previous example, but still looks great with the same pair of khakis.
Khakis are versatile!
While you could wear the grey T-shirt on its own here, layering a dark blue denim jacket over it would make it look more visually interesting.
The shoe style we've gone for is suitably casual – a pair of white low-top leather sneakers. It's hard to go wrong.
5 Tips For Wearing A Grey Shirt With Khaki Pants
Here are some great tips you need to know to ensure you wear the combination in the most effective way possible.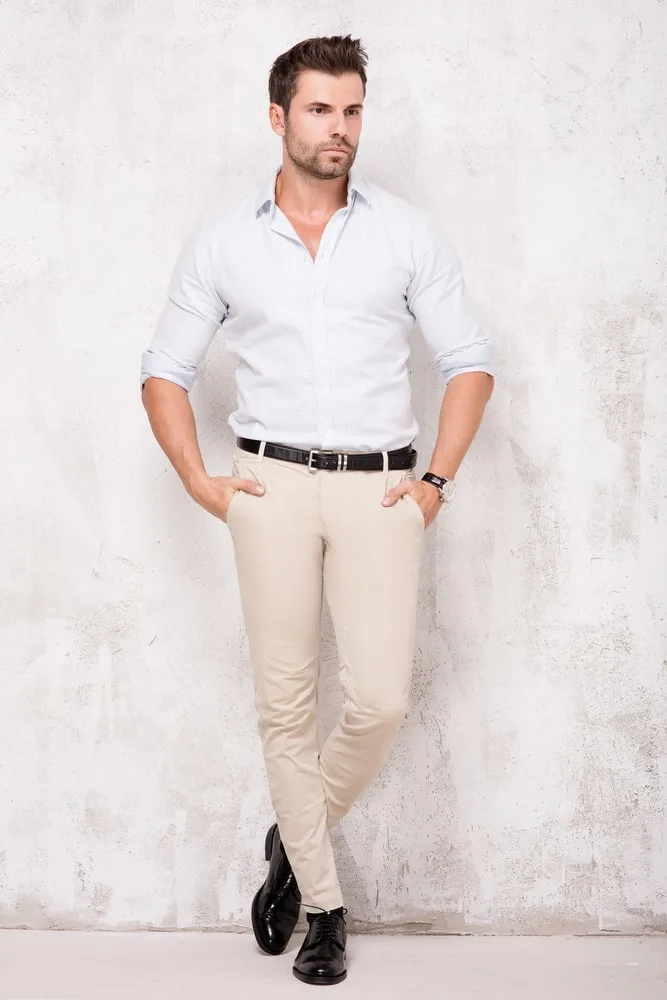 Make Sure It's Appropriate
Remember, a grey shirt and khaki pants combination should never be worn in formal or business-professional settings. It's perfect for casual, smart-casual, and business-casual settings.
In other words, it can be worn to a wide range of event types, but they'll all fall somewhere on the casual spectrum.
As you saw from the outfit examples above, the colors, fabrics, and other items you wear will mainly depend on where the setting lands on that spectrum.
If the setting is truly formal or professional, a 2-piece suit should be worn instead.
A khakis combination of any sort would never be enough, no matter how dressy the grey shirt may be.
Consider The Shade Of The Grey Shirt
When wearing khaki pants, dark grey shirts will produce a more eye-catching and high-contrast combination. This will, in general, look more casual than wearing a light grey shirt.
"Khaki" is a pale shade of brown. Wearing a dark grey shirt with khaki pants will lead to a high level of contrast between the two items.
Ultimately, you're combining a light-colored item with a dark-colored item. Doing so will usually look quite striking, eye-catching, and casual.
In business-casual settings, strongly consider wearing a light grey shirt with your khakis.
Light grey shirts have a more "professional" feel to them, while dark grey shirts have a more social and casual feel.
In addition, a light grey shirt will lead to a subtle and understated low-contrast combination when wearing khakis.
You're simply pairing one light and neutral color with another light and neutral color.
The Style Of Khaki Pants Matters
It's no secret that some pairs of khakis look dressier than others.
Don't get me wrong – they'll never look "formal". It's just that some look more casual, while others look less casual.
It all comes down to the features.
Here are some features that determine whether or not a pair of khakis is on the dressier end or the more casual end of the spectrum:
The Fit – Tapered, slim-fit khakis look dressier than baggy or skinny fits.
The Color – While "khaki" is technically a specific color, the term is used to refer to different shades of light brown. Lighter shades often look dressier.
The Pockets – Large patch pockets look more casual than jetted or welted pockets
The Seam Details – Prominent and very visible seam details will always look more casual
The Creases – Khakis with center creases (yes – they do exist) look dressier than flat-front pairs.
When attending a dressier event (eg. business-casual), consider wearing your grey shirt with a relatively dressy pair of khakis.
They don't need to fit all of the criteria listed. But the more boxes they tick, the dressier they'll look.
Blazers Work Exceptionally Well
When wearing khakis, popping a blazer over the grey shirt leads to a combo that just oozes a subtle sophistication.
The most versatile blazer colors would be black, navy, and charcoal. Blazers in these dark and neutral colors can be worn over a grey shirt in most business-casual settings.
In more casual settings, you could consider wearing a blazer in a more vibrant and exciting blazer color such as burgundy or even sage green.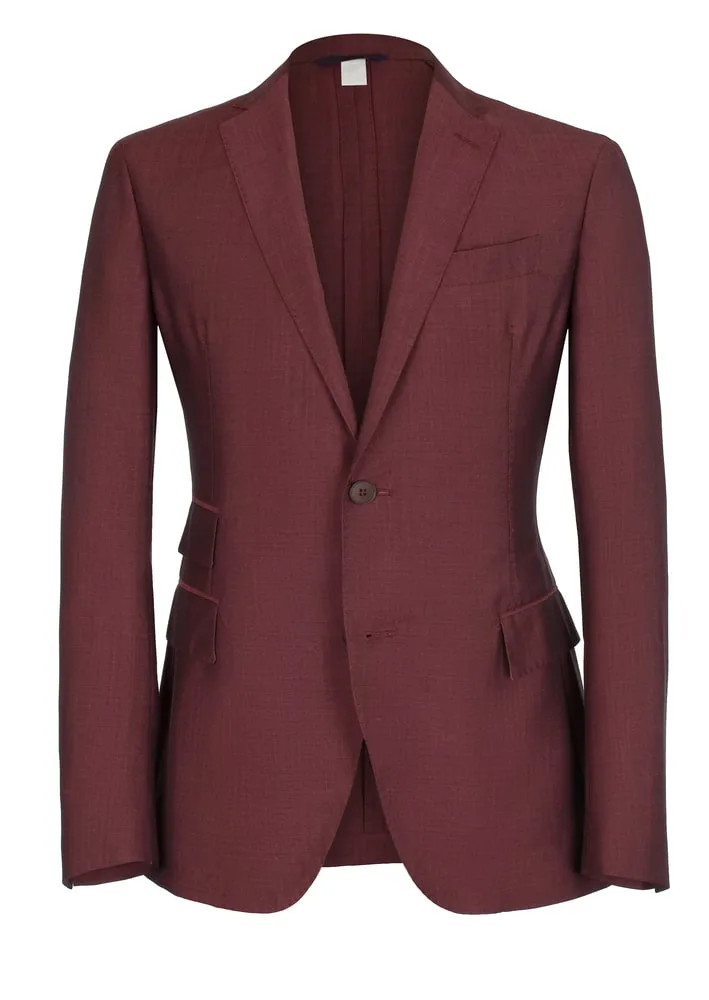 The grey shirt is neutral and can technically be worn under any blazer color you can think of.
But even when wearing non-neutral blazer colors (eg. red or green), try to choose dark and muted shades of those colors to keep things looking elegant.
The Shoe Color Should Match The Setting
When wearing a grey shirt with khaki pants, black and brown dress shoes would be the easiest and often the most effective options. In very casual settings, you could also consider wearing a pair of white low-top sneakers.
Brown dress shoes look great here because they coordinate seamlessly with the pale brown shade of khaki.
Dark brown shoes work well in business-casual or dressy smart-casual settings, while those in lighter shades of brown work well in more casual environments.
If you were looking for a middle ground between dress shoes and sneakers, consider loafers.
Loafers are a great option during the warmer months of the year, especially those in suede. In fact, any dress shoe style can be made to look more casual by just picking a pair in suede.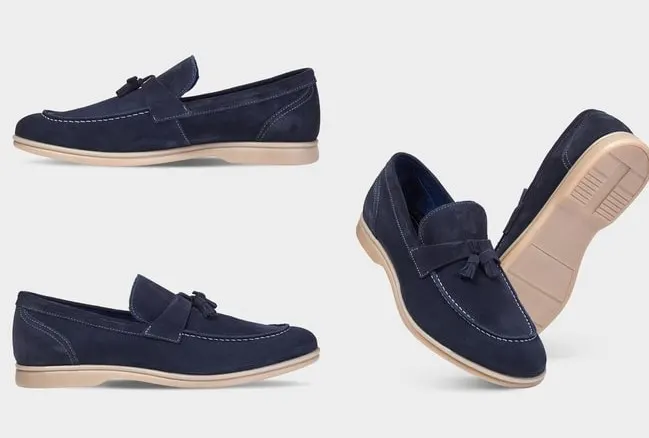 For example, suede Derby shoes or monk straps.
The napped texture of suede is an easy way to make an outfit look more laid-back and relaxed.
Suede shoes work well with khakis combinations and this one is no exception.
Ready Sleek founder. Obsessed with casual style and the minimalist approach to building a highly functional wardrobe. Also a fan of classic, vintage hairstyles.