Grey blazers give you the benefit of choice and versatility when it comes to coordinating your other items. But can you really wear a grey blazer with blue pants?
Yes, grey blazers look great when worn with blue pants in a variety of different business-casual and smart-casual settings. Blazers in dark shades of grey and pants in dark shades of blue lend themselves well to dressier settings, while lighter shades will always look a notch more casual.
That's the gist, but you'll need more.
After going through a few outfit ideas for inspiration, we'll go through some crucial tips for combining these two items in the most effective way possible.
Let's get to it.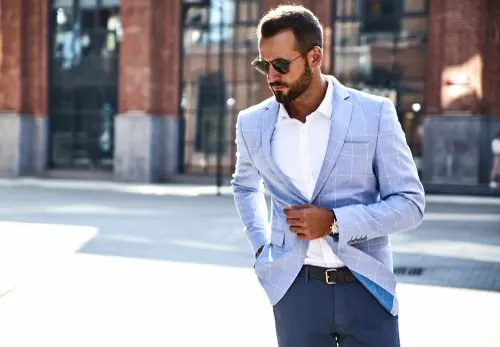 3 Grey Blazer And Blue Pants Outfits To Inspire You
As always, we'll go from the dressiest way to wear this combination, to the most casual way.
Enjoy.
Dressy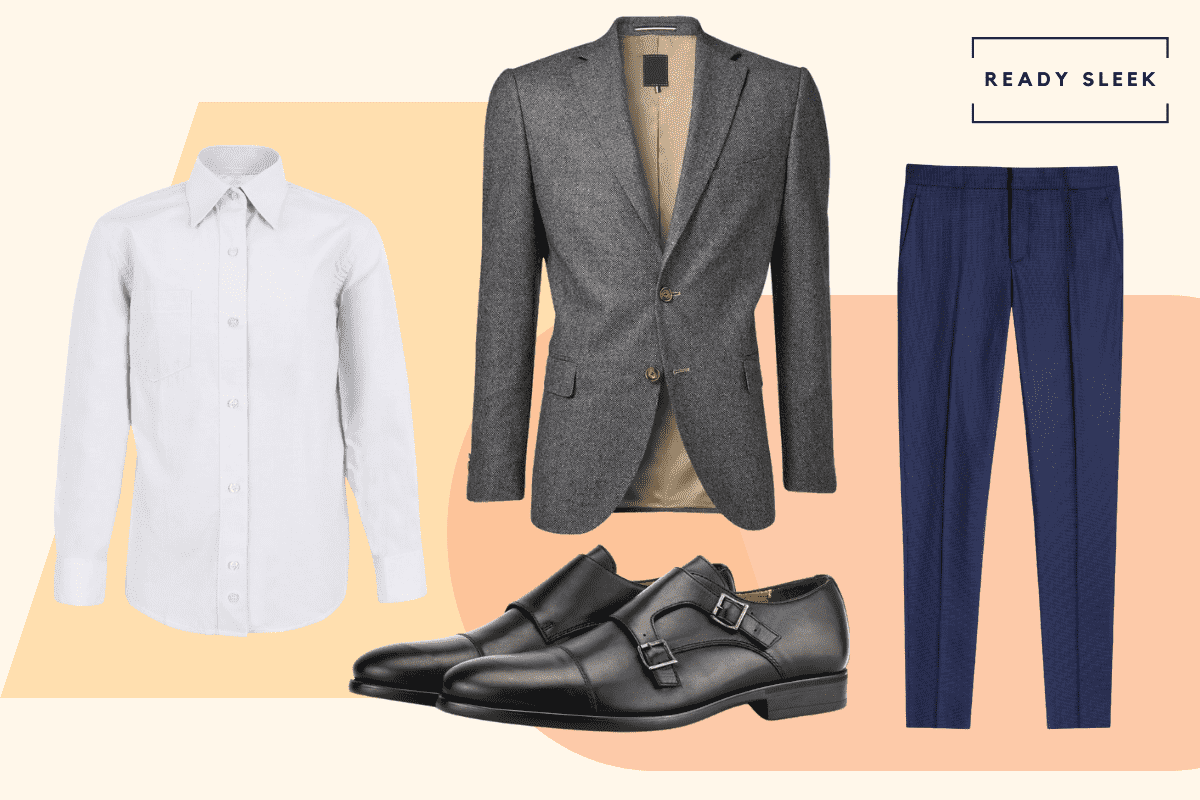 Items: Dark Grey Blazer, Navy Blue Pants, White Button-Up Shirt, Black Monk Straps, Olive Green Pocket Square
Going for a dark grey blazer (eg. charcoal) is a great way to up the formality level of this combo.
The same goes for the blue pants. Going for dress pants in a dark and muted shade of blue (eg. navy or midnight blue) is a quick and easy way to make the pairing look dressier and more formal.
In general, the darker, the dressier.
What are the other easy wins when it comes to dressing any blazer and pants combination up?
Quite simply, it comes down to what items you choose to wear them with.
The dressiest underlayer you could go for is a white button-up shirt of some variety. It's hard to go wrong with a 100% cotton white dress shirt.
Broadcloth, poplin, and chambray shirts in white would all be reasonably dressy alternatives.
When it comes to footwear, go for black or dark brown dress shoes in a shiny grain of leather. The darker, the dressier.
While you could go for black Oxfords, they're usually a bit too formal to wear outside of a 2-piece suit.
Instead, consider a pair of Derby shoes or monk straps. They epitomize the smart-casual aesthetic like few other shoe styles can.
More Casual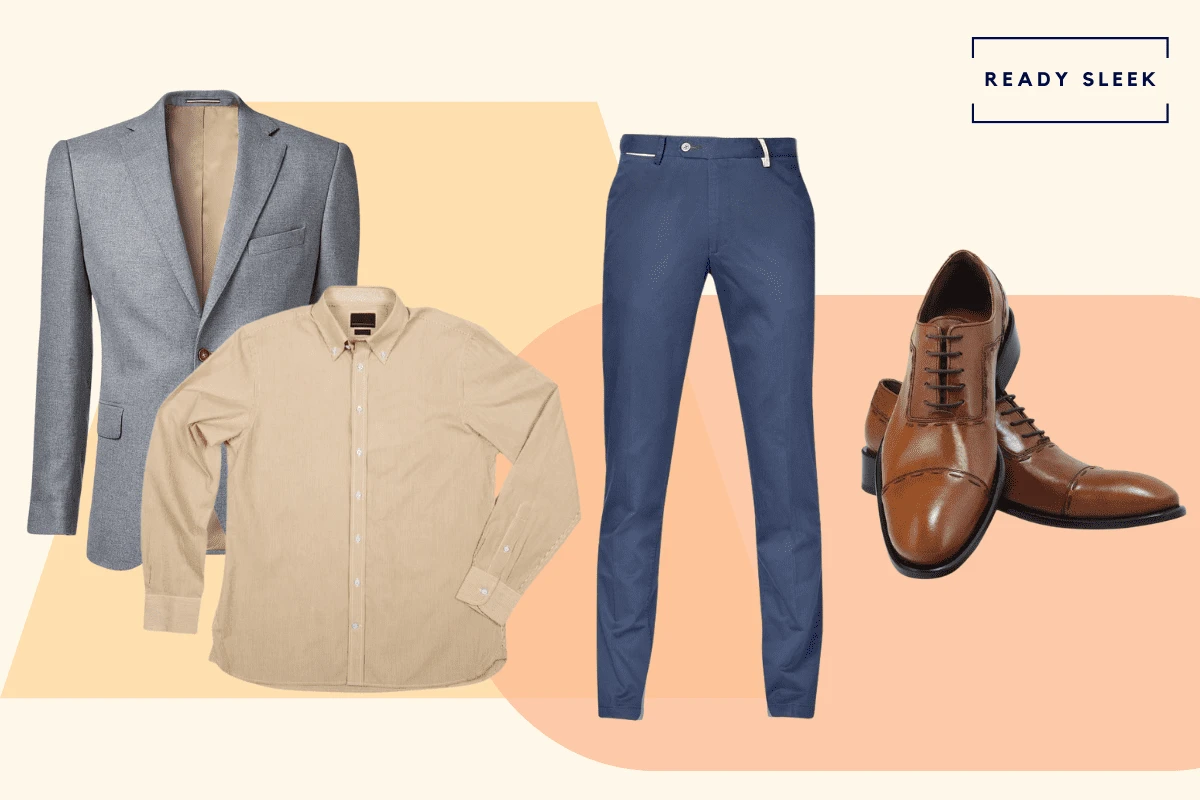 Items: Medium Grey Blazer, Blue Chinos, Khaki OCBD Shirt, Tan Brown Dress Shoes
Here, we're going for a blazer in a slightly lighter shade of grey. Notice how it immediately makes it look a notch more casual and laid-back.
We're ditching the dress pants and going for a more casual pair of blue chinos.
Chinos are great because they're easy to dress up or dress down as per your wishes.
At the end of the day, the grey blazer is neutral enough to coordinate effortlessly with chinos in any shade of blue you can think of.
But remember, the darker the shade of blue, the more "formal" the outfit will come across.
The white button-up dress shirt of the previous example has been swapped for a (slightly) less neutral color and a more rugged fabric.
A khaki, beige, cream, or tan OCBD shirt would work fantastically here. These cream tones and very light shades of brown work incredibly well under a grey blazer.
In addition, the rough and napped texture of the Oxford cloth shirt would make it clear that you're dressing down but not dressing down too much.
Finally, round things up with a pair of tan or caramel brown dress shoes. Going for a pair of dress shoes in a light shade of brown is yet another way to dress down a notch without going fully casual.
Most Casual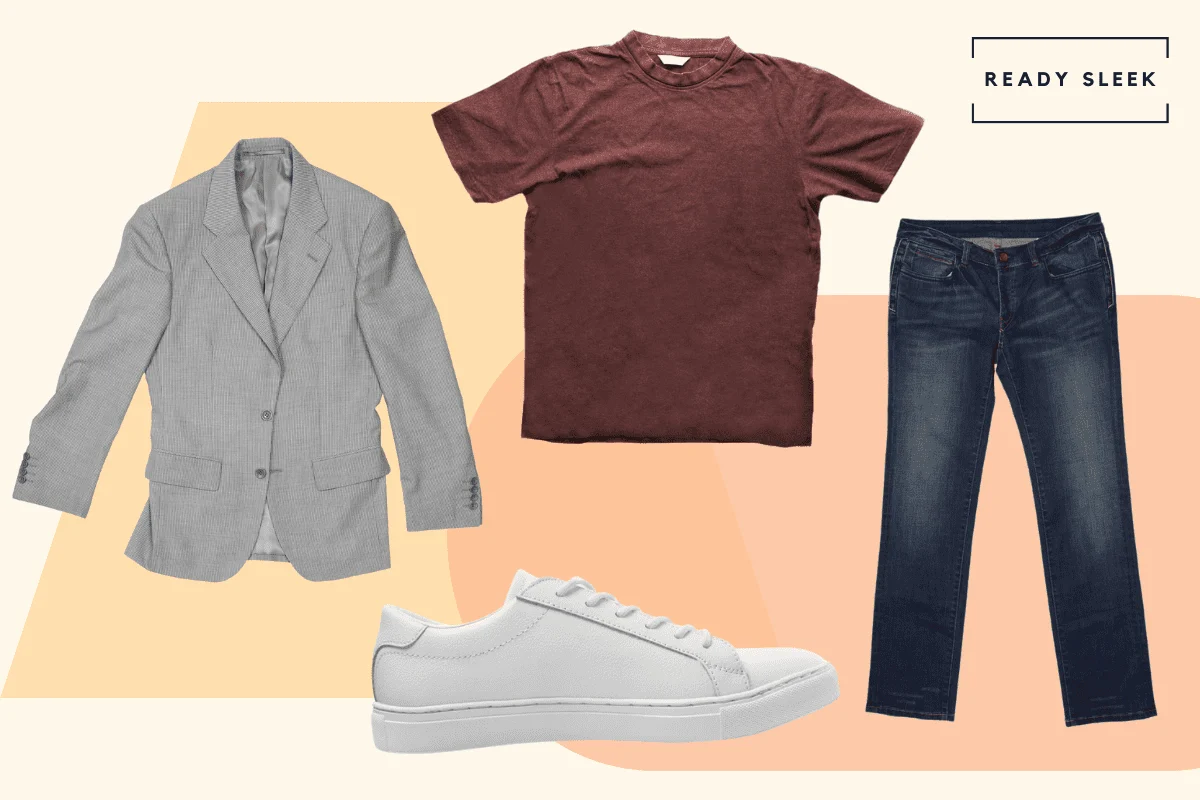 Items: Light Grey Blazer, Dark Blue Jeans, Maroon T-Shirt, All-White Leather Low-Tops
You'll immediately notice just how casual a blazer in a very light shade of grey can look.
Having said that, it's an easy way to dress up a much more casual outfit and make it look a little more sophisticated.
Worried a T-shirt and jeans combo looks too casual for the setting you're attending?
Pop a blazer over it and quickly become the best-dressed person in the room.
It's almost too easy, but it works.
Here, we're wearing an ultra-casual maroon T-Shirt and dark blue jeans combination, together with a pair of low-top sneakers to really embrace the laid-back aesthetic.
But there are a couple of things to note here.
You want to ensure that the jeans you're wearing don't look too casual to make sense with a blazer.
So, go for jeans in dark color and with minimal distressing. Black, dark grey, and dark blue can all work.
In addition, go for all-white leather low-top sneakers whenever possible. Everyone should own a pair.
They're versatile and arguably the "dressiest" pair of sneakers you could own. Going for this style reduces the risk of a formality mismatch between the sneakers and the blazer.
5 Tips For Wearing A Grey Blazer With Blue Pants
Here are some essential tips for getting this combo right. Take all of them into account before putting your outfit together.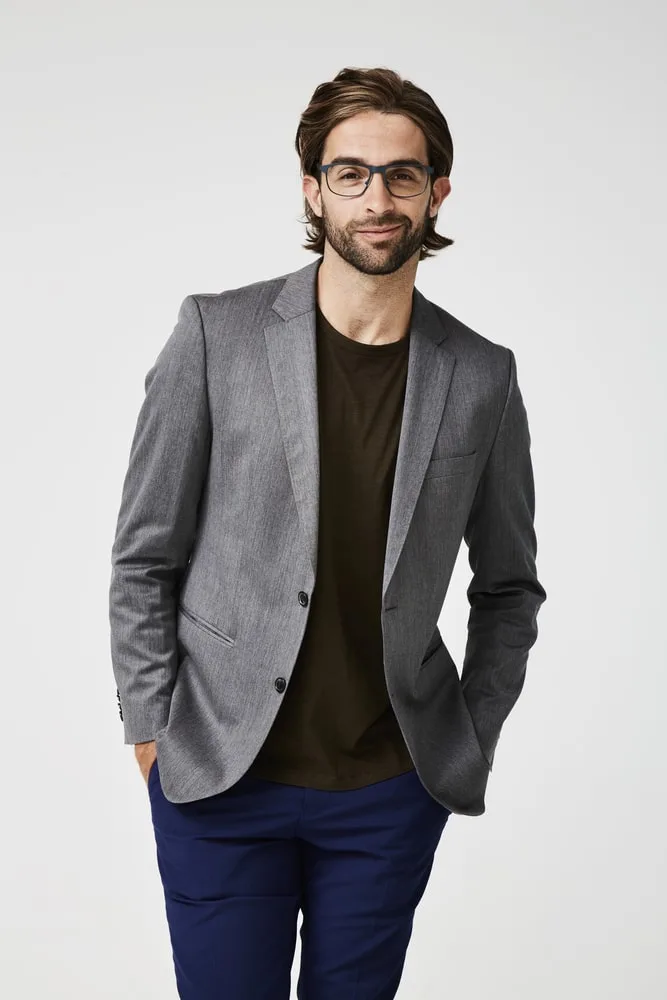 Keep It Casual
A grey blazer and blue pants combination should only ever be worn in business-casual and smart-casual settings. Never wear it in truly formal settings or in business-professional work environments.
In these more traditional and formal settings, a 2-piece suit would be required instead.
It may seem odd to call a blazer and pants combination "casual", but it's important to recognize that "casual" is a spectrum.
You've got business casual – a mixture of "professional" and casual attire where items such as blazers, OCBDs, dress shirts, sweaters, and chinos reign supreme. Suits are discouraged.
Smart-casual is a poorly understood but very common dress code where polo shirts, OCBDs, blazers, sport coats, chinos, and smart jeans can usually be worn.
Even "smart-casual" can range from very casual (eg. polo + smart jeans) to not-so-casual-at-all (eg. blazer, OCBD, and dress pants).
Ultimately, however, you can usually rest assured that a grey blazer and blue pants combination would usually be acceptable in some form.
Refer back to the outfit examples above.
The first example would be acceptable in a business-casual setting, while the other two have more of a smart-casual flavor to them.
The Shade Of The Blazer And Pants Matters
When attending a dressier smart-casual or business-casual setting, blazers in darker shades of grey and pants in darker shades of blue would usually be more appropriate.
For example, a charcoal grey blazer worn with a pair of navy blue pants.
In more casual/smart-casual settings, light grey blazers worn with pants in light shades of blue (eg. admiral, steel, royal, teal) can also be considered.
In fact, this combination can look very different depending on the shade of each of the two items.
Another factor worth considering is how much contrast you want between the two items.
When dressing the combo up, a low-contrast combination consisting of a dark grey blazer and dark blue pants would usually be best.
But in more casual settings, consider a more striking and high-contrast combination instead.
For example, a light grey blazer worn with dark blue pants or a dark grey blazer worn with light blue pants.
This type of contrast is generally more casual, but also eye-catching and aesthetically pleasing.
Consider The Style Of Blue Pants
The style of blue pants you choose to wear with your grey blazer should depend on the setting.
In dressier/business-casual settings, dark blue dress pants would usually be the best option. Wool or wool-synthetic blends are often used for smart pants such as these.
When going a notch more casual, consider a pair of blue chinos instead.
As mentioned earlier, the beauty of a pair of chinos is that you can dress them up or dress them down in many different ways.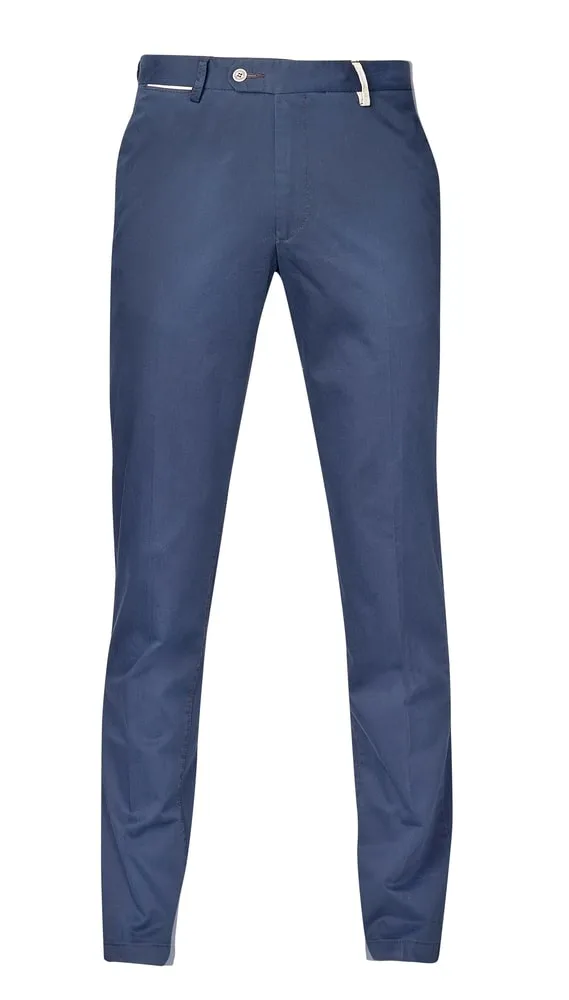 They're incredibly versatile and ideal for both business-casual and smart-casual settings.
If you're really dressing down and wearing your grey blazer to a much more casual setting (as per the third outfit example above), consider a pair of dark-wash blue jeans with minimal distressing.
As you can see, you've got plenty of options.
But try to ensure that the blue pants you choose are, at the very least, "dressy" enough to wear with a grey blazer.
Ensure The Underlayer Suits The Setting
Blazers can be worn over many different items ranging from very casual to very formal.
Here are some examples of potential underlayers split by dress code:
Business-Casual:
100% cotton dress shirt
OCBD shirt
Broadcloth shirt
Smart-Casual (Dressy):
OCBD shirt
Linen Shirt
Chambray shirt
Turtleneck sweater
Smart-Casual (Not-So-Dressy):
Polo shirt
Henley shirt
T-Shirt
So, whenever you're wearing a grey blazer, make sure that the style of your underlayer suits the setting you're dressing for.
Consider Going Tieless
A grey blazer and blue pants combo of any variety should be considered casual first and foremost.
Sure, there are different types of "casual" ranging from business-casual to truly casual.
But it shouldn't ever be considered formal or on-par with a 2-piece suit.
Because of this, it's important to consider whether wearing a tie is truly necessary when a suit isn't.
In many settings, even business-casual ones, going tieless, unbuttoning one or two buttons, and really embracing a more laid-back aesthetic is often a great way to go.
Of course, every setting and event is different, so take your specific circumstances into account.
But ask yourself the question and avoid overdressing if possible.
Frequently Asked Questions
Here are the answers to a couple of FAQs on the topic to finish up.
Can You Wear A Grey Blazer And Blue Pants To A Wedding?
A grey blazer can be worn with blue pants to weddings with a "smart-casual" or "semi-formal" dress code. It shouldn't be worn to weddings with a "formal" dress code where a 2-piece suit would be required at a minimum.
Underdressing for a wedding is never a good feeling.
Having said that, there are plenty of weddings that do present themselves as smart-casual, semi-formal, or some other vague dress code that's ultimately more casual than "formal".
It's usually acceptable to wear a grey blazer and blue pants to these weddings.
However, if you feel as though there's a risk of underdressing, it may be best to wear a full 2-piece suit instead.
Can You A Grey Blazer And Blue Pants With Brown Shoes?
Brown shoes can easily be worn with a grey blazer and blue pants. In dressier settings, consider a pair of dark brown shoes. Light brown alternatives (eg. tan or caramel) are more appropriate in more casual settings.
Brown suede shoes also look great with this outfit, especially when dressing down a notch for a smart-casual setting.
Ready Sleek founder. Obsessed with casual style and the minimalist approach to building a highly functional wardrobe. Also a fan of classic, vintage hairstyles.