Khakis are renowned for their versatility and for being suitable in a range of different dress codes. Flannels, on the other hand, are primarily casual. So, can you really wear a flannel shirt with khakis?
Yes, you can. When wearing a flannel shirt with khakis, layer your flannel leaving it fully unbuttoned and color-coordinate whenever possible. Avoid tucking the flannel into the khakis and embrace a more casual aesthetic. Sneakers are an ideal choice of footwear for this outfit.
Although that's the gist, there's much more to it.
Let's dig deeper.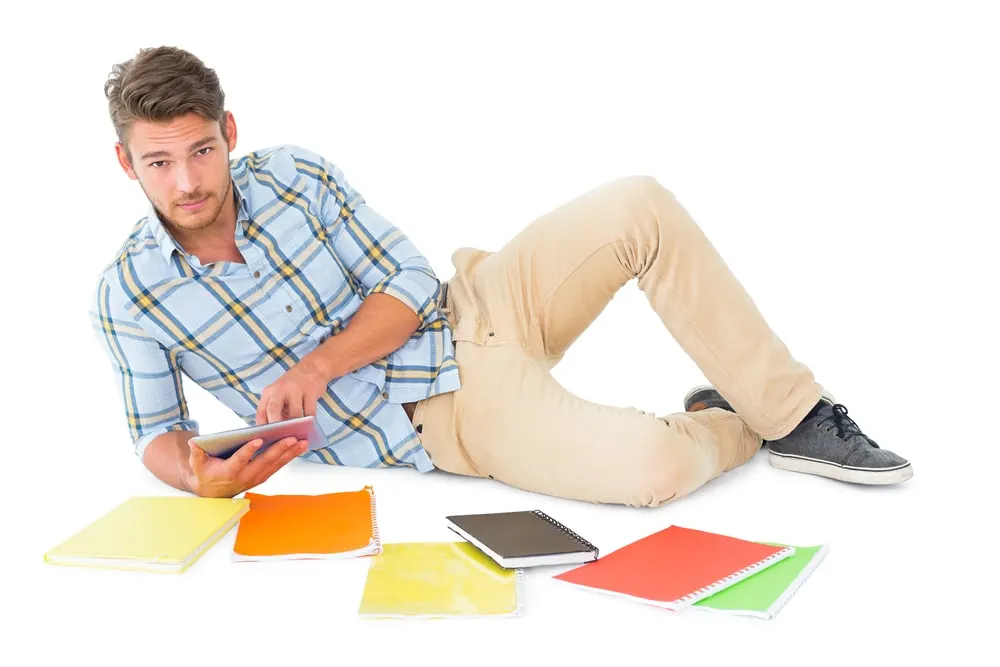 5 Tips For Wearing A Flannel With Khakis
Here are some essential tips for wearing a flannel with khakis to make sure you wear it in the most effective way possible, each and every time.
1. Consider Layering The Flannel
Consider layering the flannel.
It can go a long way, adding personality and flair to your outfit while maintaining a cool, casual look.
There are many ways to layer your flannel shirt and some look better than others with khakis.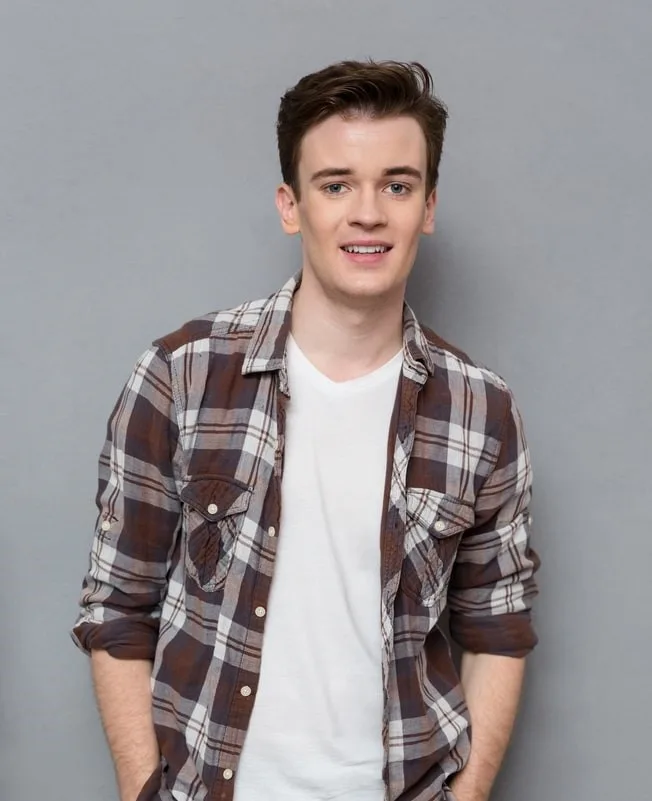 As a general rule, the best way to create a layered effect with a flannel and khakis is by leaving your flannel fully unbuttoned and wearing a T-shirt underneath.
Here's an example on Amazon:
While the optimal T-shirt color varies depending on the color of your flannel, you can't go wrong with a white one.
White T-shirts are fantastically versatile garments and can pair with pretty much anything you throw at them.
On top of this, khaki is a neutral color and is also incredibly versatile.
This combination of two versatile, neutral colors (white and khaki) means that you have a lot of room for color experimentation with your flannel.
That is to say, you can choose a flannel shirt of any color, and it'll look good as an overlayer with a white T-shirt.
Usually, having well-fitting clothes is crucial to looking good; however, when layering your flannel for a casual look, this isn't necessarily the case.
It's generally best to ensure your flannel is oversized. Oversized simply means it would normally be too big for you.
For example, if your standard size is a medium (usually labeled "M"), go for a large (usually labeled "L") instead.
That being said, you'll sometimes be able to find garments (particularly flannels) that are designed to be oversized.
It's generally best to favor purposely oversized flannels over sizing up, as they are made for layering.
2. Consider A Jacket
While layering your flannel is the first tip to successfully wearing a flannel shirt with khakis, it doesn't end there.
Wearing a jacket over the top of your fully unbuttoned flannel can be a great way to add some extra depth to your outfit.
It can be difficult to know the best jacket to wear with a flannel shirt and khakis, especially considering the casual nature of this outfit.
To put it simply, avoid jackets of any level of formality other than casual.
This includes blazers, sport coats, pea coats, and suit jackets.
Instead, stick to something more casual and rugged, such as a leather jacket, varsity jacket, or bomber jacket.
As for the color of your jacket, try to stick to neutral colors as much as possible. After all, your flannel will have enough color to make the outfit stand out.
And with multiple layers, making sure all colors work together well is essential; neutral colors make it much easier to color-match.
To maximize the layering's effectiveness, make sure you leave your jacket unzipped (or unbuttoned).
Doing so will make the look seem intentional and show style knowledge and outfit depth.
3. Leave Your Flannel Untucked
Khakis can be worn in smart-casual situations. Similarly, flannel shirts closely resemble button-ups – which are generally associated with formal attire.
Because of this, it can be challenging to know whether or not you should leave your flannel tucked or untucked.
When wearing a flannel with khakis, leaving your flannel untucked is essential.
Despite the underlying, potentially-formal implications of this outfit, it is, in fact, casual.
Leaving your flannel shirt untucked aligns with the casual nature of the rest of the outfit.
Here's another example on Amazon showing how effective it looks:
If you were to tuck in your flannel, there'd be a blatant formality mismatch, and people could be confused about the purpose of the outfit.
This stands true when layering your flannel (as is recommended with khakis): leave your flannel and any other layers untucked.
There are two types of tucks: the French tuck and the full tuck.
The full tuck is what most people associate "tucking-in" with, while the French tuck is slightly more unusual.
Despite the French tuck being a casual tucking method, you should avoid both the French tuck and the full tuck with a flannel and khakis.
4. Keep It Casual
Knowing whether your outfit is formal or casual (or somewhere in between) is a common problem among men.
Even those with experience in men's style can sometimes find it difficult to know what the best outfit is for the given dress code.
It gets particularly confusing when some garments are deemed "smart-casual," as this dress code is a blend of formal and casual apparel.
Khakis fit into this smart-casual category, which can be misleading.
Not only can khakis be worn on smart-casual occasions, but you can wear them casually, too. And casual is exactly what this outfit is.
The flannel shirt dresses down the khakis too much for it to be acceptable in any formal or slightly formal scenarios.
Moreover, wearing a layered flannel, with a T-shirt underneath and a jacket over the top, is very casual.
Some may argue that layering leads more toward formal than casual due to the nature of suits and blazers being layer-reliant.
However, in this case, the layering is much more informal than anything else.
Worth noting is that this outfit isn't appropriate for casual weddings.
This is because – while the dress code may say "casual" – the ideal attire is pretty much always smart-casual.
5. Sneakers Work Best
Finally, the shoes you choose can make or break this outfit. Choosing shoes that are too formal or too casual is a common mistake and should be avoided at all costs.
With a flannel shirt and khakis, it's important to keep your shoes pretty casual.
Sneakers work best alongside this outfit, as they're casual, streetwise, and simply look good.
Because of the versatility of khakis, the color of your sneakers isn't as significant as some may think.
That being said, it's still best to stick to neutral colors – particularly black or white.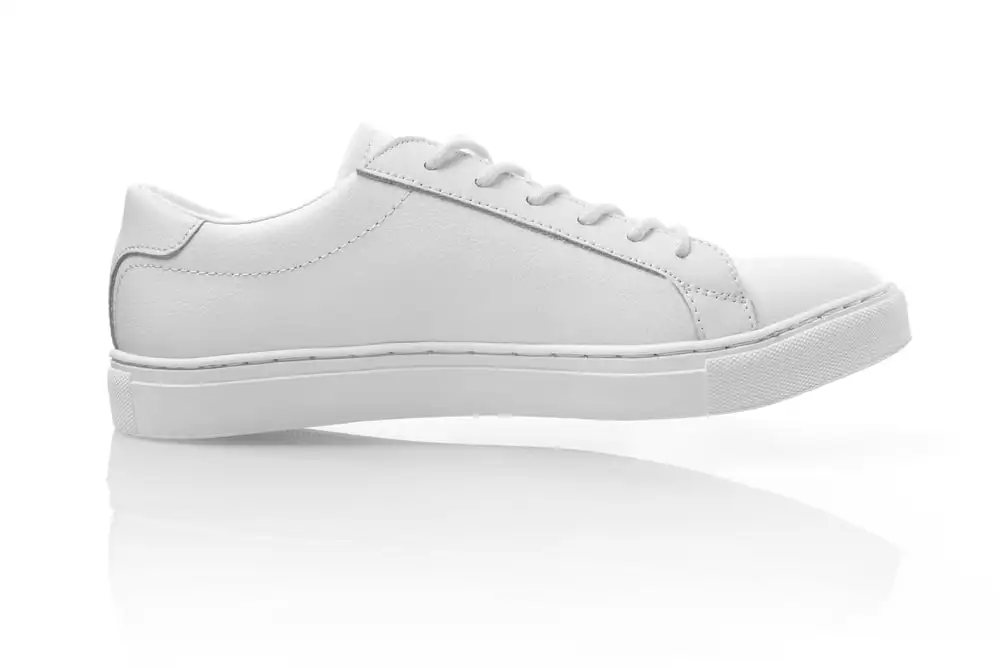 Formal or semi-formal shoes, such as Oxfords, monk straps, Derbys, and loafers, are too formal for this outfit and would look out of place.
Frequently Asked Questions
Here are some frequently asked questions to really finalize the topic.
Can You Wear A Red Flannel With Khakis?
Red is arguably the best-colored flannel to wear with khakis. It's a traditional flannel color. Consider going for a red-and-black checkered flannel, where red is the more prominent color.
Consider wearing a white T-shirt underneath it and leaving your flannel fully unbuttoned.
Red is a traditional flannel color and looks great with khakis.
A red-and-black checkered flannel shirt will add some personality to your outfit – particularly if you layer it.
Can You Wear A Black Flannel With Khakis?
It's possible to wear a black flannel with khakis. Layering it with a white T-shirt will create a nice contrast in the outfit. Also, go for a lighter khakis shade, as this will further contribute to the contrasted look.
When it comes to black flannel shirts, contrast is key.
Lighter shades of khakis alongside a white T-shirt underlayer will really help achieve this contrasted appearance.
Can You Wear A Flannel With Khaki Shorts?
Wearing a flannel with khaki shorts is a bold look. Think about rolling up your flannel's sleeves and going for a checkered flannel (rather than a plain one) to really show off your style. As per usual with flannels, layering works best.
The general consensus is that you should avoid long-sleeved shirts with shorts.
However, with flannels, this isn't always the case. Leave your flannel fully unbuttoned, wear a white T-shirt underneath, and roll up your sleeves.
Conclusion
Now that you know how to wear a flannel shirt with khakis, you'll be able to wear this outfit with confidence. Remember that, overall, it's a very casual outfit, so avoid formal situations altogether.