Going monochromatic isn't a decision to take lightly, but it doesn't need to be overcomplicated either. The question is, can you wear a blue shirt with blue jeans?
Blue shirts can easily be worn with blue jeans. Consider wearing smarter pairs of blue jeans with smart-casual shirt styles like blue polos, Henleys, and OCBDs. More casual-looking blue jeans would work better with blue T-shirts and flannels.
Although that's the short answer, there's more to it.
Here are some essential tips to ensure that you wear this combo effectively and without looking awkward.
Let's get to it.
Consider The Dress Code
The dress code of the setting you're attending should influence the style of blue shirt you wear, as well as how "formal" those blue jeans look.
Right from the outset, it's worth noting that blue jeans could never really be "formal". They're a staple of casual wear and should really only be worn in casual and smart-casual settings.
Avoid them in business-casual settings and definitely avoid them in formal settings.
But it's no secret that certain blue jeans look smarter than others and would be more appropriate for smart-casual settings. They typically have:
A darker wash
A tapered fit
Minimal distressing
More casual blue jeans:
Lighter shades of blue
More distressing (eg. rips, frays, acid washing).
A baggier fit
Why does this matter?
Because less casual styles of blue jeans work well with less casual shirts, and more casual styles of blue jeans work well with more formal shirts.
If you're wearing a more casual-looking pair of blue jeans, consider:
Blue T-shirts
Blue flannels
Blue polos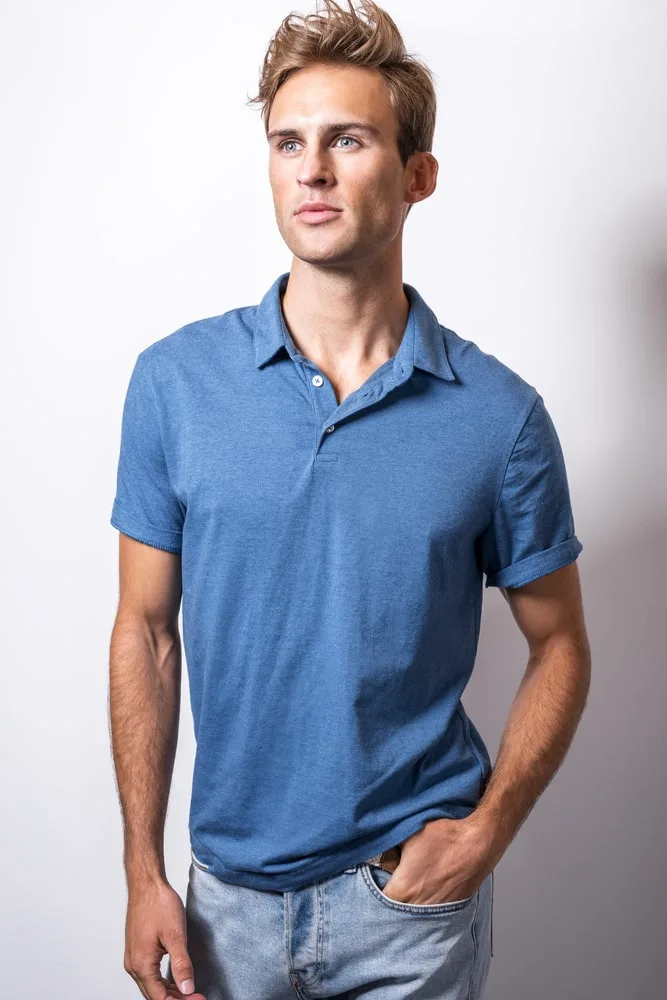 If you're wearing a less casual-looking pair of blue jeans, consider:
Blue polos (they're versatile enough to be either)
Blue Henleys
Blue denim shirts
Blue Oxford shirts
Don't get me wrong, these aren't hard and fast rules. You could pretty comfortably wear a blue T-shirt with a pretty sharp pair of blue jeans (dark wash etc) and it would be fine.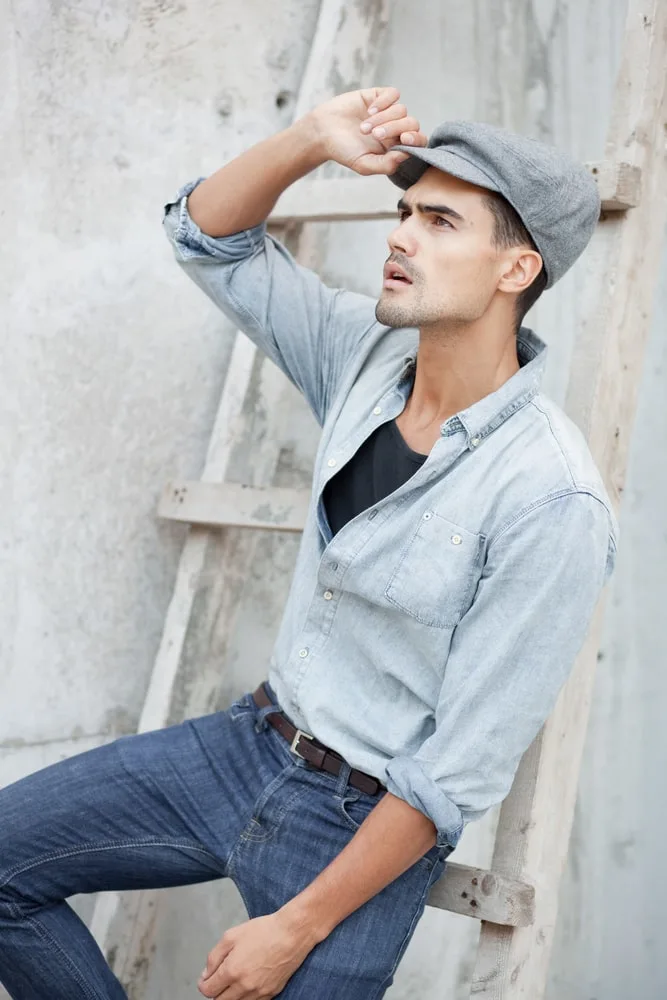 But it's just more effective when you take the formality of each item into consideration when putting together your outfit.
Choose Different Shades Of Blue
"Monochromatic" just means you're sticking to the same color for multiple items. It doesn't mean you're choosing exactly the same shade of blue for every item.
In fact, choosing a blue shirt and blue jeans in the same shade of blue usually wouldn't look good.
It's best to vary the shade of blue so you've got some contrast.
The easiest and most obvious way to do this would be to simply mix light with dark.
For example, go for a dark blue shirt with a light blue pair of jeans.
Alternatively, go for a light blue shirt with a dark blue pair of jeans.
This holds true no matter what style of blue shirt you end up going for.
Aiming for some contrast just makes it more likely that your outfit looks well-balanced and well thought out.
Try To Choose Different Fabrics
This isn't a firm rule either, as denim on denim can look pretty great as you can see from the image below. It's very commonly done and for good reason.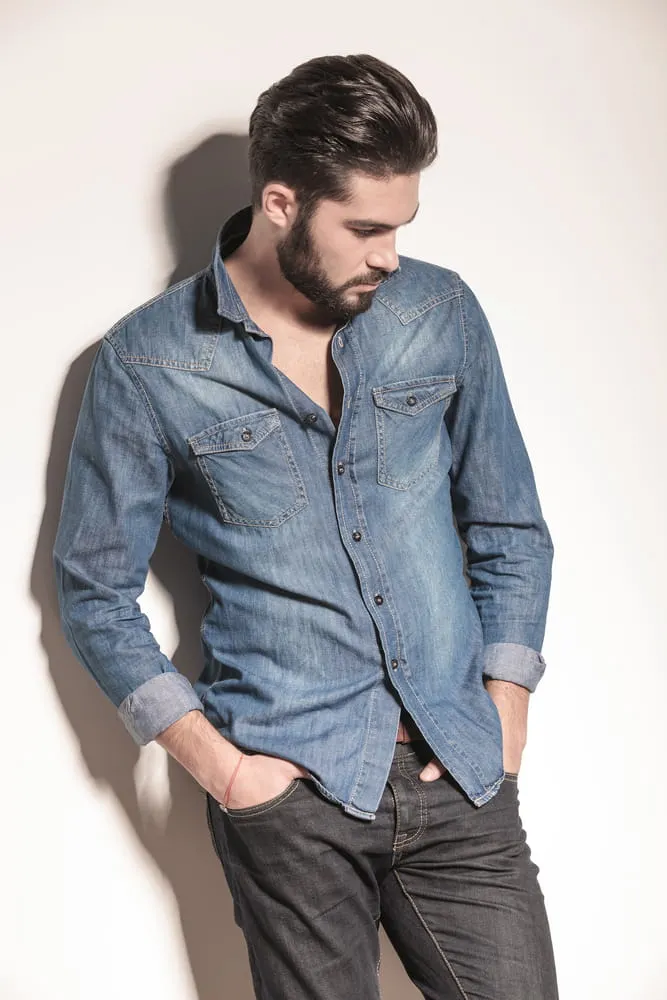 But choosing a different fabric for your shirt (i.e not denim) often looks even better.
The reason for this is that it's yet another way of producing some contrast between your top and your bottom.
The number of fabrics you could go for that aren't denim really is endless, so I won't bother listing them all.
Linen, cotton, Oxford, poplin – it doesn't matter.
The contrast in texture between a blue shirt made from one fabric and the rugged texture of the blue denim jeans will work well.
If you do go for denim on denim – i.e blue jeans with a blue denim shirt – it's even more important that you achieve some contrast in color.
That's the main reason why the outfit in the image above still works so well.
Avoid Blue Dress Shirts
Dress shirts are ideal for business-casual and formal settings. These are two settings where jeans should really never be worn.
While opinions can vary on this matter, in general, dress shirts don't look great when worn with jeans.
The main reason for this is that it leads to a formality mismatch.
As "formal" as a pair of blue jeans may look (i.e dark wash, tapered), they'll never really look formal.
The rugged texture of denim will always look casual. They've become an iconic staple of casualwear around the globe and that's what's so great about them.
But wearing them inappropriately is a common problem and a faux pas to avoid at all costs.
The bottom line here is to avoid wearing blue dress shirts with blue jeans wherever possible.
Layering Works Well
Layering is a great way to add a pop of color that isn't blue into your outfit.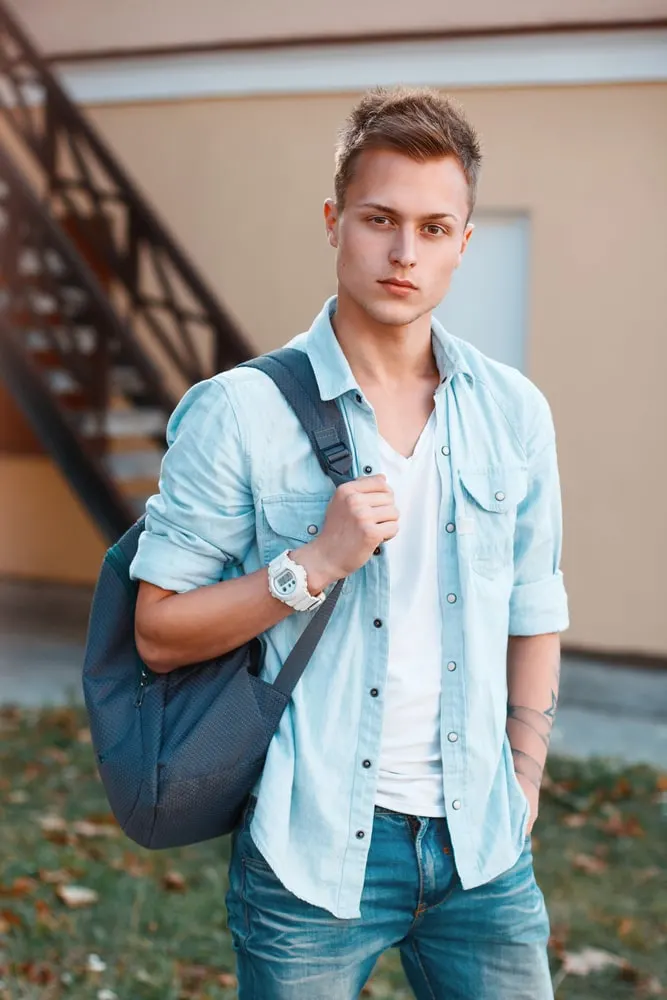 You'll still be wearing a blue shirt and blue jeans. But you're using the power of layering to embed another color into your outfit.
A touch of contrast is never a bad thing. It's an easy way to add a sense of visual interest to what you're wearing.
You'll need a buttoned blue shirt in order to do this, ideally a button-up with buttons all the way up.
The shirt will act as an outer layer over a T-shirt in a completely different color. Going for a neutral-colored T-shirt would be the easiest option (white, grey, or black).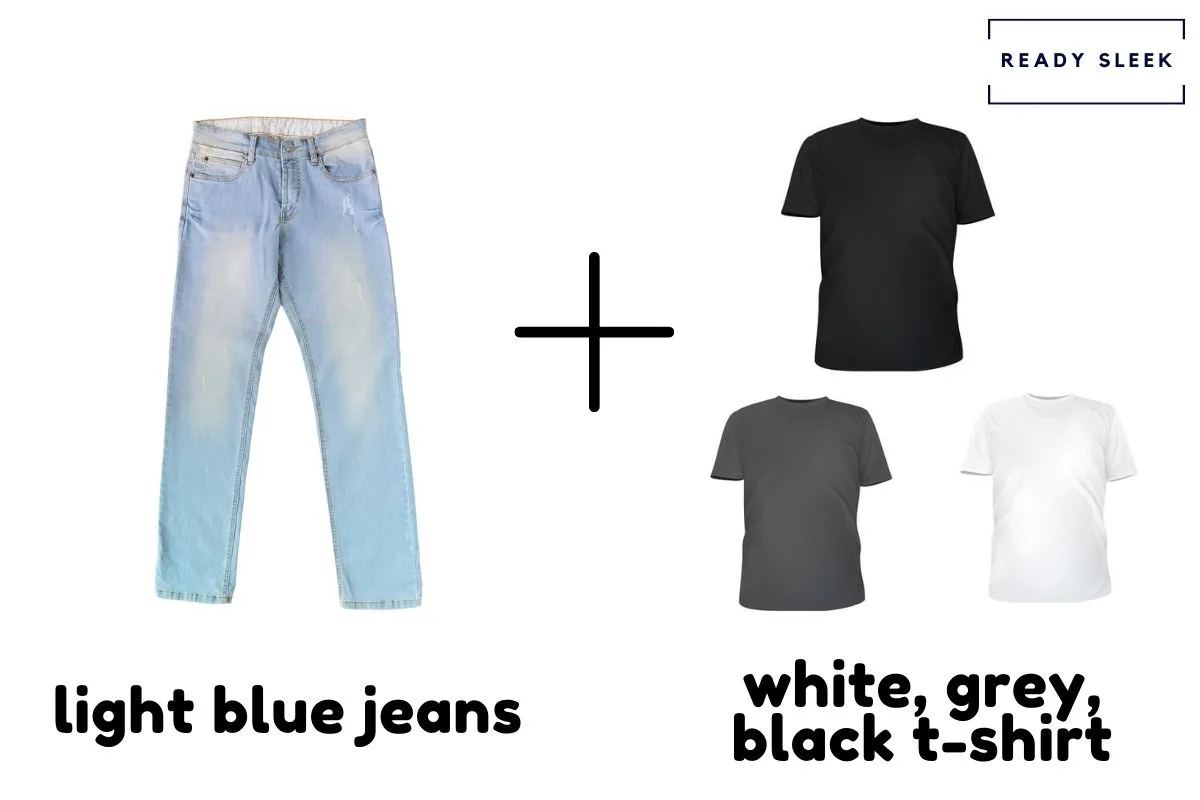 But if you want a louder color, consider something warm like pink, maroon, or even orange.
Blue and orange are opposite each other on the color wheel, as you can see from the image below.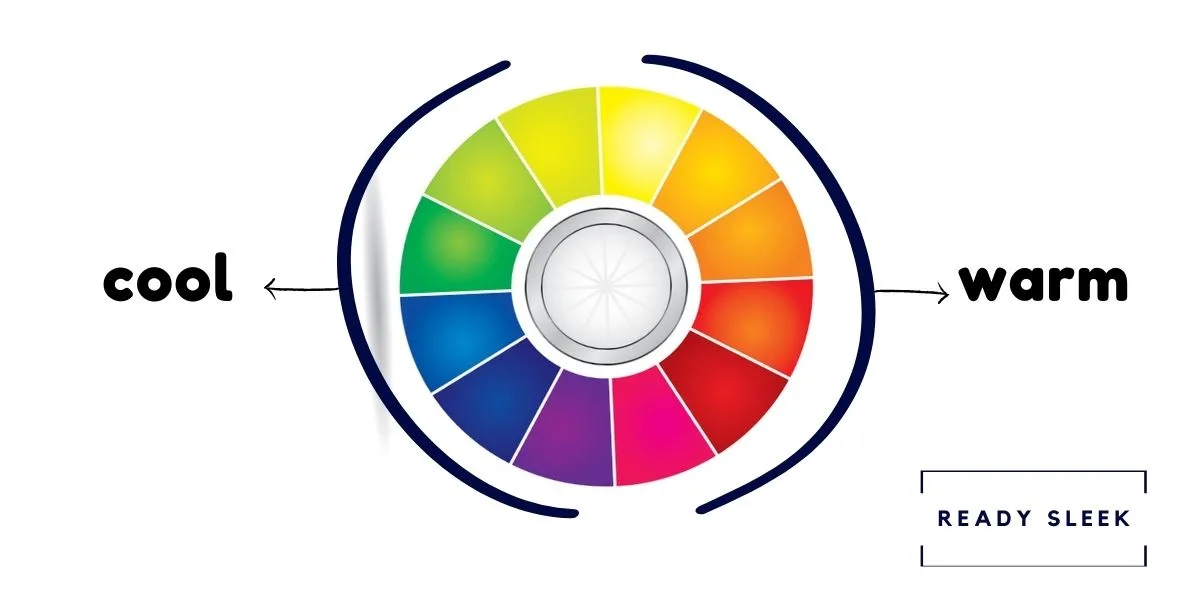 Because of this, they're considered "complementary" and produce a huge amount of contrast when worn together.
A blue Oxford, linen, or flannel shirt left unbuttoned and layered over an orange T-shirt would look very eye-catching. Definitely one to consider if you're looking to make more of a statement.
Consider Cuffing
Cuffed jeans ooze a nice and laid-back casual streetwear aesthetic. It's definitely one to consider when you aren't worried about dressing up and really want to go casual.
It refers to rolling the hem of the jeans up once or twice to expose the ankles.
It works great when you're going for a casual blue shirt and blue jeans combo (think T-shirts, polos, and flannels).
If you're going for more of a smart-casual outfit, however, it may be better to leave the jeans uncuffed and go for a more "formal" approach.
Sneakers, Loafers, Or Boots
While there are plenty of shoe styles you could wear with a blue shirt and blue jeans combo, there are three that come to mind immediately.
Sneakers, loafers, and boots.
What's great about having a pair of each of these to choose from is that it pretty much sets you up for any setting or event you can think of.
For example, if you're wearing a blue T-shirt/polo and blue jeans to a truly casual setting (eg. going to the movies or a friend's place), a pair of white low-top sneakers would work so well.
If you were going for more of a smart-casual look with a blue Henley/Oxford and dark wash blue jeans, a pair of penny loafers would work even better.
If you wanted to go for a more smart-casual look in the winter/fall or you just didn't want to wear low-cut shoes, a pair of brown Chelsea or chukka boots would really work a treat.
When it comes to color, you've got plenty of options, as blue is a versatile color that's relatively easy to color coordinate.
With sneakers, you really can't go wrong with white. But if you were looking for more of a statement, going for a brighter and bolder color would be absolutely fine too.
When it comes to loafers, Chelseas, and chukkas, brown would always be the most versatile and easiest color to work with.
The blue shirt, blue jeans, and brown shoes combo is just so hard to go wrong with.
Ready Sleek founder. Obsessed with casual style and the minimalist approach to building a highly functional wardrobe. Also a fan of classic, vintage hairstyles.