It's a classic combination that often works spectacularly. But to really pull it off there are a few things you should never forget. So, how exactly should you wear blue jeans with a black shirt?
Slim and tapered non-distressed dark blue jeans and black button-up shirts should be worn in smart-casual settings. In more casual environments, consider a black tee, polo, or Henley and a pair of light or medium blue jeans with or without distressing.
While that's the quick answer, you'll definitely need more.
After showing you a few awesome ways of wearing this combination, we'll run through some essential tips for making it work every time.
Let's get to it.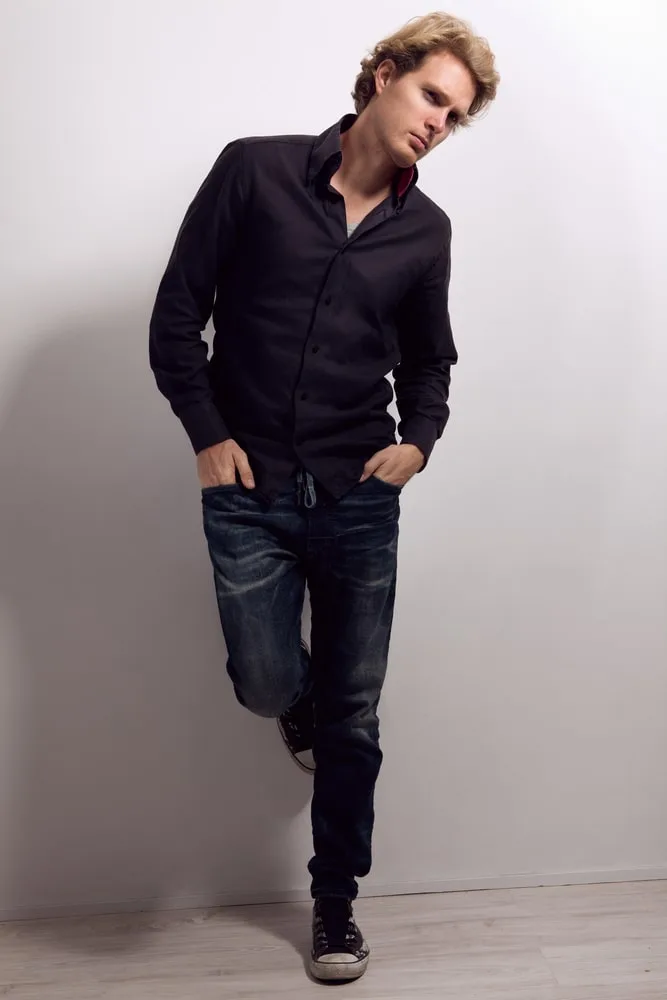 3 Blue Jeans And Black Shirt Outfits To Try
There are many different ways to wear a "blue jeans and black shirt" outfit. It all comes down to the styles, the fits, the shades, and the fabrics.
While the combination should only ever be worn in casual settings, there are definitely some ways that are more casual, as well as others that are dressier.
We'll go from the dressiest way of wearing it to the most casual way.
Enjoy.
Dressy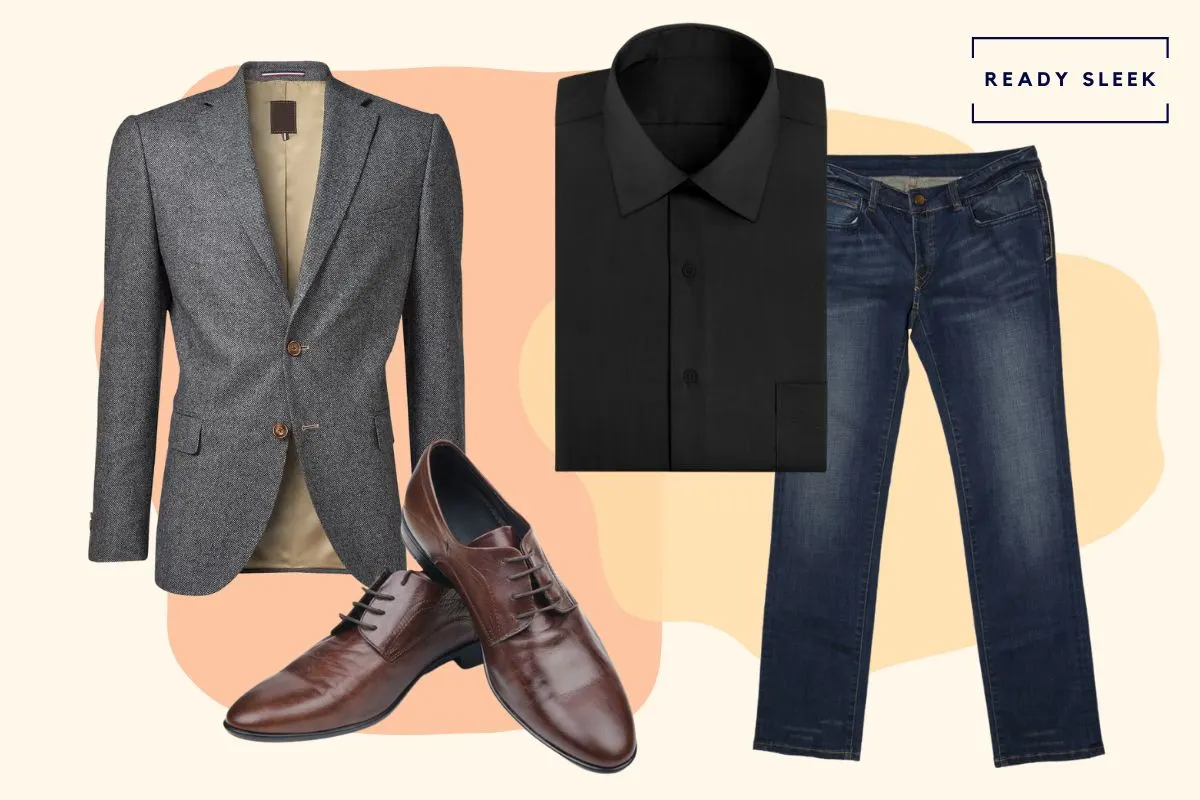 Items: Dark Blue Jeans, Black Dress Shirt, Charcoal Sport Coat, Dark Brown Derby Shoes
This way of wearing the combination would be ideal for a "smart-casual" setting where a pair of jeans would be acceptable, but there's still a risk of underdressing.
Tapered, slim-fit dark blue jeans with minimal distressing will be the best option here.
Going for a black dress shirt may seem excessive, but can work well when the jeans are dressy enough for it to make sense.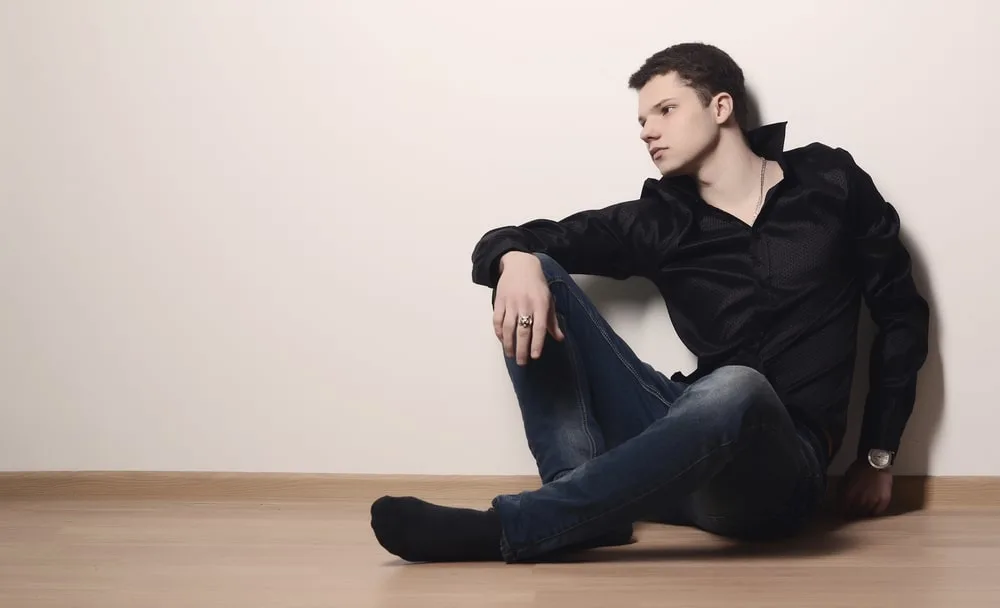 The charcoal sport coat is a nice touch and is a great way to level up any jeans outfit. A blazer or sport coat is a pretty simple way method of elevating a casual outfit to a smart casual one.
Finally, finish up with a pair of dress shoes. Dark brown works especially well with dark blue denim.
Derby shoes work great in smart-casual settings. Dark brown Derbys seemed like the obvious choice here.
More Casual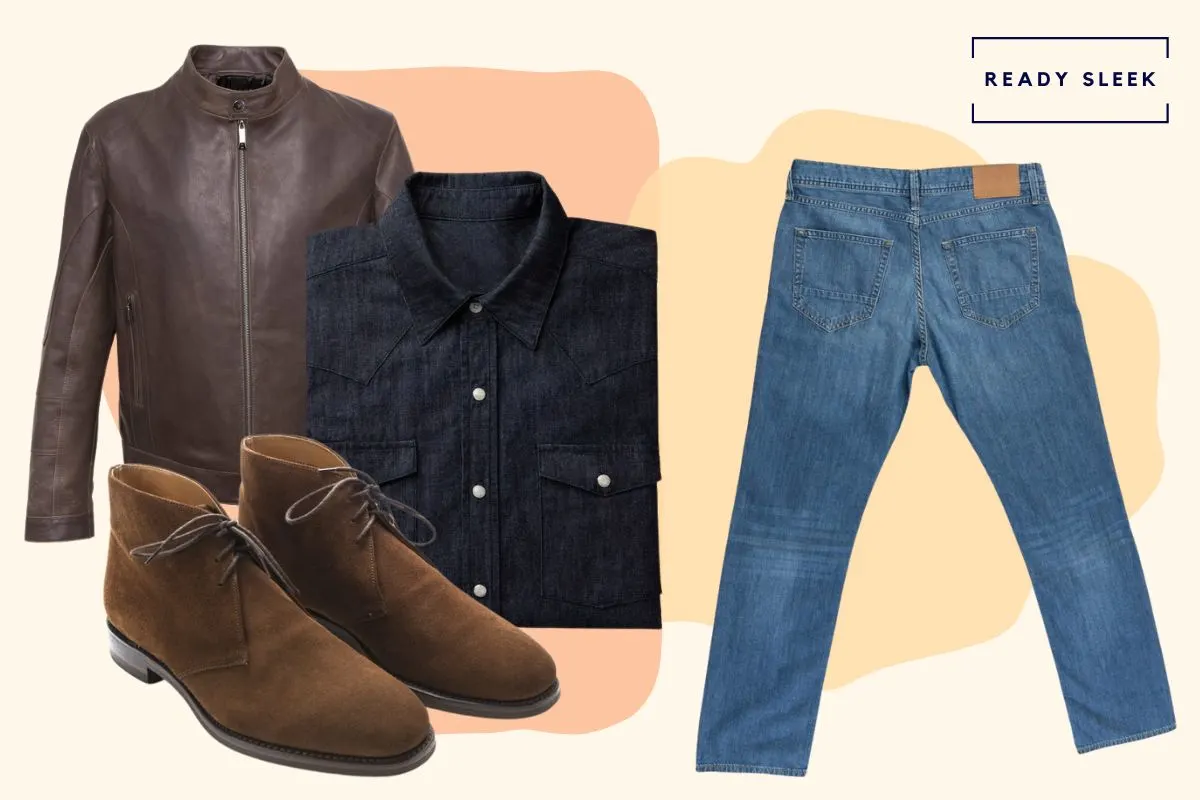 Items: Medium Blue Jeans, Black Casual Button-Up, Dark Brown Leather Jacket, Brown Suede Chukka Boots
These blue jeans are several shades lighter than the ones in the previous example. As a result, the outfit immediately comes across as more casual.
But going for a pair of non-distressed, slim, tapered medium blue jeans can still be a reasonable option in relaxed smart-casual settings.
Just not quite as dressy as the dark blue ones you saw early.
We've gone for a black button-up shirt to keep things smart. But as you can see, it's a casual button-up and not a dress shirt.
The collar will be more relaxed and the fabric more rugged and rough. This looks like a black OCBD but could also be chambray.
These textures will usually sync better with the rugged texture of denim compared with the smoother texture of a tightly woven dress shirt.
The dark brown leather jacket works well with the black shirt. Ignore any advice telling you not to mix black with brown – it's categorically untrue.
Most Casual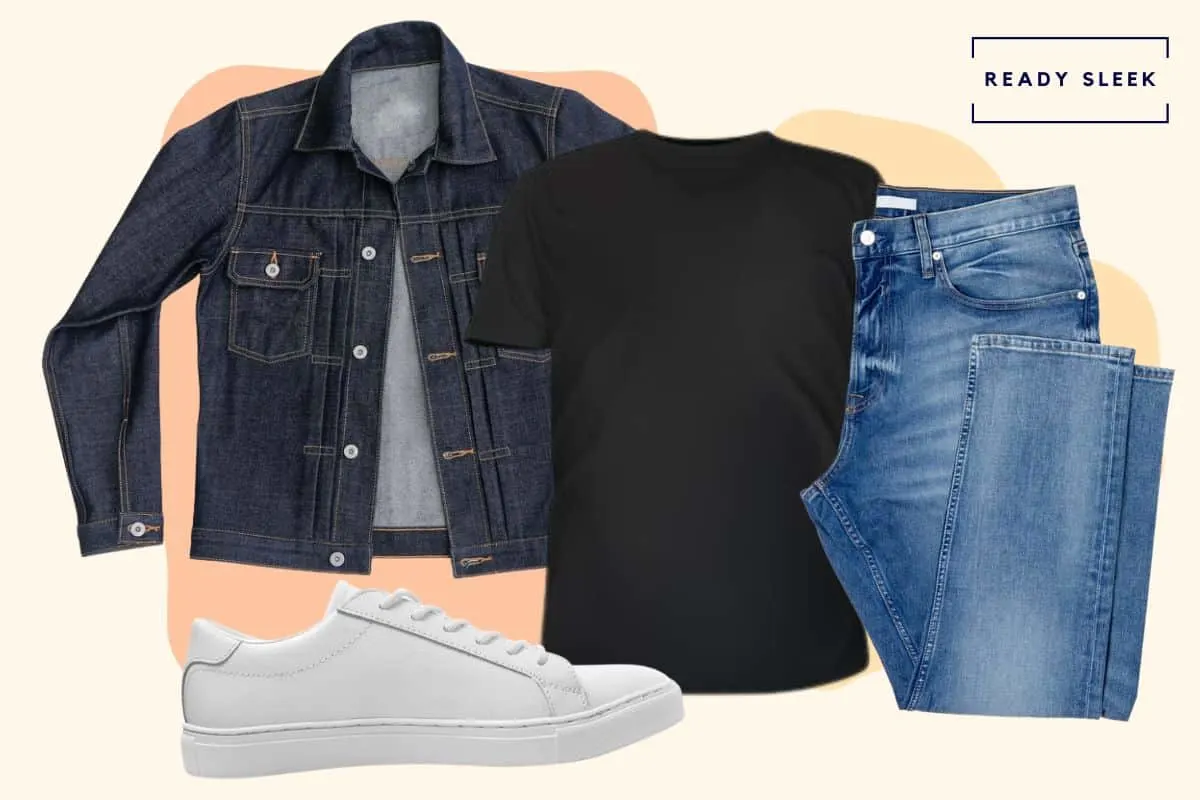 Items: Light Wash Blue Jeans, Black T-Shirt, Dark Blue Denim Jacket, All-White Sneakers
Light blue jeans will always look more casual than those in darker shades. This is especially true when they're distressed or have an eye-catching skinny or baggy fit.
We've gone for a black T-shirt here – about as casual as you can get. If you wanted to level up a black tee in a casual setting, consider going for a polo instead.
The dark blue denim jacket adds a touch of contrast while still keeping things very dressed down and laid back.
The denim-on-denim combo (i.e the Canadian tuxedo) isn't everyone's favorite but works very well when the two colors are very different.
The contrast between the dark blue denim jacket and the light blue jeans makes it work.
If you'd prefer to not go for denim-on-denim, consider an alternative short trucker jacket or chore coat instead. Leather jackets work great too.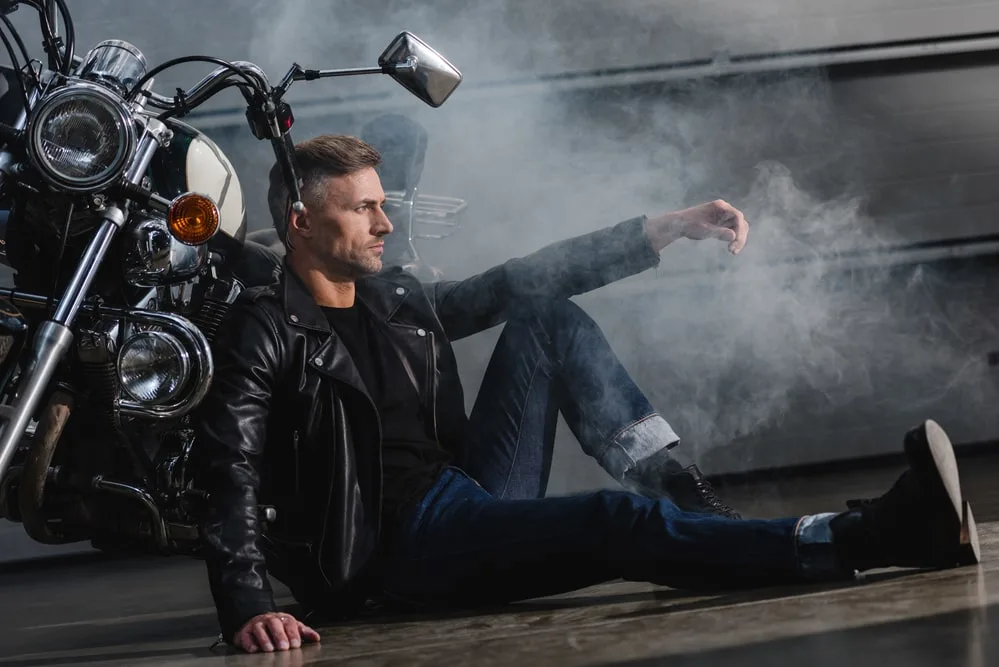 Finally, finish up with a pair of gloriously versatile all-white leather low-top sneakers. They'll add a nice sense of contrast to the dark items you're wearing up top.
5 Tips For Wearing Blue Jeans With A Black Shirt
Consider all of these tips before putting your outfit together.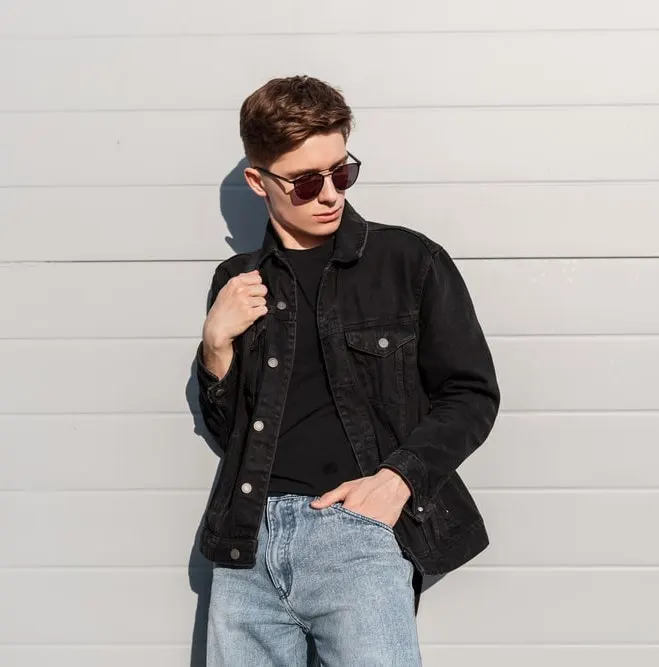 Make Sure It's Appropriate For The Setting
A blue jeans and black shirt outfit should only be worn in casual and smart-casual settings.
Avoid wearing it in business-casual and truly formal settings.
While some may argue that a dress shirt and dark blue jeans pairing would be acceptable in a business-casual environment, most would agree it's a bad idea.
Sticking to a "no suits and no jeans" rule for business casual gives a lot of people peace of mind.
Avoid jeans and go for chinos or dress pants instead. Ultimately, you'd never wear jeans in a business setting. Why wear it in a business-casual one?
While it probably goes without saying, a blue jeans and black shirt combo would never be appropriate in a formal setting.
A 2-piece suit should be worn at a minimum; usually one in a dark and neutral color (navy, charcoal, or black).
Consider The Shade Of Blue
The darker the shade of the blue jeans, the dressier they'll generally look.
Of course, the shade of blue isn't the only factor that determines how dressy they look, it's an important one.
When dressing for a smart-casual setting, stick to dark blue, slim-fit, tapered jeans with minimal distressing.
On the other hand, when dressing your black shirt down, consider a pair of light or medium blue jeans instead.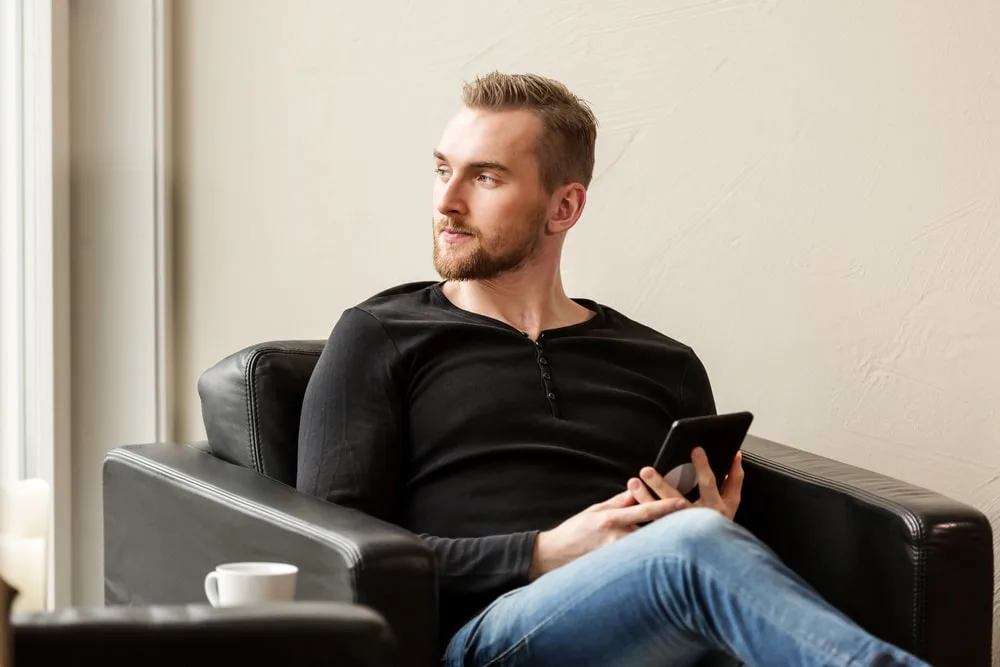 You could also consider a bolder fit – wide-leg, skinny, bootcut, and so on. Features of distressing (eg. rips, frays, fading) can also work well if the setting is casual enough to allow for it.
In general, black shirts tend to look better with medium and dark blue jeans no matter what the dress code is.
Light blue jeans can still look good but will produce a high level of contrast with the black shirt. The contrast can be a little excessive and even distracting.
Here are some of the common shades of blue together with the settings they'd be most appropriate for:
| | |
| --- | --- |
| Black Shirt With Light Blue Jeans | Casual |
| Black Shirt With Sky Blue Jeans | Casual |
| Black Shirt With Teal Blue Jeans | Casual |
| Black Shirt With Navy Blue Jeans | Smart-Casual Or Casual |
| Black Shirt With Dark Blue Jeans | Smart-Casual Or Casual |
The Style Of Black Shirt Is Important
As you saw from the outfit examples above, the style of the black shirt you choose to wear with your blue jeans makes a huge difference.
You could potentially wear anything from a black dress shirt to a black T-shirt and make it work.
It depends on the setting, as well as the style of blue jeans you intend on wearing.
Put it this way; a black dress shirt worn with distressed light blue bootcuts is pretty likely to look awkward and out of sync.
On the other hand, the same black dress shirt worn with dark blue non-distressed slim and tapered jeans could look nice and sharp.
It would make sense without much risk of a formality mismatch.
So, ask yourself what you're dressing for. Is it smart-casual or just casual?
If it's smart-casual, choose the right pair of jeans (as per the previous tip) and wear a black shirt that syncs well with it.
Here are a few smart-casual black shirt examples you could consider.
These would work better with smart-looking dark or medium-wash blue jeans. Slim, tapered, non-distressed.
Dress shirt
OCBD
Linen button-up
Chambray button-up
Here are a few casual black shirt examples you could consider. They could easily be worn with smart, dark blue jeans. But you could also consider wearing them with more casual pairs; light, wide-leg/skinny, distressed.
The Footwear Should Suit The Setting And Season
When wearing a pair of smart dark blue jeans with a black shirt, both brown and black dress shoes and boots could be considered. Suede options work especially well. In more casual settings, consider a pair of white sneakers instead.
Once again, the setting and the event are important to consider.
When wearing jeans, brown shoes generally work better than black ones, simply because brown tends to look more casual and laid-back.
Black dress shoes can come across as a little too formal or "professional" to look good with even the smartest pair of dark blue jeans.
During the colder or wetter months of the year, a pair of brown Chelsea or chukka boots would work just as well.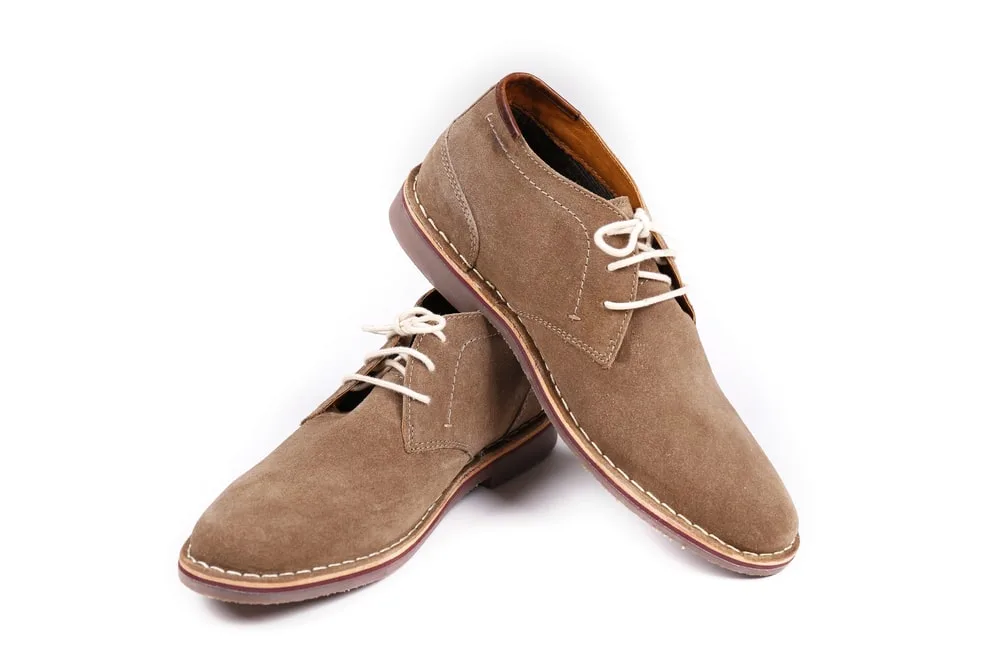 In fact, boots and jeans go hand-in-hand when aiming for that rugged workwear aesthetic.
When you're really looking to dress down a blue jeans and black shirt combo, you could, of course, wear literally any pair of sneakers.
However, a pair of all-white leather low tops give you the benefit of versatility, as you can wear them in many different casual settings without the fear of underdressing.
A Blazer Or Sport Coat To Level Up
Blazers and sport coats look great when wearing blue jeans and a black shirt to a smart-casual setting. Grey blazers work especially well as they add a touch of contrast to the outfit as a whole.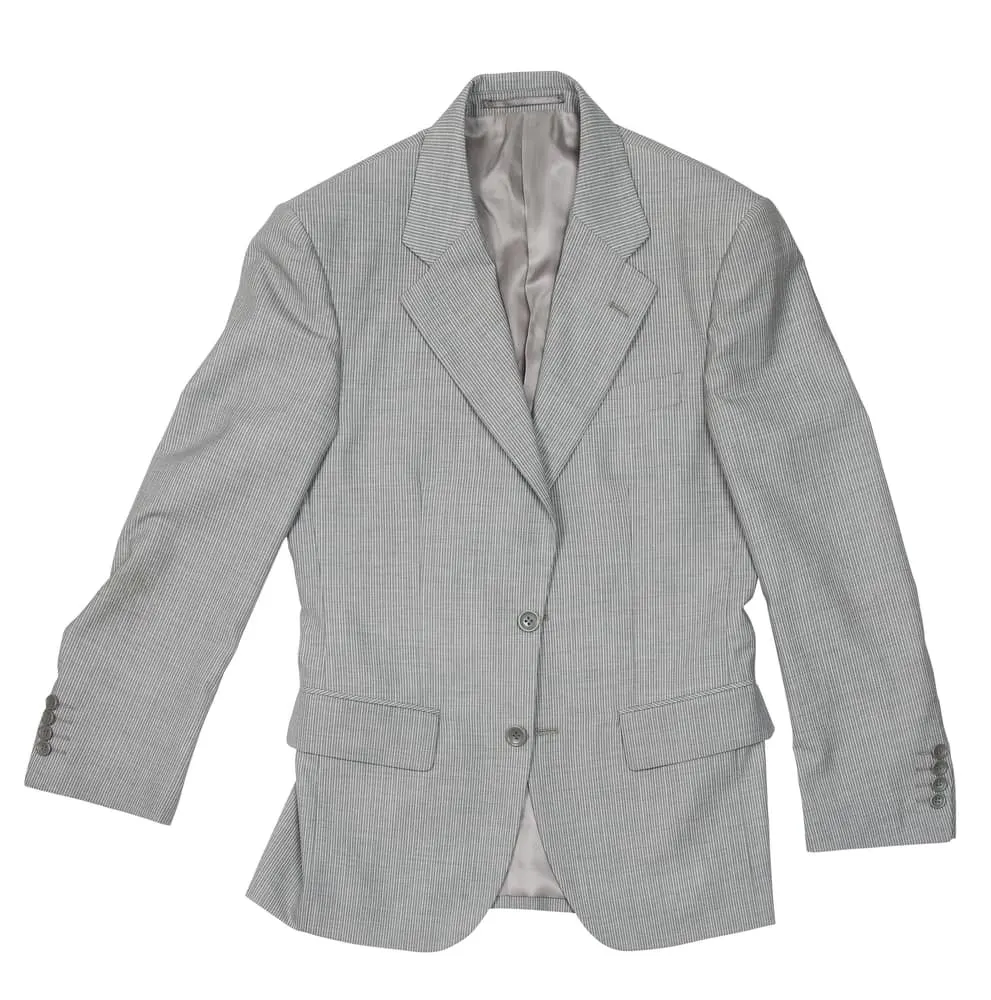 While the two terms are often used interchangeably, blazers and sport coats are actually very different.
Sport coats tend to have a more relaxed structure with less padding than blazers. In addition, they come in a wider range of colors; "blazers" classically come in navy blue.
Having said all of this, a smart jacket of some variety will often work very well when wearing blue jeans and a black shirt.
More rugged jacket fabrics and weaves tend to work better when wearing denim jeans; tweed, herringbone, serge, and flannel spring to mind.
During the warmer months of the year, the irresistibly wrinkly linen blazer could be a great alternative.
The main point here is that the blazer or sport coat should look casual enough to wear with a pair of blue jeans, no matter how dressy the black shirt you're wearing might be.
Ready Sleek founder. Obsessed with casual style and the minimalist approach to building a highly functional wardrobe. Also a fan of classic, vintage hairstyles.