Black jeans – effortlessly stylish, edgy, and eye-catching. But are they versatile?
It's debatable.
Although they're undeniably popular, there are plenty of dress codes and settings for which they won't be suitable.
This does lead to plenty of men wearing them inappropriately or where an alternative would be a lot better.
This post is going to cover exactly what you need to know about wearing black jeans – when, wear, and how.
I'll go through specific dress codes and locations. Yes – it's all important to consider when it comes to black jeans.
Let's get to it.
Dress Codes
Dress codes can be misleading at times. But when it comes to black jeans, sticking to basic principles can help you to avoid a major style faux pas.
Are Black Jeans Casual?
Black jeans are ideal for casual dress codes because you have a lot of freedom when it comes to the fit and the finish. Skinny jeans, bootcuts, distressed, and acid wash black jeans could all potentially be appropriate for a casual dress code.
Black jeans, just like any other color or type of jeans, should always be considered a casual item first and foremost.
Here's an example of a very casual pair of black jeans on Amazon:
All black jeans have several key features that make them look casual on pretty much anyone. These include:
Prominent seam details
Metal tacks, rivets, or buttons
The rugged texture of denim
Often having patch pockets
But jeans (including black jeans) can also have other features which make them look even more casual. For example, stone wash and acid wash finishes give them a very worn-out look that was popular in the '90s.
Embellishments such as whiskering, honeycombing, distressing, and fraying also make a pair of black jeans look more casual.
Straight-leg and slim-fit black jeans would look less casual and more subtle.
Bootcuts and wide-legs will generally look more casual, as would skinny jeans.
The image above has several features that do look more casual, such as a skinny fit, as well as ripping and fraying at the knees. It works perfectly well with the super casual sneakers and white tee.
This very wide range of choice makes it important that you ask the following question when wearing black jeans casually:
How Casual Do You Actually Want To Go?
"Casual", just like most other dress codes, can mean different things to different people. If you're visiting a friend or going for a stroll into town, your choice of black jeans is pretty much endless.
You can go super casual with rips, frays, and huge amounts of distressing. You could pair it with a white tee, sneakers, and a beanie, and pretty much any other casual item you can think of.
There may also be instances where you want to go casual but may need to show a bit more restraint. For example, perhaps dinner with friends at a mid-priced restaurant where smart-casual would still be a bit too much.
Here, a white tee and sneakers may also still be fine. But perhaps black jeans in a solid color with minimal distressing and fading would be more appropriate.
Casual, but not too casual.
To sum that up – yes, black jeans are perfect for casual dress codes. But you need to consider how casual you really want to go.
Having choice is great, but it does leave plenty of room for error.
Are Black Jeans Smart Casual?
Black jeans can be worn as smart casual as long as the other items they are combined with are formal enough. Items such as leather penny loafers, Oxford shirts, and sports jackets are ideal to wear with black jeans in smart casual outfits.
Smart casual dress codes can be tricky to dress for – black jeans can cause some confusion.
Here are some guiding principles for smart-casual that will always serve you well:
Focus on blending casual items with formal items in ways that make sense.
Overdressing is better than underdressing.
Go for 80% formal items and 20% casual items.
Don't take it literally – some formal items will never match with some casual items (eg. suit jacket and sweatpants).
Avoid extreme items when it comes to formality. Pleated dress pants, neckwear, double-breasted blazers, and black dress shoes are too formal for smart casual. Sneakers and hoodies, on the other hand, are too casual for smart casual.
Let's talk about black jeans specifically. Here's an example of a pair of black jeans on Amazon, paired with an orange, checked shirt. A great example of a simple smart-casual outfit – blending formal with casual in a way that makes sense.
First of all, there will be some events that ask for "smart casual" and they don't even know what it means themselves. For example, an office party that really means business casual instead, where black jeans wouldn't be appropriate.
Here's where you'll need to use your intuition to really figure out whether black jeans would actually be OK. If you have a hunch that black jeans would simply look too casual for the "smart casual" event you're going to, it isn't worth the risk.
For example, it's unlikely that a corporate event you're attending will look too favorably upon those black jeans.
There are plenty of other types of pants more suitable for business casual you could choose from instead.
But let's assume the occasion or setting you're dressing for is really smart casual and those black jeans would definitely be appropriate.
The great thing about black jeans is that they don't look quite as casual as blue jeans. In fact, at first glance, they can often look like trousers.
But how do you wear them in a way that actually looks smart casual – not too casual or too formal?
Given how you should go for 80% formal and 20% casual, black jeans will most likely end up being the main or the only very casual item you actually wear in a smart casual outfit.
Anything more will probably make the whole outfit look too casual.
So, to play it safe, when dressing for a smart casual occasion, focus on making sure the items other than black jeans are formal enough to compensate.
Not too formal. But formal enough.
Shirts are great, but avoid white and blue if possible as they look too much like business attire. Go for brighter colors or patterns wherever possible.
In addition, make sure you stick to solid black jeans with no fading, washing, and distressing.
Also, go for slim or straight leg fits. Avoid bootcuts, wide-legs, or anything else if possible.
Sticking to these rules will reduce the risk of the black jeans looking too casual for smart casual.
Good Smart Casual Example:
Slim fit black jeans (no embellishments or distressing)
Plaid OCBD shirt (two buttons down)
Gray sports coat
Leather penny loafers.
This is great because the black jeans are casual but not too casual. They're also combined with formal-ish items that prevent the entire outfit from looking too casual.
Bad Smart Casual Example:
Wide-leg stone washed black jeans
White OCBD shirt
Necktie
Denim jacket
Sneakers.
This is inappropriate because it's simply a mish-mash of casual and formal items that ultimately looks kind of odd. It doesn't follow the 80% / 20% rule and ultimately ends up looking casual but not in a good way.
Are Black Jeans Business Casual?
Black jeans should never be worn in business casual outfits as they simply look too casual regardless of the items they're combined with. While business casual is a blend of casual and professional attire, black jeans will always look out of place.
Business casual is a dress code that needs decoding more than any other. It leads to so much confusion that many shudder at the thought of it being written on an invitation.
But if you wanted to distill this dress code into two simple rules, you could. They are:
No full, matching suits.
No jeans
If all you did was stick to those two principles, you probably wouldn't go too far wrong.
But if you followed them, black jeans would immediately be seen as out of the question.
Let's dig into this a little deeper.
Business casual is similar to smart casual in that it includes a mixture of casual and formal clothing.
But business casual should be seen as a step more formal than smart casual. While black jeans will most likely be fine for smart casual settings, they wouldn't be for business casual.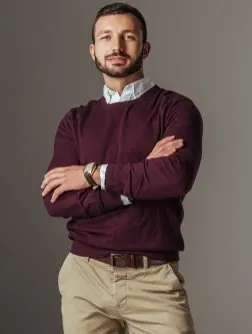 The difference is that business casual has a distinctly professional edge to it. It's all about wearing clothes that have a casual edge to them, but would still be considered appropriate for the workplace or corporate settings.
Whether that's your actual workplace, a conference, regional meeting, office party, or another professional setting.
Oxford shirts, dress shirts, sweaters, neckties, blazers, sports coats, and dress shoes are all common business casual favorites.
But wearing a full suit would be too much. It's business professional and not business casual.
Black jeans just look too casual for professional, business settings, even when combined with these professional items of clothing.
So, what can you wear instead of black jeans for business casual dress codes?
You've got options, but chinos are a business casual favorite. They strike such a perfect balance between professional and casual.
In fact, they grew wildly popular in corporate culture back in the 1980s, with brands such as Dockers leading the charge.
Other good alternatives to black jeans in business casual settings include slacks (dress pants) and corduroy pants.
To sum that up – play it safe and avoid the black jeans here.
Are Black Jeans Formal?
Black jeans are not formal. They are only appropriate in casual and smart casual settings and would look out of place when worn as part of traditionally formal outfits.
While "formal" can mean different things to different people, it's important to stick to some basic rules and principles when it comes to dress codes.
Yes – there will always be room for some artistic license. But using an "anything goes" approach to dress codes is a genuine recipe for disaster. Including black jeans as part of a formal outfit would be an example of this.
Have a good understanding of what formal really is, as well as what it's not, and you should be fine.
Here are some ground rules for formal attire that should serve you well:
Matching suits, dress shirts, pleated pants, and dress shoes are traditionally formal items.
Worsted wool is a classically formal fabric. It is wrinkle-resistant and has a great sheen to it.
Some suits look more formal than others. More "formal" suits come in darker, solid colors. The jackets are more structured, the pockets are jetted or flapped, and there are often sharp center creases down the pant legs.
Ultimately, when dressing for a formal occasion, it's risky wearing anything other than a full suit.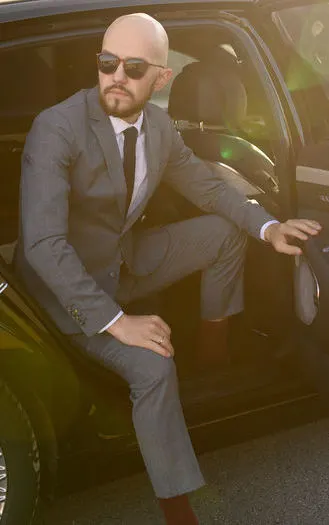 If you think chinos and a button-down shirt will be fine, for instance, it probably isn't a "formal" dress code to begin with. It may be business casual instead.
There are those that'll argue that the term "formal" has taken on a different meaning in the modern era. They'll argue that it's more relaxed and black jeans may be fine when combined with actual formal items.
But again, this "anything goes" approach will lead to problems down the line. It should never be considered a risk worth taking.
Even if you were to wear the sharpest-looking, solid black pair of jeans with no distressing and combine it with a blazer, dress shirt, and dress shoes – it'll always look too casual for a formal dress code.
So, when going formal, stick to slacks (dress pants) instead of black jeans. More specifically, stick to slacks as part of a full, matching suit.
Locations
Another way to consider when and how you should wear black jeans would be the event or location.
Even when you haven't been given a specific dress code, it's important to have an idea of whether or not they'd be appropriate in specific settings.
Here are some specific examples.
Are Black Jeans OK For Work?
Black jeans can be worn to work in more relaxed settings where the dress code is on the casual side. Workplaces where ties and uniforms aren't required are more likely to accept black jeans, as long as the dress code doesn't explicitly prohibit it.
Modern workplaces are becoming more and more liberal when it comes to dress codes. The concept of wearing black jeans isn't anywhere near as strange as it would have been 20 years ago.
But that doesn't mean you shouldn't give it plenty of thought before you choose to wear them.
If your workplace has a specific dress code, your decision is much easier. If the dress code says "no jeans" or has a specific uniform, then black jeans are out of the question.
Another basic rule you can follow is the "ties and jeans" rule. If your workplace requires a tie, then don't wear jeans.
Jeans and ties rarely work well together as there's simply too big of a conflict between formal and casual. Plus, if your workplace requires a tie, there's a good chance jeans are too casual in any case.
But let's say you've thought through this and you still think black jeans may be OK to wear to your workplace.
The main factor to consider when making your decision is the industry.
Consider The Industry You Work In
Jeans are a classic example of old "workwear", originally worn by men in manual labor jobs. The rugged texture of denim could take a thrashing in tough work conditions.
The same goes today – in manual labor jobs, there's a good chance that any pair of black jeans would be fine.
Now, let's talk about non-manual labor jobs. Here's where things get a little trickier and you need to give it more thought.
You can split this (broadly) into "service-sector" and "corporate" jobs.
Service-sector jobs don't involve manual labor but they aren't corporate office jobs either. Think retail, food service, and hospitality.
In these jobs, there's a good chance that black jeans would probably be fine, as long as there isn't a specific uniform.
But be careful about the type of black jeans you choose. Choose dark, solid black with no distressing, washing, fading, fraying, or other features that look casual.
Also, go for a straight leg or slim fit and not boot-cut, wide-leg, or flare at the ankles.
Here's a good example of appropriate black jeans on Amazon. Slim fit and no embellishments or fading.
In addition, be careful about the items you combine the jeans with.
Go formal with the rest of your outfit unless your workplace is truly casual. Go for a button-down Oxford and a light sports coat to balance things out and to prevent the black jeans from making you come across too casual for work.
Finally, let's talk about corporate office settings.
This is the toughest sector to wear black jeans in, to the point where it's not even worth considering.
In these jobs, you'll probably need to wear a full suit with a tie. Remember, if your job requires that you wear a tie, black jeans should be considered a no-no.
Avoid it. Go for a business suit and leave the black jeans locked away at home.
So, are black jeans unprofessional?
Black jeans may be considered unprofessional when worn inappropriately in work settings such as corporate offices. But in manual labor or service-sector jobs, slim or straight leg black jeans with no embellishments often look more professional than lighter-colored jeans.
Are Black Jeans OK For A Funeral?
Black jeans should not be worn to funerals. A full black or dark grey suit should be worn instead, or a dress shirt with a necktie and slacks at the very least. Black jeans are too casual for a funeral and risk offending the grieving family.
Funerals are one of the few settings where there is very little scope for experimentation or variety.
This is because style isn't a priority – respecting the deceased is. Because of this, the unwritten rule of wearing a full black suit should be respected wherever possible.
Black jeans simply aren't going to cut it.
Wearing them will usually risk a social faux pas.
Go for a formal, dark, and solid-colored suit with no pattern. Wool is best.
A white dress shirt, a simple solid-colored necktie, and black leather dress shoes are all you need other than that.
Keep things simple.
If you don't have a full black suit, dark grey or dark navy would be reasonable (although less appropriate) alternatives.
If you don't have an appropriate suit at all – try and get one. There's a good chance you'll need one going forward in any case.
But a dress shirt, necktie, and woolen dress pants should be considered the minimum.
Black jeans would simply risk underdressing. Even more "formal" looking black jeans with no embellishments, distressing, or fading will still look too casual for a funeral.
This is simply because the rugged texture of denim, the metal tacks, the prominent seam details, and the classic jeans silhouette will always look casual to onlookers.
This is especially the case in formal settings such as funerals where the contrast between your black jeans and the formal attire of those around you will be even more obvious.
Are Black Jeans OK For An Interview?
It is best to avoid wearing black jeans to interviews even when the workplace itself has a relaxed dress code. Overdressing is safer when it comes to the interview and dark jeans will often risk coming across as too casual.
Plenty of workplaces have fairly relaxed smart casual dress codes where black jeans are considered fine to wear.
Tech startups and retail jobs are potential examples.
It may be perfectly acceptable to wear black jeans to these interviews – you'd probably get away with it.
But is it worth the risk? Probably not.
This doesn't mean that you need to wear a full suit to these sorts of jobs. It may well come across as overdoing it. But go for a smarter pair of pants as a compromise.
Khakis are a great example of a compromise. Not too formal, but not too casual either.
First impressions are crucial. Wearing black jeans to an interview where the interviewer is expecting something at least a little dressier is going to put you at a disadvantage right from the start.
There are other industries where your decision is easier. If you're interviewing to work in a corporate job such as a law firm or investment bank, black jeans will be out of the question.
Go for a full business suit instead.
But it's those in-between jobs that pose more of a problem. Those jobs where the dress code is smart-casual and black jeans are usually fine to wear.
As a principle, however, overdress to play it safe. Once you've got the job, go to town with those black jeans as long as the dress code will allow for it.
Conclusion
While black jeans make for a pretty versatile item to include in your wardrobe, there are definitely those occasions where they should be left in your wardrobe.
They're great – but not always. Jeans aren't as versatile as chinos and the color black isn't as versatile as the color grey, for instance.
But understanding black jeans is way better than avoiding them. That's because when it works, it really does work.
Hopefully, you now have a much better understanding of when you should and shouldn't wear them.
Enjoy.
Ready Sleek founder. Obsessed with casual style and the minimalist approach to building a highly functional wardrobe. Also a fan of classic, vintage hairstyles.