Monochromatic outfits can look elegant and sophisticated. Black shirts worn with black pants are no exception. However, can you wear a blazer with a black shirt and black pants?
Yes, but picking the correct blazer color is crucial for success with this outfit. While most colors work, it's best to go for one that suits the situation's formality. Consider a tie, a pocket square, or both, and stick to black dress shoes.
Although that's the gist, there's a lot more to it.
So, let's dig deeper.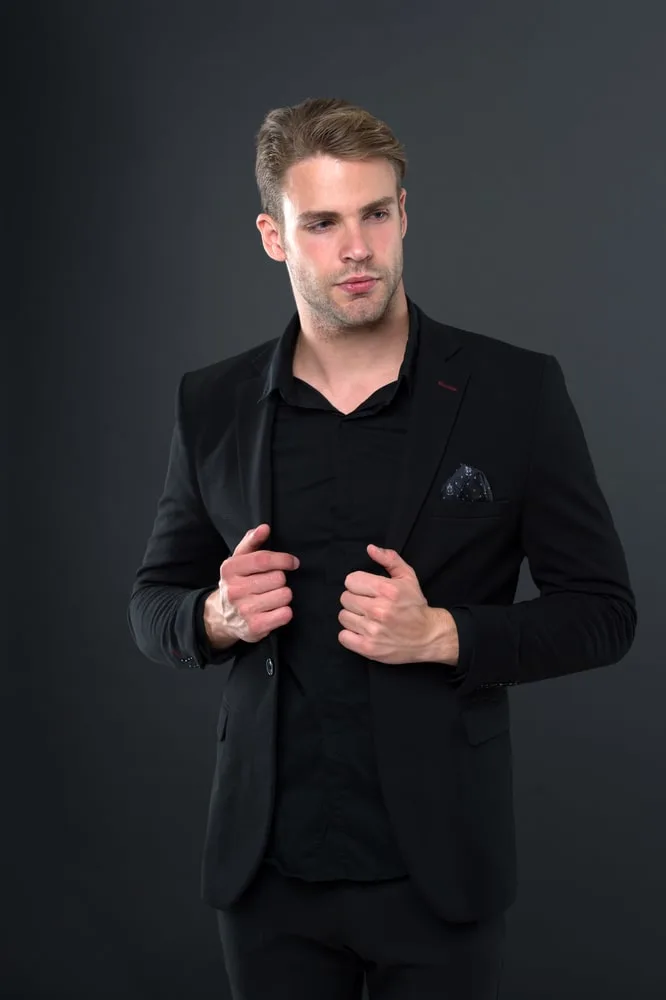 1. Consider The Color Of Your Blazer
When wearing a black shirt and black pants, the color of your blazer is, by far, the most noticeable factor.
Because of this, ensuring you pick the right colored blazer is essential to pulling off this outfit.
Furthermore, picking the wrong blazer color can appear awkward. Luckily, however, most blazer colors work well with this outfit as it's incredibly understated.
While most colors work well with a black shirt and black pants, light grey blazers work particularly well.
This is because they contrast well with the black shirt and pants while also having a slightly darker tinge to them – maintaining the darker nature of the overall ensemble.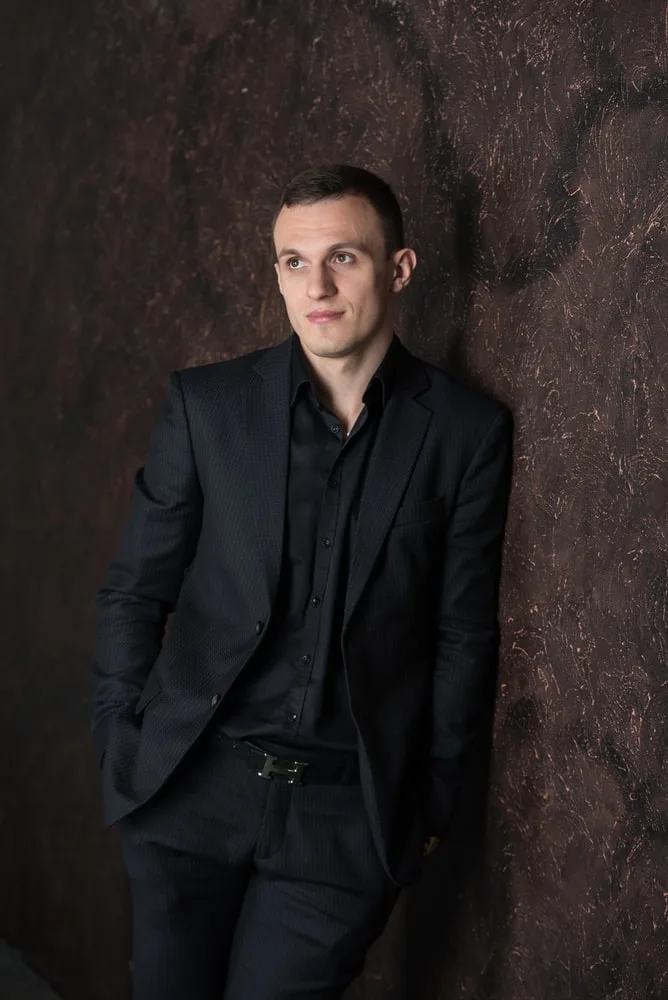 Having said this, as mentioned, there are many blazer colors that look good with a black shirt and pants.
Some of the more common colors will be mentioned in the table below.
| | |
| --- | --- |
| Black Shirt With Black Pants And White Blazer | Works well in smart-casual settings. Eye-catching. |
| Black Shirt With Black Pants And Grey Blazer | Looks great in most situations, up to business-professional formality. |
| Black Shirt With Black Pants And Red Blazer | Ideal for smart-casual settings. Like white blazers, red blazers are similarly eye-catching. |
| Black Shirt With Black Pants And Maroon Blazer | Maroon blazers are a solid choice for formal events that allow extra personality, such as weddings. |
| Black Shirt With Black Pants And Navy Blazer | A great all-rounder, a navy blazer is appropriate for pretty much all situations up to business-professional. |
A black shirt and black pants with a white blazer may seem like an unlikely combination.
However, it can look great in semi-formal situations or similar, where some experimentation is acceptable.
2. Dress Shoes Work Best
Picking the most appropriate shoes is crucial to pulling off this outfit.
Not wearing the optimum shoes can significantly detract from the outfit, affecting both the formality and overall style.
Therefore, it's best to stick to shoes that will guarantee you look great wearing a black shirt and pants with a blazer.
Dress shoes are the best shoes to wear with this outfit as they contribute to its formality.
There are a few shoe styles that are considered dress shoes. However, the most common are Oxfords and Derbys.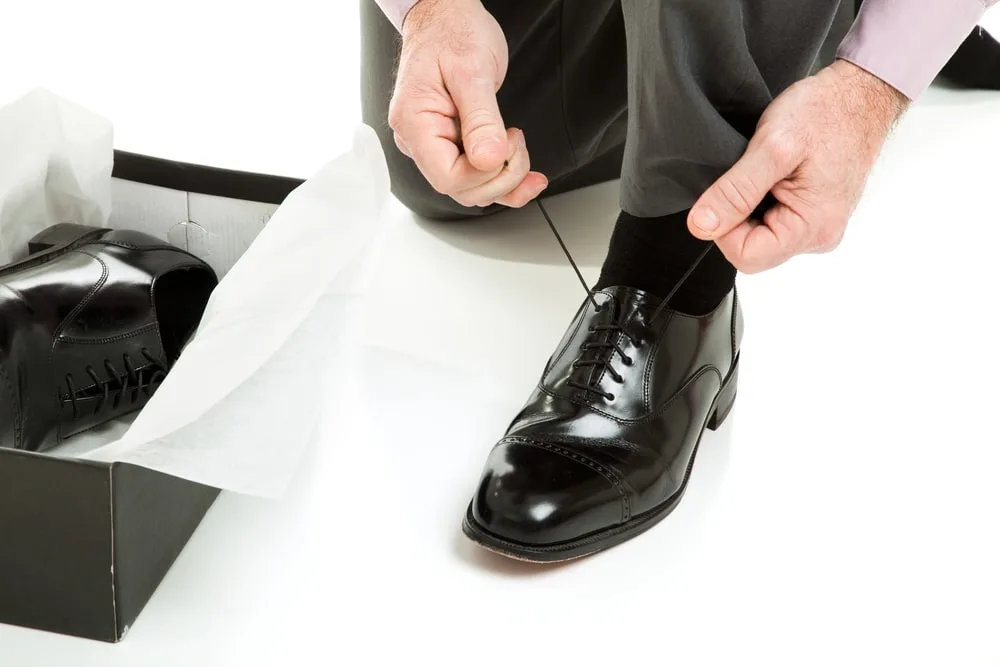 They are classically formal and will uphold the sophisticated and elegant appearance of a black shirt and pants with a blazer.
On top of this, Oxfords and Derbys are available with broguing – which can add some detail and personality to the outfit.
Broguing on shoes is simply decorative perforations found on the leather of the shoes.
There are different broguing styles, and the one you choose is entirely up to personal preference.
While brogues generally aren't acceptable in strictly formal scenarios, you won't be wearing this outfit too formally, so they're usually appropriate with it.
It's important to remember that while dress shoes work best, they aren't the only possible shoe choice.
Sneakers with minimal detail and decoration can look incredibly good if you're aiming for a dressed-down look. Avoiding anything more casual than this is highly advised.
Black boots, such as Chelsea boots, are also an excellent accompaniment to a black shirt and black pants with a blazer.
3. Stick To Black Or Dark Brown Shoes
While the ideal style of shoes for this outfit has already been discussed, your shoe color is just as important.
Wearing the wrong shoe color can – to a certain extent – ruin the outfit. This means that it's crucial to get it right.
Despite a few different shoe colors being viable, the optimum shoe color to wear alongside this outfit is black, as they maintain the monochromatic nature of the outfit.
Although it's the best shoe color for this outfit, it's not the only one that works.
Dark brown dress shoes can make for a great alternative if you'd prefer to add a touch of contrast to the ensemble.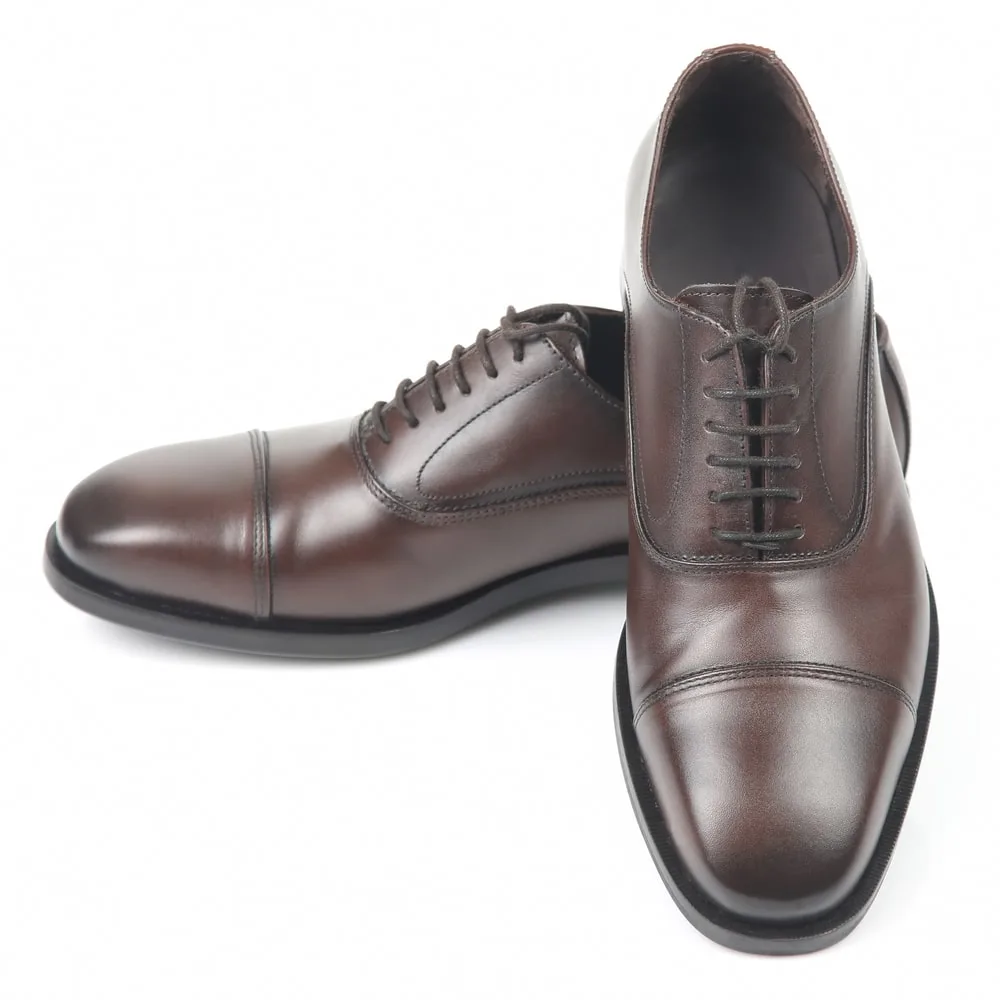 4. Tuck In Your Shirt
Tucking in your shirt is a solid way to keep the outfit looking seamless.
Typically, your shirt should always be tucked in when wearing a blazer. This adds to the outfit's formality and ensures a clean transition between your shirt and pants.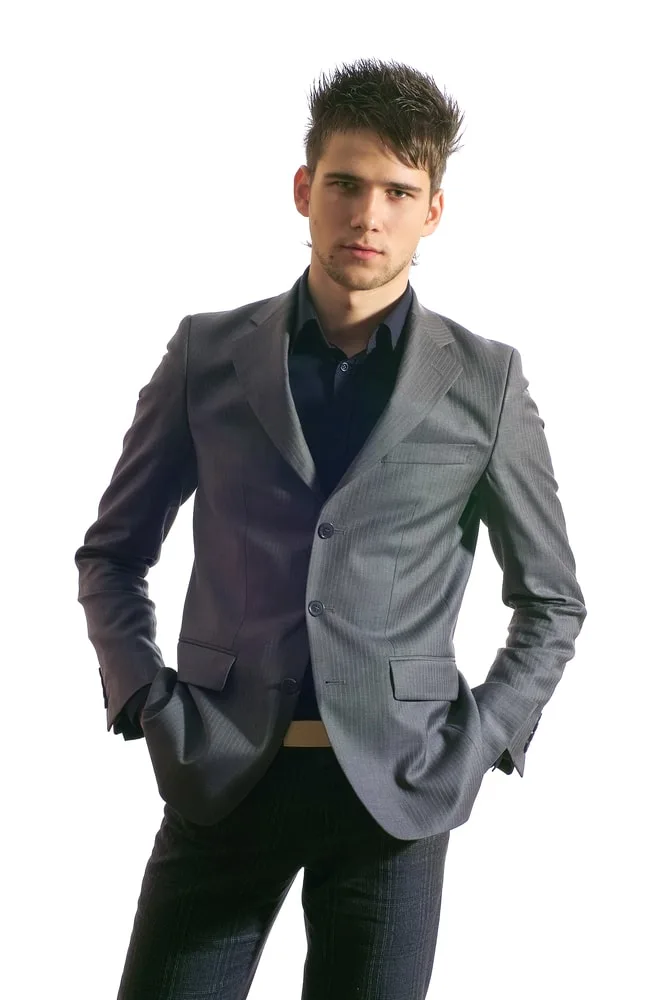 Go for the full tuck (the classic tuck – a tuck that involves tucking in your shirt around the entirety of your waistline) and wear a belt with it.
Wearing a belt is pretty much essential if tucking in your shirt, as – without one – the outfit will appear incomplete. A black leather belt with a silver buckle works well when wearing black shoes.
If you're wearing dark brown shoes, go for a dark brown belt.
As always, the belt should match the shoes.
Furthermore, do your best to ensure your shirt is a dress shirt if you're going to be wearing this outfit.
Dress shirts are designed to be slightly longer than normal shirts – such as those made for casual occasions – for the primary purpose of being tucked in.
The hem is contoured and designed to be tucked in.
If you only have a casual shirt available, it can work. But, it may be more difficult to tuck in and, therefore, potentially be more uncomfortable.
5. Leave Your Top Button Undone
Unless wearing a tie with your button-up shirt, your top button should pretty much always be undone.
Doing it up can make your outfit appear incomplete and can look awkward and clumsy.
Leaving your top button undone somewhat dresses down the outfit, thus giving it a more relaxed vibe. Not only that but it's much more comfortable too.
It's a nice and relaxed outfit for smart-casual settings.
In some situations, having your two top buttons may be acceptable; however, this is definitely going to look more casual with or without a blazer worn on top to dress it up.
6. Consider A Pocket Square
A pocket square is a simple yet effective way to add a dash of color and personality to your outfit.
There are a surprising number of different elements to a pocket square, including the color, texture, pattern, and fold.
These are all factors to think about when sporting a pocket square with a blazer and a black shirt and pants.
It's hard to go wrong with a block-colored white pocket square – particularly with this outfit. It'll provide a nice contrast with the predominantly black ensemble.
The idea of this outfit is subtle sophistication, meaning it's best to avoid patterned or brightly-colored pocket squares in order to fully achieve this look.
Having said that, darker pocket squares, such as maroon and navy, can look great. But if in doubt, stick to white.
As for the fold, the presidential fold (also known as the straight fold) is the most traditional and common pocket square fold, and for good reason.
It isn't overly extravagant and fits in with most outfits nicely. Because of this, it's pretty much always a solid choice for any occasion, including those of a more formal nature.
If you wish to be slightly more experimentative, however, different pocket square folds are a great way to do so.
Consider the four-peak fold to add some flair to your outfit without going overboard. While it's more challenging to fold it well, it pays off with its appearance.
It's worth mentioning that, for formal occasions, the straight fold is the only acceptable choice and that variations of it should be kept for semi-formal situations.