It's hard to go wrong with this combination, but it can sometimes be tricky to choose the right tie to go with it.
So, here are some fantastic tie colors you can wear with a black suit and pink shirt:
Black
Navy
Grey
Red
Pink
Green
But there's a whole lot more to it than that.
You need to know which one of those potential colors is the right one for you and the setting you're dressing for.
So let's dig into each of those choices a little deeper.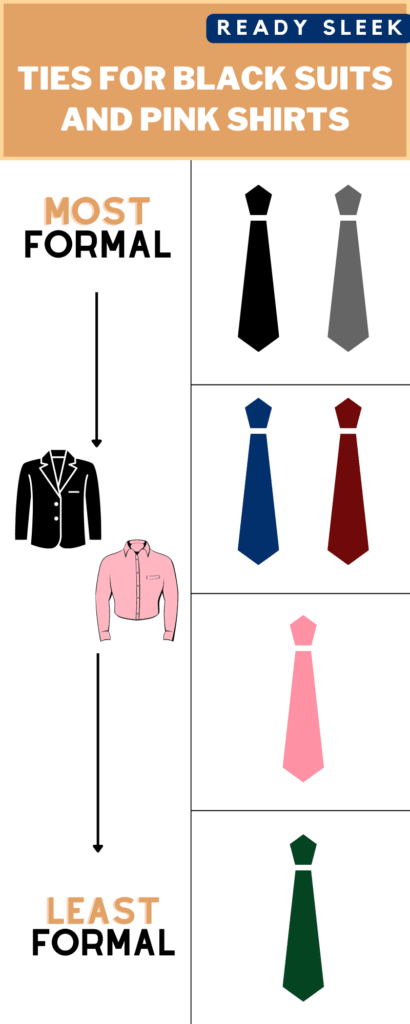 6 Tie Colors You Can Wear With A Black Suit And Pink Shirt
As you'll soon see, certain options are dressier, while others are a little more relaxed and casual.
Bear in mind that a black suit and pink shirt wouldn't usually be appropriate for any business-professional setting – stick to white or light blue dress shirts in these instances.
Instead, reserve the black and pink combo for formal or smart-casual social settings. It works perfectly well here.
Black
A black tie can easily be worn with a black suit and a pink shirt. It'll coordinate effortlessly and is a great option when you're dressing for a more formal setting.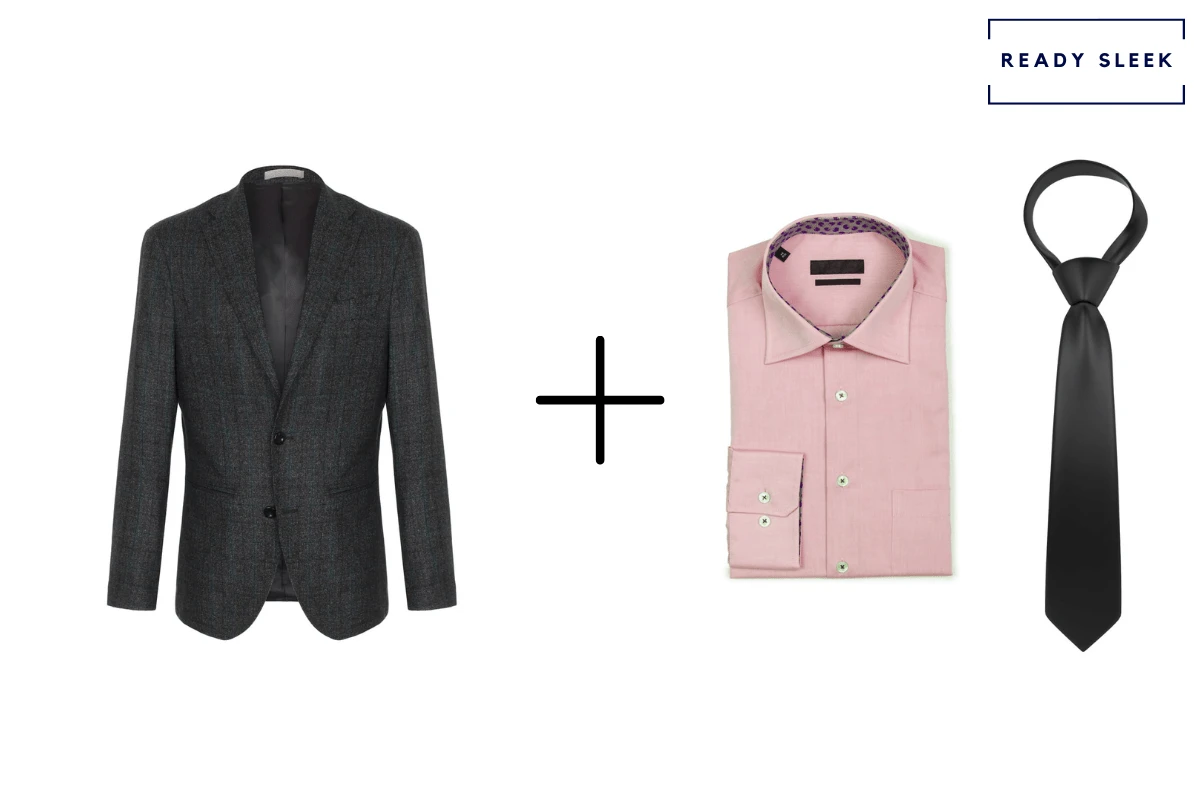 Dress Code: Formal, Smart-Casual
The beauty of a black tie is that it'll work with anything.
Here, it'll coordinate seamlessly with the black suit and the pink shirt given how dark and neutral it is.
Given how stark the contrast is between the neutral black suit and the vibrant, warm pink shirt, many people do prefer to keep their tie color relatively subtle.
They don't want to add yet another color into the mix – simplicity is definitely appealing.
This is where a black tie really shines. It works well because it stays out of the way.
Navy
Navy ties look fantastic when wearing a black suit and pink shirt. They're dark and muted and so they sync seamlessly with the black suit while still being different enough from it to be noticeable.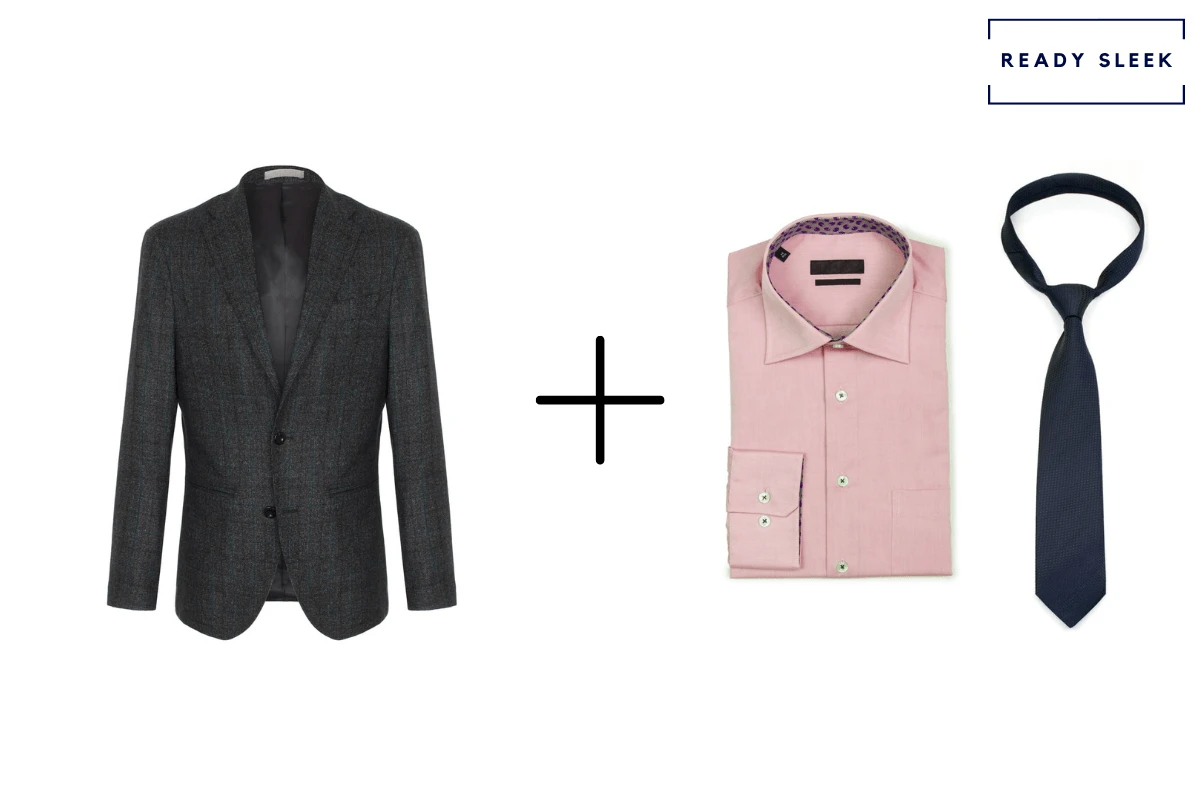 Dress Code: Formal, Smart-Casual
Think of the navy tie as a slightly more exciting cousin of the black tie.
Within the world of men's style, navy is often considered neutral given how muted it is.
But the "cool" undertones of the underlying blue hue are still easily distinguished.
The great thing about wearing a tie in any shade of blue over a pink shirt is that the cool undertones add contrast to the vibrant and warm undertones of the pink.
With a shade as dark as blue, this contrast will be subtle, but still enough to be noticeable.
Think of this combination as combining black, pink, and blue. In other words, a neutral color, a warm color, and a cool color.
Choosing navy is a great way to achieve this in an understated way.
Grey
A grey tie can be worn with a black suit and pink shirt in formal and smart-casual settings.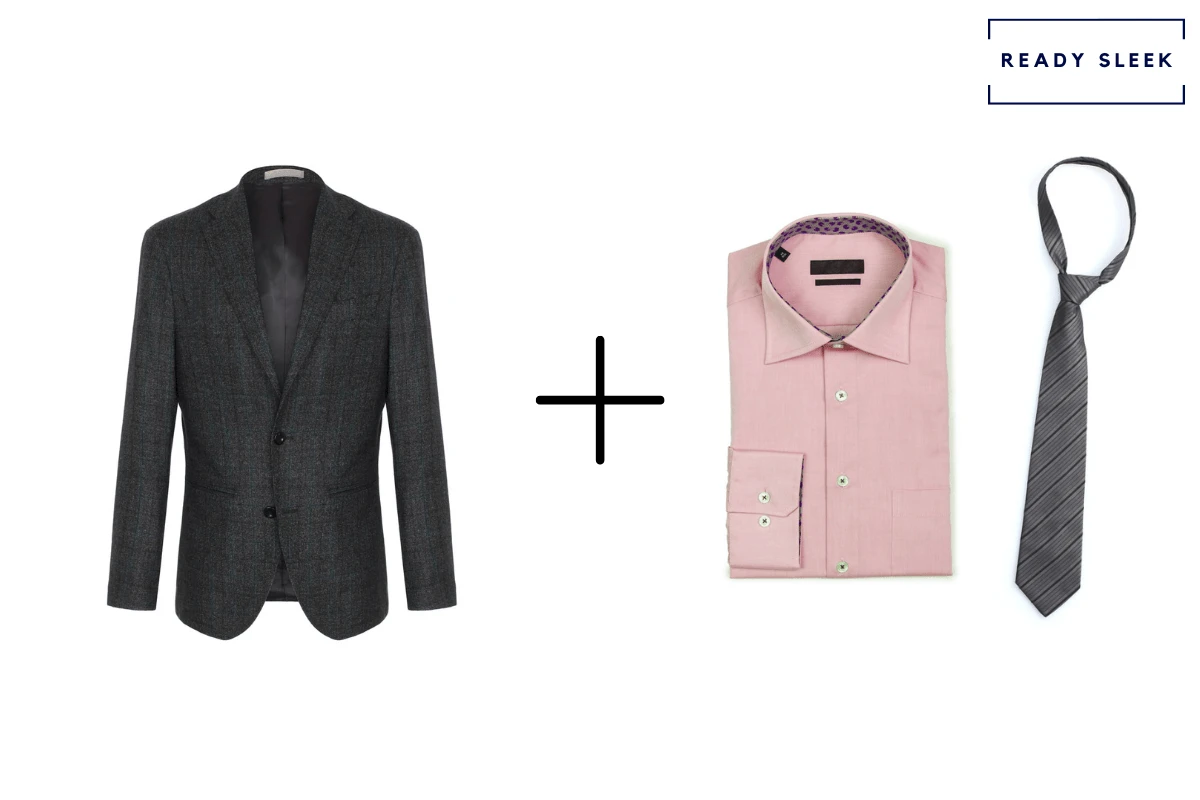 Dress Code: Formal, Smart-Casual
It makes for a more eye-catching alternative to wearing a black tie.
Ultimately, a grey tie and black suit combination could be considered monochromatic given that they're on the same spectrum. This is especially true if you were to choose a tie in a dark shade of grey such as charcoal.
When choosing a grey tie, you achieve more of an attention-grabbing contrast between the suit and tie than you would if you were to have chosen a black tie.
Overall, the combination of a black suit, grey tie, and pink shirt will always work given how neutral black and grey really are.
The suit and tie will form a neutral foundation, with the pink shirt becoming a vivid and vibrant focus of the outfit.
The relatively bold pink shirt peeks through the rest of the outfit and adds a splash of color.
If you want even more contrast, consider a tie in a light or medium shade of grey such as pewter or slate grey.
Red
A red tie will always work well with a black suit and pink shirt, mainly because it forms a monochromatic pairing with the shirt.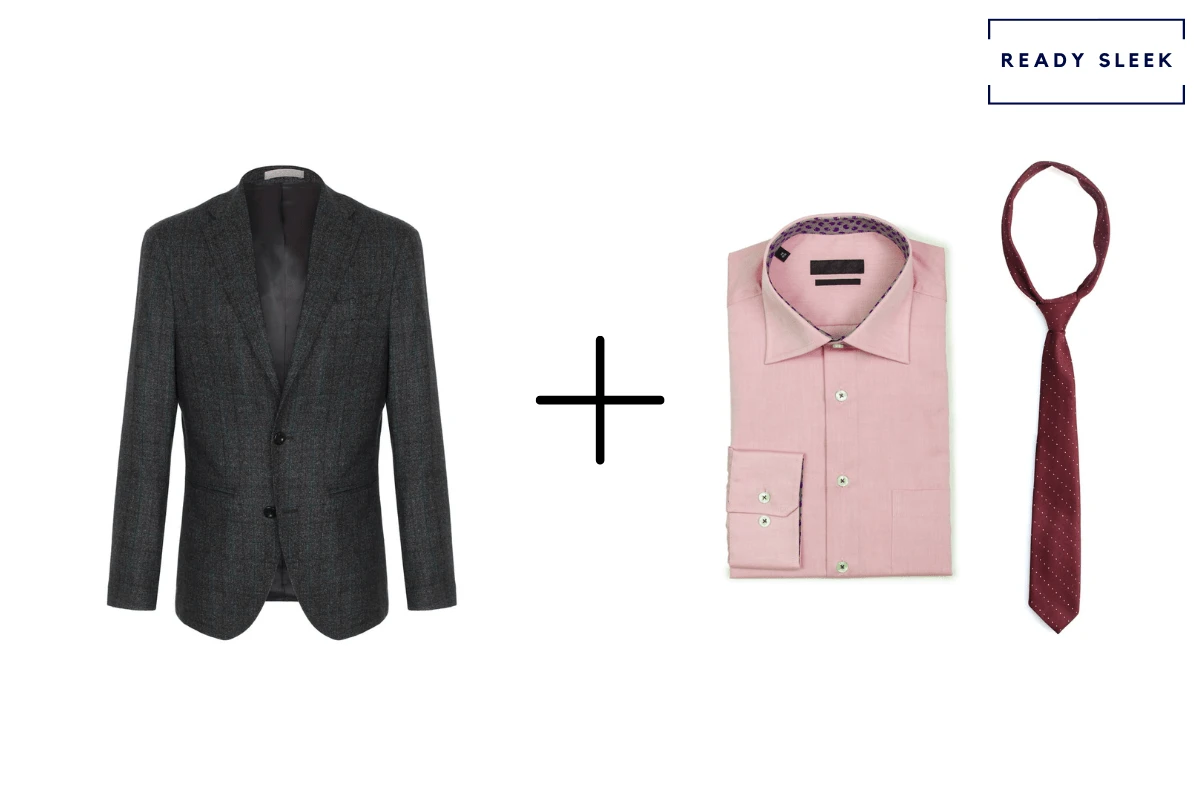 Dress Code: Formal, Smart-Casual
Ties in dark shades of red are more appropriate when dressing for more formal settings.
Maroon and burgundy are especially good choices here.
When dressing for more casual or "smart-casual" settings, ties in bolder and more vivid shades of red are also an option.
A scarlet red tie, for example, would coordinate well with the pink shirt but would look more casual than a tie in a darker shade of red.
When it comes to the dress code, you'll also need to consider the fabric or weave of the suit, shirt, and tie you choose.
Certain suit fabrics, for example, will look more formal, while others will be better suited to a smart-casual dress code.
A worsted wool black suit and a 100% cotton pink dress shirt will look more formal than a tweed, linen, or serge black suit worn with a pink OCBD shirt.
Fabrics/weaves are often overly complicated. I like to stick to this basic principle:
If it feels rough/rugged and looks wrinkly, it's casual. If it looks shiny and wrinkle-resistant, it's formal.
Pink
A pink tie can be worn with a black suit and pink shirt, as long as the shade of the pink tie is darker than that of the shirt.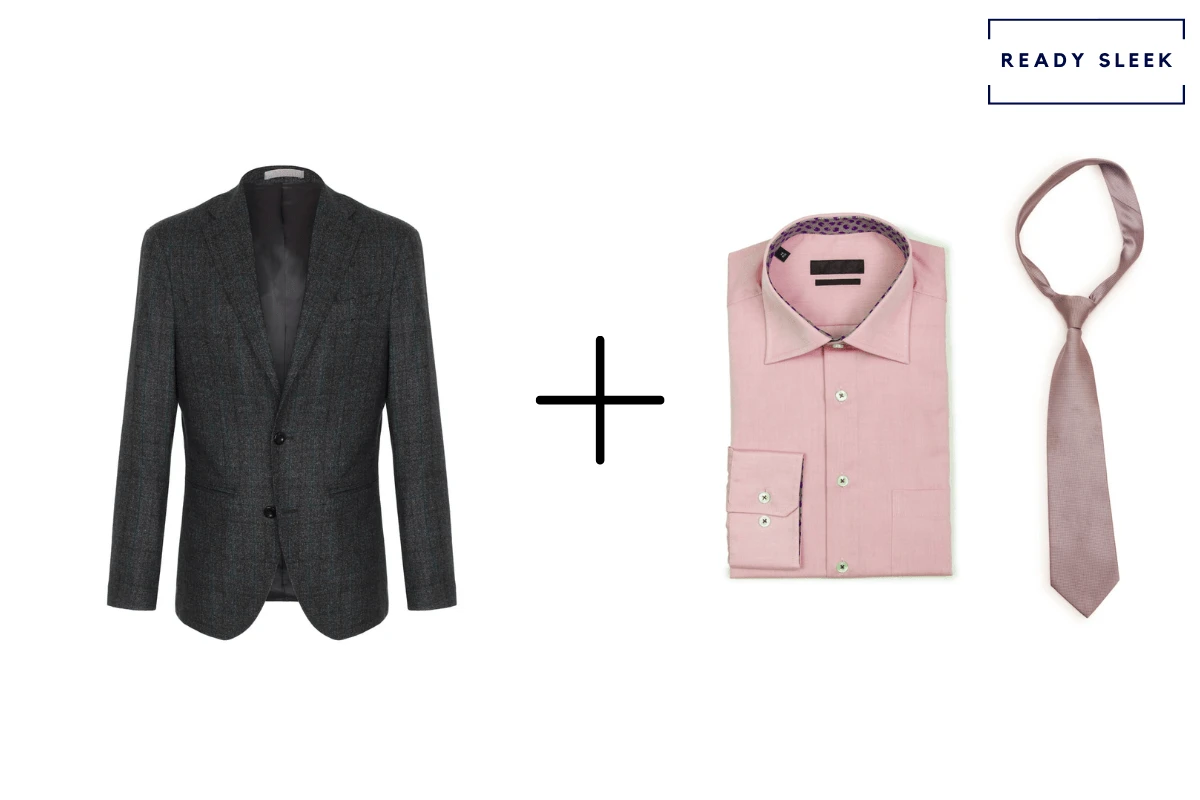 Dress Code: Smart-Casual
So, it's possible – but be cautious.
A pink tie and pink shirt often produces a result that's – just too pink.
But wearing a tie in a dark shade of pink (eg. salmon) over a shirt that's a very light shade of pink (eg. dusty or blush) often looks great.
It's a true monochromatic pairing that'll look similar to what a red tie worn over a pink shirt would look like.
Having said that, it's generally best to avoid the black suit, pink shirt, and pink tie combination in formal settings. Go for a tie in a dark shade of red or a neutral color (eg. black, navy, or charcoal) instead.
For a smart-casual setting, on the other hand, it could look great.
Just make sure the tie is easy to distinguish from the shirt.
Green
Green ties work well with a black suit and pink shirt combination, especially in smart-casual settings where underdressing isn't much of a risk.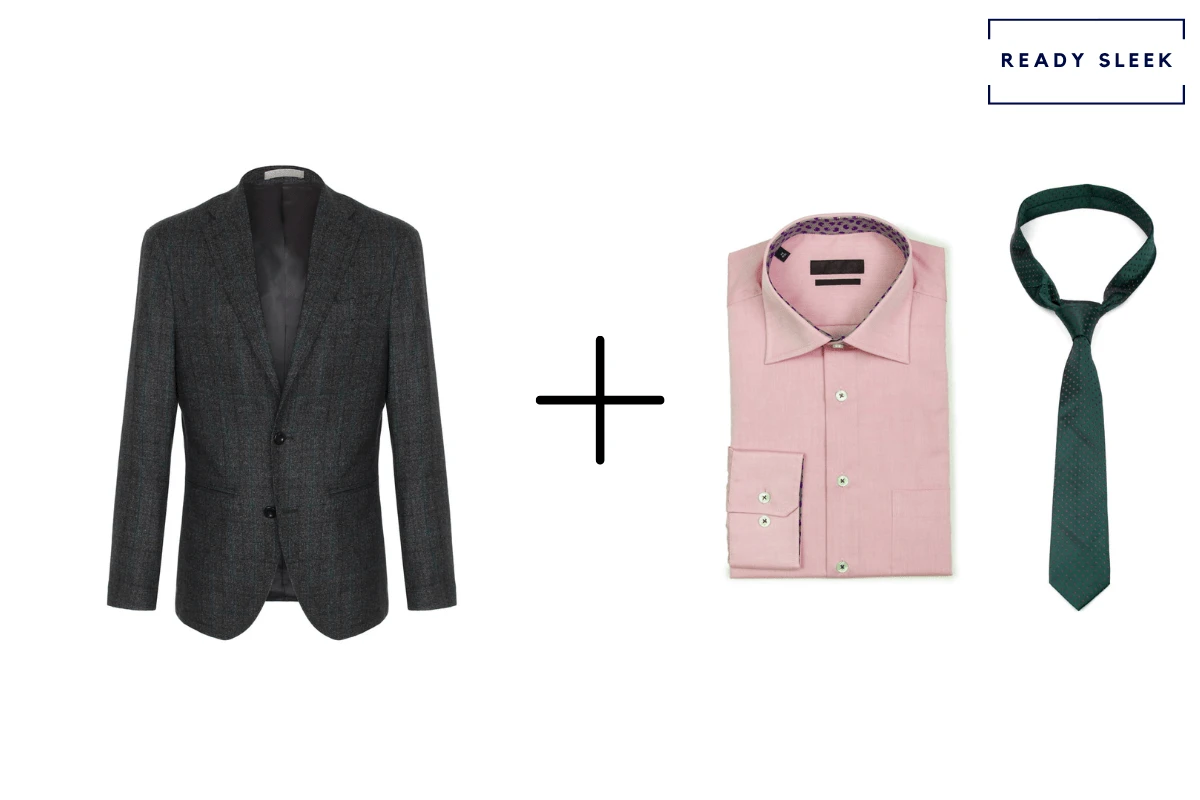 Dress Code:
Green is a noticeably "cool" color, while pink is a bold and "warm" color.
The laid-back aesthetic of the green tie adds plenty of contrast to the energetic and vibrant pink shirt.
It'll coordinate, but it's a high-contrast combination.
The two colors are near-enough opposite each other on the color wheel.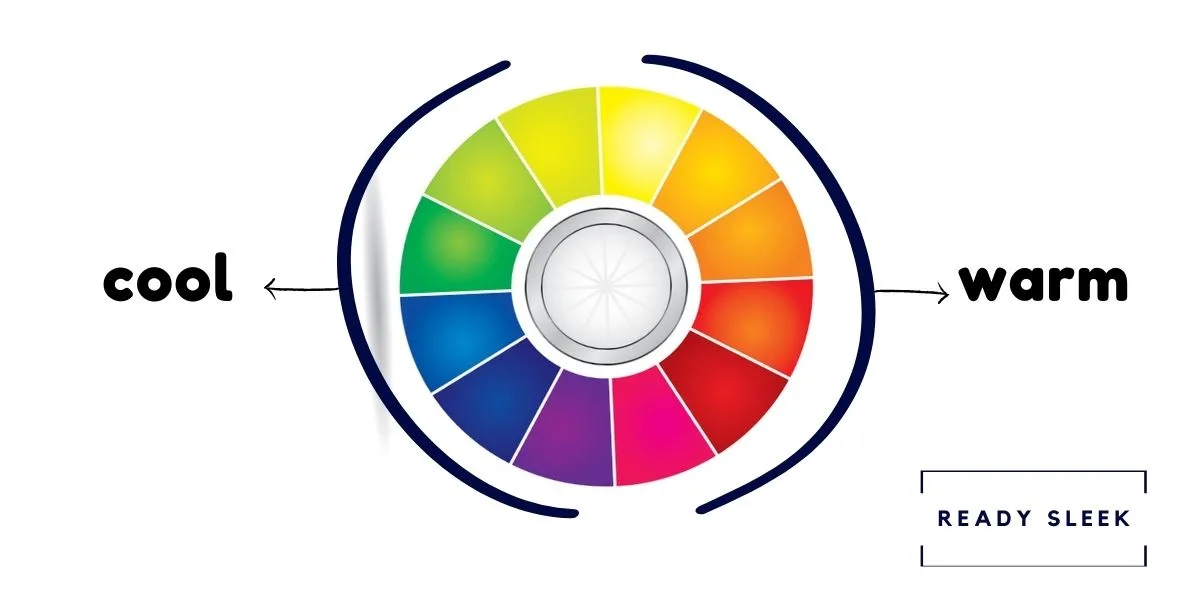 Because of this, it isn't as suitable for formal settings where it's likely to be a little too eye-catching.
Instead, wear it in smart-casual settings when you're looking to turn some heads and make more of a statement.
Sticking to muted shades of green such as forest green, olive green, or sage is a good way to make sure it looks sophisticated and not too in-your-face.
Frequently Asked Questions
Here are a couple of FAQs to finish up.
Can You Wear A Black Suit And Pink Shirt With No Tie?
It's definitely possible to wear a black suit and a pink shirt with no tie. It's a very smart-casual aesthetic that would work well in a variety of different settings.
In many ways, wearing a tie when it's inappropriate is worse than not wearing a tie when it's appropriate.
Overdressing for an occasion is always an embarrassing experience.
If you don't feel a tie is necessary, unbutton the pink shirt (two buttons if it's very casual) and embrace a more relaxed look.
Can You Wear A Black Suit And Pink Shirt With A Bow Tie?
A black suit and pink shirt can be worn with a bow tie in formal settings. Consider a bow tie in a neutral color such as black, dark grey, or navy. Alternatively, consider a red bow tie if you'd prefer a monochromatic aesthetic.
The same color-matching principles would apply to bow ties as they would to ties.
Simply swap the combinations listed above with bow ties of the same colors. It would still make complete sense.
Stick to neutral or monochromatic bow tie pairings if you'd prefer a more subtle and understated look.
If you'd prefer a more eye-catching statement piece, consider a contrasting color such as a medium blue or muted green bow tie with a pink shirt.
Conclusion
A black suit and pink shirt is high-contrast and is bound to turn some heads.
You can choose to keep things subtle with your choice of tie color or use it as an opportunity to add even more contrast in casual settings.
Enjoy.
Ready Sleek founder. Obsessed with casual style and the minimalist approach to building a highly functional wardrobe. Also a fan of classic, vintage hairstyles.