Dark and neutral-colored shirts do ooze a sense of sophistication and elegance. Pop a blazer over one and you'll take it to the next level. But can you really wear a black shirt with a blue blazer?
It's true that blue blazers can easily be worn over black shirts, but only in smart-casual settings. The darker the shade of the blue blazer, the less it will contrast the shirt and the dressier the combination will look as a whole.
While that's the gist, there's a whole lot more to it.
First, we'll run through a few outfit examples you can try out for yourself. Then, we'll talk through some essential tips for making this combo look as effective as possible.
Let's get to it.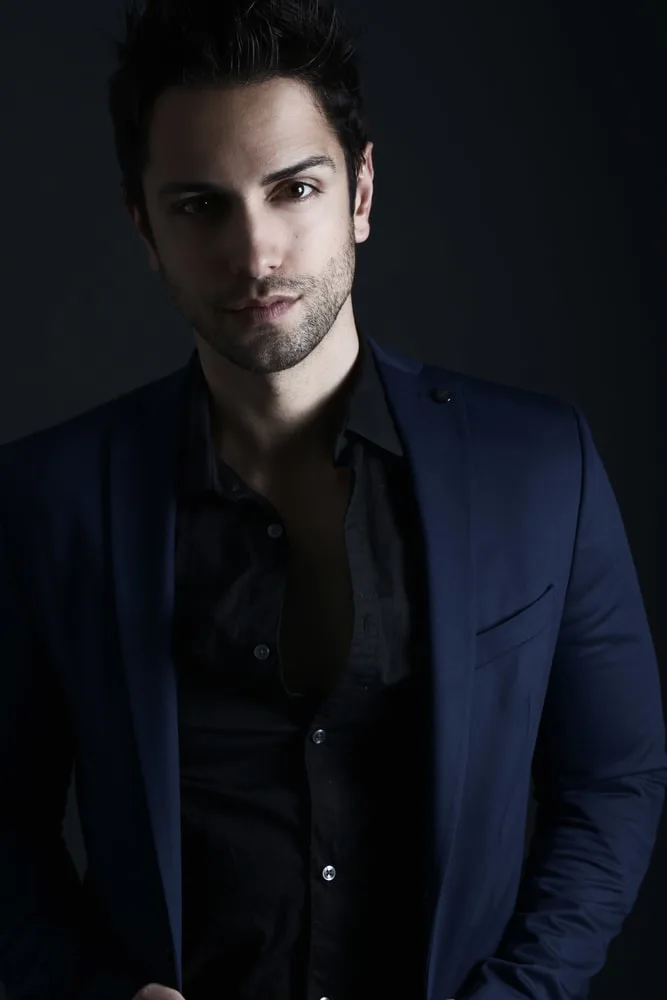 3 Black Shirt And Blue Blazer Outfits Inspire You
We'll start with the "dressiest" way to wear it and finish off with the most casual way.
So, consider the dress code of the setting you're attending and pick out the one that would make the most sense.
Dressy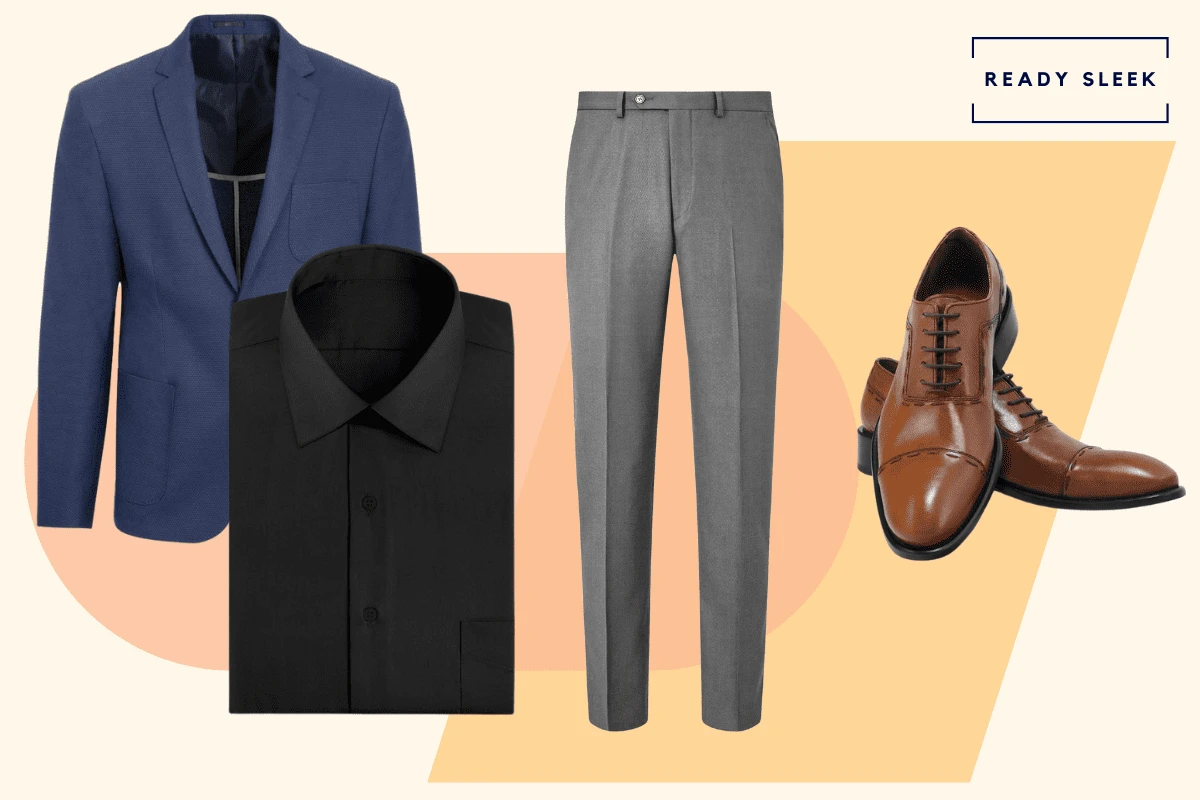 Items: Black Dress Shirt, Navy Blue Blazer, Slate Grey Dress Pants, Tan Brown Dress Shoes
A black shirt and blue blazer combination should only be worn in smart-casual settings. Some of those settings will inevitably be dressier, while others will be more casual.
For the dressier smart-casual settings, strongly consider a navy blue blazer.
In general, the darker the shade of your blue blazer, the dressier it will look. A navy blazer would be the perfect example.
Grey dress pants are ideal here too, forming a nice greyscale combination with the black dress shirt.
Going for a pair of brown dress shoes in a shiny grain of leather is a great way to add a touch of contrast to the dark outfit.
Overall, this combination would be perfect for a dressy evening social event.
More Casual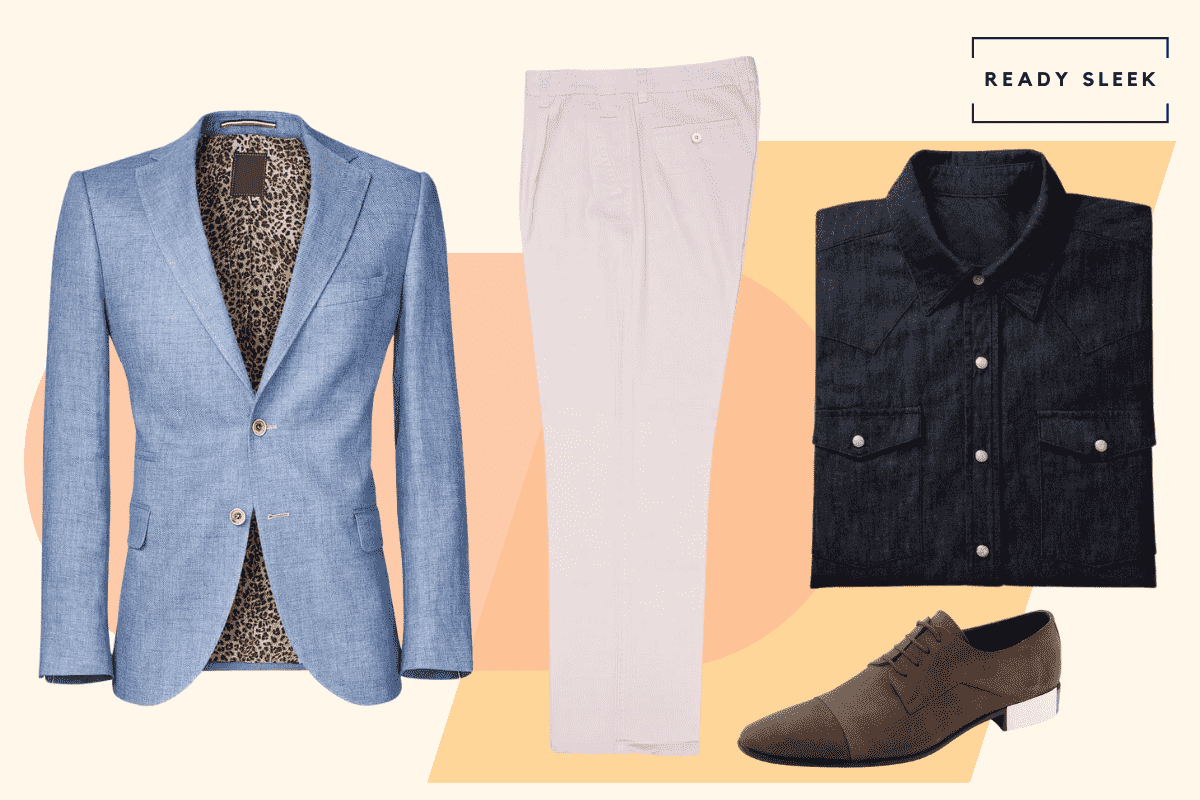 Items: Black OCBD Shirt, Blue Blazer, Cream Chinos, Brown Suede Derby Shoes
Here, we're swapping the black dress shirt for one made from a more casual fabric.
We've gone for an OCBD (Oxford Cloth Button Down) here, but linen and chambray can also work.
The blazer is a lighter shade of blue. Notice how it looks a notch more casual than the darker one in the previous example.
The contrast produced between the dark shirt and the cream chinos is striking, eye-catching, and casual.
Chinos are also a great alternative to dress pants when you're looking to dress down a notch from dress pants but don't want to go as casual as jeans.
Suede shoes will always look more casual than shinier grains of leather, but sticking to a dark and traditional color (eg. dark brown) is a way to keep things looking sophisticated overall.
Most Casual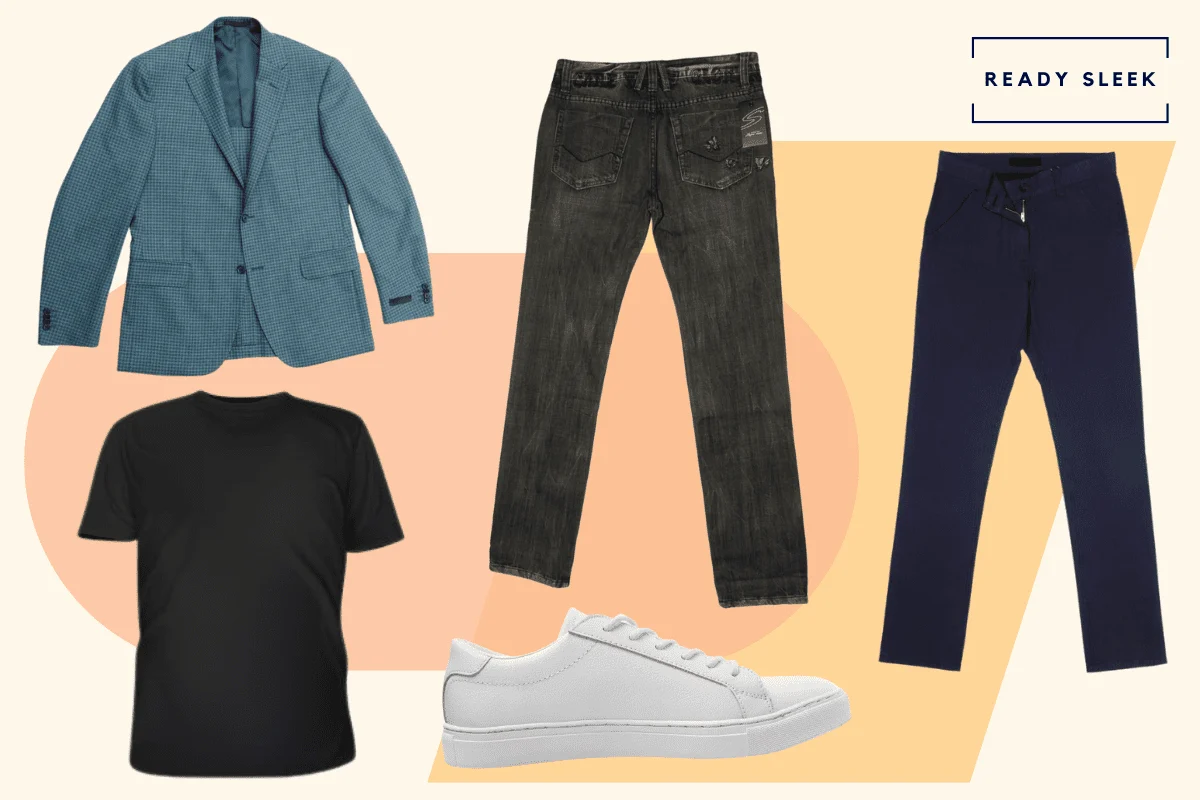 Items: Black T-Shirt/Turtleneck Sweater, Teal Blue Blazer, Black Jeans, All-White Low-Tops (Leather)
A teal blue blazer will always look bolder and more casual than those in darker shades of blue.
It's also less commonly worn, making it an ideal way to stand out from a crowd.
It goes to show just how different a "black shirt and blue blazer" combination can look depending on the shades and the other items you're wearing.
Here, we've gone for a black T-shirt instead of a button-up. Notice how it looks very casual, but still quite sophisticated and "high-end" due to the presence of the teal blazer.
Black jeans are a great way to round things off. Sure, denim epitomizes "casual" as few other fabrics can, but black denim can actually look quite dressy.
It definitely looks dressy enough to wear with a teal blazer and still make sense, with little risk of a formality mismatch between the two items.
We're finishing up with a pair of white sneakers to really make it clear we're going casual but not too casual. Avoid bulky canvas athletic trainers with heavy branding and loud colors.
Go for all-white leather low tops to keep things "dressy" enough for the teal blazer.
5 Tips For Wearing A Black Shirt With A Blue Blazer
Here are some tips for getting this combo right – everything from how to wear it and where you can wear it to.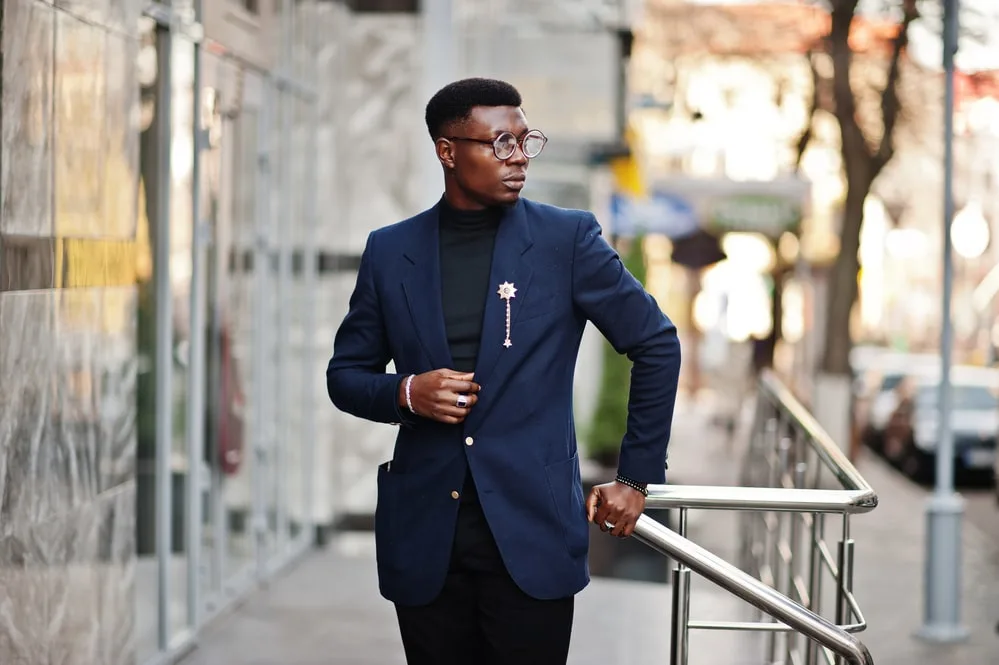 It's Smart-Casual At Best
A black shirt and blue blazer combination should never be worn in formal, business-professional, or business-casual settings.
It would almost always be considered underdressing, mainly due to the black shirt.
While black shirts can look incredibly sophisticated and dressy, they'll never be considered formal enough to wear in truly formal or professional environments.
White, cream-tone, or soft pastel shirts would be more appropriate in these settings.
Instead, reserve the black shirt/blue blazer pairing for smart-casual settings. It lends itself very well here.
Of course, "smart-casual" can mean different things to different people. It's also a spectrum that ranges from pretty dressy to not so dressy at all.
But ultimately, no matter what style of shirt and blazer you go for, the setting you wear the combination to will usually fall somewhere within the smart-casual spectrum.
Consider The Style Of Black Shirt
When attending a dressier smart-casual setting, a black button-up shirt would usually be your best option when wearing a blue blazer.
Consider one in 100% cotton, broadcloth, or poplin.
Slightly more casual fabrics/weaves you could consider include linen, Oxford cloth, and chambray.
In more casual settings than that, you could consider a more casual black shirt style to wear under the blue blazer.
For example, a black Henley, polo, or T-shirt.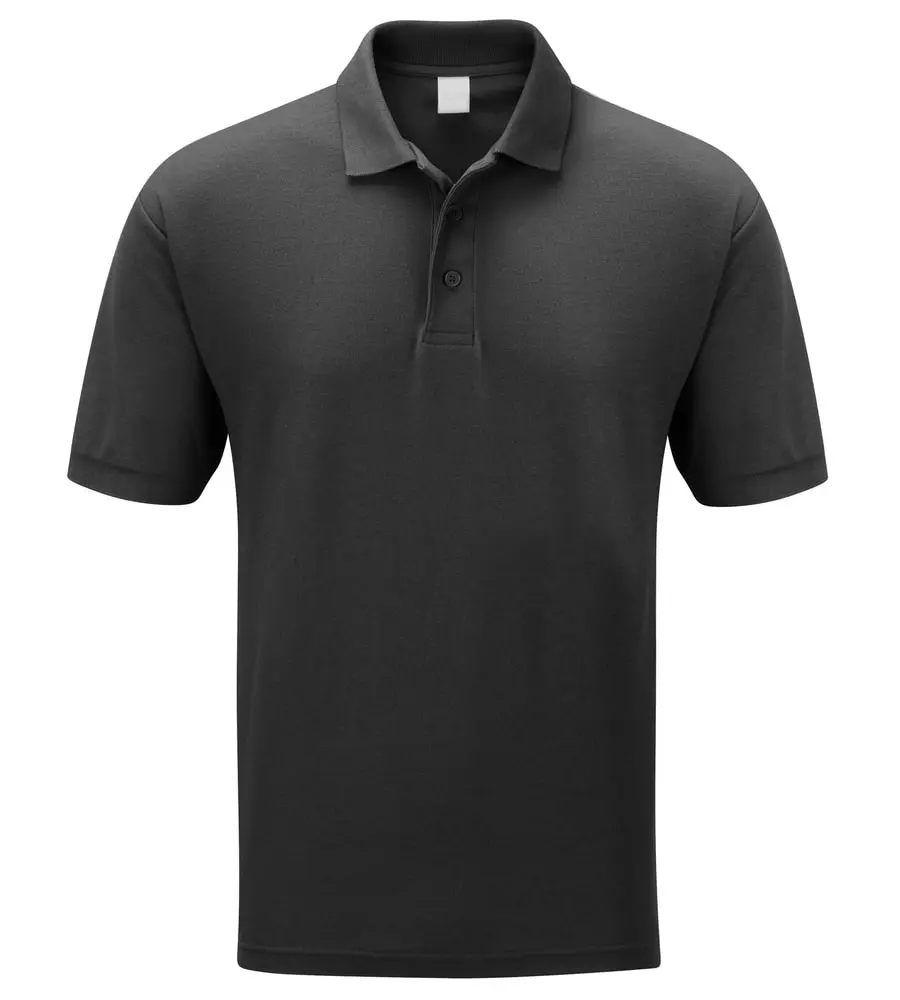 Ultimately, the more casual the setting, the more options you've got when it comes to the style of your shirt.
The beauty of it is you could potentially wear any of them under your blue blazer. It really just depends on the event or the setting.
The Shade Of The Blue Blazer Matters (A Lot)
When wearing a black shirt to a dressy smart-casual setting, navy or midnight blue blazers are ideal. In more casual settings, consider a blazer in a lighter shade of blue such as teal, admiral blue, or even aquamarine.
The main point here is that there are so many shades of blue you can choose from and the one you choose is important.
A cyan blue blazer, for example, will look very different from a steel blue blazer worn over the same black shirt.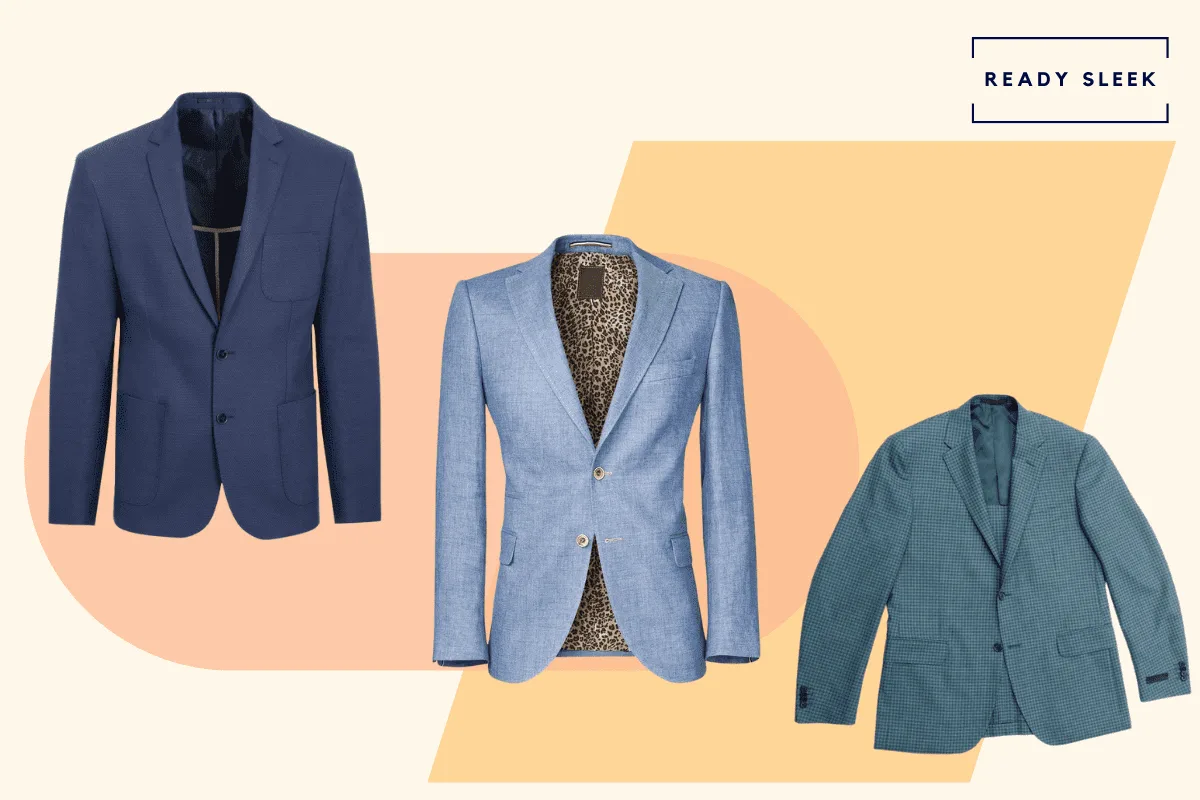 The darker the shade of the blue blazer, the more "formal" it'll look.
One reason for this is that darker colors generally look dressier than lighter colors. Another reason is that dark blue blazers will lead to less contrast between the blazer and the shirt.
Low-contrast combinations are more subtle, understated, and formal-looking.
If you wanted a more casual and eye-catching high-contrast combination, however, consider a light/medium blue blazer instead.
Contrast Vs No Contrast With Your Pants
It's also important to consider how much contrast is produced between the black shirt and the pants you wear.
If you wanted a dark aesthetic overall, consider a similarly dark and neutral pair of pants to go with the black shirt.
For example, medium or dark grey dress pants.
Here, you're producing just enough contrast between the shirt and pants for the two items to be distinguished from each other, while keeping the combination dark and neutral overall.
It's hard to deny how dressy this looks, especially when you're rounding things off with a navy blazer.
On the other hand, going for a light-colored pair of pants (eg. cream chinos) will produce a high level of contrast with the black shirt.
This will be bolder, more striking, and generally – more casual. It looks very effective, but would usually be a better option when dressing down a notch.
Tieless Is Often The Best Way To Go
Ditching the necktie altogether is usually the best option when wearing a blue blazer with a black shirt.
While opinions may vary on this one, black shirts don't usually look great with ties.
One reason for this is that shirt and tie combinations usually look best when the tie is darker than the shirt.
It's impossible to find a tie darker than the black shirt, leading to an awkward situation where the tie is noticeably lighter than the shirt.
Sure, it can make for a good statement, but not ideal when you're aiming for a more sophisticated aesthetic.
So, it's usually best to forget the tie altogether and simply unbutton the top one or two buttons of your black shirt.
It's a great smart-casual look.
Ready Sleek founder. Obsessed with casual style and the minimalist approach to building a highly functional wardrobe. Also a fan of classic, vintage hairstyles.