Dark and neutral monochromatic combinations can look incredibly sophisticated, but it can actually be pretty easy to overdo it. The question is, can you really wear a black blazer with a black shirt?
A black blazer can easily be worn over a black shirt in smart-casual settings, but the combination should be avoided in truly formal or business-casual environments. Consider rounding off the outfit with a pair of dark and neutral pants (eg. charcoal grey or navy).
While that's the short answer, there's more to it.
After going through some great outfit examples you can try out, we'll run through some essential tips for getting the combo perfect every time.
Let's get to it.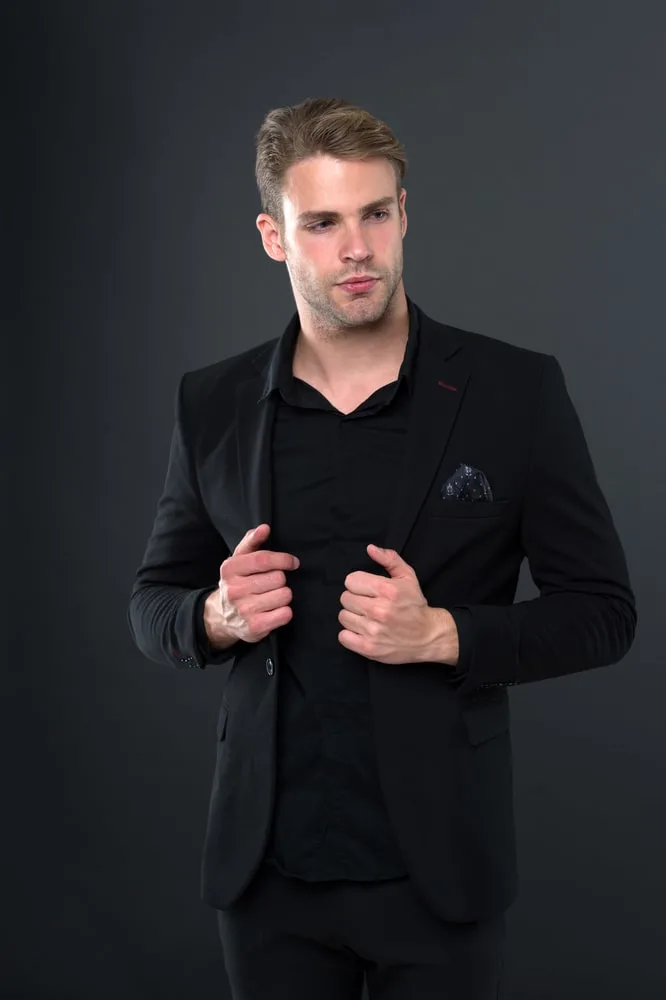 3 Black Blazer And Black Shirt Outfits
We'll start with the dressiest option and finish up with the most casual one.
Dressy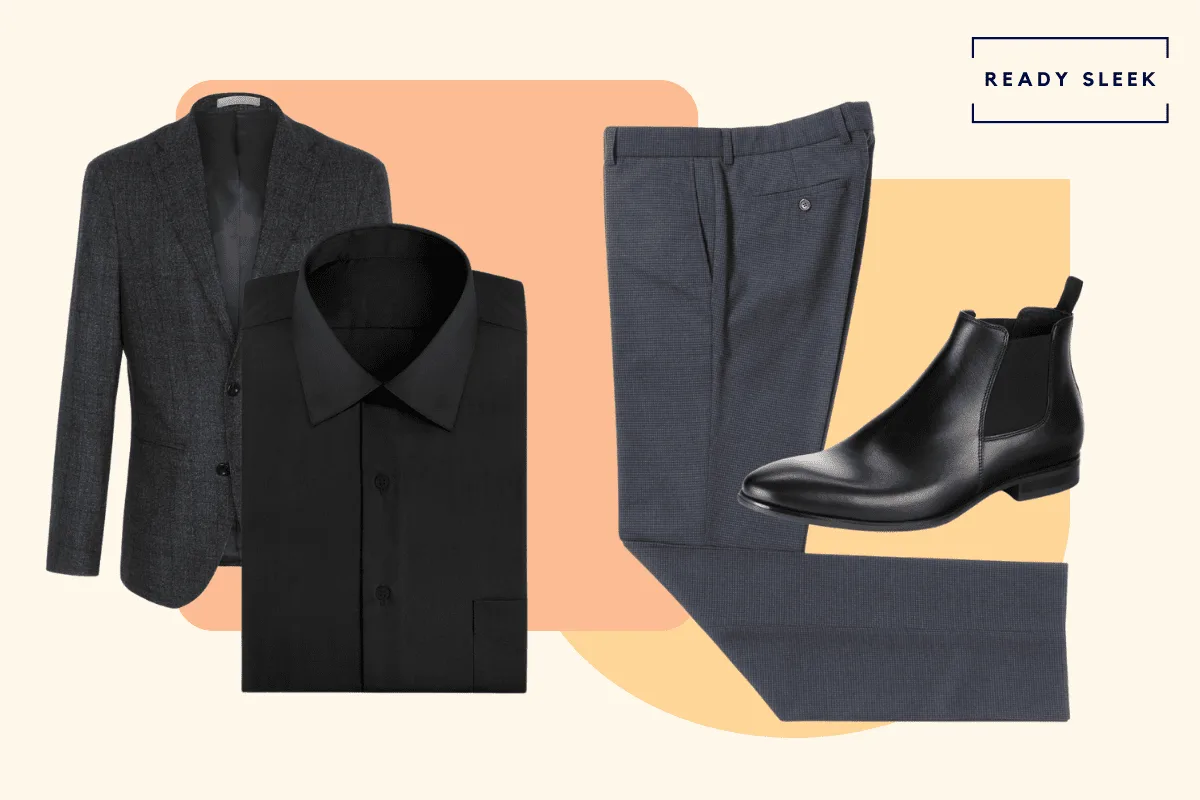 Items: Black Blazer, Black Dress Shirt, Charcoal Dress Pants, Black Chelsea Boots, Light Grey Pocket Square
While the combination should only be worn in smart-casual settings, there will undoubtedly be events that are dressier than others.
Here's an example of a dressy way to wear a black blazer and a black dress shirt.
Ultimately, it comes down to what style of blazer and shirt you choose, as well as what other items you choose to wear them with.
In the image above, we've coupled a formal-looking black blazer (structured, tapered) with a black dress shirt.
It looks sharp, sophisticated, and elegant.
The pants are a similarly dark and neutral color – charcoal grey. Going for dark/neutral pants produces a subtle low-contrast combination when worn with dark items up top.
Black Chelsea boots are arguably the dressiest mainstream boot style you could go for – ideal for the fall and winter months.
During the warmer months of the year, you could substitute them for a pair of black or dark brown Derby or monk strap shoes.
More Casual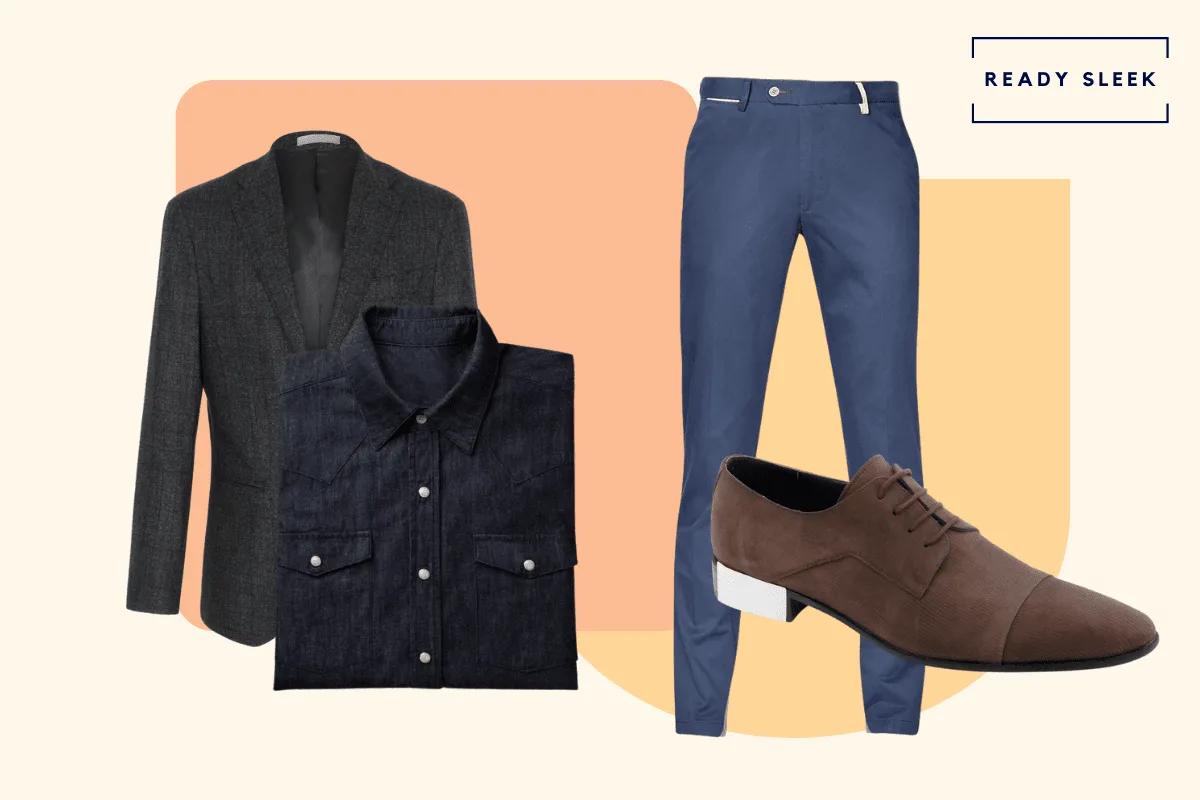 Items: Black Blazer, Black OCBD Shirt/Turtleneck, Navy Chinos, Black Suede Derby Shoes
Here, we're dressing down a notch.
We've substituted the black dress shirt for an OCBD (Oxford Cloth Button Down). The rugged texture will immediately come across as more casual.
During the colder months, you could actually swap the black shirt for a black turtleneck sweater. It's very effective.
We've gone for navy chinos here, swapping out the more formal-looking charcoal dress pants of the previous example.
Finally, we've finished up with a pair of black suede Derby shoes. Suede shoes are perfect when you're dressing down a little (but not too much).
They'd usually be appropriate in most smart-casual settings.
We've gone for black to add a nice sense of balance to the outfit. They'll coordinate effortlessly with the black blazer and black shirt you're wearing up top.
Most Casual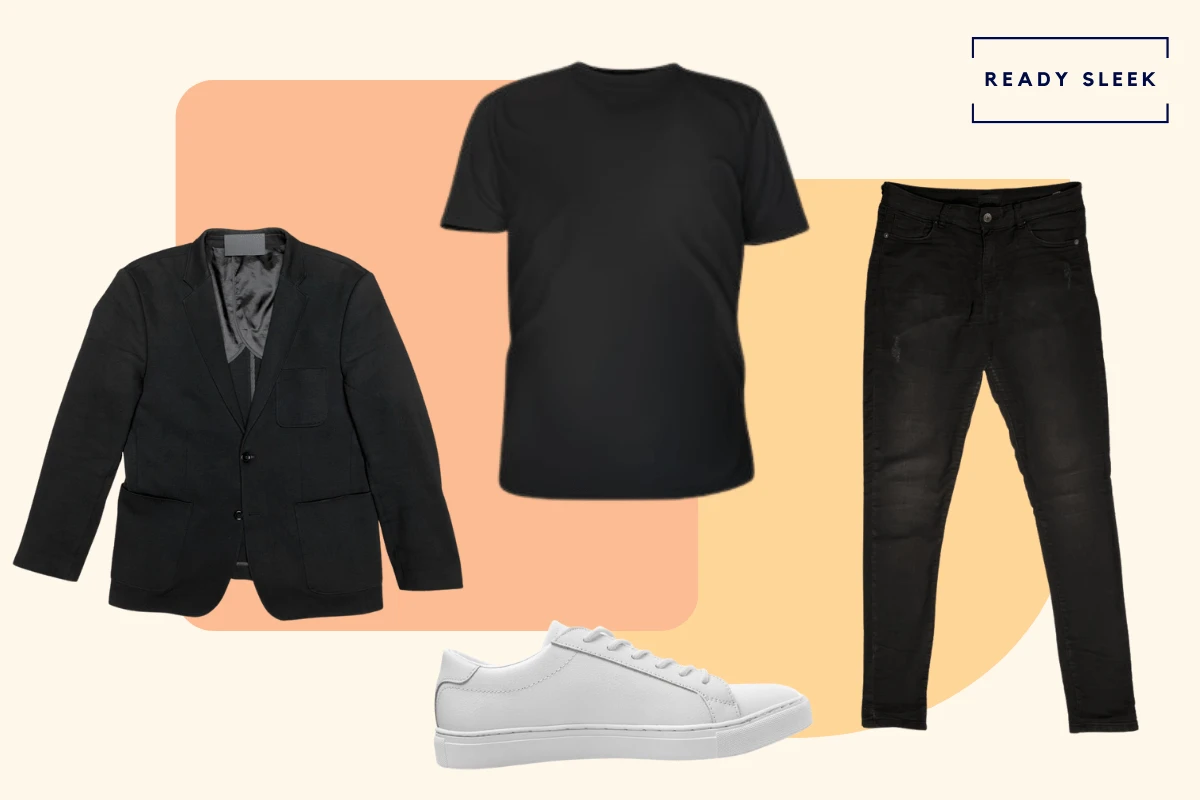 Items: Black Blazer, Black T-Shirt, Black Jeans, White Low-Top Sneakers
Swapping a black button-up shirt for a black T-shirt will inevitably make it look a whole lot more casual.
The blazer-over-T-shirt look is a widely accepted smart-casual look and is very effective when you're combining two black items.
We've gone for black jeans here to produce an all-black outfit ideal for smart-casual settings on the more casual end of the spectrum.
If you wanted a little more contrast, consider a pair of dark grey or dark blue jeans instead.
Round things up with a pair of low-top leather sneakers. While you could go for a black pair, why not go for white to add contrast and make the outfit more visually interesting?
If you feel as though there may be a risk of underdressing, go for one of the previous two outfit examples instead.
5 Tips For Wearing A Black Blazer With A Black Shirt
Here are some crucial tips for getting the combination right no matter what you may be dressing for.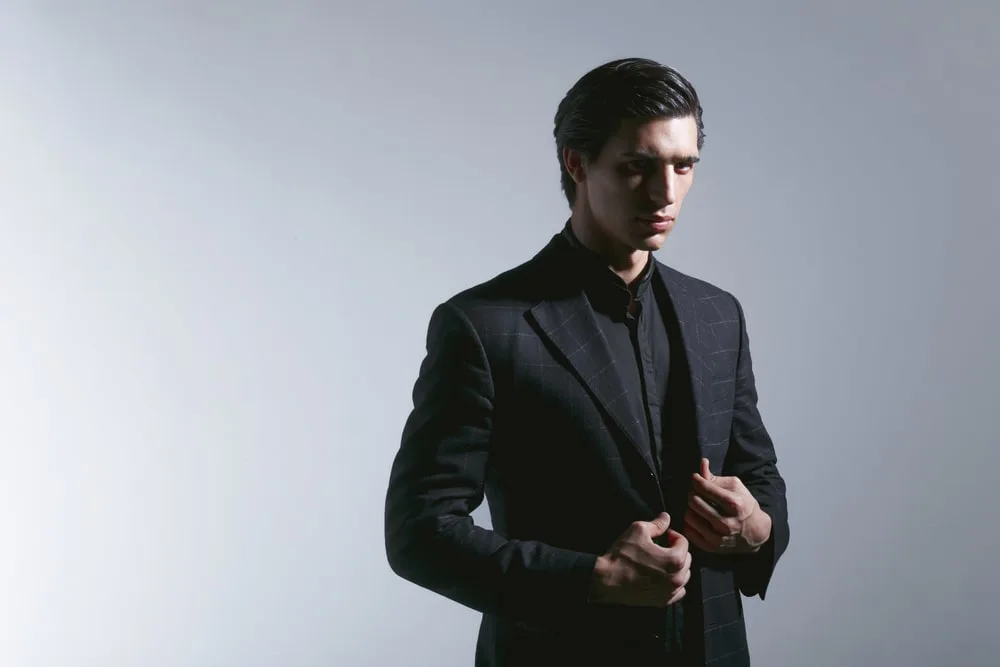 It's Only Ever Smart-Casual
Wearing this combo inappropriately is a common mistake. It should never be worn in truly formal or even business-casual settings.
Doing so would lead to a real risk of underdressing.
Instead, a black blazer and black shirt pairing should only ever be worn in smart-casual settings.
The main reason for this is that black shirts generally don't lend themselves well to formal or professional settings where white and light blue shirts reign supreme.
Instead, reserve this combination for smart-casual events and occasions.
In these settings, it's a versatile combination that can be worn whenever and wherever.
Having said that, it's true that this dark aesthetic does work especially well for dressy evening social settings.
Don't let that restrict you, however. It's just something to bear in mind.
The Fabrics Should Sync Well
The combination works best when the fabrics of the black blazer and the blazer shirt complement each other.
For example, a black dress shirt with a typical sheen and wrinkle-resistant texture would work well with a relatively formal-looking, structured, worsted wool black blazer.
The fabrics sync well.
On the other hand, a black OCBD or linen shirt would work well with a black blazer made from a more rugged and casual-looking fabric or weave.
Examples include serge, flannel, linen, hopsack, and tweed.
Ultimately, syncing the fabrics to an extent will reduce the risk of a formality mismatch or clash between the two items.
You're essentially trying to coordinate a casual-looking black shirt with a casual-looking black blazer.
You're also trying to coordinate a formal-looking black shirt with a formal-looking black blazer.
Not doing so can still work well, but won't be as effective.
The Shirt Style Should Suit The Setting
As you've now seen, a "black blazer and black shirt" combination can mean a whole bunch of different things depending on the style of each of the items.
When it comes to the style of the shirt you choose to wear, consider the setting.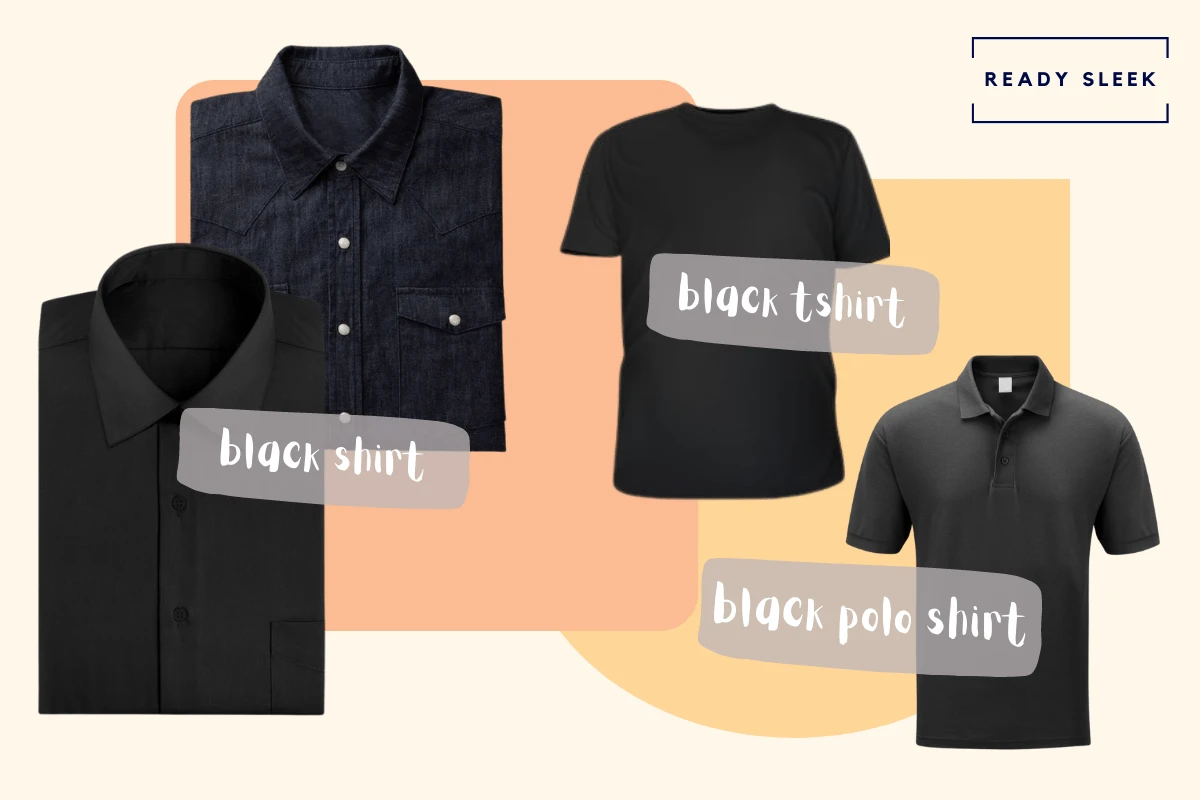 In dressier smart-casual settings, consider the following black shirt styles:
Dress shirt
Chambray shirt
OCBD shirt
Linen shirt
In the more casual of smart-casual settings, consider the following:
As you can see, you've got options. There are many different shirt styles you could potentially wear under your blazer.
The one you choose should really depend on how formal or casual you're looking to dress.
Consider The Contrast With The Pants
When wearing a black blazer and black shirt, charcoal grey, black, and navy pants work well in dressier settings. In more casual settings, consider pants in a lighter color.
It comes down to the fact that you're wearing very dark items up top. It makes what you do with the color of your pants a whole lot more interesting.
You could choose to go for a dark overall aesthetic by going for a pair of charcoal grey or navy blue pants, for example.
This would lead to a dressier, more subtle, and understated low-contrast combination. It's a better option when attending a dressier smart-casual setting.
Alternatively, you could go for a light-colored pair of pants such as light grey, khaki, or light brown if you'd prefer a more eye-catching, striking, and casual-looking high-contrast combination.
However, try not to overdo it.
A black blazer, black shirt, and white dress pants combination is often a little too much. There's just too much contrast and you'll stand out in a bad way.
Instead, if you're looking for a high-contrast combo, go for a relatively light color such as light brown or light grey without going overboard.
Black Or Dark Brown Dress Shoes
A pair of black or dark brown dress shoes would usually work exceptionally well when wearing a black blazer and black shirt combination.
This would be the case no matter how light the color of your pants is.
The dark shoe colors would just lead to a nice sense of balance and harmony with the dark items you're wearing up top.
The style of your shoes should be determined by how dressy the setting is.
In general, try to avoid black Oxford shoes as they'll usually look too formal to wear outside of a 2-piece suit.
Instead, consider more casual dress shoe styles such as Derby shoes, monk straps, and loafers.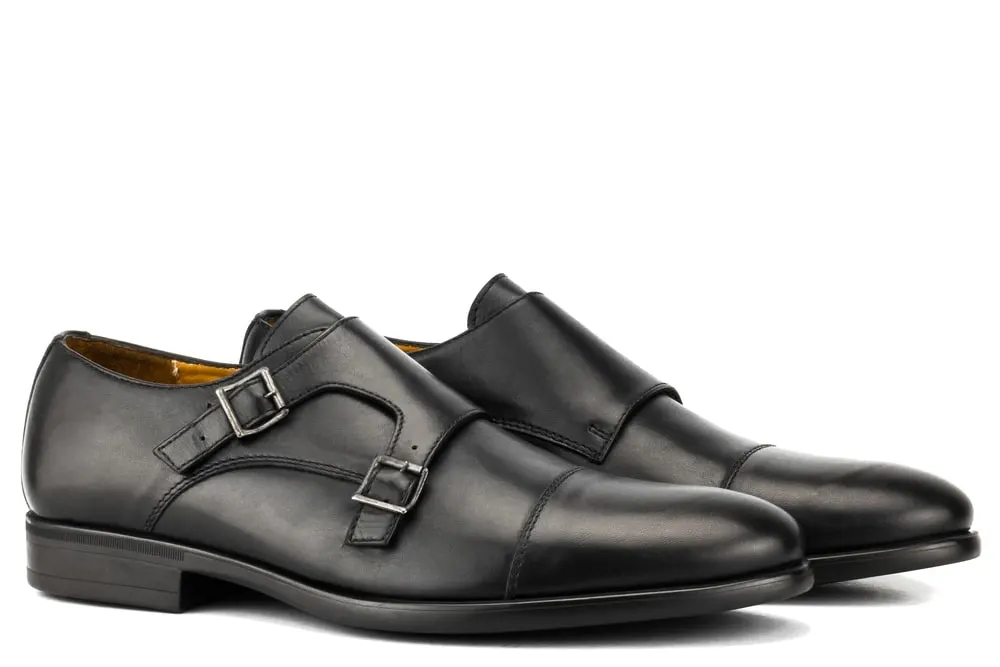 In more casual settings, sneakers can work well, as you saw in the third outfit example above.
However, try to go for "dress sneakers" – leather low-tops. All-white sneakers are incredibly versatile and can definitely be worn with this combination.
Sure, they'd lead to a high level of contrast with the black items you're wearing up top, but it'll look effective.
If you'd prefer a more subtle/understated option, consider a pair of all-black leather low-top sneakers instead.
Try to avoid bulky, athletic-looking sneakers with heavy branding and loud colors. They'll usually be too casual-looking to wear with a black blazer.
Ready Sleek founder. Obsessed with casual style and the minimalist approach to building a highly functional wardrobe. Also a fan of classic, vintage hairstyles.