The combination can often look effortlessly stylish, sophisticated, and elegant. But there's more to it than first meets the eye. This is everything you need to know about bald men in suits.
A bald head in itself can look very professional when groomed and maintained effectively.
But combining it with a well-fitted suit with a color that compliments skin tone and a pattern that compliments body shape is usually a knockout.
In this article, I'm going to show you some great examples of bald guys in suits that work for them. I'll then give you 9 tips on how a bald man should choose a suit, including ideas for accessories and grooming options.
Let's get to it.
4 Great Examples Of Bald Men In Suits
This is just to give you an idea of what to aim for. These pictures should serve as inspiration for future choices.
Gray Tattersall Suit And Sunglasses
It's important to note that a suit consists of a matching jacket and pants cut from the same fabric.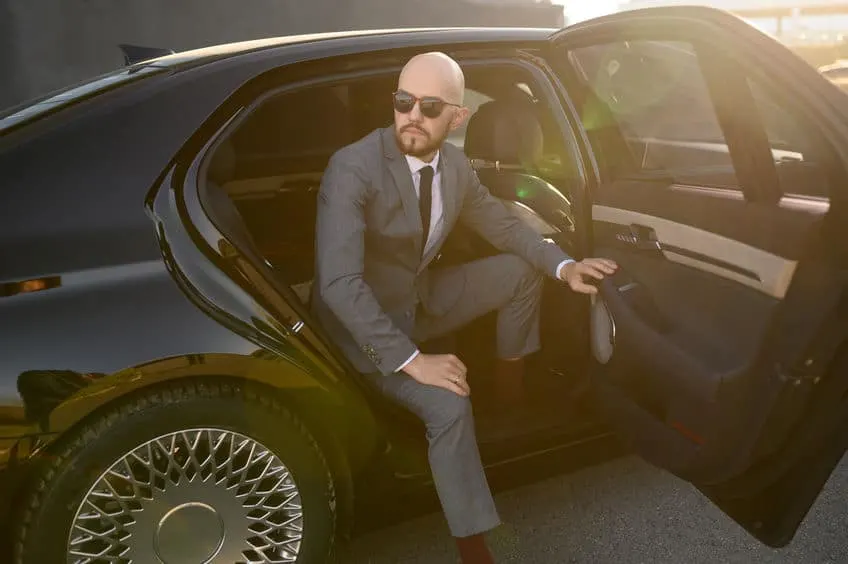 When compared with blazers and sports jackets, they're usually tighter-fitting and more appropriate for very formal occasions.
Although there are a fairly wide range of colors to choose from, when it comes to suits, your best bet is to go for a navy blue or a charcoal gray.
These truly neutral colors are great because of their versatility, going with any shirt and tie combo you can think of.
The picture above is a great example of how professional a bald man in a well-fitted charcoal gray Tattersall pattern suit can look.
As I mentioned, it's so neutral that even the burgundy red socks work fantastically well.
Baldness can make a face look rounder. This man uses several techniques to elongate the face and make it look less round.
The beard is a great way to elongate and add prominence to the chin. The sunglasses are phenomenal for dividing the face and head into sections, a bit like what the frontal hairline used to do.
Wearing sunglasses with angular frames and hard angles are also a great way to add balance and contrast to the curvature of a bald head and round face.
The Tattersall pattern of the suit consisting of vertical and horizontal lines is also a simple way to look broader and longer.
Gray Windowpane Suit And Beard
This man just oozes sophistication and masculinity. Another great example of just how well a suit can compliment a bald head.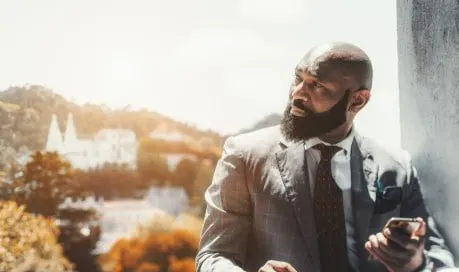 Once again, a beard is used to add length and prominence to the chin. Moral of the story – bald and bearded often looks great.
But let's talk about the suit and how it's used to compliment the bald head.
The tips of the shirt collar are orientated vertically. This is important as it draws the eyes downward and makes the face look longer. Having a narrower spread between the collar tips would have made this effect even more pronounced.
Once again, the pattern of the suit is used to his advantage. This pattern is called Windowpane, and much like Tattersall it also consists of horizontal and vertical lines.
However, the lines are spaced wider apart to give a larger grid-like pattern.
The lines give off the impression of a longer face and body frame. This is often ideal for a bald man.
As a side note, this man is a great example of why a clean-shaven head is often better than being bald on top with hair on the sides. It looks incredibly sleek, more intentional, and (surprisingly) more youthful.
Navy Blue Windowpane Suit
It's about time we talk about the other favorite neutral when it comes to suits – navy blue.
The suit color is just as versatile as the gray, working well with a huge number of shirt and tie colors.
However, in some ways, the navy blue is just a little more eye-catching and attention-grabbing than the gray. This may well influence your choice.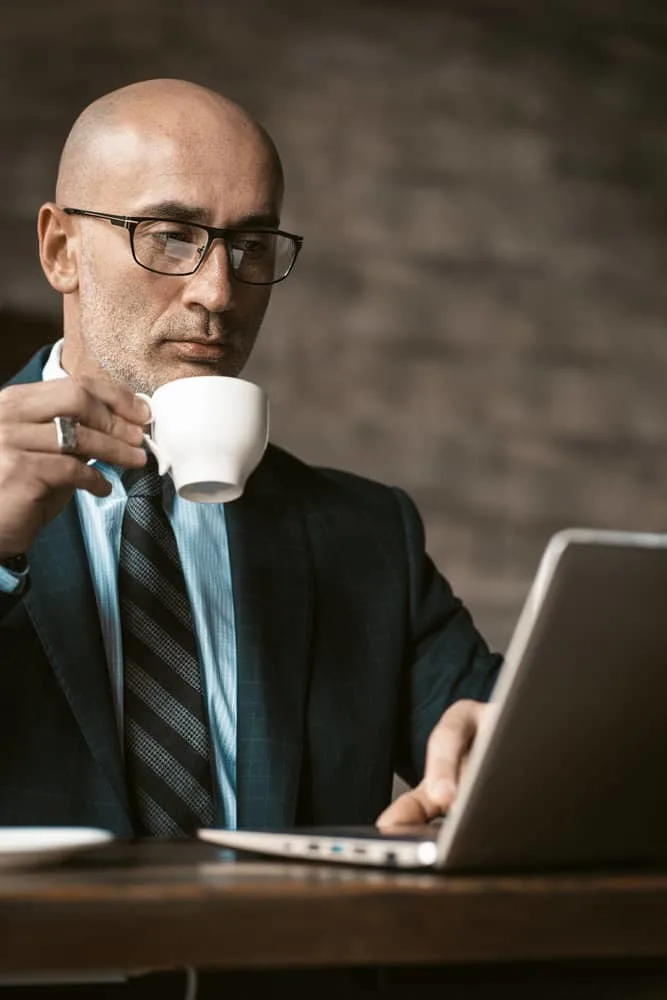 This man's suit is extremely well-fitted while looking comfortable and natural at the same time.
The tips of the collar are yet again pointing nicely downward, but the distance between the tips (spread) is even narrower here. This gives a nice slimming illusion for a bald head and face.
The Windowpane suit pattern once again looks fantastic, with the vertical and horizontal lines drawing the eyes up-and-down and side-to-side respectively.
Broader and longer is the result.
Wearing a slim tie like this is also a good way to add more of a slimming effect to the face, once again drawing the eyes up-and-down.
The clean-shaven head looks very sophisticated and the pocket square is always going to be a great touch for formal occasions.
This is also a great example of the bald with stubble look. As you can see, stubble can look formal and professional when groomed and shaped properly.
It's also easier to maintain than a full beard while still being a great way for a bald man to frame the bottom of the face and nicely contrast the bare scalp.
Bald In A Suit Without A Tie
Going tieless is fairly controversial when it comes to suits. A "suit" is typically defined by a matching jacket and pair of pants.
Traditionally, however, a suit is supposed to come as a package. In other words, tie, pants, jacket, shirt.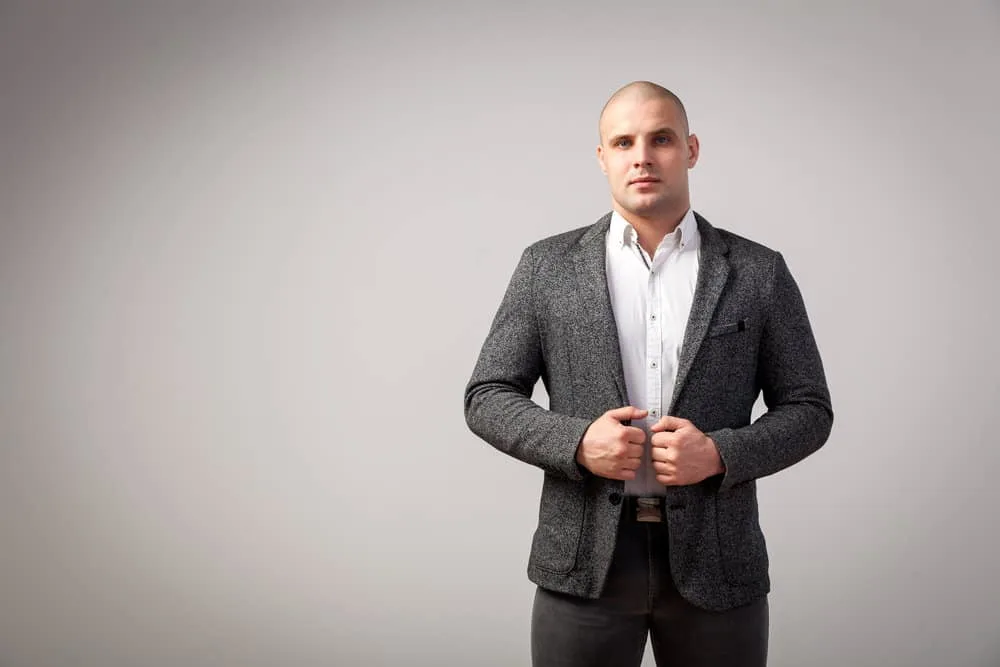 Not wearing a tie is usually better with blazers and sports jackets, as opposed to suits.
Suits are usually worn for formal occasions, and formal occasions usually require ties.
Having said that, this isn't a hard-and-fast rule. As you can see from the picture above, wearing a suit without a tie can be a fantastic look for a bald man looking for a business-casual outfit.
Once again, the charcoal gray proves to be a winner – in the most neutral sense of the term.
The V-Neck created by undoing the top buttons creates hard angles that contrast and elongate the face and bald head.
This man's beard has the same effect and it looks great with the bald head and suit.
Overall, the suit without a tie doesn't look awkward whatsoever. However, it needs to be taken into context. Wearing this at a wedding may well look awkward and inappropriate.
Ties should be taken seriously when it comes to suits and the decision not to wear one should be made with caution.
If you're sure this more casual look is appropriate for the event you're attending, go for it.
9 Essential Tips For Bald Men In Suits
Think of this as a round-up. Most of these tips have been mentioned and used to describe why the examples above work.
When it comes to bald men, the suit and accessories should work to add contrast, length, and balance.
1. The Fit Is Crucial
A well-fitted suit looks so much better on a bald man than an oversized one. A good fit can also make the face look more defined.
Although it's often tempting to rush, it's honestly worth getting the opinion of someone who knows what they're talking about when you're buying one.
This doesn't necessarily mean a tailor. It could be a knowledgeable store owner, friend, or relative.
It's just always best to get a trustworthy second opinion instead of relying solely on your own eyes and judgment.
2. Choose Sharp Lapels
The lapels of the suit jacket should have the effect of contrasting the roundness of a bald head. In other words, choose lapels with sharp, hard angles.
Notch lapels are usually the most appropriate and versatile for bald men, ticking all of the boxes.
Peak lapels are even sharper and more angular but may be a little too attention-grabbing for what you need.
Try and avoid the more rounded Shawl lapels as these will have the opposite of the intended effect.
3. Wear Slimmer Ties
This may be out of keeping with your personal preferences, but slimmer ties unsurprisingly have a slimming and lengthening effect on a bald head and face.
At the same time, avoid skinny ties as they can sometimes look a little immature.
Finding the right balance is key.
4. Use Glasses To Your Advantage
If you wear glasses, use them as a powerful stylistic tool. Bald men often look great in glasses, but they need to be chosen with a purpose.
The frames are the most important. Bald men should choose frames with hard angles and sharp lines.

Square and rectangular frames are usually a safe bet and nicely contrast the roundness of the bald head.
Sunglasses have the same effect and should also be chosen with purpose.
Glasses and sunglasses are a great way of dividing the face into sections. In the absence of hair, the face and scalp skin will just blend into one if steps aren't taken to create sections.
Beards and glasses are a great way to do this.
When a bald man wears glasses or sunglasses with a suit, it often looks even more sophisticated and adds a nice intellectual touch.
5. Choose Shirt Collars Carefully
Hopefully, the examples above have made this clear already. The collars of a shirt should draw the eyes downward and act to make a bald head and face look less round.
The tips of the collar should point vertically downward. Choosing collar tips with a narrow spread will also have a slimming effect on the face.
If you have a short neck, be sure to choose a shorter collar band so it doesn't envelop the whole neck.
6. Grow The Right Beard
You've seen some great examples. It's important that a bald man chooses a beard with purpose in the same way he would do with a pair of glasses.
Certain beards do suit a bald head better than others.
Choose a beard that elongates the face. Long goatees are great for this purpose. But any full beard that adds length, depth, and volume to the chin area would be a good choice.
Having said that, it's important that the beard is trimmed and groomed properly. Bald and bearded only works when the beard is well-maintained.
A suit loses a lot of its value when worn with a scruffy, poorly-groomed beard above it.
But when it's done properly, the bald, bearded, and suited look is just fantastic.
7. Contrast Skin Tone Where Possible
Bald men usually have a lot of visible skin above the neck. There's no hair to add color contrast.
Because of this, clothes should be chosen with the intention of adding some contrast to the natural skin tone where possible.
Without going too hard into color theory, darker-skinned bald guys should go for lighter tones with their shirts and ties.
In contrast, lighter-skinned bald men should consider darker shades for their shirts and ties.
Keep it simple, however. Often, your intuition will guide you, and don't ever be afraid to ask for a trustworthy second opinion.
8. Strongly Consider A Clean Shave
Although the bald on top with hair on the sides look can be fine, there's nothing more masculine than fully embracing baldness and going for a clean shave.
Shaving one's head can be a zen-like experience that many men can't help but go back to lifelong.
Although the first time can be a daunting thought, a fully-shaved head just looks so much more sophisticated in a suit.
When combined with the tips and tricks I've outlined so far, it really is an unstoppable combination.
9. Choose Suit Patterns Wisely
There are so many patterns to choose from. However, always look for vertical lines when trying to compliment a bald head.
As you'd expect, these draw the eyes vertically and make the bald head and face look longer.
The patterns I've already described such as Tattersall and Windowpane are grid-like patterns that do work great.
Other options such as plaid, chalk stripe, and pinstripe also work very well.
Conclusion
As a bald man, fashion is incredibly important. Knowing how to style yourself is a crucial aspect of making baldness work for you.
Bald guys often look fantastic in suits. But knowing how to choose a suit that meets your objectives and personal preferences is the hard part.
Consider this a guide to help you find the right one and also add some nice touches to really turn some heads.
Ready Sleek founder. Obsessed with casual style and the minimalist approach to building a highly functional wardrobe. Also a fan of classic, vintage hairstyles.