Want to know whether Angel Jackets is all it's cracked out to be? If so, you'd be in the right place, because shockingly coincidentally it turns out I was wondering the same thing.
If you weren't, stick around anyway, especially if you happen to be into amateur iPhone photography.
Leather jackets have the near-miraculous ability to make even the most average of men appear formidable. I'm a prime example of this and as a result, I've been drawn to them since I was young.
I've owned several.
Any company that attempts to make luxury leather goods accessible to the masses is worthy of some attention.
I spent a month in the company of an Angel Jacket and you're about to find out whether I should add it to my long list of fashion regrets or not.
Enjoy.
Disclosure: We received courtesy product from Angel Jackets in exchange for our honest review only. If you click on a link and make a purchase, we may earn a commission at no additional cost to you.
Quick Take For Those In A Rush
I went for the Adamsville Suede Jacket.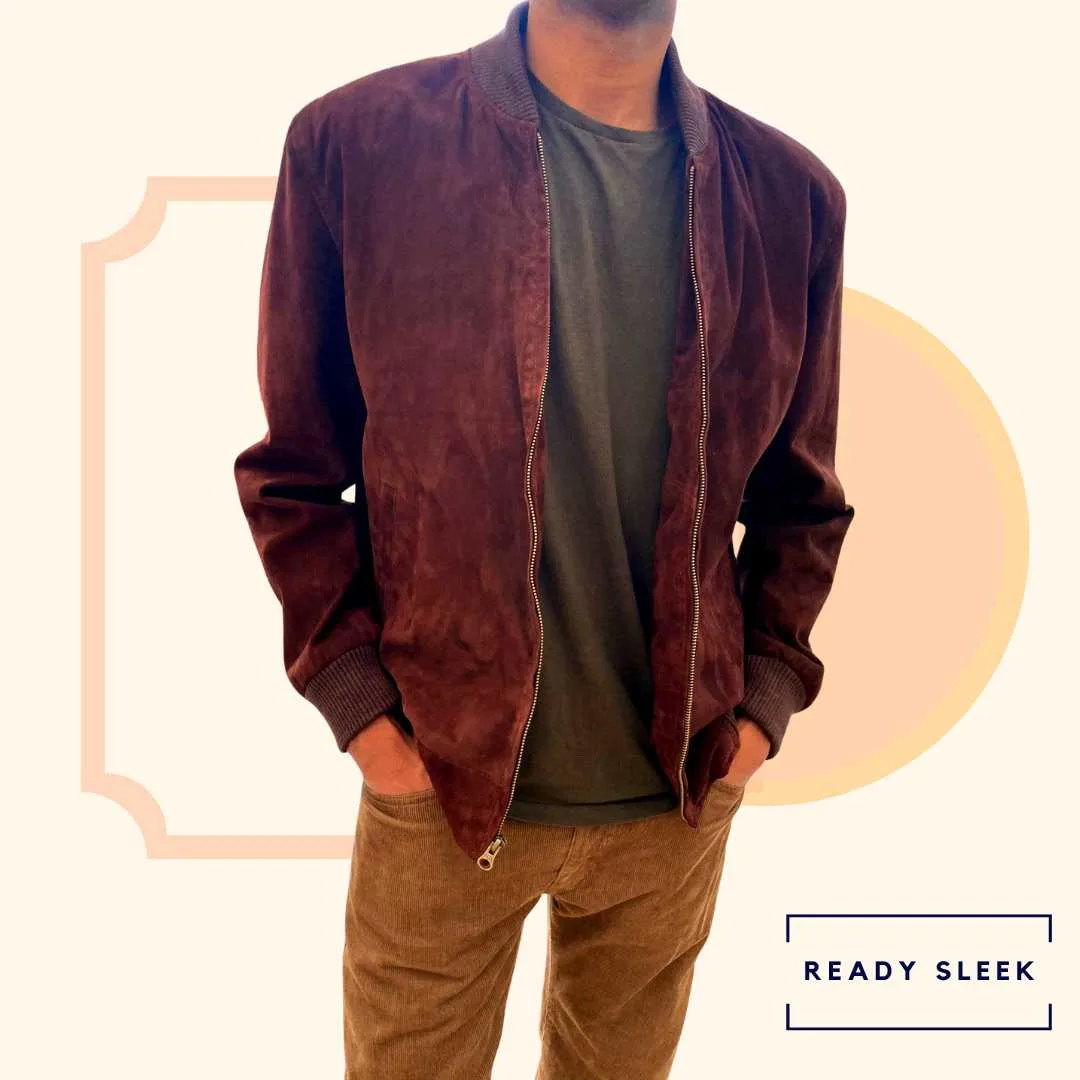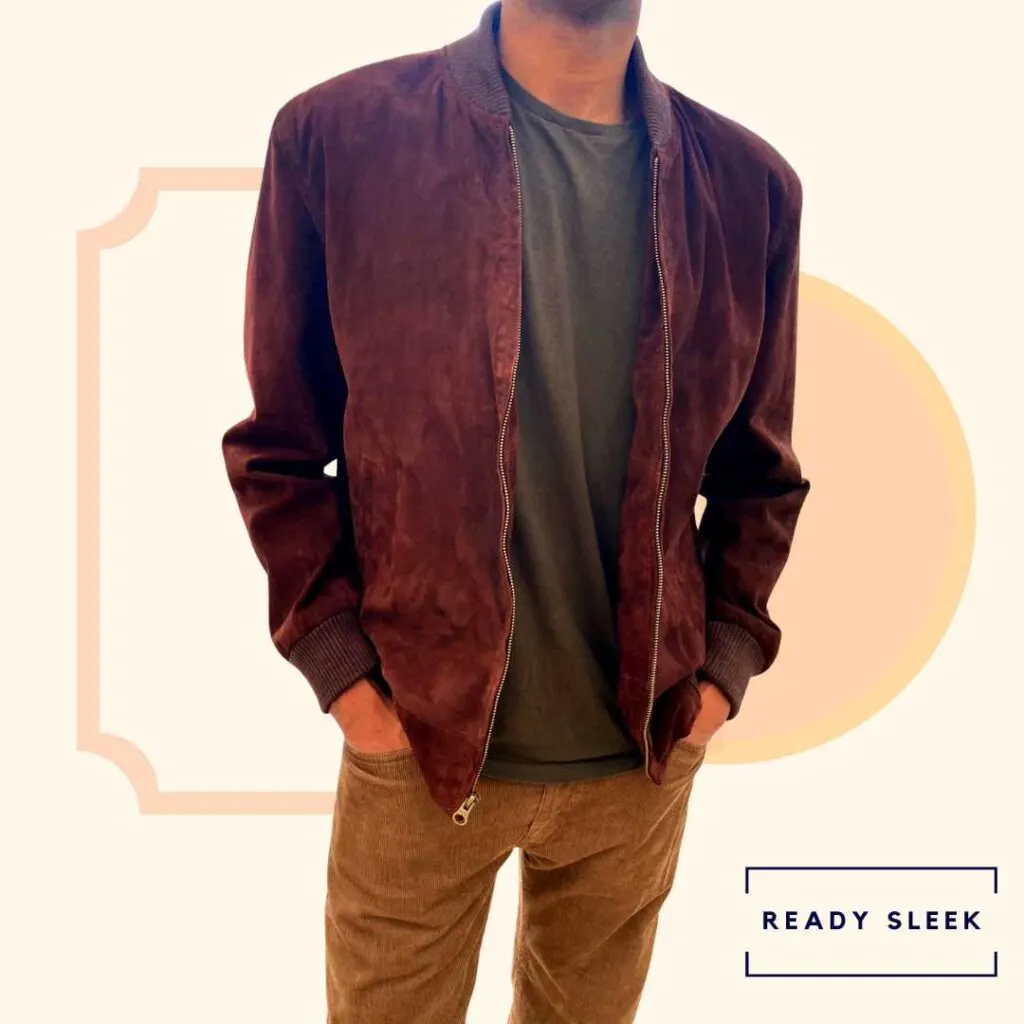 Value For Money – 4.5 out of 5 stars
Construction – 4 out of 5 stars
Fit – 4 out of 5 stars
Pros:
Good quality product at an affordable price
Beautiful color – a rich and warm dark brown (with a deep red hue)
The suede has a great napped texture as expected
It runs true to size with no major issues with the fit
Cons:
The rib-knit cuffs felt a little restrictive
The flare at the shoulders won't be for everyone
What Is Angel Jackets?
Angel Jackets is an online fashion retailer that appears to have a simple (but admirable) mission:
To provide high-quality leather jackets at an affordable price.
They strive for a streamlined procurement process and value customer centricity. While leather really is their forte, they do offer products in other fabrics such as cotton and fleece too.
Now that you've got the skinny, let's move on to the actual content. After all, anyone can summarize a company's About Page, right?
Angel Jackets Review – The Adamsville Dark Brown Suede Jacket
Angel Jackets have a pretty wide range of leather jackets to choose from on their site, but not so many that it gets overwhelming to browse through.
I was extremely tempted to go for a black leather Cafe Racer jacket that caught my eye – I've loved these since I was a teen. They always made me feel like a rockstar (minus the talent) or a biker (minus the charisma).
However, I thought I'd go for something a little different.
The Adamsville Suede Jacket really pops out of the screen due to what can only be described as a glorious color.
It's a flight jacket.
While it's labeled as dark brown, it does look more like a deep burgundy or maroon to me.
Whatever it is, the color is incredibly warm and cozy to look at.
I had to go for it.
I've broken down my experience with this jacket into multiple steps, whisking you through my journey from the initial purchase to actually wearing it.
But first, a quick note on the one thing on everyone's mind…
Value
Affordability is the first thing that comes to mind when browsing through what Angel Jackets has to offer on its site. After 30 days of wearing it, I can safely say that they do offer good value for money.
They definitely hold true to their mission in that respect.
Most leather jackets they have on display have a price tag of between $200 to $300, but they do appear to frequently be on sale.
At the time of writing, the Adamsville suede jacket I reviewed has a price of $299 but is currently on sale for $199.
A price this low does often make one wonder whether it's 100% leather – it's pretty easy to be skeptical.
Angel Jackets have assured me that it's 100% leather and after wearing it for a while, I'm confident that it is too. Sure, at this price, it isn't going to be the highest quality leather jacket you can get your hands on.
But we're talking about value for money here.
It's true that a $1000+ premium leather jacket can last for decades but the sting of its price tag can definitely be a deterrent.
If you were looking for a luxury leather jacket you could one day pass down to your grandkids, Angel Jackets won't be for you. Consider a more premium brand such as Schott or Theory instead, but be prepared to pay up to 5-7 x more.
If you were looking for a good quality leather jacket with a good fit at an affordable price, Angel Jackets will most likely serve you well.
Order And Shipping
The ordering process was pretty seamless. The front end of their website is easy to navigate and the photographs do give you a good indication of how the jacket will fit.
Everything from the color to the silhouette – it's all pretty accurately represented.
It would have been nice to have a little more information in the description. For example, specifying what hide the suede was made from.
One thing I loved about the ordering process was the sizing chart.
Why did I love it?
Because miraculously, it was actually accurate. Whoever put it together should immediately be promoted to CEO.
The random and nonsensical sizing charts you find on so many fashion eCommerce sites out there these days are enough to make a man weep.
This jacket ran true to size and based on the other customer reviews I read, this appears to hold true for most of their other jackets too.
They also offer worldwide shipping which is pretty great. They aim to deliver the product to you within 5-8 business days according to their website.
I received it after 7 business days, so a gold star on that one.
Packaging
The jacket came neatly folded and securely packaged. Nothing out of the ordinary here and the jacket wasn't too wrinkled on arrival.
One thing worth noting, however, is that the smoky, woody scent of suede does really hit you when first pulling it out.
Personally, I quite like it. It just smells like leather.
I'd be more concerned if it didn't smell like this as I'd start to question its authenticity.
But it's definitely noticeable. If this is your first leather jacket, it could take you by surprise.
After leaving it to air out overnight, however, the scent became a lot more subtle and less in-your-face.
To be honest, I spent quite a lot of time just admiring the color when it first arrived. The dark brown suede does have a deep red hue and it looks even warmer in real life.
The Fit
As mentioned earlier, the suede jacket fits true to size. I like that a lot because it takes a lot of the guesswork out of the ordering process. I picked up a size M (I'm 5ft 11 and 160lb).
It felt comfortable and not so heavy that it became overbearing.
A heavy leather jacket is a reasonable indicator of its durability, but walking around like you're carrying a baby elephant is never a pleasant experience.
The Adamsville was light enough.
It fit well in the shoulders and the chest and felt nice and roomy here, with more than enough space to wear it over a T-shirt and a light cardigan.
The shoulders do flare out quite a bit where they meet the sleeves – the padding is pretty heavy.
This may annoy some and is worth bearing in mind, but personally, I don't mind a jacket that makes my shoulders look broader than they actually are.
The hem hits just below the waist and doesn't feel tight at the hips when zipped.
The rib-knit cuffs aren't going to be for everyone. I'd fall into this category as I'm generally not a fan of them.
They feel a little restrictive, even with slender wrists. They can also make wearing a watch a little awkward.
All of these rib-knit complaints hold true here, but they aren't unique to Angel Jackets. If you aren't a fan of this style of cuff, go for a different jacket instead.
Construction
Put it this way – it's fun to touch.
The suede feels incredibly soft and smooth. That napped, fuzzy texture of suede is hard to pass up and Angel Jackets don't disappoint here.
In terms of the quality of the leather, it's hard to comment without having inside knowledge of their manufacturing/tanning process.
Ultimately, from a buyer's perspective, the quality definitely feels good for the price I paid for it.
The front zip feels pretty sturdy although it may be a little too early to comment on how long it'll last. The brass color, however, does complement the rich tone of the suede nicely.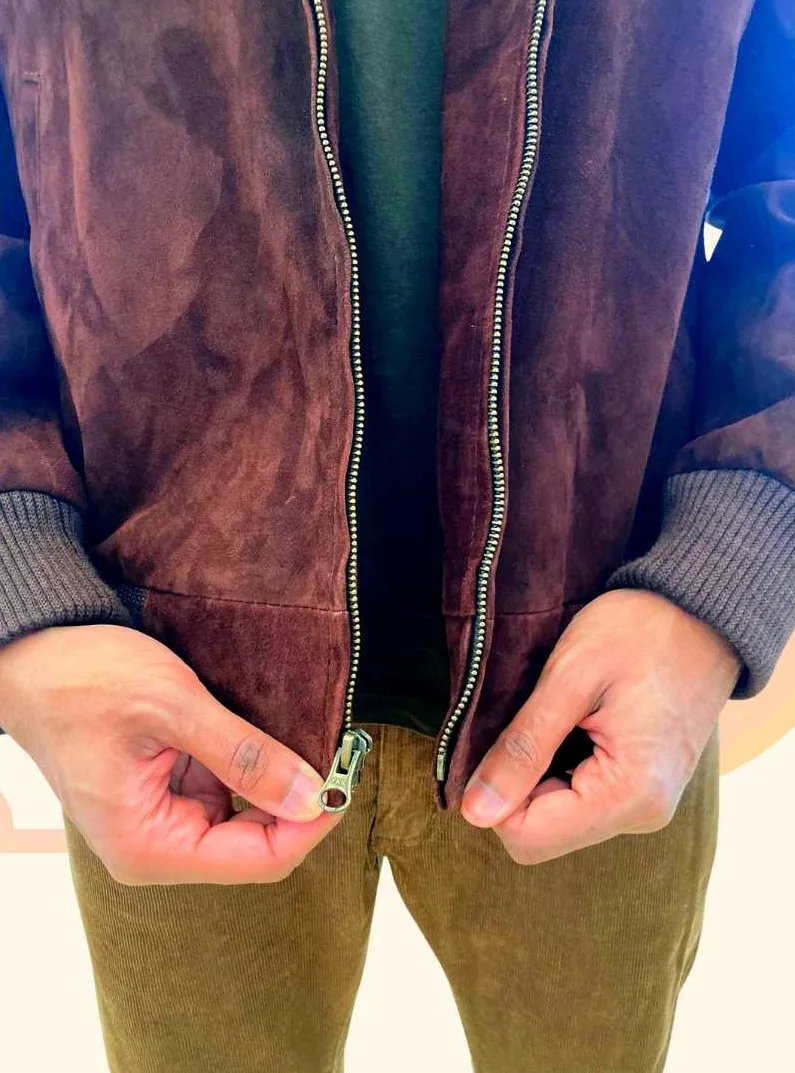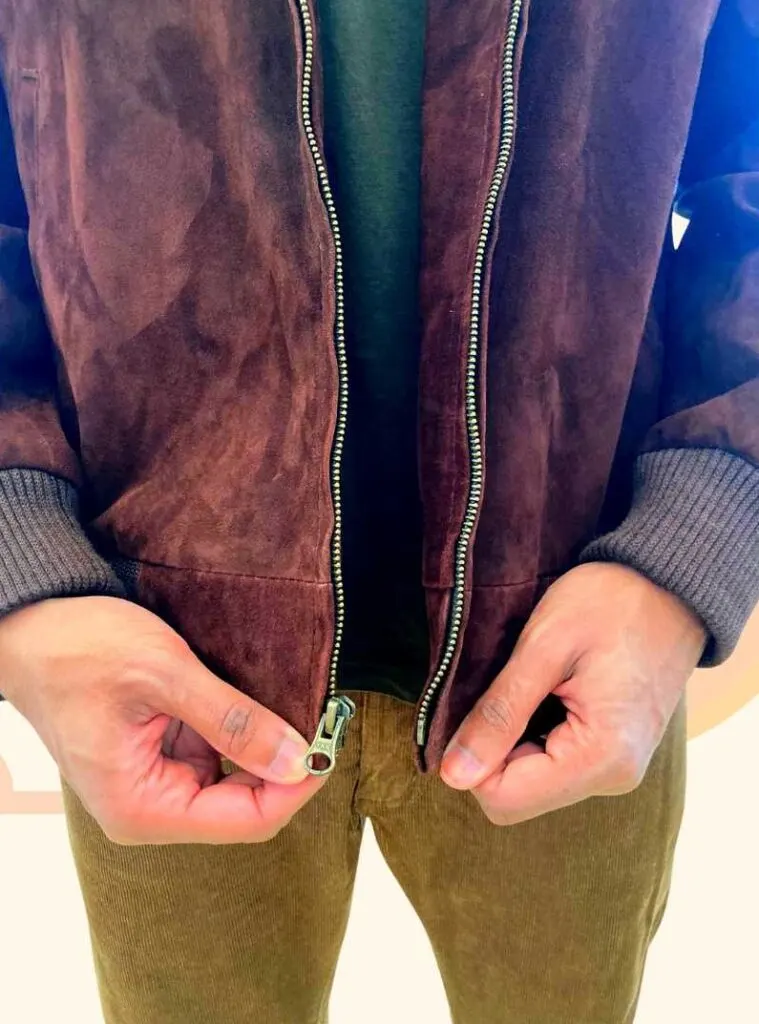 The jacket is also functional, with more than enough pockets for most people's needs. Two side pockets, two inside pockets, and an extra one for the cell phone.
When it comes to warmth, the jacket does OK.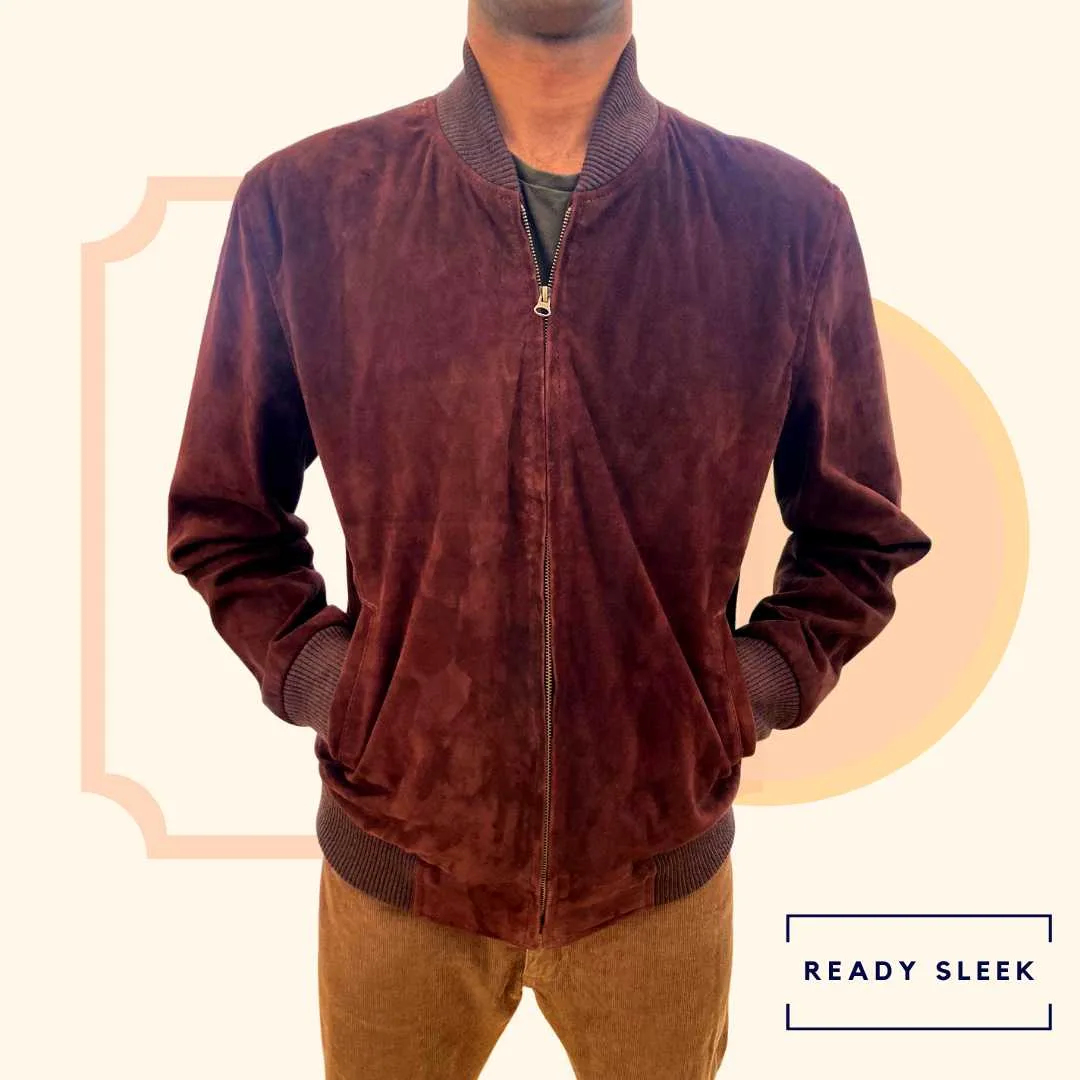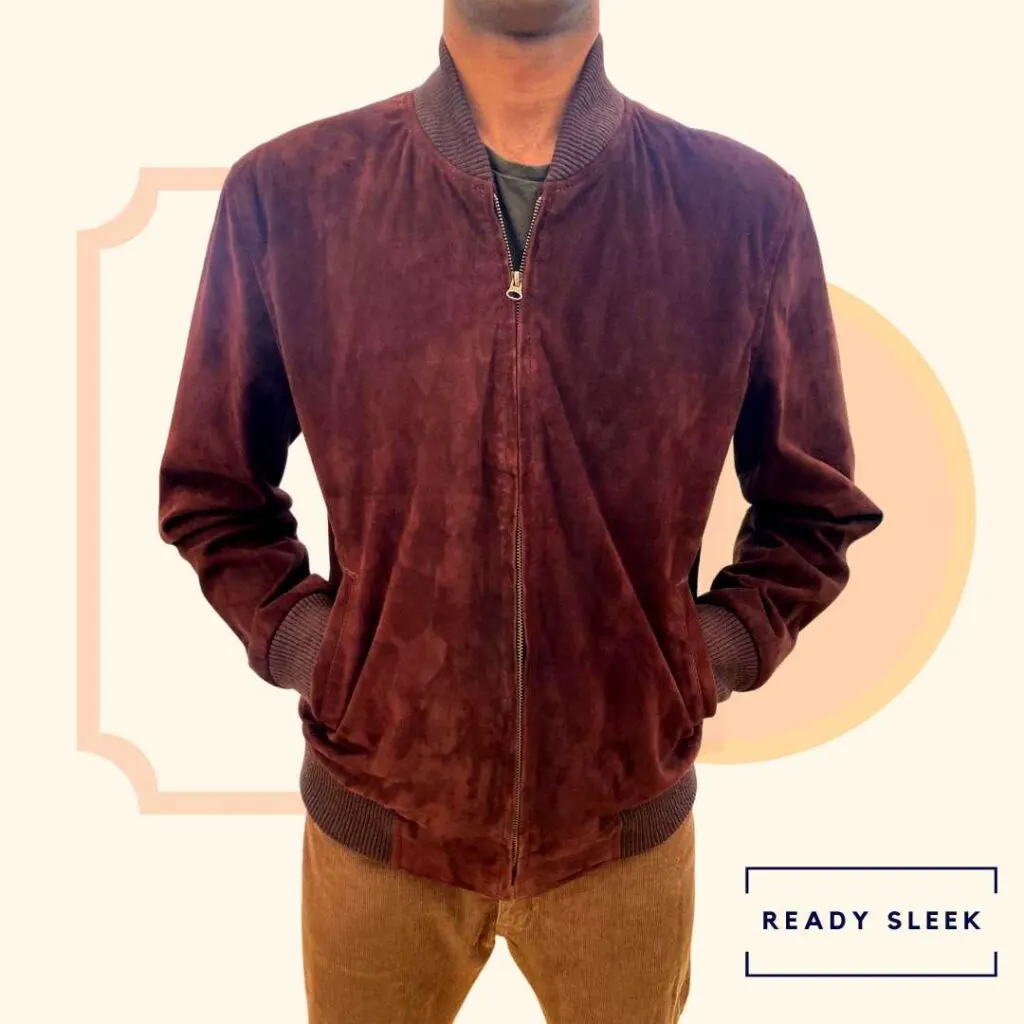 The soft polyester lining is comfortable but not as warm as quilted nylon would be, for example.
The temperature is pretty mild where I am at the moment. I've worn this jacket out when it's dropped as low as 5 degrees and felt warm enough with just a T-shirt under it.
At the end of the day, this won't be a jacket you'll be wearing in the depths of winter.
It's ideal for more moderate fall and spring climates.
Summary And Overall Thoughts
The Adamsville Jacket I bought from Angel Jackets was what was promised: a suede jacket that provides good value for money.
The fit was good and it felt comfortable despite my disdain for rib-knit cuffs. The leathery, musky scent is noticeable but does fade after a couple of days of airing it out.
Ultimately, it's hard to ask for more within this price range.
As mentioned earlier, if you were looking for a premium, generational heirloom, this won't be it. Asking for that type of quality at this price wouldn't be reasonable.
The jacket I tested would be ideal for those who like the look and feel of a suede jacket without the costly sting of a more premium product.
Ready Sleek founder. Obsessed with casual style and the minimalist approach to building a highly functional wardrobe. Also a fan of classic, vintage hairstyles.